15 Best Waterparks in the World
Water parks are in no way inferior to other traditional parks. Endless slides, great pools and jacuzzis will provide you with a fun summer vacation. Here is a list of 15 water parks that are some of the most amazing in the world.
1. Schlitterbahn Waterpark, Kansas City
This park has the tallest and fastest water slide in the world.
2. Water World, Colorado
The water park is recognized as the largest in the United States. It contains 49 rides. You can even rent cabins here.
3. Aquaventure, Dubai
In Dubai, as always, all in a big way. The water park stands in the middle of the desert, and there is even an aquarium with sharks.
4. Tropical Islands Resort, Germany
The water park was built inside a former airship hangar. It is completely enclosed and maintains a constant temperature of 26 ° C. Here is the largest indoor beach in the world.
5. Beach Park, Brazil
This water park has the second largest slide in the world and nearly vertical waterfalls. The thrill is guaranteed.
6. Sunway Lagoon, Kuala Lumpur, Malaysia
The water park is famous for the longest river and the largest artificial beach for surfing. Waves in the pool reach three meters.
7. Wet'n Wild, North Carolina
If you are a fan of fast-paced rides, you will love this park. You will find tunnels, dead loops, waterfalls, and other dizzying adventures.
8. Area 47, Austria
This park has 47 types of the most incredible and exciting attractions!
9. Adaland in Kusadasi, Turkey
This park consists of three parts with a dolphinarium, a marine park and an aquarium. There are water rides for the most intrepid and 20 slides.
10. Aquaventure, Bahamas
This park has a replica of a Mayan temple with a small river winding through it and a waterfall that takes you to a cave completely devoid of light.
11. Blizzard Beach, Orlando, Florida
This is an old ski resort with long runs that has been turned into a water adventure land. This place has the fastest river in the world.
12. Caneva, Italy
Caneva is just part of a much larger entertainment park, Canevaworld, which combines rides related to movies, music festivals and medievalism.
13. Wet'n Wild, Australia
This park has 40 varieties of entertainment from completely relaxing to completely crazy. For example, you get into the water during a storm in complete darkness.
14. Wildwater Kingdom, Allentown, Pennsylvania
This popular park already has 30 rides and new ones pop up every year.
15. Water Cube, Beijing, China
The park was built for the Beijing Olympics in 2008 and is used for performances or sporting events. Among the notable rides we should mention the slide with water falling from the top and 180-degree turns.
10 best outdoor water parks in Europe
The first and such a pleasant association with summer – the sun, blue sky and warm sea. Just add a dozen or so water slides, and the sea reduced to the size of the pool, and you get a water park. If you are planning a summer vacation with children in Europe, you probably want to arrange a day of fun in a water amusement park.
In our article you will read about the most interesting attractions of open water parks.
Siam Park (Tenerife, Spain)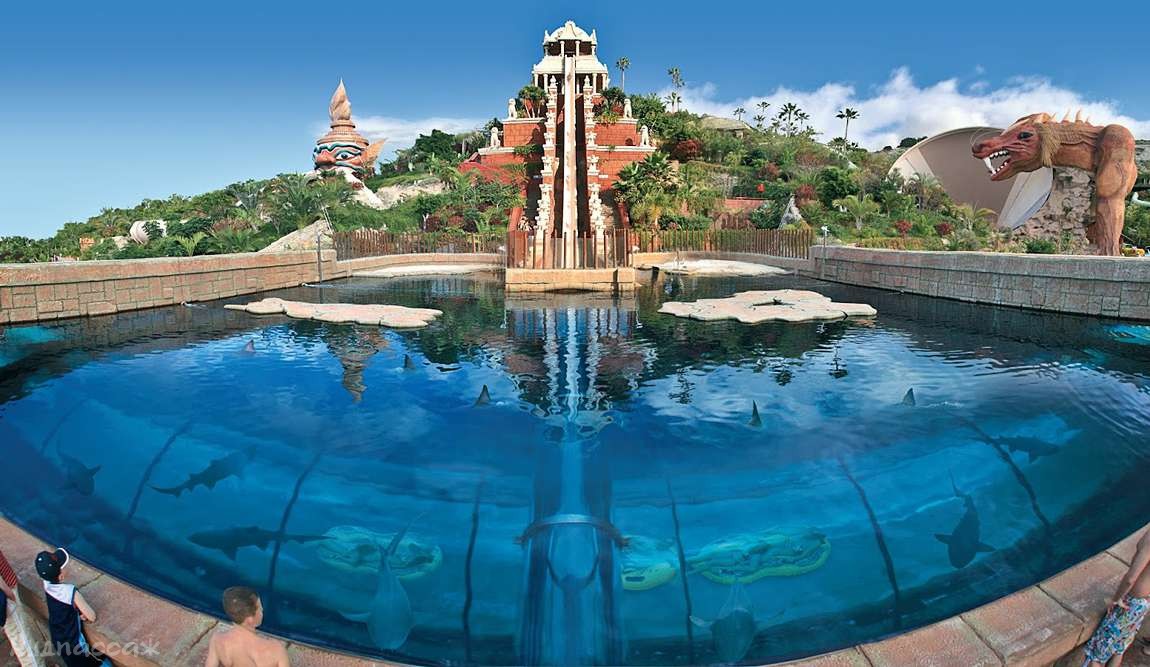 The largest in the rating of the best water parks in Europe is located on the island of Tenerife (Spain), but its design as if you are transported to Thailand.
Palm trees, beaches with white fine sand, spacious pools, dizzying water slides, adrenaline rush through an aquarium with sharks, a long slide Jungle Snake, the longest in Europe "Lazy River" Mai Tai – all this will not leave you indifferent.
Children have two huge playgrounds here, Lost city and Sawasdee, where a lot of water activities. Near the entrance to the water park is a swimming pool, in which the adorable seals live.
Highlight: Wave Palace water area with an artificial wave for windsurfing Siam Park Waterpark Address: TF-1, Santa Cruz de Tenerife
Siam Park Waterpark: author's review, opening hours, prices, relaxation with kids in Tenerife.
Aquafan (Italy)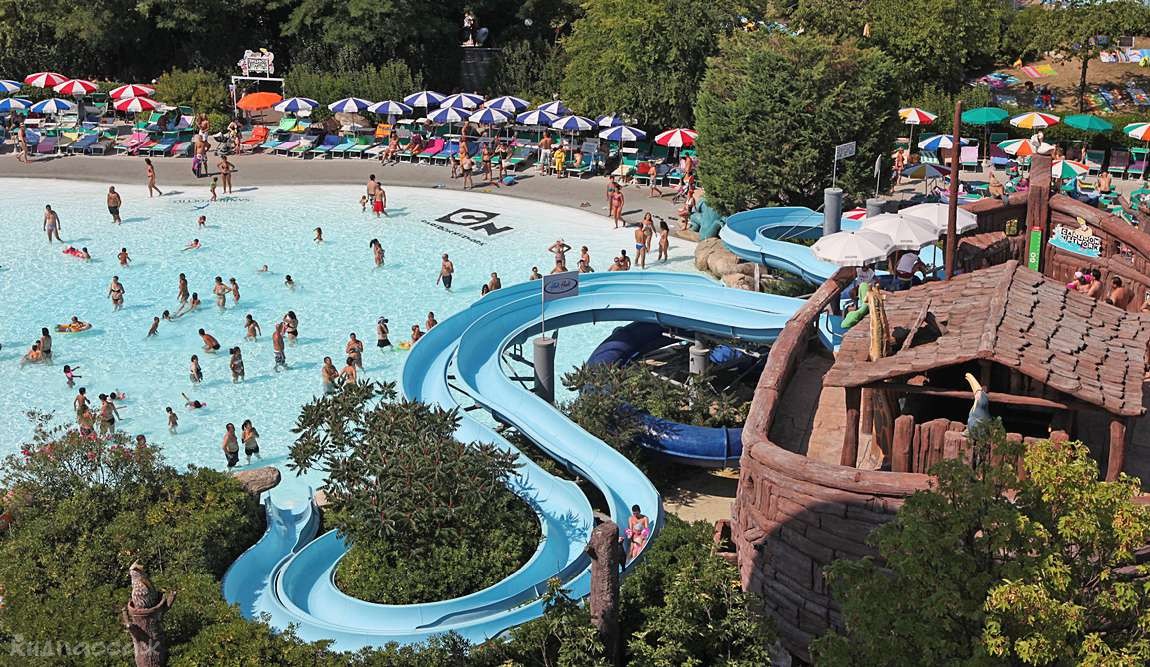 A great place for a family vacation is Aquafan water park (Italy). There are 11 extreme water slides, but there are also three areas for children. One of them, Focus Junior Beach, offers not only water fun, but also games with the characters of favorite children's cartoons.
Adults can take a ride on one of the three 200-meter long spiral slides, which are closely intertwined with each other, or plunge into the abyss on "Kamikaze" descent.
Everyone, from small to large, enjoys riding the artificial waves in the pool area of 2800 square meters, and kids squeal with joy, exposing their whole body to the cool spray of the sprinkler system. After swimming, take a walk on one of the 6 botanical trails.
Highlight : "ice" slides for children in the play area "Antarctica". Website : www.aquafan.it Aquafan Waterpark Address : Via Ascoli Piceno, 6, Riccione
Aqualandia (Costa Blanca, Spain)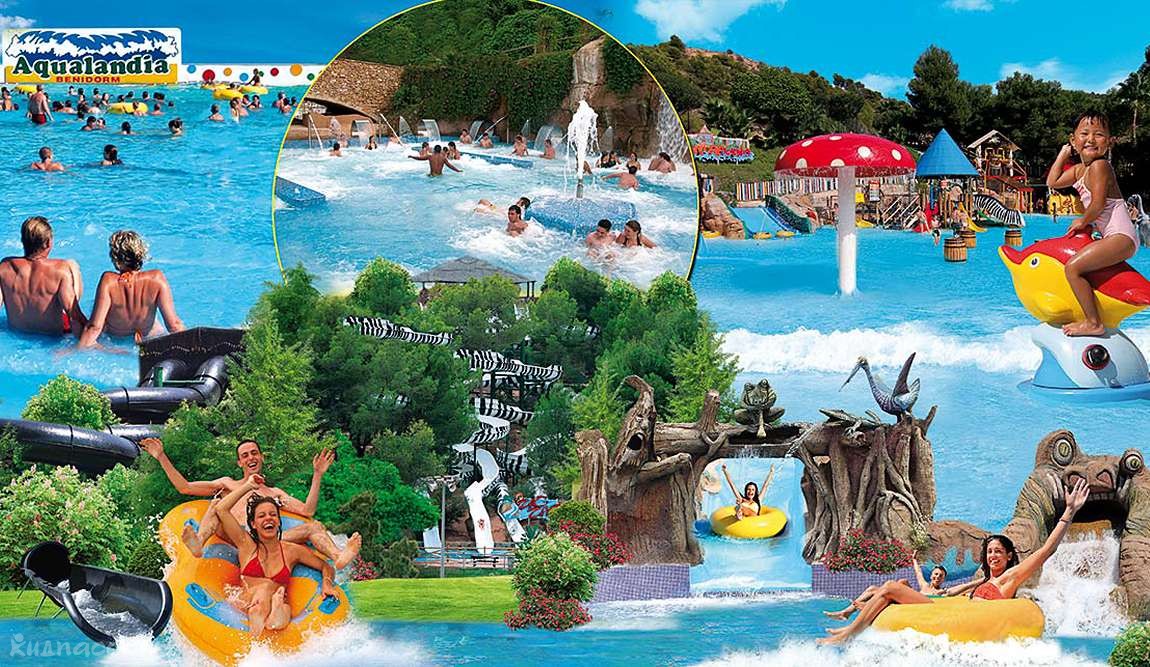 The rocks, waterfalls and slides at Aqualandia Aquapark in Benidorm vie for supremacy. Here you can find all the necessary equipment for an active vacation: dashing turns of Black Hole, Splash slide for the whole company, Rapidos speed slide and much more.
The Adventureland and Laguna playgrounds for children amaze with their number of attractions, even the elephants came to bathe in the children's pool.
For family entertainment will suit a large pool with artificial wave, slow river Amazonas and downhill Mini Zig-Zag. Relaxing relaxation is guaranteed in the spacious Jacuzzi pool. And what a pleasure to cool off in the heat of summer with a splashing "Geyser" on your face.
Highlights : the highest and steepest slides in Europe- VERTI-GO and Big-Bang The address of Aqualandia water park in Benidorm: Parque Natural Sierra Helada, Benidorm, Alicante
Alton Towers (UK)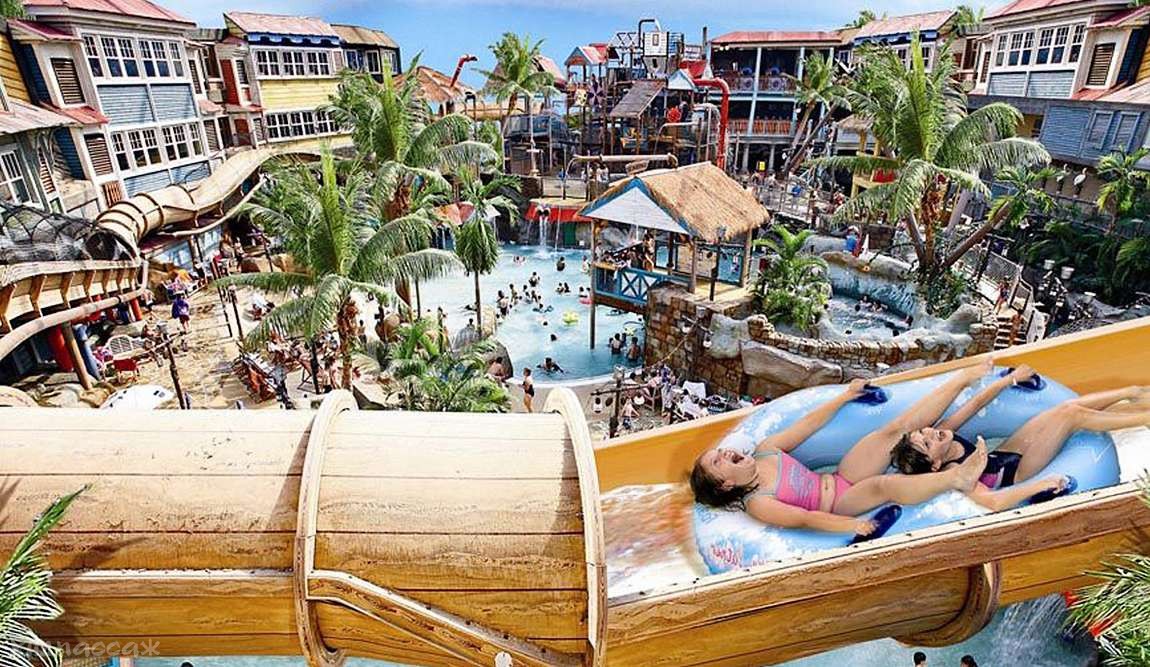 What would happen if the town's main square had a lake? It seems the Alton Towers water park in the UK came about this way.
Surrounded by scenery-houses there are many slides, and the longest of them, Master Blaster, runs almost through the entire water park. Which to choose – the steep and twisting Rush'n'Rampage slide or the smooth slides, where you can "flow" from one pool to another, and then to a third?
Relax in the calm waters of Laguna Bay or dive into the rushing waters of Volkano Springs? Toddlers have their own Little Leak play area, while older children have 70 water activities in the Wacky Waterwork Tree House.
Spice : a bucket tipping 1,000 litres of water into the pool Website : www.altontowers.com Address : Alton, Staffordshire
Fasouri Watermania (Limassol, Cyprus)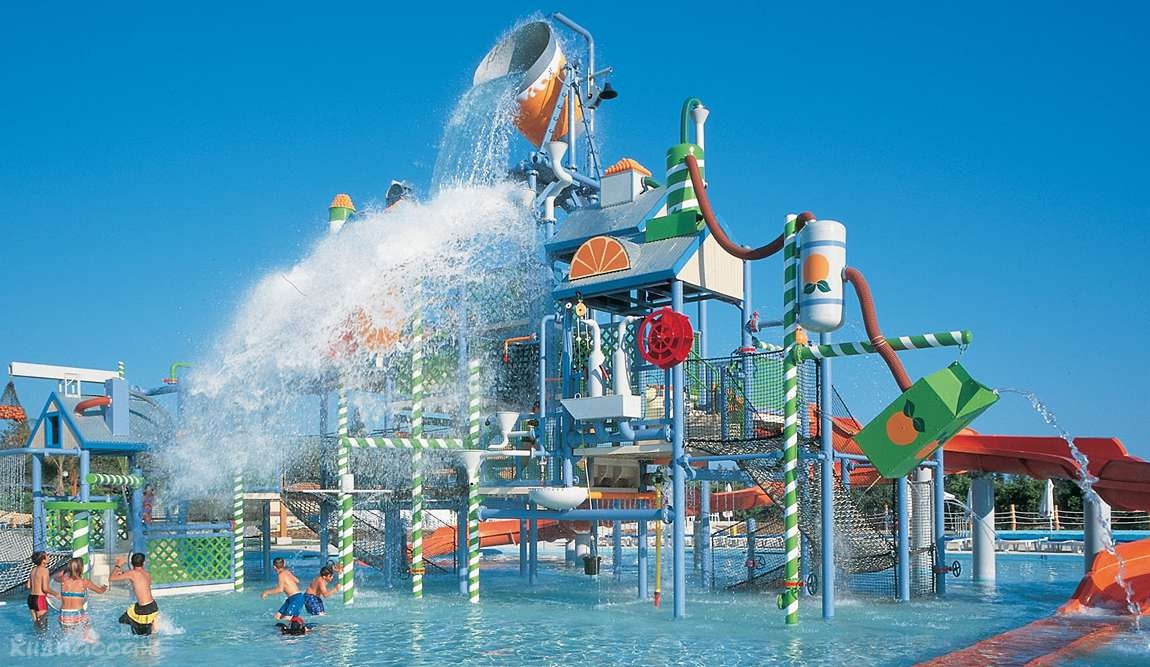 The largest water park in Cyprus is Fasouri Watermania. It is not without reason that it is included in the list of "Europe's Best Waterparks": on an area of more than 100 thousand square meters there are 30 slides of varying height and complexity.
Kamikaze speed slide, 120-meter-tunnel slides, steep and fast slides "Black Cannon" are for the extreme riders. "Lazy river" and pool with artificial wave – for those who like calmness.
The juicy colors of The Juice Factory Interactive Centre's water playground are primarily for children, but parents enjoy water games as well. Want something out of the ordinary? Try climbing out of the water on a climbing wall or crossing the pool on orange slices.
The children's entertainment area is very fun: for example, there is a water carousel, where kids ride on the backs of dolphins.
Highlights: boats that a child can operate on their own; bungee jumping into the pool. Website : www.fasouri-watermania.com Address of Fasouri Watermania: Trachoni, Limassol
Adaland (Kusadasi, Turkey)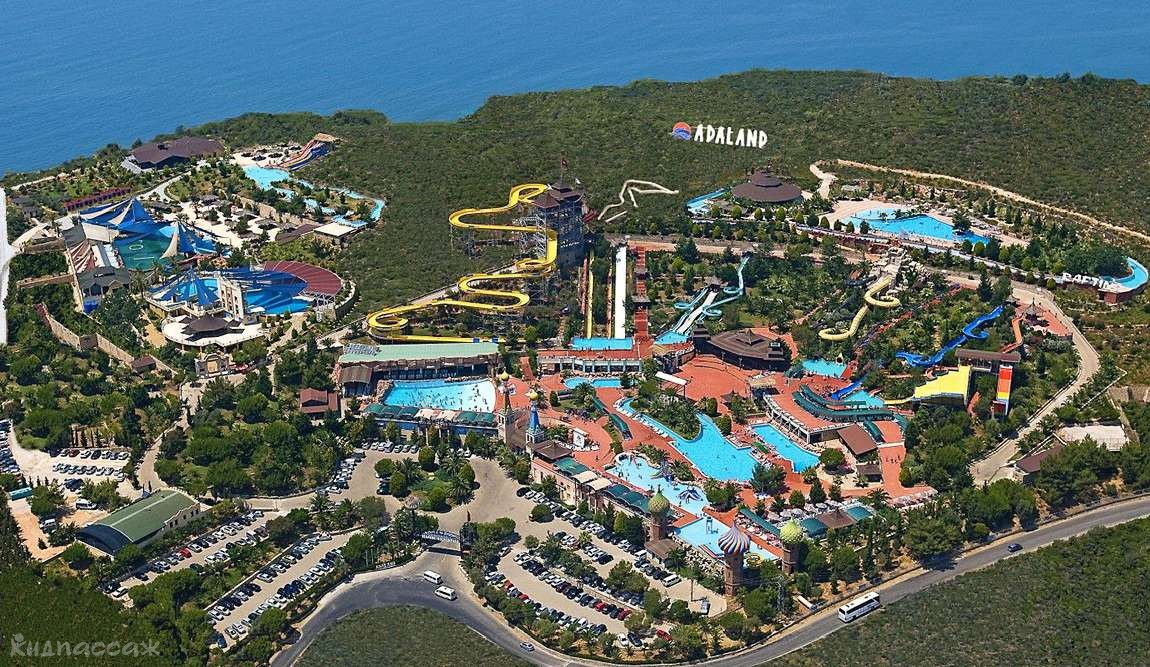 A full range of water fun awaits guests at Adaland Waterpark (Kusadasi, Turkey). 24 slides, including high-speed slides "Red Phantom" and "White Tiger", tunnels "Black River" and "Yellow Python" will delight those who love risk.
Park "Safari" with a huge pool is ideal for a lazy beach vacation. A family adventure can be arranged on the river for rafting. And in the middle of the kid's pool grew a beautiful castle with lots of safe slides.
But the little ones also don't mind dancing under the sprinkler jets "Rain Dance". In addition to the water park, the aquatic center includes a "Sea Park" and a dolphinarium.
Highlight : Sidewinder U channel Addaland Aquatic Park Address : Çamlimanı Mevkii Kuşadası / Aydın
Costa Caribe Aquatic Park (Salou, Spain)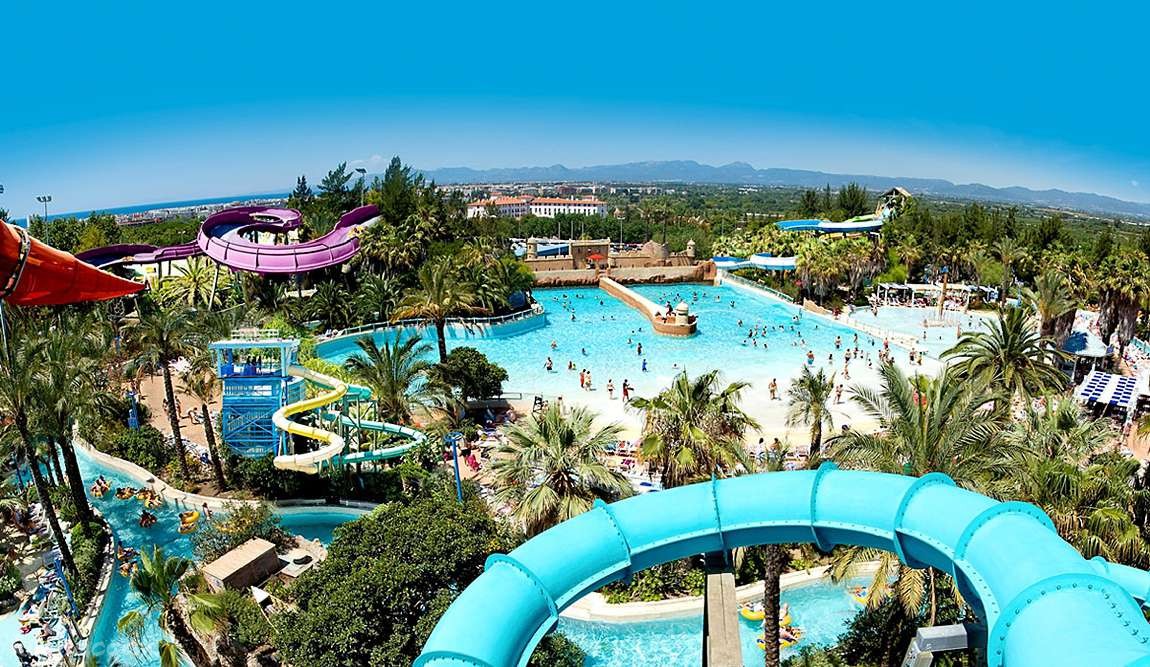 Opened in 2013 the Costa Caribe Aquatic Park is the perfect complement to the most famous theme park in Spain, PortAventura. The water amusement park is stylized as an adventure story of the Caribbean Sea, and due to this it got its name.
The 16 breathtaking rides and slides and more than 8,500 square meters of water surface will make you stay here for a long time. For the youngest guests Costa Caribe has prepared the children's area Pirate Galleon with a ship inhabited by characters from "Sesame Street".
Highlight: The tallest slide in Europe, King Khajuna The address of Addaland Aqupark: Av. Pere Molas, Km. 2, 43480 Vila-seca, Tarragona, Spain
Watercity (Heraklion, Crete)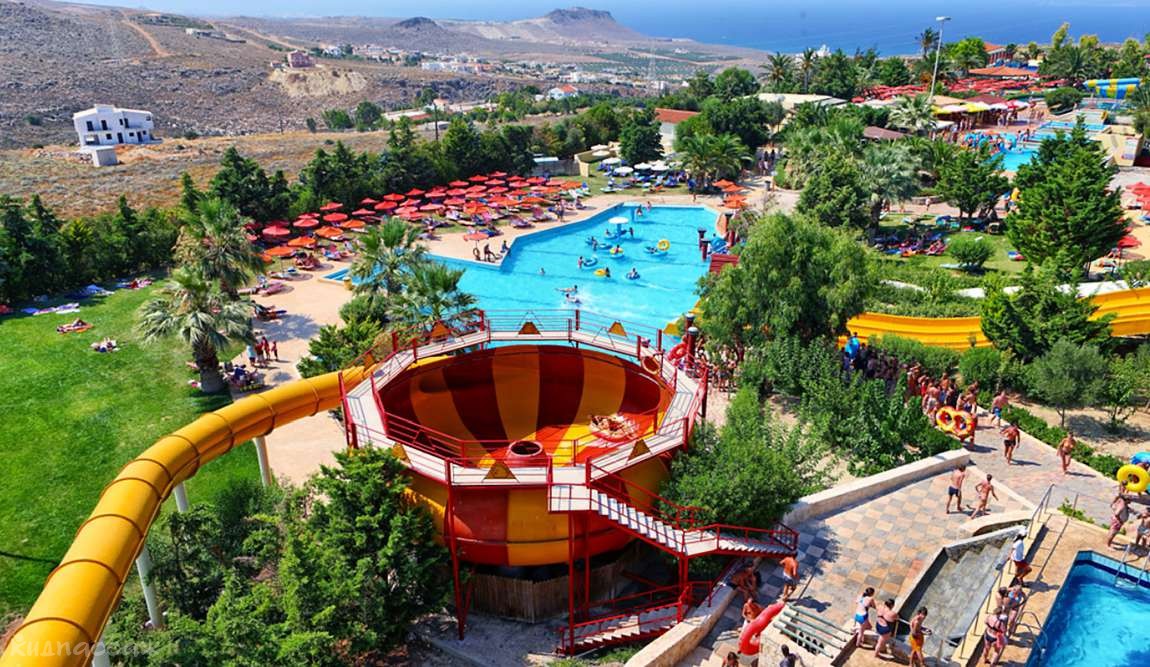 Sunny Crete invites to the water park WaterCity. It has all the traditional slides, such as Black Hole, Kamikaze, Cyclone. But it's impossible not to notice the long slide "Turbo Hans" that snakes from edge to edge of the water park.
Children's slides are also visible from afar – so brightly colored they are. There are two shallow pools for children, where it's so easy to organize a fun game. Jacuzzi or "Lazy River" will help to relax after stormy entertainment.
Highlight: Europe's largest pool with artificial waves. Address of Watercity Waterpark Crete : Anopolis, Heraklion, Crete
Watercity Waterpark: author's review, opening hours, prices
Holidays with children in Heraklion
Aqualand Frejus (France)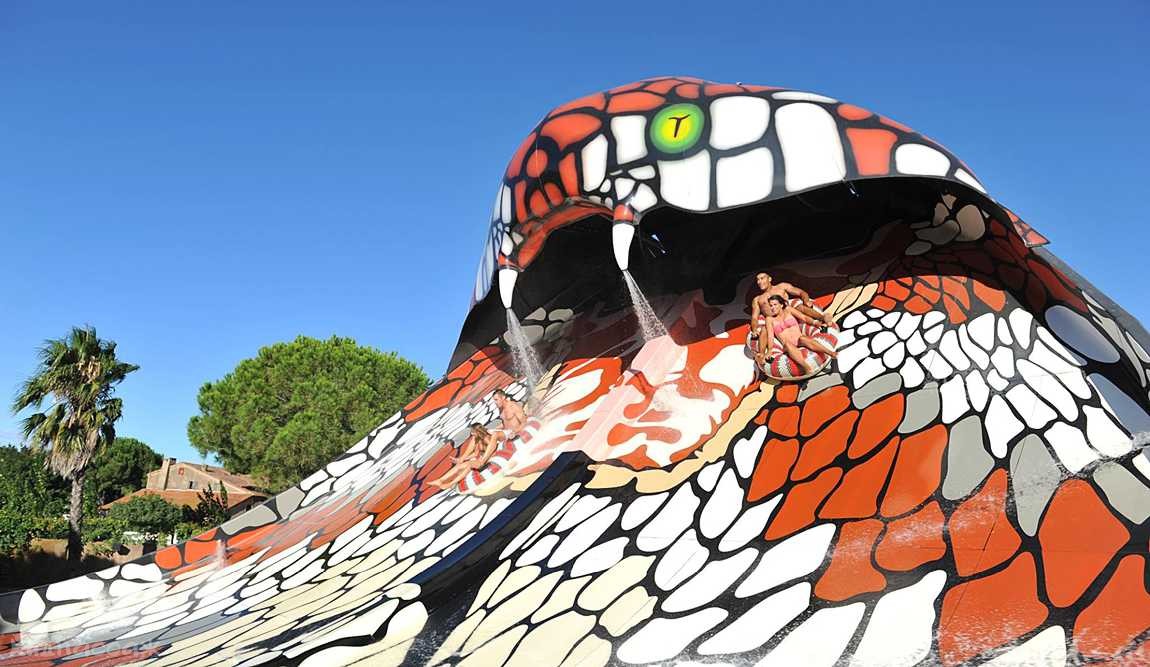 Intertwining colorful slides "Twister" in Aqualand Frejus Waterpark (France) is visible from afar. In addition to it, there are 12 other breathtaking slides, among which there are children's slides, such as Crazy Race Kid team slide.
Adults can test their courage on the Niagara or Free Fall slides, or relax in the bubble-rich waters of the Jacuzzi. For the little ones there is a shallow pool with elephants and in the Children's Paradise area, pirates are in charge of the entertainment.
Highlight: the spectacular "King's Cobra" slide. Website : www.aqualand.fr/frejus Aquatica Waterpark Address : Camp de l´abbél, Frejús
Aqualandia (Lido di Esolo, Italy).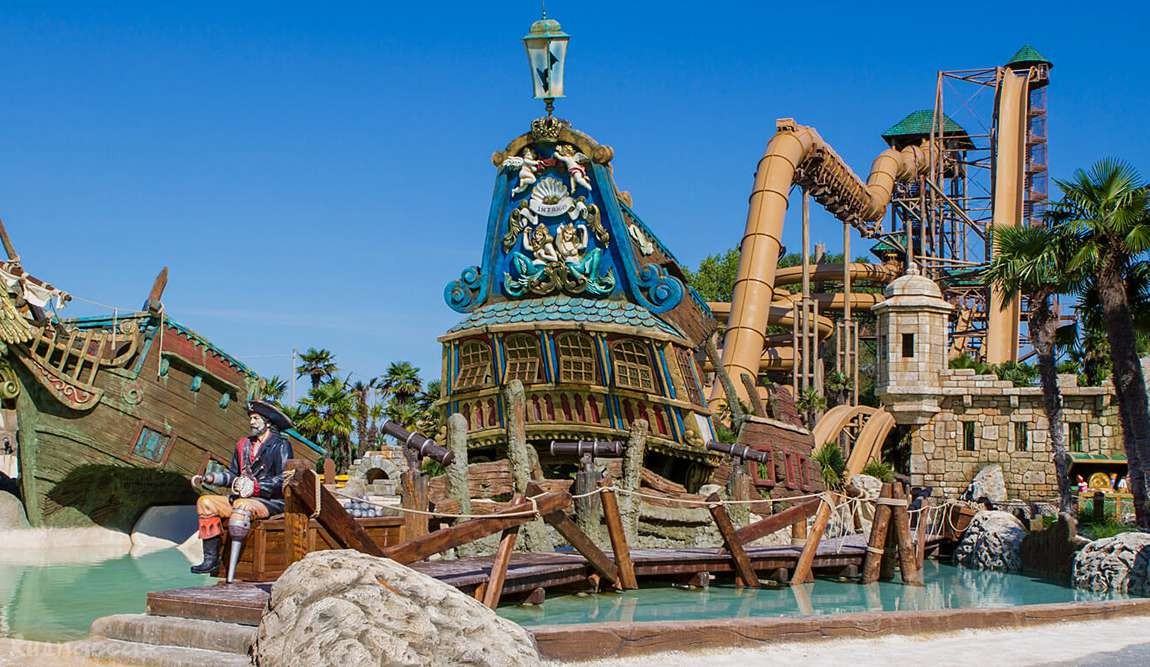 The enormous slides are already visible at the entrance of the Aqualandia Waterpark in the famous resort of Lido di Jesolo. It is a real paradise for lovers of crazy slides. Their names names names already make your blood boil: Apocalypse, Captain Spacemaker, Scary Falls…
But fans of lazy rest will enjoy their stay here: it's so nice to splash in the pool of Shark Bay, and then bask on white Caribbean sand!
The Funnyland playground offers plenty of games in the water and on land. Plus, there are scaled-down replicas of adult slides for younger guests. Want to see the water park from the air? Try walking above it on a rope 20 meters high.
Highlight: theatrical shows on the galleon, featuring Peter Pan and pirates. Website: www.aqualandia.it Address: Via M. Buonarroti, 15, Jesolo Venezia
So these are the best waterparks in Europe waiting for you with anticipation! We can't describe all of their attractions in an article, but it's a real pleasure to find many of them right on the spot.
Well, if your vacation with kids happens to be in the winter months, don't worry, we've already looked into the ten best indoor waterparks in Europe according to Kidpassage, where both winter and summer holidays are fun! Have fun with the water and have fun with the twisting and turning water!