Is cyber Tallinn far away? How Estonia became a digital country
Of all the countries of the former "Eastern bloc" Estonia is the most consistent and successful bet on the development of digital technology. Its state system and economy were deeply digitalized before it became mainstream. Its engineers design and create world-class robotics, including military technology. In Tallinn, delivery robots have become an organic part of the cityscape, and they even manage to cause traffic jams.
Estonia is the northernmost small and sparsely populated country among the Baltic States. Its nature is cold and sparse, its land is covered with forests and swamps, and its subsoil hides only oil shale, peat and phosphorites. It lacks the long-standing agrarian traditions of Lithuania and the industrial experience of Latvia. And yet, it has become the most economically successful country in the former Soviet Union, and in Eastern Europe, year after year, is second only to the most successful in the region, Slovenia and the Czech Republic, in terms of per capita GDP.
It all started more than a quarter of a century ago with a primary concept, which in 1994 a working group of government members and IT specialists began to create. The result was a document called "Estonian Road to the Information Society" and then the Tiigrihüpe project, "jumping the tiger".
Facing a shortage of almost everything, the country decided to bet on accelerated digitalization. Ironically, one of the first considerations behind this digitalization was simply to save on paper in the public service which had fallen on hard times in the 1990s. The fact that in the second half of the 90s Estonian government was one of the youngest in the world: the average age was only 35.
The project made it possible to computerize all schools in the country and provide them with Internet access by 1998. In the same year, PeaTee, also known as EEBone, a common computer network of all state institutions, was launched. Every tenth adult in the country received free computer training. In 2000, Estonia declared access to the World Wide Web a human right and began to accelerate its spread to rural areas. By that time, 29% of the country's population already used the Internet. By comparison, in Russia the level of 25% was reached in 2007. Even pensioners were specially taught to use computers and were given subsidies for their purchase: more than 40 thousand people took part in this program.
Emphasis on digitalization of the economy and the IT-sphere was spurred by the crisis of 2008, which severely affected all three Baltic republics. Digitalization has made the taxation system efficient and transparent, and the country has moved to the forefront of global rankings in terms of lack of corruption.
Already since the 2010s and up to now, Estonia is the most "digital" country in the entire European Union. Up to 10% of the working population works in the IT sphere, and knowledge and skills in computer competencies, including programming and robotics, are integrated into the school curriculum from grades 1-2. Almost the entire territory of the country has wireless Internet coverage.
Already in 2001 the country had the opportunity to file tax returns through the network, now more than 98% of returns are filed in this way. Since 2002 the system of electronic ID-cards and electronic signatures has been widely introduced, which have become an integral part of citizenship and everyday life. Since the 2005 campaign for local government it has been possible to vote via the network and in 2007 more than 3% of citizens voted online in parliamentary elections. By now one third of the citizens of the republic already use this opportunity in elections of different levels.
By 2020, 99% of government services in the country will be accessible 24 hours a day through the Internet. The education and health systems have been digitized. At the same time, everyone in the country has the ability to control their data and have access to information about how and when they are used by a particular institution. It is a criminal offense to check citizens' digital data without their permission or notification. The X-Road secure data exchange system (the result of development of EEBone by Tallinn University of Technology), which digitally signs and encrypts all outgoing data and authenticates and logs all incoming data, has been in use since 2001. In 2012, for the first time in the world at the state level, K.S.I. blockchain technology was added to it for greater reliability and security.
As a result, according to a 2014 survey, 51 percent of Estonians trusted the government. At the same time, the average for EU countries was less than 29%. Estonia's experience in building a "digital state" is being studied even in the most economically developed countries.
After the massive hacker attack in 2007, as well as other cyber incidents that are inevitable with this degree of digitalization, Estonia pays a lot of attention to digital security. Tallinn is home to the NATO Cooperative Cyber Defense Center of Excellence, one of NATO's most important cybersecurity centers. All information from Estonian government databases is backed up on backup servers in Luxembourg. And the first online security skills are already being taught at the kindergarten level.
Tallinn and Tartu started turning into a kind of California's Silicon Valley back in the noughties. The country has many competent specialists in various IT spheres. Skype appeared in Estonia already in 2003. It was created by Estonian developers Ahti Heinla, Priit Kazesalu and Jaan Tallinn, and the main offices are still located in Tallinn and Tartu, even after the sale of the service to Microsoft.
To date, in addition to thousands of digital startups – the country is the European leader in their number per capita – Estonia has seven "unicorns" in the digital sphere: companies with a market value of more than a billion U.S. dollars. In addition to Microsoft's Skype, there are TransferWise, an international digital translation service; Bolt (Taxify), a cab and electric scooter rental service; Pipedrive, a developer of online shopping software; Playtech, an online casino software developer; and Lingvist, an AI-assisted foreign language learning system.
The country provides a comfortable environment for investing, starting and doing business in the computer industry. There are incubators and gas pedals, both public and private, and venture funds and "business angels" are active for startups. The "e-Residency" system, introduced in 2014, allowed attracting more than 60,000 foreign residents to do business in the country, primarily in the digital sphere. In the late 2010s, a visa system for international "digital nomads" with the possibility of physical residence in the country was added to it. There is also the Startup Estonia visa system for startup founders and employees, which managed to attract more than 700 IT companies to the country in just three years: more than in any other EU country.
Estonia is also making noticeable steps in robotics. It is no coincidence that the first robotics lessons are already included in the school curriculum from the second grade. The streets of the Estonian capital and Estonian social networks are increasingly filled with robot rovers made by Starship Technologies. It was founded by Janus Friis and Ahti Heinla of the Skype team. It is headquartered in Tallinn, and has offices in the UK, Germany, the United States, and Switzerland. The first models of their rovers were assembled back in 2015, long before the pandemic.
Already by April 2020, Starship rovers had made over 100,000 autonomous deliveries and covered more than 800,000 km. In addition to Estonia, they are increasingly being used in the USA, Great Britain and Germany. In America, among other things, universities and colleges are very interested in them for deliveries on students' campuses, where most places prohibit motor transport and students appear in the most unexpected places.
True, in San Francisco, back in 2017-18, there was widespread discontent with drones, up to and including physical attacks – and they were severely restricted at the municipal level. Because of this, Janus Friis and Ahti Heinla said they were leaving a city too aggressive toward robots for more decent places. The reason was a social divide, almost like in the cyberpunk classic and the recently released Arcane: the poor and homeless who have flooded California in recent years really dislike the thriving Silicon Valley technogeeks and their high technology. And their accessible expression of physical interaction turned out to be the poor robots that began to be released en masse on the streets of Frisco as trials and new forms of service.
A typical Starship robo-carrier carries up to 18 kg of cargo: about two bags of groceries. It moves on sidewalks and walkways at an average speed of 6 km/h with the ability to accelerate to 16 km/h at a range of more than 3 km. It has nine all-around cameras, evades collisions with pedestrians and other obstacles, and is able to cross the roadway at crosswalks with traffic lights. If necessary, a dispatcher can take over the control. The container with the cargo is opened by a pin code that comes to the customer via the app. In case of tampering attempts, the robocarrier himself calls the police and records everything that happens.
Already this December, funny news about Estonian rovers spread through social networks. Seven robocarriers got stuck in the deep, freshly fallen snow in Tallinn. Their desperate attempts to get out and continue on their way were caught on video, which has been endearing to network users. A week later, a similar case happened: another rover got stuck in the snow, but was able to ask for help from passersby through a voice interface. Now the company is thinking about how to solve this problem – maybe they will make other wheels for robots working in northern conditions, or even "re-shoe" them into caterpillars.
In April of this year, another Estonian robotics company, Cleveron, presented its version of a heavy transport rover designed for road travel. It has already received permission to use an unmanned vehicle without a human inside on public roads. Their rover should carry up to 200 kg at speeds of up to 50 km/h in autonomous or semi-autonomous mode. They should hit the streets by 2023.
However, not all Estonian robot technology is peaceful and "cute. Another Estonian company, Milrem Robotics, has become one of the world's leaders in developing military robots. Its universal unmanned platform THeMIS (Tracked Hybrid Modular Infantry System) was introduced back in 2015. It received four different variants, from purely transport under 750 kg of cargo and sapper to full-fledged combat with fire support modules. In 2019, it was tested in practice in the ranks of the Estonian military contingent in Mali, where the French and their allies counter various banned radical organizations as part of Operation Barkhan. Along the way, the Estonian military also built a sauna in the desert.
THeMIS is just a pioneer. Milrem Robotics in 2020 introduced the Type-X: a much heavier combat platform weighing 12 tons and the size of a BMP or light tank, on which modules with a 50-mm automatic gun, rocket armament and other systems can be installed. Type-X can move up to 80 km/h by electric and diesel engines for a distance of up to 600 km, and is controlled by the operator with the participation of artificial intelligence. It is quite possible that in the near future there will be a possibility of fully autonomous operation.
Thirty years ago, hardly anyone could have predicted the transformation of the once poor and depressed Estonia into a country, cyberpunk, IT and robots – but that is exactly what happened. Their experience is studied and used in many countries around the world for a reason. And let Estonians still haven't reached the level of economic prosperity and social well-being of their Finnish northern cousins, but what they managed to do, convincingly shows: with proper approach even in almost complete absence of everything, you can build an interesting and promising economy, and an effective digital-based state system.
Estonia is an amazing digital state on blockchain
Total digitalization, blockchain-level security, no political conflicts, and a head of state so close to the people that she does not hesitate to write opinion columns in the media. It sounds like a utopia from a movie about the future. In fact, this is the reality of modern Estonia. While 99% of the countries are rummaging through paperwork and drowning in bureaucracy, the inhabitants of the small Baltic country from the former Soviet Union have long had e-citizenship, chose their president via smart phones and their personal data is protected via blockchain. It is no coincidence that Estonia is home to the headquarters of the European Union's IT agency. Australia and China are still just starting on the path to cryptotechnology; Estonia is already there. How did this happen? How exactly does everything work? And is it really that good? Read more in this DeCenter article.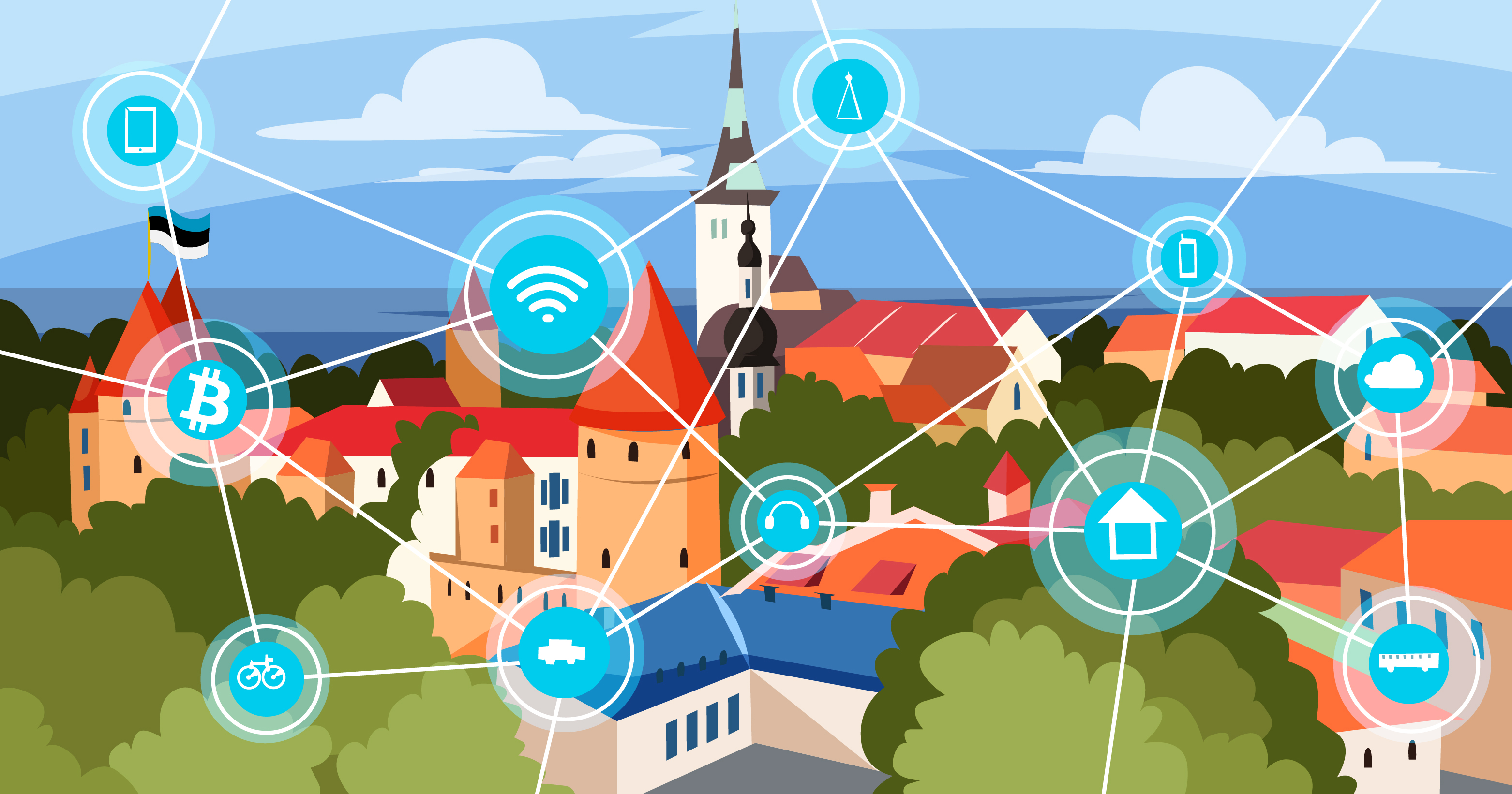 The thorny path to digital universe
More than a quarter of a century ago, Estonia was part of the Soviet Union and in that period had the same advantages and disadvantages as Russia, Ukraine and Belarus. Yes, the country also had to stand in line for sausage in times of scarcity. Since 1991, when the Soviet Union split and Estonia became an independent state, everything began to change.
Immediately after the collapse of the Soviet Union, Estonia was a poor country with ambitious plans to build an efficient and democratic, not communist, society. The authorities dreamed of radical reforms in all spheres of life, but they had neither the money nor the capacity to do so. They had to start from scratch.
After weighing the pros and cons, they decided to take the big risk of betting on the digital model and the Internet. No one else in the post-communist world has done this. The government dreamed that state, tax and social services would not only work as efficiently and transparently as possible, but would also be truly convenient, secure and accessible throughout the country, even in remote villages.
It was only possible to implement something like this through information and communication technologies. It seems obvious now, but in the 90s it was a very risky undertaking. Why? Because no one had the Internet, half of the country did not even have telephones, and the only independent contact with the outside world was through a secret cell phone of the Prime Minister. No one could know for sure that the Internet would take over the planet.
Despite this, Estonians invested all their scarce resources in "Internetizing" the population: homes, schools and public places were equipped with Internet access points. Many of them were free. This risk did not pay off right away. The first decade of independence was very difficult, but it gave Estonian society as a whole the impetus for a digital leap into the future. This leap of faith shifted the foundations of Estonian society in many areas of life. Young computer geniuses would come home from school and start "digitizing" their moms, dads and grandparents. Adults saw prospects – they bought computers at home and invested in new technologies.
The most interesting thing is that the Estonians have never developed any technology from scratch. Always what they implemented in the state system had already been created and used by someone else. As a rule, private companies. As a result, a basic digital infrastructure was built, which did not exist in any other country in the world. Today Wired calls Estonia "the most advanced digital society in the world," Forbes calls it "the most digital country," and Barack Obama wishes he had called Estonians before he started working on the government's health care website.
Today, most government services are online 24/7, and data integrity is ensured by blockchain technology. Any resident can pay taxes, see a doctor, or even buy a car without leaving home. The vast majority (about 99%) of all options are available online. Estonians "get off the couch" only in some cases, for example, if they need to get married or buy real estate. But even in this case, no "paperwork" is given. All purchase and mortgage agreements are stored online.
The current state policy is based on logical principles: why stand in line with a piece of paper that proves your identity? Why when you can work as efficiently as Amazon, Facebook and other services where a simple registration and a couple of mouse clicks are enough? For some strange and inexplicable reason, people generally expect better service from private companies than from their own government.
President Kersti Kaljulaid says Estonia is a completely different case. In 2020, citizens are like shareholders, and public sector service cannot afford to be worse than commercial Internet companies. Estonia has become a digital hub and the first country to integrate blockchain technology into its operations.
Digital identification and e-Residency program
In the rest of the world, the topic of digital passports began to be raised relatively recently, but in Estonia the relevant electronic documents were acquired by citizens back in the mid-twenties. Externally, a digital passport looks like an ordinary ID-card with a built-in chip. Internally, it is a complex technical tool, which by 2020 has acquired a halo of functions and features.
Estonians use electronic cards for:
Crossing borders in Europe;
Signing documents (with time stamps);
Submitting applications for medical, notary, tax and other public and commercial services/services;
Paying fines and taxes;
Online voting, including during national elections;
Obtaining all kinds of information from various registries;
Identification when logging into online banking and other online services;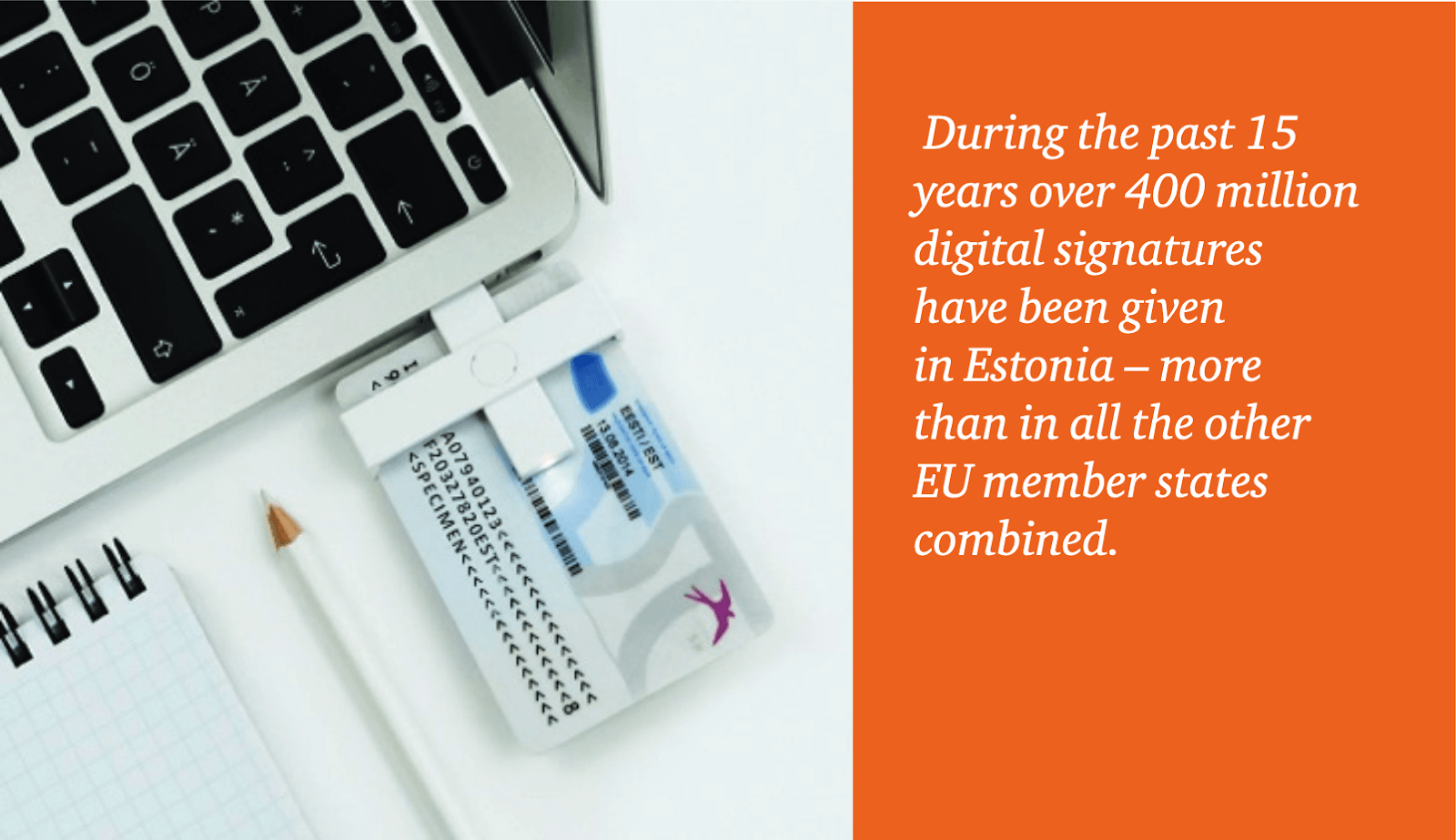 Estonians have presented their digital signature more than 400 million times in 15 years. That's more than all EU countries combined. Source .
Electronic passports are used everywhere. Here they have long become a familiar and commonplace phenomenon, not some "prop from the future" as in the rest of the former CIS countries. Naturally, under such conditions, the main task of the state is to provide an appropriate legal framework. Electronic identification and all actions performed with it are protected by law. The digital signature is 100% legal, just like our own handwritten signature. An online vote is equivalent to a vote cast in person at a polling station with a passport and a pen. Citizens themselves are criminally liable for the security of their digital passport. If someone else uses your ID card by your own mistake, you face a fine and/or correctional labor at best, or jail at worst.
The transition to a digital model without bureaucracy has not only spared citizens the need to visit certain institutions and stand in queues, but has also allowed the state to regularly save additional millions of euros for the treasury. On average, this model saves up to 2 percent of GDP and up to 1,400 working hours each year. What's more, it has also given a boost to tech startups. In Estonia, the density of "unicorns" (startups with a market value above $1 billion) is four companies per million citizens.
According to the president, the country's main task today is to ensure quality public-private partnerships, so that both the government and people, as well as commercial companies, benefit from digital services. For example, the fact of using a government identification tool in online banking has increased confidence in financial institutions and spared them from having to develop their own authorization systems.
After its success in the national arena, the state model of digital identification and service provision has already expanded beyond Estonia. Since the end of 2014, there has been a program for foreigners – e-Residency, popularly called "e-citizenship". This is the same digital ID card that gives people all over the world access to government online services previously available only to Estonian residents. In fact, the card provides neither citizenship nor a residence permit, but a convenient way for foreigners to do business here. However, one of the key advantages of the e-Residency program is that entrepreneurs can eventually apply for a temporary residence permit in Estonia after receiving a digital ID card.
With e-Residency, it is possible, while being in a completely different country:
Start and manage a company in Estonia;
Apply for a bank account, use online banking and international payment systems;
Sign and send documents;
To declare and pay taxes online.
E-residency program proved successful and attracted businessmen from different parts of the world. So far, more than 60,000 "e-residents" from 165 countries have registered and launched more than 10,000 companies. By the way, even the Pope and other famous people have exactly the same card – in Estonia they like to give such gifts to the guests of honor.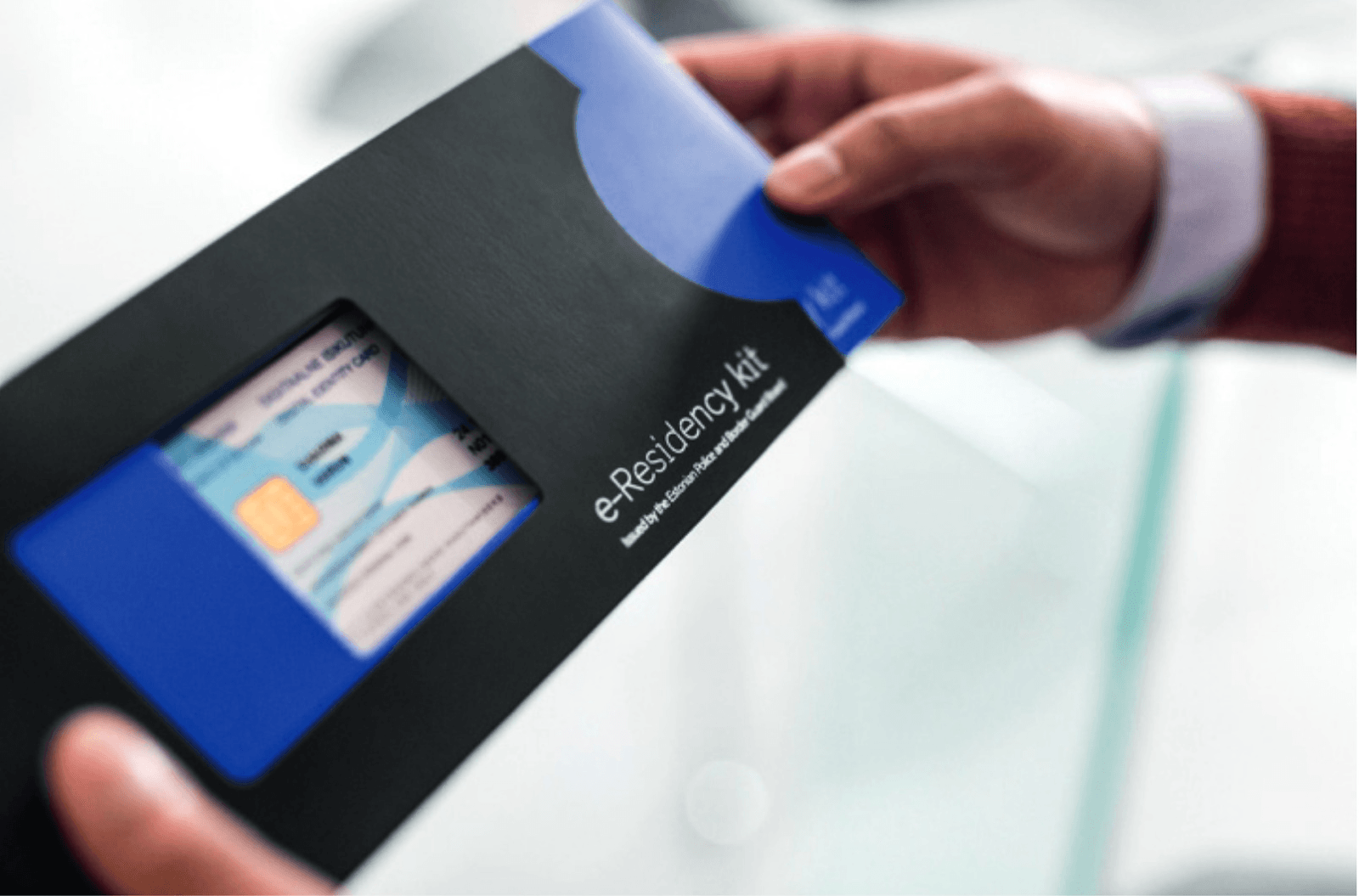 ID-card e-Residency. Source .
X-Road and KSI Blockchain
At the heart of e-Estonia is the X-Road network, the digital backbone of the entire country. It is a decentralized state open-source network, on which the entire infrastructure is based. Its main task is to ensure fast and secure exchange of data between different bodies, companies, services and people.
The Estonian digitalization website states that X-Road is "an invisible, but crucially important environment that allows the various national databases of electronic services, both public and private, to connect and work in harmony.
The X-Road network is the backbone of digital Estonia. Source .
There are more than 2,700 services of all kinds operating within the network. Although X-Road was first launched back in 2001, it has been continuously improved and by 2020 has changed beyond recognition. At the moment, its main distinguishing feature and at the same time the main secret of its success is the use of blockchain technology. The local distributed registry was developed by Guardtime and is called KSI (Keyless Signature Infrastructure). It allows protecting data so that it cannot be erased or rewritten.
Estonians always have the right to know and control everything that happens to their digital data. A person chooses who can access his or her information and what kind of information. For example, teachers can put grades on report cards, but they cannot look at students' medical histories. There are strict filtering processes and strict limitations. If someone views or accesses another person's data without permission, they are criminally liable. This applies to officials as well. Tampering with public databases cannot go unnoticed (not even a casual browsing), because all activity is captured by a time-stamping system based on blockchain. By introducing criminal liability, Estonia protects data not only technically, but also legally.
Obviously, the level of transparency, security and confidentiality in the digital government model is higher than in the analog "paper" model. After all, traditional documents and certificates can easily be destroyed, stolen or viewed. A prime example is Haiti: In the 2010 earthquake, almost all real estate records were destroyed, and people are still disputing who owns what.
The way the KSI blockchain works is different from what the crypto industry is used to. It doesn't store the information itself, but only hash values tied to traditional servers. These are digital fingerprints of the raw data. That is, all information in the X-Road network is hashed immediately and its authenticity is easily verified using blockchain technology, but blockchain is not used specifically as storage – it is only responsible for security. According to the official version, the government thus protects information from the shortcomings of blockchain, while providing high speed and limitless scalability.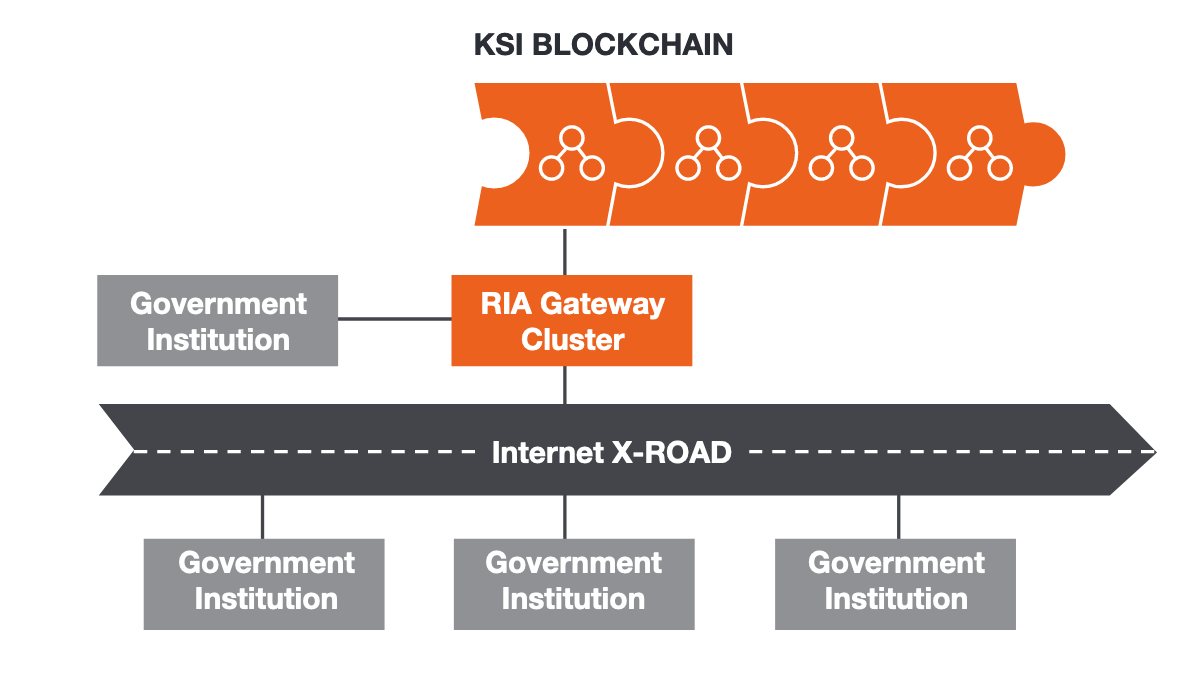 KSI's blockchain captures any changes. Source .
The specifics of Estonian blockchain leave risks for traditional server attacks. There is indeed cause for concern. In 2007, local authorities decided to remove the Bronze Soldier from a park in Tallinn and, against this background, fell victim to a series of cyber-attacks originating from Russian IP addresses. Several government services were temporarily out of action. After that, Estonia decided to tighten its protective measures.
A specially formed NATO unit is now responsible for cybersecurity, and since 2017, all information has been backed up in Luxembourg in case of military or large-scale hacker attacks. Estonia was the first country to open "data embassies" in other countries.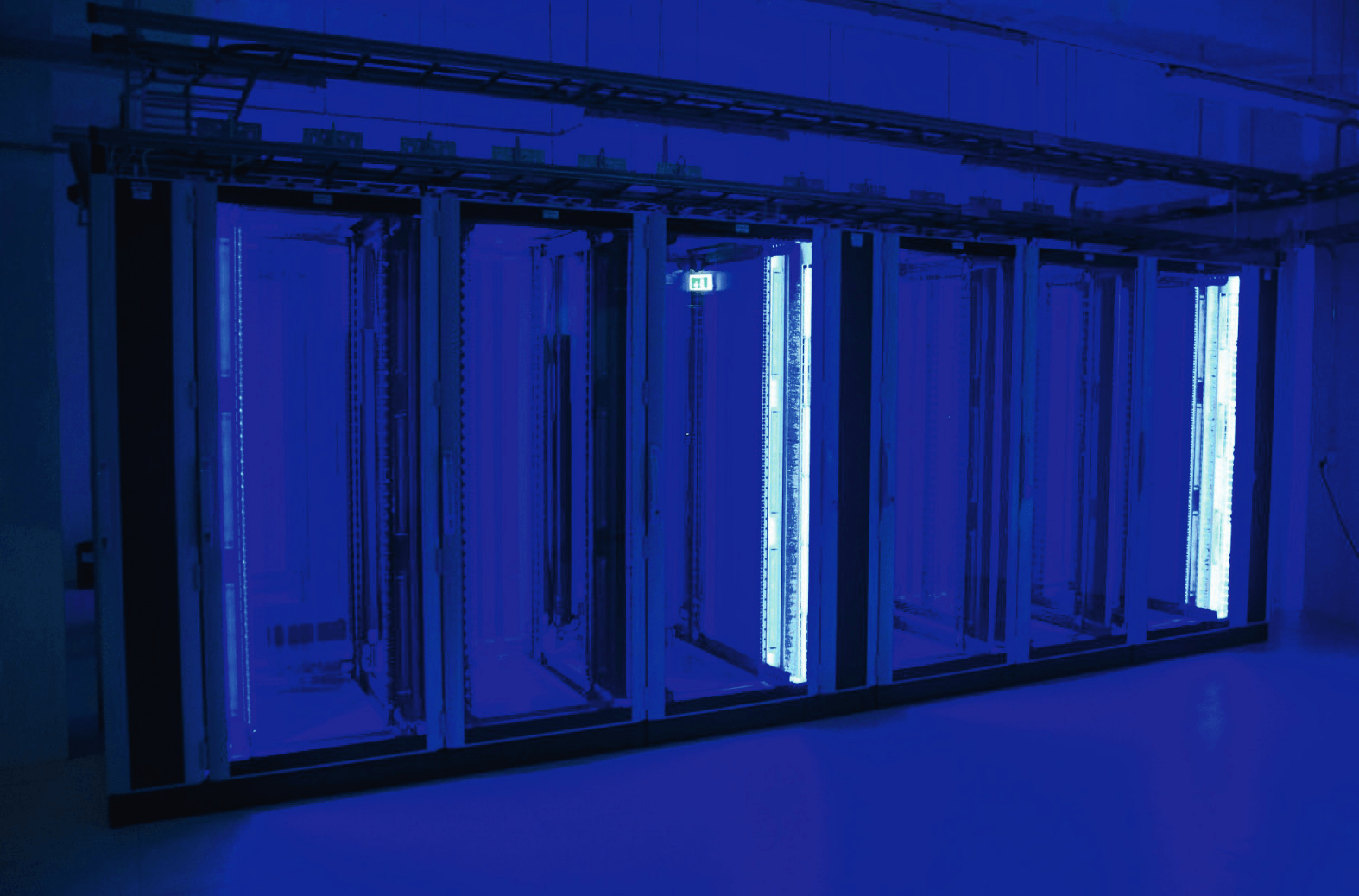 Estonia's data embassy. Source .
Now X-Road in alliance with the KSI blockchain is used in medicine, business, and virtually every other field.
Example 1. Document Verification.
The driver of a vehicle does not need to carry a driver's license. A police officer can use X-Road to query the road administration database for a license. All the driver needs to do is show a digital ID. The same goes for any other document verification, including diplomas and references.
Example 2. Medicine
No one can access medical records without the patient's permission, and any appointments, including incorrect ones, are recorded. It is not possible to change/delete a record that has been made. This not only eliminates data manipulation and ensures a high degree of medical responsibility, but also allows for a quick response in case of incorrectly prescribed medications or incorrect doses. Moreover, since all prescriptions are written directly to the ID-card, there is no need to even remember the name of the medicine. All you have to do is show the digital ID card at the pharmacy and get the medication you need.
Other interesting facts
Finally, here are some more interesting facts from the world of digital Estonia:
Bitcoin here is recognized as a means of payment and not property, as in the U.S., for example. Many institutions accept cryptocurrency as a means of payment.
The crypto-industry in the country is well received. This fact, along with the benefits of e-Residency program, has created a desire for entrepreneurs around the world to open a cryptocurrency business here. More than 700 cryptocurrency and blockchain companies with foreign shareholders are registered in Estonia.
It was one of the first countries to announce plans to launch a national cryptocurrency. Moreover, the government wanted to distribute the coins through an ICO. However, the plans had to be scrapped after criticism from Mario Draghi, the former chairman of the European Central Bank. Considering that this happened before the topic of CBDC launch became mainstream, we can assume that Estonia will still return to this issue, but with a new approach.
The X-Road program has already expanded beyond the country. In 2017, an X-Road channel was created between Estonia and Finland to exchange data. The network is already being tested by the governments of Finland, Azerbaijan, Namibia and the Faroe Islands.
To date, no cases of local digital identity abuse have been reported.
KSI's blockchain is used in the work of NATO, the EU Information Technology Agency and the U.S. Department of Defense.
Skeptics argue that KSI is not a blockchain, but merely a time-stamp cryptographic hashing service. Moreover, Guardtime developed KSI back in April 2008, before bitcoin, and renamed its product "from timestamp hashing" to "blockchain technology.
In January 2017, the Estonian exchange Nasdaq tested e-voting, a voting system in the company's shareholder circle that runs on blockchain technology. The experiment turned out to be successful – the cost of voting went down and the process accelerated.
In 2017, the authorities eliminated a technical flaw in ID cards. Owners of earlier versions were unable to update online and had to visit the police in person to get new devices. Suddenly, social networks were flooded with "horror stories" about having to wait in line for the service. After 20 years of no queues, citizens were clearly not ready to endure them again.
Conclusion
Estonia has clearly demonstrated that high-tech countries on blockchain are not a myth, but a reality. It is a perfect example of how effective distributed registry technology can be in the public economy. In this case, everyone wins – local residents, companies, and the state itself.
Of course, the example of the small Baltic country with a population of 1.3 million people cannot be treated as a hundred percent guarantee that this model will prove successful in other countries as well. However, recent theoretical studies in Australia, China and the UAE prove that this will be the case. How it will work in practice, we will find out in this decade.