What is worth coming to Marrakech for? Top 10 things to do
Marrakech is the legendary "red city" of Morocco. Mystical (it's home to marabouts), artful (pick your pocket when you enter the bazaar!), brash, noisy, luxurious and hot… Marrakech has no access to the Atlantic or the Mediterranean, but every year crowds of tourists flock here like ants to a sugar cube. The local hotels are like paradise oases of comfort and beauty, gardens filled with fragrant flowers, refreshing swimming pools, relaxing spas and golf courses. The nightlife in Marrakech is endless. As well as gourmet restaurants with terraces, where it is so pleasant to relax, art galleries, literary cafes, museums, palaces. It is in Marrakech where many celebrities have bought their villas and luxurious riads: Brad Pitt, Madonna, Naomi Campbell, Jean Paul Gaultier, Leonardo di Caprio, Alain Delon. This magical city spread out against the backdrop of the snow-capped Atlas Mountains has inspired and beckoned artists, fashion designers, and filmmakers. What are the must-see leisure activities in the cultural capital of Morocco? I've made a list of 10 must-dos
When darkness falls, let's go to Jemaa el-Fna.
Coming to Marrakech and not going to the famous Djemaa el-Fna is like ignoring Red Square in Moscow and Times Square in New York. In the daytime, it's quiet and almost deserted. But as dusk falls, tents and pavilions are erected, cauldrons and braziers are brought out, and incredible delicacies are cooked and, of course, orange juice is squeezed. The aromas and smoke envelops the entire neighborhood. It's the best street fast food that makes your mouth water. Also entertaining those who flock to the lights, sounds and smells are fortune tellers, henna painters, medicine men, gnahua musicians, acrobats, cobra charmer and storyteller-celebrities, toothpickers and just the local merrymakers. A seething cauldron of impressions, a buzzing, entertaining buffoonery that will never be erased from your memory. If you plan to snap your camera, prepare some change. Otherwise, you'll get cursed. Tip: You can climb on the terrace of a nearby cafe and take nice pictures from above.
Buying rhinoceros horn and dried chameleon potions
Of course, you know that in Marrakech you must buy real saffron and other spices in all shades of the rainbow, plus argan oil to add to salads or use in cosmetics. But after a glance at the Berber pharmacy in the spice market, you will find something more interesting: magic potions for any illness – for insomnia, loss of potency, migraines … You will be offered elixirs, powders, plant extracts, minerals, snakeskin, iguana feet, dried chameleon, rhinoceros horn. Just name your ailment and they will tell you how to exorcise it. Leave it for three nights under the stars and then rub it on your forehead, or just take it inside in the morning. With especially severe cases or with such requests as to win a trial, to return a love that has gone, you can turn to local witches and miracle workers. You will not do without magic spells and rituals with hypnotic dances. Are not afraid? Let's go!
Wandering through the labyrinth of the bazaar in search of wondrous treasures
The twilight web of the main street bazaar, stretches from the northern part of Jemaa el Fna Square to Ben Youssef Madrasah, the grandiose Islamic university. Each shop is like a cave from an Aladdin fairy tale. Inside there are mountains of all sorts of stuff, leather, ceramic, silver, copper. Bags, plates, slippers, vases, jewelry, exotic doorknobs, openwork lamps, colorful scarves, purses, carpets … Allah, help me not to go bankrupt! Hovering over souvenirs, getting out of the bazaar is no easy task. You also have to dodge mopeds, donkey carts, bikers, and pickpockets and backpacks as thieves tend to come and go. Getting lost enough, you'll get to those distant corners, where artisans in front of rare passers-by are making their goods – beating with hammers, bending, cutting, shaving all sorts of materials to then display in their stores. Colorful and informative! If you are invited for tea and chat, say yes.
Relaxing in the colorful Jardine Majorelle like Yves Saint Laurent
The delightful Jardine Majorelle botanical garden was once owned by the French artist Jacques Majorelle. He moved to Marrakech at the beginning of the 20th century to improve his health. As a result, he brought here from different parts of the world amazing plants – all kinds of cacti, lotuses, yuccas, bamboos, jasmine, palms… To be in the garden on a hot summer day is a cool pleasure for the mind, eyes and ears. With the singing of birds, the lush vegetation, you can relax near a gurgling fountain or meditate in a gazebo. Connoisseurs of high fashion will be pleased to know that after the death of the artist the garden was acquired and restored by Yves Saint Laurent himself. He spent many inspired days here, creating his clothing collections and drinking tea with sweets. In the central part of the garden is a memorial to the couturier. And in the blue building – a museum of Berber art, whose exhibits were collected by the fashion designer himself.
Cooking Moroccan cuisine at the culinary course
If you're crazy about Moroccan cuisine (and no wonder, it makes your tongue swallow), Marrakech invites you to learn how to cook it. As if you were born here. You will understand spices and spices and unimaginable combinations of flavors. Amaze your family and friends with crumbly couscous, tagine, pastilles and almond sweets. Culinary courses in Marrakech are many and there are plenty to choose from. For example, Riad Enija, La Maison Arabe. First you will go to the market and learn how to choose the freshest products, and then you will visit the owner of the maison, where they will show you all the tricks of cooking national dishes. The price is about 50 euros per day. It includes your lunch, drinks and a few hours of unforgettable cooking class. If you choose the weekly course, you could open a Moroccan restaurant at home
Admiring the diamond "Palace of the Beauty" – Bahia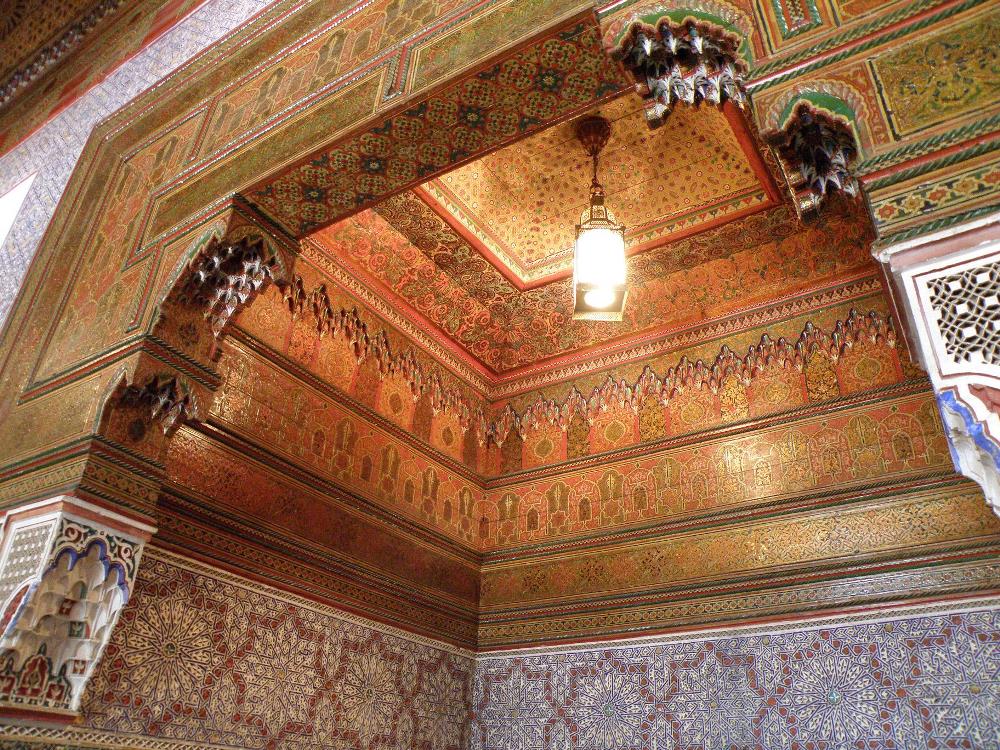 From the outside, the Bahia Palace does not look much like a palace. But it is an example of Eastern philosophy, when all personal wealth should be hidden from the eyes of others. When it was built, attention was paid to the interior decoration so as not to cause unnecessary envy. The Palais de la Bahía has 150 rooms – halls, bedrooms and other rooms, shining with gilding, carved ornaments made of expensive wood, wonderful Moorish mosaics and inlaid ceilings. The rooms, which are one after the other, are like a fancy box. In them the Grand Vizier of Marrakech planned to settle his four wives and twenty-four concubines. The central square is lined with marble and decorated with a fountain. The palace has elegant courtyards, shady alleys, and several beautiful gardens with banana, orange, and jasmine trees. You can have a great time on a hot day here.
Making wishes at the Qutubiyah Mosque on a full moon
The old Al Koutoubia Mosque, which is so beautifully lit at night, is a shrine not only to Marrakech, but to Morocco as a whole. While in many mosques the call to prayer is recorded, here the azan is sung by a live muezzin five times a day. The minaret tower stands 77 meters high and is decorated with four gilded orbs. Did you see them? That means Jemaa el-Fna is nearby. The truest landmark. There is a legend that one of the Sultan's wives during Ramadan ate four grapes. As a sign of remorse, she gave all her jewelry to be melted down so that golden orbs could be cast from them and placed on the top of the minaret. If you stand under the minaret facing east at the full moon, you can make a wish that will surely come true.
Rolling the dice in the casino of the legendary hotel La Mamounia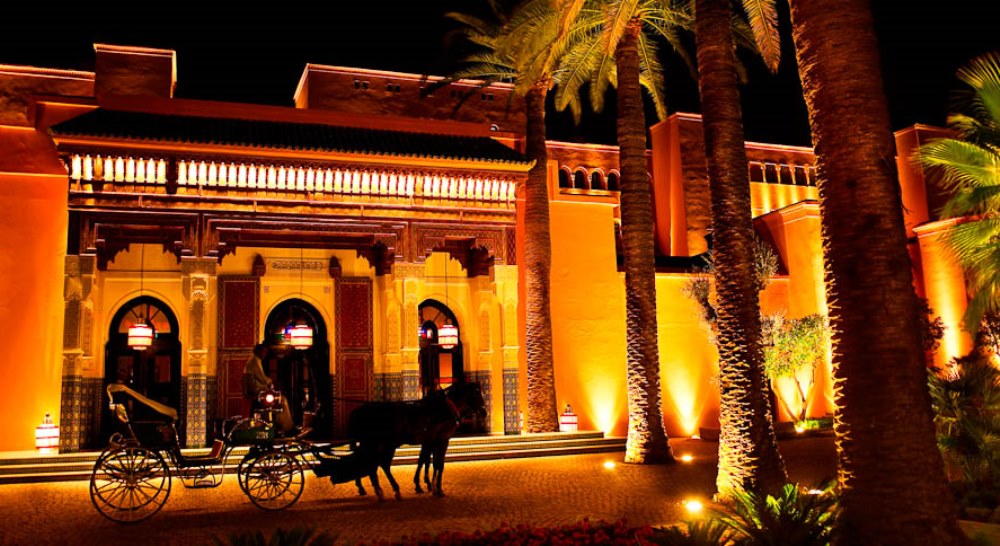 "La Mamounia is the golden age of Marrakech. A living legend in the Moorish Art Deco style, with three hundred year old gardens on 17 hectares. When they bloom – words can't describe it! Winston Churchill loved to rest here. One of the rooms and the Piano Bar are named after him. Presidents, sheikhs, heirs to the throne and movie stars have left notes in the hotel guest book. Nowadays this chic hotel decorated with works of art is often visited by the royal family. To visit La Mamunia, you do not have to book a suite with a view of the Coutoubia. The bars and restaurants are open to the public. Not to mention Le Grand Casino de Mamounia, which has seen the best players from all over the world. If you like to play poker, roll the dice or spin the reel of the one-armed bandit, you should definitely do so here. Bets are accepted in local currency – dirhams.
Let yourself go to the hammam – forget everything and be born again.
If you go to the spa, even in the most luxurious hotel – the real Moroccan hammam you will not know. The European gentle version, adapted for tourists. In every quarter of the old medina there is a mosque, a fountain and a real, authentic hammam, which men and women visit at different times. Want something truly extraordinary? This is where you come in, to Purgatory. It seems here, along with all the dirt, dust and tan, and wash your skin, and scalp, and all your past life, smeared with something heretofore unseen, but the final feeling, I swear, incredible! Asking for mercy in English is useless, only French will be understood. Once you step out into the white light, you will be surprised by a brand new, pure Marrakech experience.
Let's rock out at the biggest nightclub in Africa – Le Pacha!
The nightlife of Marrakech is as vibrant and restless as the daytime! The city never sleeps. That's why many party-goers love it. Themed parties, fancy dancers and singers, famous DJs – every night there is a new reason for excitement for the guests of entertainment venues. Among the best clubs in Marrakech is, of course, Le Pacha. Yes, yes, the famous Ibiza club is open in Morocco. It has stunning interiors, great sound, and the wildest parties. Although Theatro does not seem to be inferior to it. It is located in a former theater building, with original decorations. Nikki Beach is a complex of restaurant, club and bar. By day, guests relax at the cocktail bar floating in the pool. At night, wealthy young Moroccans go on a break. Where I invite you too
P . S . Oops! No room left at all – to tell about other exciting activities in Marrakech
Go skiing or trekking on hiking trails in the Atlas Mountains. Check out art galleries and cultural centers, boutiques, and museums. Take a hundred colorful pictures in the tanneries on the outskirts of Medina. The Ali bin Youssef Madrasah, a philosophical and religious educational institution, is one of the rare religious sites for non-Muslims to visit. It's very beautiful! You can also go from Marrakech to Agadir or Essaouira…