Top 10: Horrifying facts about ancient Egypt you didn't know
Ancient Egypt is one of the most interesting places in the annals of history. The ancient Egyptians' obsession with life after death, the great pyramids and golden treasures, and the wealth of information they left behind in great works have captured people's imagination for thousands of years.
Beneath the overlay of mysticism and historical grandeur, however, is ancient Egypt, which was not always the most fun place to live. Their system of justice was often unjust and cruel, their medical practices were sometimes appalling, and their devotion to the gods often reached the point of insanity.
10. A cholera outbreak was once caused by the use of wrapping paper made from bandages from mummies There was a time when anything related to ancient Egypt was considered fashionable. Mummies were brought into Europe to be unwrapped at parties, and a large number of mummies were smuggled out of Ancient Egypt. The truth is that there were so many mummies that no one held them in awe anymore-even at the time; they were given very little historical significance.
For this reason, obtaining bandages from mummies was not only cheap, but sometimes cheaper than paper. One enterprising businessman from the United States in the early 1900's decided that he could save money in producing wrapping paper for food, and imported old brown burial linen swaddles to pull off the business. Unfortunately for him, his plan went awry when people started getting cholera, and the use of burial linen for food wrapping was banned.
9. Sometimes servants were put to death to be buried with their dead masters Some have heard of legends before that servants of pharaohs and other important persons in the history of ancient Egypt were often killed by ritual rites and buried with their dead so that they could serve them in the afterlife as well. Many people today will tell you that this is pure Egyptian mythology, but the truth is that the reality is far more disturbing. Although the practice of ritually killing servants and placing them in tombs was not discontinued until the end of the Ancient Egyptian era, the sacrifice of servants was once an integral part of their society.
Although those who were sacrificed in this way did not necessarily feel that they were being killed. The ancient Egyptians had a complex relationship with death and were obsessed with the idea of continuing to live after death. In some ways they were much more obsessed with life than they were with death. Those servants who were sent to death and buried with their masters were considered privileged because they were allowed to follow a powerful figure into the afterlife to serve there as well. Yet it must have still worked on their nerves to know that your fate depended on the accidental death of the person for whom you worked.
8. In Europe, mummies were widely consumed as medicine
For most people, cannibalism is literally the most horrible taboo imaginable. The very thought of eating human flesh, even in circumstances in which there is no other choice, is something that would instantly turn most people's stomachs. Even when it comes to cases like what happened to the Donner party, when the Illinois settlers led by J. Donner, cut off by snow in the mountains, were driven to extremes and ate those who had already died, people talk about it in whispers and with horror at the very prospect of facing such a monstrous decision.
Back in the 1600s and 1700s, however, Europe was plagued by a frenzy of people eating various parts of human flesh in an attempt to cure various diseases. This began with those who chopped up mummies into pieces and added them to tinctures, claiming it could cure all kinds of diseases, but ended with people eating blood to cure blood-related illnesses and even pieces of a shattered skull to deal with brain ailments.
Although most people today consider cannibalism to be obscene, there was a time in Europe when eating other people's remains was considered a perfectly normal practice, and a healthy one at that.
7. Whoever did not honor the Sun God was sacrificed In ancient Egypt violent crimes were quite rare, but one of the worst crimes that could be committed was considered any form of insult or disrespect to the Sun God. Anyone who harmed (vandalized) or plundered a temple, or was in any way found guilty of a crime against the Sun God, was usually sentenced to be burned alive. This punishment applied only to those who committed the greatest crimes and was usually accompanied by a ritual of sacrifice to the gods. While the ancient Egyptians rarely practiced human sacrifice, this was one exception.
While being burned alive is quite painful from the beginning, it was considered the most gruesome death by all ancient Egyptians because of the ritual significance of the act. They firmly believed in the preservation of the physical body in life after death, and believed that the destruction of a person's physical flesh by burning left him no chance in the afterlife. While the gods could still technically intervene to help man, this was the worst punishment imaginable for a believer in ancient Egyptian society.
6. In ancient Egyptian police, beating confessions out of people was a common practice Ancient Egypt had a well-organized system of laws and groups that essentially acted like the police, but that did not mean that everything was always actually fair. As in old European society, beating recognition out of people by force was very common. In fact, it was essentially standard practice. Usually, in order to beat confessions out of people, they were beaten with sticks, often on the soles – a torture known as "bastinado" (bastinado).
Those from whom confessions were extracted would not only confess to what they had done, but also tell them where everything they had stolen could still be hidden, as well as give up any accomplices they might have had. These people may also have been beaten up in order to identify any other accomplices. Unfortunately, as in many flawed legal systems, it will never be possible to determine the number of innocent people probably punished for crimes because they were forced to confess to something they did not do. Unfortunately, false confessions under torture are incredibly common because a person is willing to do almost anything just to get the torture over with if it is painful enough.
5. A person who broke the law was presumed guilty until proven innocent One of the cornerstones of the modern legal system is the principle of the presumption of innocence – a person is innocent until proven guilty. This is one of the reasons why many people have long praised Western legal systems, where at least a person gets a fair and very speedy trial, and where he knows that the system prevents his guilt even before he is given a chance to defend himself. And while Ancient Egypt had a fairly advanced legal system, this is something they particularly lacked.
In their legal system, the guilt of the accused was presumed from the beginning, and it fell on the accused himself to prove his innocence. While judges always did their best to be objective, beatings were common to prove guilt (as we mentioned earlier) and were more likely to be applied to the accused, even though they might have been innocent. Even witnesses could be beaten if it seemed to the judges that it was necessary to obtain additional information about the case at hand. Although there is no evidence that the ancient Egyptians regularly abused this system by falsely accusing each other, it seems that the system was of much greater benefit to those who abused it than it should have been to the innocent.
4. sometimes the guilt of a person accused of a crime was determined by the magic of an oracle In the last days of ancient Egypt the clergy began to establish increasing control over the daily lives of Egyptians and the decisions made by the rulers. The influence and power of the priests over ordinary citizens increased steadily with each passing year, and soon they were consulted far more than they had been before. Those in power knew far more than they asked the priests, as they were believed to have the ability to contact and receive the support of the gods, and could potentially influence a large number of people to do their bidding.
This meant that in the last days of ancient Egypt, the priesthood became involved in court cases. They would bring a statue of the Sun God and put papyri in front of it with different answers for important decisions – usually two documents in court, deciding guilt or innocence. The statue had to turn to face the correct papyrus, demonstrating the will of the gods. Of course, this gave the priests the ability to manipulate the movements of the statues and essentially decide court cases based on their own opinion and whim. Unfortunately, this meant that many ancient Egyptians depended on the whim of a rogue priest, someone who was believed to be a rogue, but who probably knew very well that whatever he said would be taken as the will of the gods.
3. Taking measures to prevent pregnancy was a terrible spectacle Today, in order to avoid unwanted pregnancy, people who are not ready at a given time to continue in labor use various means of contraception. And, as many people know, birth control has been around for many thousands of years. Scientists have evidence of the use of sheepskin condoms as far back as antiquity, and the ancient Romans are said to have used plants for birth control so often that they disappeared entirely because of it. However, most of these methods were fairly reasonable ways of preventing pregnancy, especially compared to those used by the ancient Egyptians.
Ancient Egyptians believed that mixing most of the honey with the addition of crocodile dung, which was then coated around the vagina, was the main way to avoid pregnancy. For some reason they thought it was an effective spermicide, though in fact it further increased the likelihood of getting pregnant. While it's understandable that they believed it worked as a contraceptive, based on their knowledge at the time, it's still eerie to imagine how often they had to smear crocodile dung on their most intimate parts.
2. Capital punishment in ancient Egypt was rare but extremely cruel Life in ancient Egypt could be quite brutal, and beating, as we have mentioned several times before, was both a method of obtaining confessions and a common punishment. However, while many people know that ancient Egypt could be quite harsh in terms of punishing criminals, like much of the ancient world, they were against the senseless imposition of the death penalty.
Although such punishment existed in law, it was very, very rarely used. In fact, there was even a time period of about 150 years when the death penalty was not officially sanctioned for crimes in ancient Egypt. However, when someone committed a fairly serious crime, such as murder or treason, the death sentence to which they were sentenced was quite cruel. Although it was mentioned earlier that burning alive was the punishment for grave crimes against the gods, there were other forms of capital punishment that were just as painful and horrible: beheading, drowning, and even impaling.
1 The legends of the curse of the mummies of ancient Egypt continue to stir the minds of scholars Countless legends and stories tell of the idea of the curse of mummies, and the general idea of it goes much further than many think. Even before the discovery of Tutankhamun's tomb, there were already stories of revenge on mummies whose remains were disturbed. However, the most popular legend claims that 26 people participated in the opening of the tomb and then all began to die under mysterious circumstances – including the expedition leader, who died very quickly from blood poisoning.
Examination of the tomb revealed mold spores, but nothing that was considered particularly dangerous – this mold was not dangerous enough to cause harm to a person who had been in the room for a short time.
Some have speculated that there may have been a strange disease leading to blood poisoning, but most scientists have dismissed this version, pointing out that it does not stand up to scrutiny given that only 6 of the 26 people involved with the tomb died shortly after it was opened. However, while there is no logical evidence for the existence of curses, this does not mean that the ancient Egyptians did not practice it. Many tombs have various symbols around the perimeter, cursing those who disturb the remains of those lying in them, in the hope that vicious animals such as lions or snakes would attack them, or even the gods themselves would punish them.
Egypt: sun, sand, pyramids and mummies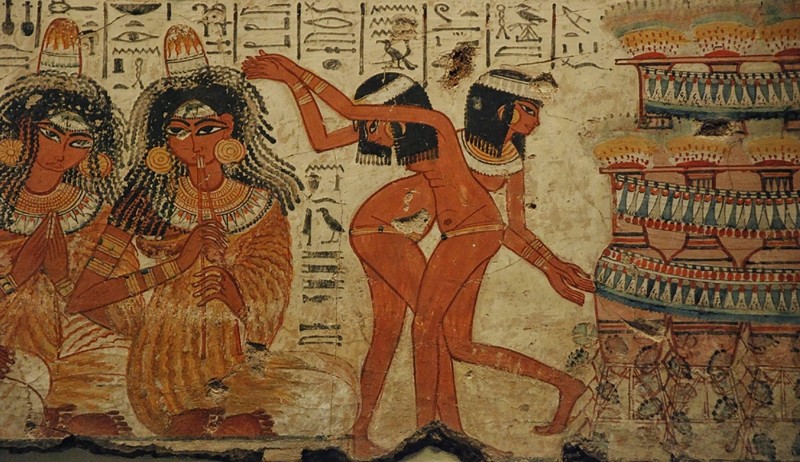 "The medical knowledge of ancient Egypt left the rest of the world far behind," as Homer wrote in The Odyssey. The Egyptians were experts in medicine, and especially experts in contraception. All methods were identified from drawings discovered or found in Ancient Egyptian documents. First, they used condoms (yes, in 1350 B.C.) made from cloth or animal intestines. Homemade birth control pills were made from ground pomegranate seeds and wax – the estrogen contained in pomegranate reduced the likelihood of conception. Honey, dates, elephant and crocodile excrement were also used.
Personal hygiene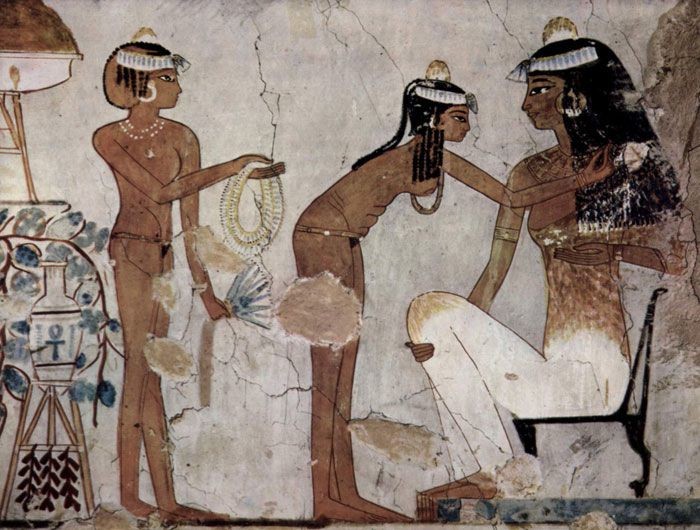 How did the Egyptians take care of their skin and hair? Grooming products were mainly used to protect the skin and hair from the hot desert air. Oils squeezed from fruits or nuts served as a base. Soaps were made on the basis of clay, animal fat, salt. As for hair, it was not uncommon for Egyptians to get lice, so they oiled their scalps with oils or shaved them naked and wore homemade wigs. Women used plant seed oils to keep their skin young.
Makeup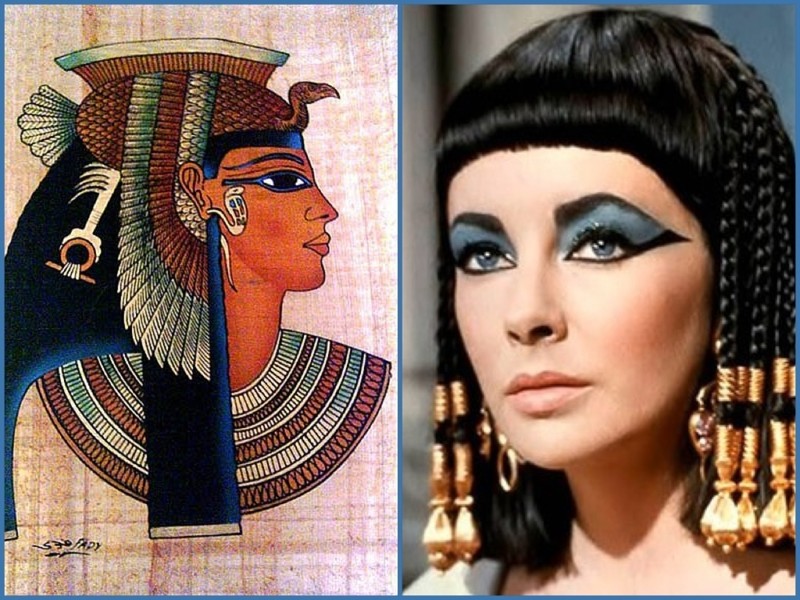 Both the women and men of ancient Egypt used cosmetics. The arsenal included many means: means for eye makeup were made of copper and lead, the black "eyeliner" for the eyes was kohl (modern antimony). Two colors were commonly used in the application: black and green. The Egyptians believed that makeup had healing powers.
Medicine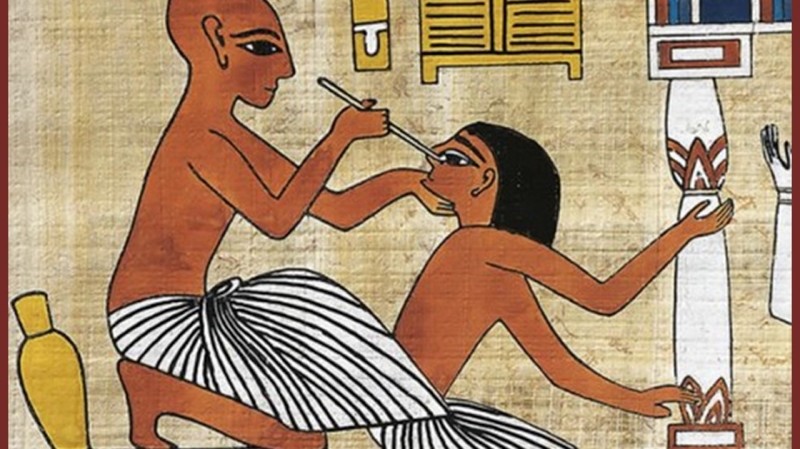 Again referring to Homer, "Egypt is a land rich in medicines. There were medicines for all kinds of diseases, which were prepared from a variety of ingredients. The ancient Egyptians used oils, dough, dates, onions, garlic, flax seeds, dill, opium, as well as various minerals, lead, antimony and copper. Meat, blood and intestines of animals were also used. All these "remedies" were mixed with milk, wine or beer or made into decoctions. Some infectious diseases were treated with moldy bread.
Mathematics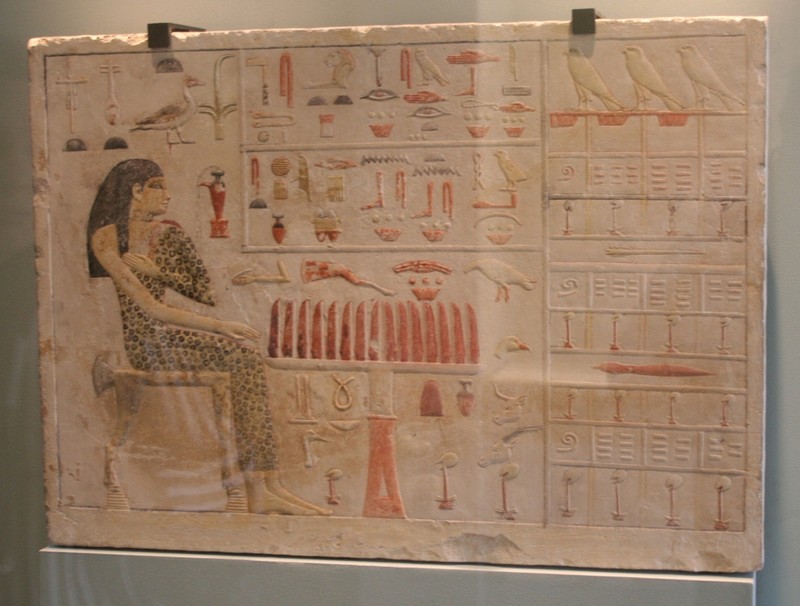 The Egyptians were "champions" of ancient mathematical calculations. Mathematics was used for various areas of life. Miracles of calculation are found in the walls of the temple of Abu Simbel. The temple is designed so that twice a year, the sunbeam crosses a 65 m long corridor and illuminates the statues of the gods Amon, Ra-Horahti and Ramses II. On the god Ptah the sun never falls. Besides, two days of this phenomenon are the birthday of Pharaoh and the day of his coronation (October 22 and February 22).
Calendar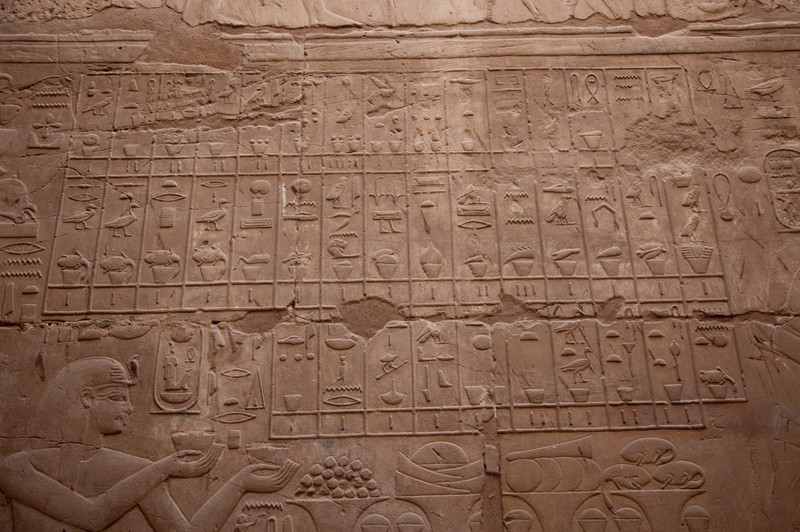 The Egyptians measured time familiar to us: in years, months, days, and hours. One of the first and most elaborate solar calendars originated in Egypt. The year was divided into 12 equal months, each containing 30 days. Most of the months of the Egyptian calendar were named after various deities. The ancient Egyptians based their chronology on the dates of the pharaohs' reigns.
Air Conditioning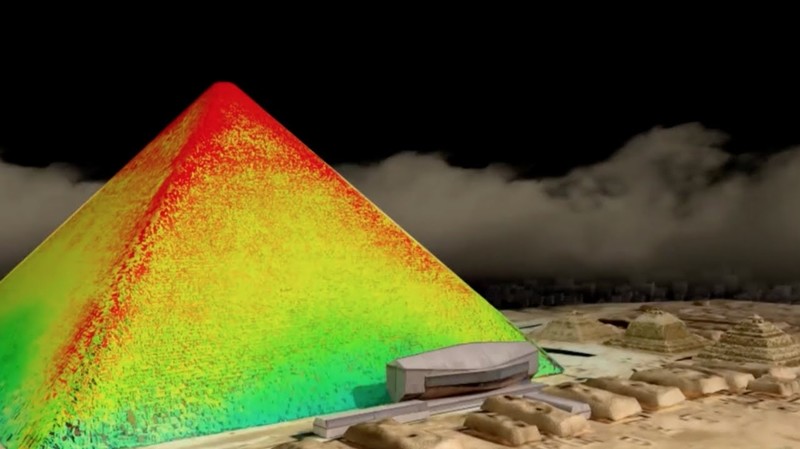 Undoubtedly, the term "air conditioning" itself appeared only around the 19th century. However, ancient Egyptians invented their own version of air conditioner, mainly for cooling palaces of Egyptian pharaohs. The construction was a tower-shaped superstructure above the building with holes in the upper part, through which the air was carried to a special water tank, and from there – inside the room.
Polarity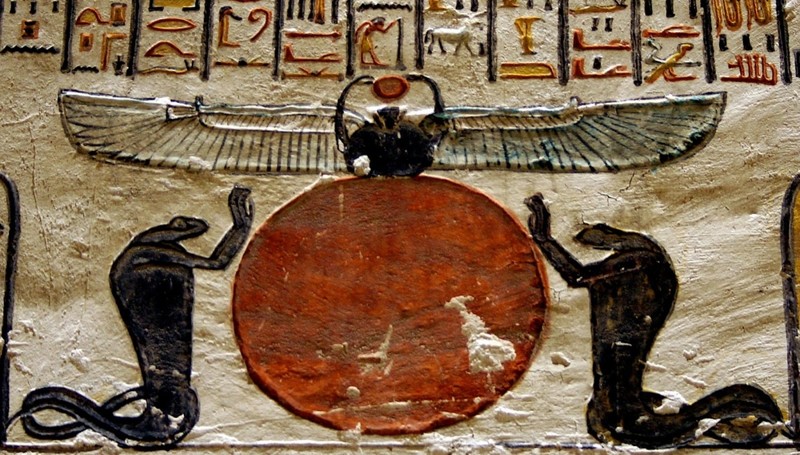 In ancient Egypt, polarity referred to all phenomena. The Egyptians' deep understanding of the nature of duality in the universe is reflected in many ancient texts and drawings. For them there was a kind of spiritual connection between the two opposites.
Morality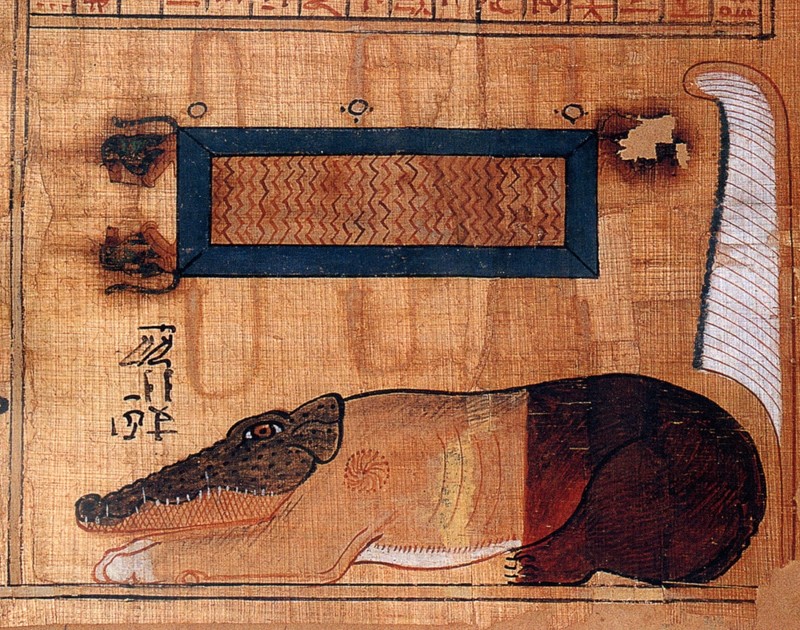 Morality among the ancient Egyptians prevailed over law, which was due in part to the peculiarities of religious culture. They understood the nature of the sense of justice, they knew that the guilty should be punished and the good rewarded. A striking example is that in Egyptian mythology there was a female monster (it is difficult to call it a goddess; in the picture above), Amat, who destroyed the souls of the dead who had committed sins during their lifetime. In ancient Egypt justice was predominantly administered by Maat, the goddess of truth, law and world order.
Respect for people with physical disabilities and handicaps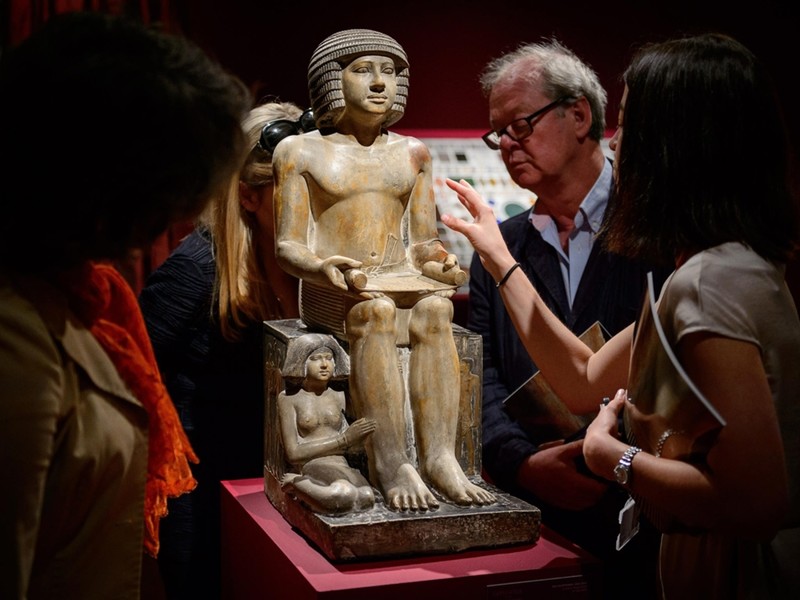 The ancient Egyptians treated people who were different from others – dwarfs, giants, people with congenital physical disabilities with deep respect, their disadvantages did not affect their position in society, in matters of work they were always given preference. Dwarfs received special attention: they were often high-ranking officials, and furthermore, the Egyptians worshipped several dwarf gods.
The Sphinx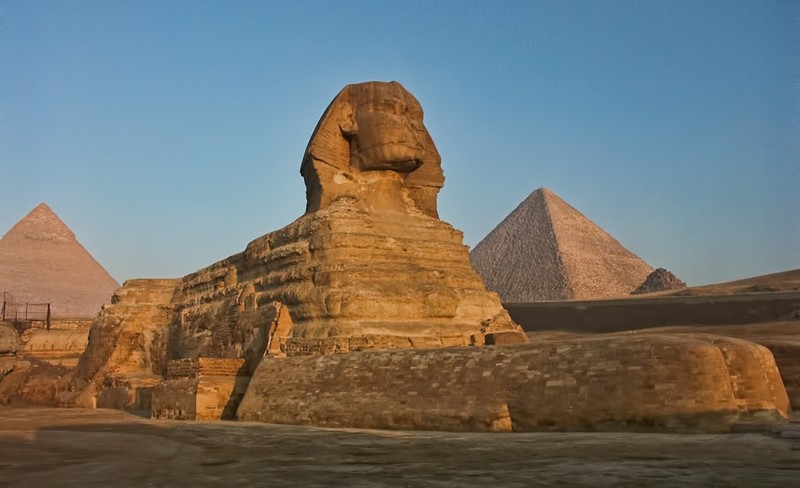 The Sphinx, one of the most enigmatic historical monuments, is a mythical creature, a lion (incarnation of the god Ra) with a human face (Pharaoh), whose origin is food for speculation for modern archaeologists. Many scholars argue that the statue depicts Pharaoh Heuren. According to the signs found, the origin of the Sphinx dates back to his reign, around 2500 BC. Also, the sculpture for a long time was buried under the sand and reconstructed several times. Until now, no one can explain the origin of the man-made monument, this has given rise to endless versions, opinions and conjectures.
Pharaohs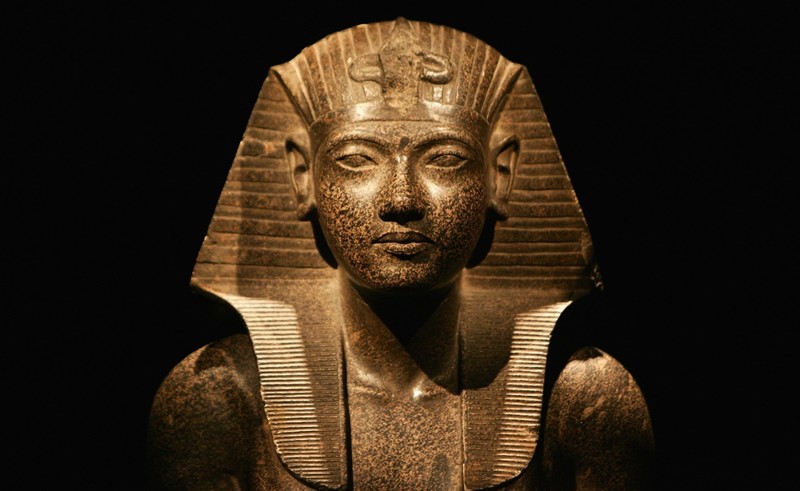 "Pharaohs" were traditionally called the supreme rulers of ancient Egypt. Pharaohs were worshipped, considered half-human and half-gods, or at least mediators between heaven and earth. The longest reigning pharaoh – Piopi II, whose reign lasted 94 years and was the longest in world history. According to scientists, the secret of Piopi's longevity – he always protected himself from flies and other insects, which were carriers of disease: there were always a few slaves smeared with honey near him.
The Pyramid of Cheops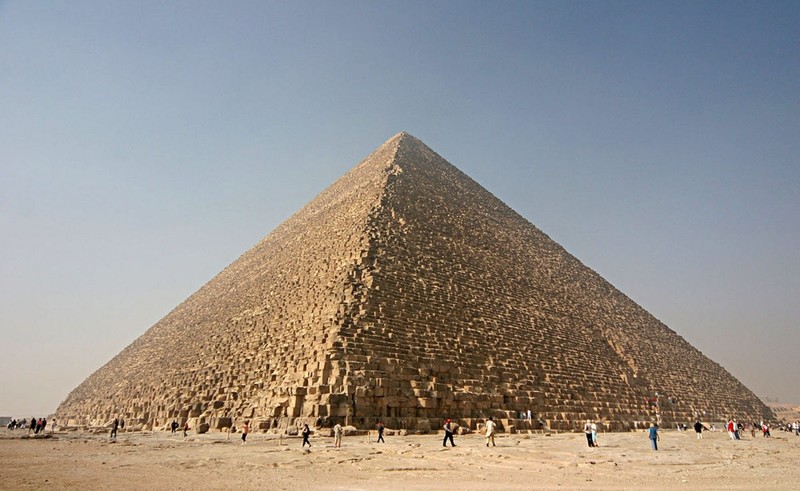 It is difficult to imagine that the largest of the Egyptian pyramids was built of 2.3 million stone blocks, with the weight of each – more than two tons, and its construction used simple tools. There are many hypotheses concerning the construction technique of the monument. Four sides of the Cheops Pyramid look at the four sides of the world. For about 4,000 years the pyramid was the tallest structure on earth (139 meters), but in 1310 it was surpassed by the Cathedral of Our Lady of Lincoln.
Pyramid location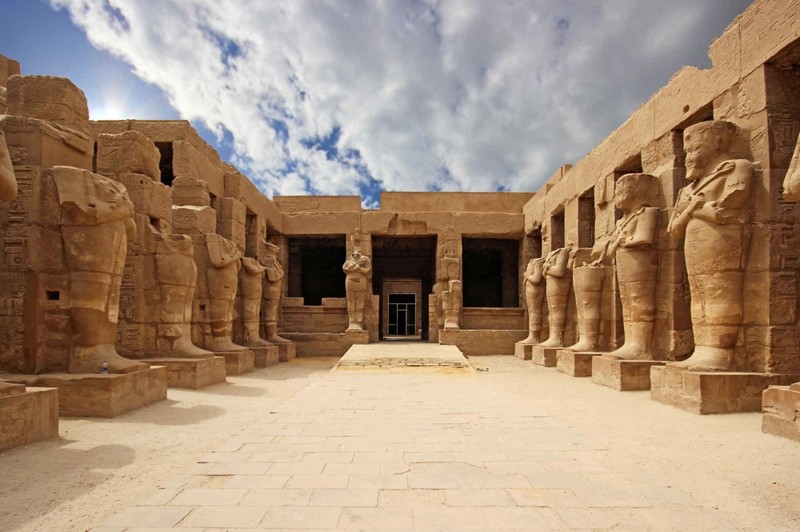 The location of the pyramid of Cheops is truly unique and mysterious: scientists have repeatedly mentioned that the pyramid was erected exactly in the center of the earth's landmass. Also, the meridian on which the top of the monument is located divides the surface of the land and sea equally.
Cats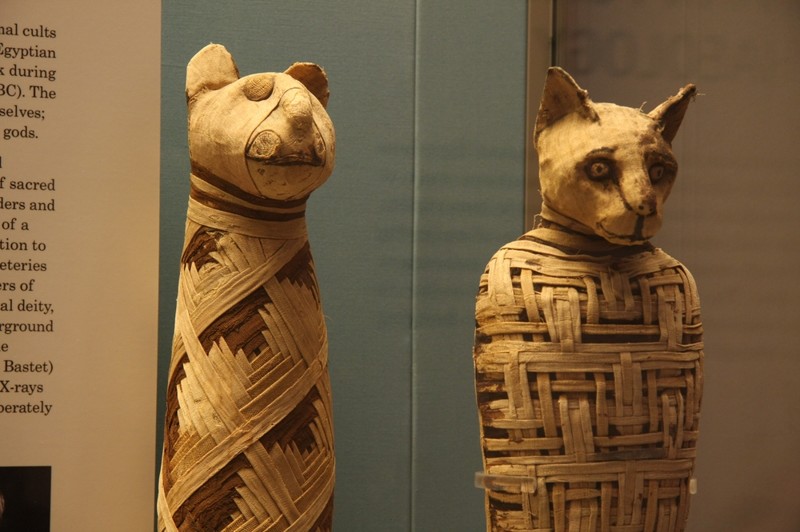 Nowhere were cats worshipped more than in ancient Egypt. These animals were sacred and their image was endowed with symbolic and mystical meaning. During the cult of the cat, the killing of a majestic animal was punishable by death. When a cat died, the owners fell into deep mourning and shaved their eyebrows as a sign of grief. The body of the cat was mummified and buried by placing milk and mummies of mice in the tomb. In 1888, an Egyptian farmer discovered a huge tomb containing about 80,000 mummified cats.