Top 10 the most interesting VIP excursions in Dubai and the UAE
We tell you about the most interesting excursions for sophisticated travelers who want to see something unique and inaccessible. From safari on the sands of the endless desert, sunlit walks on the red sand dunes to helicopter rides and gourmet dinners on luxury yachts, the Arab Emirates know a thing or two about pleasures.
Dubai in a convertible for $350 for a 3-hour ride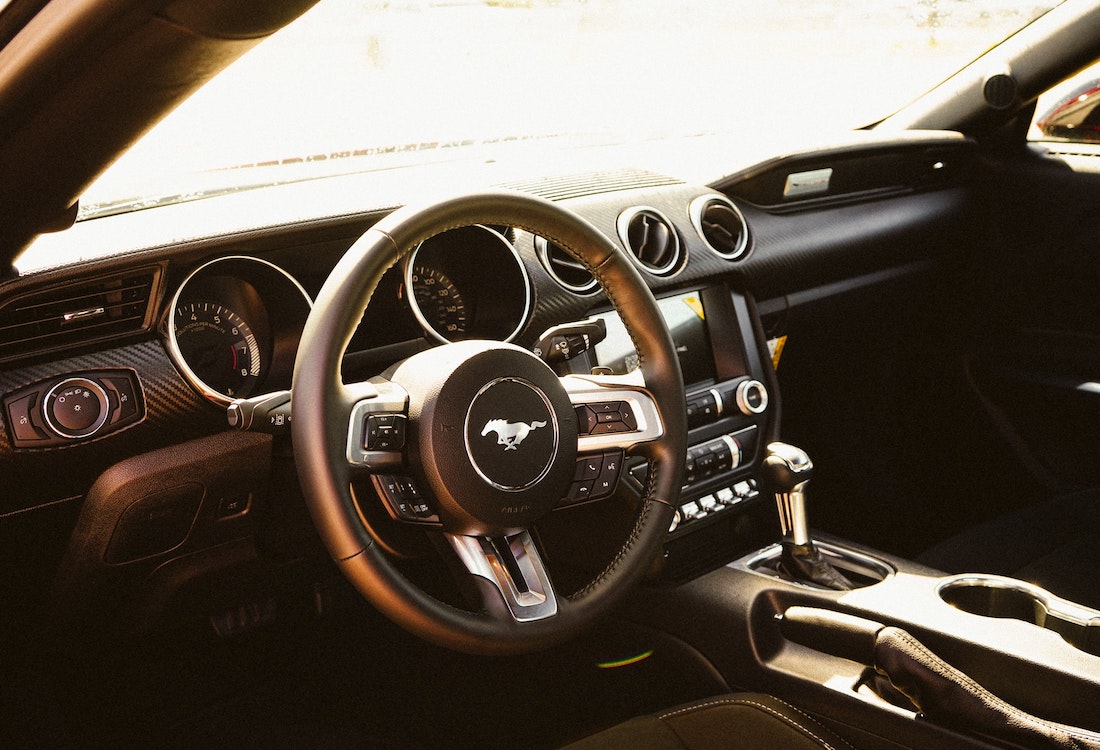 By Adrian N on Unsplash
A bright convertible, a phenomenal city, wind in your face, sunglasses and sunscreen are the formula for the perfect ride. You will drive in an ideal Ford Mustang or a luxury Chevrolet Camaro along the city's main highway, see skyscrapers and world-famous hotels under the clouds, see the most prominent sights and take great pictures, and hear a lot of interesting stories from the locals and professional guides.
VIP tour: Lah Bab Desert Red Dune Safari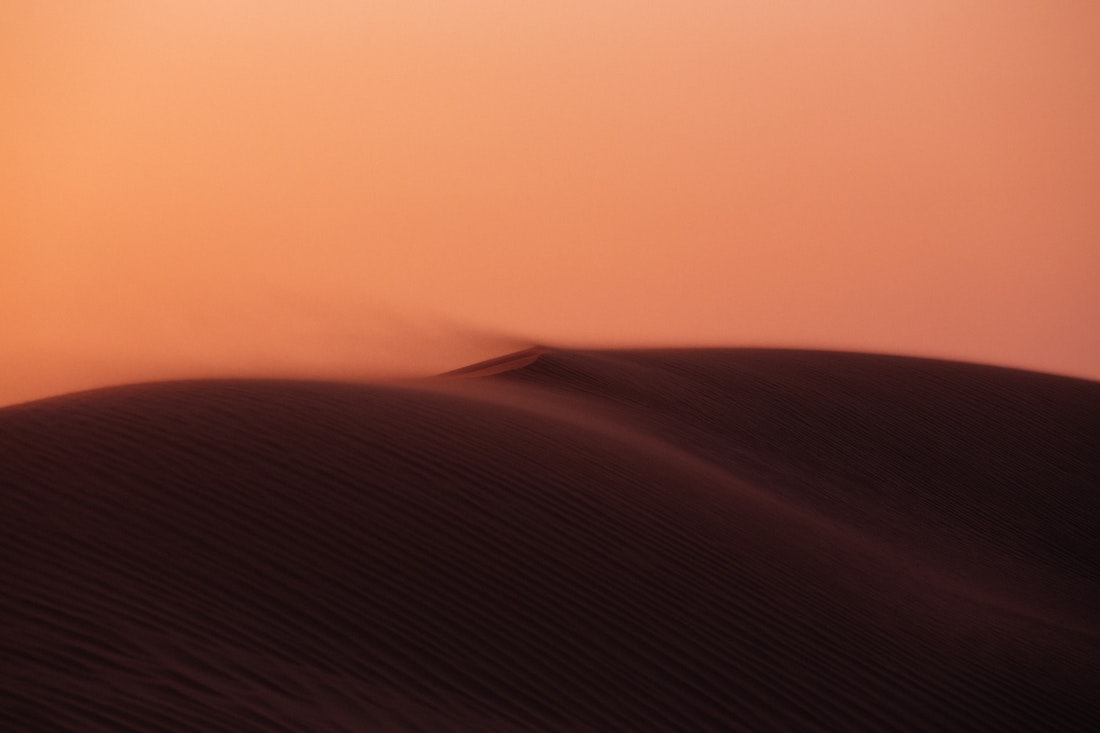 Author: Mikk Tõnissoo on Unsplash
A ride through the sand dunes is like going on a roller coaster, only here it's for real. A real jeep with a roaring engine, real wilderness, a real battle with the elements, real emotions. At the end of the trip there is some Arabian style entertainment – a luxurious buffet consisting of traditional dishes, flavorful hookah, chatting with locals, oriental show with belly dancing and fire taming, and friendly camels that are happy to give their guests a ride in the sand. In memory you will be left with fine henna drawings, which will remind for some weeks about the adventures experienced.
On a mega-yacht around Dubai Marina with dinner for $54 for one person.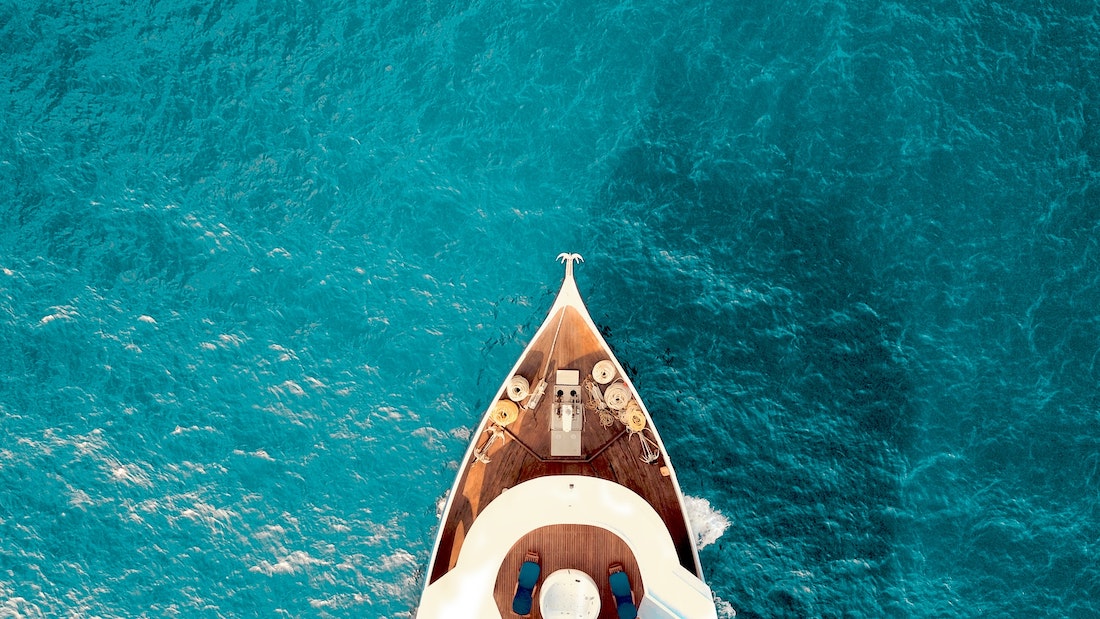 By Mohamed Masaau on Unsplash
A chic yacht is sailing across the Arabian Gulf with a perfect view of the coastline, artificial islands, imposing skyscrapers and the most fashionable areas of the world's most beautiful city, poolside deck chairs, attentive waiters serving refreshing cocktails and tasty appetizers and skillful musicians entertaining your ears. And in all this glory you are the most welcome guest.
A Helicopter Flight Over Dubai for 185 Dollars per Person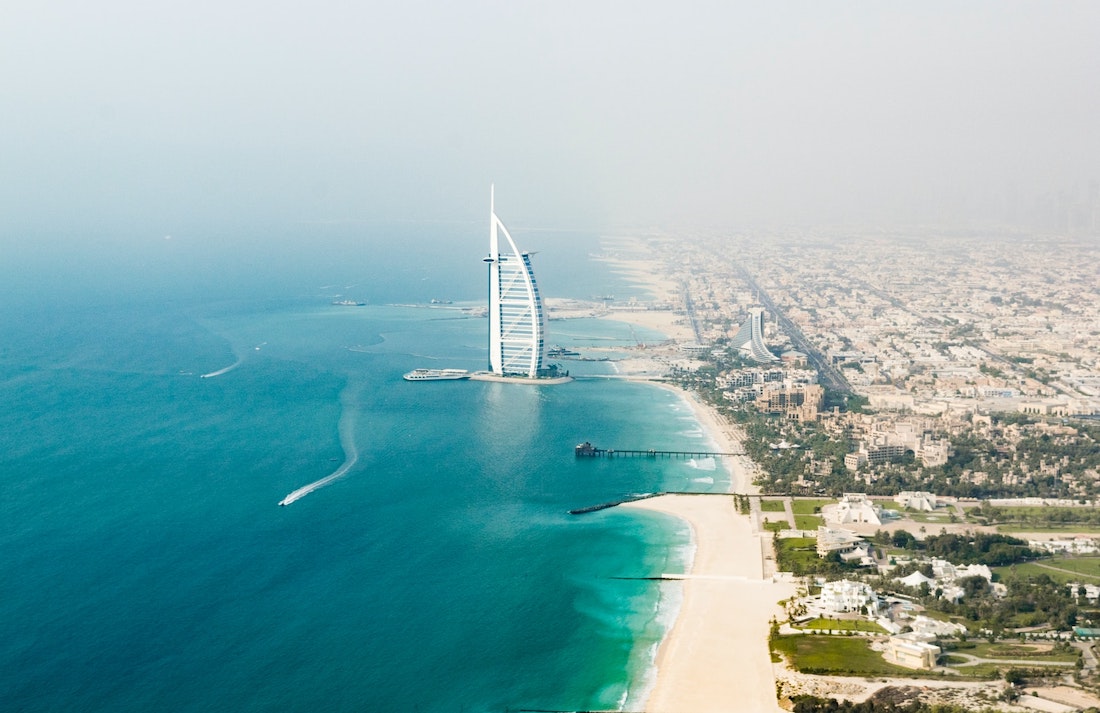 Author: Cédric Dhaenens on Unsplash
This powerful iron bird will carry you up into the clouds and take you on a splendid vista of Dubai. The Persian Gulf coast is in front of you, the World Islands are just beyond you, the Burj Al Arab Hotel is at your fingertips, the endless beaches, the artificial island of Palma Jumeirah and it's all just for you.
Individual Retro Safari Platinum Heritage for $ 850 per tour
Author: Vladimir Anikeev on Unsplash
Safari in luxury retro jeeps deep into the Arabian desert by professionals who know the dunes like the back of their hand. Enjoy unforgettable experience of dune riding, camel riding, desert driving in buggies and ATVs, falconry lessons, traditional Arabian men dance, coffee and bread making master-class, photo session at sunset and at the end – delicious dinner with relaxing hookah in Dubai Nature Reserve.
VIP tour – desert safari with dinner and a show program for $ 350 for the tour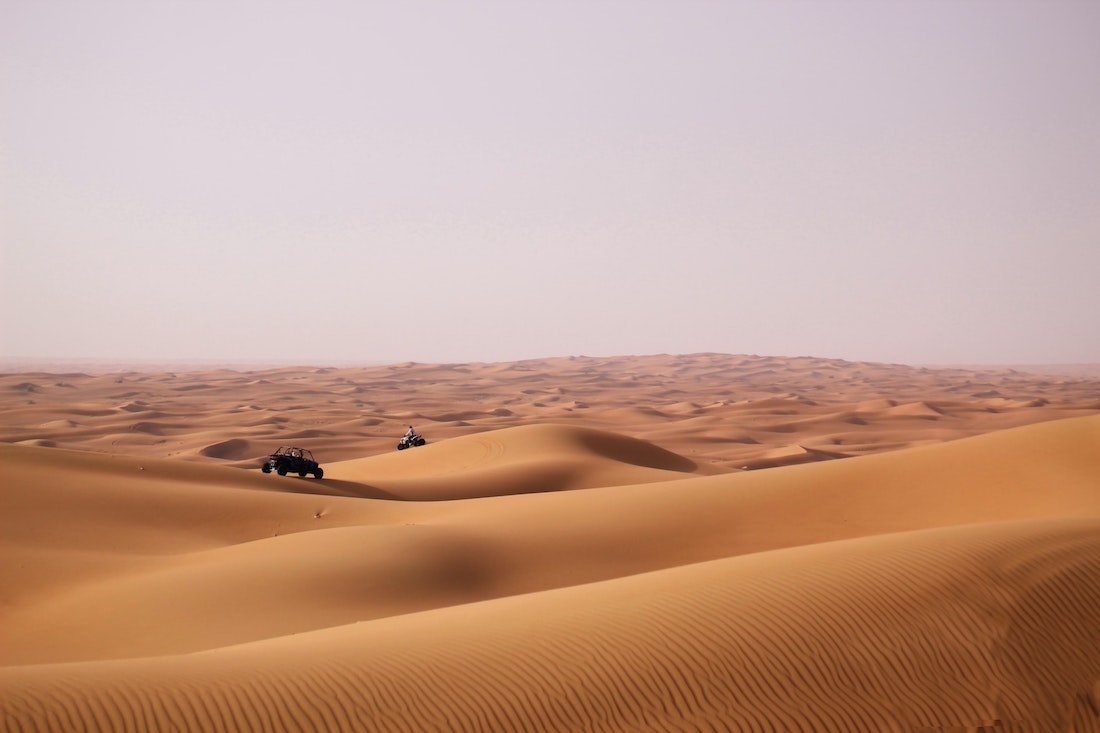 Author: Haris khan on Unsplash
Jeep safaris are the most popular extreme activity in the Arabian Desert. After the jeep you'll board an obedient camel which will take you to a Bedouin-style camp with a delicious dinner and entertainment with hookah, belly dancing and fire taming shows.
Sailing the Arabian Gulf on a luxury yacht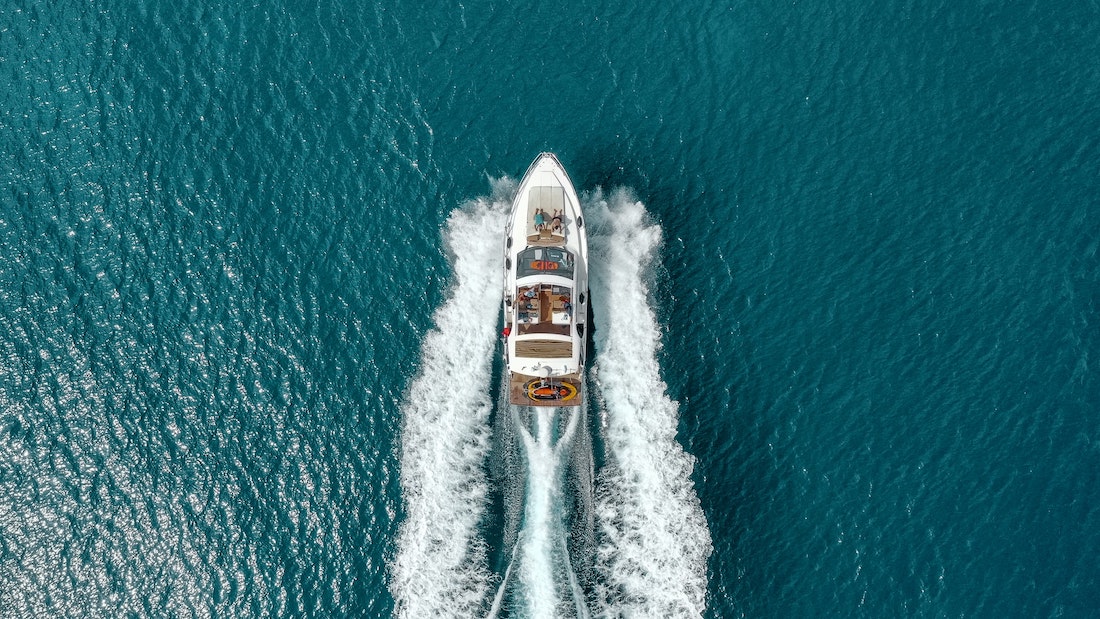 By Carles Rabada on Unsplash
Dubai is made for luxury living, and luxury living is made to be spent in Dubai. A luxury yacht cruise along the coast of Dubai will be a romantic adventure for a couple or a fun story for a group of friends. Renting a yacht in Dubai is easy, and refreshments, stunning views overboard, splashing waves, blowing winds and bright sunshine are included in the price. Snacks or even a sumptuous dinner will be available upon request.
Endless Desert Safari and Premium Yacht Dinner for $150 for one person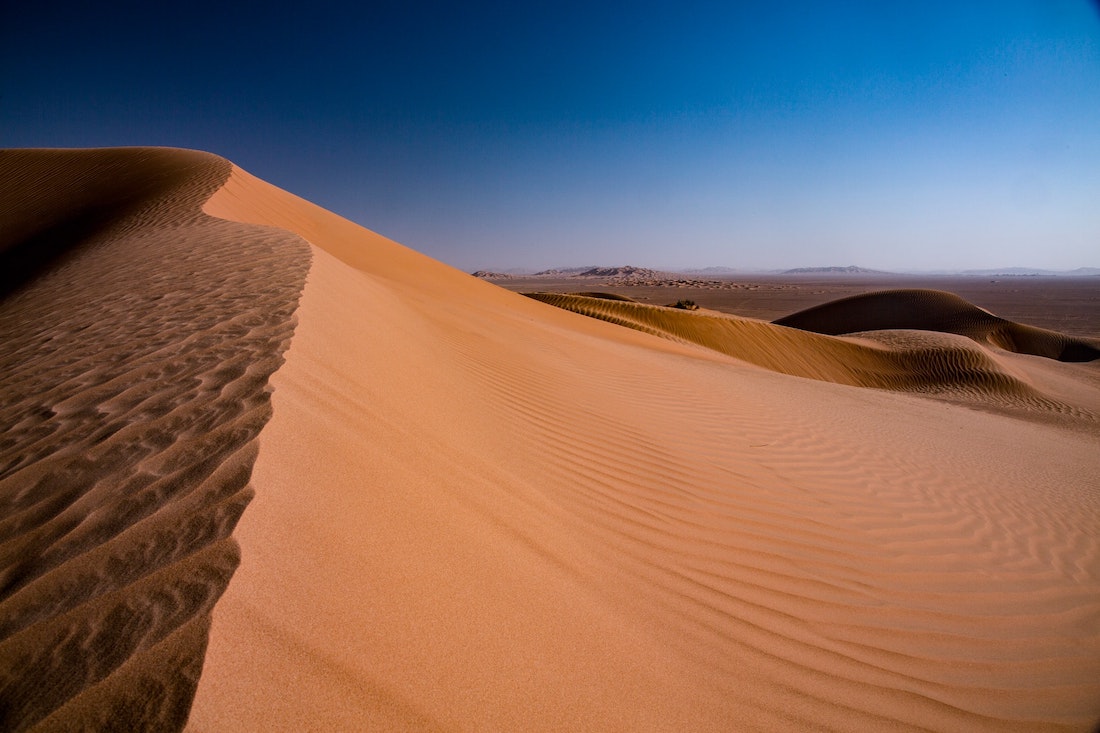 By Tanja Cotoaga on Unsplash
Getting the best of everything at once is possible. A jeep tour across the vast Arabian sands in the morning and a sumptuous dinner on board a yacht in the evening are just what you need for the perfect Dubai vacation. The whisper of the desert gives way to the rustling waves of the Persian Gulf, the dunes fade into the distance into an inventive pattern of skyscrapers on the horizon, and you collect precious pearls of experience.
Exclusive Moon Island Fishing for $1,605 for one person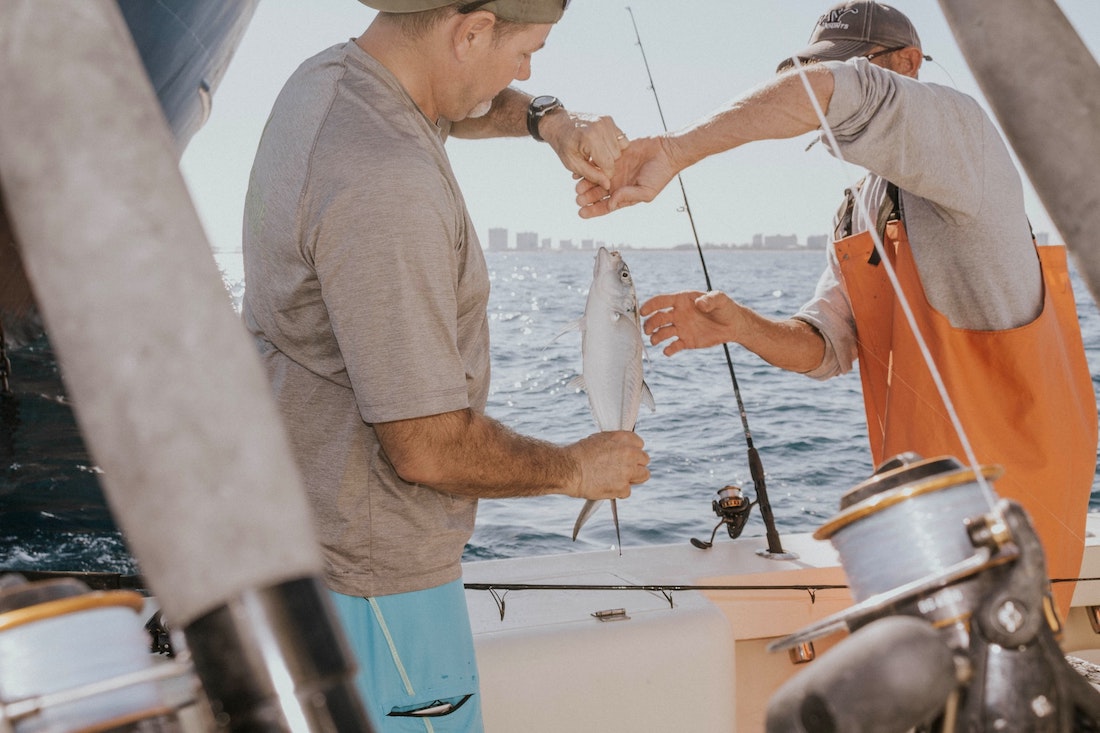 By Tessa Wilson on Unsplash
Fishing on Moon Island is something to remember for a lifetime.
Moon Island is located in the emirate of Ajman in the picturesque Jebel Ali area. The island is a natural wonder, which from a bird's eye view really looks like the moon. The unique location and structure of the coastline of the island contributes to the fact that near its shores live whole flocks of rare fish – here often swims barracuda, king mackerel and karanx, dolphins frolicking after tuna, and cobia and grouper no one is surprised at all. In short, if you're in search of a dream fishing trip, this is a chance that doesn't come around very often.
You need to go fishing from Ajman, which is 50km from Dubai and 200km from Abu Dhabi. But what's a couple of dozens of kilometers when it's an unforgettable experience. You can go fishing in the morning, in the evening or even overnight. Just imagine – you wake up on the yacht, have breakfast with a view of the boundless waters, swim in the warm waves, prepare your fishing rods and engage in a battle with nature, and then the crew prepares the catch for you.
Flying over the desert in a hot air balloon for $300 per person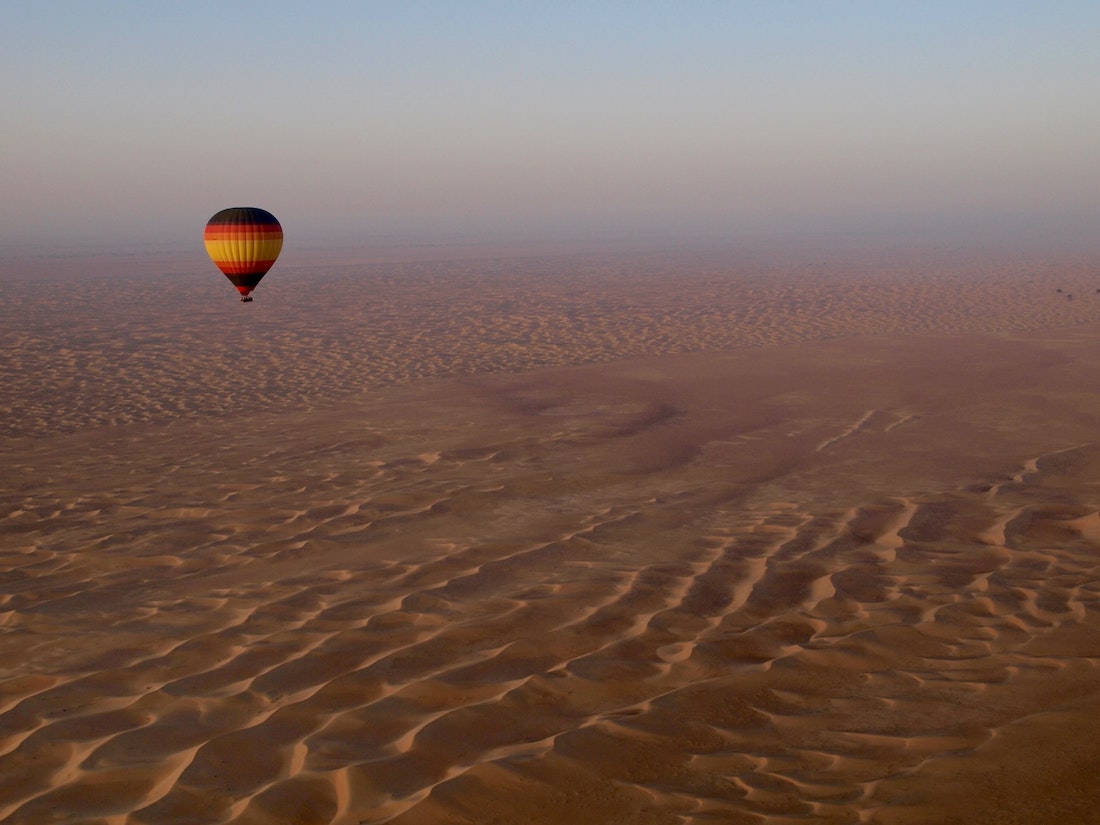 By Tessa Wilson on Unsplash
Flying in a hot air balloon is already an adventure, and flying in a hot air balloon over the endless sands of the Arabian desert of Rub al-Khali is a double adventure. Dunes are woven into an amazing carpet of sand, somewhere out there in the distance the peaks of skyscrapers pierce the sky, cars rush on the highways and people bustle, and you float as if on a magic carpet and contemplate the beauty.
Top 12 hotels in Dubai – our ranking of the most expensive hotels in the UAE
Hello all! Today I will tell you about the most expensive hotels in the UAE Dubai 5 stars with exclusive benefits and an unrivaled level of service. To make my rating, I have selected on the map the best hotels in Dubai – Sail, Atlantis, in the highest skyscraper Burj Khalifa, and other good hotels in Dubai with its own beach at Palm Jumeirah, next to the shopping malls in the Marina area and on the beach JBR. These luxury hotels in Dubai are well suited for beach and romantic getaways, honeymoons, a trip to the Arab Emirates for a vacation with kids or a business trip.
Best Hotels in Dubai
The best hotels in Dubai are the coolest places for a luxurious memorable vacation on the shores of the Persian Gulf in a comfortable environment and with the best level of service, the flagships of the world's most famous hotel chains. These expensive luxury hotels and resorts are located in different areas of Dubai, have a rating of 5 stars, but differ in respectability and price, and have their own unique advantages, making the vacation in them in its own unique way.
Important: Which of the expensive hotels in Dubai is better to choose? Of course the one that you like the most! You can easily do it yourself by looking at my rating of the best and most expensive hotels in the UAE, in which I will briefly talk about the features of each of them.
Hotel Sail (Burj Al Arab)
Advantages: The most expensive and respectable hotel in Dubai with luxurious rooms, sky bar at an altitude of 200 m, its own private detached area with restaurants, spa, pool and beach on a small island, no random people
Where is it: Small island off Jumeirah coast (point on the map)
Hotel Sail Dubai
Burj Al Arab is the most luxurious and the most famous hotel in the world of Dubai, rightfully wearing a 7-star and has become a symbol of Dubai. Panoramic suites and duplex family suites with panoramic views and elaborate and elegant furnishings. Airport transfers to the hotel in a Rolls-Royce or helicopter. Unparalleled comfort and the highest level of service. The Sail Hotel is the most expensive option for an opulent vacation in Dubai.
Room at the Burj al Arab Jumeirah Hotel
Hotel Atlantis
Advantages: free water park on the territory, water slides, family rooms and club suites, private beach, 2 swimming pools, aquarium with sea creatures, tennis courts, 16 restaurants, children playgrounds and children's club, animation and evening entertainment program, Russian speaking staff
Location: Upper Jumeirah Peninsula in Dubai (point on the map)
Waterpark at Atlantis Dubai
Atlantis is the best 5 star spa hotel on the Palm Jumeirah with its own private beach with clean sand, water slides, and free water park. Great for a trip to Dubai with kids or for a family vacation.
Atlantis has the coolest tourist infrastructure among the beach hotels in Dubai, there is even a large underwater aquarium with different sea creatures, bowling, and an attraction with an artificial wave. Concierge service and wellness services are at a high level.
Tip: Book a room at the Atlantis Hotel in advance, about a month and a half or two months before going on vacation to Dubai.
Hotel Atlantis Dubai 5*
Hotel Armani
Advantages: 5-star luxury hotel in the most famous building in Dubai, elegant interiors of luxurious suites designed by Giorgio Armani, night club, free parking, food and drink delivery to the room
Where to stay: In the world's tallest skyscraper, the Burj Khalifa, next to the Dubai Mall (point on the map)
Armani is a cool design hotel with stylish modern interiors located in the Burj Khalifa skyscraper. The spacious suites on the 38th and 39th floors have beautiful views of Dubai and the Persian Gulf. Good for romantic weekend getaways and shopping trips as well as business travelers with a high sense of style.
Room at the Armani Hotel
Hotel Bulgari
Benefits: vacation on a separate island away from the hustle and bustle, beach club with private beach, villas with swimming pool, yacht club Bulgari, luxury spa
Location: Jumeirah Bay island in the form of a seahorse (point on the map)
Bulgari is a unique 5-star resort hotel in Dubai, designed by Italian designers and embodies the idea of fashion trends in luxury and Italian elegance. Interior design in the modern Italian style is a combination of handmade furniture and luxurious natural fabrics. Very cozy and comfortable rooms with the best ideas for a memorable holiday in Dubai.
Room at Bulgari Hotel
Anantara Hotel
Advantages: private sandy beach, private relaxation, water villas with a pool like in the Maldives, Thai style spa, kids club, entertainment programs, affordable prices
Location: Palm Jumeirah (point on the map)
Anantara is a unique 5* resort hotel on the outside of Palma Jumeirah (in a secluded area) with luxurious beach villas with their own private landscape pool and water bungalows, surrounded by a beautiful tropical garden with palm trees. Good for a romantic getaway (you can have dinner on the beach by candlelight) or a trip to Dubai with children. You can go scuba diving, snorkeling and various other water sports.
Aquatic villa with transparent floor at Anantara Dubai Hotel
Four Seasons Hotel
Benefits: spacious rooms with luxurious furnishings and unsurpassed level of service, private beach, 3 pools, cool restaurants, English Cigar Club, tennis courts, playground for children, airport shuttle
Where is it: Jumeirah Beach (point on the map)
Four Seasons is the most expensive 5-star beachfront hotel in Dubai's fashionable Jumeirah district with family suites, a luxury spa and state-of-the-art fitness center. Considered the best expensive resort hotel in Dubai for a respectable beach vacation. There are fun educational programs for children, a playground for games, and babysitting services.
Panorama of Dubai from the balcony of the Four Seasons Resort hotel room
Mandarin Oriental Hotel
Mandarin Oriental is another best hotel in Dubai on the first line with its own beach, the benchmark of a luxurious beach vacation in a quiet respectable environment. On the conceptual territory, every detail of which is thought out and built with taste, there are 5 swimming pools, a common lounge, children's club, spa, fitness studio.
Separately, it's worth mentioning the service at the hotel, which is thought out in detail – from the choice of gluten-free meals in restaurants and the opportunity to do yoga to quality linen and expensive premium cosmetics in the rooms. The Mandarin Oriental Hotel itself is fairly new, everything is super, there is almost nothing to complain about.
Mandarin Oriental Hotel Room
Hotel Raffles
Raffles The Palm is a real 5-star palace for a perfect holiday in the Emirates. The best hotel in Dubai according to both guest reviews and restaurant ratings. Spacious landscaped grounds, several large pools (outdoor, indoor and children's), spa and wellness services, fitness classes and yoga. Concierge service is available and there is a playground for children. There are family rooms and separate suites for newlyweds.
Room at the Emerald Palace Kempinski
W Hotel
Advantages: Modern concept hotel, beautiful grounds with terraces and pools, sauna, squash court, Italian and Latin American restaurants, reasonable prices
Location: Palma Jumeirah, west side ( point on map )
W Dubai is a modern world-class 5-star spa resort with its own sandy beach, best in class, with stylishly designed room interiors and cozy gazebo along the terraced pool. Located on the island of Palma Jumeirah and perfect for a trip to Dubai with friends and a romantic getaway. You can book your stay at the W with breakfast or half board (breakfast + dinner).
Room at the W Dubai
Rixos Premium Hotel
Benefits: stylish suites at Dubai Marina JBR with beautiful room views, relaxation on the best beach in Dubai in the center of tourist life, kids club and playground, free shuttle to shopping malls
Location: Jumeirah Beach Residence ( point on the map )
Rixos Premium JBR is Dubai's best beachfront apartment hotel with double deluxe and two-bedroom family rooms, children's menu in restaurants, playground and kids club. It is located on the first line of Jumeirah Beach Residences and is considered one of the best options for a harmonious mix of lively nightlife and quiet relaxation in a relaxing atmosphere on the beach and by the pool.
Rixos Premium Residences features several restaurants, bars, a lounge, swimming pool, fitness center with stunning panoramic views over the bay, and a spa with its signature Ottoman hammam. There is also a beauty salon and upscale boutiques Rodeo Drive, Via Rodeo and Ocean Drive.
Rixos Premium JBR grounds
Hotel Palazzo Versace
Advantages: A 16th century Italian palazzo with Versace design rooms in the heart of the Cultural Village
Where to find it: Waterfront in the historic district of Dubai Creek (point on map)
Palazzo Versace is a chic hotel in Dubai's Cultural Village in a beautiful building that looks like a luxury Italian palace, with expensive interiors and elegant rooms furnished with elegant Italian furniture and draped in fabrics specially made by the house of Versace.
The grounds of the Hotel Palazzo Versace are a landscaped garden with flowers and palm trees, and the pool is lined with mosaics. Suitable for both fashion lovers and connoisseurs of refined relaxation in a beautiful and unique setting, including weddings and gatherings for important events.
Hotel room photos at the Palazzo Versace
Hotel Taj Dubai
Benefits: affordable rates, panoramic views from luxurious rooms over Burj Khalifa, outdoor pool, state-of-the-art fitness center and spa, complimentary shuttle to Dubai Mall
Location: Business Bay, next to Burj Khalifa skyscraper ( point on map )
Room at Taj Dubai Hotel 5*
Taj Dubai is a luxurious 5* hotel in the heart of Dubai with panoramic views of the Burj Khalifa skyscraper, art deco interior lounge, urban rooftop oasis and Billionaire Mansion nightclub is a 10-minute walk from the Dubai Mall. It offers guests a large selection of classic and contemporary restaurants with simple and gourmet dishes. Hotel Taj Dubai is well suited for a leisurely stay in the heart of business life as in New York or to discuss business matters.
View of the Burj Khalifa skyscraper from the Taj Dubai Hotel
Best Hotels in Dubai on a Map
That's the end of my story about the best hotels in Dubai. I hope it helped you choose the right option for your trip to the UAE. I wish you a good experience and an unforgettable vacation in Dubai!