Public transport in Reykjavík and Iceland
Public transportation in Reykjavík and Iceland is represented by buses and cabs. The country also has local ferry and air service. The article provides fares on Icelandic public transport and you can download a map of its routes.
City Buses in Reykjavik
Reykjavik has no metro, but a network of reliable and punctual buses. Yellow or yellow-blue city buses with the letter S (Strætó) on the body connect the city center with the outskirts. In addition, buses run to the nearby communities of Akranes, Borgarnes, Hveragerdi and Selfoss. On some routes operate night buses.
Fares : A ticket for 1 trip around the city costs 470 ISK (€3.3) for adults, 235 ISK (€1.6) for children under 17, free for children under 5. Night bus fares are more expensive at 940 ISK (€6.6) per trip. Tickets are sold in sets of 20 at 10-11 chain stores, Iceland grocery stores, online and from the driver. A set of 20 tickets costs 9100 ISK (€64). When buying from the driver, you must carry the exact amount in Icelandic kroner without change. Drivers on city routes do not accept payment by card.
Tourists in Iceland will appreciate the useful updated map with routes of all public transport in the country: city and tourist buses, passenger ferries and domestic flights. It can be downloaded below. Strætó bus routes and stops are marked in red on the map.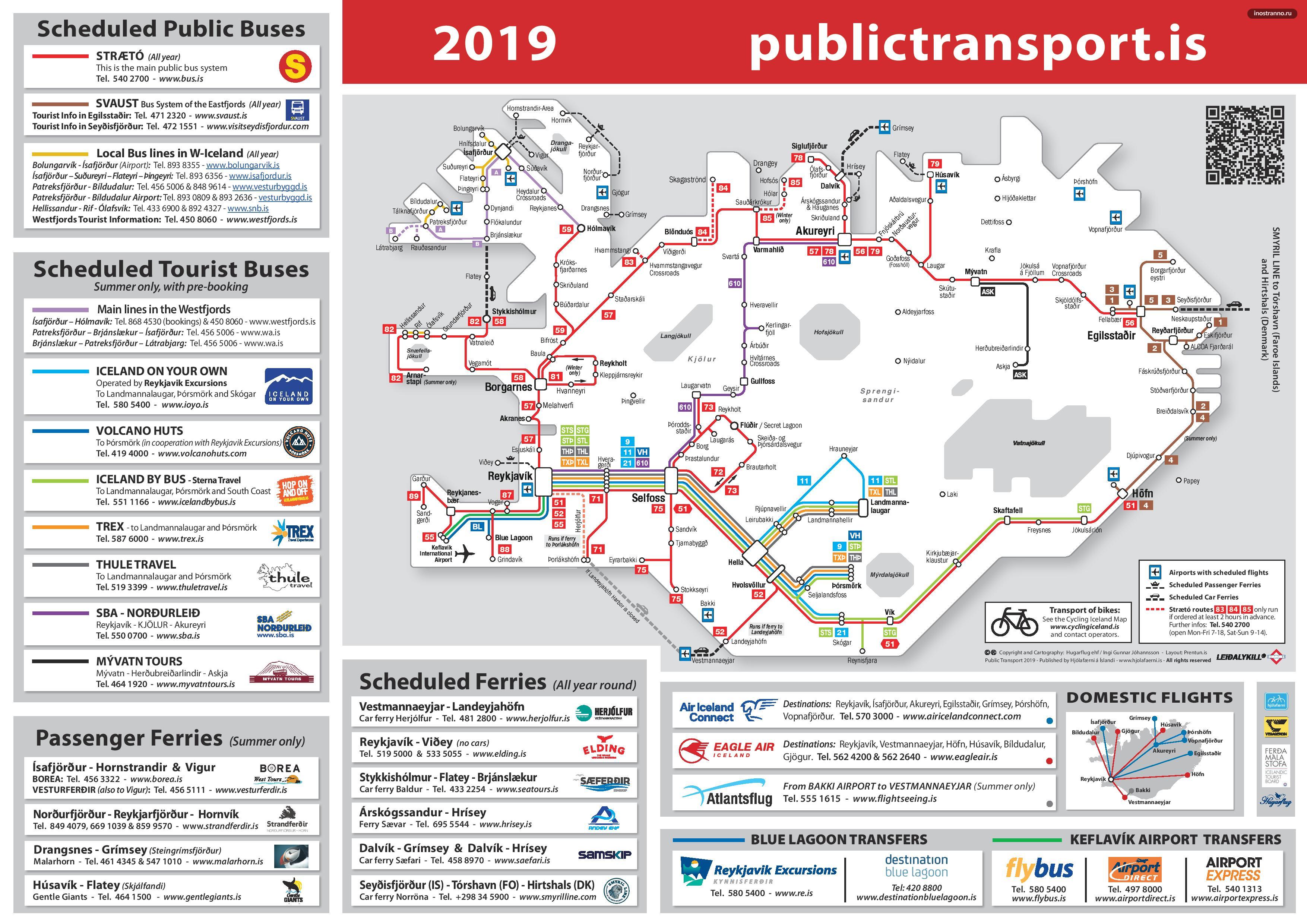 If you are planning to stay in Reykjavík for local sightseeing, the Reykjavík City Card might come in handy. The card gives you unlimited access to public transportation and museums. The card is available for 24 hours for 3,900 ISK (€27) as well as 48 and 72 hours.
In addition to the capital Reykjavik, city bus systems also operate in Akureyri, Isafjordur, Reykjanesbair and East Fjords areas.
Intercity buses in Iceland
During the summer season, from June to August, most of the points of interest in Iceland's Golden Ring, popular hiking spots in the southwest, and major towns in the western and eastern fjords can be reached by bus. At other times of the year, buses to these destinations run much less frequently, a few times a week or not at all. There is no bus service between Eilsstadir and Höbn on the Golden Ring.
Traveling around Iceland by intercity bus is extremely uncomfortable – there is no exact schedule of routes, trips are rare. This is caused by the fact that the weather on the island is unstable and fogs are frequent. There is a great chance to go somewhere, take a walk, and then simply not to wait for the next bus.
Intercity buses leave from various stations. For example, in Reykjavik – from BSÍ Bus Terminal, Skógarhlíð 10 and Umferðarmiðstöðin terminal . In provincial towns the buses usually leave from the main gas station or campsites. Many buses have free Wi-Fi.
Average fares for travel between cities and natural attractions in Iceland (one way):
Reykjavik – Akureyri – 17900 ISK (€126)
Reykjavik – Hveravetlir – 9,900 ISK (€70)
Reykjavik – Gudlfoss – 5000 ISK (€35)
Reykjavik – Løygarvatn – 3,500 ISK (€25)
Reykjavik – Blue Lagoon – 2750 ISK (€19)
On intercity buses it is possible to buy a ticket from the driver with payment by debit or credit card. The main companies offering passenger transportation during the season are Reykjavík Excursions, SBA-Norðurleið, Sterna, Strætó and Trex. All of these companies also organize group passenger transportation to the most interesting places on the island. You are advised to book your seats in advance on the websites of these companies. Look there for the schedules and timetables, they are constantly changing and are best double-checked.
Alternatively, you can buy tours with shuttle service to points of interest on the island: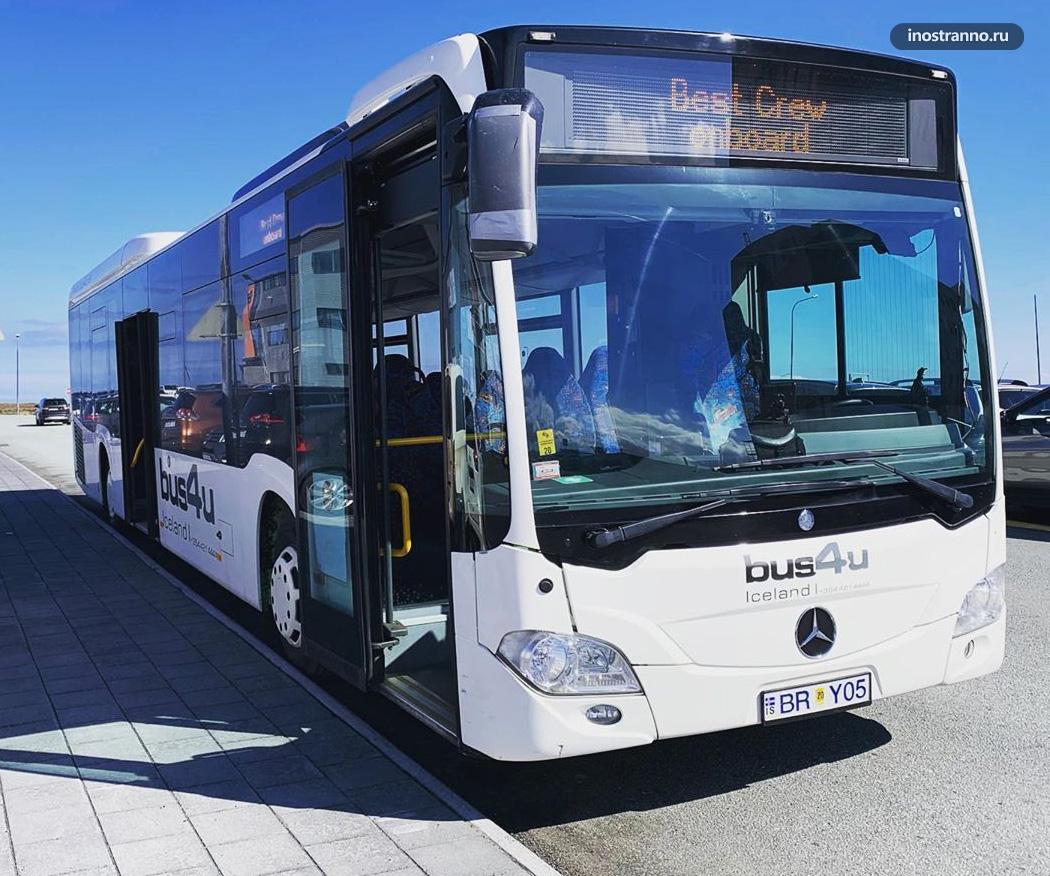 Reykjavik-Keflavik Airport
Reykjavík Airport (or Keflavík Airport) is Iceland's main international airport, receiving flights from Europe and North America. In addition to Keflavik Airport in Reykjavik, Iceland has several other local airports. There are flights to Icelandic cities Akureyri, Bildudalur, Gjogur, Eilsstadir and others.
Flights to the country depart from Reykjavík Domestic Airport, located 3 kilometers from the capital. Flights are operated by Air Iceland Connect and Eagle Air.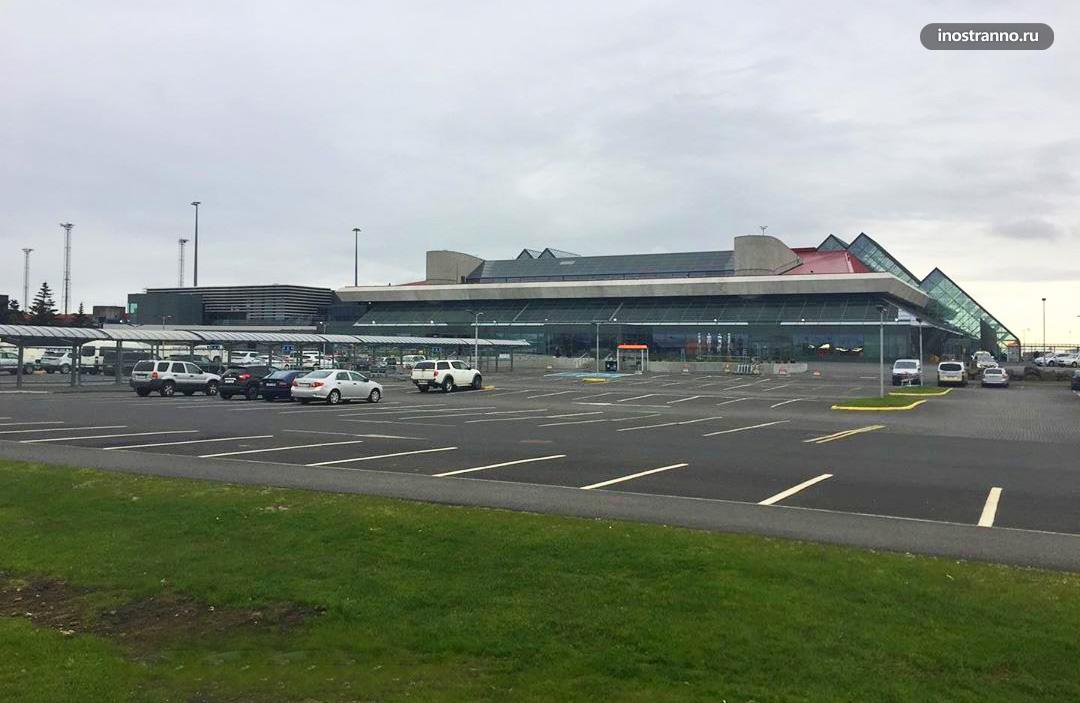 Ferry service in Iceland
There are several ferry companies in Iceland. I will list them below.
Herjólfur – connects the islands of Vestmannaeyar with Landeyjahöfn (south of Iceland) by ferry service.
Sævar – ferries from Árskógssandur (north of Iceland) to Hrisey Island.
Baldur – ferries between Stykkishólmur (west of Iceland) and Brjánslækur (western fjords).
Sæfari – ferries from Dalvík (north of Iceland) to Grímsey Island on the Arctic Circle.
On the main ferry routes it is possible to carry a car with you. This option comes in handy for travelers who want to travel to Iceland in their car. In this case you need a Smyril Line ferry departing to Iceland from Denmark. The average fare for two people with a car on the ferry is €950 in the summer season and €435 in the low winter season. The ferry can be taken either directly or with a stopover in the Faroe Islands. Travel time from the port of Hirtshals in Denmark to Seyðisfjörður in the eastern part of Iceland is about 2 days.
Rent a car in Iceland
Travelling around Iceland by car is a unique experience that you will remember for a lifetime. Because only by car you can reach the most remote corners of the island. Renting a car is more advantageous than taking public transport or going on excursions if you are traveling with a group of friends or family.
To rent a car you must be over 25 years old and have a valid ID. Renting the cheapest hatchback costs from €60 per day in high season (June to August). For a cross-country vehicle you'll pay at least €105-140 per day. This price includes unlimited mileage and VAT. In the off-season (from September to May) you can find more favorable prices.
We always book cars for travel on the Rentalcars website, where we compare prices and cars from different rental companies. We recommend booking the car in advance and taking out full insurance in case of emergencies on the road. If you do not take care of the rental car in advance, you can be left with nothing – about 10 million tourists arrive on the island every year, and most of them prefer to travel by rental car. Judge for yourself.
Renting a car means you don't have to rush anywhere and can explore the island at your own pace. And importantly, you'll save on the costly fare from Keflavik Airport to your hotel or hostel.
I'll tell you a little about the Icelandic roads to give you an idea of the situation. The island is skirted by the asphalt Ring Road 1, along which the main natural attractions and waterfalls are concentrated. The most scenic roads run along the coast. In the summertime, you can drive a simple front-wheel drive car to most of the interesting places, if you do not drive into the mountains. In winter, many roads are closed due to heavy snowfall. Gas stations are common, but if you are going into the mountains, it is best to check the gas level and distance to the next gas station in advance. All roads in the country are free.
Incidents on the Icelandic roads are less frequent, but you should be careful and keep the speed limits – gravel roads – 80 km/h, paved roads – 90 km/h, roads in cities – 50 km/h. In the case of a breakdown or an accident first of all contact the rental office where you took the car. Off-road driving is strictly prohibited. It is forbidden to drive on roads F (mountainous) in a simple front-wheel drive car. In this case, your insurance is automatically canceled. Pay attention to the fact that in Iceland they write huge fines for traffic violations. Even the fact that you are a tourist will not help you – the fines reach several thousand euros. So the observance of the traffic rules is a must.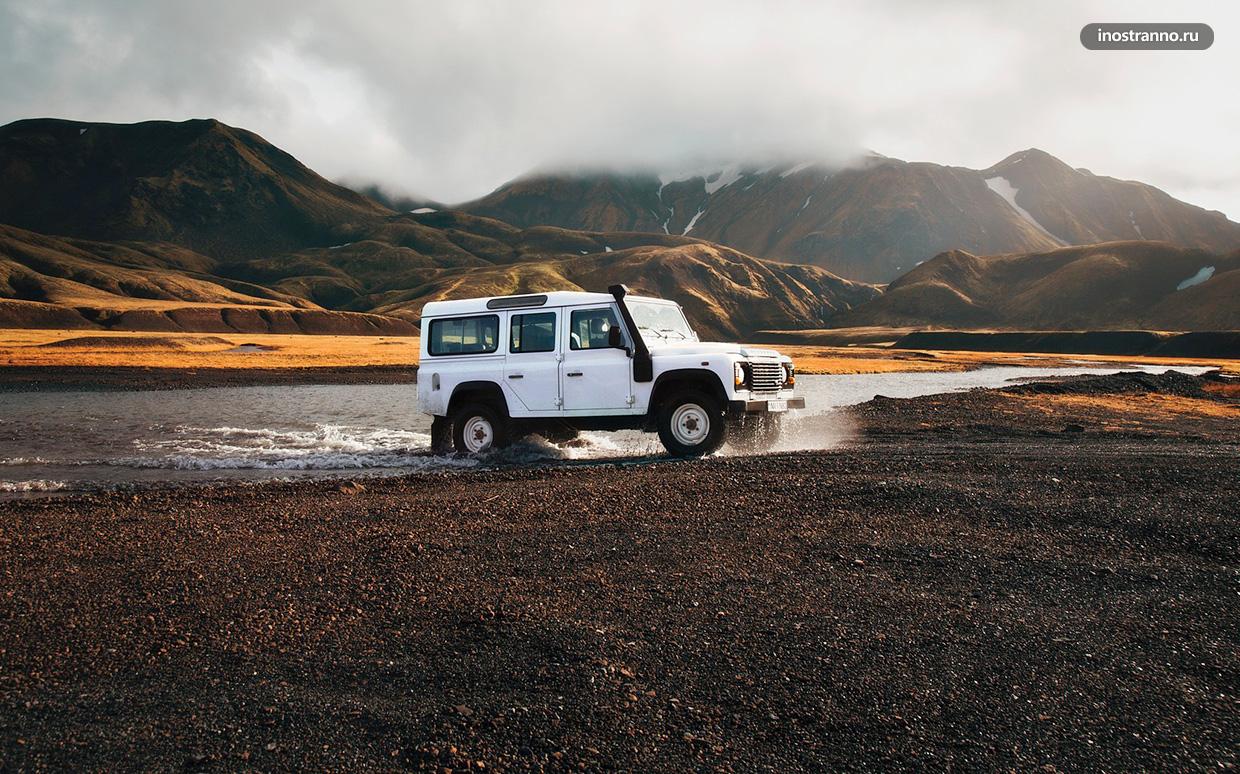 Cabs in Reykjavik and Iceland
Cabs in Iceland are quite expensive. Most cabs in the country work in the metropolitan area of Reykjavik. Major cab companies in Iceland are Hreyfill, BSR, Taxi Reykjavík. All cars are equipped with meters and a sign "Taxi" on the roof. At the moment there are no cab services in the country like Uber.
In Reykjavík cabs are waiting for passengers near bus terminals, in the city center, at major hotels, bars and nightclubs. Cabs can be pre-booked online for your convenience to go to the airport or elsewhere on the island.
Do not run over a sheep! Traffic in Iceland, features and tips for drivers
Category: Iceland 1 996 0
Let me say at once, there are no supernatural requirements and unusual rules in Iceland. But as in any country, the traffic has its own distinctive features. Having driven more than 2000 kilometers all over Iceland, I would mention the following features of traffic in this country.
All cars in Iceland must have their dipped beam at all times
day and night. This also applies to motorcycles.
Speed limits in Iceland
On the highway: 90 km/h
On gravel roads: 80 km/h
In populated areas: 50 km/h.
There are no stupid rules like Russian "+20" in Iceland: if it says "no more than 50" it means "no more than 50".
There's only one toll road in Iceland.
This tunnel with the scary name Hvalfjörður near Reykjavik. The length of the tunnel is about 6 km, more than half of them run under water. The price of passage for an ordinary sedan or SUV is 1000 kroner (about 7 euros). The speed limit in the tunnel is 70 km/h.
There are such beautiful views on the roads of Iceland that you don't know where to look – whether in the windshield or in the rearview mirror.
Most of Iceland's asphalt roads are two-lane
That is, one lane in your direction and one in the opposite direction. You have to be very careful when a wide motor home is coming towards you (that is almost always). There are places where traffic in Iceland is heavier – for example, in Reykjavik and around Keflavik airport. There, of course, the roads are much wider, but the country roads remain mostly two-lane.
Iceland's asphalt roads are mostly built on an embankment
So pulling off to the side of the road anywhere and admiring the scenery is not an option. But it's not that bad! And here's why:
There are plenty of "pockets" and rest areas near the roads
Special "pockets" for rest with small parking lots are often equipped near places with very beautiful views. And since beautiful views are around every corner in Iceland, the herringbone sign is very common. Here you can not only have a rest, but also cook food on your burner, there are tables with chairs and sometimes even bio-toilets.
One of these pockets.
And another one. Just stopped for a bite to eat by the road.
There are very few asphalt roads in the central part of the island of Iceland.
Most of it is off-road and the so-called F-roads (essentially the same off-road). On the signs these roads are marked not only with a number, but also with the letter F. Only four-wheel drive off-road vehicles are allowed to drive on them. Hence the logical question:
Which roads in Iceland require a four-wheel drive vehicle?
As already mentioned, if a road is marked with the letter F on maps and signs, you can only drive a four-wheel drive vehicle on it. On all other roads, including gravel roads, you can drive an ordinary front- or rear-wheel drive car.
I should note that most tourists travel in Iceland on the ring road – Route 1 – which encircles the entire island by the perimeter. It is in the vicinity of the ring road that most of the attractions are located . It is well paved and there is no need for an SUV on it, an ordinary sedan is enough. Of course, many of the attractions are not located near the Route 1, and to get to them, you will have to turn off and drive a few kilometers on the gravel road. But almost all gravel roads in Iceland, adjacent to the highway number 1, are not marked with the letter F and you can also drive on them in a "normal" car without all-wheel drive.
There is snow on some roads in Iceland even in May-June.
And by the way, it is not only about mountain roads. Summer in Iceland is short, and even the ring road 1, which goes around the island almost at sea level, is often blocked by snow. They say it sometimes happens even in early summer.
As for the mountain F-roads, most of them are closed from late September through June.
A convincing photo answer to the question "is it worth renting a car in Iceland". In the foreground is our Toyota Yaris.
Most gas stations and parking lots in Iceland are unstaffed.
You have to fill your own gasoline, and many gas stations do not accept cash – only bank cards.
Parking at Iceland's landmarks is mostly free. But not all. And at paid parking lots – only self-service, and machines are so smart that they only accept bank cards. When you pay, you need to enter your email address, to which you will receive a receipt. The price of parking is 500-800 ISK (3-6 euros).
There are no gas stations in Iceland.
There are only gasoline 95 and 98, as well as diesel. By the way, in Iceland it is forbidden to transport fuel in cans.
Traffic in Iceland is hampered by stunning views that interfere with following the track.
Sheep roam the roads of Iceland
A sheep in Iceland is practically a wild and ferocious animal that roams around all summer on its own in a large, albeit fenced, territory. And if there is a highway running through this territory, it does not embarrass the sheep or its owner. Icelandic sheep are not afraid of cars and often lie along roads chewing grass. And drivers, on the contrary, should beware of them: according to the Icelandic law, if you hit a sheep, you will have to not only pay the fine, but also reimburse the price. And that's not to mention the cost of repairing the car. Of course, sheep don't run out on the highway every kilometer. But several times during our trip, they jumped out on the road not far from us. Most memorable picture: near the village of Wick in front of us strode sedately mama sheep, and behind her, like basketballs, skipped two little white lambs. We even took a picture of them:
Pedestrians have got some nerve, acting like sheep! Although…
And finally – some useful links for drivers
If you have a credit card, rent a car through Rentalcars.com, the main car rental website in the world that compares the prices of rental agencies in Iceland and gives you the best options. If you don't have a credit card, the rental may cost you more. But you can pay by debit card at some local rentals – for example, Geysir , Icelandcarrental , Bluecarrental . Our experience in renting a car we share in a separate article: