7 places to visit in Hawaii
The Hawaiian Islands are an archipelago consisting of 8 large islands, several atolls, peaks of seamounts and over a hundred tiny islets totaling over 16,600 square kilometers. A total of 132 islands are believed to make up the Hawaiian Islands. The archipelago is located in the Pacific Ocean and stretches 2,400 kilometers.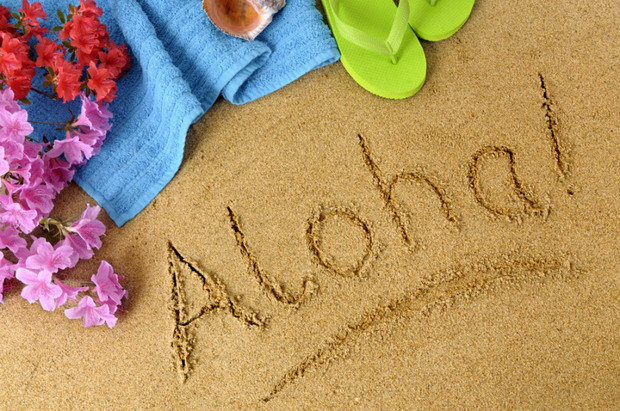 The core of the Hawaiian Islands consists of 8 islands in the southeastern part of the archipelago (central Pacific). From west to east are the islands of Ni'ihau, Kaua'i, Oahu, Molokai, Lana'i, Kahoolawe, Maui, and Hawai'i. To avoid name confusion, the last island, Hawaii, is often referred to as the Big Island. Hawaii is usually associated with these 8 large islands, largely because the other 124 islands total about 8 square kilometers. The largest island in the archipelago, Hawaii (Big Island) has an area of 10,432 square kilometers.
Hawaii is a dream for millions of tourists. And no wonder – the beautiful Pacific Ocean archipelago features breathtaking scenery, paradisiacal beaches, an amazingly distinctive culture and a comfortable atmosphere that attracts travelers all year round. What's worth seeing in Hawaii?
Hawaii Volcanoes National Park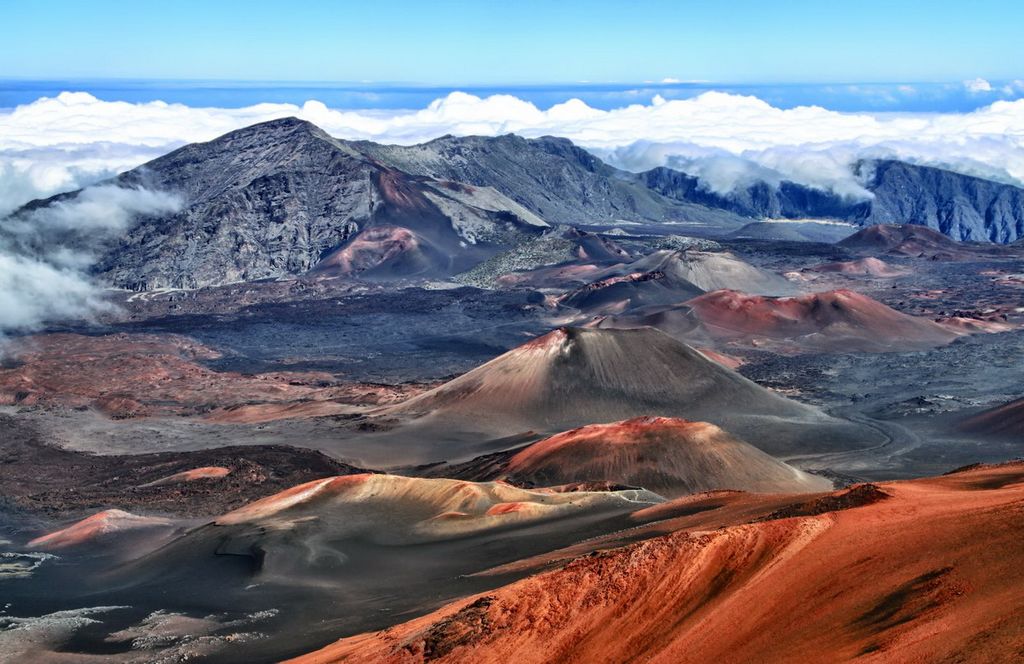 Hawaii Volcanoes National Park was established back in 1916. In it, you can admire the breathtaking volcanic landscape. What's interesting is that it is home to two of the world's most active and largest volcanoes, allowing scientists to delve into the processes that led to the Hawaiian archipelago, as well as further research into seismic activity in the region. The park is also an ideal place to enjoy observing the rarest species of animals and plants.
Haleakala National Park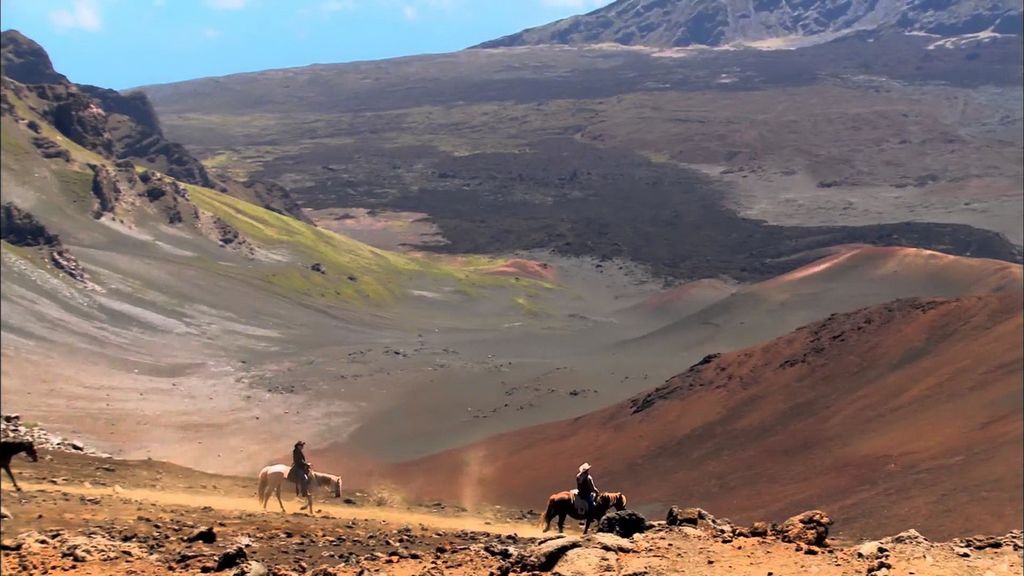 Haleakala National Park, located on the island of Maui, was originally part of Hawaii Volcano Park. However, it was eventually designated as a separate unit. It represents an area of 118 km2, of which about 100 km2 are places where no man has set foot. Tourists are allowed to visit the park only by a special, winding road along the windward side of the island. Its name in the local language means "home of the sun," and local legends say that the hero of Maui imprisoned the celestial luminary here so that the day would last longer.
Honolulu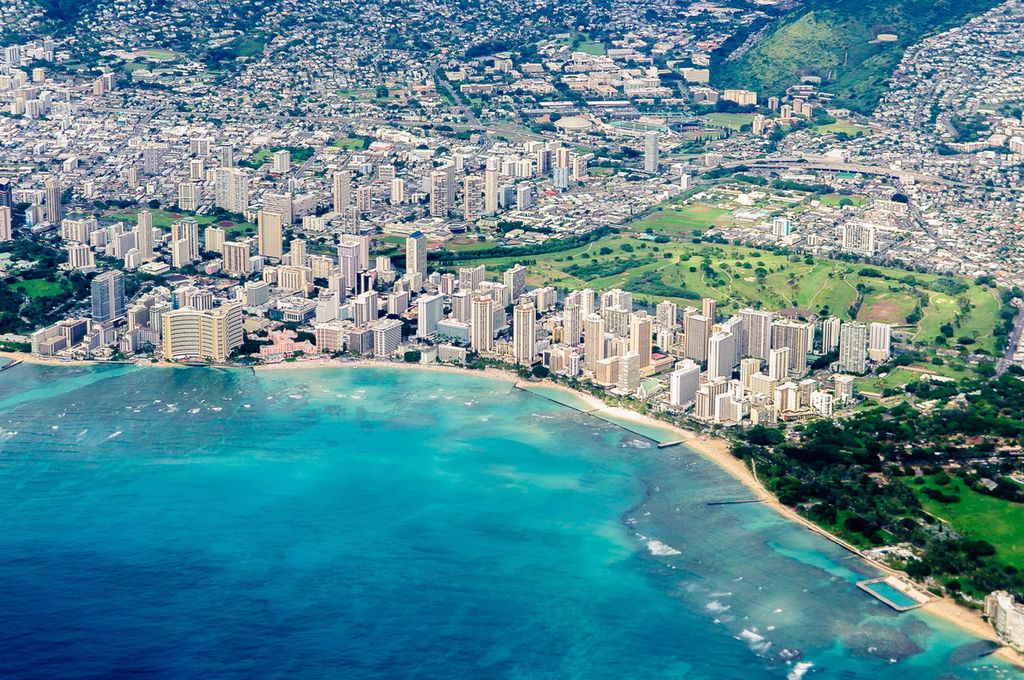 Honolulu is the largest city in the Hawaiian archipelago and the state capital. It is a major center of international business, and the famous Pearl Harbor is also located here. What is interesting, Honolulu, in Hawaiian, means "protected place". In terms of architecture, Honolulu in particular can not boast of anything. Hotels, residential high-rises, mid-rise office skyscrapers in the business center, restaurants on the roofs – any big city in the United States is full of it. The famous Waikiki Promenade, Honolulu's main district, is markedly different from the rest of the city, but it does not shine with the originality of Las Vegas or the monumentality of Chicago. There are two main streets with one-way traffic and wide sidewalks, and a lot of hotels, restaurants and stores for every taste. Honolulu is located in the southern part of the island of Oahu. Oahu is the third largest and most populated island in Hawaii. The population of Honolulu within the city limits is 390,000 (as of 2010). Population within the Honolulu Metropolitan Statistical Area (the city itself and the rest of the island of Oahu) is 953,000. The year-round population of visitors to Honolulu is enormous.
Molokini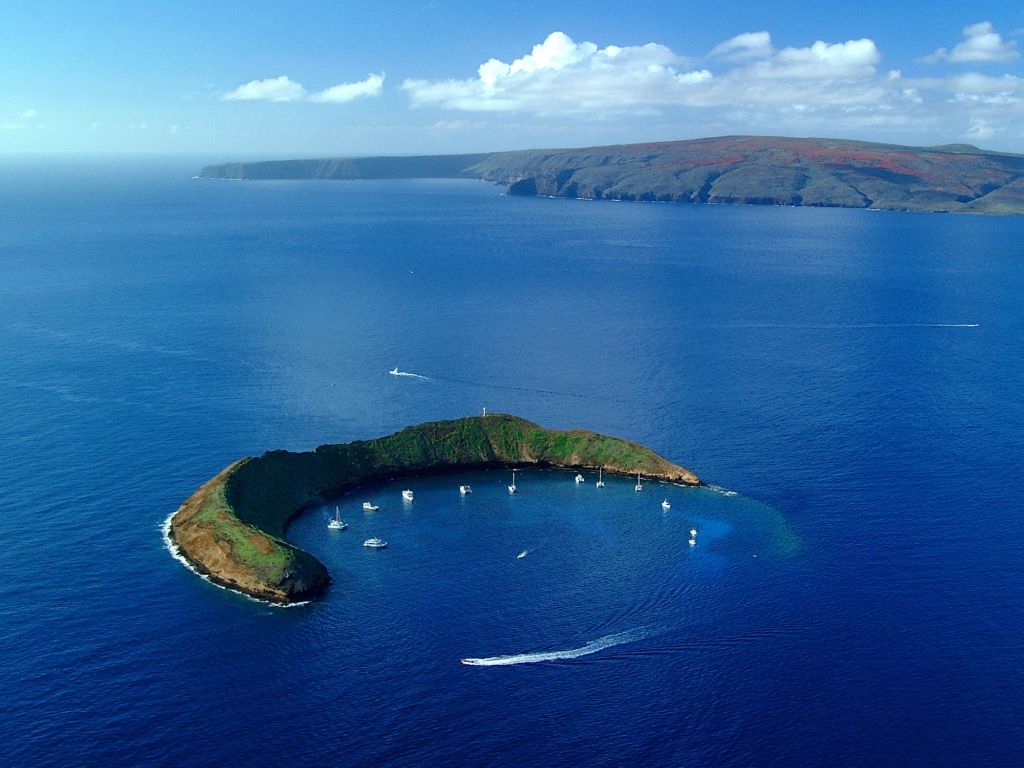 Molokini is a tiny island about 4 miles off the coast of Maury Island. It appeared as a result of the flooding of a volcano crater and now it has become a unique landmark because its shape resembles a crescent. This place also attracts fans of diving – the water around it is incredibly clean and clear, and visibility reaches 46 m. Molokini Atoll was formed about 15,000 years ago by lava bursting out of a volcano crater. Inside this natural rocky crescent there are over 250 species of fish, and 38 species of coral not found anywhere else in the Pacific.
Wailua Falls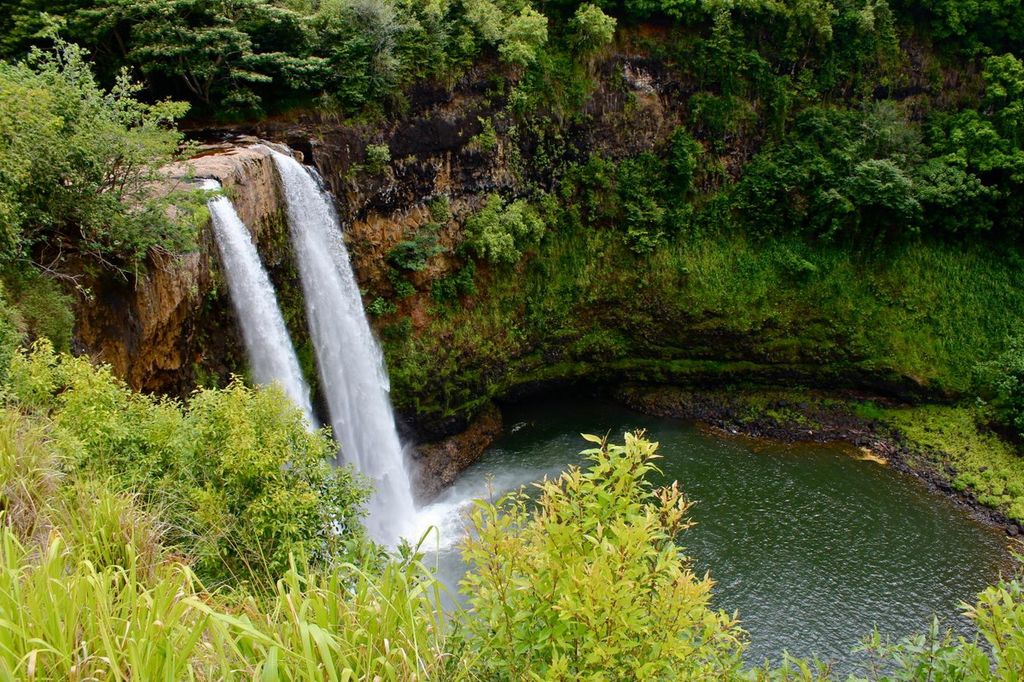 Wailua Falls is one of the highest waterfalls located in Hawaii. It is 35 meters high and is located on the island of Kauai. The path to the foot of Wailua is muddy and slippery. Every year extreme sports enthusiasts install ropes along the entire route, but local officials remove them after a while, because of the danger of such walks. Interestingly, in the past, local Hawaiians, in order to prove their manhood, threw themselves down this waterfall. Despite the illegality and danger of such actions, even today there are brave men who can repeat such a feat.
Hanauma Bay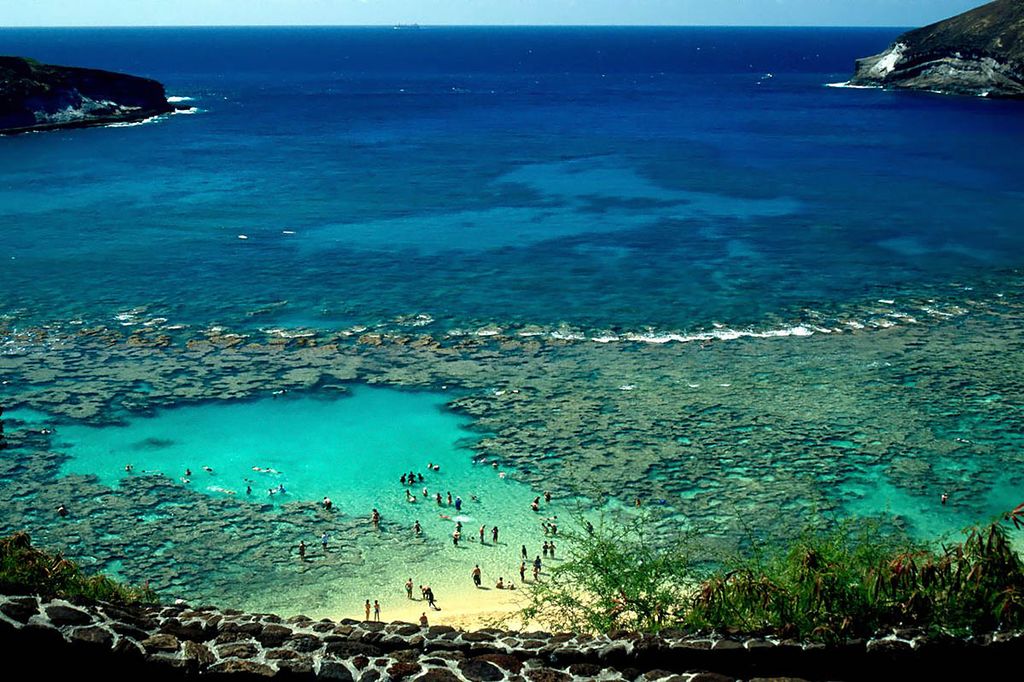 An ideal spot for snorkeling is Hanauma Bay on the Hawaiian island of Oahu, which is about 16 km from Waikiki. The underwater world of this place has a fairly wide range of flora and fauna (a scattering of up to 450 species of fish). Hanauma Bay, which means "crooked bay" is a very popular place and a famous tourist attraction. According to statistics, it is visited by at least three million tourists every year. It is also a national park and there is a ban on mistreatment of animals and any contact with the coral reef. Hanauma Bay is also home to green sea turtles.
Center for Polynesian Culture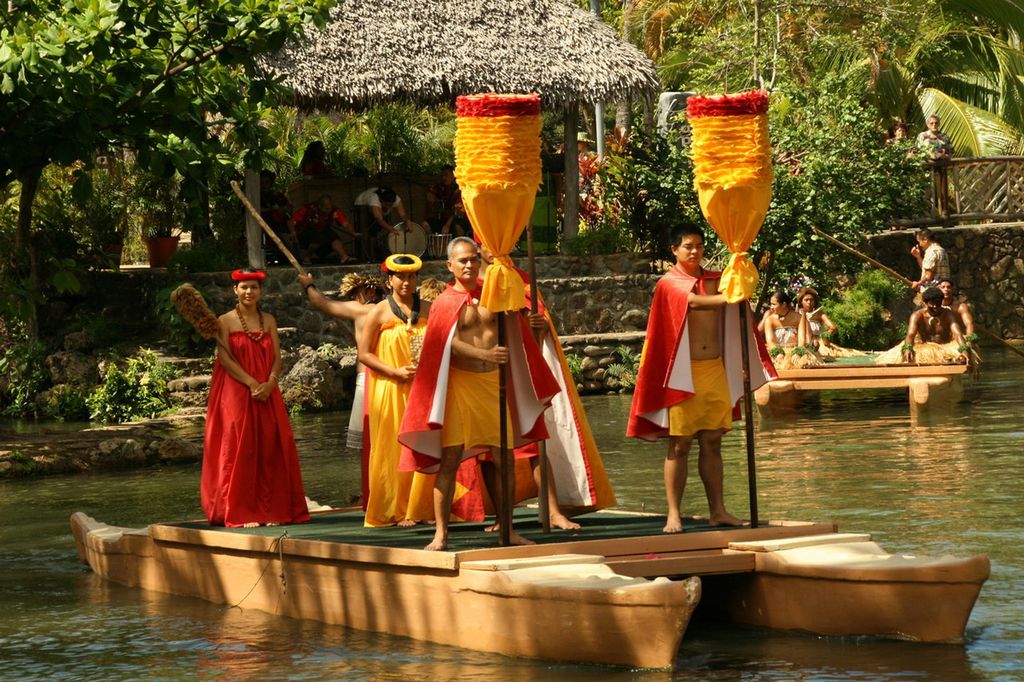 The Polynesian Cultural Center is a theme park, or, as some call them, a "living museum. It is located on the north shore of the island of Oahu. In addition to the traditional and permanent exhibitions, you can take part in additional sports and recreational activities here. For example, every evening there is a show in which artists present the intercultural character of Polynesia, most often through traditional dancing.
Hawaii's natural and varied landscapes, warm tropical climate, abundance of public sandy beaches and active volcanoes make it a popular destination for tourists, surfers and scientists.
In 1959, Hawaii was designated the 50th state of the United States. Hawaii is separated from the continental United States by more than 3,800 kilometers. Hawaii is the most ethnically and racially diverse state, including people of European, American, Polynesian, Japanese, and other origins. Hawaii is the only state in the United States with an official local language. Despite the influx of tourists, many native Hawaiians have preserved their customs and traditions.
Did you like the article? Subscribe to our channel to keep up with the most interesting articles
Tag: Hawaii
Reading time 6 min. 1. Old Hawaii Although the term is never accompanied by a specific period, travelers and Hawaii residents alike often exclaim in poetry about "Old Hawaii."….
Paradise Hawaii, USA: The best islands for a vacation
Reading time 6 min. Hawaii is part of the United States, but separated from it by 3,850 kilometers of ocean. Such a long distance does not stop tourists. People from all over the world fly to relax on…
10 Treehouses Around the World
Reading Time 6 min. Many children dream of having their own treehouse. Some are lucky enough to build one in their backyard, but for most, the dream rarely becomes a reality. However, in recent years, in…
The 5 Most Dangerous Places in the World to Swim
Reading time 3 min. Swimming in the cool waters under the bright sun is pure pleasure. Some incredible swimming spots are protected areas, while others are open year-round…
Hawaii, USA – an archipelago called the Bliss Islands
Reading time 6 min. The Hawaiian archipelago, known as the Bliss Islands, is located in the middle of the Pacific Ocean. It includes many islets and atolls, the four larger ones, Kauai, Oahu, Maui and Big…
Top 10 most beautiful small towns in Hawaii
Reading time 5 min. It's hard to narrow down a list of ten beautiful cities in Hawaii. Honestly, almost every Hawaiian town is beautiful. However, there are some cities that are a little greener, brighter and more beautiful than the rest….
27 most beautiful cities in the United States of America
Reading time 22 min. Whether you're looking for a laid-back beach town, a mountain town, a picturesque relic of the Wild West or East Coast beauty with colonial architecture, America's best small towns have something to offer….
Discover tourist beauty while vacationing in the U.S. in Hawaii
Reading time 4 min. Active volcanoes, majestic waterfalls, stunning sunsets, miles and miles of warm, sandy beaches – all this and more awaits you during your U.S. vacation in…
Amazing hiking itineraries around the world
Reading Time 8 min. The first trip in the history of mankind was made on foot. No matter where or why our distant ancestor went, the most important thing was on his own two feet. And to this day, in spite of…
Top 10 most dangerous volcanoes in the world
Reading time 6 min. The recent eruption of the Icelandic volcano Eyjafjallajökull once again demonstrated the power of nature. Air traffic around the world was lazy, with tens of thousands of passengers stranded at airports and carriers…
Top 16 most beautiful volcanoes in the world
Reading time 6 min. Do you like to walk in the mountains and enjoy the views? We and our neighboring countries have many beautiful mountains. The Tatra Mountains or the Alps are close at hand, but what about…
The beaches of Hawaii – we've chosen the most beautiful ones
Reading time 7 min. The Hawaiian Islands were formed by volcanic eruptions, and that makes them a truly picturesque land. The most beautiful beaches can be found on the island of Maui. Walking along the beautiful beaches…
Top 7 most beautiful valleys in the United States to visit
Reading time 5 min. The United States is a vast land of beauty. Travelers can find every climate and natural landscape in this country. One of the country's most underrated natural attractions is…
8 spectacular national parks for wildlife lovers
Reading time 7 min. If you want to swap the urban jungle for the real jungle, these eight national parks are a great place to start. Everglades National Park, Florida, USA Area: 1.5 million…
Top 10 best places to dive
Reading time 6 min. A dive spot usually means clear blue water, fish swimming around you, a completely quiet environment and the like. However, there are dive sites where you can find…
User
curiosity
Articles by day
September 2022
Пн
Вт
Ср
Чт
Пт
Сб
Вс
1
2
3
4
5
6
7
8
9
10
11
12
13
14
15
16
17
18
19
20
21
22
23
24
25
26
27
28
29
30
Poll of the month
Headings
(4 715) (1 567) (8 354) (53) (1 250)
Recent Publications
20 things to do in Occitania, France Sept. 5, 2022
12 things to see in Ferrara, Italy September 4, 2022
11 most beautiful places to visit in South Korea September 4, 2022
11 most important archaeological sites in Egypt September 3, 2022
Surfing resorts 3 September 2022
10 French National Parks Worth Visiting September 2, 2022
14 Cathar castles worth visiting in Occitania, France September 2, 2022
16 most beautiful places to visit in Egypt September 1, 2022
Popular tags
About Us
If you admire easygoing people or just feel a little jealous of them, but you can't decide to leave everything behind and discover a new world for yourself, then we show you how to take the first step towards your dreams.
Headings
New articles
20 things to do in Occitania, France Sept. 5, 2022
12 things to see in Ferrara, Italy September 4, 2022
11 most beautiful places to visit in South Korea September 4, 2022
11 most important archaeological sites in Egypt September 3, 2022
Surfing resorts 3 September 2022
© 2021-2022 Travel Times. Full or partial copying of materials without written permission from the owners of traveltimes.ru is prohibited by Article 1274.1.3 of the Russian Civil Code. Violation of copyright entails responsibility according to Article 1299 of the Civil Code of the Russian Federation.