Culinary souvenirs from a vacation in Italy
Hello, this is Tanya and Andrew. We are the founders of the Food for the Mind gastronomic travel club. Sign up for club news to be the first to receive programs of new gastronomic tours.
By clicking the button, you agree to the processing of your personal data and agree to the privacy policy.
"Yeah, what, we don't have our own cheese and salami? We've been selling all that stuff here for a long time. Why bring in food from the vacations?" – my Instagram followers sometimes ask me. Rarely, really. Mostly, it's the same gastronomic and wine hedonists who subscribe to our delicious instagram. If you feel the calling of a hedonist, join us. Here's our instagram.
And I reply, "Of course it sells. Products from big industrial plants that can provide industrial volumes and shipping to other countries. With a long shelf life, made by machines, not by the hands of small farmers, local producers."
You won't taste burrata as fresh and tender as in Puglia anywhere else in the world. You won't find salami of the same quality as from a small family farm in the Italian countryside in your supermarket.
Wines, sausages and cheeses are favorite souvenirs from vacations not only for us, but also, for example, for Italians. Forty-two percent of Italians choose local products as souvenirs on vacation within their country, according to an August 2019 study by Coldiretti / Ixè, an agricultural business organization.
When I go on a wine tour in Italy, I look for what rare and unusual wine to bring. From a tiny winery that only makes a few thousand bottles of wine a year.
When I go on a gastronomic tour in Puglia, I already know where and from which cheesemaker I will choose cheese, from which farm I will choose olive oil. With these live products, I'll have a big friendly dinner at home, and my loved ones will feel like they're on a trip with me.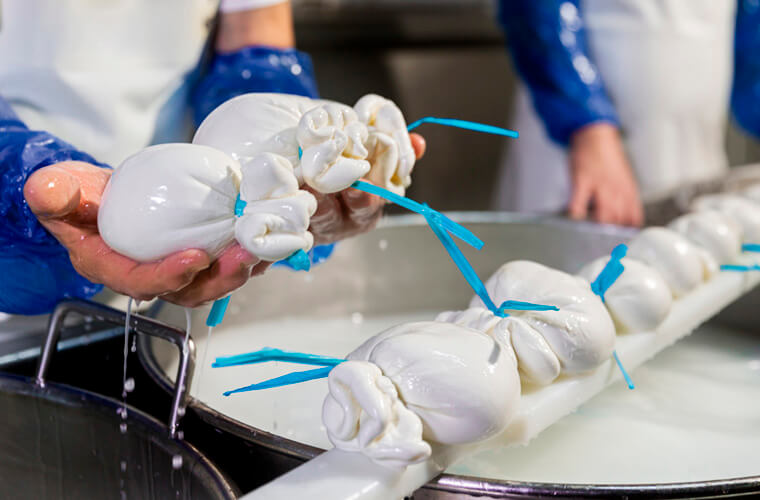 Burrata isn't easy to bring, it has too short a shelf life of 2-3 days. But if you buy it right before you fly out, vacuum packed, you can already have an Apulian dinner at home the same evening.
The town of Andria in Puglia, where we lived while working at a Michelin-starred restaurant, is the birthplace of cow's milk burrata cheese. And a city of fresh cheeses in general.
Burrata, ricotta, strachatella, mozzarella are produced here by dozens and dozens of cheese factories.
Read our guide to what burrata is, how it differs from mozzarella, and how burrata is made.
Of course, other cheeses are loved and made here. Stop by the local cheese shops, taste, and choose.
Puglia's cheeses:
Ricotta (ricotta) – technically not really a cheese, I'll tell you about it sometime.
Stracciatella (stracciatella) – shreds of mozzarella mixed with cream – this burrata filling is also sold here as a separate dairy product.
Scamorza – a fat, semi-solid, pear-shaped, crustless cheese made of cow or goat milk. It is often smoked (scamorza affumicata).
Mozzarella – read our guide.
Caciocavallo – an excellent accompaniment to bruschetta, caciocavallo is famous both for its shape and its mild salty flavor (if it is not very aged).
Pecorino sheep cheese.
Vaquino's cow cheese.
You know and probably even love Puglia's premier red variety Primitivo, don't you? At least, you've heard of it. The name is so catchy, isn't it?
The name comes from the word primo, first. This variety ripens the earliest and accumulates the most sugar. The flavor and aroma is fresh figs, blueberries and blackberry jam, even some leather and smoke. Perfect for grilled meats – barbecues, kebabs and steaks, right?
Have you tried the Negroamaro? Its name means "black and bitter." It's also one of the most common red grapes in the region. It is loved for its depth of color, fullness of flavor, and high alcohol content. In addition to berries, the "pumped up" nose (or chef's nose, like mine) will smell dried sage or oregano in the aroma.
And I'm not even mentioning the beautiful white wines of Verdeca, Greco, Impigno, Bianco d'Alessano, Bombino Bianco, Francavidda, Fiano, Malvasia Bianca, Moscato Bianco, Pignoletto, Trebbiano Giallo.
Today, the fashion for Southern Italian wines is growing rapidly. Want the practical benefit of traveling with us on a wine tour to Puglia? Learn how to store for wines that still have an incredible price/quality ratio. Since few people know about them yet. And you will already know.
This is a traditional raw pork neck, much appreciated not only in Puglia, but throughout Italy and internationally as well.
Collo translates as neck. Capocollo di Martina Franca is made from the muscle girdle of the pig, located between the head and the vertebral area. The weight of each piece varies from 2.5 kg to 4 kg.
In ancient times, pigs raised throughout Puglia were taken to the city of Martina Franca for slaughter and processing. The expertise of the butchers, combined with the exceptionally fresh, ventilated and dry climate, represented the ideal combination for processing sausages.
Meat and sausages from Martina Franca were prized throughout the Kingdom of Naples.
Ham is made with these ingredients:
coarse salt
pepper
local herbs and spices
vincotto – "boiled wine" (I write about it below)
The main pasta of Puglia, its pride is in the form of "ears" orecchiette (orecchiette).
When we walk with you through Old Bari, the historical center of the region's capital, we will surely come to the aunts Nunzia and Maria, who have been sitting outside their houses making pasta day in and day out for 30 years. Their quick movements cannot even be seen.
It's nice to buy pasta from them as a symbolic souvenir. More expensive, of course, than in the supermarket, but with history. And you were present at the making.
Our favorite homemade family video recipe for orecchiette is on our instagram. Are you subscribed to us yet?
Vincotto translates to "cooked wine." It's a dark, sweet and thick condiment, a syrup with a sour-sweet flavor for sweet and salty dishes. In Puglia, it is made from grapes with a dark rind or figs.
Negroamaro and black Malvasia grapes are left to dry on the vine and then on wooden pylons. The juice is then pressed and filtered. It is called grape must or grape must.
It is boiled for up to 24 hours until it is reduced to 1/5 of its original volume. The result is a dark colored liquid, very sweet and dense due to the caramelization of the sugars present in the grape must.
No additives, sugar, preservatives or colorings are used. Vincotto is full of polyphenols, components of red wine that are good for our health. It is a non-alcoholic sauce for dozens of dishes.
Vincotto was used in the past as a natural sweetener until sugar cane sugar became ubiquitous. It is also recommended as a cough medicine. It has antioxidant health benefits. It can be stored (or bought) in glass bottles.
How to use this product? Like a good balsamic vinegar.
The sweet Vincotto is poured over typical local Easter and Christmas sweets, such as cartellate cookies, pettole doughnuts, almond sweets. It can be added to vanilla ice cream, cookies, mascarpone desserts, fresh or grilled peaches, nectarines, fresh mandarin halves or pears.
Make a refreshing drink with it in the summer by simply adding it to chilled sparkling water.
They are added to poultry or in salads.
They are also called frisée or friselle. It is a doughnut-shaped bread made of wheat or barley with a center hole, first baked and then cut lengthwise and re-dried.
Traditionally they were baked for peasants and fishermen because they were so dry that they could be stored for many months. Fishermen would soak the frisselle with seawater and eat it with a piece of cheese or ripe tomatoes.
In Puglia it is called crusader bread because it did not spoil for a long time and was taken by the Christian troops.
Today, friselle is soaked in water for a few seconds, then sprinkled with chopped fresh tomato, oregano, salt and liberally drizzled with olive oil. Many people like to grind a clove of garlic on the dry frizzelle before wetting it down. And then add other additional ingredients: chili peppers, pickled anchovies or fresh cucumbers.
These little golden rings are officially on the list of traditional Italian agri-foods. A great souvenir from Puglia.
They are small bagels made of unleavened dough, baked in the oven. The dough is made from flour, water and dry white wine, olive oil and salt, to which fennel seeds, onions, garlic, turmeric, paprika, olives, poppy seeds and dried tomatoes are sometimes added to add flavor. And there are also sweet taralli – glazed or almond.
A favorite aperitif of locals with a glass of red wine with assorted meats and cheeses. It's also a tasty snack in the office.
The best Puglia taralli are flavorful freshly baked, available in local bakeries rather than large supermarkets.
In Puglia, in the provinces of Murcia and Bari, grows an amazing plant that looks like a small wild onion, sometimes called dog onion or blue onion.
These particular bulbs have a sweet aroma, the taste combining a bitter note with sweetness. This product is credited by locals with diuretic, anti-inflammatory, and anti-tumor properties. It neutralizes harmful cholesterol, helps maintain the health of the liver and cardiovascular system, connective tissues and cartilage, and also reduces, thanks to saponins and pectins, the percentage of fat in the body.
As a tasty and unusual souvenir, I suggest buying pickled onions in vinegar and oil (Lampascioni sott'olio).
When dry, they take up minimal space and weigh very little. A great souvenir if you're traveling with hand luggage – they're light and liquid-free. And at home, turn them into dried tomatoes in oil.
How do you make dried tomatoes in oil?
Rinse them, pour boiling water on them. Then dry them. Put them in a jar with garlic and herbs to taste. Make a marinade: olive oil (3-4 tablespoons), a little sugar, wine vinegar (1 tablespoon) and boiling water 100 ml. Put the cooled jar in the refrigerator.
Dried tomatoes in oil can be used in a hundred dishes:
On toasted bread as bruschetta (you can add cottage cheese, avocado),
into pasta (spaghetti),
on pizza,
in soups (try making borscht with dried tomatoes!)
In unsweetened muffins,
in vegetable and meat stews,
with stewed or baked chicken,
rabbit dishes,
in sauces,
in baked meats,
in salads of any kind,
in omelets or scrambled eggs,
in pies and quiches,
with fish,
in porridges…
Puglia produces almost more vegetables than any other region of Italy. Tomatoes are still produced here in the most natural way – slowly dried in the sun, they lose water and acquire a strong flavor.
Puglians say that dried tomatoes are not only healthy, but they are also allies of our beauty. Thanks to pro-vitamin A, they help to tone tissues and keep the skin elastic, preventing the formation of stretch marks. This is particularly useful for those who are on a weight loss diet.
In addition, provitamin A accelerates the skin healing process and counteracts skin dullness.
They contain the powerful antioxidant lycopene. This nutrient is essential for fighting premature aging because it fights free radicals present in our bodies.
Dried tomatoes are rich in phosphorus, which together with calcium forms hydroxyapatite, the main mineral for bone structure. This is why fresh and dried tomatoes are an important food for women, especially during menopause.
The Taste of Italy: A Guide to Gastronomic Souvenirs
Tips for those returning from vacation or planning one for the velvet season

In my previous article, I talked about the typical Italian apartment and life. Like us, Italians spend a lot of time in the kitchen – many features of home furnishings are defined in this country through food and culinary habits.
I have no task to reveal new recipes to you and hear in response: "try and buy this in Russia". On the contrary. In this article, I want to explain the principles of Italian cooking which are easy to adopt. And at the same time, I will show you little-known delicacies which won't take up much room in your suitcase.
Let me start by saying that there really is no such thing as Italian cuisine. And even if especially erudite people say that Italian cuisine is actually recognized by UNESCO as the world's intangible heritage of mankind, I will argue against it. UNESCO has recognized the cuisines of Italy, Greece, Spain and Morocco as culinary monuments of humanity, united under the general term "Mediterranean cuisine.
1. Origin Matters The first principle on which Italian cuisine relies is the origin of the product. The country is divided into sort of gastronomic regions, where each region is famous for the wines, cheeses, sausages, desserts and other delicacies produced only here (or the best ones here). And of course, its specialties. Italian cuisine is a patchwork of regional cuisines from all lands.
Take note of some simple rules for buying the most famous Italian products: the best balsamic vinegar (aceto balsamico) can be found in Modena and its surroundings, the most delicious mozzarella of buffalo comes from the Campania region, especially truffles from northern Piedmont or central Umbria. Sicily is famous all over the country for its cannoli, the sweet pasta rolls filled with ricotta and candied fruit, Rome for its artichokes, Pienza, a small town not far from Siena, for its delicious pecorino cheese, Parma for its prosciutto and Parmigiano-Reggiano cheese. The most delicious pizza you can get in Naples, the home of this dish, for risotto alla milanese you have to go to trendy Milan and for lasagne with a thick tomato-meat sauce (lasagne alla bolognese) – to Bologna. Now you know what to order and where to get it in restaurants!
The Apennine peninsula is washed on all sides by the sea, so in summer in seaside towns or, for example, in fishing villages, fish dishes are especially good! Do not expect to be served fresh fish in inland towns in central Italy, but order the meat, which is excellent.
2. Simplicity The second principle of Italian cuisine is simplicity. Italians find it important to preserve original taste of each product and not get "lost" in piles of sauces and dressings. That is why Italian cuisine has a kind of standard flavor combinations: fresh ricotta cheese and truffles, mozzarella (better if it is mozzarella di bufala – from buffalo milk) with green basil, tomatoes and olive oil, uncooked ham (prosciutto crudo) with ripe melon. These unpretentious flavor combinations are the "juice" of traditional Italian cuisine. And good for your figure: your waistline will only say "Grazie! Thank you!", if you rid it of heavy salads with potatoes and mayonnaise, smoked and fried.
3. Seasonality The third principle of Italian cuisine is seasonality. Italians know that the "right" food, bought in the "right" regions, will not only taste better, but also much cheaper than, say, from the neighbors. Buying provisions for the week at the Saturday market, locals follow the principle of seasonality, which affects both the taste and price of products: Sicilian oranges are sweeter and cheaper in winter, apples from Trentino are fragrant in autumn, ripe peaches are better to enjoy the summer south of Rome. The same principle of seasonality can also be applied outside Italy. My Italian acquaintances in Russia do it: it's cheaper and tastier.
A gastronomic guide
And now, a little bit of useful enlightenment. You've stayed in Italy, you've had a good time, it's time to buy souvenirs and pack your suitcases. Bring some local delicacies with a taste of Italy, rather than magnets for the fridge, as a gift for your family and friends. At the same time, you'll get together as a family, share your impressions, laugh at the photos, and nod your tongues in approval at the unparalleled Italian delicacies.
1. Pasta Italian pasta in all shapes, colors and flavors is still a culinary fetish outside of Italy. Take pennette, fusilli, paccheri, spaghetti, conchiglie, orecchiette. In addition to the familiar Italian brands Barilla or De Cecco, in organic stores like NaturaSì or Eataly in Rome, Milan, Turin, Genoa, Piacenza, Bologna, Trieste, Forli, Florence and Bari you can buy pasta of much higher quality. My favorites are Voiello, Alce Nero, Afeltra, Benedetto Cavalieri, Verrigni, Il Pastaio di Gragnano, Antignano, Alfieri, Mancini.
Tip: For those who forgot or did not have time to buy a gastronomic souvenir in Italy, the Eataly store is now also available in Moscow.
For foodies and perfectionists, I suggest homemade handmade pasta – pasta artigianale. With the addition of red wine, spinach, tomatoes, carrots or cuttlefish ink it will please both the eye and the stomach. Homemade pasta simply tastes better, but you shouldn't look for it in the tourist shops but in small private grocery stores marked Gastronomia or Alimentari.
2. Italy is a culinary paradise for meat-eaters. Let's expand the vocabulary: everything tasty is divided into sausages (salumi) and sausage products (insaccati). The insaccati are: sausages (salsiccia), sausage (salame), prosciutto crudo and prosciutto cotto, bresaola, bacon (pancetta), guanciale (uncooked pork cheeks), which go to make the familiar Spaghetti alla carbonara or amatriciana pasta.
A little bit of geography: in Sardinia, get the lardo; in Siena, near Florence, the sausages, sausages and boar ham; in Parma, go for the prosciutto di Parma; in Friuli, in the Friuli-Venezia Giulia region, also for the prosciutto San Daniele. It is sweeter and has a more "delicate" taste than the Parma ham.
In Milan, buy sausage (salumi) and bresaola (bresaola) – it comes here from the very north Valtellina. But in neighboring Piedmont, the same bresaola comes from Val d'Ossola and is made with beef seasoned with cinnamon, garlic, rosemary, bay leaf, cloves, and juniper. Are you drooling already? But I'm not done with bresaola: you can find a variety of horse meat bresaola in Asti, in Piedmont, or Padua, in Veneto, and venison in Novara (we're back in Piedmont).
For those who like it hot, head to Calabria in southern Italy, where all food is seasoned with a fair amount of hot pepper. Try the soft, pâté-like sausage 'Nduja made from pork meat and seasoned with hot Calabrian pepper. Nduja sausage is added little by little to different dishes for a spicy flavor, especially in spaghetti sauces. It is also baked in the oven on mini croutons with cheese. 'Nduja is easy to transport because it is sold vacuum-packed or in jars.
Balsamic Vinegar Ordinary balsamic vinegar (Aceto Balsamico di Modena) is an excellent salad dressing. When aged for 25 years it resembles a syrup and goes well with strawberries, cheeses and meats. It's a real gourmet's gift!
4) Hot peppers bright red garlands really spicy, peppers (vyrviglaz!) Decorate all the more or less self-respecting tourist shops Basilicata and Calabria. The perfect gift for those "who like it hot" – and an elementary way to spice up the usual tomato sauce for pasta.
5. Truffles White or black truffles, truffle-scented olive or butter, truffle pasta sauce – whatever you choose, you won't go wrong. These precious mushrooms literally grow all over Italy, but those found in Lazio, Umbria and northern Piedmont are especially prized. Every year in Italy there are auctions of truffles, where some plain-looking specimens are sold for several thousand euros. As a gift, you can buy truffles from grocery stores and even from some supermarkets.
6. Italian porcini A more economical, less specific, but also very tasty gift is dried porcini mushrooms (porcini). They are sold in plastic bags, suitable as a dressing for risotto or pasta – all you have to do is soak them in warm water or milk beforehand.
7. Cervia Salt Cervia salt comes from the natural evaporation of sea salt under the sun in the estuaries. It is an all-natural product that contains iron, magnesium, calcium, potassium and iodine. It is an ideal product for those who love healthy eating.
8. Parmesan This cheese is added to pasta, risottos, omelets, served as an appetizer and even as a dessert! The taste and price of Parmigiano Reggiano depends on the ageing.
Tip: get vacuum-packed cheese, especially if you don't know when you will open it.
9. Gianduiotti A creamy, melt-in-your-mouth chocolate gianduiotti from Turin, Piedmont. Wrapped in gold foil, the coveted triangular candies are sold in pastry shops almost everywhere in Italy. The first chocolates (chocolate + hazelnuts) were invented in 1856 in Turin's oldest chocolate shop, Caffarel. Now these popular high quality chocolates are sold by Italian brands Perugina and Venchi. In very, very, very pretty packaging. Just what you need for a gift.
Photo from the official website of caffarel.com
10. Cherries in syrup Look for wild cherries in syrup from Fabbri in all major Italian supermarkets – both tasty, and a nice white ceramic vase with a blue pattern will be left as a memento.
11. Cantuccini Hard cookies with almonds are available almost everywhere in Tuscany. They're especially good with a sweet dessert wine, Vin santo. But they're also great for breakfast with coffee and milk.
12. Panforte A traditional pie with dried fruit and spices, Panforte is the pride of Siena in Tuscany. Legend has it that it has 17 ingredients – according to the number of contradas (districts) in the city.
13. Pocket Coffee is designed especially for sweet tooth and coffee addicts. Small chocolates, filled with real espresso. They are very convenient to take with you on the road. The main thing is to stop in time! They are sold at the cash register in Italian bars and supermarkets and in roadside restaurants Autogrill.
14. Nocino Walnut Liqueur Made from unripe walnuts, "born" in Modena. Some locals make it at home (by the way, not only this kind of liquor, but also, for example, coffee liquor – as on the photo).
15. Grappa, Limoncello, Meloncello Italian vodka ("Grappa") and lemon liqueur (Limoncello) have not been written about – but I still can't avoid mentioning them in this material. By the way, grappa in Italy is not chilled before serving and is drunk as a digestif. And limoncello is the perfect ending to a fish restaurant dinner. And also try meloncello, a liqueur similar to limoncello, but made of melon, sweet, fragrant and fresh – just like the Italian summer! I advise to study carefully the map of 'digestivo' and 'amaro' of a good local restaurant, taste and choose a souvenir to your taste and degree. 16. Wine
It's impossible to visit Italy and not take home a couple of bottles of wine. Do not rely on the Duty free. There for the same wines you'll pay more. Better arrange an excursion to a wine cellar (enoteca). There are a lot of them in Milan. I guarantee that you will not leave without souvenirs. See you soon in Italy! A presto in Italia!
This article was prepared with excerpts from the culinary chapter of Anna Chertkova's book "Anti-Marriage, or How to Find the Husband of Your Dream". Unless otherwise noted, all photos are the property of the author.