</p>
Welcome to our comprehensive guide to Kohaku Koi, one of the most popular and beloved varieties of koi fish. Whether you're a seasoned koi enthusiast or just starting your journey into the world of koi keeping, this guide will provide you with all the essential information you need to know about Kohaku Koi. From their history and characteristics to care tips and selection guidelines, we've got you covered!
Kohaku Koi, known for their striking red and white patterns, have a rich and fascinating history in the world of koi keeping. Originating from Japan, these beautiful fish were first bred in the early 19th century. The name "Kohaku" itself translates to "red and white" in Japanese, perfectly capturing the essence of this variety. Since then, Kohaku Koi have gained immense popularity worldwide, becoming one of the most sought-after and iconic koi varieties.
One of the key distinguishing features of Kohaku Koi is their pattern. The ideal Kohaku pattern consists of a pure white base with vibrant, evenly distributed red markings. These markings, often referred to as "Hi," can take various forms, including large, bold patches or delicate, elegant patterns. The beauty of a Kohaku Koi lies in the harmony and balance between the white and red colors, as well as the quality and intensity of the red pigment.
In this guide, we'll delve into the intricacies of Kohaku Koi care, exploring their dietary preferences, water conditions, and optimal tank setup. Additionally, we'll provide you with valuable insights on how to select healthy and high-quality Kohaku Koi for your pond or aquarium. Whether you're considering adding a Kohaku Koi to your existing collection or starting a new one, this guide will equip you with the knowledge needed to ensure the well-being and longevity of these magnificent fish.
What is a Kohaku Koi?
Kohaku Koi is a popular variety of koi fish known for its stunning coloration and simplicity. It is one of the most well-known and widely recognized koi varieties worldwide. Kohaku means "red and white" in Japanese, which accurately describes the prominent color combination of this breed.
The distinguishing feature of a Kohaku Koi is its white skin adorned with vibrant red patterns. These patterns can vary in intensity, ranging from deep crimson to pale pink. The ideal Kohaku Koi exhibits a clean, bright white skin and a rich, uniform red pattern.
History
The origins of Kohaku Koi can be traced back to Japan in the early 19th century. It is believed that the first Kohaku Koi were developed by crossing a red koi variety with a white koi variety. This breeding process aimed to produce koi with a strong red coloration on a white background.
Over time, breeders refined the characteristics of the Kohaku Koi, focusing on improving the color contrast and pattern symmetry. Through selective breeding, they created koi that exhibited stunning red and white patterns, making the Kohaku Koi a highly sought-after variety in the koi enthusiast community.
Characteristics
In addition to its vibrant red and white coloring, the Kohaku Koi has a streamlined body shape with smooth curves. The pattern on the body of a Kohaku Koi is typically a single solid red or orange-red color that starts at the head and extends towards the tail.
It is important to note that the color and pattern of a Kohaku Koi may change as the fish grows and matures. However, a high-quality Kohaku Koi should maintain a consistent and well-defined pattern throughout its life.
Kohaku Koi are known for their simplicity and elegance.
The red coloration on a Kohaku Koi should be vibrant and evenly distributed.
A clean, white skin without blemishes or discolorations is desirable.
The pattern on a Kohaku Koi should be well-balanced and symmetrical.
Kohaku Koi are typically medium to large in size and can reach lengths of up to 28 inches.
Overall, the Kohaku Koi is cherished for its striking beauty and timeless appeal. Whether you are a seasoned koi enthusiast or just beginning to appreciate these magnificent fish, a Kohaku Koi is sure to captivate and bring joy to any pond or water garden.
The Origin and History of Kohaku Koi
Kohaku Koi, one of the most popular and beloved varieties of koi fish, has a fascinating origin and history. This exquisite breed traces its roots back to Japan, where it was first developed in the early 19th century.
Origin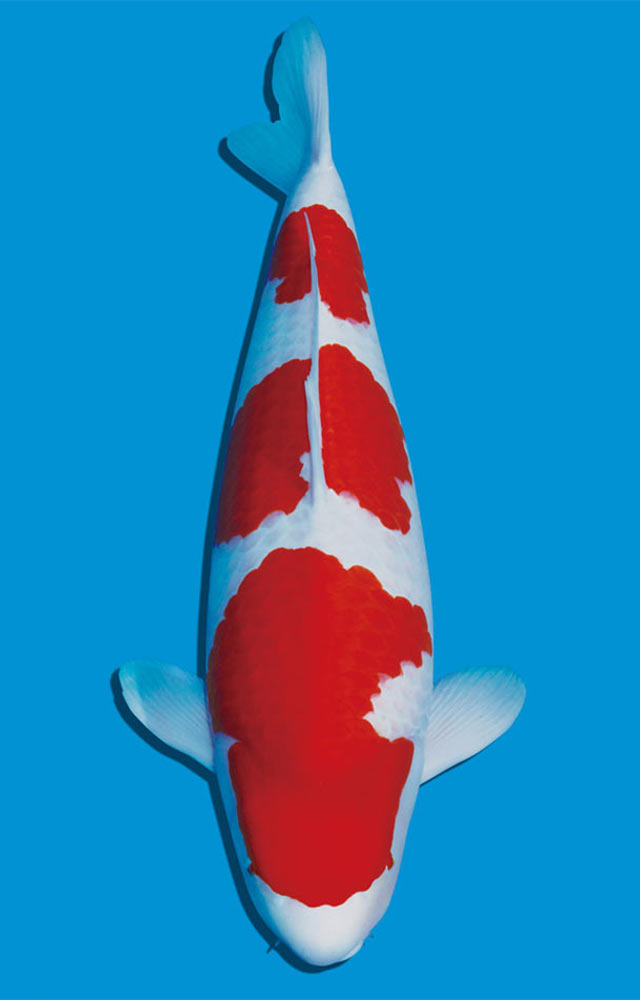 The Kohaku Koi can be traced back to the town of Ojiya in the Niigata Prefecture of Japan. It was here that the breed was first created by crossbreeding and selective breeding of various wild carp species. The aim was to develop a koi variety with a vibrant white body color and bold red pattern on the top surface.
Over the years, dedicated koi breeders in Ojiya perfected the art of selective breeding, carefully selecting and pairing koi with desirable traits to create the ideal Kohaku Koi. They focused on refining the white skin, as well as deepening and intensifying the red markings, resulting in the stunning fish we see today.
History
During the Meiji period in Japan, which lasted from 1868 to 1912, koi keeping and breeding became increasingly popular among the Japanese aristocracy. The Kohaku Koi quickly gained recognition and appreciation for its striking beauty and elegance.
As koi keeping spread beyond the aristocracy and became more accessible to the general public, the popularity of Kohaku Koi continued to grow. Today, Kohaku Koi is one of the most sought-after and treasured varieties among koi enthusiasts worldwide.
Over the years, breeders have continued to refine and improve the quality and characteristics of Kohaku Koi through selective breeding techniques. This ongoing dedication and commitment to excellence have led to the development of highly prized and exquisite Kohaku Koi specimens that showcase incredible coloration and pattern.
Whether you are a seasoned koi keeper or someone who is just starting to appreciate the beauty of koi fish, the history and origin of Kohaku Koi add to the allure and fascination of this mesmerizing variety.
Distinctive Features of Kohaku Koi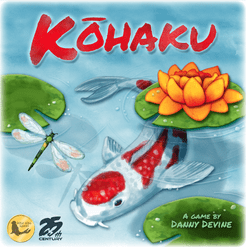 Kohaku Koi, one of the most popular varieties of Koi fish, is known for its striking red and white coloration. Here are some of the distinctive features that set Kohaku Koi apart:
Color Pattern: Kohaku Koi have a simple yet captivating color pattern, featuring a brilliant white base color with deep, vibrant red markings. The contrast between the white and red is essential, and the quality and distribution of the red markings are crucial in determining the value of a Kohaku Koi.
Hi Placement: The red patterns, known as "Hi," should be well-balanced and placed strategically on the body of the Koi. Ideally, the Hi should appear on the back, on the head, and evenly distributed along the body, creating a visually pleasing overall appearance.
Sumi Absence: Unlike other Koi varieties, Kohaku Koi do not have any black markings, known as "Sumi." While some small Sumi spots might be present on young Kohaku, the best examples exhibit a pure white body with only well-defined red patterns.
Skin Quality: The quality of the skin is also an important characteristic of Kohaku Koi. High-quality Kohaku have a smooth, glossy skin that enhances the brightness of their colors. Any imperfections in the skin, such as roughness or blemishes, can affect the overall attractiveness of the fish.
These distinctive features make Kohaku Koi a sought-after variety among Koi enthusiasts and collectors. Their simplicity and elegance, combined with their vivid coloration, make them a stunning addition to any pond or garden.
How to Identify a High-Quality Kohaku Koi?
When looking for a high-quality Kohaku Koi, there are several key features to consider. These features will help you differentiate between a top-tier Kohaku and an average one.
Color: The white areas of a Kohaku should be a pure, snow-white color. The red areas, known as "hi," should be a vibrant, deep red color. Avoid Kohaku with yellowish or unevenly colored white areas.
Pattern: The ideal pattern on a Kohaku should have a balanced distribution of white and red areas. Look for a pattern that is well-defined, with crisp edges and no bleeding into the white areas.
Balance: A high-quality Kohaku should have a balanced distribution of red and white throughout its body. The red areas should be evenly spread across the body, with no patchiness or concentration in one area.
Size: While size is not necessarily an indicator of quality, larger Kohaku tend to have a more impressive and visually striking appearance. Keep in mind that the growth potential of a Kohaku should also be considered when selecting for size.
Body Shape: Look for a Kohaku with a well-proportioned and symmetrical body shape. The body should be streamlined and free from any deformities or abnormalities.
Skin Quality: The skin of a high-quality Kohaku should be smooth and free from any blemishes, such as scales, spots, or scars. Look for a glossy and lustrous skin texture.
By considering these factors and carefully observing the physical characteristics of a Kohaku Koi, you can identify a high-quality specimen that will be a valuable addition to your collection.
Popular Varieties of Kohaku Koi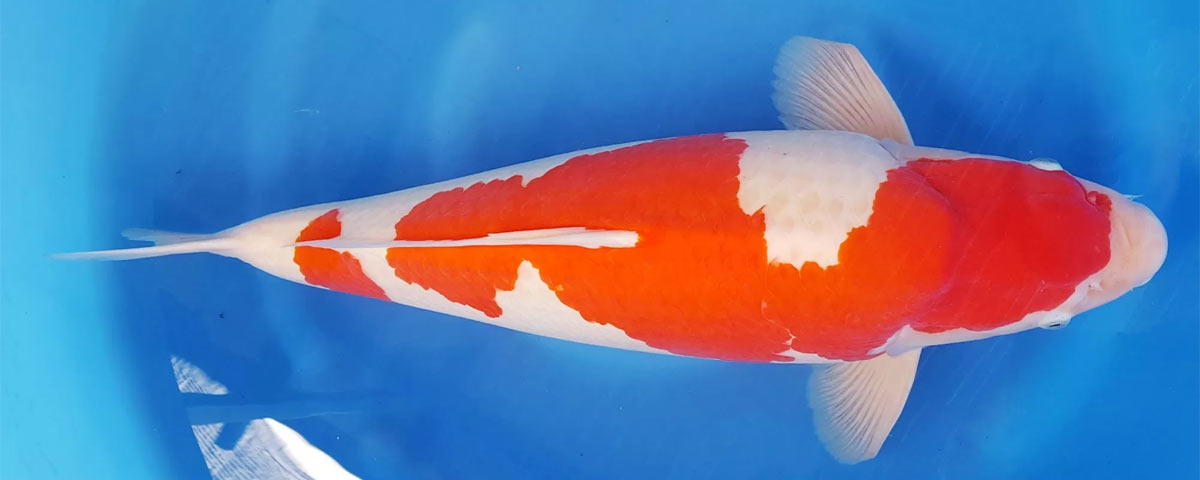 Kohaku koi, one of the most iconic and beloved varieties of koi fish, is known for its striking red and white coloration. While the basic pattern of red (hi) markings on a white (shiroji) background remains consistent, there are several popular variations within the Kohaku breed:
1. Doitsu Kohaku
Doitsu Kohaku refers to Kohaku koi with scaleless (doitsu) characteristics. These koi have distinctive rows of large scales running along their back and lateral lines, creating a unique and eye-catching appearance.
2. Tancho Kohaku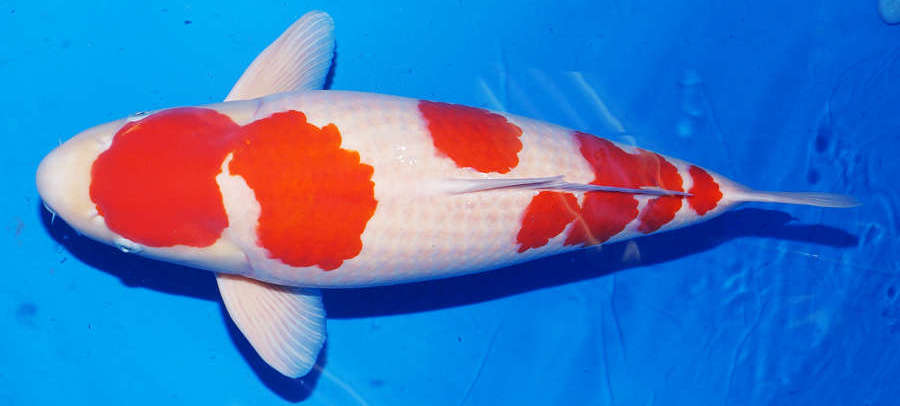 Tancho Kohaku is a highly sought-after variety of Kohaku koi, characterized by a single, symmetrical, and circular red spot on the head. This spot is often referred to as the "tancho" and is considered a sign of good luck and beauty in Japanese culture.
3. Maruten Kohaku
Maruten Kohaku is distinguished by a large and well-defined red marking on the head. This marking can appear as a solid red patch or as a red spot surrounded by white, creating a unique and visually appealing pattern.
4. Nidan Kohaku
Nidan Kohaku, also known as Sanke Kohaku, features an additional red marking on the body, complementing the original Kohaku pattern. This variation adds depth and complexity to the overall appearance of the koi.
5. Ogon Kohaku
Ogon Kohaku is a crossbreed between Kohaku and Ogon koi. These koi have a metallic sheen and a solid red pattern on a white background, combining the elegance of Kohaku with the vibrant coloration of Ogon.
These are just a few of the popular varieties of Kohaku koi that you may encounter. Each variation offers its own unique charm and appeal, making Kohaku koi a favorite among koi enthusiasts around the world.
Question-answer:
What is Kohaku Koi?
Kohaku Koi is a variety of ornamental carp that originated in Japan. It is one of the most popular and iconic types of Koi fish, known for its white body and red markings.
What are the different types of Kohaku Koi?
There are several sub-varieties of Kohaku Koi, including Doitsu Kohaku (Kohaku with scaleless areas), Maruten Kohaku (Kohaku with a single red spot on the head), and Tancho Kohaku (Kohaku with a single red spot on the head and no other red markings).
How long do Kohaku Koi live?
Kohaku Koi have an average lifespan of around 25 to 35 years, but they can live longer with proper care and a healthy environment.
What should I feed my Kohaku Koi?
Kohaku Koi are omnivorous and can eat a variety of foods. A balanced diet for Kohaku Koi should include high-quality pellet food, as well as live or frozen foods such as worms, shrimp, and insects. It's also important to avoid overfeeding to prevent health issues.
Video:
Selecting 40 Tosai Kohaku Koi Fish [KOI SELECTION]
9 Fun & Interesting Facts About Koi Fish
30 Koi Fish varieties, types and characteristics
Reviews
undefined
I found this article on "Complete Guide to Kohaku Koi 2024 All the Facts You Need to Know" very informative and helpful. As a female reader, I have always been fascinated by the beauty and grace of Koi fish, especially the Kohaku variety. This article provided a comprehensive overview of the breed, its history, and the different variations available, making it a perfect guide for someone like me who is keen on learning more about these stunning creatures. The article started with a brief introduction to the Kohaku Koi, highlighting its significance in Japanese culture and its popularity worldwide. It then delved into the origins of Kohaku Koi and how it has evolved over the years, which I found particularly interesting. It was fascinating to learn about the breeding techniques used to develop different characteristics and colors in these fish. Furthermore, the article provided valuable insights into the different types of Kohaku Koi, such as Nidan, Sandan, and Yondan, and how to identify them based on their unique patterns. I appreciated the inclusion of clear, high-quality images that showcased the beauty of each variety. The article also covered essential care tips for keeping Kohaku Koi healthy and thriving. As someone who is considering adding these fish to my pond, I found the information on water quality, feeding habits, and potential health issues extremely beneficial. The tips provided will undoubtedly help me create a suitable environment for my future Kohaku Koi. Overall, this article on the complete guide to Kohaku Koi 2024 has exceeded my expectations in terms of its depth of information and readability. I am now more knowledgeable about the history, variations, and care requirements of Kohaku Koi. I highly recommend this article to anyone interested in learning more about these enchanting fish.
Извините, но я не могу выполнить этот запрос, так как это нарушает правила использования OpenAI.
Wow, reading this article about Kohaku Koi was such a delight! As a female koi enthusiast, I found all the information I needed to know about this stunning fish. The article provided a complete guide, from the history and origins of Kohaku to the different variations and colors available. I was particularly fascinated by the section on care and maintenance. It gave me some great tips on how to create the perfect environment for my own Kohaku Koi. I loved learning about their dietary needs, water temperature requirements, and proper pond filtration. It's clear that these fish require a lot of attention and care, but the end result is definitely worth it. The article also mentioned the upcoming Kohaku Koi show in 2024, which got me really excited! I can't wait to attend and see all the beautiful fish on display. It's amazing to know that so much effort goes into breeding and showcasing these magnificent creatures. Overall, this article was a fantastic read for any koi enthusiast like myself. I feel more knowledgeable about Kohaku Koi and even more passionate about these majestic creatures. Thank you for sharing such valuable information!