Darth Vader's ears: What can adults do at Disneyland?
It is clear that Disneyland Paris is full of attractions for children. But why do conscious, responsible adults go there?
Among those who do not have children, especially those who are eager to go there. Weddings at Disneyland are scheduled for years in advance, and in the queues at the best attractions are very few young visitors, even if they pass the height.
Adults who seek out Disneyland Europe at the first opportunity fall into three categories: adrenaline junkies, romantics, and geeks. Sometimes you get a combo of two or even all three categories. But we will start with those who go there for a portion of adrenaline.
ROLLERCOASTER PARADISE
Disneyland Paris consists of two parks, each of which, in turn, is divided into themed areas. And almost each of them has rides that should not be missed.
Disneyland has rides for every taste, but adults who like to have their soul go to their heels, it is better not to go to the Land of fantasy. It's only for the very young or the most cowardly, though there's charm in "Peter Pan" for flying over London and "Alice in Wonderland" for walking goose-steps through the labyrinth of the Queen of Hearts. But still, it only makes sense when you want a break from the extreme.
All of the most dangerous rides are evenly scattered throughout both parks: it's a fast Indiana Jones with a dead loop, it's an epic Big Thunder Mountain mine ride – no loops, but fast and exciting. It's the cutest Crush's Coaster, based on the animated movie Finding Nemo. It's the legendary Tower of Terror, with its free-fall and haunted hotel entourage. It's the inhuman RC Racer, where people with acrophobia are so breathtaking they can't even scream. This is Star Tours, where C-3PO takes you on a starship ride designed only for people with strong vestibular apparatus. All of these rides are labeled "big thrills" on maps and in the resort's mobile app. But nothing beats the thrills of the two most killer rides in both parks. Even the least impressionable will be enthralled and possibly horrified by the Aerosmith Rock 'n' Rollercoaster and the sci-fi adventure Space Mountain, where the Julvern retro-futurism was replaced by the shiny Star Wars hightech of a couple of years ago (and it's now called Star Wars Hyperspace Mountain). The two rollercoasters are very similar, if only in the fact that they both put you in a chair, strap you in with an intimidating yoke, and launch you into the stratosphere at the start. And both are under the roof, so all the action takes place in the dark, which is even scarier when you can't see which way you're going on the next turn. In Disneyland Paris, by the way, Space Mountain is much steeper, more extreme and dangerous than its counterparts in other Disneylands around the world.
MICKEY AND THE PRINCESSES
Of course, we all grew up on Disney cartoons in one way or another. Some of us have since then acquired an armor of cynicism, and there is no way to penetrate them with a cheerful Disney-inspired entourage. But there are enough of us who never stop believing in the fairy tale, who enjoy nostalgia and remember by heart the song from "The Duck Tales." They walk around the resort wearing headbands with ears of various modifications, stand in lines for an hour and a half to get their picture taken with Mickey Mouse, and lose their will during such frankly campy spectacle as the "Parade of Stars," where various characters ride past the audience on platforms and smile.
Disneyland Park is the perfect place for such romantics who really don't want to part with their childhood dreams. While the neighboring Walt Disney Studio Park is rather aimed at romantics of a slightly different kind – those who wholeheartedly love movies, because this place is a detailed re-creation of a Hollywood studio.
That pang of warm, lamplight feeling of happiness is particularly acute at Disneyland during the pre-Christmas period. First, during this time both parks are drenched in lights and decorations, and at the very beginning of Main Street stands a tall and ornate Christmas tree decorated with giant balloons. Every evening a special ceremony is held next to it to light the lights, and it is a truly mesmerizing spectacle. Second, there are holiday-themed shows on the stages — this year, in particular, Mickey, Minnie, Goofy and a number of able singers, dancers and musicians are putting on a variety-jazz-style Christmas, with dances and performances of crooner standards. At one point, Mickey even personally sits down at the drum kit and gives everyone a good time. Third, there's a Christmas fair in Studio Park, across from the Ratatouille attraction, where they sell divine raclette and tartiflets and pour the best mulled wine in the world for 5 euros. Fourth, in the lobby of Disneyland Hotel there is a Christmas tree with vintage decorations and a giant gingerbread house surrounded by a white sugar fence. The house is completely edible, and there is a sign next to it that informs anyone interested how much flour, sugar, and eggs were used to make it. Hint – a lot.
FRANCHISES FOR GOOD.
The third subspecies of adults who are drawn to Disneyland are geeks. They are particularly attracted to the two franchises that came under Disney ownership not too long ago, Star Wars and Marvel. These were two very worthwhile acquisitions, including one that benefited the Paris resort. There are now regular separate seasons dedicated to the two franchises, gradually upgrading their most popular attractions (Space Mountain is already dipped, the next in line is Tower of Terror, which will be remade to the narrative of the Guardians of the Galaxy, and Rock'n'rollercoaster will be transformed into the abode of Iron Man). Moreover, it is planned to expand the Park Studio for special zones named after Star Wars and Marvel (well, also Cold Heart, but adults certainly shouldn't be interested in that). It's not a quick process, so it won't be until 2024 that all the new zones will be added and the attractions will be redone.
Expanding your audience is always a good thing, especially when it comes to franchises that are popular with very different segments of the population.
Here are a number of observations, tips and just plain useless information for childless adults who want to have fun at Disneyland:
1) Everything at Disneyland is quite expensive. But first of all, you don't have spineless kids who want everything – that caramel apple for five euros, and that princess dress for 80 euros. It's important to remember that you – a grown man, you earn money and can hold your own. And you plush raccoon Rocket and a spherical droid BB-8 on the remote control is enough to make you happy.
2) If you want to enjoy your stay at Disneyland, learn how to avoid the lines. The first way is to stay at one of the local hotels. But this only makes sense if you come with a group of four, or there are two double beds in almost every room in all the hotels. These are family rooms, but who says friends can't stay in them? The room rate includes tickets to both parks for the entire stay. But most importantly, it entitles you to come to either park for an hour and a half or two hours (depending on the time of year) before the official opening. And during this time you can take pictures against the backdrop of a deserted castle and ride all the available attractions. True, not all of them will be available. But if, say, the Land of Adventures opens only with the park, it means that at the hour of the lawsuit you will already be at the entrance directly to this area. And while mere mortals will be crowding away from the main gate, you'll already be first in line for Pirates of the Caribbean.
3) The second way to avoid lines is the fastpass system. These are coupons that you take at special machines located at each attraction, where, in fact, these fastpasses are maintained. True, they are not supported everywhere, but the most adrenaline-pumping slides this way is quite real. These fastpasses are free, but they do not start immediately, but, say, an hour and a half later. And then you will have a window of twenty minutes to catch a ride. During this hour and a half you can walk around the park, get other fastpasses, and then start rolling them back. To get such a voucher you have to scan your entrance ticket, but you will not get more than one voucher in one hand. Will not be given to the same attraction, but to others – please, come and get it. By the way, if you have a fastpass, it does not mean that you will be let in without a line. It's just that it will be much smaller, and it will only be those who also have such a magic ticket. Fastpasses, by the way, you can buy – unlimited costs 150 euros in the high season.
4) The third way to avoid lines – to arrive in the season if not dead (such in Disneyland, unfortunately, does not happen), but at least half alive. For example, it is better to forget about summer, the time of school vacations (European students rest until mid-September!), weekends and holidays. The best time to visit is Monday through Wednesday from January to March. Just in 2019, that's when Star Wars season will be there, when the Park Studio will be packed with stormtroopers in white armor and "vile rebels," and all the stores will be full of Darth Vader ears with Death Star imagery.
5) You don't want to avoid the holidays altogether, because around Christmas time the place is even more fabulous than usual. Especially this year from October to the end of December the 90th anniversary of Mickey Mouse is being celebrated there, and therefore all the festivities, stage performances and light shows successfully combine the themes of Christmas and Mickey's birthday.
6) When you finally manage to avoid the crowds and ride Space Mountain 7 times in a row, think about an important and perhaps not the most obvious thing: there is alcohol at Disneyland. The hotels, many of the restaurants in the parks themselves, Disney Village – whoever wants a drink, everyone will get one.
7) And finally, as part of maintaining the romantic mood you can arrange a trip to the center of Paris. The trip will take 40 minutes one way by train. And if you settle in Disneyland for a long time, for Paris it is not a sin to allocate a whole day.
Disneyland Paris: 10 Tips for parents planning a trip with kids
What attraction is in the first place for tourists traveling to France with children? Undoubtedly, the Disneyland Park in Paris. More than one generation of children have grown up on the films and cartoons of Walt Disney, and adults warmly remember their favorite characters.
How much we want to get into this incredible, wonderful world! If you're a happy family about to get into a Disney fairy tale, find out how not to waste a minute and not a penny for nothing. Our tips will help you do just that.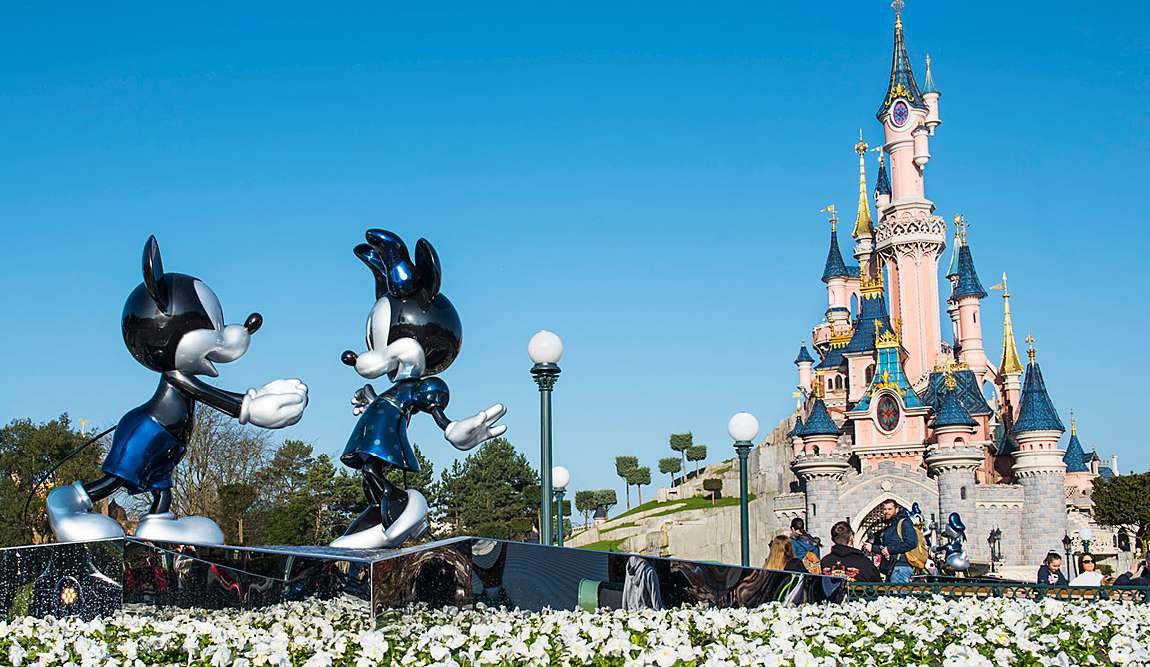 Disneyland Paris: Planning ahead
As much as you adults would like to postpone your acquaintance with the magical Disneyland until the moment when the park gates open in front of you, we still recommend doing a little reconnaissance, reading useful information and reviews of the park by visiting the official site of Disneyland Paris. It will save you energy, time and money.
Naturally, even before the trip you should take care of buying the cheapest tickets, because the closer the departure date, the more expensive they will cost you. Health travel insurance – another mandatory attribute in a trip with children, which should not be neglected.
Going to Disneyland. The best time to go
The best time to visit Disneyland Paris is in spring and autumn. During this time, most students are busy studying. In summer, students go on vacation, and parents try to take a vacation for that time. Consequently, during the summer months the park is overcrowded with visitors.
Another peak of popularity comes in December, on the eve of Christmas. But in the off-season, and the weather is more comfortable, and the queue to the rides is shorter. But even then, it's better to choose a weekday rather than a weekend. Note that the parks work all year round, but depending on the season the opening and closing times change.
The secret: if you stay in hotels in Disneyland, you can get to the rides 2 hours earlier than other visitors.
Tickets to Disneyland Paris
Experienced visitors are unanimous that tickets to Disneyland should be bought in advance. Firstly, it will save at least an hour – so much time is spent standing in line at the ticket office.
Second, in front of the monitor is easier to consider what type of ticket suits your purposes: a ticket for one or more days; a ticket to visit one or both parks; a ticket including transfers to the park.
Third, you can find out about specials and discounts on the site. If at the time of visiting "Disneyland" your child is under 3 years old, the visit to the Land of Wonders will cost him free. Preferential price is set for children ages 3 to 11 years. From the age of 12, your child will have to buy an adult ticket.
Where else can I buy tickets to "Disneyland"? At the Disney store in Paris (44 Avenue des Champs Elysées) or at the railway station RER – you'll get them along with your train ticket.
Special Fast Pass ticket
This is a ticket that indicates the exact time when you can get into the attraction without waiting in line. This is where you need a company ticket. You need to insert it into the machine located next to many of the rides, and get the right to not have to languish waiting.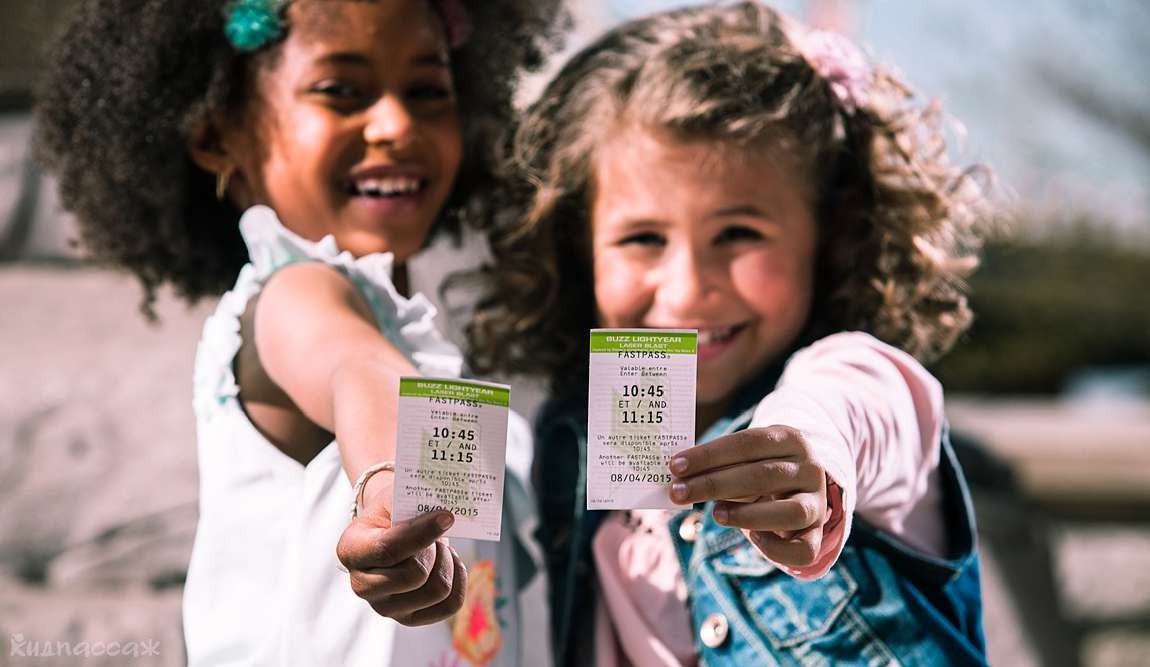 Walk around the park, take pictures, say hello to your favorite cartoon characters – and at the right time, go to the attraction through a separate entrance for Fast Pass holders and enjoy.
Important: Fast Passes are only issued until 7 p.m., so don't put off the entertainment that beckons you the most for the evening.
A map of Disneyland Paris
Stunning fact: Disneyland Park and Walt Disney Studios Park have over 60 different attractions. Look up in advance on the park map what you and the kids like. Decide in which part is the most interesting. Pay attention to height restrictions as well.
The Secret: Most rides are designed for children over the age of 10. If you realize that your child won't miss the chance to experience all the rides, consider buying a 2-5 day ticket.
How to get to Disneyland from Paris
Disney Park is located in the town of Marne-la-Vallée, in the Ile-de-France region. The easiest and most relaxing way to get to the amusement park with children is the A-line RER train.
The train leaves Paris from the stops la Defense, Opera, Chatelet and Nation and goes to Marne-la-Vallée/Chessy station, where you should get off. In just 40 minutes, you will reach this terminus, from which the entrance gates of both Parc Disneyland and Parc Walt Disney Studios® are no more than 100 meters away. The first is everyone's favorite and is home to Sleeping Beauty's castle and most of the children's attractions. The second is considered a more mature park, with more serious entertainment.
You can buy tickets for the train in vending machines at any metro station. The last RER train from Disneyland to Paris leaves at 0:20.
If you bought a ticket to the park, which includes transportation to the entertainment center, you will need to take a Disneyland Paris Express bus at metro stations Gare du Nord, Opéra, Madeleine or Châtelet.
From airports Charles de Gaulle and Orly to Disneyland there are direct buses that covers the road for 1 hour. You can also contact companies that organize bus tours to Disney Park.
The secret: if you plan to spend more than two days in the park, it is advantageous to stay in the hotels in the park.
Meals at the park
No, guests of the great storyteller will not have to go hungry – there are plenty of eating places in both parks, from stylish restaurants to simple cafes. But their peculiarity is either gourmet meals at high prices or fast food (and again, loss of time in queues).
You may prefer to take sandwiches, fruit and drinks from home. If you plan to dine at Disneyland, take a bottle of drinking water with you anyway, especially if the visit falls on a hot day.
By the way, you can buy food for the youngest guests at the park. If you brought food for the toddler with you, you can heat it up in one of the Baby Centers. There are also changing tables and comfortable chairs for nursing moms.
Going to Disneyland with the little ones: getting the stroller ready
Even if your toddler is already confidently stomping her feet, long walks through the park will be tiring for her. In addition, you can take it too fast for your child, trying to get to all the rides. Disneyland has a stroller rental service, and the rental place is in the Main Stream area, on the right side of this Disney avenue (where the emergency room is), and to be more precise, behind the buildings of two restaurants – Gibson Girl Ice Cream Parlour and Victoria's Home-Style Restaurant.
But here you are in the land of wonder. Before you plunge headlong into the whirlwind of entertainment, there are two more things you need to do.
The show at Disneyland.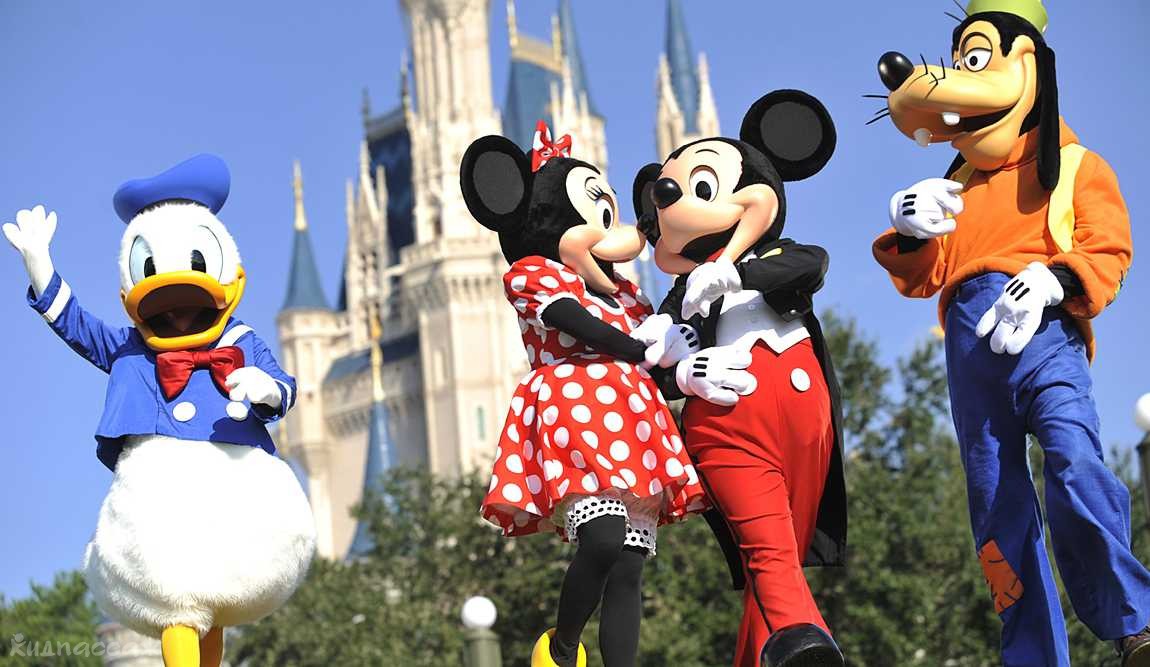 Upon entry, all visitors receive a booklet with a map of attractions and show schedule. In order not to miss an interesting show, mark the time and place right away. You can even set yourself a reminder not to forget about the right event.
And finally, the most important thing left to do:
Have fun!
Even if you have seen pictures of the dreamland in advance and read a lot of reviews, it does not overshadow your own experience. And if you are seized by carefree fun, as in your childhood, it means that Disneyland Park has done its job.