Fish markets in Sicily.
The best way to understand the importance of seafood in Sicily is to visit the fish market in Catania, which is as old as the ancient city itself. That's where we'll go with Natalia Vorobieva, director of Sapori Tours and author of the "Tasty Sicily" column.
From the early morning when fishermen unload their catch on the huge tables, display cases with ice, the fish market in Catania is in full swing. Lots of ring-shaped octopuses, buckets full of snails and small clams, beautiful circles of eels and rays, and other forms of marine life imaginable. The fish come from Madzara del Vallo, Italy's largest fishing port in southwestern Sicily, as well as smaller ports famous for certain seafood: anchovies from Sciacca, swordfish from Favignana. Fish traders, waving their arms and shouting, bargain with local housewives, wholesalers and chefs. This truly comedic spectacle continues throughout the morning. One such chef is Carmelo Chiaramonte, a Sicilian seafood expert and author of A Tutto Tonna (Bibliotheca Culinaria, 2006), a fascinating Italian cookbook about many types of tuna. His restaurant is located near the market.
I visited such a market once at 5:00 a.m.! The sight is breathtaking! Huge chunks of tuna that you just can't even believe the fish could be that size. The screaming, the bidding around, the atmosphere is very emotional! I was more of a spectator there, as such an early market is for restaurants, not regular customers. Restaurants buy quite large portions, haggling with the fishermen.
A real Sicilian restaurant will never feed you stale fish, because a self-respecting chef visits such a fish market several times a week himself and selects the best for his favorite customers. For example, during our gastronomic tour, the restaurant chef personally selected fresh seafood at the fish market for our dinner! And the dinner was incredibly delicious!
During Lent, Italians eat more fish than usual, so this chef's menu is replete with a variety of seafood dishes: Brodo quaresimale (fish soup); Sarde beccafico (fried sardines with sweet and sour sauce stuffed with currants); spaghetti with sea urchin and more. Of course, the products for these viands can only be found in Catania's market.
Sicilian food is largely seafood. One Italian rule says, "Cheese is never used with fish." But this does not apply to Sicily. Here they love experimentation. The most successful ones are rooted in the Sicilian menu as traditional dishes. And the floral white wine only completes the composition.
But back to the market. Fish and seafood are arranged in homemade buckets, plastic containers, and on cutting boards. The knives used for cutting and finishing look too dangerous to be used by anyone other than experienced fishmongers.
You can just stand in one place and watch this noisy spectacle. The locals do just that. They look out the windows and watch the vendors walk around with carts and buckets filled with seafood and fish and shout, "I have fresh fish!" and "I have the best prices!"
Ancient fishing methods are still preserved thanks to the Sicilian fishermen. Many of them still use sophisticated net designs to catch tuna, for example.
Here you can taste the freshest seafood. Right in the market there are both restaurants and small eateries where they are prepared. Do not be afraid that this is a market! Believe me, it will be one of your best gastronomic discoveries!
And by the time you finish your meal of fresh seafood at the nearest restaurant, the market will have closed again and the streets around will be empty until the next brisk early morning.
For a real taste of the fresh seafood and atmosphere of the fish market, go to Sicily and see it for yourself!
Catania Fish Market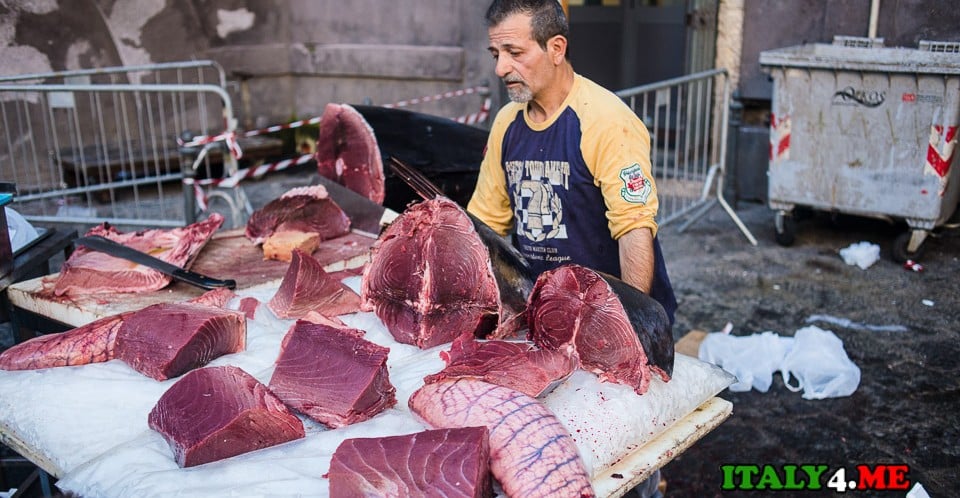 The fish market of Catania is in the heart of the city. Like most markets in Italy are open only in the morning. In addition to all kinds of fish you can buy fruits and vegetables. In general, less words, more pictures, which will tell much more. Let's dive in.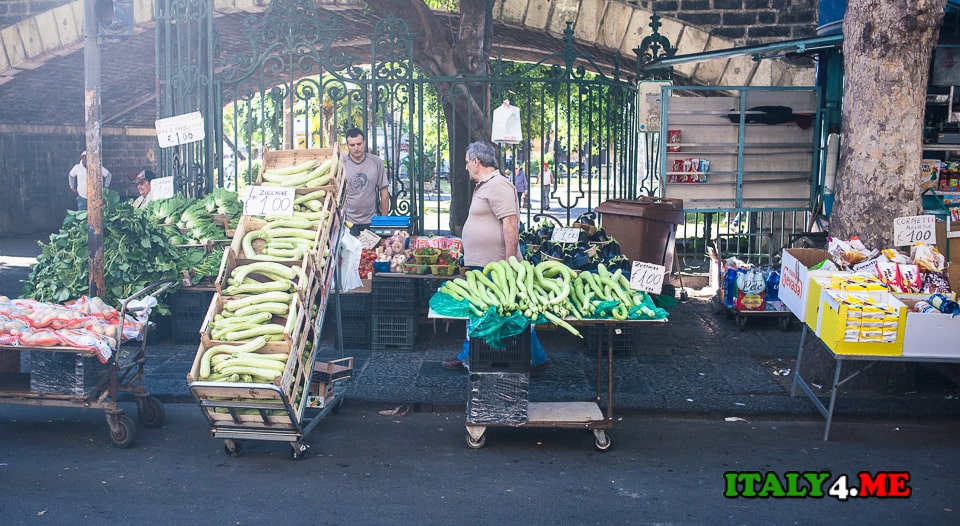 In the market, we walked in May, just a season of cherries / cherry 3.5 euros per kilo, peaches 2 euros / kilo.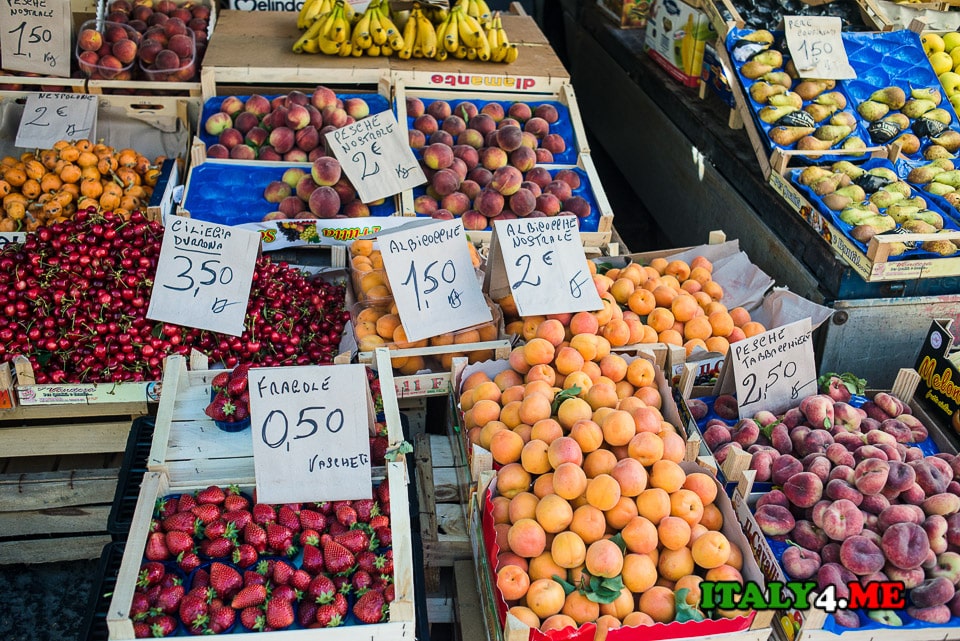 My favorite mussels, aka Cozze, for which I specifically fly from Rome to Trapani restaurant La Piazzetta at the fish market for the locals are only 3 euros / kilo.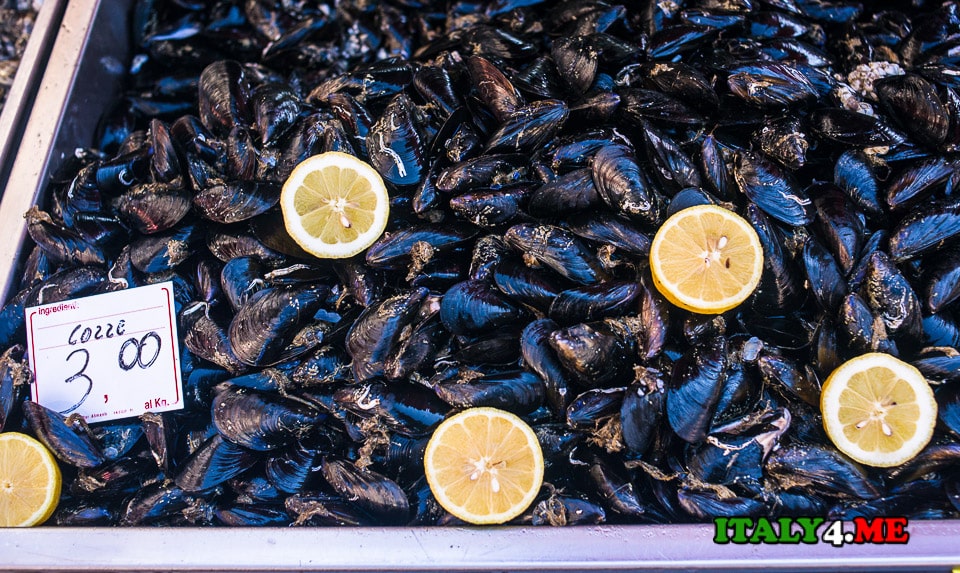 There are more expensive options at 10 euros/kilot.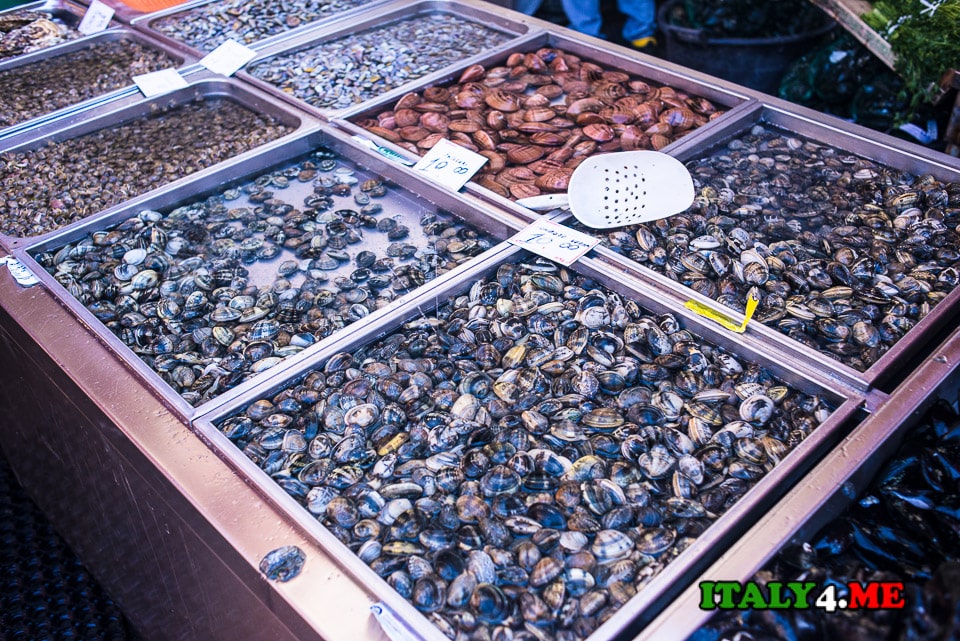 Moving on to the department with more serious fish. How do you like this carcass of tuna?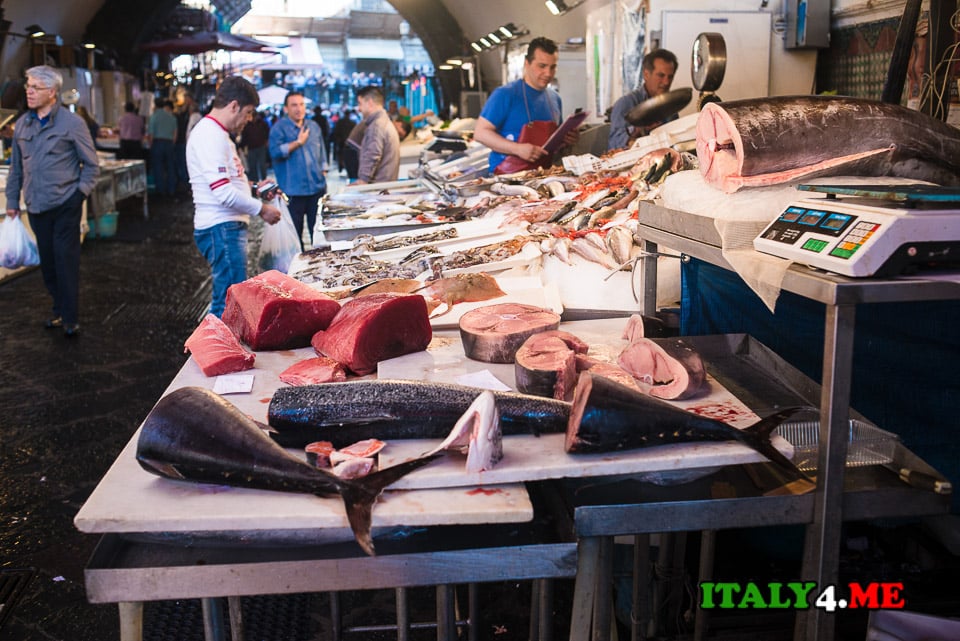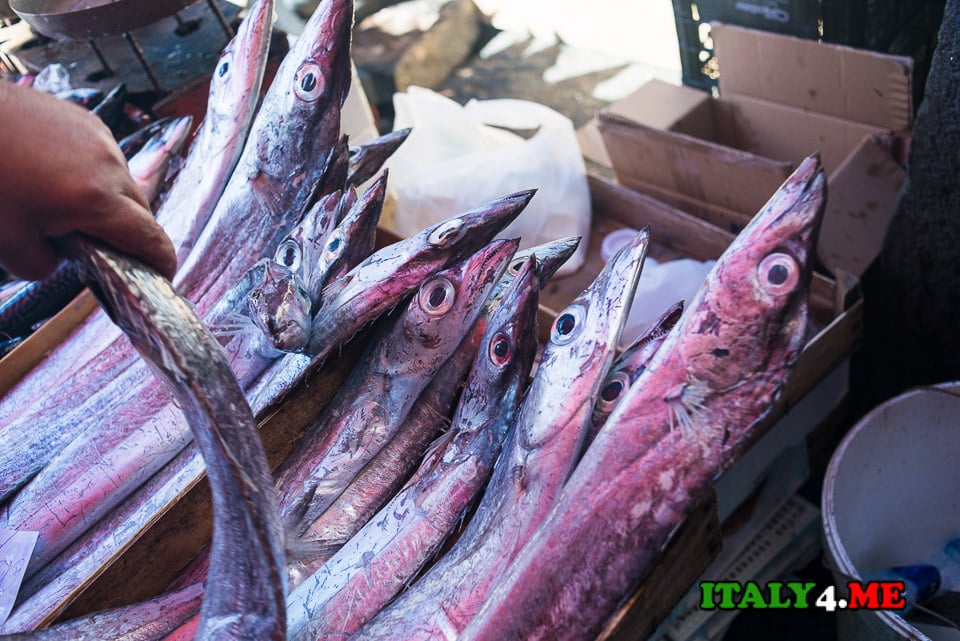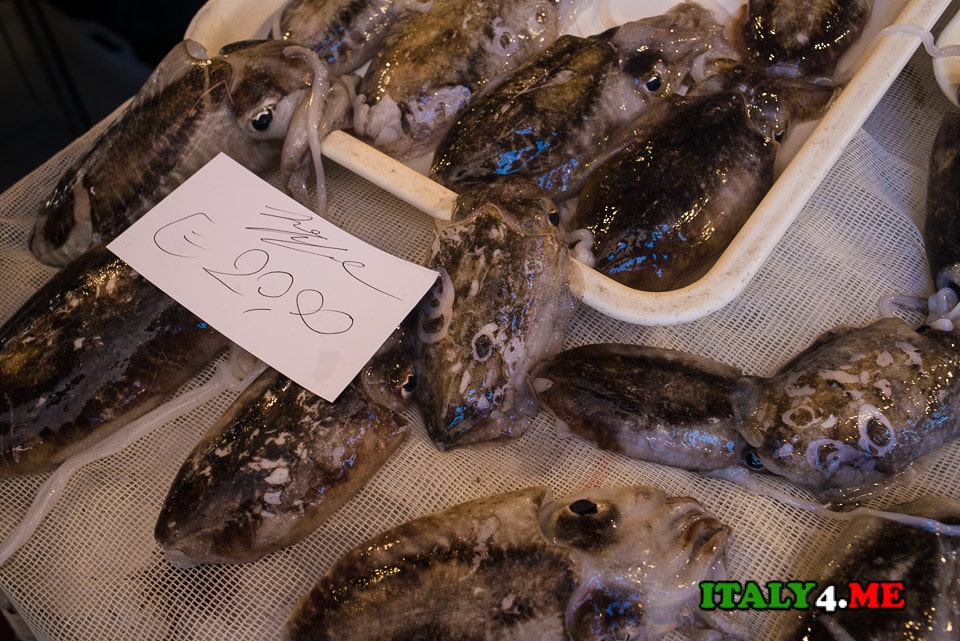 Many names and species of sea creatures are unfamiliar to me, but I'm sure these snails are great for soup.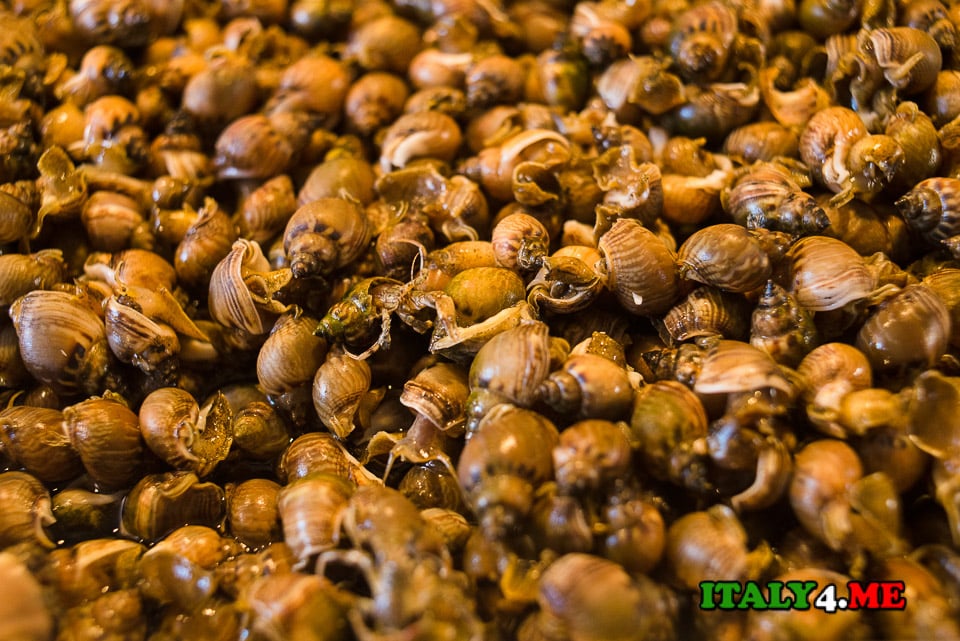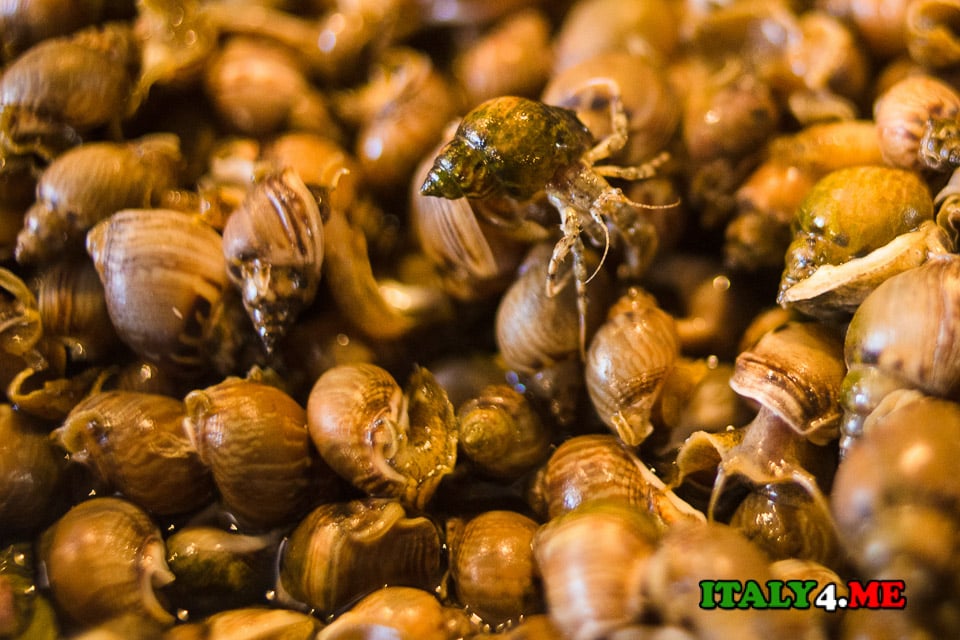 Red fresh mussels for 10 euro / kilo.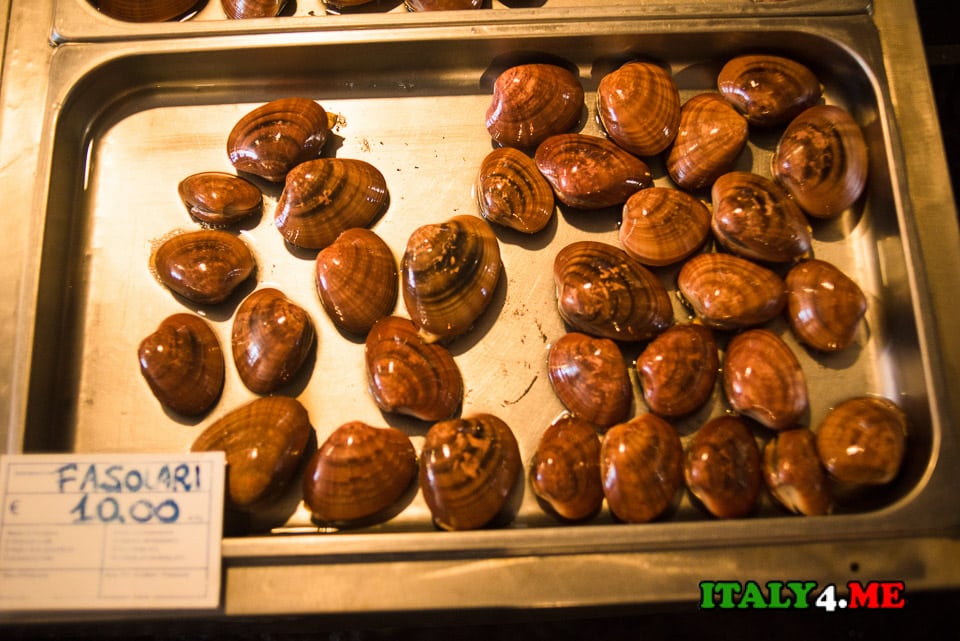 Everyone loves shrimp.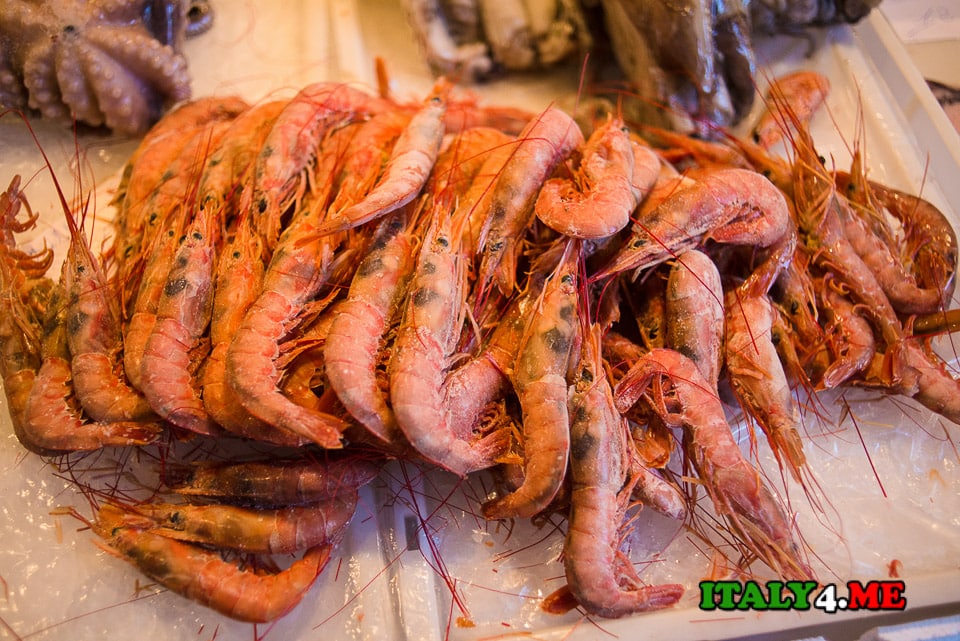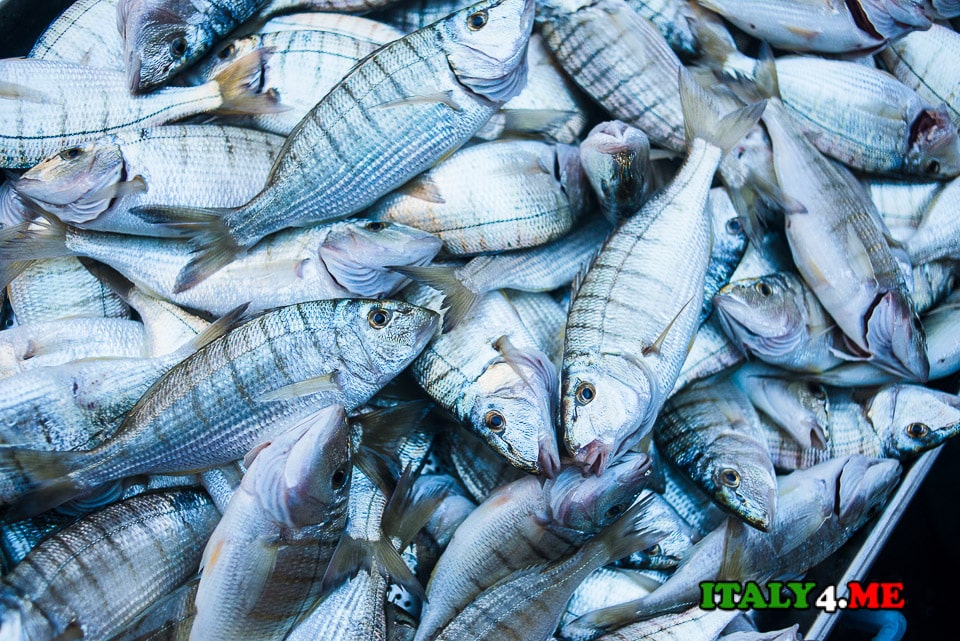 Note that there are almost no women at the fish market – and the sellers and buyers here are mostly men.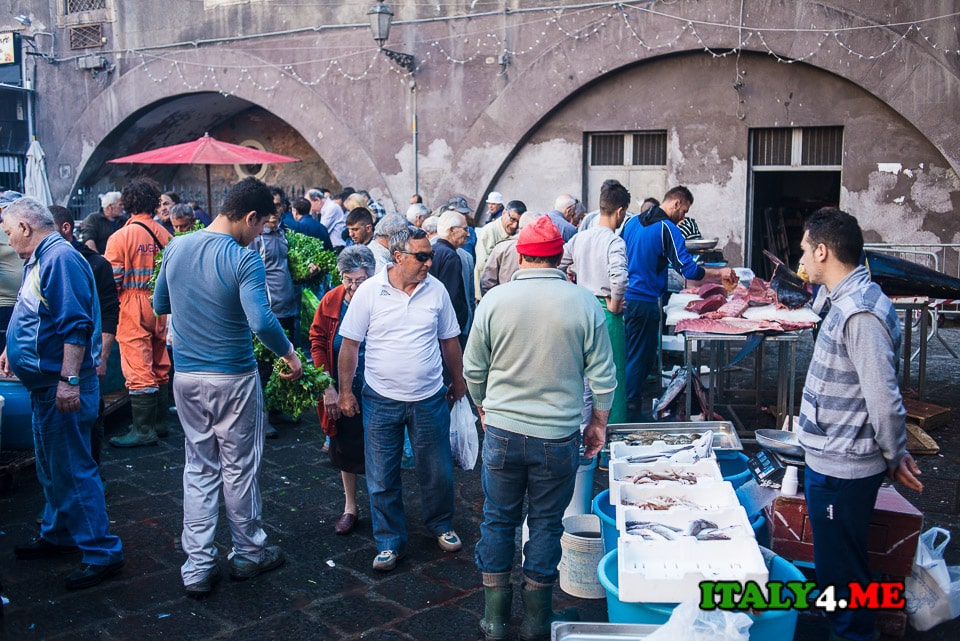 Someone buys and someone watches the buyers, I mean the dons above.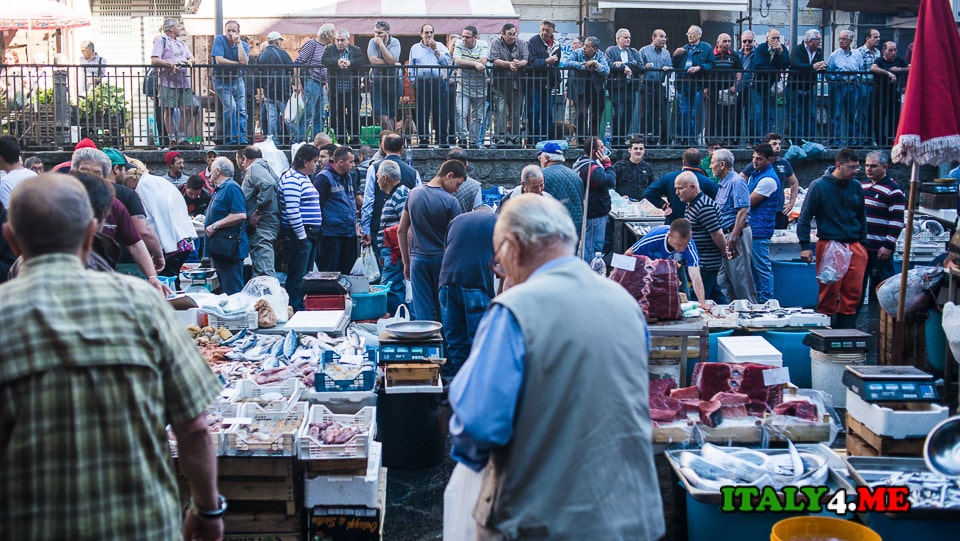 Freshly caught tuna is cut up right in front of you.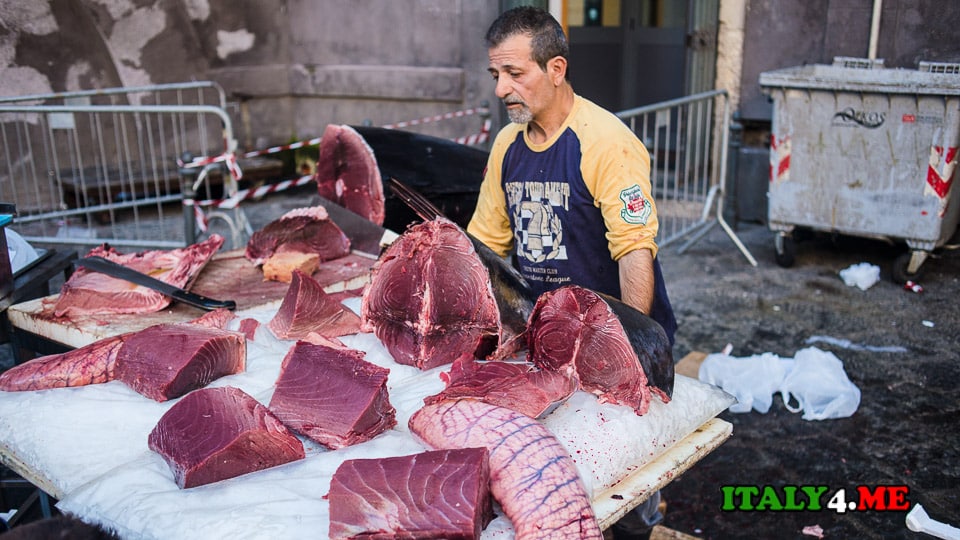 Of course, at any market you'll find olives for all tastes. You want green with peppers.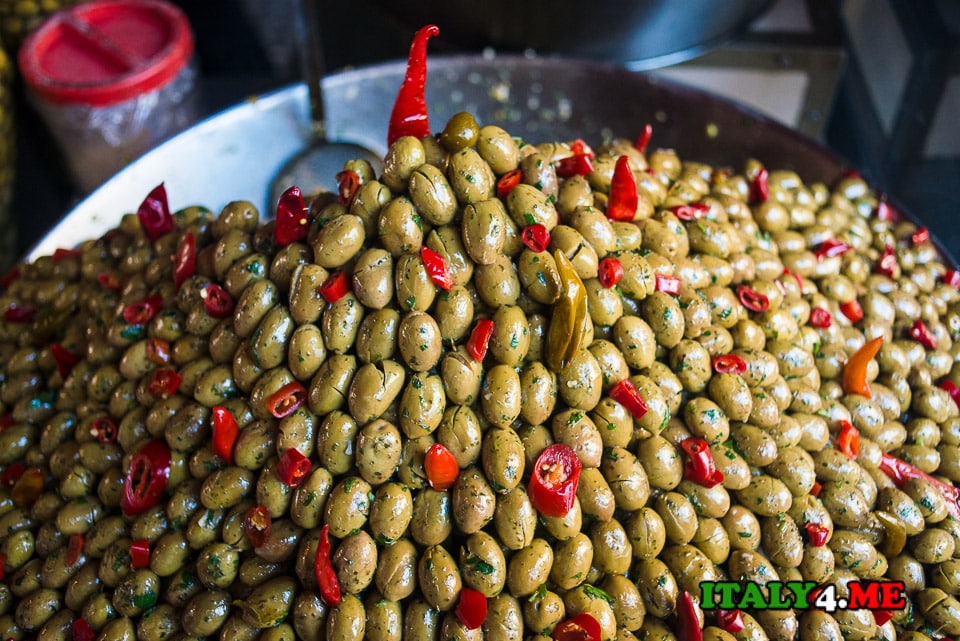 You want purple.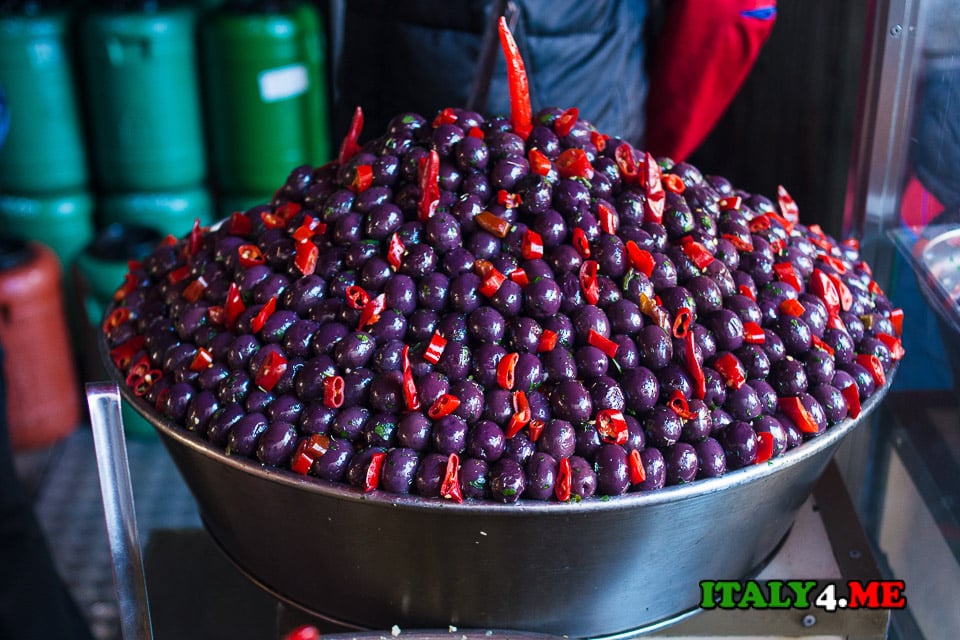 You can get a vegetable mix.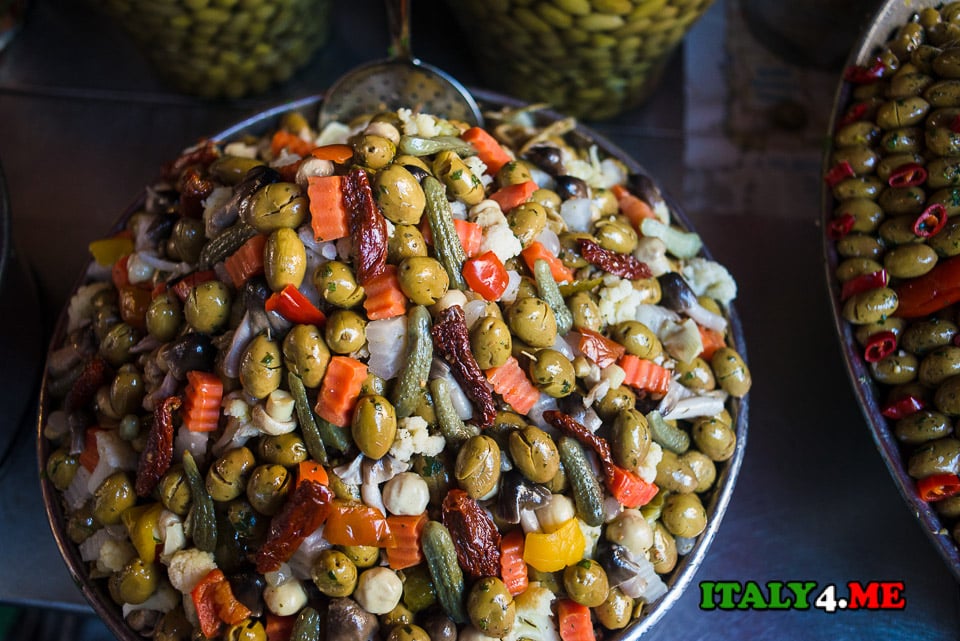 Swordfish costs 25 euros/kilogram – it's one of my favorite dishes in restaurants in Sicily. The price per serving is usually around 12-15 euros.
Live snails, also a great delicacy.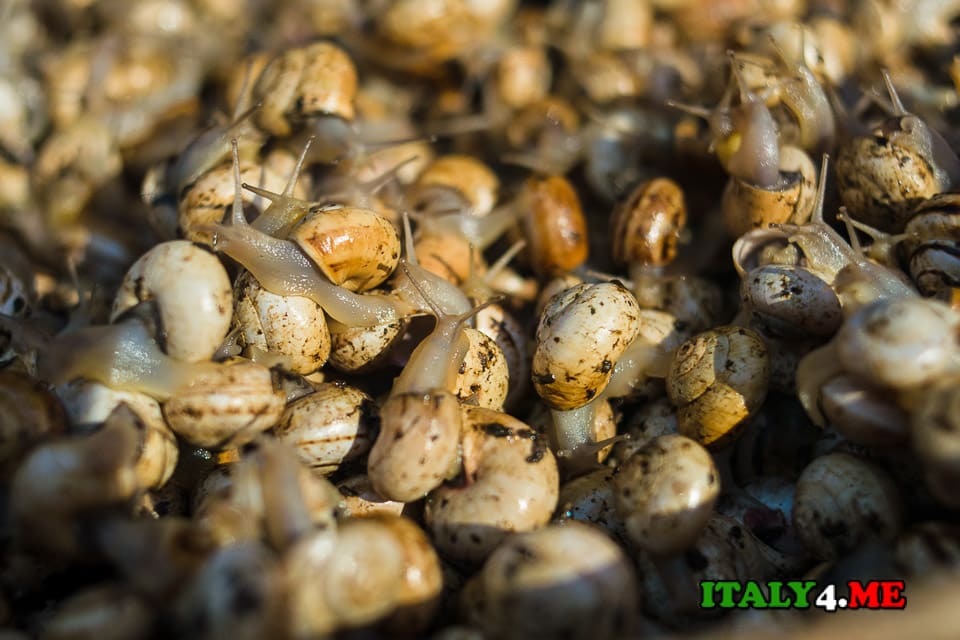 At the mini-bar, there's an option for a 0.5 euro coffee or freshly squeezed juice and Sicilian oranges.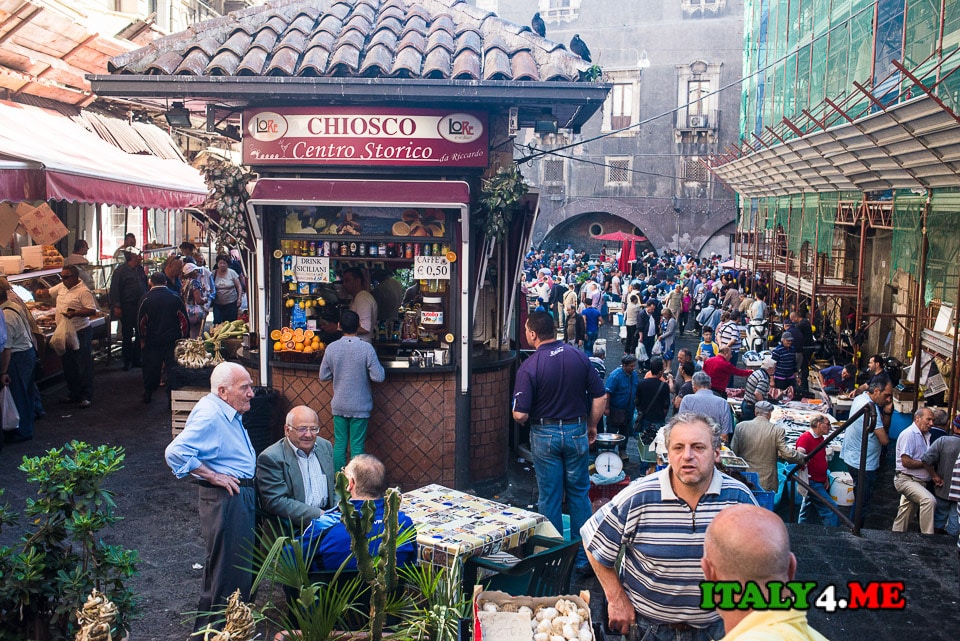 We bought a couple of kilos of amazingly delicious strawberries and cherries on our way out of the market.