Cappadocia: Another Turkey. Where to stay and what to see on your own
September 2019 (updated: 01.10.2019) 4
Cappadocia is a unique area in central Turkey. Fanciful cliffs, houses in caves, underground cities, ancient rock temples, hundreds of balloons at dawn and much more. Cappadocia is an extraordinary region. It is a place that was able to surprise and excite us. Now when the word Turkey, the first thing we will think of is Cappadocia, caves, and underground cities.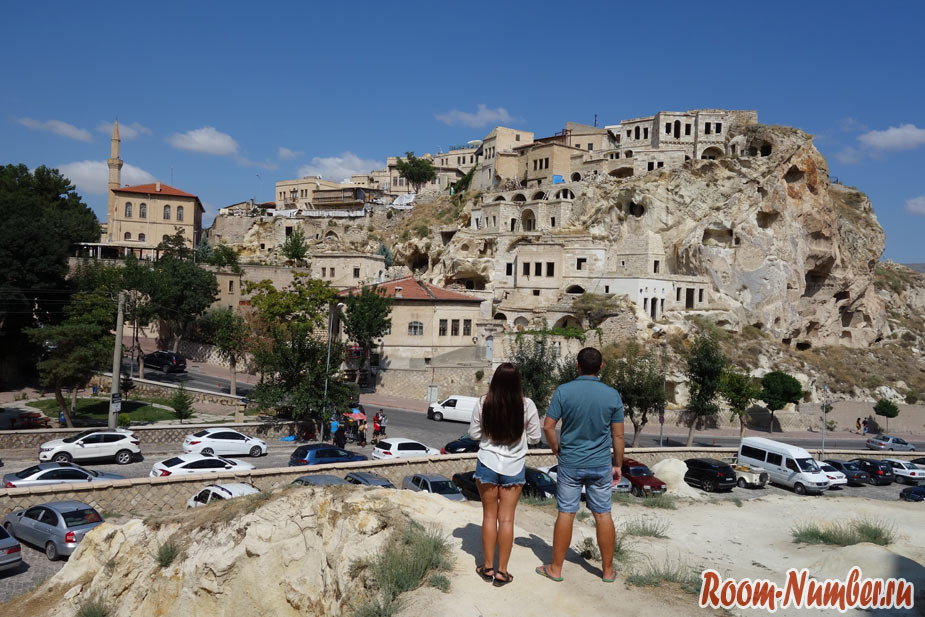 Another Turkey
In Cappadoccia it is easy to imagine yourself in some old movie about primitive people, especially waking up in the morning in a hotel-cave, and in general going out into the city. This place is unlike any other city on earth, which makes it even more attractive (not counting the city of Kandovan in Iran, but there is not so large-scale).
How did Capadocia come to be? In prehistoric times, volcanoes erupted in this region. Ashes for a hundred kilometers around covered the plateau with a multimeter layer. Then lava lay on top. So a layer of tuff was formed, overlaid with basalt.
The difference in temperature, water, and wind created fantastic boulders and mushroom-shaped stone pillars from the volcanic rocks. Read more about it on Wikipedia.
People easily dug caves and underground cities in such soft, porous rock.
What you need to know for a trip to Cappadocia
How to get there
The main city in Cappadocia is Göreme. It is in Göreme that you have to come by bus from Antalya or Istanbul to see Cappadocia.
The second option to get here is to fly. The nearest airport in Cappadocia is in Nevşehir. There is also an airport in Kayseri. From the airport you can take a shuttle bus or a cab to Göreme.
On your own car can be reached in a day. The way from Antalya or Istanbul takes all day. From Ankara is a little closer, you can get there in half a day. You can take a hotel in nearby Ürgüp (Ürgüp).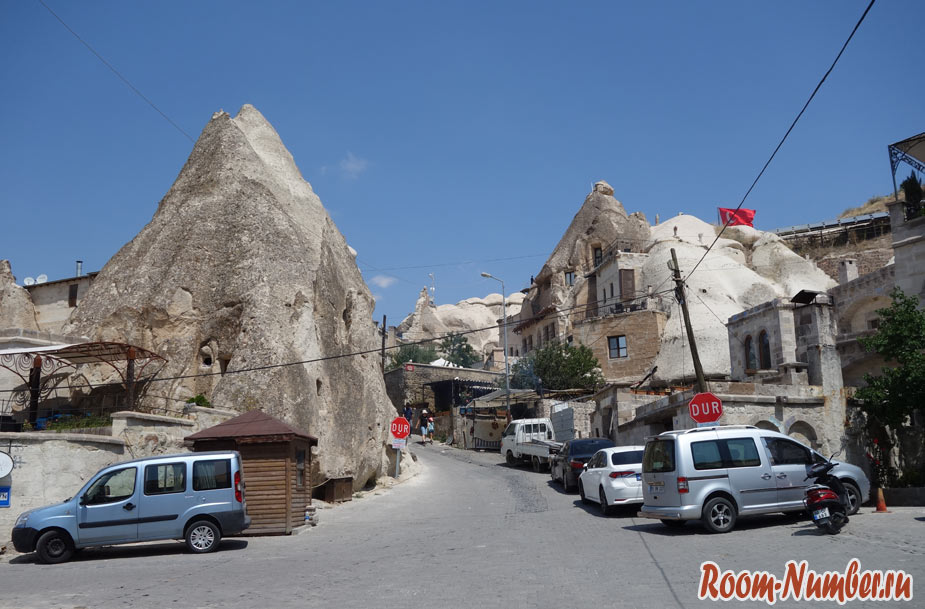 The town of Göreme in Cappadocia
Stay in a cave hotel
In Cappadocia we advise you to choose a cave hotel. It will be a unique experience. Where else would you live in a cave than in such a place. Hotels with cave rooms abound, with prices ranging from $50 to $300. Whichever hotel you choose, you still won't be left without a sea of experiences. Here are some interesting options with good reviews from tourists:
Elite Cave Suites
Aydinli Cave Hotel
Charming Cave Hotel
Traveller's Cave Hotel

We stayed at one of these hotels. It is called The Cappadocia in Urgup. We will write more about it in a separate article. This is what our cave room looked like:

How to get around Cappadocia
1. Walking. The town of Gereme is an attraction in itself. There are mountains full of cave houses everywhere. There is a great observation deck that you can climb on foot. To get to the other places you have to drive.
Excursions. You can buy a package tour at the reception in your hotel or travel agencies. You will be driven to the sights all day. Prices are affordable.
3. cabs. There are no apps to call a cab, no buttons on the trees. But there are cabs in the city and at tourist attractions. Cabs are usually metered. Many cab drivers are engaged in excursions with tourists. You can arrange to take a car with a driver for the whole day.
4. rent a car or moped. There are bike and car rentals in the center. To rent a car or scooter you need a license. Prices are normal.

If you don't have a car, take a sightseeing tour or a cab.
What to see in Cappadocia
There is a fee to enter all attractions. If you plan to visit as many places as possible, buy a museum card (~150TL / $30), it will be much cheaper that way. If you want to see 2-3 places, you can do without the card and pay separately. The photo shows current Cappadocia admission prices in 2019:

There are not many sights, but at least 2, or better 3 days lay down. Interesting places are quite extensive, everywhere you need to walk a lot.
Watch the video
★ City of Gereme and the Sunset viewpoint
It is interesting to walk around the town, which is half made up of houses in caves. Going up to the viewpoint felt like being on another planet. It was beautiful! Goosebumps from what you saw. Free. On the map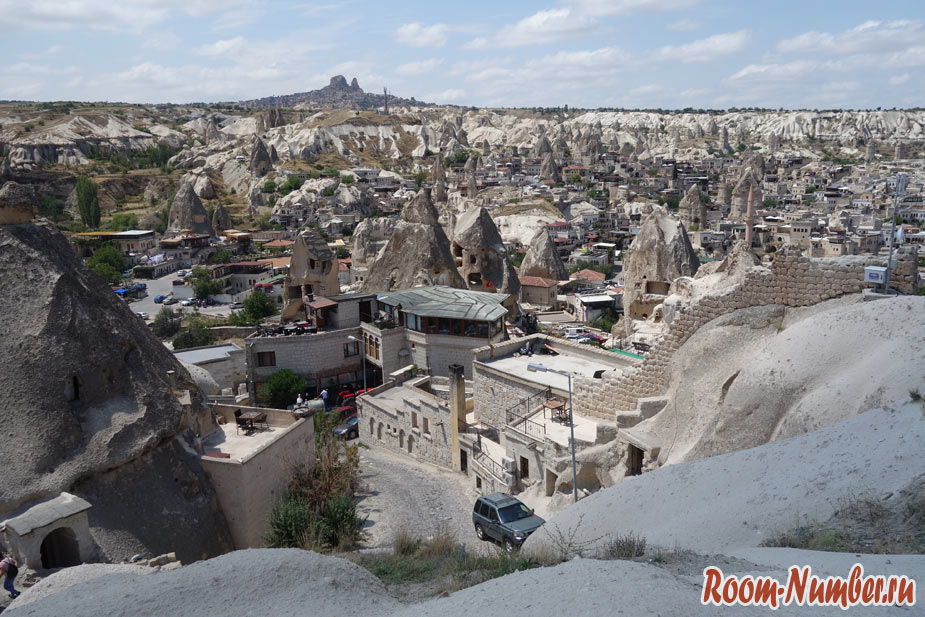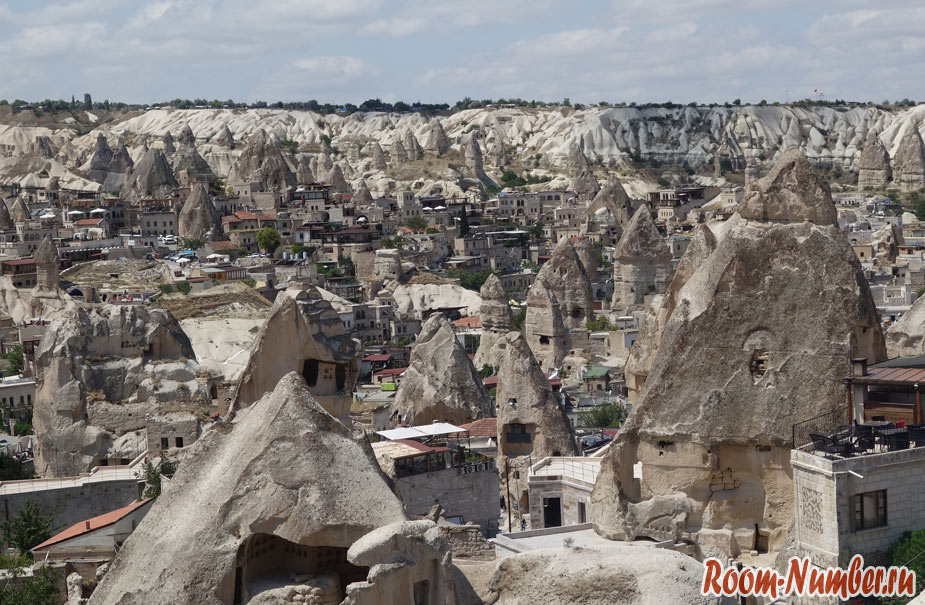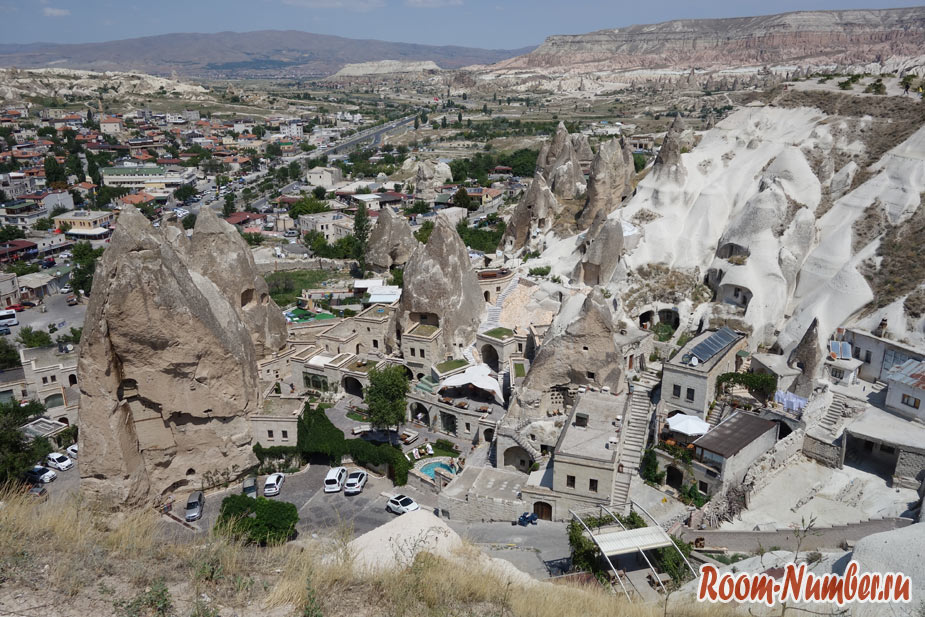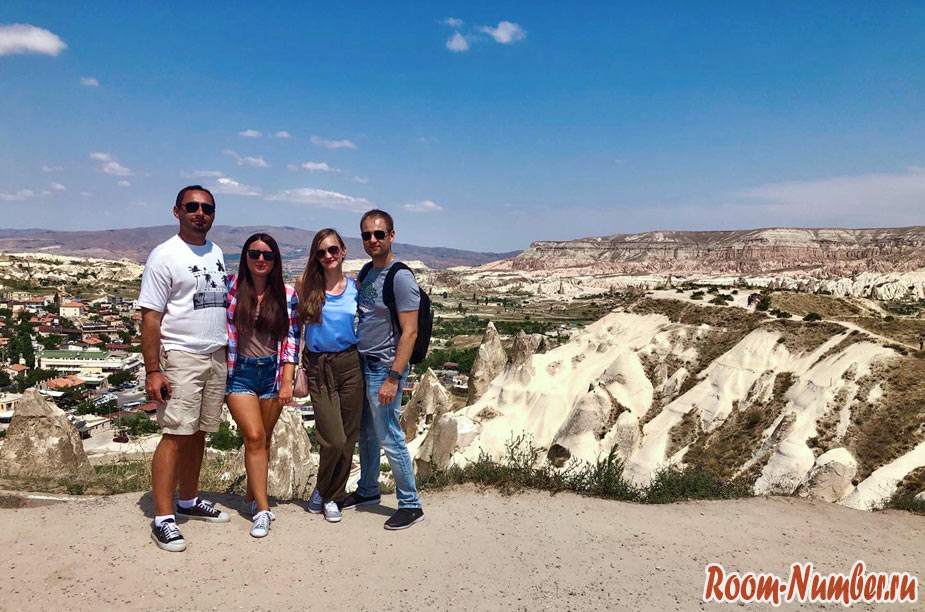 ★ Goreme Open Air Museum
Walk around the area, looking at the ancient rock temples. There are unique Christian frescoes preserved here. Admission is 54 liras. In addition 18 lira for the entrance to the dark church. On the map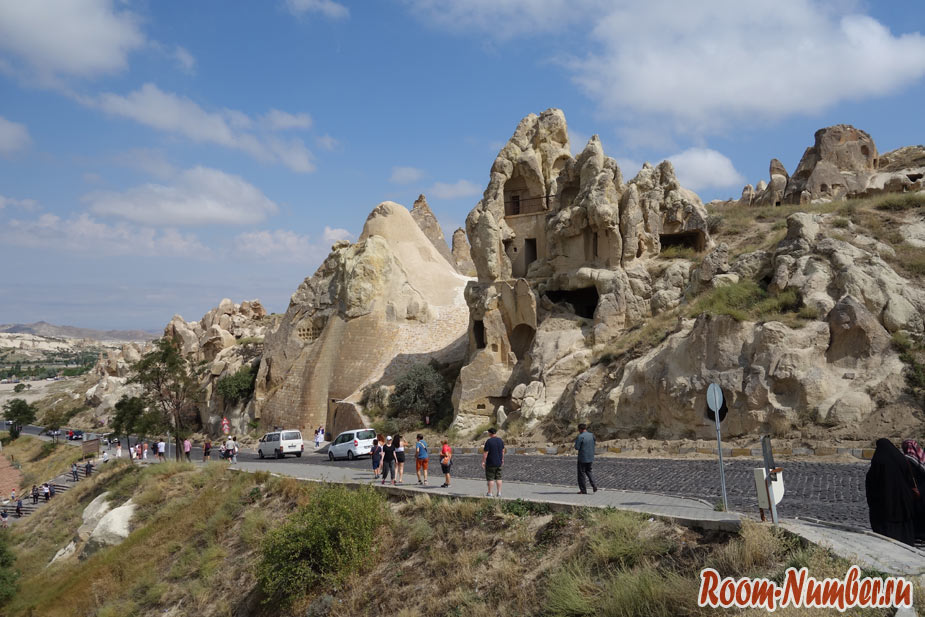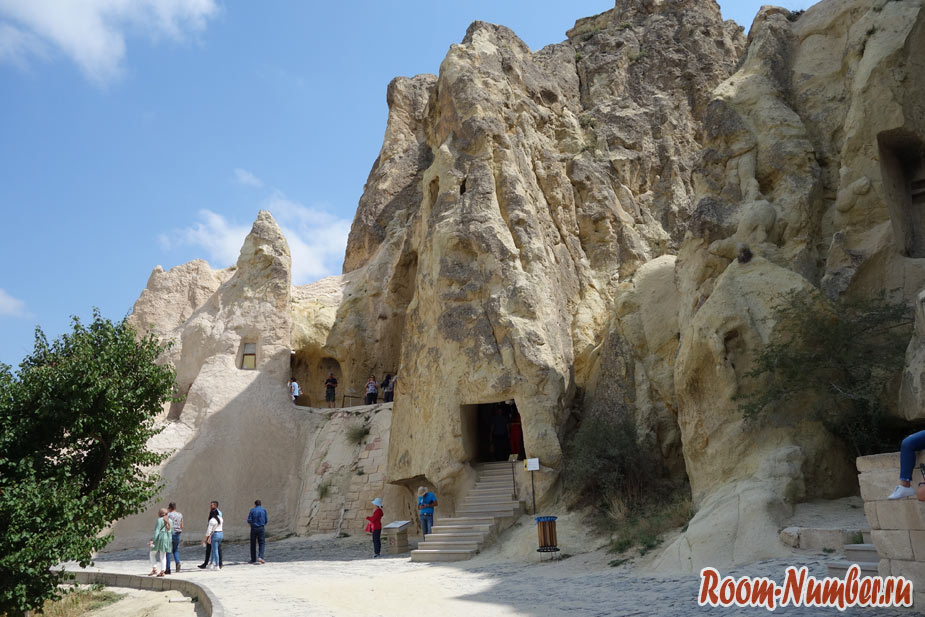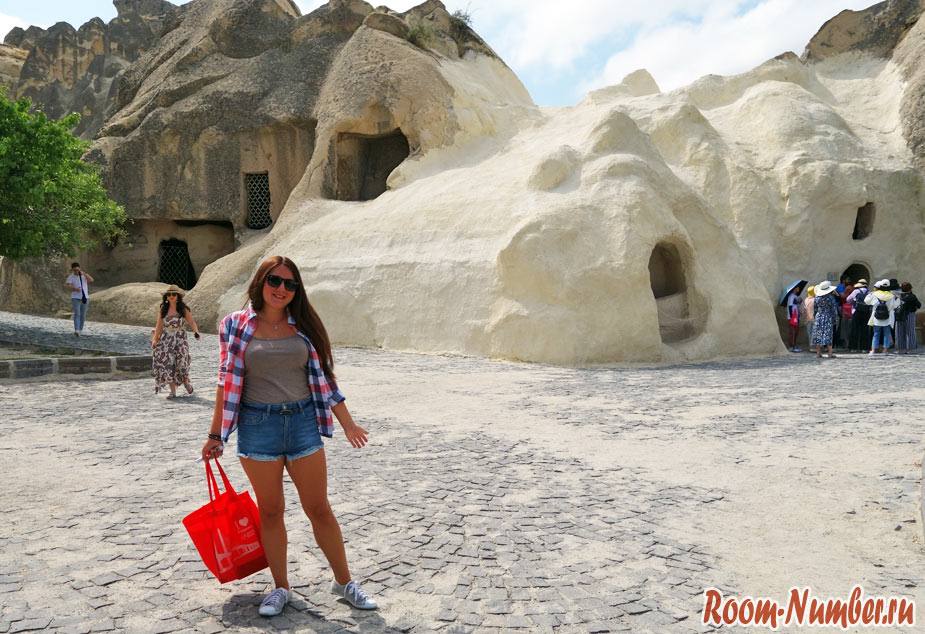 ★ Zelve Open Air Museum
Wander around the ancient rock cave city. The scale is impressive. Entrance 18 liras. On the map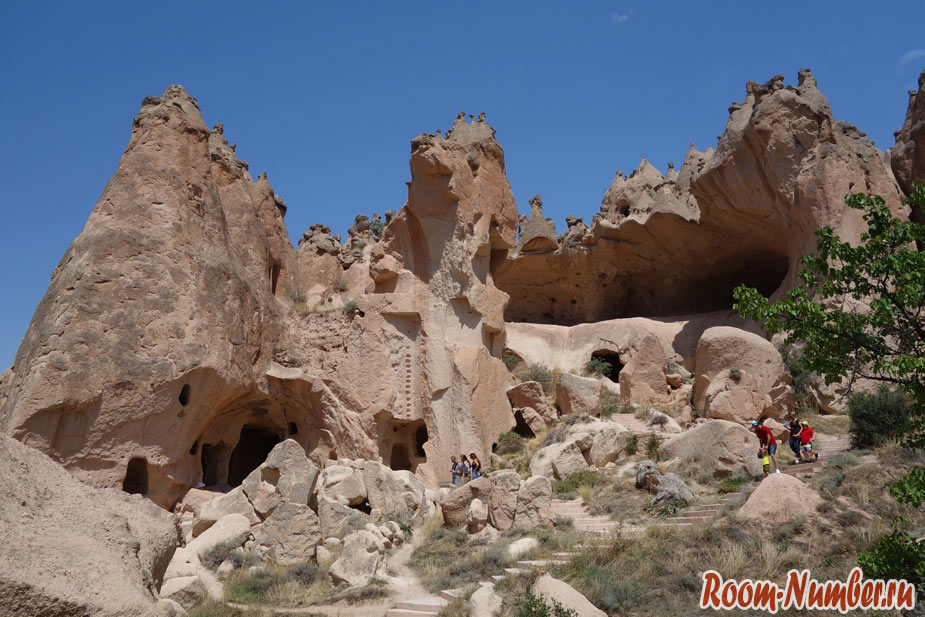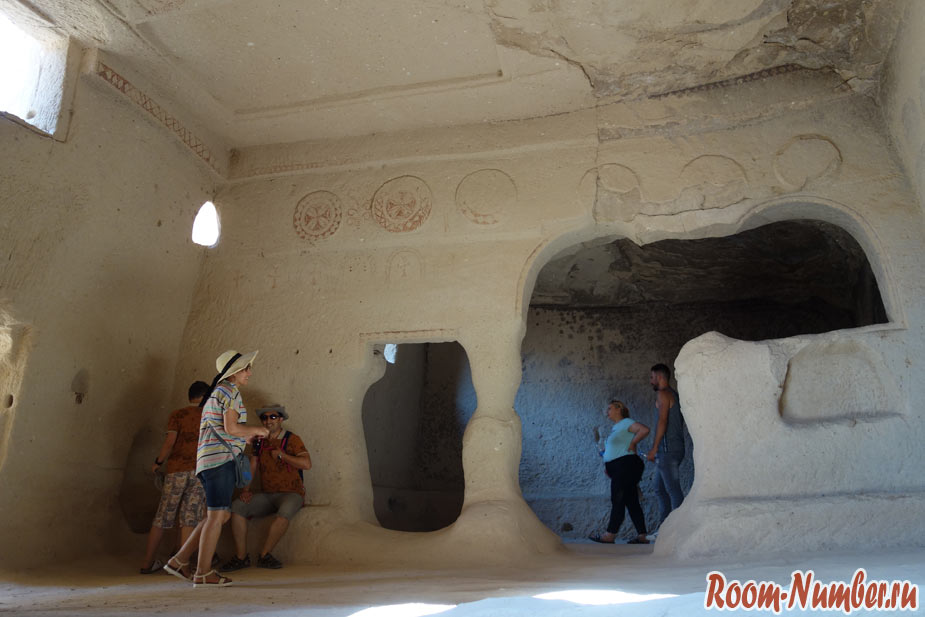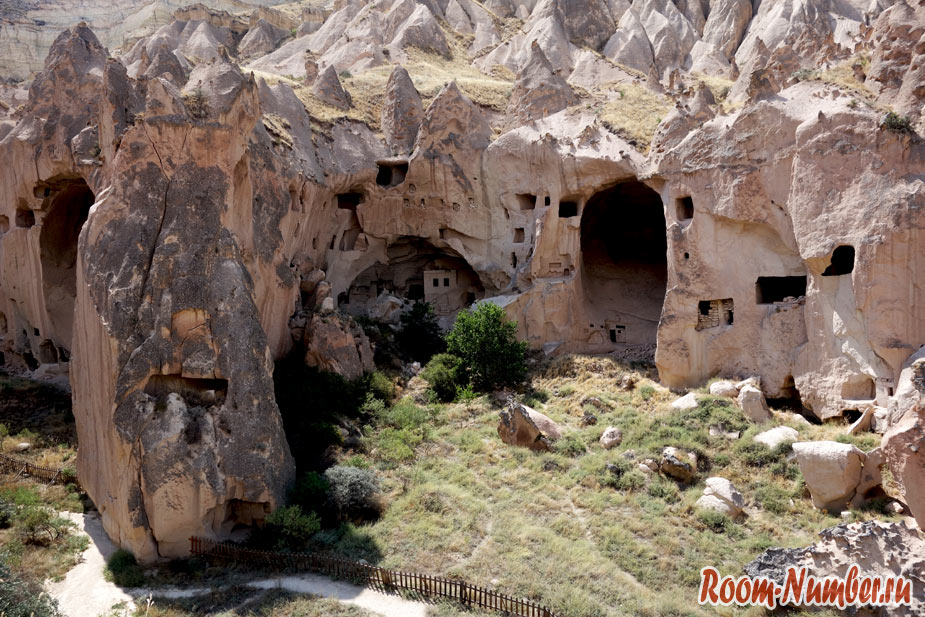 ★ Fairy Chimneys – whimsical mushroom mountains. Paid admission. On the map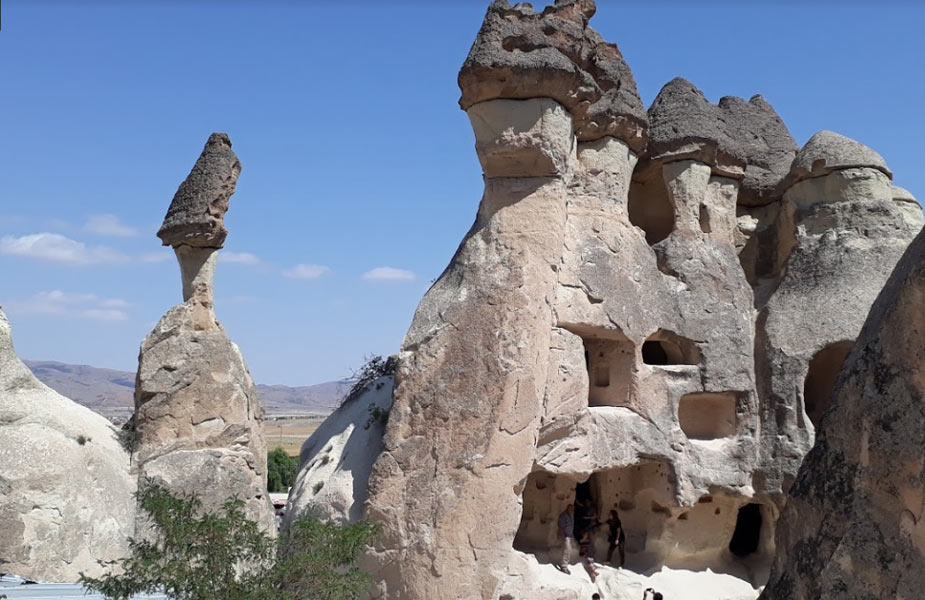 ★ Uchhisar . The largest cave castle city (Uchisar Castle). On the map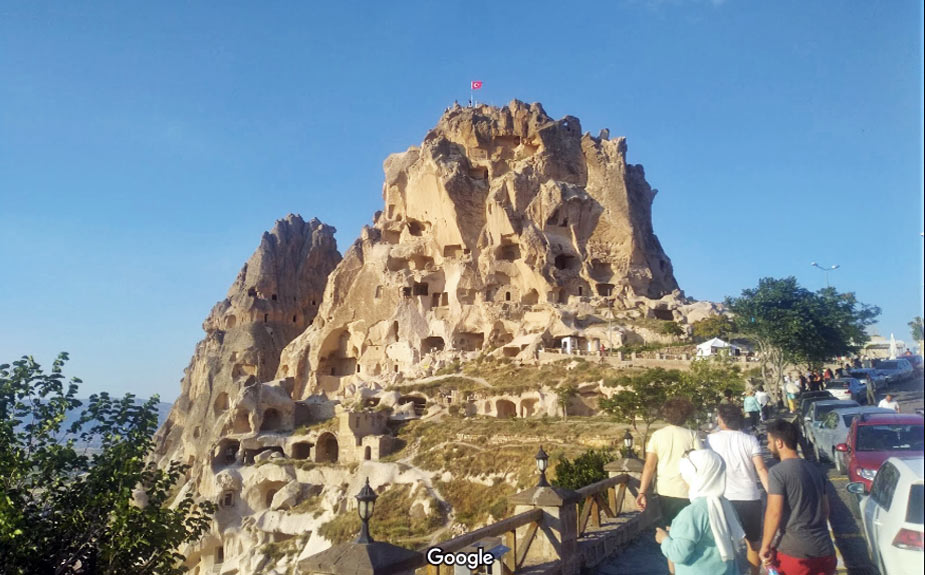 ★ Underground cities
Kaymakli Underground City and Derinkuyu Yeraltı Şehri. Entrance to both is 42 lira each.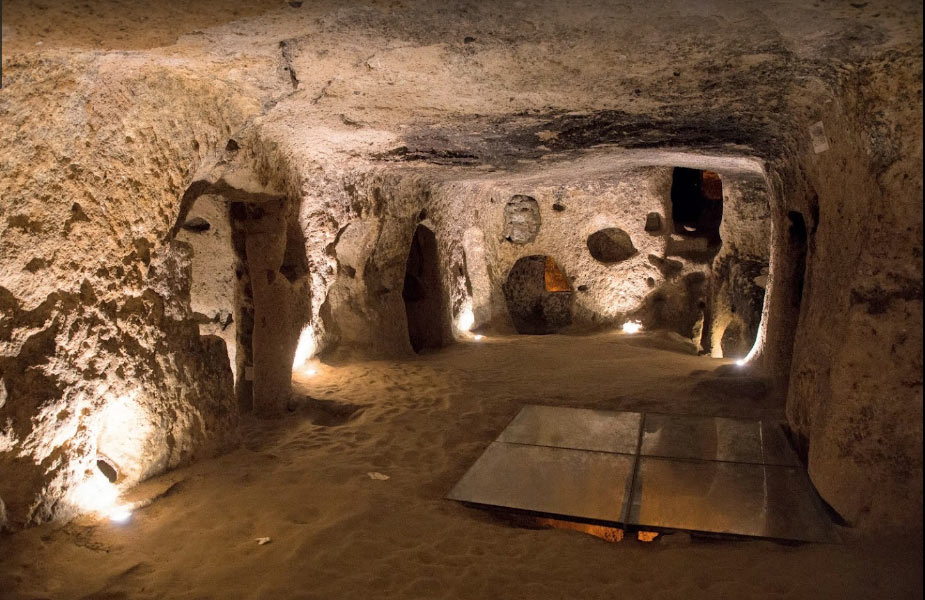 ★ Twin Fairy Chimneys – A viewing platform with mushrooms. Free entrance. On the map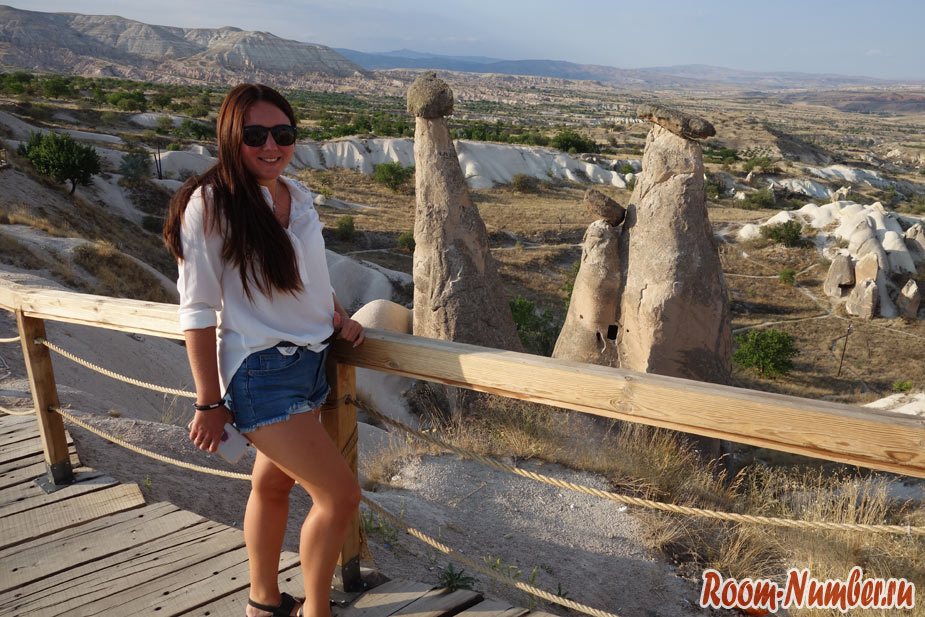 ★ Kizilcukur Valley
Or the red valley – observation deck in the canyon to watch the sunset. You can climb the mountains. Directions: 4 lira per person. On the map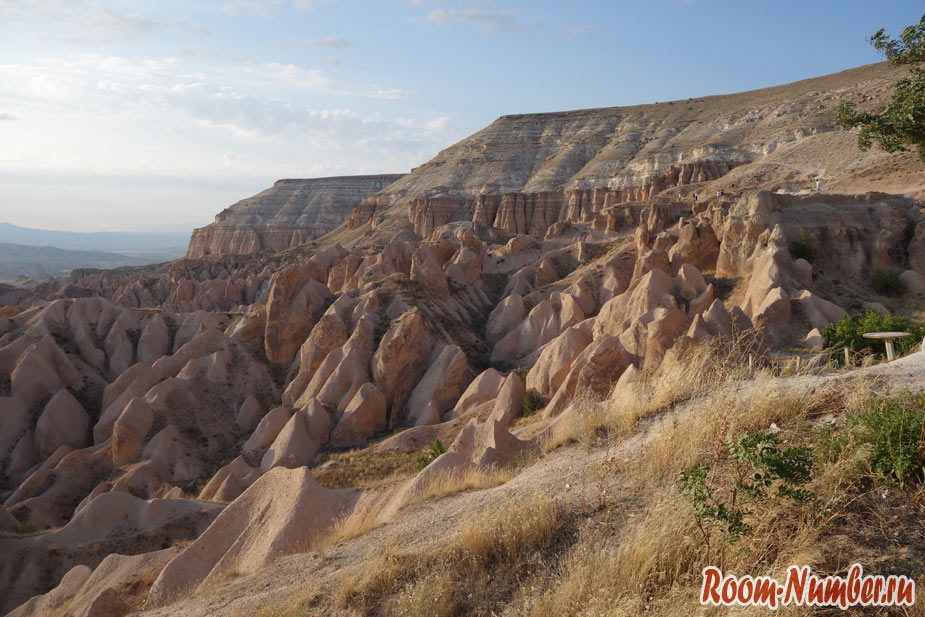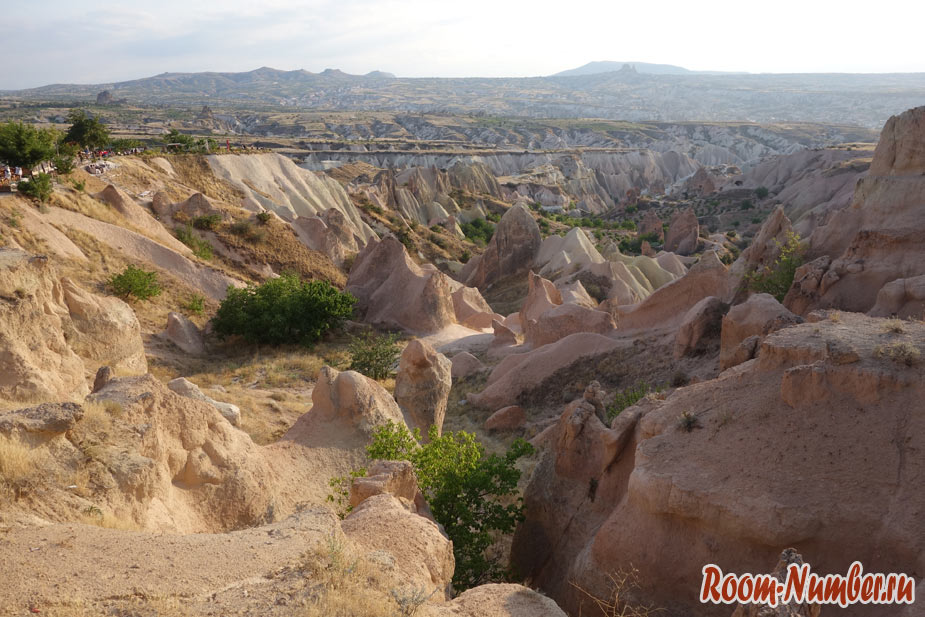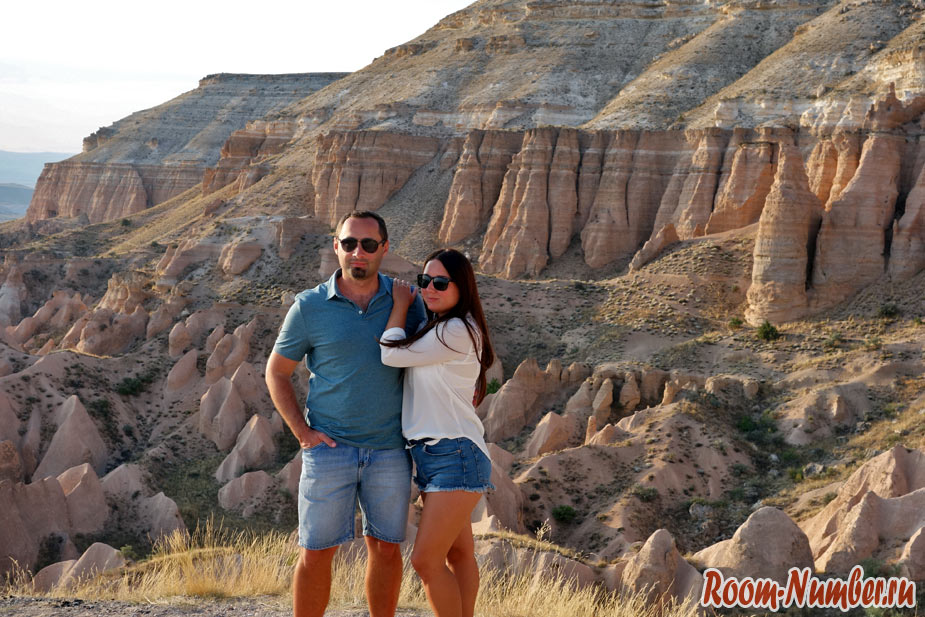 ★ Urgüp City . Walk through the narrow, curved streets of the old town. On the map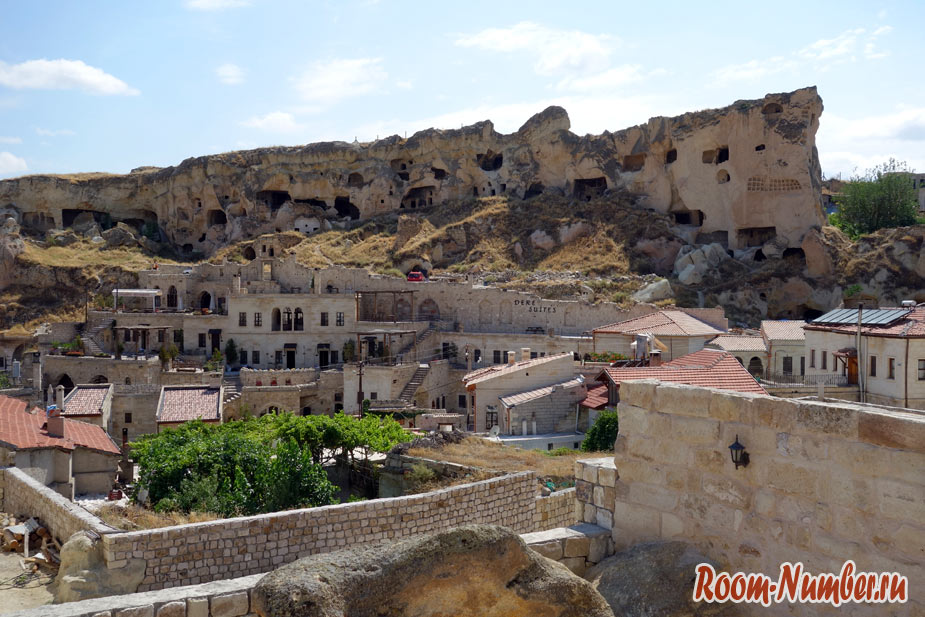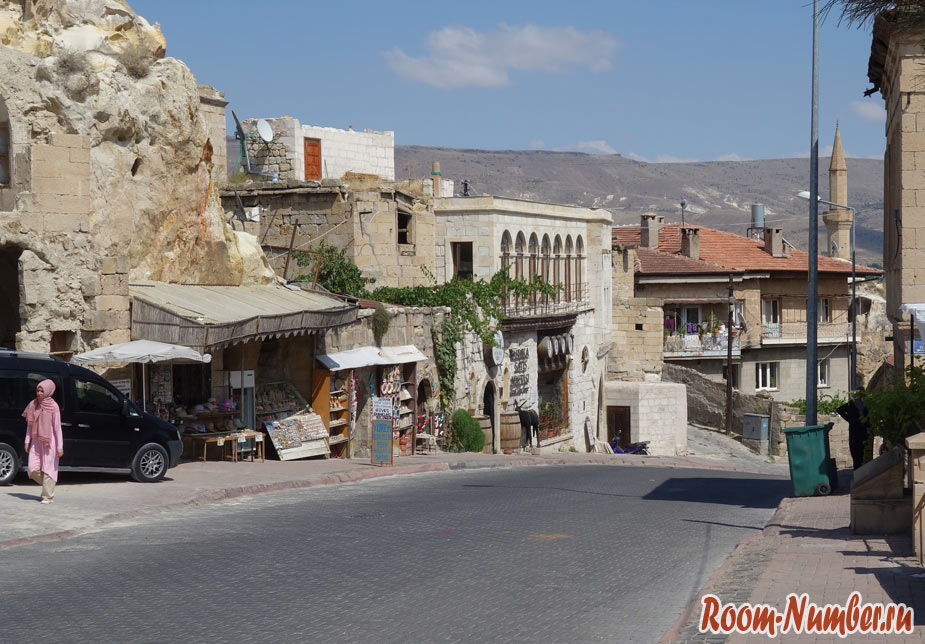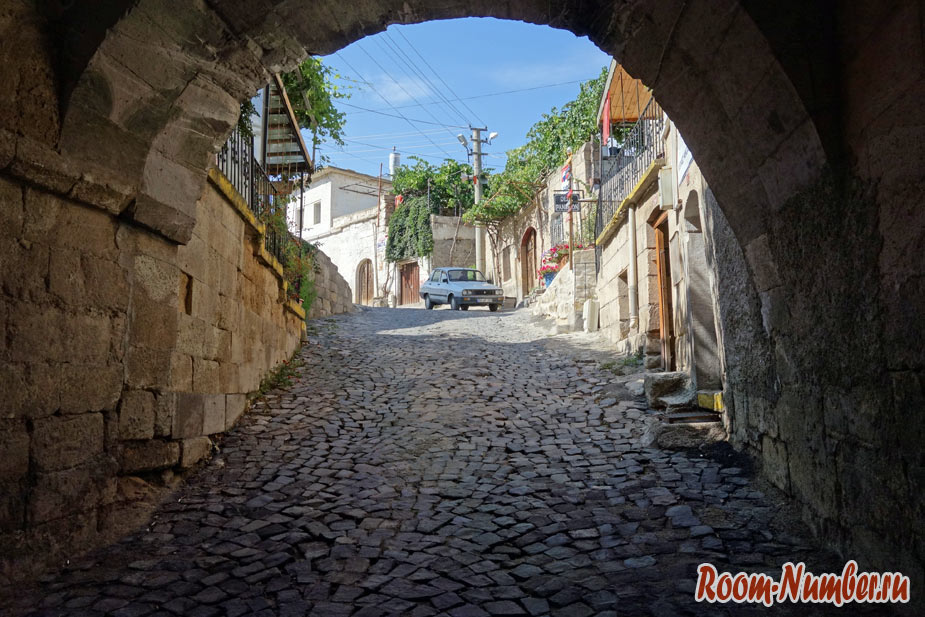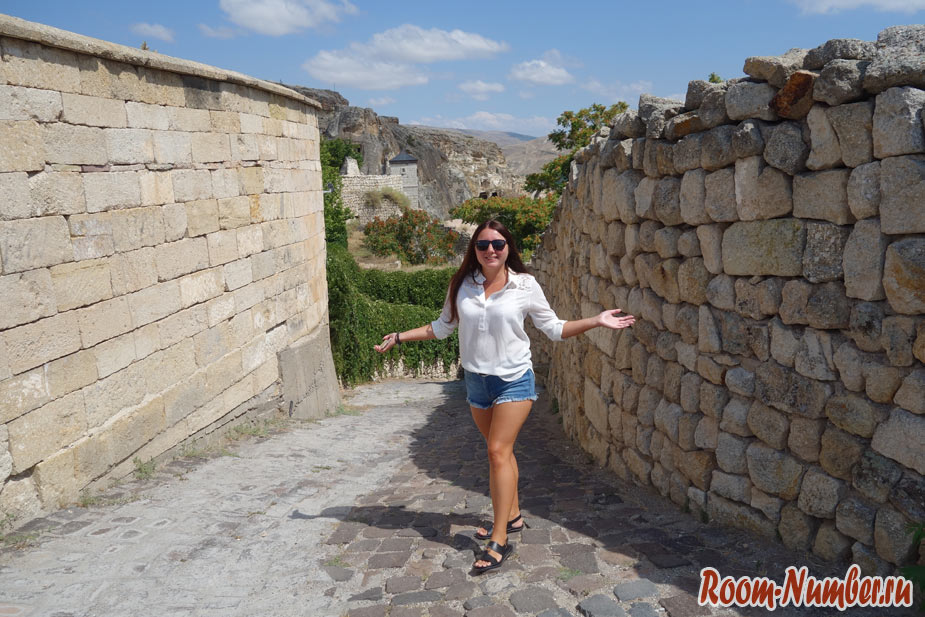 ★ Ride in a hot air balloon
A balloon ride now costs $150-$200 per person. This excursion is sold in all hotels and street travel agencies. The balloons take off at 5 or 6 in the morning. Conducted according to weather conditions.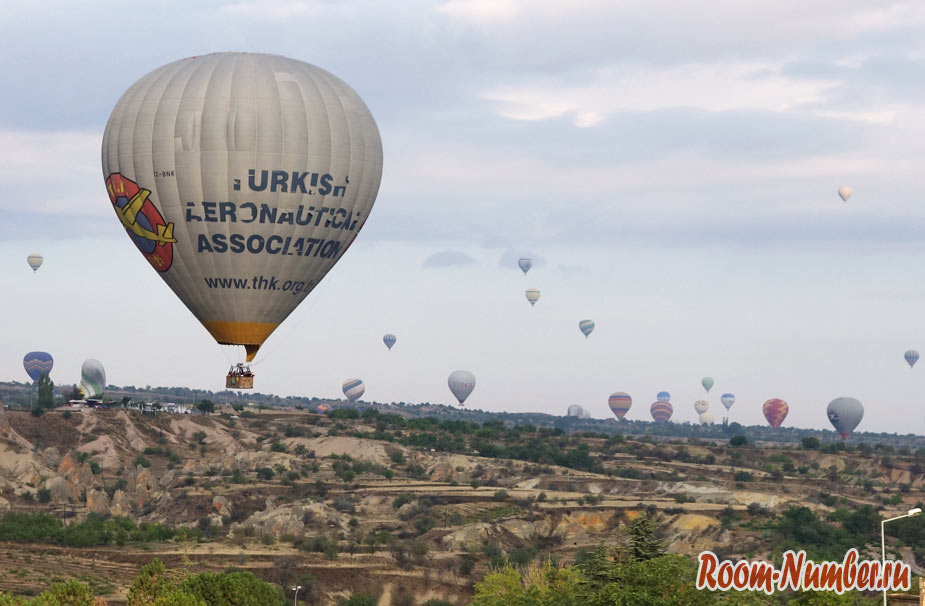 Where to eat
Finding decent food was a problem for us. Few decent places and all dishes were only meat, fish was scarce. Most of the cafes are for locals. We can only recommend one restaurant, and it's Prokopi in Urgyup. Clean, delicious, level of service and an amazing view from the balcony. Point on the map. If you know a good place – write in the comments.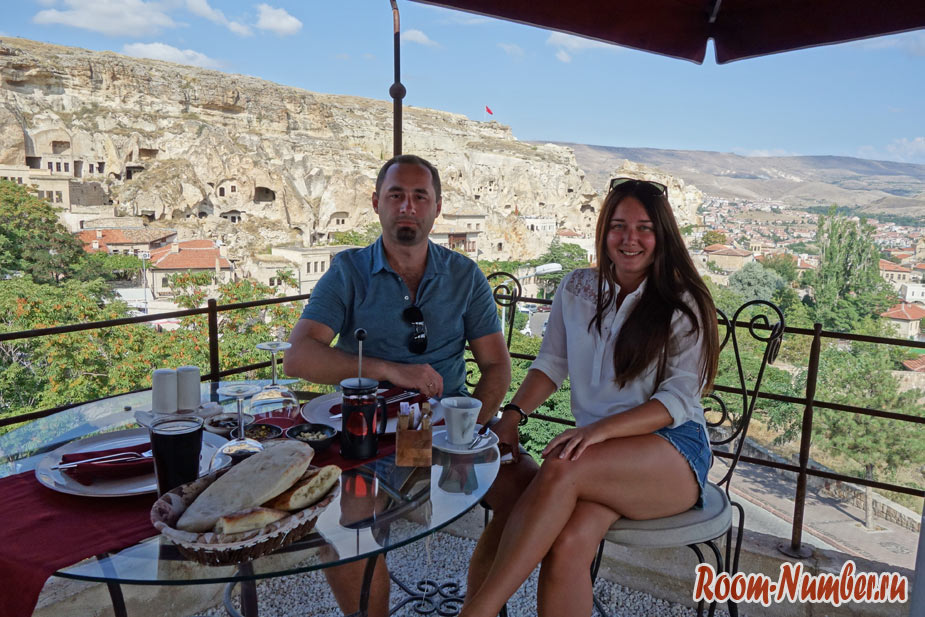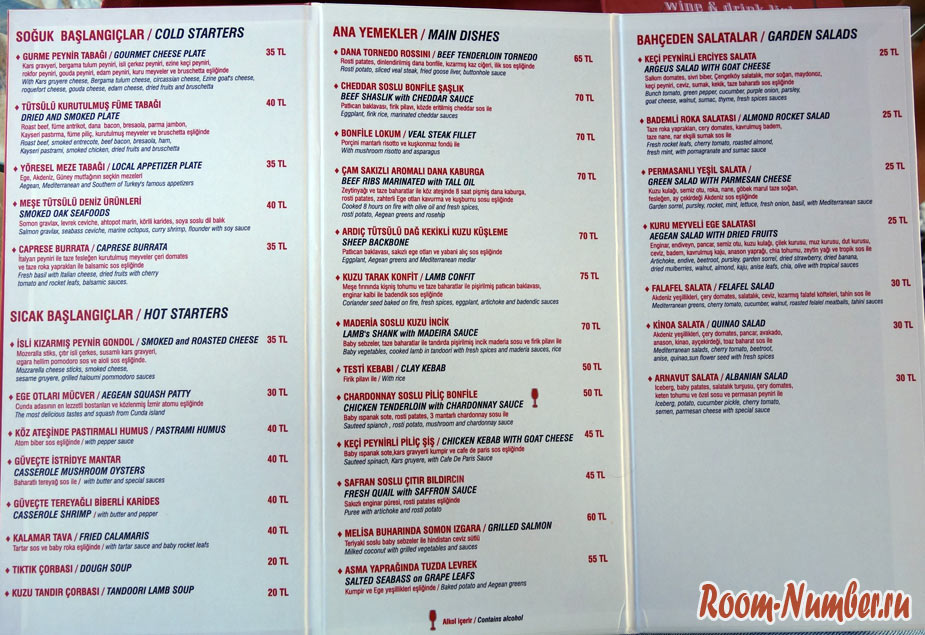 Cappadocia reviews
Is it worth going to Cappadocia? Definitely yes. Do not miss the chance to visit such an interesting place if you find yourself in Turkey. We haven't been so impressed in a long time. Even the snow-white travertines of Pamukkale didn't surprise us as much. When you're here and realize that it's all real, you stop believing what's going on even more. Cappadocia for sure will not leave you indifferent.
Cappadocia and the Other Turkey. Guide
Welcome to Cappadocia and the Other Turkey Travel Guide.
Travelling around Turkey on your own is an unforgettable experience. The richest history of the various kingdoms and states, a huge number of attractions, natural beauties and phenomena, national colors, responsive people, rest on the four seas – it's all Turkey. I hope the site – guide and forum on Turkey will help you in preparing your own itinerary.
Everyone knows that the capital of Turkey is Ankara, but the heart and soul is Istanbul. On this website-guide, we're going to play it a little bit differently. The heart and soul of Turkey will be Cappadocia, a unique and magical place, and we will dance from it. This site began with stories about little-known places in Cappadocia. It is now gradually growing into a site about Turkey. The site about Turkey has the following sections.
A Guide to Cappadocia. Without false modesty, I must say that, yes, and I think that those who have already visited it, will confirm that this is the most complete guide to Cappadocia I have ever read. It is based on the experience of my two years of living in the area. Although, while the Cappadocia guide is still being written, there is enough information for more than one trip. In the Cappadocia guide you will find descriptions of places in this region of Turkey, sights, ways to reach them on your own by public transport. It tells you about places that have not previously been described in the runet and in world-famous and respected guidebooks. General information is also given: how to get to Cappadocia from various cities in Turkey by different means of transportation (plane, rail, bus); there is information about accommodation (cities, hotels, pensions), about the cuisine of Cappadocia as well as its history. Tours and excursions in Cappadocia that you can buy locally are also described (for the lazy or those with very limited time). Maps of towns and localities are included, as well as hiking trails. From "The Cappadocia Guide," we move seamlessly to the next section.
The Other Turkey Guide. , or "Where to go from Cappadocia" (information is constantly being added). It tells about the different cities where you can go from Cappadocia, both during a day trip (Konya, Ankara) and further afield (Diyarbakir, Şanlıurfa, Savur, Mardin, Nemrut, Pamukkale, etc.). We also mentioned distant towns such as Kars, Bitlis, Van, etc. Well, what about rest in Turkey. It is told about it in the guidebook of Turkey. Moreover, about the sea, but not packaged Turkey, Turkey without mass tourism (Cevlik, Olimpos, Cirali, etc.) .
The Istanbul travel guide will tell you about the main areas and points of interest for the traveler, the sights and how to get to them. As well as information about hotels and guesthouses in Istanbul, where to spend the evening, where to eat inexpensively or eat out with a beautiful view of the city, where the beaches are in Istanbul, and much more.
Forum about Turkey – we will help you tie it all together to get a full-fledged independent trip to Turkey. If the information on your question of interest has not yet appeared in the guide, or there is no relevant article, you can ask questions in the forum, open topics. And also help the questioners, share information about Turkey, and, of course, leave your feedback or reports about the trip you've already taken. There are also topics about cuisine, history, customs and traditions, and other information.
Movies and videos about Cappadocia and Turkey are available to view on the site and help you visualize your upcoming trip.
Books, articles, and publications about Cappadocia and Turkey read online to learn more about the history of Turkey and its previous states.
Other things about Turkey – provides various additional information about the Turkish lira exchange rate against other currencies of the world, the weather in Turkey and the nearest forecast, maps of Turkey, etc.