Cannes
Cannes is the world capital of film culture. It is also one of the most upscale resorts in France. Cannes welcomes visitors all year round – the weather is always sunny here. It's hard to imagine, but earlier Cannes was an ordinary fishing village on the Mediterranean coast, where monks and fishermen lived. The town was a fishing and farming industry. In the 19th century, a railroad was built here, and the region began to be beautified. Since the twentieth century in Cannes began to build luxury hotels and stores. Today, the city can be considered more luxurious than even Nice. Many exhibitions, conventions and international festivals are held there. Cannes is the best place for lovers of high-class rest, as well as for those who want to improve their health.
Save money on your trip to Cannes!
Video: Cannes
Climate and weather
Cannes has a Mediterranean climate. Winters are always warm, with temperatures around +8 … +10 ° C. Summers are always sunny and dry, reaching 26 ° C during the hottest months. Thanks to sea breezes in summer, the coast is cooled by fresh sea air.
Cannes climate is dry and mild, the rain is rare, and there are almost no fogs.
The best time to vacation in Cannes is from April to October.
Nature
The excellent climate and the beauty of nature have made the city not only the capital of world cinema, but also a world-class resort.
Cannes on one side – a beautiful beach, and on the other – the Massif de l'Estérel and a chain of beautiful green hills. Of vegetation here are dominated by palms, cypresses and chestnuts. Within the city there are many gardens, vineyards and park areas.
Attractions .
From the famous Palm Beach Casino to the Palais des Festivals the most famous promenade in Cannes, the Croisette.
Previously this was an unremarkable country road, today it is a luxurious embankment, where there are expensive villas and modern hotels. After walking along the promenade, you'll come to the Palais des Festivals. This is a true temple of art. Every year the world's stars come here, and they are met by crowds of fans. The area of the Palace is about 17,000 m2. Nearby is the Alley of Stars, where the handprints of the most famous movie stars of the planet. A tour of the Walk of Stars has been an important tourist ritual for years.
The historic part of Cannes offers invaluable cultural monuments.
On the Place Suquet, which offers a magical view of the city, you will find the fortress of Castres, which was built in the XII century. There are archaeological and ethnological museums within the walls of the fortress.
An important religious building is the Church of the Archangel Michael. It was built by the order of Maria Alexandrovna, the Russian Empress. The church keeps a huge collection of religious artifacts and rare ancient icons.
Be sure to make an excursion to the island of St. Margaret: there you can walk through the fortress of Fort Royal. In the XVII century, this fortress was a defensive structure of Cannes, which prevented pirates. It was here that the prisoner Iron Mask was imprisoned.
The family house (and nowadays the Prosper Mérimée Museum) can be found in the Mérimée Square. Since the mansion had been in disrepair since 1870, it was converted into a museum in memory of the writer.
A true example of the Gothic style is the Church of Our Lady.
The fascinating Le Musee de la Marine is housed in a building dating back to the 18th century. It is a maritime museum with a collection of ship models and the belongings of the world-famous admiral and explorer Frank Paul.
Women can not stay indifferent to the museum of perfumes. It was opened in 1989. Here you will learn the secrets of making authentic French perfumes. Located in the suburbs of Cannes.
Cannes gallery pleases with an excellent exhibition of sculptures, ancient paintings, works of modern artists and other amazing exhibitions.
Nutrition
Cannes' most prestigious restaurants are located in the California Quarter, while budget restaurants can be found in the Suquet and Forville neighborhoods. Pay attention to the signs at the entrance to the restaurant: they indicate the approximate cost of food and the menu.
Les Bons Enfants serves a rosemary rabbit stew as a specialty. Fish lovers will love the pickled herring. Also you certainly will be offered a variety of fresh salads and delicious pates. The restaurant has an excellent wine list with the best wines of France.
La Creperie pancake house is open since the morning. Fresh pancakes and refreshing coffee will give you energy for the whole day. Meat lovers will be served pancake with meat, and those with a sweet tooth will enjoy pancakes with fruit toppings. A breakfast will cost you no more than 11 €.
The best Italian restaurant is Cinquanta Caffe. The menu includes all famous Italian dishes. The restaurant has its own wine cellar, so the wine there is always of the best quality.
Beer lovers should head to the Palais des Festivals, near which the restaurant Le Farfalla is located. On the menu there are the best sorts of Czech, Dutch and, of course, German beer. In addition, when ordering any kind of beer you will be given a free portion of cold snack.
There is an original interior and a wide choice of French dishes in the restaurant Le Brouette Des Artisans. This place can become the best venue for festive events and banquets.
An atmosphere of lightness and homeliness reigns in La Cave restaurant. It offers traditional French dishes and a good wine list.
A La Maree restaurant always welcomes gourmets. The interior of the restaurant is designed in the style of the XVIII century: antique furniture and paintings create an atmosphere of solemnity and coziness. The most popular dishes are fried quails in grape sauce, chicken with beer sauce and ragout in a small clay pot.
Accommodation
You won't have any problems with accommodation in Cannes. Family run hotels, luxury hotels, budget hotels, hostels, villas and apartments: there are plenty to choose from in Cannes.
Popular four-star hotels are Novotel Cannes Montfleury, Radisson Blu 1835 Thalasso, Grand Mercure Croisette Shoreline and they offer beautiful rooms equipped with all amenities, free internet, gym and other additional services. For a night you will need to pay on average from 120 to 3,000 €.
Good budget hotels are Neotelia Pavillon Montfleury, Pavillion Bel Air, Amiraute and Kimi Residence. Room rates range from 40 to 300 € per night.
Entertainment and recreation
The beautiful Cote d'Azur awaits you in Cannes. Length of the line of beaches is about eight kilometers. The most popular is Inter Continental Carlton Beach. One kilometer separates the beach from the city center. On the beach a lot of bars, restaurants and stores.
For active recreation, it is better to choose Carlton Beach. It offers playgrounds for visitors of all ages.
Plage du Martinez is a beach for those who want to admire the beauty of the coastline and relax.
Cannes is very fond of casinos. Le Croisette and Carlton Casino Club remain popular gambling establishments. They are visited by both fans of classic table card games and fans of roulette, as well as fans of modern slot machines. The Carlton Casino Club is often frequented by celebrities. It has an excellent bar and lounge.
The abundance of clubs and nightclubs has always attracted many young people to the Côte d'Azur. The Bar des Stars is very popular with tourists. It is attractive with its specialty drinks and reasonable prices. Every evening there are themed parties.
A big dance floor and an excellent bar in a nightclub Le Cat-Corner. Here always plays the best music of different styles, and the welcoming atmosphere disposes to relax and have fun.
Great fresh beer, modern music and interesting entertainment are waiting for you in the pub Morrisons Lounge.
Shopping
Cannes is a very attractive city for shopping. There are fashionable boutiques and numerous shopping centers. The shopping center in Cannes is La Rue d'Antibes, where perfumes, clothes and shoes by world-famous brands are to be found.
Look out for souvenir shops on Meynadier street while Forville and La Bocca markets sell handicrafts and lots of other goodies.
Fresh produce is always on sale at the Forville market (except on Mondays).
La Croisette boulevard abounds with boutiques with outfits from the most famous fashion designers.
In December and January there is a shopping festival.
Transport
Public transport is represented only by buses. Tickets can be purchased from the driver and at the bus stop. The cost per trip is 1.25 €. Pass for 10 trips costs 8,30 €, weekly pass – 9,20 €.
It is also possible to rent a car. To rent a car you must be at least 23 years old and have an international driving license. The cost of hiring a car for a week ranges from 40 to 265 € and depends on the make of the car.
Cab rides are popular. A cab costs about 2,40 € and 1 kilometer costs 1,90 €.
Communication
Cell phone and internet connections are well developed in Cannes. Almost all public institutions are equipped with fixed-line phones. On the streets are telephone booths.
An hour of Internet access costs on average 11 € per hour.
The cheapest calls to foreign countries from fixed phones are from 22:00 to 8:00 and at weekends from 14:00 to 19:30.
Security
It is best not to carry cash with you because almost everywhere you can pay by bank transfer. You need cash only for a trip to a small store or market in the suburbs. But do not take large sums with you: do not tempt pickpockets.
When speaking, consider the fact that the French are fervent about their language and therefore do not like to be spoken in other languages. They may be reluctant to answer you, even if the language in which you are speaking is well known to them. It is advisable to learn a few important phrases in French as a sign of respect.
Be careful on the roads in the city (this applies to drivers as well as pedestrians): there are substantial fines for traffic violations. Children under 12 years of age should only ride in the back seat of a car.
Business climate
It is important to note that the foundation of Cannes' economy is trade, aviation and tourism. The government is primarily concerned with the development of these areas.
There are 6,500 different companies operating in Cannes, 3,000 of which are trade, craft and service firms.
Real estate
In Cannes, you can see above average prices for housing in France. The average price of 1 m2 here will cost about 4 500 €.
Rental of a villa will cost on average 3 700 € a week, rent of a two-bedroom apartment – 900 €.
The cost of three-room apartment is about 600 000 €, four-room apartments in elite areas near the beach cost from 1 700 000 €.
Tips for tourists
Avoid changing money at exchange offices near hotels: they always have a higher commission.
If you are going to visit an establishment in the morning make sure it is open. Many establishments, shopping centers, restaurants and cafés open in the afternoon. Restaurants don't serve dinner until 8 p.m., and don't close until late at night.
In restaurants, where the tip is already included in the bill, hang a sign "service compis". In other cases it is customary to leave 10% of the order as a service charge.
For any information about the operation of excursion facilities, contact the tourist office.
Check the dress code at restaurants and entertainment venues in advance, as not everywhere in Cannes is allowed to wear casual attire.
Cannes, France – one of the largest cities on the Côte d'Azur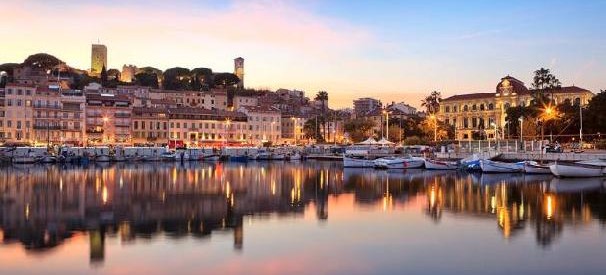 Cannes is a popular seaside resort town located on the Côte d'Azur, in the Provence region of France. Once a fishing village, Cannes is now a glamorous and expensive seaside resort, one of the major social centers of Europe. The city comes alive in May with the famous Cannes Film Festival bringing the rich and famous to town. The streets of Cannes and especially the Palais des Festivals at the end of rue La Croisette are a great place to see famous actors and directors.
Cannes weather:
Getting to Cannes:
Cannes has an SNCF train station with overnight trains from Paris (Gare Austerlitz station) as well as direct trains from Nice, Antibes, Cannes and Monaco to Monte-Carlo. There is also an extensive network of buses along the coast.
Cannes Tourist Office:
1 Boulevard de la Croisette, 06400 Cannes.
Tel. 04 92 99 84 22
Opening hours: Mon-Fri. 10 – 19.
Cannes sights:
Map of Cannes with sights:
Old Town of Cannes
The old town of Cannes is a network of narrow picturesque streets framed by numerous restaurants and souvenir shops. The view from the ruins of the castle at the top of the hill is particularly noteworthy.
Covered Market
The Covered Market (Marché Forville) is the perfect place to explore local culinary traditions with a huge variety of food. The market is on the western end of rue Meynardiers, one of the major foodie streets on the coast.
Palais des Festivals
Palais des Festivals – Down Rue La Croisette is the famous Palais des Festivals, where the stars of international cinema gather to watch the films presented at the world's most famous film festival, held in Cannes every year on a Wednesday in May.
Port of Cannes
In the port you can admire the rows of yachts of rich and perhaps famous owners. But the most luxurious yachts are likely to be found at the Yacht Club on the beach in Antibes.
La Croisette
La Croisette is a suburb of Cannes, where the palace of the Cannes Conefest is located and where you're most likely to find international stars. The street is framed by the city's most luxurious hotels and stores.
Îles de Lérins
The Îles de Lérins, two islands in the bay of Cannes, are certainly worth visiting. The small island is called St Honorat and is home to a monastery and castle ruins. The monks sell the products made in the monastery, including wines, which have become a unique souvenir.
The large island of St. Margaret's also has a castle, as well as stores, bars and restaurants. This island is popular with snorkeling (snorkeling) enthusiasts.
Round trip ticket to St. Margaret's Island costs 11 €: The ferries leave every hour between 7 am and 5:30 pm.
A ticket to St Honorat Island costs 13 €, a visit to the fortified monastery costs 3 €. Information about the islands and ferry timetables can be found in the brochures of most hotels.
Cannes Film Festival
The most famous film festival in the world takes place in Cannes every year in mid-May.
The best restaurants in Cannes:
Aux Bons Enfants – 80 r. Meynadier 06400 Cannes . Provencal cuisine. Prices: lunch 16€ – Prepared menus: 27€- 34€ – Carte: 32€-42€. www.aux-bons-enfants.com
Sea Sens – 1 r. Notre-Dame Cannes – 1 Michelin star, modern cuisine. Prices: Lunch 29€ – prepared menus: 39€ (business lunch on weekdays) , 55€ – 120€ – Menu choices: 50€-95€. www.five-seas-hotel-cannes.com
Le Park – 45 bd de la Croisette 06400 Cannes – 1 Michelin star. Modern cuisine in a modern and bright interior. Prices: Lunch €34 – Fixed menus: 50€- 115€ – Choice of menus: 72€-95€. www.grand-hotel-cannes.com
La Palme d'Or – 73 bd de la Croisette 06400 Cannes – 2 Michelin stars. An Art Deco restaurant overlooking La Croisette. Particularly interesting wine list. Prices: fixed menu for lunch: 69€ including drinks , 185€ – 205€ – Choice from menu: 120€-200€. www.cannesmartinez.grand.hyatt.com
What to try in Cannes:
Beaches in Cannes:
Cannes has one of the best beaches of the French Côte d'Azur.
The best beaches of the French Cote d'Azur:
The beaches in Cannes are mostly private and cost up to €30 per day (price includes sunbed and umbrella). Public free beaches are usually crowded. They can be found on the far east and west sides of Cannes. If you are looking for a quieter beach, head to Îles de Lérins. At night the beaches of Cannes are a quiet place to relax. Don't miss the magnificent fireworks: you can get information about fireworks from the tourist office. On such days it's better to reserve a spot on the beach in advance!