Attractions of Abkhazia. What to see in the Land of Soul
Here are considered almost all the sights of Abkhazia. At the end of the article there is a detailed map of what to see in Abkhazia. In the text sights with photos, prices for admission tickets and GPS-coordinates are listed from west to east.
Sightseeing in western Abkhazia
Includes Gagra and Gudauta districts. This region contains the most popular places where tourists come when on vacation in Abkhazia.
✔ Khashupse River Canyon
Note: the most beautiful canyon of the river Khashuapse with steep cliffs. On the bed in some places you must wade through swimming.
Entry fee: free of charge. But in some places local businesses charge a fee when approaching the canyon.
Coordinates: 43.41921, 40.17612
✔ Tsandripsh temple
White cliffs
✔ Stalin`s Cottage (Kholodnaya reka)
Sightseeings of Gagra
Note: the main sights of Gagra are: Abaata fortress, the castle of Prince of Oldenburg, Gagripsh restaurant, colonnade, seaside park and zoo, water park, etc. Read more in the article about Gagra resort.
Sights of Pitsunda
Note: The main attraction of Pitsunda is historical-architectural reserve "Great Pitsunda" and its components: fortress wall, Pitsunda Cathedral with the organ, museum of history, dolmen, Byzantine stronghold. Read more in the article about the resort of Pitsunda.
The temple-fortress of Bzyb
✔ Hasan Abaa fortress
✔ Jirhva waterfall
Note: There is a path leading to the waterfall 3 km from the bridge across the river Bzyp from the road to Ritsinskiy reserve.
The cost of the entrance: free of charge.
Coordinates: 43.30539, 40.42398
✔ Maiden's Tears waterfall
✔ Ritsinski Nature Reserve
Note: The most famous sight of Abkhazia is Ritza Reserve with many interesting places to visit: the Blue Lake, the Gegsky Waterfall, the Yupshar Canyon, the Men's Tears Waterfall, the "Farewell, Motherland" viewing platform, Lakes Ritsa and Malaya Ritsa, Waterfalls Ptichy and Milky, Stalin and Gorbachev's summer residence, as well as Alpine meadows, Seven Lakes Valley, Auadkhara spring, Lake Mzy, mountain village Pshu and others.
Entrance fee: adults 350 rubles, children 8-12 years old 100 rubles, free of charge.
Coordinates: 43.3416, 40.41317 (entrance).
✔ Dacha Stalin and Gorbachev (Musser)
✔ Ruins of the temple-fortress of Ambar.
✔ Trout farm and rock monastery
Note: In the trout farm you can observe the cycle of fish cultivation and then, if you like, taste the trout. The territory is equipped for walking along the river, during which high on a rock the observant visitor will notice an ancient monastery.
Entrance fee: 150 rubles, children under 15 years old – 50 rubles. You are required to pay 100 rubles for parking (price is negotiable).
Coordinates: 43.23543, 40.49735
✔ Ottar dolmens.
Note: Semi ruined complex of dolmens in the village Otkhara.
The cost of the entrance: free of charge.
Coordinates: 43.22405, 40.59719
✔ Dolmens of Huap village
Note: Four ruined dolmens.
Entrance fee: free of charge, on private property.
Coordinates: 43.21893, 40.53172
✔ Aylaga-Abyku temple (ruins)
Note: Ruins of the temple of Aylaga-Abyku (Gray Baba) of the VI – VII centuries in the village of Bambora.
The cost of the entrance: free of charge.
Coordinates: 43.10384, 40.56339
✔ The village Lyhny
The fortress Abakhvatsa.
Note: The ruins of an ancient fortress allegedly of the VI-VIII centuries.
Coordinates: 43.14688, 40.71499
✔ The Habu Falls
Note: Waterfalls Habu, Aac, Bull's Head and Kurochkina + Habu Cave.
Coordinates: 43.18879, 40.76447 (Habu); 43.18859, 40.76481 (Aats); 43.2177, 40.79299 (Bychya Golova); 43.228, 40.79713 (Kurochkina); 43.19148, 40.79074 (Habu Cave).
✔ Mud cave in Primorsky
Note: sulfurated thermal spring + therapeutic muds in Primorskoe village.
Entrance cost: 150 rubles. Parking: 50 rubles.
Coordinates: 43.10015, 40.75093
Sights of New Athos.
Note: in New Athos are located the following sights of Abkhazia: Anakopia fortress, New Athos cave, New Athos monastery, Simon Kananit church, Simon Kananit caves, artificial waterfall, Psyrtskha station, Stalin's summer house, Museum of Military Glory, Three Boilers gorge and others. Read more in the article about the resort of New Athos.
What to see in central Abkhazia
Includes Sukhumi and Gulrypsh districts.
Dolmen in the Upper Eshera
Note: The ancient dolmen is located on the private territory of a resident of the village of Upper Eshera.
Coordinates: 43.07795, 40.91048
✔ A cromlech in the Lower Eshere
Note: cromlech of stones in the form of 4 circles. Megalith is more than 4 thousand years old.
Coordinates: 43.0202, 40.94935
Sights of Sukhum.
Note: attractions of the capital of Abkhazia include: fortress, Sukhum embankment, monkey nursery, botanical garden, Bagrat Castle, Drama Theater with a fountain, colonnade, Annunciation Cathedral, Abkhaz State Museum, lighthouse, Sukhum Mountain, and arboretum park. Read more in an article about the resort of Sukhum.
✔ Kamany temples
Note: In the village of Kamany, St. John Chrysostom died in the early 5th century. Saint Martyr Basilisk is buried here as well. And nearby took place the third finding of the head of John the Baptist.
The cost of the entrance: free of charge.
Coordinates: 43.09568, 40.99702
✔ The Beslet Bridge
✔ Beslet hydropower station
Note: HPP was built in 1905 and is one of the oldest in Abkhazia.
Coordinates: 43.03507, 41.07185
✔ Merkheul mineral spring
Note: It is a source with metallic and weak mineral water.
Coordinates: 42.9608, 41.1032
✔ The gorge in Chernigovka
Note: picturesque gorge arranged for walking + restaurant with Abkhazian cuisine Assir. Read more in an article about the gorge in Chernigovka.
Entrance fee: 100 rubles. Parking free of charge. Toilet is paid.
Coordinates: 43.019163 41.188369
✔ Waterfalls Wolf Gate (Olginskie).
Note: A complex of waterfalls by the Sukhumian Military Road.
Coordinates: 43.01451, 41.22771.
✔ Olginsky waterfall.
✔ Baryal waterfall.
Lake Amtkel
Note: the picturesque lake in the mountains was formed as a result of the mountain collapse during the earthquake.
Coordinates: 43.09164, 41.29722
✔ Azant dolmen
Note: the ancient Azant dolmen is located near Lake Amtkel.
Coordinates: 43.08933, 41.29311
✔ Tsebeldy cave and spring
✔ Shakuran waterfall and caves
Note: beautiful canyon, caves, waterfall and boxwoods covered in moss. One of the most beautiful natural attractions of Abkhazia.
The cost of the entrance: free of charge.
Coordinates: 43.028327, 41.329396 (waterfall), 43.029219, 41.332982 (middle cave).
✔ Dranda Monastery
Sightseeing in eastern Abkhazia
Includes Ochamchirsky, Tkuarchalsky and Gali districts. Here are the most remote attractions of Abkhazia from the border with Russia. Because of this, not every tourist comes to see them.
✔ Kandyg thermal spring
✔ Thermal spring Kandyg-2
✔ Tamish fortress
✔ Ilorsky temple
✔ Hydrosulphuric hot spring
✔ Mokva Cathedral
✔ Otapa Caves
Note: The karst caves with stalactites and stalagmites. Very interesting place of interest in Abkhazia. Read more in the article about Otapa caves.
Entrance fee: Entrance – 250 rubles, parking – 50 rubles (Abrasila). Entrance – 250 rubles, parking – free for now (Otapa's Head).
Coordinates: 42.92037, 41.55434 (Abraskila); (Otap's Head).
✔ Goop Falls.
✔ Akarmar spring
Note: thermal Akarmar radon spring.
Coordinates: 42.85781, 41.76694
✔ Akarmar waterfall
Note: picturesque waterfall on the territory of the cafe.
Entrance fee: 100 rubles.
Coordinates: 42.88116, 41.8102
✔ Giant Falls
Waterfall Irene.
✔ Bedia Cathedral
✔ Chigs Abaa Fortress
Note: closed territory, you have to obtain a permit to enter the Kodori gorge.
Coordinates: 43.09355, 41.67879
What to see in Abkhazia first
Perhaps the most important and easily accessible attractions of Abkhazia are Ritza Reserve, as well as historical, natural and religious sites of New Athos. Unusual and fascinating will be a trip to Shakuran waterfalls. In our opinion, the caves of Otapa are also worth visiting. If you have time and opportunity, it will be interesting to see the rest of the places of Abkhazia.
How to see sights
You can see the sights of Abkhazia in the following ways:
By yourself by public transport . Thus, you can see sights of cities of Abkhazia (Gagra, Pitsunda, New Athos, Sukhum, etc.).
Independently by private car . Park in paid parking lots and do not leave things in the cabin. In some places you can get only by SUV.
As part of a group tour . With the prices for tours in Abkhazia can be found here.
As a part of individual excursion . Personal excursion for a family or small company with a guide in his car (usually SUV).
Examples of individual excursions:
All sights of Abkhazia on the map
Map of attractions of Abkhazia:
The map is more convenient to use if you open it in a new window. If necessary you can change type (satellite/scheme), turn off or on some layers (resorts/attractions/other) in settings. By clicking on the marker, you will see GPS coordinates of the objects, prices and a link to a detailed article (if available).
⚠ The free mobile app maps.me is handy when traveling to get your bearings. It is enough to install and download a map of Abkhazia in advance, and then you can use it offline (i.e. without connecting to the Internet). The map maps.me already marks the points of most attractions of Abkhazia, as well as many hotels, cafes, stores and other useful objects.
Thanks to the illustrative list with photos, from the article it is easy to find out what to see in Abkhazia. Map with GPS-coordinates will help to orientate. If you know other sights of Abkhazia, write about it in comments, we will add them to this list.
The Big Guide to Abkhazia
Abkhazia is a place underestimated by many tourists, which is fundamentally wrong. Often people come here as part of tours, although it is better to travel wildly. We tell you why.
Why is it cool in Abkhazia?
This place is beautiful because it is without pathos. Here everything is clear, and you feel at home.
You are guaranteed to get visual ecstasy from nature.
In Abkhazia is tasty, drunk, hospitable and not as expensive as in Europe.
The coastline of the Black Sea is 240 km, what to swim, what to watch is pleasant.
When is it better to go?
From March to April and from mid-September. Nature is either in bloom, or has not yet gone into hibernation. This is the ideal time to explore the country.
How to get to and through the border?
Attention!

There are lines at the border!
If you arrive to the airport of Sochi (Adler) or to the railway station call a cab to the border. This is the most convenient and quick way to get to the border. From the airport it is only 12 km, and from central Sochi, where the railway station is located, there is a public transport. However, it is rare and very slow.
The border is felt somehow conditionally, but still there is a border and even two: on the part of Russia and Abkhazia. To check the documents you need only a Russian passport or a foreign one. Everyone crosses the border only on foot, except for drivers of cars. Crossing the border can take from 10 minutes to several hours. It depends on the season and time of day. Border guards on the Russian side check documents and sometimes even things more thoroughly.
Transport in Abkhazia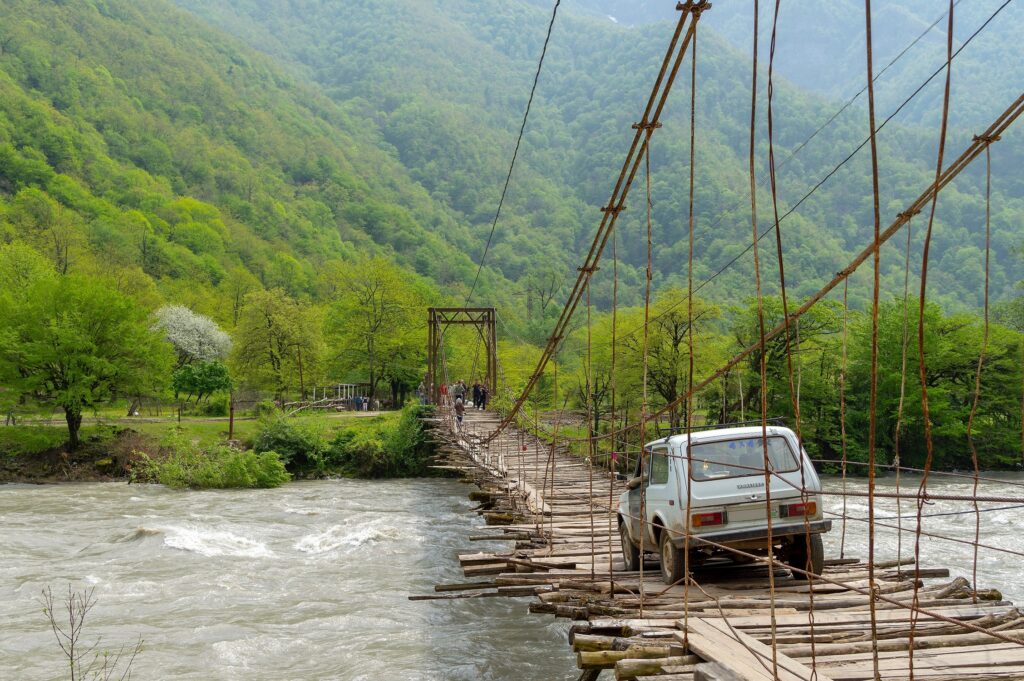 The main way to travel on the territory of Abkhazia is by car. You can be driven between the cities by non-caring Abkhazians, most importantly, negotiate the price in advance. The drivers drive fast, dashing and in general in any condition, which is sometimes very scary. To wear a seat belt for them is tantamount to disrespect, but you get used to it after a day. The other side of the coin is that they are always ready to talk about all the interesting places, customs or even about their lives. Drivers and traffic police officers are always waving at each other on the highway – it's cute.
They can take you anywhere, even to the next street or the other side of the country. There are also shuttles running between towns (almost all of them are along the coast), hop on, get to know the locals by learning the cultural specifics of the country, and don't forget to look out the windows.
Prices and travel time:
Shuttle to/from the border to/from Gagra: 150 rubles (travel about 40 minutes).
Bus to/from the border to/from New Athos: 200 rubles (approx. 2 hours on the way).
Bus to/from Sukhum: 250 rubles (approx. 2.5 hours by road).
Shuttle buses go to 18-19:30, and in summer season approximately to 21:00. By cab, of course, to move faster and much more comfortable, but more expensive. It all depends on how you arrange.
Cab to/from the border to/from Gagra: 800-1500 rubles.
Cab from/to the border to/from New Athos: 2000-2500 rubles.
Cab to/from Sukhum: 2500-3000 rubles.
Communications and Internet
With it all is tight: Tele2 does not work at all, and Megafon / Beeline / MTS have roaming only in cities, but, for example, not on the road between them or in the mountains. Wi-Fi is in every restaurant or hotel. You can buy a local SIM-card in the cellular office (A-Mobile, AQUAFON). You only need a passport.
Districts of Abkhazia and what to see there
In total there are 7 districts and 8 cities, 4 urban settlements and 512 villages in Abkhazia. Usually tourists do not travel deep into the country without going far from the border. But all Abkhazia is filled with amazing places.
Gagra district
Blue Lake
On the way to "Ritza" it is definitely worth stopping at the miracle lake. First of all, it is really very blue. Secondly, it is not frozen in winter and not heated in summer. Thirdly, the pictures turn out bombastic, especially when there are no tourists. There is a rock you can sit on and feel like a magic mermaid.
Suspension bridge over the Bzyb River
Near the Blue Lake will be a suspension bridge, which looks quite unreliable. It looks more like decoration of the movie about apocalypse. But if you want to tickle your nerves, you can try to walk along it. This attraction is not for the faint-hearted, so be careful.
Gudauta district
Yupshar Canyon or "Stone Sack".
The majestic and monumental gorge with steep cliffs, it looks like a portal into another dimension. The road is only 20 meters wide and is called Yupshar Gate. When you go to lake "Ritsa" be sure to stop there and feel the power of nature.
Lake "Ritsa"
Mecca for tourists. This is due to the fantastic beauty of the place, hidden in the mountains. The view is so breathtaking that you want to scream. If you have been to Abkhazia, but have not been to the "Ritza", then you will have to come back here again. Only remember that in winter you are unlikely to be taken there, the road can be impassable because of the snow. But closer to spring you are always welcome.
Psyrtskha Nature Reserve
In the off-season you may not meet anyone on your way. From the start to the end of the trail is only about 500 meters, but you can walk there the whole day. If you see a trout in the Psyrtskha River, feed it, but do not catch it. A sign on the trail strictly condemns it. It is better to have a picnic with local cheese and wine. Almost at the very top of the reserve is the grotto of Simon Kananita. If you climb up there, do not be frightened of the man inside, he just makes sure the order.
Entry fee: 200 rubles.
Psyrtskha railway station
The place with mad energy. Just imagine: half-ruined station built in 1944, the platform, where people no longer go out, palm trees and a blue reservoir with water lilies around. When you are there you can picture with your own eyes the heyday of Abkhazia. The time when tourists from all over the Union came here to spend their vacations in one of the best places in the country.
New Athos Waterfall (former hydroelectric dam)
You can start or end your walk through the reserve here. The place is balanced so that when it's cool, the sun warms you, and when it's hot, the spray from the waterfall cools you down. Relax on the benches and watch the power of the water.
New Athos Cave.
If you are a fanatic about caves with lakes, stalagmites, stalactites and even stalagmites, love the smell of damp, want to shout and listen to your echo – you are here. There are 6 halls for tours, and you can also catch a music concert right in this cave. This is even top.
Entrance fee: 500 rubles. For children under 8 years old – for free.
New Athos Simon-Canonite Monastery
If you are not very interested in religious topics, then just walk around the territory and buy different tasty things from the locals. You can, of course, look at Stalin's dacha, but why?
Chernorechensk trout farm
Not the most popular place in Abkhazia, but this is rather a plus. You can take a quiet walk through the boxwood grove, feel the coolness of the mountain river and learn about all the stages of trout farming at this farm. You can also try the fish just caught for you.
Entry fee: 100 rubles.
Sukhumi district
Botanical Garden of Sukhumi
Catch zen among the bamboo grove, exotic plants and 300 year old linden trees.
Entrance fee: 250 rubles.
Sukhumi Central Market
Get ready for a quality aged phantasmagoria, although many Caucasian markets are like this. An experienced tourist won't be surprised, but a beginner may be shocked. Horn, dirt, delicious food, completely unnecessary things, strange people mixed together. If you need to buy something, ask different vendors about the price and start haggling. Only then buy. A nice bonus is that they let you try everything.
Brechalovka
It is a place absolutely everybody knows about in the city. Here Abkhazians play backgammon and chess. If you suddenly run out of money and you feel confident in these games, then there is a chance to raise money. All day long men play till they win.
Gulrypsh district
Chernigovka
There is a place outside of Sukhum where you can go even for a whole day, because it is a fairy tale. Gorge of extraordinary beauty with waterfalls, rocks, huge boulders, bright greenery, mountain river and bridges between the banks.
Entry fee: 100 rubles.
Where to live?
You can find everything on Ostrovka (it shows options in Abkhazia): hotels, apartments, villas, hostels. Finding an apartment or a room on the spot is a past age. Prices in the season for one night range from 500 rubles for a room for two to 18,000 for a villa for 9 people. Proven good hotels:
Gagra: Aquamarine Family Club Hotel – Abazgaa Street, 58
Pitsunda: Pitsunda Cat – 16, Sadovaya str.
New Athos: Afon Resort Hotel – 14 B Lakoba str.
Sukhum: Boutique Hotel Atrium-Victoria – 4, Aiaira str.
What to bring?
In running the Russian ruble. Be sure to take cash, because there will be no problems with it, but you might have problems with a card. Do not make it difficult to find ATMs, they are not on every corner. Although it is easier to pay by cashless than a few years ago, but mostly only in Sukhum, Gagra and New Athos.
Power Bank. You will need it, as the flow of photos will be constant.
Handkerchief or foam for picnics in the reserve or on the beach. You will definitely want to just stop and sit in some magical place your way.
The best beaches in Abkhazia
Bathing begins in May and ends in October. The beaches are supposed to be free, but on some you have to pay a small fee for a sunbed or awning.
The beach in Pitsunda is an ideal combination of crystal clear water and a pine grove, where you can wait out the scorching heat. There are almost never strong currents and waves. The beach, as almost everywhere else in Abkhazia is pebbly, but if you walk a little further you'll find a mix of sand and gravel.
Beach in Gagra is water attractions and restaurants here in abundance, but also a lot of tourists because of developed service. It is possible to find more private place, if you walk a little farther from the crowd, but still you can't have a rest like savages.
The beach "Mussera" is one of the wildest beaches, without the bustle and crowds of tourists. It is located on the protected territory of the Pitsundo-Musseri Nature Reserve. A small cozy beach, hidden in the dense vegetation and rocks with a view of Gorbachev's dacha. The mountains here are close to the shore, and one of the riches of this place can be seen under your feet, because there is sand. But there is no special infrastructure here. If you get tired of getting hot in the sun, you can see what dachas the Soviet leaders had a rest on: Stalin and the already mentioned Gorbachev.
The beach "Gold Coast" is another beach that only a few people will go to in search of a quiet atmosphere without any extravagances. The sandy-pebbly beach is located 20 km from the city of Gudauta. It is very wide and there are some nice cafes nearby.
The beach "Mocha" in Sukhum is one of the most sandy beaches in Abkhazia, and this is a rarity. With quite developed infrastructure: a cafe, restaurant, tour desk, volleyball court, locker room, toilet and most importantly – wi-fi. It is also possible to ride a banana, for example. At the entrance you must pay about 100 rubles for a deck chair with a canopy.
Interacting with Abkhazians
Abkhazians are very hospitable people. They can easily offer to drink homemade wine, chacha, eat cheese or invite you into the house. In Abkhazia they treat tourists well and are always ready to help you, for example, if you have broken a lighter.
What to try in Abkhazia
Apatskhi (also called simply patskhi) are local restaurants of Abkhazian cuisine. There are quite a few of them, so ask the locals which apatskha is better. On this basis, keep the course there. The interior is very simple, it is rare to find a tourist inside, mostly apatskha is for locals. Large noisy companies, often divided by gender, as if into two camps, an endless stream of food and songs live.
With good restaurants in Abkhazia is more difficult, but there are those that are worth a look, because they are already legends:
Restaurant "Gagripsh" – a real symbol of the city of Gagra, preserved in good condition to our time. The resort in Gagra was founded by a relative of Nicholas II, Prince Alexander Oldenburgsky, who bought this restaurant in disassembled condition in Norway. Many famous people of different times have visited this restaurant: Chekhov, Bunin, Gorky, Stalin, Chaliapin, and also the last some members of the royal family.
Restaurant "Guada" in New Athos. Not in the summer season is the only place where you can eat tasty and decent. The Italian cuisine restaurant will give you a break between shish kebab and mamaliga (Abkhazian corn porridge).
Restaurant "Ertsakhu" in Sukhum, despite the pretentiousness of the hall and some pompousness, you have to go there for a tasty meal. True, you can get to someone's birthday party of 200-300 people (and it's still not that much!).
The restaurant "Nartaa" in Sukhum in the form of a large Abkhazian courtyard is located right on the waterfront. Gazebo, greenery, sea, food. What else do you need to live?
Restaurant "Assir" in Chernigovka. Tables and gazebos are located right above the mountain river. Here you can also taste the national cuisine, combined with a magical walk through the gorge.
The average bill per person with alcohol (what can you do without it?) is 500-1000 roubles. Almost everywhere the bill already includes a tip of 10%.
What to eat?
Mamaliga with cheese – corn porridge (although locals may take offense at the word porridge. For them it is bread).
Sulugun smoked fried.
Doodles – they are also khachapuri
Chicken in Abkhazian style
Trout (grown in Abkhazia)
Shish kebab and lamb kebab
Beans / eggplants with nuts
Corn flatbread with cheese
What to drink?
Naturally, local wine or chacha, it is impossible to get poisoned by it here (unlike in Russia). Wine in a restaurant costs about 400 rubles per bottle, and in the store about 200 rubles. It is very difficult not to get drunk here, which is true. And you should only drink dry wine!