A report on a trip to Sweden with a MEGA DRIVE backpack
Sweden is a paradise for bicycle touring with comfort, so in the summer of 2012 I chose to travel there again.
Back in 2010, a group of three we made a bicycle trip from Stockholm to the south, along the Baltic coast, through such towns as Cedertelje, Thursa, Nyköping and finished it in Norrköpping and came back by train. The trip took us a total of 9 days (including the way from St. Petersburg to Helsinki by bus, ferry to Stockholm and the same way back), the bikes were covered by 350 km. It was a test ride, we tried to anticipate many things, as we learned the Swedish reality had to change the route, there were many curious and comical situations, but the trip still left the best impressions for all participants.
This time I decided to visit Uppsala – the ancient residence of Swedish kings, since the days of the Vasa dynasty, but the distance from Stockholm to Uppsala is too short, and the general decision of the trip was supplemented by the route around Lake Mälaren, which stretches from Stockholm to the far west. Approximately the route was to take 550km.
Of course in Sweden, the roads to travel by bike is much safer than in Russia, and the drivers are not an example of cultural, but we wanted to ride away from cars, so we built a route using the site bikemap.net, where you can configure so that displays the Swedish national and tourist bike routes. Usually these routes are laid out on special bicycle paths, peripheral asphalt or dirt roads and are provided with special signs.
As well as in the first trip we decided to go from the campsite to the campsite, the more so as they are usually located at a distance of a day's travel along the bicycle route. This way of traveling is very comfortable, because every evening there is a possibility to use the toilet, the kitchen, to wash things, to take a shower. You can get directions to the campsites at thecampingmap.com, but the information is not always up to date.
This time we had 4 people, including me. The four-person travel format is the most economical, with the camping tent fee divided by 4, and a four-person cabin on the ferry, and more. Tickets for the bus and ferry were taken in advance, we didn't take return tickets, because we wanted to leave the opportunity to change the program of the trip.
And so that day came. We had put our backpacks on bicycles, we went to Vosstania Square, where we took a night bus to Helsinki.
I would like to say separately that it was not just a trip, but a trip-test, not long before the departure, I got a new equipment, which is just what I wanted to try on the trip. Was bought and installed a new handlebar-butterfly bicycle, bought backpack bike Raptor 6 from Osprey, backpack bike Mega Drive from "Snare" installed on the trunk, as well as bike bags attached to the left and right to the front wheel fork, just this was the first trip in which I used the bike shorts with "pampers".
Day 1 (Sunday)
At 9 a.m., upon arrival, we promptly unloaded from the bus, put the front wheels on, and threw our backpacks on the trunks. On Sunday in Finland, most stores do not work, and cafes open late, so, after finding a picturesque place, we had a snack with the sandwiches we had brought with us.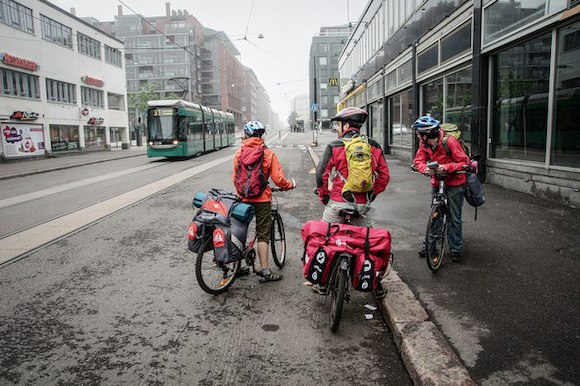 After a short meeting, it was decided not to explore Helsinki, a well-known to all participants, and go to the park and finish the sleep that was not asleep. Chained our bikes and lay down in sleeping bags on the lawn foam in a secluded corner of the park (yes, it is not forbidden in their country, and generally accepted), our expedition dozed until noon. After a good night's sleep, we took a bike ride through central Helsinki and went to check in at the Viking Line ferry terminal, where we had a taste of bicycles. While the drivers were stewing in the cabins waiting for permission to get on the ferry, they let us on at once and told us where we could put our bikes.
Day 2 (Monday)
After eating breakfast at 8:00 on the ferry and enjoying the view of countless islands separating Stockholm from the waves of the Baltic, we go ashore. It turned out that there were a few Finnish bicycle tourists on the ferry with us. It was decided in advance to look at the city on the way back, so do not hesitate to go to the Tourist Info. Despite the fact that we had a GPS with a map of Europe, a paper map of Sweden and a map of Stockholm, it did not seem superfluous to get acquainted with what the Tourist Info service could provide us.
Having received in Tourist Info map of bicycle paths in Stockholm, as well as a brochure "The castles of Lake Mälaren" with a map attached, we leave immediately.
Significant bike routes in Sweden are marked with road signs along their entire length, it's very convenient, especially if you understand the logic of their location. Nordic logic was not given to us for a long time and so, looping through the neat suburbs of Stockholm, we then reached the planned route and then lost it.
After riding through the parks and seeing the castle of Gustav IV Adolf Ulriksdals slott, we finally went into the countryside and immediately confidently took the route Sverigeleden, as evidenced by the regularly encountered signs.
As expected, the bike route took us on asphalt or dense and flat dirt paths that meandered through fields, forests and villages so that the traveler could enjoy the surrounding beauties as much as possible. Surprisingly, I got 2 punctures on my first day on the road, although I didn't drive over any glass that could be seen. Two small shards of clear glass were removed from the tire, the camera was patched with patches.
In the evening, we drove up to the place called Knivsta, where we had a camping site marked out.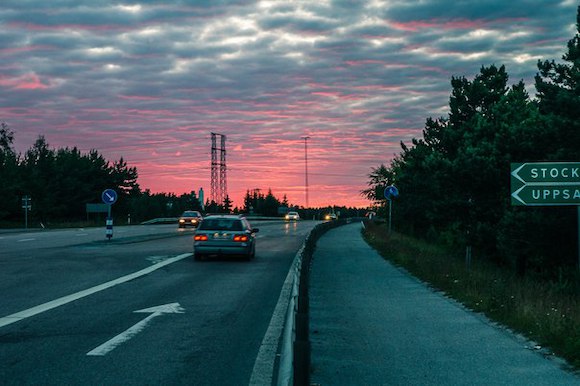 Unfortunately, there wasn't any camping; the signs spelled out a place for bathing instead. However, the green lawn and swimming hole were so welcoming that we didn't get too upset, so we pitched our tent and had a swim while dinner was prepared on the stove. In general, on such trips gas burner is indispensable, I use a model moonwalker from Kovea, because it is stable enough and allows you to easily and quickly cook food for 2 or even 4 people.
Biking shorts with "pampers" proved to be excellent, all the way they properly softened the bumps, and unlike my previous experience, I did not feel that I rubbed anything with the saddle. During this day we had traveled almost 100km, which was a big number for some of the participants of the trip.
Day 3 (Tuesday)
Last day we did not reach Uppsala about 20 kilometers, so, waking up, we did not hesitate to pack and hit the road. Baggage backpack Mega Drive, both last day when I was repairing punctures and now, was pleased with the ease of packing things in it, as well as the speed and ease of installation. Delta pockets attached to the fork I loaded with heavy but compact things like gas cylinders for a burner and a bike repair kit. Such a redistribution of weight from the trunk to the fork had a tangible result, the bike stopped trying to "stand on end" on bumps and hills, and the rear wheel was significantly relieved.
After a short ride we entered the suburbs of Uppsala, where we met an IKEA. The general consensus was that to eat in a Swedish IKEA is equal to join the very serge of the Swedish culture. And so we did.
Uppsala, like many other cities, consists of a historic center and new buildings on the periphery. In the historic center traffic is almost completely blocked by cars, and on the shady streets of Uppsala there are whole bikeways. Especially interesting is the abundance of buildings of the 16th-17th centuries, as well as the remaining elements of the ancient sewage system with the discharge into the river Fyrisan, passing through the city.
Upsala Cathedral and the royal castle, built by usurper Gustov, the ancestor of the Vasa dynasty, were a must-see. Cathedral is very interesting, because it contains variously decorated tombs of many kings of Sweden. The castle is a relatively new construction, at least at the time of its construction it was the most perfect defensive construction of the early fire age. It is noteworthy that one of the batteries of the northern redoubt faces the cathedral, and the article on the history of the castle, which hangs in the thematic museum, says that this was done intentionally, to show the clergy its place.
That was the end of the tour, we had a long ride ahead of us to the next campsite, located in the town of Enkoping.
So buoyantly we set off on our bikes that before we knew it we were out of town, forgetting to stop at the store to buy food for lunch and dinner. Unfortunately we were not supposed to meet any other places where we could do that and we had to arrive at the end point at a time when the stores were closed. I must say that in Sweden, the schedule of stores is unusual for the Russian, and if you do not have time to buy something during the day, all you can count on the evening and night in small towns – the 24-hour gas station store, where the sensible food can not buy.
Our route took us on a scenic and flat dirt road that gently cut through the forest. As we learned from the locals, this road was laid on an old railroad embankment. Back in Uppsala, we took the Sverigeleden national bicycle route to the secondary, touristy Malareleden route, and not without problems. In the process of finding the way was a discrepancy between the car GPS map, the map from the site bikemap.net and a free local map taken at a gas station, which was solved only by overlaying maps on top of each other.
Passing through the neighborhoods of Uppsala we repeatedly encountered medieval churches and reconstructions of old wooden buildings. The rest of the trip passed without incident, except for the 3rd puncture in the wheel.
We had lunch at a pizzeria found in one of the villages along the way. In general, in Sweden, with enough money can travel on a road bike, and without things and backpacks in general, to eat at eateries and stay in campsites or hostels, but this is not our case. We reached Enkoping at night, had to have dinner in a McDonald's, and in the moonlight to get to the campsite marked on the map. It turned out to be very convenient to put my windbreaker in the front pocket of the Delta, on top of the heavy stuff. As soon as a night chill reeked it was literally at hand, I took it out of the pocket and put it on without getting off the bike.
Thank goodness Thecampingmap.com wasn't deceived this time, a perfectly flat asphalt bicycle path led us out of town to a campsite right on the shore of Lake Mälaren. Reception was out of order, so having found a camping area (campsites in Sweden are primarily designed for campervans) we set up and headed off to sleep. Not surprisingly, we've walked almost 100 km again, and were pretty tired.
Day 4 (Wednesday)
In the morning we went to the rim of the campsite, paid for the camping gear and got an e-card that gave us access to the amenities of the campsite. Using the card, we took a shower, and at the campsite store we bought some snacks to make breakfast.
It has turned out, that one of the participants has broken one of the legs of the trunk, the alluminium one. Hence the moral – buy iron bicycle racks for tourism, they may be heavier, but much more reliable. We hastily rewound the breakage with a rope, but a certain backlash remained, there's a risk that it will break the second leg. I decided to buy a new rack at Enkoping.
Pleasantly surprised the bike shorts, I assumed that they would have to be washed every 2 days, but the "pampers" did not smell bad, despite the fact that I rode in it for 2 days and 200km.
In town, we can not find a replacement for the racks, all racks at the local bike store are designed for city bikes, of which in Sweden, a great many and not suitable for touring bikes with disc brakes. Distributing the heavy things amongst ourselves, we lighten the broken luggage carrier and set off on our way around Lake Mälaren.
I'm starting to feel that a bow handlebar is a great buy – there are so many grip options that my arms and shoulders don't get bogged down or tired.
Moving along the path across the fields we suddenly notice a real cloud drakar with a full sail on the crest of the green forest waves. The spirit of the Viking heroes of yesteryear still lives on in this land.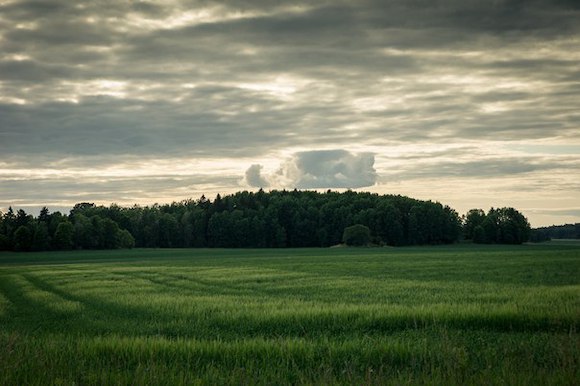 We reached the town of Vasteras again only in the evening, the trunk held out. We stood up in the camping, had a pre-purchased dinner, and decided to watch the city in the morning. Had about 90km under our belt, fell asleep to the humming of our feet.
Day 5 (Thursday).
In the morning, there was force majeure, one of the participants had indigestion from the load of the previous days. As a result, up to noon brought him to his senses, and still feels defeated. In the bike stores Vasteras again can not find a replacement trunk. We are faced with the need to fully unload the already 2 people to continue the journey, and this is impossible.
After some deliberation, we make the hard decision to stop the trip and return to Stockholm. We pack our bags and go to Central Station (as the main station in any Swedish city is called). Ticket office in Sweden, if it is not the capital of course, are only an hour or two a day, the rest of the time working ticket machines. So, these machines accept either Swedish travel cards or VISA/Mastercard. So for anyone traveling in Scandinavia is not superfluous to have a bank card with a reserve amount of money. Moreover, unlike in other countries, bicycles are not allowed on Swedish trains, at all.
But we were prepared for such a turn of events. We bought 4 adults tickets with the VISA debit card, and for bicycles we had special cases.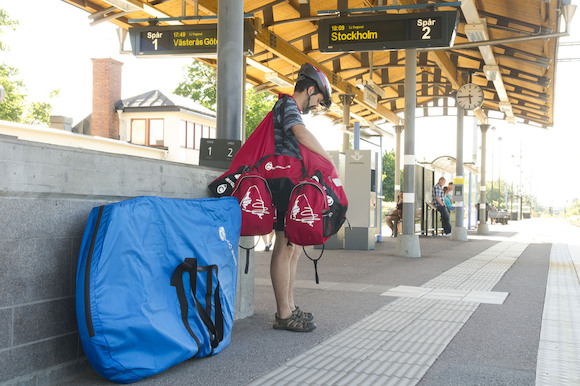 Even on my last trip to Sweden, I took a Velo Light pouch from Snare, and then I thanked the gods for their prudence. Velo Light weighs relatively little and is quite compact to pack, and the bike packed in it looks like a hand luggage, especially since in order to pack it you only need to remove the front wheel. With MEGA DRIVE backpack you get a great kit – bike on one shoulder, rukazak on the other, front pouches Delta securely fastened to the main backpack.
After dividing in twos to fit the luggage in the vestibules of the express train we loaded and were in Stockholm in just 2 hours. The rest of the day we spent looking for a suitable and affordable hostel, looking through the free tourist terminals Internet access located on the top floor of Stockholm Central Station. A suitable hostel was found on the island of Reimersholme and the same name. The hostel is amazing in its comfort and price even for Europe (1000r per person). Overnight in it, the price includes a morning buffet, which pleases me immensely.
Day 6 (Friday)
On this day, having eaten enough buffet for breakfast and lunch, we go to the Viking Line office, the nearest tickets to Helsinki, a reasonable price is only on Sunday. Good thing we didn't book the return ticket in advance, as usual. Stomachache person feels better, leaving things in the room, we go visit Skansen (open air ethnographic park) park is extensive, especially pleases natural history museum, a landing wooden building with tarred walls and traditional Scandinavian carvings.
We end up driving around the park and the city all day, returning to the hostel in the evening.
Day 7 (Saturday).
The second day in Stockholm, we spent sightseeing, there's not much to tell, just haphazardly wheeling around the streets on bicycles, and looking around. Is that found on one of the piers, a real pirate boat pleased us.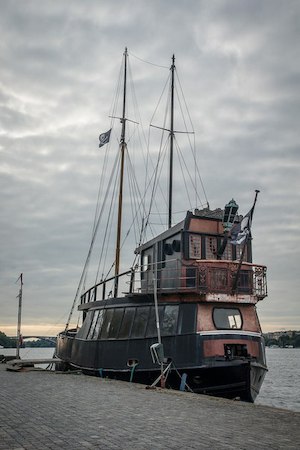 In the evening we went to a pub in Stockholm, where the youth are going to meet two Swedes, we talked about everything, it turned out that during the last 15 years they've had two ministers killed, one of them was a prime minister. All in all, had a great time.
Day 8 (Sunday)
On Sunday morning we packed our bags and started to board the ferry. Just like last time, we loaded in front of the cars, and there were a few more bicycle tourists with us, it turned out to be Finnish, returning home. The ferry set sail, and we threw things in the cabin and headed up to the upper deck to say goodbye to Stockholm.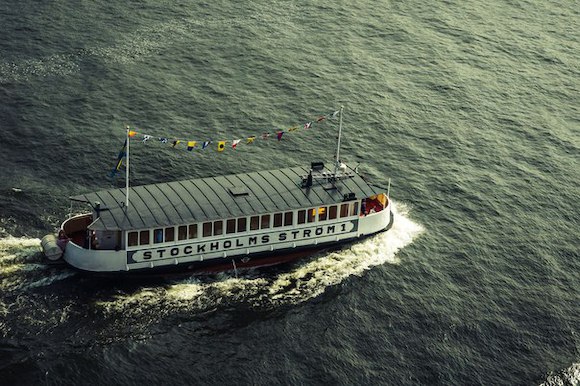 Day 9 (Monday)
In the morning, we unloaded from the ferry, we are clearly aware that the day will be hard, will have to look for a bus back, but tourists in Helsinki on weekdays are not taken often, and besides, usually luggage compartments of departing buses are packed and not always possible to fit into them, especially with 4 bikes and 4 backpacks, from the morning we went to the area where the bus drivers park and started waiting. We were very lucky, and the bus we needed (of course there is always the option of a regular bus, but it costs more than twice as much). Next was the familiar route to St. Petersburg, a night bike ride from the bus stop to the house.
After all the adventures I rode through the night St. Petersburg and, remembering the journey, I thought the same as I always do when I come back from trips: how lucky I was born and live in such a great and beautiful city like St. Petersburg.
Cycling life
The bicycle in Sweden is a full-fledged mode of transport, on a par with cars, buses and subways. Cities have bike lanes, parking lots and pumps.
About Swedish life on wheels in this article
Six months after we moved to Sweden, we got bikes. Given that I very rarely rode in Russia, it was a real challenge for me to buy a bike and ride it straight home on the roads over bridges and parks. I should note that I never once fell down!
Seconds before I was afraid to roll down the slide in the park.
After this purchase, I realized how convenient it is to get around town on two wheels! A bicycle saves a lot of time. No subway transfers, neighbors talking on the phone, waiting, or anything else. You ride alone/alone, and no one bothers you, plus you exercise.
The excitement was boundless!
The only difficulty I encountered was the large number of cyclists, pedestrians and cars, which I was afraid of, since I didn't ride very well. Even crossed the road on foot at busy intersections.
Enough about me. I'll tell you better how popular cycling is and why more and more Swedes are changing their fare to a two-wheeled friend.
The Bicycle Train
There are bike lanes almost everywhere. In the city center, and outside of the city. They come in different types, some are just a separated part of the roadway with markings, others are separate, running along the sidewalk. The coolest ones in my opinion are the ones that connect different neighborhoods because they are wide enough and there are no nearby cars.
Malmö Bicycle Shuttle
Cyclists are full-fledged road users. All are required to have lights, show turns and wait for the green signal at traffic lights. The bicycle police can patrol, and fine violators! You can't ride on sidewalks, you can ride on the roadway if there is no lane or you have to avoid a "very lucky parked car".
I saw such a "raid" once! The cops stood around the intersection for days and watched everyone, cracking down on violations.
I think bicycles would be very popular in many cities if the right infrastructure was developed. It works!!!
There are certain rules of conduct on bicycles – a kind of road etiquette. You should always show your turn signal and try not to cut others off, and ride in your lane. I would divide all cyclists into several categories:
The athletes are racers. Very fast guys who we jokingly call "San Marino wannabes. They are usually dressed in special bicycle suits, and ride their racers at breakneck speed, often scaring tourists and other road users.
"Latecomers" are those who are always in a hurry to get somewhere. They can't stop at traffic lights, cutting off others just to get through first.
A student on her way to Lund University
"Amateurs" are those who ride their bikes to work every day of the week. They can be and are dressed in tight overalls and suits. For them, it doesn't matter much how far they live from the office. Either they drive all the way or part of it.
"Turtles" are those who drive quietly and slowly, not rushing anywhere. Including grandparents, or those who like to enjoy a leisurely ride. I ride that way very often.
"Tourists and pissants" – very often disregarding the rules, not showing their turn signals, driving in the middle without letting anyone through. Some tourists just do not know the rules, sometimes getting into ridiculous situations. But also some locals irritate many by the fact that they often create dangerous situations, and not only for themselves, but also for others.
Statistics will give you a better idea of how popular bikes are in Sweden.
One in five Swedes rides a bike every day to work, university or school.
28% use it as transportation at least once a week.
For 44% of the population, a bicycle is like an exercise bike during the warm half of the year.
18% ride even in the winter. One in ten, however, rides more than four days a week.
Bicycles are not only a convenient way to get around, but also a sport. We all know that it is useful to exercise at least 30 minutes a day. So why not just go for a bike ride? Forty-eight percent of Swedes said they use their bikes for exercise every week. 29% ride specifically for this reason at least 2 days a week.
To an active lifestyle can be added a concern for the environment. Why not make the city cleaner by simply switching to a bicycle?
More and more Swedes are swapping their car for a two-wheeled friend.
If one percent of motorists switched to a bike, there would be a reduction in gasoline consumption of 55 million liters a year, which would reduce nitrogen dioxide emissions by 22,300 tons. It's the most environmentally friendly mode of transportation. No emissions and increased greenhouse effect, and it saves energy.
Many people, who have a car, use it very rarely, riding mostly by bicycle. It's no longer about sport or convenience, it's about caring for the environment.
You don't have to buy a bike to join the movement! From May to November your two-wheeled friend is a form of public transport. It is enough to buy a subscription to rent for the entire season. And you can use the City Bikes in peace.
in Östersund on a rented city-bike
There are a lot of parking lots in the city where you can choose a bike if you attach a map, which should be returned to the nearest to you bike park in no more than 3 hours. I.e.took in one place, left in another.
The season ticket is 300 EEK and the 3-day ticket is 165 EEK. If you buy online, the first will be 50 CZK cheaper. For those who are interested the link is here. You can view free and busy parking lots through the app. So you can always anticipate where to leave your bike. In addition to city bikes there are many other rental companies. But, the prices there will be higher.
It's easier to buy bikes through the app or from a bike repair shop. I bought my first bike for only 500 kronor.
Any bicycle can be insured. If it's old, though, it's useless. But if a new bike is stolen, the insurance can pay for the loss.
It's a good idea to ride a bicycle with a child. Many parents use special seats that are attached to the back, instead of the trunk.
Others prefer carts, which are attached to the back or front of the bike. My acquaintance safely took her two sons in one. She really liked it: and the kids are happy, and for her cardio workout. There are also custom models where the seat for the kids is part of the bike itself.
There are different kinds of parking lots. Regular outdoor and indoor, private and public. In every house, even apartment buildings, there is a special room for bicycle parking, or storerooms where you can store whatever you want. When we lived in a student high-rise, we had a huge bike-only parking lot in the basement . With cameras and only those who lived there were allowed to go in. However, one time I didn't strap on my old bike and it wasn't there the next morning.
Parking by the house
In public parking lots, there are very often a lot of unused bicycles. Once a year there is a "clean-up". They put brightly colored stickers on all the bikes that say, "If you don't remove me by such and such a date, they will take me away. And then they remove all the bikes that still have these messages on them.
I myself saw a crew in Old Town sawing the iron locks off some of the bikes in the parking lot to take them away.
Those that can be used are turned in to companies that fix and sell them. Such a cycle of two-wheeled friends!
More and more Swedes use their bikes all year round. If we talk about Stockholm, you can safely ride here, especially in the center, even in winter. The weather is warm enough, there is little snow, and the tracks are cleaned. Of course, to drive 20-40 km. when the street is minus 6 – 8 is already cold. But here, within 8-10 km. the city is easy to get anywhere. Statistics show that 18% of Swedes use their bikes at least once a week during winter and one in four of them rides at least four days a week.
A cyclist in a snowstorm in winter
Bicycles are not only a full-fledged environmentally friendly transport, but also a lifestyle for many. With a well-developed infrastructure and cycling culture it is a pleasure to ride our two-wheeled friend all year round. Let's be sportier and more positive by biking for ourselves and for nature!