Where to have a rest in Tunisia? Review of 5 resorts and beaches – 2022

Today we will tell you about the resorts of the country with a "T" and it's not Turkey!) There, too, sandy beaches, you can relax without a visa and flourishing all inclusive. Guess what? Tunisia, of course!
Reviews of the country mixed – seems to like everything, but add "if you do not pick on". We have already written enough texts about the season and the weather, and now let's break down where the best place in Tunisia. What are the best places for relaxation, where the life is booming, and where you can go on a budget of $ 500 per person?
Content
When is it better to go on holiday to Tunisia? Season and weather
What month to choose to explore Africa? To make it short and to the point: *Here is our snapshot of the weather by month.
| | | | | | | | | | | | |
| --- | --- | --- | --- | --- | --- | --- | --- | --- | --- | --- | --- |
| January | February | March | April | may | June | July | August | September | october | November | December |
– off-season – season – 50/50.
Tourists begin to arrive in Tunisia en masse in May, and the season ends in early November. In June, the temperature reaches +29 ° C, in July and August it is hot (more than +30 ° C), and the sea is invaded by jellyfish.
However, the best time of the year to go is in the fall. It's very comfortable in September and October: +25 ° C … +30 ° C on the coast, the sea +24 ° C … +27 ° C.
Closer to mid-autumn, you can already look for discounted tours;). Cheapest of all, according to the classics, at the beginning (end of April-first days of May) and at the end (mid-October-November) season: the cost of hot deals starts from 35 000 rubles for two!
The climate in different parts of the country is about the same. If we consider the resorts of Tunisia, where it is better and warmer in the off-season, it is the island of Djerba. There the season starts a little earlier – in May is already good.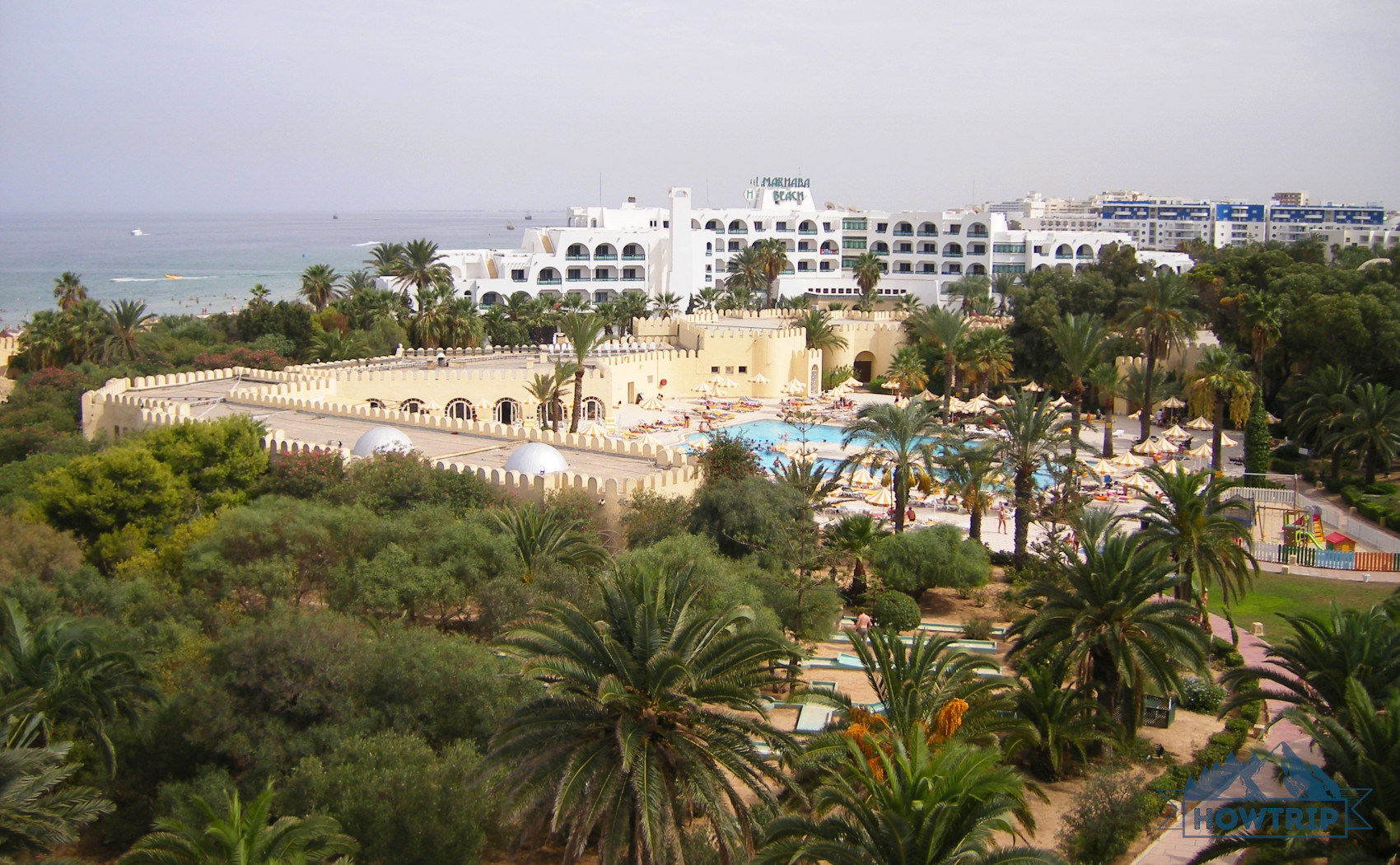 Where to look for cheap tours?
There are no tours to Tunisia from Russia yet. The section cited prices from 2021, when flights were established.
Tours in Tunisia can be inexpensive. But to avoid running from one tour operator to another to compare prices, we look at aggregator tours – they gather offers directly from leading tour operators on one page:
You can find the best tour by adjusting search filters – stardom, line, etc. And if you need hot and cheap, immediately sort "from cheap to expensive.
✓ Tour with a flight from Moscow for 7 days in a season costs from 50 000 rubles for two.
The trip to Tunisia with an "all inclusive" system – from 55 000 rubles for the same period and the structure.
✓ Holidays for 10 days for two people – from 60 000 rubles.
Well, a family tour (father, mother, with a child) for 7 days – from 70 000 rubles.
Where better to go to rest in Tunisia? Popular resorts
There are not many resorts in Tunisia, but there are options for those who want to party, and for those who need quiet. We'll focus on 3 popular ones and tell you which resort to choose based on means and desires.
Everything you need to know about Sousse can be summed up in two sentences:
It is the most partying and lively resort city: and restaurants, and stores, and casinos, and even attractions (such as the old town of Medina, the mosque and the house-museum of a rich Tunisian).
Budget beach holiday in Tunisia – it's here, week-long all-inclusive tours start at 50,000 rubles for two.
The beaches in the country are public (and we will elaborate on this below), and Sousse is a city with a significant proportion of the local population. Therefore, the area where it is quieter, cleaner and less crowded is located as far away from Medina as possible, in the direction of the sub-resort of Port el Kantaoui. But it's also more expensive.
Entertainment in Sousse, in addition to the 3 places to "see", the following: *The local currency is the Tunisian dinar (TND). 1 TND ≈ 22 rubles.
✓ Riding on bananas/flats and other inflatables – 10-20 dinars
✓ Parachute behind the boat – 30-60 dinars
✓ Excursion by sea on a pirate ship – 20-40 dinars (reviews of tourists call for bargaining, which can significantly reduce the initial price)
✓ Diving – 60 dinars (for 1 dive)
Aquapark Acqua Palace with children – 35 dinars for an adult and 30 dinars for a child over 80 cm
Also from Sousse by train you can take a trip to the beaches of Monastir and Mahdia (of course there is nothing but sand and hotels, but it doesn't matter). Travel time to Mahdia ≈ 2 hours.
Hotels in Sousse with good reviews of tourists: *Tour price is for 7 nights in season
4 * Marhaba Salem Tour for two from 70 000 rubles
5* Jazz Tour Khalef Tour for two from 85 000 rubles
4* Royal Kenz Thalasso&Spa (district El Kantaoui) Tour for two from 80 000 rubles
Hammamet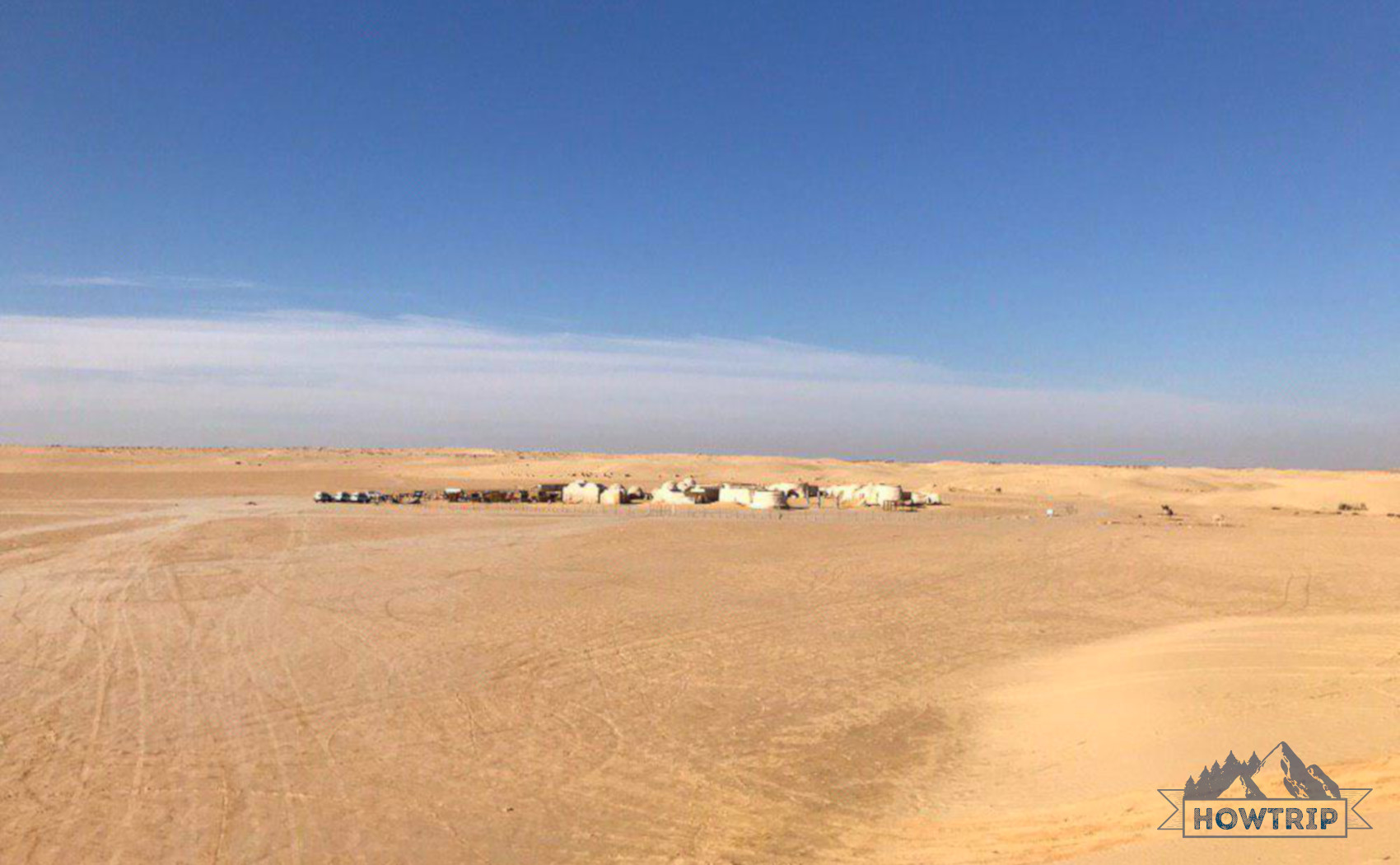 If there is no better place to recommend for a holiday in Tunisia, it's Hammamet. Why?
Hammamet is for fans of thalassotherapy and those who are going to get acquainted with it.
There are more hotels than in other resorts, including five-star all-inclusive. Almost all of them have a spa center.
As in Sousse, there is a nightlife (although not as extensive).
Hammamet is divided into two parts: 1) the central old Medina + resort area with hotels up to the town of Mrezga, and 2) the modern and more expensive Yasmine-Hammamet, with a beautiful port and above-average restaurants.
The resort is good for family vacations: the water is cleaner than in Sousse, the sea entrance is gentle, the bottom is flat, just for babies. And in the area of Yasmine-Hammamet there is a whole amusement park.
Popular Hammamet hotels:
3* Hotel Mediterranee Thalasso-Golf (center) Tour for two from 70 000 rubles
4* Lella Baya & Thalasso Hotel (Yasmin) Tour for two from 70 000 rubles
4* Le Hammamet Resort (center) Tour for two from 75 000 rubles
4* Sentido Phenicia (center) Tour for two from 80 000 rubles
Djerba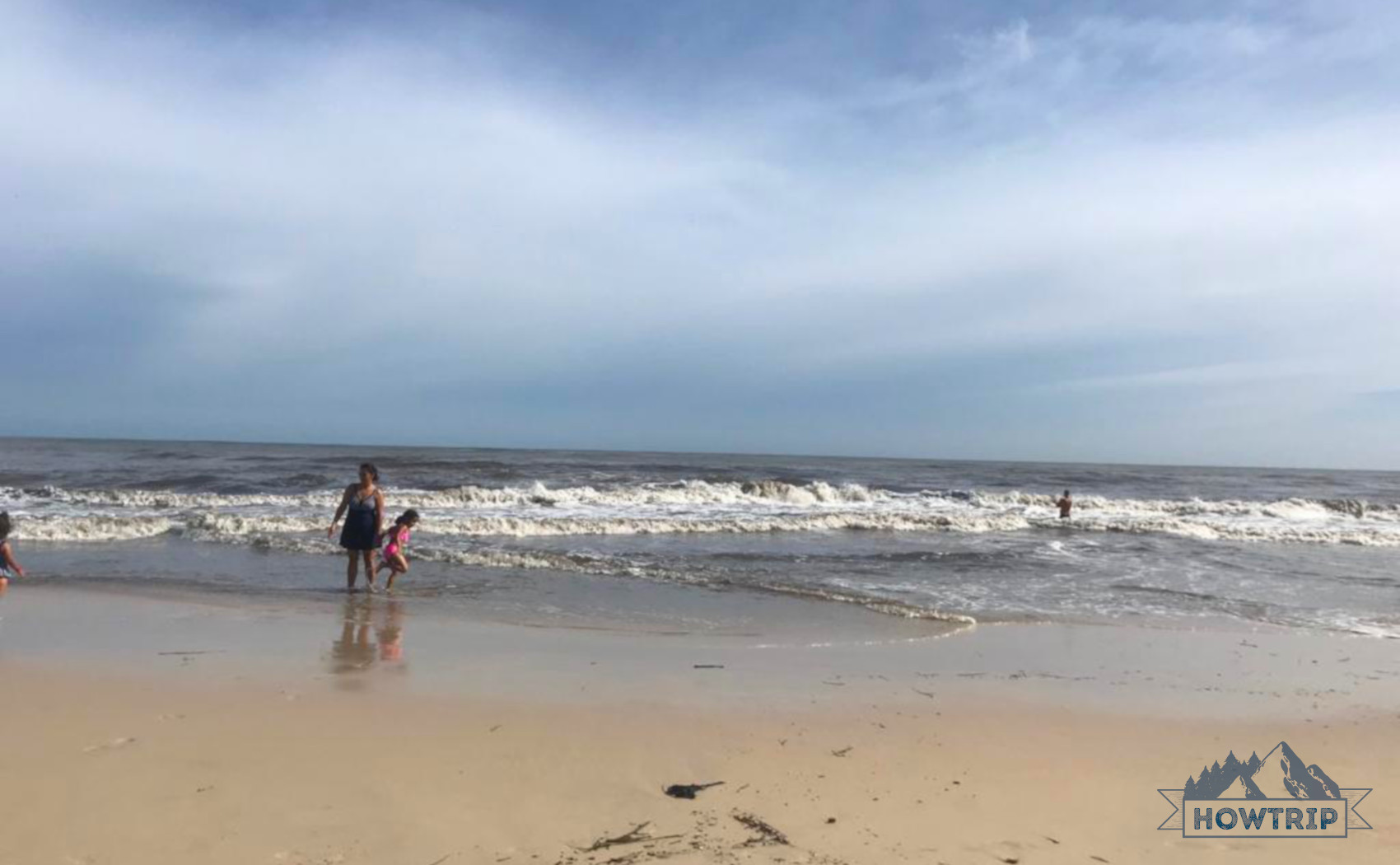 In Tunisia, where vacation is common in summer, you can fly early and find the hot sun and the bathing sea. But only at one resort – the southernmost – and that is the island of Djerba.
A place for lovers of secluded retirement and nature. If you are deciding where to go: Hammamet, Sousse or Djerba, determine whether you need a cultural and sightseeing program. If yes, then the island is not an option. From the "what to see" here is only a crocodile farm, a museum and a synagogue. Getting to the rest on your own is problematic, it's an island, after all.
Tourists in Djerba rest exclusively in the northeast, near / in the towns of Midoun, Mezrai and Agir. And a little plus: the southern resort of Tunisia is a fishing center, and here the tastiest and freshest fish.
To choose a good hotel, help reviews. Here is where to rest best in Tunisia in 2022 in the Djerba area:
3* Djerba Sun Club Tour for two from 65,000 rubles
4 * Royal Karthago Tour for two from 75 000 rubles
Holidays in Tunisia with children – where to go?
Beach holidays in Tunisia: where is the best place with children? To begin with, it is worth noting that the direction itself is good for "children's" vacation, because the sea – with a long and smooth entrance, and the sand – ideal for modeling castles. But at the same time there are problems such as sluggish animation in hotels and lack of "children's table".
And the resorts we look at the following:
✓ Mahdia – deserted kilometers of beaches and relatively new hotels on the coast. Prices are not low, but this is the kind of Tunisia, where it is best, in a calm atmosphere, you can relax with a child.
✓ Monastir – an inexpensive resort, 20 km from Sousse. Noisy establishments, but there are gentle sandy beaches.
Hammamet and Djerba are also good options. But from Sousse is better to give up – too noisy and crowded.
Among the excursions parents actively take a visit to the zoo Frigiya ($ 30- $ 40 per person) and go to the amusement park Carthageland (Hammamet) – the basic ticket 25 dinars (550 rubles) for all who are above 130 cm, and 20 dinars (440 rubles) for those below.
What hotels are most often advised? *Tour price for mom, dad and child in season for 7 nights
5* Iberostar Royal El Mansour (Mahdia) Tour for three people from 115 000 rubles
4* LTI-Mahdia Beach (Mahdia) Tour for three people from 100 000 rubles
4* Palm Azur (Djerba) Tour for three people from 110 000 rubles
3* Sahara Beach Aquapark Resort (Monastir) Tour for three people from 85 000 rubles
5* Magic Hotel Manar (Hammamet) Tour for three people from 130 000 rubles
Tunisian Beaches – Which one should I choose?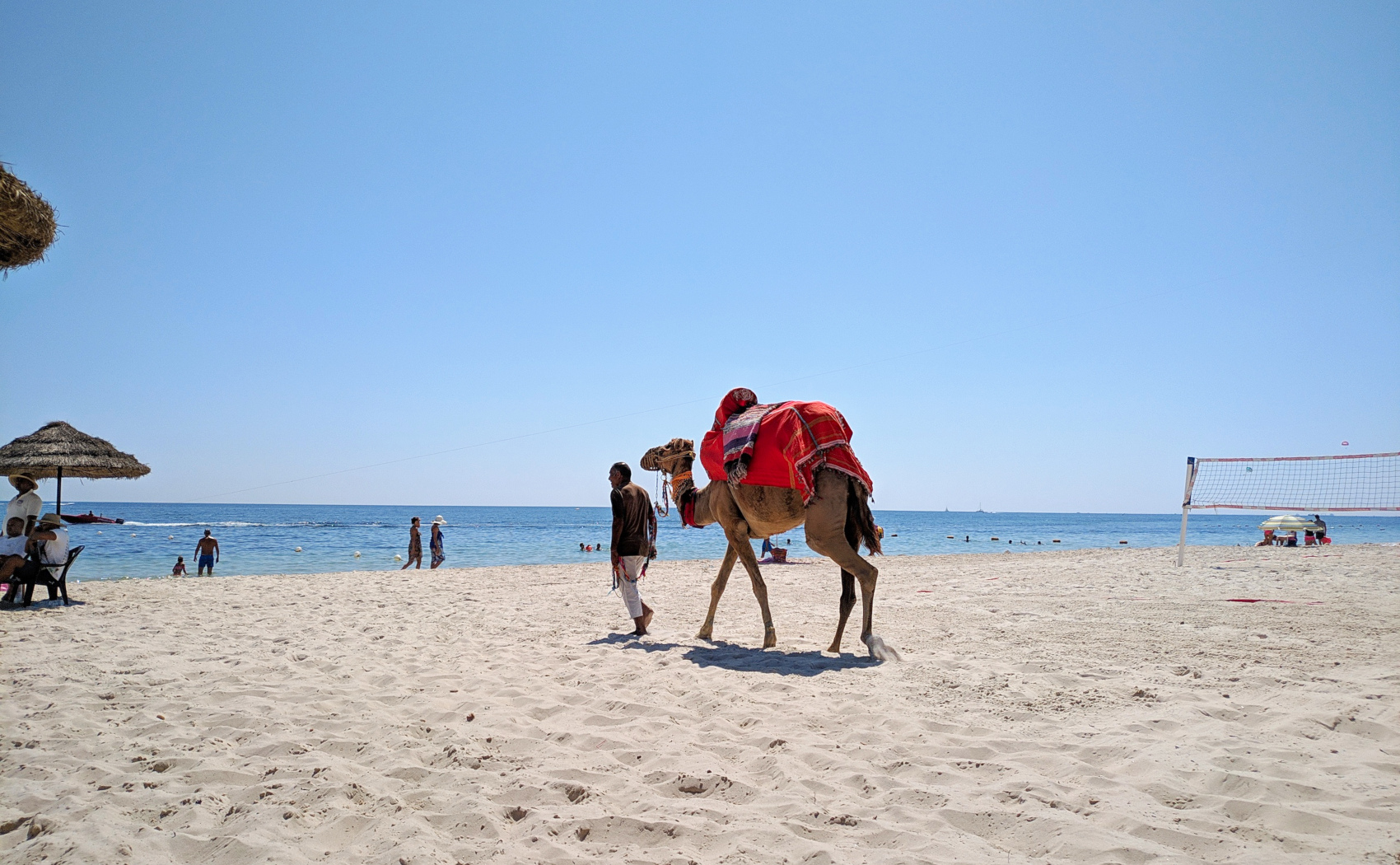 Tunisian beaches are all municipal. Therefore the status of "free" does not stop merchants, masseurs and camel jockeys from thrusting tourists with their services.
By the way, it is noted that on the sun beds belonging to the budget "threesome" can be positioned not living in the hotel "friends" of security guards. In the 4-and 5-star hotels of this is not.
This is all minor things, because the main advantage of Tunisia – this broad band of white fine sand, resembling powder, not like in Turkey! And a comfortable, gradual entrance to the transparent sea.
"Spoon of tar" shows itself after the storm – a thick carpet of algae and debris. With what, however, the local employees in a timely manner cope.
Where is the best place to spend a beach vacation?
✓ Hammamet: good clean beaches with fine sand. Some tourists call them the best in Tunisia.
Mahdia: wide landscaped beaches with white sand. Suitable, including for holidays with children.
Djerba: sandy beaches, here and there stony areas, a lot of greenery around.
Monastir: narrow, shallow beaches with long shallow waters. "Froggy", great for children.
Sousse: People literally lie on top of each other. You can find areas more deserted, but it is not a panacea. The resort is very popular, which affects the quality of the beaches.
✓ Gammarth: wide and not crowded beaches. A bonus is landing planes, the place is next to the airport. If you want epic photos, this is the place.
Tunisia or Turkey – where to vacation?
Each year, Turkey takes 20 million more tourists than Tunisia. In detail we have already argued where it is better: Tunisia or Turkey.
Recall the main points:
Turkey is a little (about 10 thousand rubles if you compare tours), but cheaper.
Beaches: Tunisia has white Sahara sand, in Turkey – yellow or gray sand and pebbles (you can't find Tunisian soft sand!).
Hotels in Tunisia are thalassotherapy and spa, in Turkey – quality animation, service and entertainment.
There is no "all-inclusive" in Tunisia like in Turkey – the cuisine and bar are more modest here.
Conclusion: Tunisia is interesting to get new experiences, however, to take the place of Turkey in the hearts of Russian tourists, it, alas, can not.
Since we are comparing… Cyprus or Tunisia? Hotel base in Cyprus is more modern, beaches are cleaner (many have Blue Flags). Many unequivocally speak for Cyprus. On the other hand, Cyprus is Europe, and Tunisia belongs to the Arab world. Very different planes, in our opinion. Including the cost.
Tourist reviews of Tunisia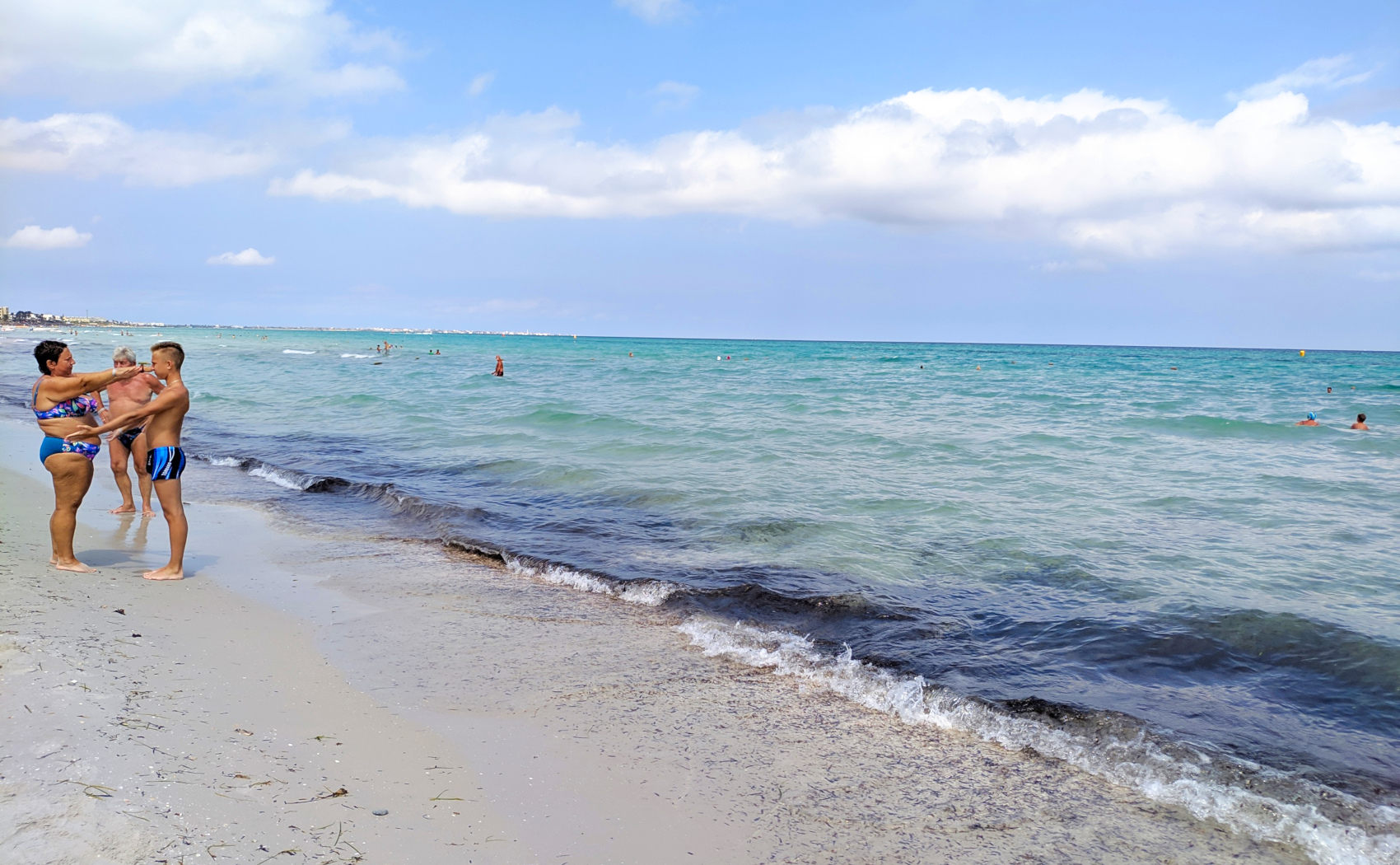 A trip to Tunisia is a good option for the first acquaintance with Africa. Thalassotherapy, ancient monuments, the Sahara, fresh vegetables and fish. Tourists complain that the resorts are a bit boring. Turkish animation is not really there, but to go to Tunisia expecting that it will be like in Turkey, it's strange. Different countries, different holidays. If you want Turkish buzz, you have to go to Turkey.
What to bring as a gift from Tunisia? In fact, there is not much to bring. Dates, olives and olive oil, halva. But the reviews on leather goods are not very good.
Pros and cons of Tunisia
To summarize: the pros and cons of a Tunisian vacation.
+ Short flight. Or relatively short: about 4 hours in the sky.
+ Prices for tours. Yes, there are expensive accommodation options, but in general the cost of tours to Tunisia will suit even people with a limited budget.
+ Developed "all inclusive".
+ Beaches. They are ot-lichnye here: white and soft sand along the whole coastline of Tunisia.
+ Mediterranean Sea. It has no cold currents, it warms up quickly enough, so that the beach season starts in June.
+ Thalassotherapy. Many tourists (especially Europeans) come to the country for this purpose – therapies are at a decent level, and prices are half as much as in France.
+ Safe. There are no thieves, you can walk through cities of mass tourism safely, the locals are adequate, driving a car is more or less civilized.
– Older hotels. Hotel fund in Tunisia is really lame: some progress, but in general all the old and shabby. Probably this is why the prices compensate.
– It is poor and dirty. All is decent at the hotels, but in the nearest alley …
– Service suffers. Very much. The hotels are very unhappy with the service and the environment.
– Lack of animation. If you want a colorful show, for this is definitely not in Tunisia.
– Municipal beaches. They are open to all comers. On the one hand, you can arrange a tour of the coast. On the other hand, you may find that everything is occupied by Tunisians.
– The language barrier. Few people know Russian, unlike the Russians love Turkey and Thailand.
How much money to take in Tunisia?
How much does a holiday in Tunisia cost? Is it true that you can fit the entire budget of the trip in $ 500? Let's run through the required and possible costs outside the tour (in dollars):
– Hotel Tourist Fee (charged per tourist for number of nights, but they charge a maximum of 7, even if you're for 10 nights).
4-5 stars – 3 dinars ≈ $1
3 stars – 2 dinars ≈ $0.7
2 stars – 1 dinar ≈ $0.3
2-day trip to the Sahara – $100-120 per person (cheaper in Djerba)
Carthage-SidiBuSaid-Tunis tour – $40-50
– Alternatively, car rental.
Manual – $35 per day.
Automatic – $42 per day
Gasoline – $0.6 per liter.
– SIM card (buy at airport).
3 gigabytes of Internet for a week – 11 dinars ≈ $4
25 gigabytes – 30 dinars ≈ $10
Breakfast – $3 per person
Dinner with wine and seafood – $7 per person
– Alcohol (sold in stores, despite the fact that the country is Muslim).
Beer – from $0.7
Wine – from $3
The range of prices for tours in Tunisia is very wide: burning a week "only breakfasts" may fall within 40 000 rubles for a couple, a trip to a 5 * hotel can cost 150 000 rubles for two people and above.
So let's take the average: a trip for two people in the summer for 7 days with "all inclusive" in a 4-star hotel:
Tour – 60,000 rubles (prices from the service Travelata)
Tour package – $14
Excursions (1 in the Sahara + 1 country survey) – $ 300
Simca one for two – $4
Other expenses (souvenirs / a couple of times a cafe / a bottle of local alcohol) – $100
Total for two people: 60 000 rubles for the tour and $420 to bring. Increase "with your own" to $ 500 – we rest as kings; leave one tour cheaper – we get in general $ 200 for expenses.
About currency exchange. Go to Tunisia with dollars or euros (the first is better). Change them on the spot in dinars – no problem. There are nuances:
– The exchange rate is regulated by the government, it is almost the same, that in the state bank, that in the hotel, that in the exchanger.
– Rubles are difficult to accept. Take dollars.
– Excursions can be paid in dollars/euros.
– Taking dinars out of Tunisia is FORBIDDEN. You need to change them back.
– So take and SAVE all papers, which will be given when exchanging dollars for dinars – only with this document they will give you the currency.
– The reverse exchange can be done at the airport or hotel.
– Bank cards are used in Tunisia, but you can't do without small cash.
This material may be copied only with a mandatory direct, active and open to indexing a hyperlink to howtrip.ru.
Where to have a rest in Tunisia – 11 resorts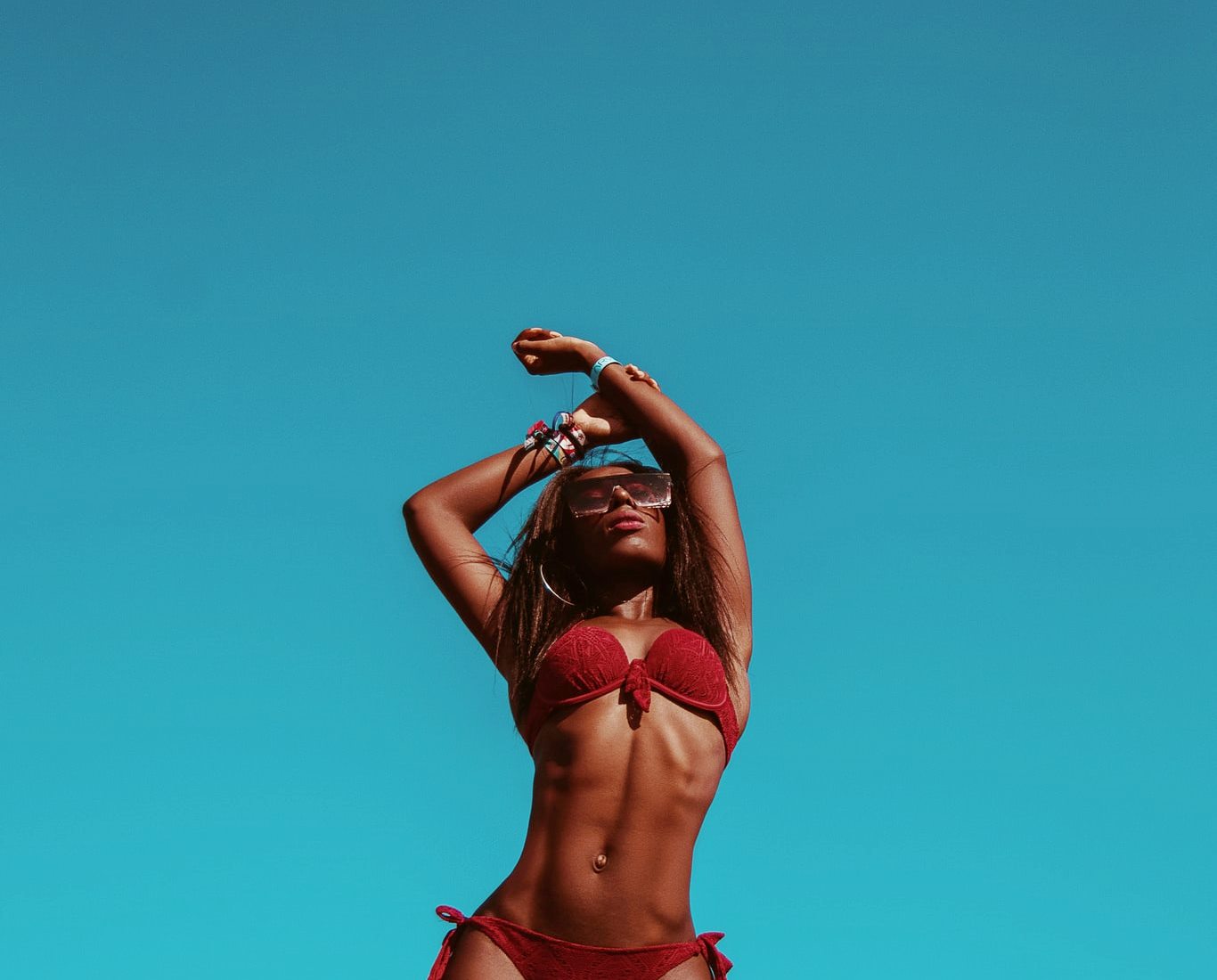 11 resorts in Tunisia, where it's best to rest by the sea. Learn about the pros and cons of each city and choose a place to your liking!
Where to go to the best beaches
Where is the best place to go to Tunisia for a beach holiday? Almost every resort has great sandy beaches. The coast is covered with soft fine sand and has a gentle entrance to the water. Only at the southern end of the island of Djerba in the sand there are stones. Some hotels have learned to cope with this problem and regularly clean their beaches, others are still lagging behind. When choosing a hotel in Djerba read carefully the reviews of tourists!
Where to have a rest reasonably priced
A large selection of budget hotels and apartments – in Sousse, Nabela and Monastir. Inexpensive hotels are on the quiet and conservative resort of Mahdia, in the southern Zarzis and the mini resort of Kelibia.
Where to stay
Gamart, Sousse and the island of Djerba are famous for their fashionable hotels. In Port el Kantaoui wealthy tourists are attracted by modern marina for expensive yachts, and in Hammamet – the best in the country thalassotherapy centers.
Where to go with children
Any resort in Tunisia has comfortable beaches for holidays with children and family hotels. Parents like Djerba, Sousse, Mahdia and Hammamet. They have not only a great beach vacation, but also a lot of entertainment for children.
Resorts for young people
Lovers of noisy discos, bars and nightclubs are better to go to the most party place for young people in Tunisia – the city of Sousse. Hammamet and Port el Kantaoui are famous for effervescent parties. For a romantic vacation suit the island of Djerba and Zarzis.
Resorts for the elderly
A relaxing vacation is guaranteed at any resort in Tunisia. For treatment in thalassotherapy centers tourists in age choose Hammamet. Elderly connoisseurs of beaches and excursions like Monastir, Mahdia, Nabelle, Zarzis and Djerba Island.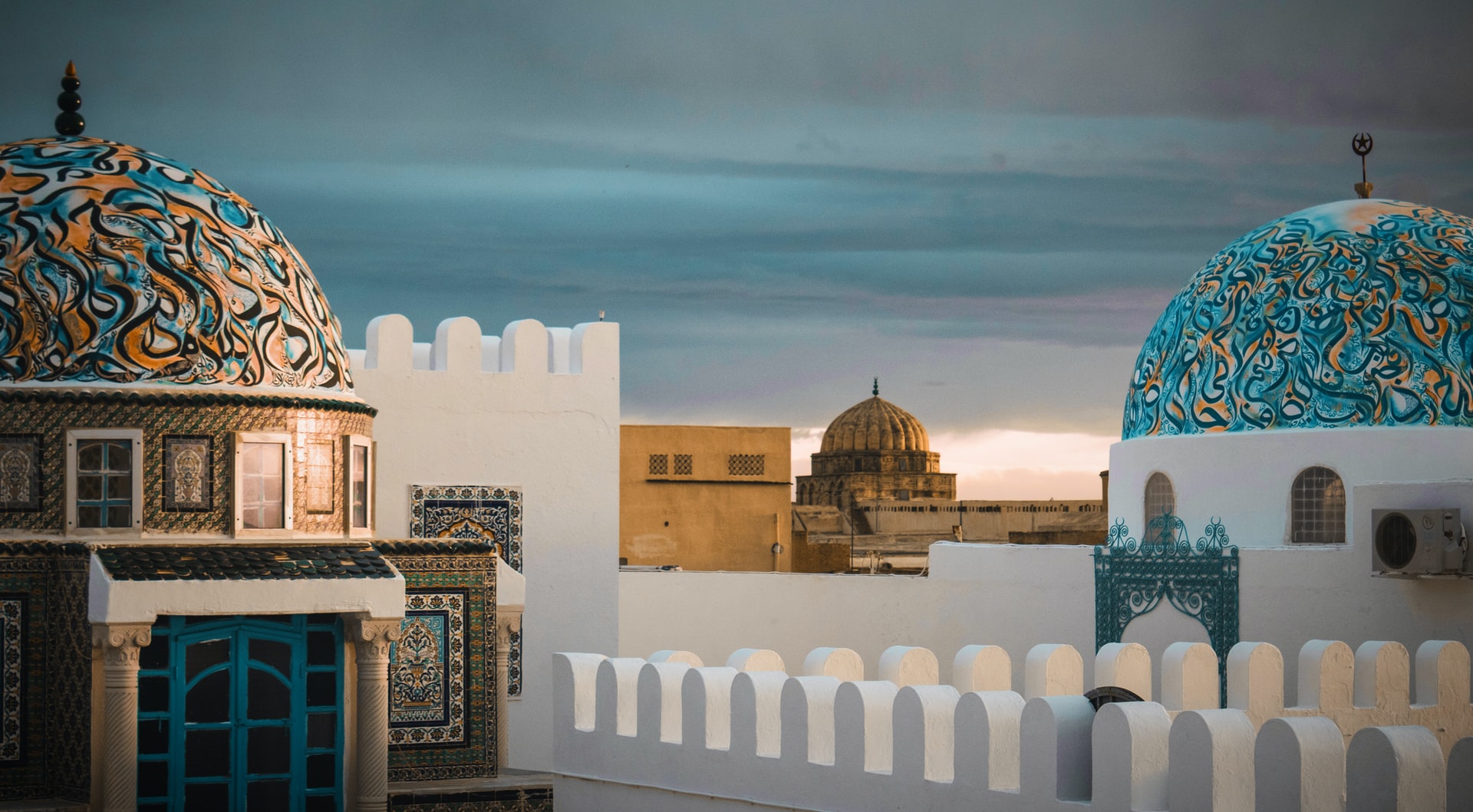 Kairouan is a city in Tunisia, the holiest city of the Muslims of the Maghreb. The city is located 60 km from Sousse. Photo: Haythem Gataa / unsplash.com.
Djerba
An island in the south of the country is the largest resort in Tunisia. Djerba can take up to 50 thousand tourists. On the island it is easy to find accommodation for all tastes and wallets! About 50 large hotels occupy the first line and as many small hotels and guest houses are on the second line of the sea. Many of them operate on an all-inclusive basis.
The main treasure of the resort – the magnificent sandy beaches. There are so many attractions and attractions on the Tunisian island that vacationers find something to do every day. According to many, Djerba is the best place to vacation in Tunisia in July and August. Fresh breezes from the Mediterranean Sea bring a welcome coolness and soften the heat.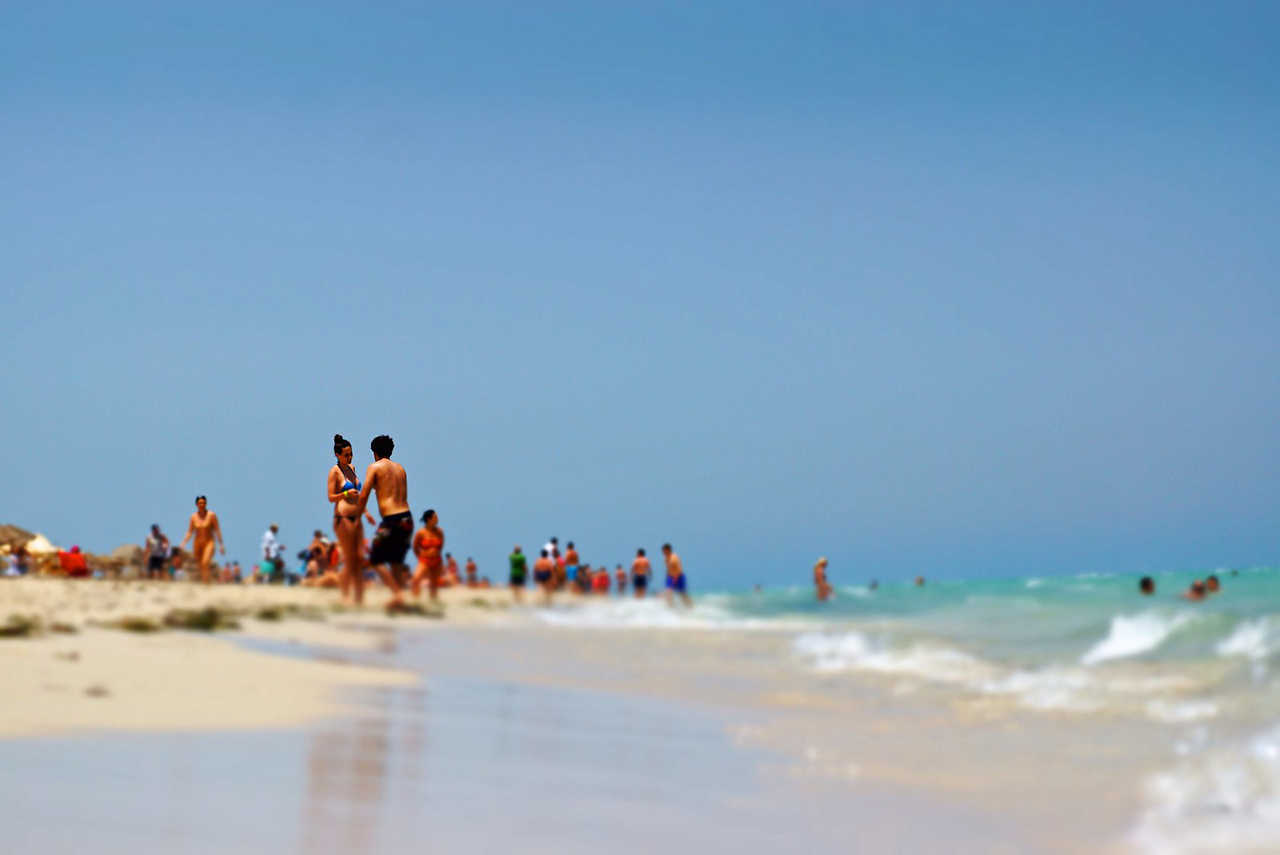 Beach in Djerba (Photo: Nanagyei / flickr.com)
Mahdia
Once the capital of the entire Maghreb, Mahdia is now a small town of 50,000 people. A tourist area of hotels and beaches with fine, light-colored sand stretches north from the city. On this quiet unhurried resort of Tunisia is better to rest for couples and older tourists.
The choice of accommodation is small, mostly budget 3 * hotels. Mahdia is famous for its excellent olive oil and excellent fish restaurants. The disadvantage of the resort is that it has no airport. Tourists have to get here from Monastir. Apart from recreation, there is nothing to do on the beaches in Mahdia, so young people at this resort are bored.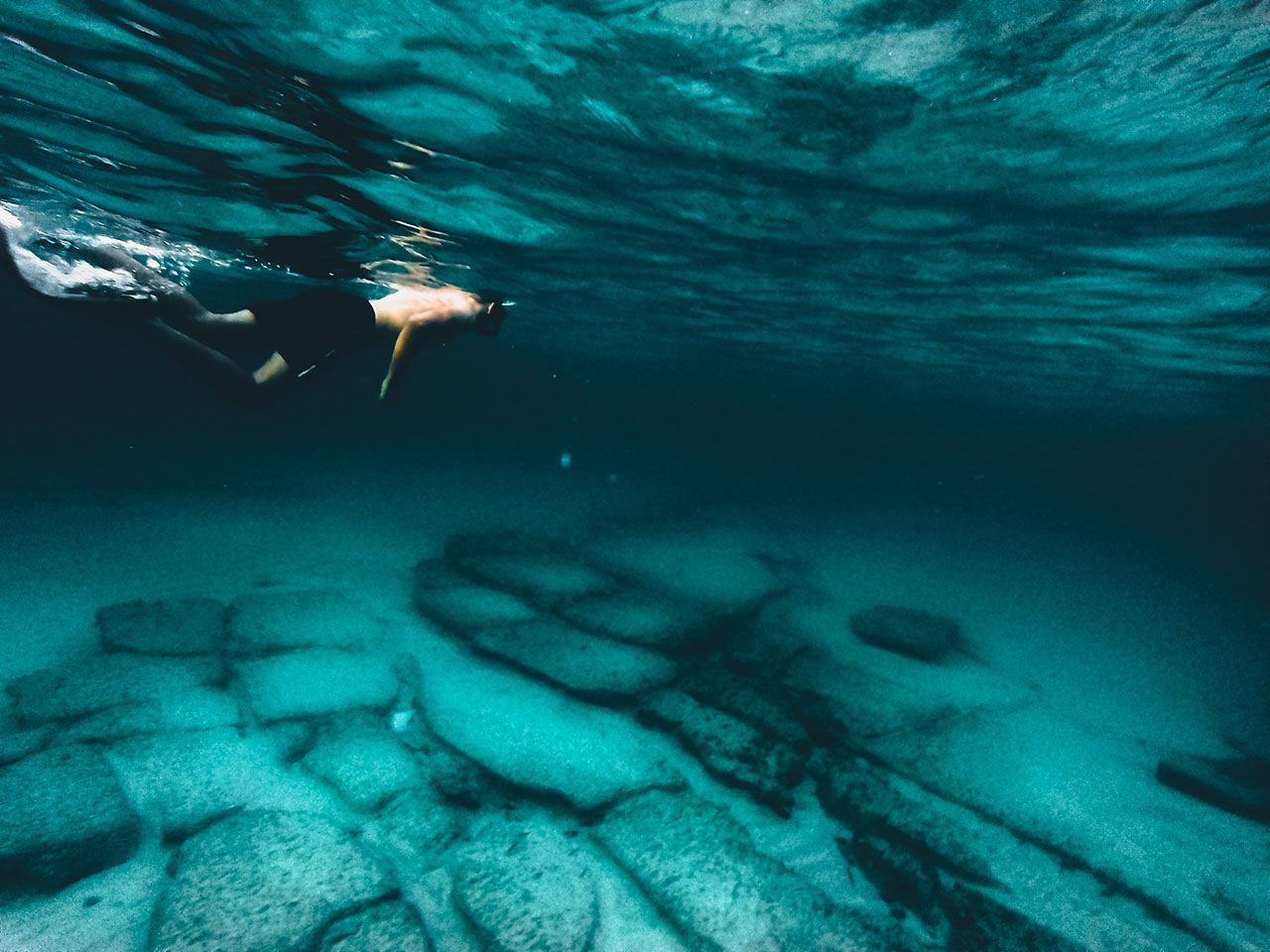 The sea in Mahdia (Photo: unsplash.com / @mohamedbenzineb)
Tunisia's youth resort is home to Bora-Bora, North Africa's largest disco, a popular open-air hangout that's always fun. Sousse has a large selection of modern thalassotherapy centers, budget apartments, and all-inclusive hotels.
Sousse has perfectly preserved the narrow streets of the medieval Medina and Ribat Tower. The main drawbacks of the resort are a lot of trash in the streets and a lot of traffic. There are old buses running around Sousse where the fare is inexpensive, so the seats are always busy.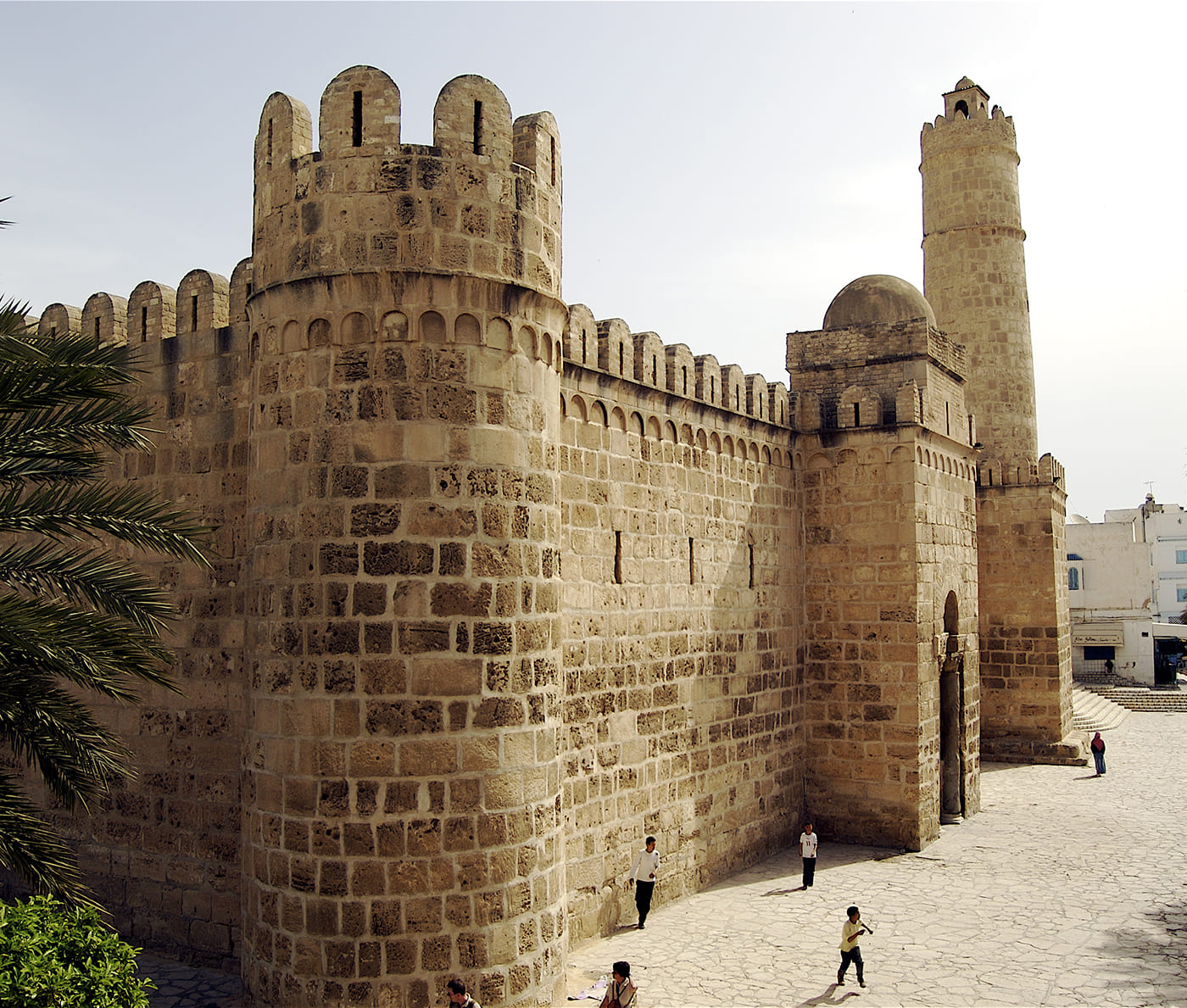 Ribat Fortress in Sousse. Photo: MarianOne / wikimedia.org / CC BY-NC-ND 2.0.
Monastir
If you don't like the long drive to your hotel, choose Monastir – it's close to Habib Bourguiba Airport. It is a popular resort on the east coast of Tunisia and it is best to go here for beach entertainment and a relaxing holiday by the sea. Monastir is also good for a romantic trip and as a starting point for interesting excursions around the country. There are comfortable hotels in the western suburbs – Skanes.
The pros of the resort are the colorful Medina, good public transportation, thalassotherapy, diving center, riding school and golf club. Minuses – garbage in the streets and mosquitoes. The beaches of the resort of Monastir are not clean enough. During the excitement brings algae to the shore.
The promenade in Monastir. Photo: Monastir / wikimedia.org.
Hammamet
The name of the seaside town translates to "a place for bathing." Tourists consider the luxurious beaches of Hammamet the best in Tunisia. The resort is famous for its historical monuments and thalassotherapy centers, among which the world-famous health resort Bio Azur occupies a special place.
South of the city stretches a landscaped part of the coast – Yasmine-Hammamet. The picturesque area has a promenade along the sea, wide beaches, excellent 4-5* hotels, restaurants, cafes, grocery and souvenir stores and a large amusement park Carthage Land. The disadvantage of the resort – overpriced food, tours and souvenirs. In addition, Hammamet has no airport.
The sand and the sea in Hammamet. Photo: LuidmilaKot / pixabay.com.
Zarzis
The southernmost and hottest resort in Tunisia is a small town near the Sahara Desert. Most hotels are located 7 km north of Zarzis. On a quiet secluded resort in Tunisia is better to relax for beach lovers, tourists of age, families with children and romantic couples.
The choice of hotels is small, but most hotels are all inclusive. From Zarzis popular tours to authentic Berber villages. The disadvantage of the resort is little entertainment. For excitement tourists take a trip to the island of Djerba, about 20 km away.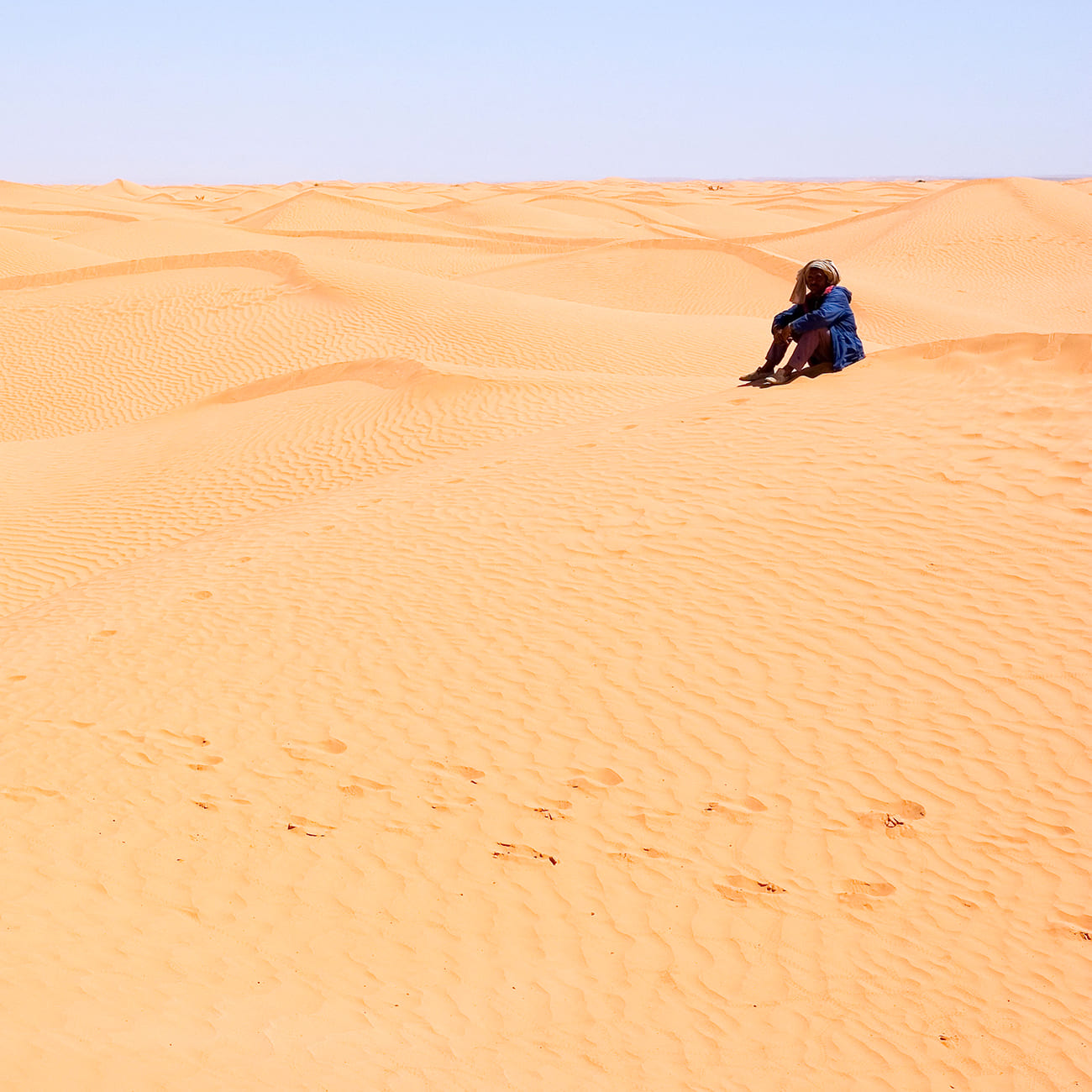 The desert near Zarzis. Photo: alkainel / flickr.com / CC BY-NC-ND 2.0.
Nabeel
If you haven't decided which city is best to vacation in Tunisia, take a closer look at the small resort that stretches east of Hammamet. In Nabele grow excellent citrus fruits and grapes, and make excellent ceramics and delicious wine. Wide sandy beaches are no inferior to other resorts in Tunisia.
Within the city are the ruins of Roman buildings. Nabelle is conveniently located – from the peninsula of Cap Bon only 70 km from the capital. The disadvantages of the resort are few: Nabelle is far from the airports, there are few hotels and no attractions for young people.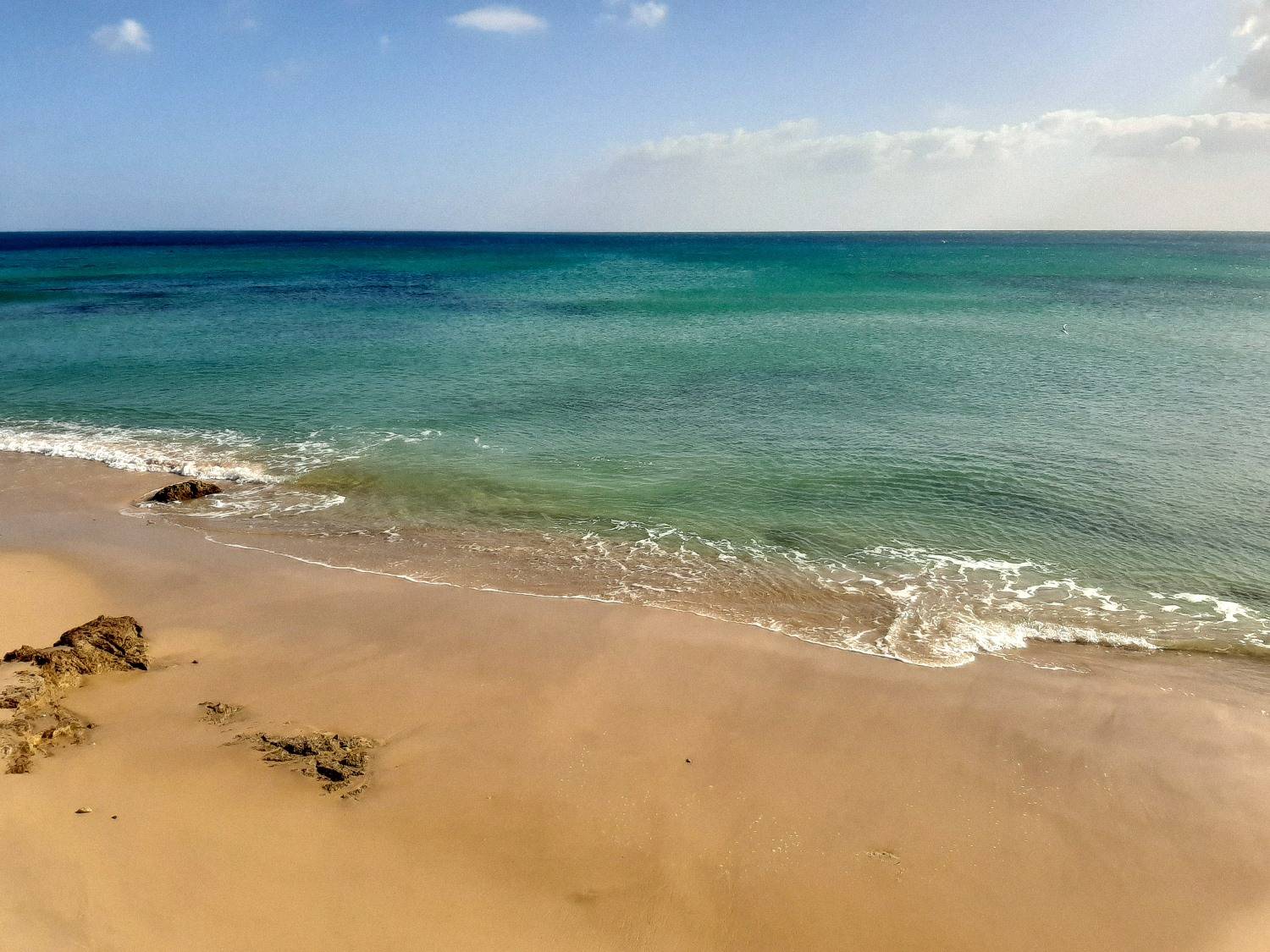 Plage de Sidi El Mahresi in Nabeel. Photo: Habib M'henni / wikimedia.org / CC BY 4.0.
Tabarka
Tunisia's most remote resort is near the border with Algeria, in the northwest of the country. About 20,000 people live in the seaside town, and three dozen hotels, apartments and guest houses have been built.
The main advantages of the resort – excellent sandy beaches, good infrastructure and a large choice of 5-star hotels. Accommodation is inexpensive. Double room in a 4 * hotel costs from $ 45-50. Disadvantages of Tabarka – it takes a long drive to the resort, there are no all-inclusive hotels, entertainment for children and few attractions.
The Genoese fortress in Tabarka. Photo: Selma Jmii / wikimedia.org / CC BY-SA 4.0.
Gammarth
A small seaside resort 20 km from the city of Tunisia is considered the most expensive in the country and is famous for its high-end hotels. Of the ten hotels in Gammarth eight have five stars. In the metropolitan area land is expensive, so the resort hotels have no green areas and places for walks.
There are no entertainments and attractions in Hammart, but tourists are not bored. The main city – Tunis – is only 15 minutes away. The largest hypermarket Carrefour can be reached in 6-8 minutes, and the famous Carthage or the white and blue city of Sidi Bou Said in 8-10 minutes.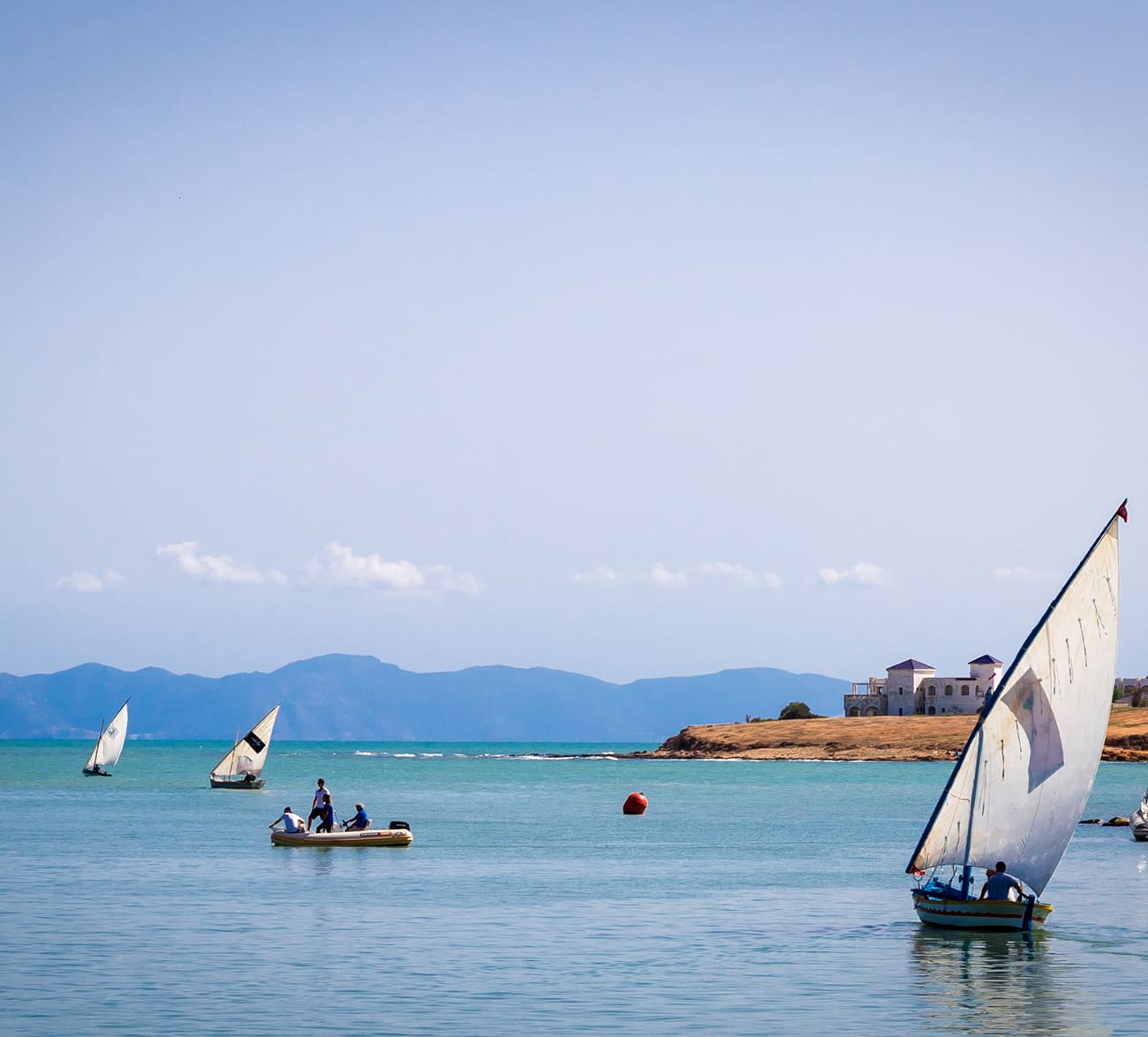 Gammarth. Photo: Orkhan / flickr.com / CC BY-NC-ND 2.0.
Port El Kantaoui (El Kantawi)
The resort area in the north of Sousse is called the Tunisian tourist sanctuary. A beautiful port for fashionable yachts attracts vacationers with fat wallets to El Kantawy. Prices for hotels, entertainment and excursions are slightly higher than in other resorts of Tunisia.
There are no sights in El Cantawi, but there are enough interesting places. Just look at the beautiful singing fountains! Vacationers enjoy spending time in the amusement park Hannibal, the Hard Rock Cafe and the water park Acqua Palace. If you want more, Sousse is only 10 km away!
The beach at the resort. Photo: eugenijusr / flickr.com / CC BY 2.0.
Kelibia
At the very east of the Cap Bon Peninsula is a small town where a fortress that was built by the Phoenicians has been preserved. Apart from Cap Bon Kelibia Beach Hotel & Spa 4*, there are no certified hotels in Kelibia. Tourists stay in budget mini-hotels and guest houses.
The small town is famous for good fish restaurants and interesting dive sites. The two beaches of Kelibia boast clean sea and white sand. The mini-resort is not too well known among foreign tourists, so it does not sell tickets yet.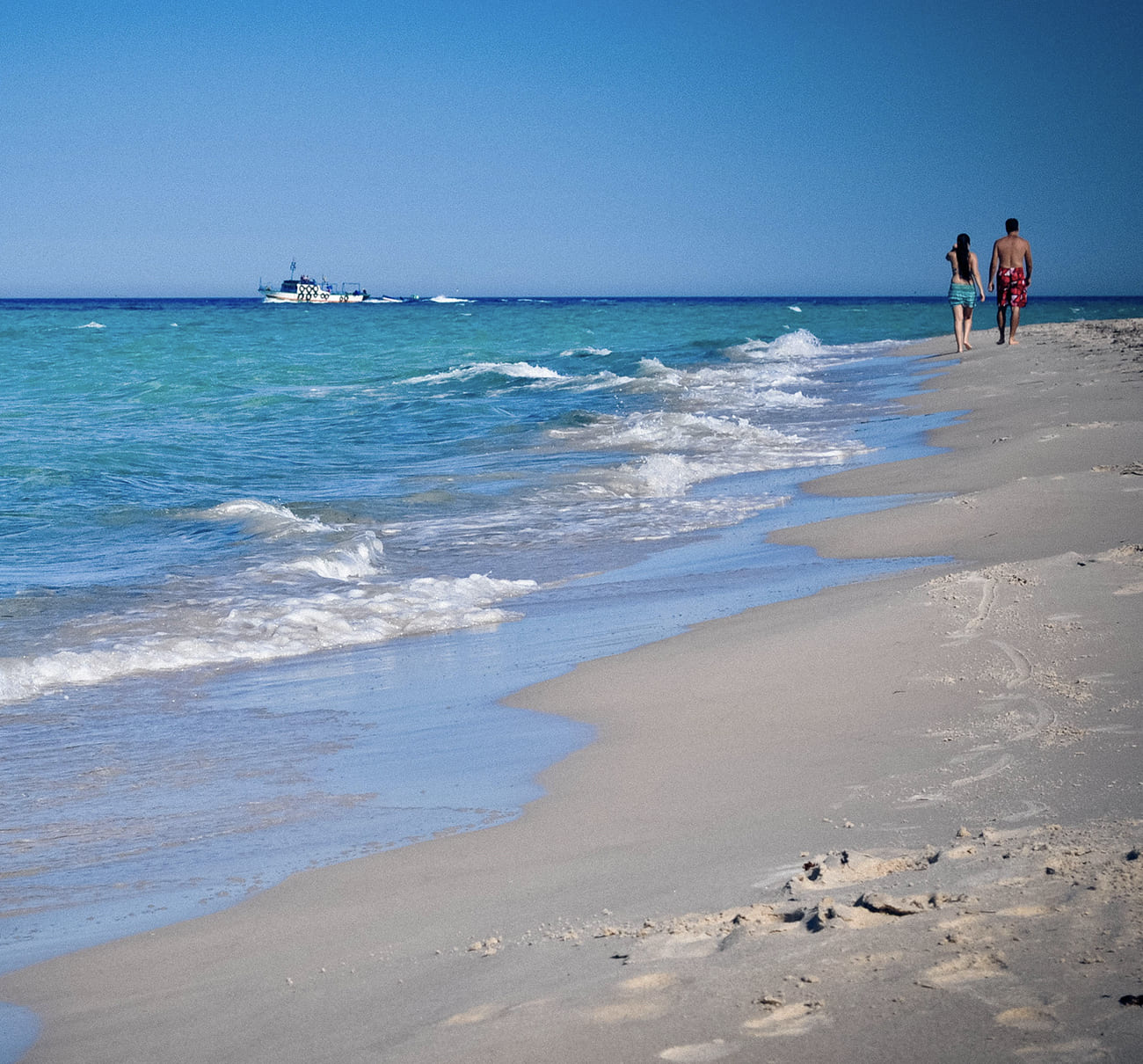 The beach in Kelibia. Photo: EvanManphis / flickr.com / CC BY 2.0.