Best hotels in Fethiye, Turkey
I stayed in Fethiye at the end of September 2021 with my 2 families 4 adults and 3 children. I have just read a bad review, someone described all the small flaws and not one huge advantage of this hotel.
Pros – very beautiful nature, huge area (for the lazy will not do, every day for 10k steps), perfect sea, clean, emerald color, excellent and quite diverse cuisine in the main restaurant, for children over 3 years old interesting animation
The staff was helpful, diligent, pleasant and polite. The only point I would like to draw attention to during our stay in the main restaurant where the pizza and pastries, a man who imposed the food never wore gloves and sometimes took food with his hands, of course in this case we did not eat pizza (can be on this there is a reason, I do not know, as others, without exception, all used.
Children do not really like to go, but in this hotel once went out and always asked again. The children really like to go out, but they came once and asked for it again. I would advise you to ask beforehand not to be spun in flight, t
The rooms need cosmetic repairs, more attentive cleaning, and stabilization of the Wi-Fi signal, which "falls off" with enviable regularity.
The view from the window Stunning in its beauty. The food was amazing, I think in a week of vacation, we will not have time to try everything. A lot, varied and very tasty. At lunch and dinner a large number of desserts, t
The hotel is good, the food is good, but the choice of food for a five star is not very big. The location of the hotel is very peaceful and well maintained. The hotel is very well organised and there was a lovely view on the sea from the room.
Well organized Animation: during the day they have "tournaments" in table tennis for a drink ; water polo; darts; volleyball; aquaerobics
Great hotel 2in1 Sentido for those who like peace and quiet and Lykia Resort for those who like an active holiday. I had a great stay at Sentido which is 16+ but I could have gone to the Lykia Resort and they didn't for us which was very convenient.
It was a great hotel concept for someone who wants peace and quiet. The hotel is packed to the gills and you only see people for breakfast, lunch, dinner and the evening show. The rest of the time you don't see people.
Best hotel, may seem very subjective. Not enough toothpaste in the room, you have to call. If you want to take it easy, take it with you.
All go to the sea, and near the pools, on loungers in the forest area almost no one. Food Crazy choice of dishes, meat, fish, pasta, ravioli, grilled, vegetables, burgers, bread, tortillas, pizzas, pide, sweets
During a conversation with an English hotel builder you found out that the hotel was built by Russians and later sold to a private Turkish businessmen.
A small and cozy hotel, clean and well maintained area, 100 meters and the sea)) The staff was very friendly and courteous, the food and drink selection was small but not too tasty and fresh, not many tourists with children, because the hotel was quiet and welcoming.
Our room was right across the road, it was quiet and we didn't have any music, although there was none. Our room was on the road and it was quiet and not interfered with the music, although there is none. Room cleaning is daily, not perfect, at 4.
The hotel is great! It is located on the first line of the sea at the foot of the mountains, the area is quite large, immersed in greenery. The hotel itself is divided into two parts by the road, but it does not bother us at all.
Food is excellent, though the choice of dishes is small and rather monotonous, but all very tasty and of high quality.
This is a nice and stylish place which makes us feel like Italy, the houses were beautiful. We were accommodated with a child in front of the playground, convenient. Unusually tasty fresh food, dishes like in a restaurant.
Control of sanitary measures, service by waiters. Good location of the hotel with a view of the sea and the Promenade.
The hotel is in the mountains, the sea air mixes with the pine air, it is easy to breathe. Good food, not bad service. The hotel is a little understaffed, it was built in '84. In general, it was quiet, homely and tasty.
I am honored to have been coming to Montana Pine for 5 years and if you have never been before you stumbled upon the best hotel in the area
Only 5 stars! The hotel grounds, food, evening shows, service, everything is top notch! Yes, the hotel is not near the sea, but that's the beauty of it as the views are incredible. A place to relax without fuss.
My friends and I were very pleased with the very high standard of service, food and wine we will come again with pleasure. I will stay here again with pleasure.
This hotel is a great place to relax. It is a great place to relax and enjoy the scent of the forest and mountain air, with plenty of bars, pools and shade. We have to rent a car and drive to all the beaches and interesting places.
There is only Turkish in folklore style sometimes, little understood and alien to foreigners. For children, too, there is not much entertainment. If it is not a problem, then feel free to choose this hotel, a very good combination of price and quality.
Food is good, varied enough, there are always a few types of meat and one type of fish. Salads, side dishes, fruits of 3-4 kinds, sweets, wine of 3 kinds, beer, juice packets, lemonades, ayran, tea and coffee in the morning.
For 2 weeks of our stay we had shrimp once and squid once. For the money we paid, the food is quite decent. The staff worked efficiently, there were no queues, and the dirty dishes were quickly removed.
Of the minuses I would say the loud calls to prayer by the mullah every night at 4. 30 – you have to wake up and listen to it for 5 minutes, then try to fall asleep again. But that's the trouble with all the hotels around here.
Rooms are clean, everything works, cleaning every day. Free transfers to the Blue Lagoon 2 times a day, where there is a beach with free sun loungers and umbrellas
Great hotel with its own spa Stayed in a room with a pool and definitely worth the money. The staff at the cool pool bar, Billy, Barney and Ibrahim were delightful and very friendly.
I have hosted guests at the Pine Hill Hotel. The location of the hotel and the rooms are very nice. The staff is friendly and caring. We happened to attend a barbecue held on Thursdays. Be sure to join in, you won't regret it.
The hotel was beautiful and clean, the staff was very friendly and helpful, they gave first class service to everyone they meet at the Reef Bar, seemed packed every night they know how to put on a good show very, very much enjoyed thanking Pine Hill for a relaxing and enjoyable xx
Clean, staff very caring, quiet, peaceful, place to relax. Breakfast buffet very good, evening a la carte paid, but the prices are very reasonable. The pizza is worth a try.
Quiet and nice music is played, people slowly move around the area and relax by the pool. Breakfast: buffet, very tasty and varied. The coffee is excellent and the staff is great.
It was a wonderful visit Really luxurious and more than wonderful hotel worth visiting, there was a very simple mistake when booking and then they apologized to me and gave me a suite with a king size bed for free and also gave me dinner for free and said we would give you an extra discount without asking them and they insisted on it.
Because of their generosity, the hotel really appreciates and respects guests, so the hotel deserves more than 5 stars
Friendly staff, good selection of refreshing beers combined with the best view of the bay in Fethiye, I can't fault this gem of a place that is a must visit if you are staying in the area or just passing through
Not a bad hotel. The only downside is that it is very noisy from the road. Cars are racing both day and night. The rest is all on par.
Really luxurious and more than wonderful hotel worth visiting, made a very simple mistake when booking and then they apologized and gave me a suite with a king size bed for free and also gave me a free dinner and told me we would give you an extra discount without asking them and they insisted I was very embarrassed
Great hotel for my money, clean rooms. The staff is very polite and friendly. Located close to the sea, there is a large landscaped park nearby where you can walk and the kids can play in the play areas
The internet is top notch, housekeeping is great, breakfast is hearty, the rooms are spacious, there is a great park and lots of really inexpensive cafes nearby
Great hotel, for a reasonable price. Pleasant, helpful staff who are eager to meet, making the stay at the hotel and in Fethiye more enjoyable. We had a late check out, no extra charge.
It was very well located, close to cafes, restaurants, and a large supermarket, Migros. Nearby is just a huge playground for kids, a trip only here, will be unforgettable to your children. I have not seen anything like it anywhere else.
I liked a lot of things, gave five stars for the way the little hotel staff worked. Orderly, respectful and discreet. Help with any questions and very honest recommendations
Delicious breakfast, there is a restaurant, cooked well, tasty. Free wifi everywhere, clean comfortable rooms. Large private pool, allowed with pets
10 . Very nice hotel, very clean new center and good service! We went at 11 am, the guy from the front desk, he came with his scooter to show us the way to the parking lot next to the hotel! Very nice atmosphere in the room and plenty of room! We stayed one night, we went to the hotel without a reservation and he made us a better price than we find online
I stayed for 2 nights on business, the rooms are tastefully furnished and clean, the environment and rooms are quiet, they offered unlimited tea in the cafe downstairs, the receptionist is friendly and does his job well, I had a chance to chat with the hotel owner, a business man who loves his job
Most of them have high expectations because of the prices on that day, because they coincide with the Summer season, everyone's expectations are different, thank you for including such a quality hotel in Fethiye, I wish you further success
But above all, I can not fail to mention the sincerity and Respect for the staff. Dear Metin Bay and Keni Bay are incredibly kind and sincere people. I hope to see you again as soon as possible.
We had a lot of food here last month. Absolutely fantastic atmosphere. The staff is wonderful and the food is delicious. The portion sizes are HUGE! So be careful.
We have younger ones and they were amazed at the amount of food in their bowls or on their plates. You will just love the waiters and kitchen staff. I will really miss this place.
Love the riot of greenery, the colors, the clear sea? Then go to Fethiye! We stayed in Fethiye, it was not a luxury hotel, the restaurant was very stuffy, we had better food but it was enough. The rooms are clean. The architecture was amazing!
Bathroom was a little bit warm, had a bath and shower attachment, and lots of drinks and snacks. It was good, comfortable, clean, reasonable prices, and the staff was polite and competent.
First of all the food was very good and the restaurants were great. The pool in the main hotel building was fun. There were lots of choices for food. However, the rooms were very old and outdated.
We vacationed at the end of September 2021 with my spouse. Were pleasantly surprised by the quality of service and attitude to holidaymakers
Helped with any questions on the rest, without a hitch! I will recommend Club Hotel Letoonia as really worth visiting.
We had a sunbathing pool, a walk around the grounds and a wonderful dinner in the beautiful gazebo. The restaurant at the hotel is beautiful, the food is delicious, the choice is huge, and there are dishes for completely different tastes
3) Given that, at least in early October clearly more than 90% of the guests were Russian, there needs to be a lot more Russian-speaking staff. This does not apply to the animators and hosts, they are great and speak Russian quite well.
We spent the first half of October 2021 in Tuan. We hope we will come back in a year. We liked it very much, it was heaven. I liked it better than Kemer and Antalya at the same time of year. It was a great compromise in terms of quality/price.
(Reconstruction needed, to add more slides, to increase the territory. The volleyball court can and should find another place. 2) We were charged a dollar for weighing luggage at reception.
The food is varied, a large number of dishes, daily seafood, fish three four kinds per day. The sea is clean, the hotel has a blue flag, the beach area is large, clean and well maintained.
And the area, huge and green, and the animals that are so fit into this ecosystem, the pond with carps is beautiful and geese. There are jogging paths, bikes, kayaks, sailboats, boat rides to the islands
As a result, a young German woman weighing 150 kg drove her body through the shower hatch on the beach and yelled in a scary voice while it was removed from the hatch. But they were screaming to the boom box on the beach half a day before.
Hi everyone! I want to share my feedback! Very happy with my choice of hotel, this is one case where everything is better than you would expect! But first things first!
Everything is super! The transfer to the lagoon and the private beach there is the main attraction, just a relaxation, the best beach on the lagoon.
Very nice hotel: green coloured area with a lot of different plants, every cottage is surrounded by greenery, vines of flowers on the balconies, everything is clean and beautiful.
We got our room on the 2nd floor- it was clean! Our room was no worse than some 5* hotels with a kettle, tea and coffee and all our toiletries. Bathroom service every day, towels changed, soaps and shampoos updated.
We stayed at the hotel at the end of August 2021 as a family. We arrived at 6-30am, at 7am we had a change, we were given wristbands and we left for breakfast. We paid for early check in at the rate of $7 for each hour.
✅There was an unpleasant incident when we paid for all the drinks when we checked out and found that we had been ticketed twice for the same drinks on the first day for dinner. After figuring it out, we were refunded 40 liras.
– me to connect VPN, check email and communicate in Teams was enough, but with a stretch (hung a little) About food at the hotel: – breakfasts are the same, but we were not bored: scrambled eggs, sausages, porridge, vegetables, fruit (September: watermelon, melon, apples, peaches, nectarines, grapes) – we did not have lunch, but they were not needed – dinner always included new main dishes, but with the standard always had meat and
VERY friendly and attentive staff at the reception, waiters, cleaners, and security guards always smile at the guests, ask how it is, help with any questions!
Hotel is very well located,to the sea 10 minutes very easy walking distance (I walked for 5 minutes) – Near the central pedestrian street (without car traffic),from minuses on it loudly always, to 12 o'clock at night,we had room further from it, and noise did not disturb, but those who to it nearer, can complain of noise of the nearby cafes/restaurants.
The hotel was very nice, the food quality is excellent (meat, fish, vegetables, cakes, lukum, baklava, a large selection of fruit, etc.).
The best luxury hotels in Fethiye luxury hotels
Fethiye is called the elite resort of Turkey for a reason – it combines beautiful mountain and sea scenery with luxurious hotels with high quality service If you want to relax like a real celebrity, my selection is for you – I've rated the best luxury hotels in Fethiye. These are expensive hotels, but you can choose any and are guaranteed to enjoy your vacation!
Tui Sensatori Resort Barut Fethiye 5 stars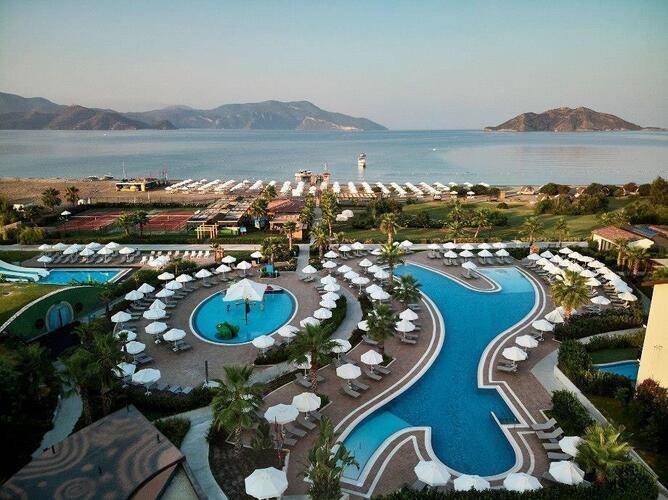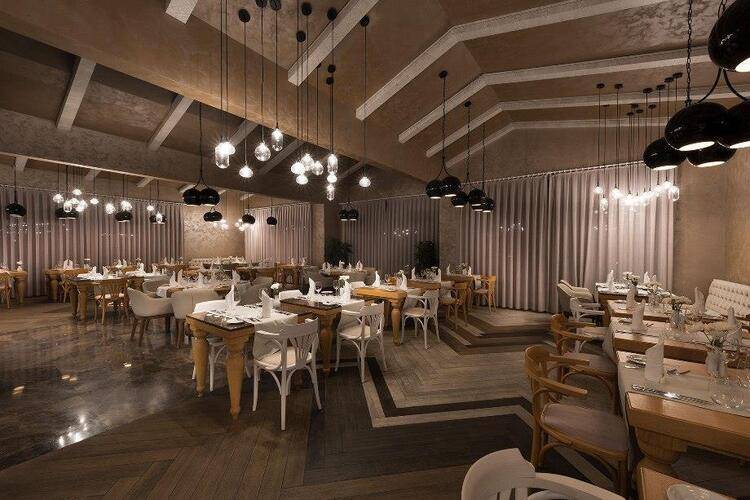 Tui Sensatori Resort Barut Fethiye
One of the best hotels on the Aegean coast of Turkey. It offers quality service, a beautiful beach, a wide variety of restaurants and a variety of dining options.
120 m to the sea, 1 line, sand with pebble, private beach
Air Condition
Children's pool
Kids menu
Bath / Sauna / Hammam
Nanny
Swimming pool
Parking
Massage
Bar
Indoor Pool
This luxury hotel made it to my top 5 because of its first class service and impeccable reviews from tourists! The hotel has a gorgeous large grounds and is conveniently divided into three areas – family, mixed and adults only. That's why the rest here will be just fairy-tale for everyone!
Location: the hotel is located right on the Mediterranean coast, 13 km from Fethiye. The nearest international airport is Dalaman.
Location: it is huge, with well maintained green lawns, many palm trees and conifers. There are plenty of entertainment for all tastes – water slides, mini soccer, tennis court, darts. And in the chic spa center you can visit the sauna, hammam and steam room for free!
The beach: the hotel has its own, very wide and well maintained, there are even areas with fine golden sand! The hotel buildings and the coast is separated by a wide lawn, and even the short distance to the beach you can overcome by shuttle. Another confirmation that this is a luxury hotel!
Nutrition: above all praise! Meat of different kinds, fish, seafood, a large selection of cheeses, fresh fruits and vegetables. There is even a dietary and vegetarian menu. During the vacation you can visit 3 restaurants a la carte – Turkish, Asian and Italian. Guests loved the Asian cuisine!
Cons: not always fast waiters in the main restaurant, weak Wi-Fi signal.
Positives: gorgeous area, cleanliness and comfort everywhere, delicious food, polite staff (there are Russian speaking staff), good unobtrusive soft-animation.
In summary: a luxury hotel where you will definitely want to come back!
Rixos Premium Gocek – Adult Only 5 stars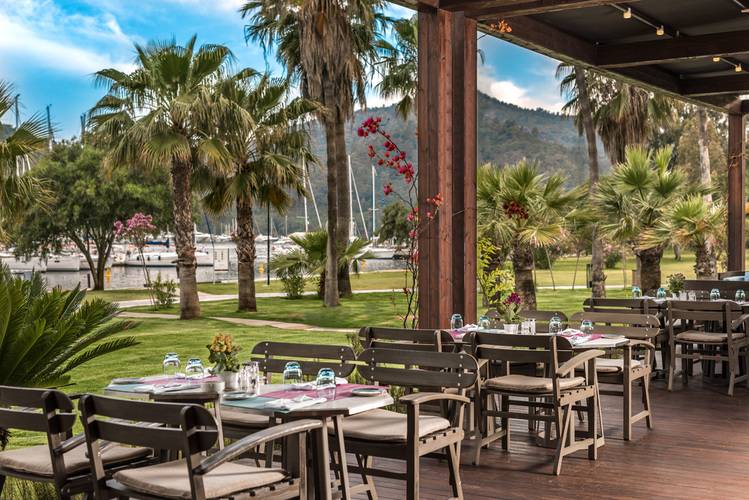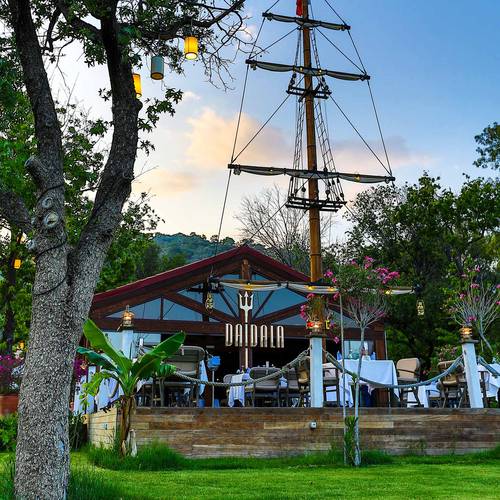 Rixos Premium Gocek Hotel (Adults Only 13+)
The hotel is located in Gocek, one of the world's yachting centers. It has 6 marinas.
Air Condition
Free Wi-Fi
Sand with gravel, private beach
2017 – renovation date
Bath / Sauna / Hammam
Swimming pool
Parking
Massage
Bar
I could not pass by this luxury hotel for adults, because the very name of the Rixos chain speaks of an impeccable level of service. The hotel is nestled between two bays in the middle of a nature reserve. The marina is right next door and the views of the majestic yachts are simply cosmic! And you're sure to love meeting at the hotel – with Turkish sweets and drinks!
Location: the hotel is located 28 km from Fethiye, in the village of Göcek. Dalaman airport is 20 km away, the road to the hotel takes half an hour.
The area: It is large and very green! Between the neat lawns and flowering trees scattered miniature two-story hotel buildings, huge swimming pools, tennis courts, mini-football court. Even the design of restaurants and bars delighted me – such a mix of Asia, Africa and the Mediterranean.
The beach: it is located in a secluded bay, and the way to the beach will be a separate adventure – you can get to it only by water! But do not let this scare you – every 10-15 minutes there is a boat from the hotel. The coast is not wide, it is covered with snow-white sand, and the water in the sea here is crystal clear!
Food: delicious and varied! Many types of meat, fish, seafood, sushi, always fresh fruits and vegetables. The hotel has an "ultra all inclusive" system, so you can eat even at night Well, the alcohol here is high quality – imported or good local.
Cons: I did not find myself, but some people complained about the lack of an indoor pool.
Plusses: gorgeous area, great service, very courteous and friendly staff, excellent evening show programs with guest stars.
Bottom line: the best option for a relaxing holiday for a couple! Everything here is made for relaxation!