Where to go for a summer vacation in 2022
We've gathered for you inexpensive, popular and underrated travel destinations for all tastes – from beach vacations to self-study getaways.
By the Sea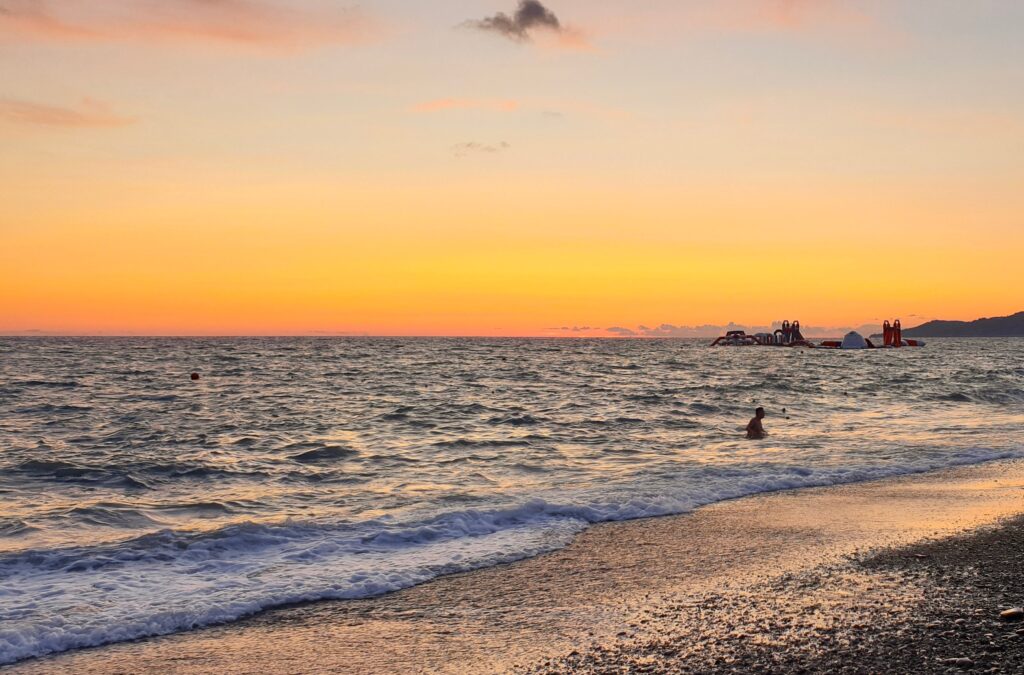 Sochi
Sochi
The only place in the Krasnodar region where you can fly now. That is why it is better to book hotels in Sochi and its suburbs in advance: even now it may be difficult to find a good inexpensive hotel near the sea.
Lack of space in Sochi? Take "Lastochka" and choose any favorite place at the Black Sea coast. There are no flights to Anapa and Gelendzhik – there will be fewer people, but it is harder to go there.
Turkey
Antalya, Istanbul and Mugla are already waiting for Russian tourists: flights are slowly being restored and by the peak season will depart from almost all major Russian cities. You can spend the whole vacation lying on the beach, or you can go to explore the antiquities or places from your favorite TV series.
In Turkey, you only need a passport – for detailed rules of entry, see a separate article.
Vladivostok
The Far East is unlikely to boast of a warm sea this summer. But if you are tired of crowded resorts and all-inclusive recreation, the Pacific coast is for you. Locals praise the beaches on Russky Island: be careful there, there is a risk of getting lost and ending up at a military training ground.
For the edge of the world you can go to Nakhodka, or you can take a plane ticket and fly to Sakhalin.
To the Mountains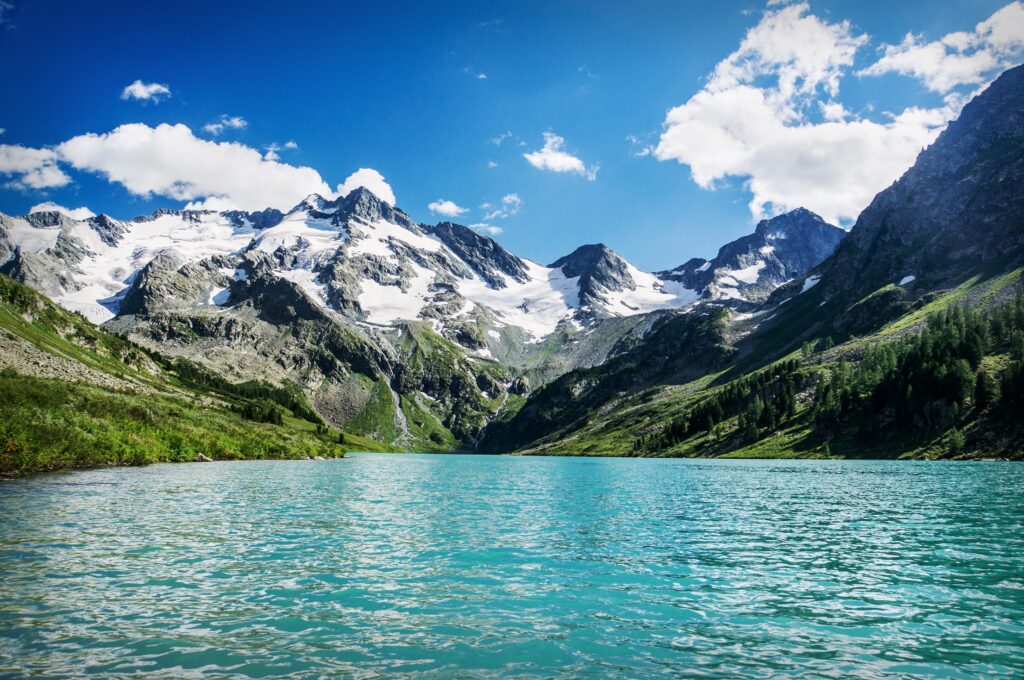 Multinskoye Lake in Altai
Adygea
Here, on the Lago-Naki Plateau, begins hiking route #30, one of the main mountain roads for the Soviet tourist. Today this route is truncated, but you can go only to the suburbs of Mezmai or Fisht Mountain.
Altai
Also a mecca for the Soviet hiker, where few people went before 2020. The main routes pass through Lake Teletskoe: the mountains around it are a UNESCO World Heritage Site. If you have the strength and money, you can try to climb Belukha (4,509 meters) – the highest mountain in all of Siberia.
Kyrgyzstan
A country where you can go hiking of any difficulty. From weekend getaways to Ala-Kyol to multi-day difficult ascents of Lenin Peak. And if you get tired, you can have a good time in Bishkek or at the rest camps in Issyk-Kul. We have told about everything in more detail in the country guide.
There are no covid restrictions in Kyrgyzstan – you can fly without tests and vaccinations.
To the lakes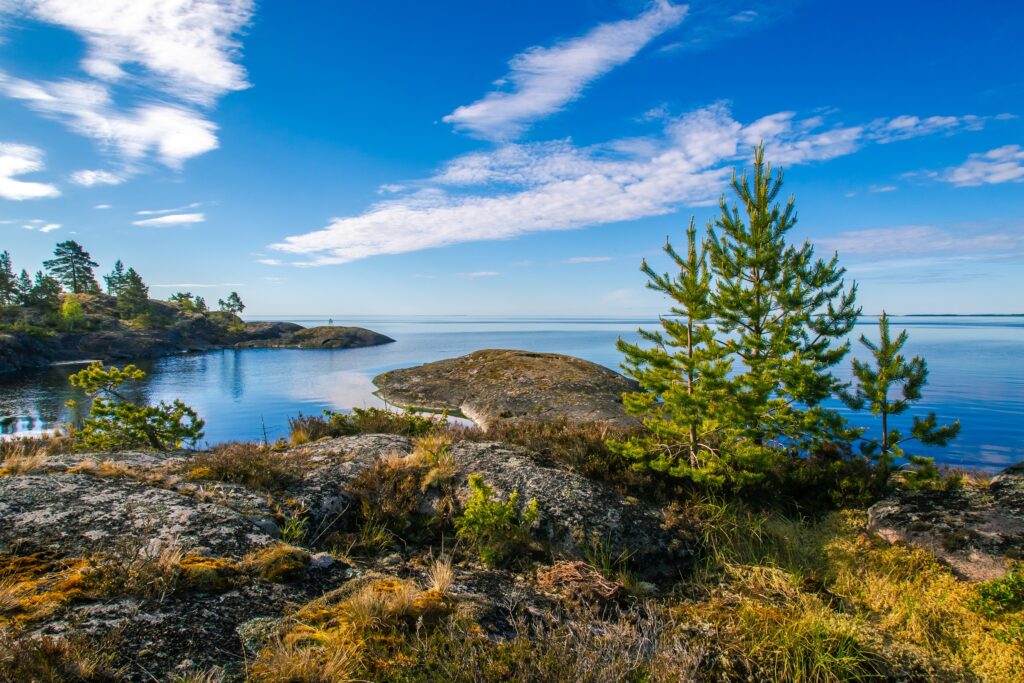 Lake Ladoga in Karelia
Karelia
In Karelia you can find a lake for every taste – there are a thousand of them (and another sea). There are even artificial ones, on the site of the canyon in Ruskeala. If there is no time, you can not even leave Petrozavodsk: it also stands on Lake Onega. The main thing – do not forget the remedy against mosquitoes.
The Urals
There are so many lakes in the South Urals that a meteorite once fell into one of them. We have a separate article about picturesque places of the region, after Turgoyak you can go to the lakes Chebarkul or Zyuratkul – you will definitely like it.
Kazakhstan
Because Caspian Sea is a big salty lake. And in general, there are a lot of lakes in the country. If you want to relax like the locals, go to Balkhash or Burabay, in Russia it is known as Borovoye.
You can enter Kazakhstan by train or car, or you can come by plane. All you need is a Russian internal passport.
Just for the nature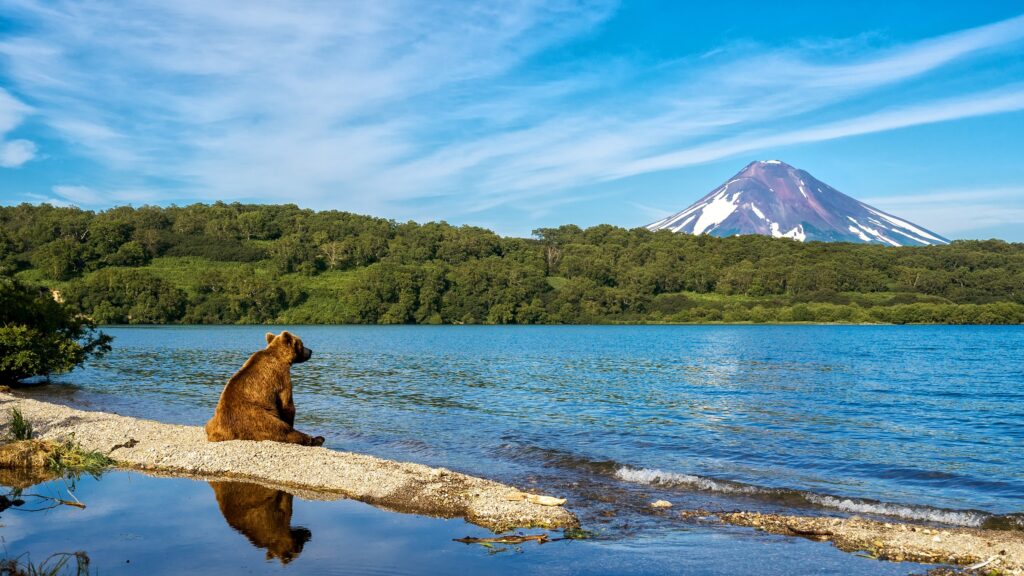 A bear in Kamchatka
Upper Volga and Vologda
A perfect place to travel by boat. Seliger is cleared of youth forums and you can have a good rest there. And further on, from Tver to Kostroma, there are many ancient towns, pleasant forests and campsites.
If you go further along the Sheksna, you can see Kirillov, Ferapontovo and Goritsy, places famous for their monasteries.
Subarctic
There are seas, mountains, lakes and even the ocean in the Murmansk region – it is impossible to choose just one. From Kandalaksha to Teriberka there are hundreds of places where you can go up to Khibiny and look at the tides and rocks. And in summer because of the polar day there is no sunset at all: there is enough light for a year ahead.
Kamchatka
It's a long flight, but it's worth it. This is the place where you have to fly by helicopter to see the best sights, and almost every place you can see a brown bear. Considering the prices of flights abroad, Kamchatka is not the most expensive option right now.
With children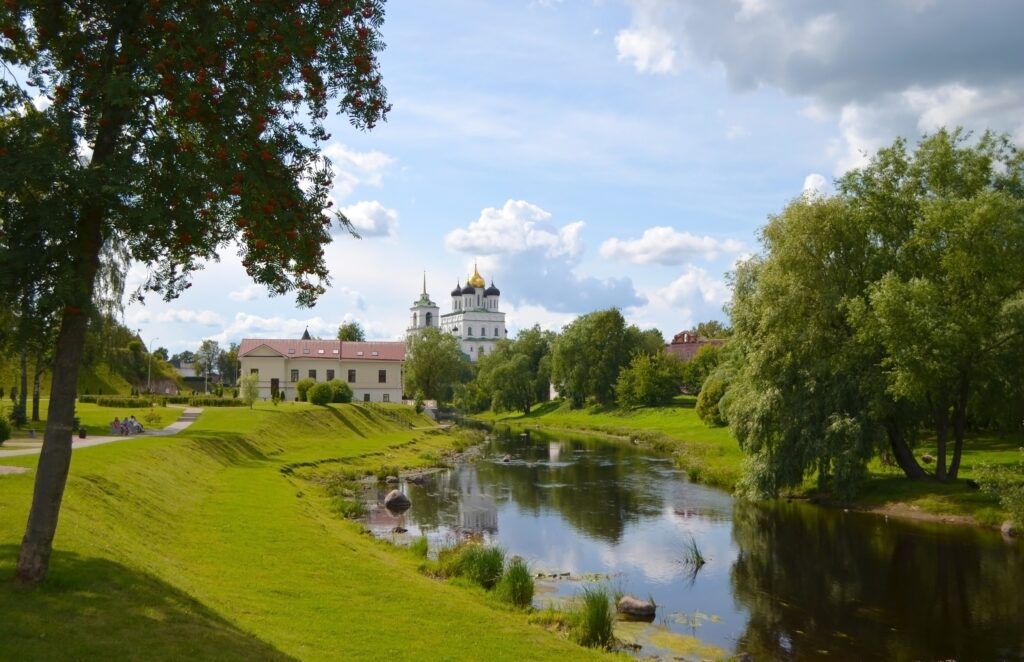 Finnish Park in Pskov
Kaliningrad
The Kaliningrad region has it all – the sea, castles and history. In 2021 the heat on the Baltic coast could be the envy of the tropics: who knows, what if this year it will be as warm?
You can travel by train with the international passport (to pass through Lithuania), by plane – with an ordinary passport.
Pskov
The pearl of European Russia, to which very few people get. Attractions of the city are very conveniently located, so you can spend a day on the regional center, and then go to the Pushkin Mountains, Izborsk or Gdov.
Kazan
The most original millionaire of Russia, you can visit it whenever you want: children will love it there. Oceanariums, the Kremlin, water parks and museums – in Kazan you can slow down and see everything you want without rushing. And if you only have a couple of days to see Kazan, save our guide for your bookmarks.
Sanatorium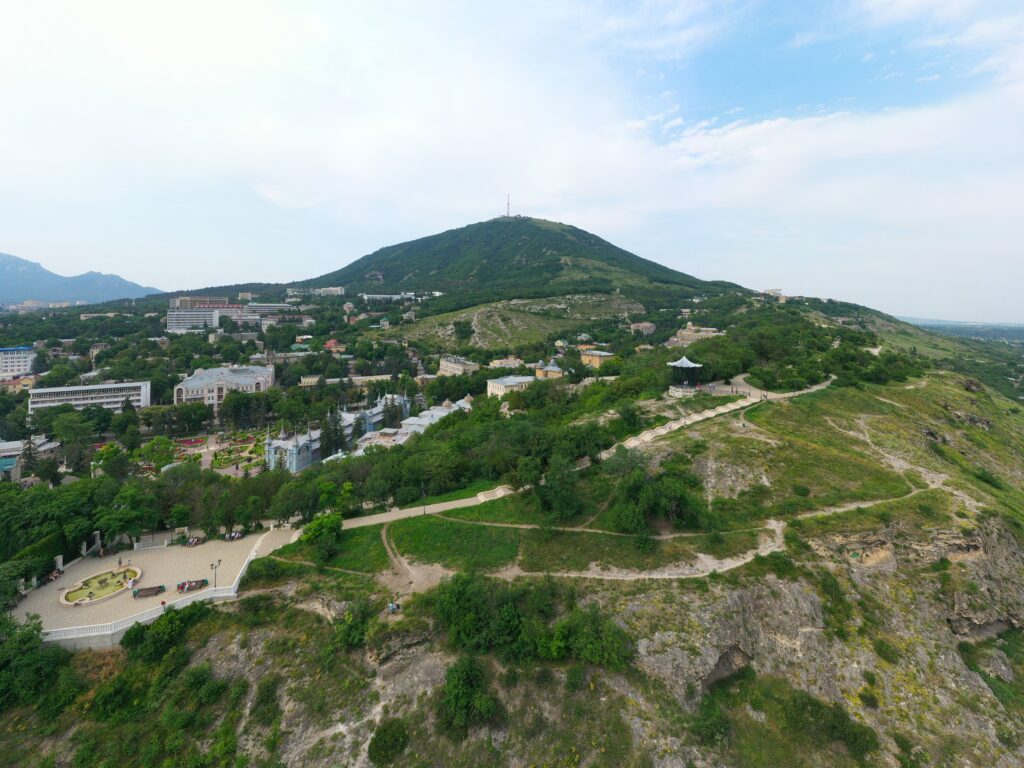 View of Pyatigorsk
Kavminvody
In Pyatigorsk, Essentuki or Kislovodsk you can spend three days or a month. We have a separate guide for three days, for longer journeys you can make a route yourself, read tourist guides about Pyatigorsk and Kislovodsk or give the initiative of departures to the staff of your resort. You can drink mineral water, and you can not drink it, but the region is famous for it!
Lipetsk
Healing mud, complete peace and mineral water – all you need from sanatoria. No need to go far from Moscow for that: Lipetsk has the same, but for less money. True, the water here is softer and not as salty.
Azerbaijan
The famous Naftalan can be used not only for land visits to Azerbaijan, but also for the usual sanatorium vacation. Believe me: you can hardly anywhere else be treated with oil.
And the PSJR also has the top Russian sanatoriums: not only in Kavminvoda, but also in the Urals, Altai and St. Petersburg.
Enlighten yourself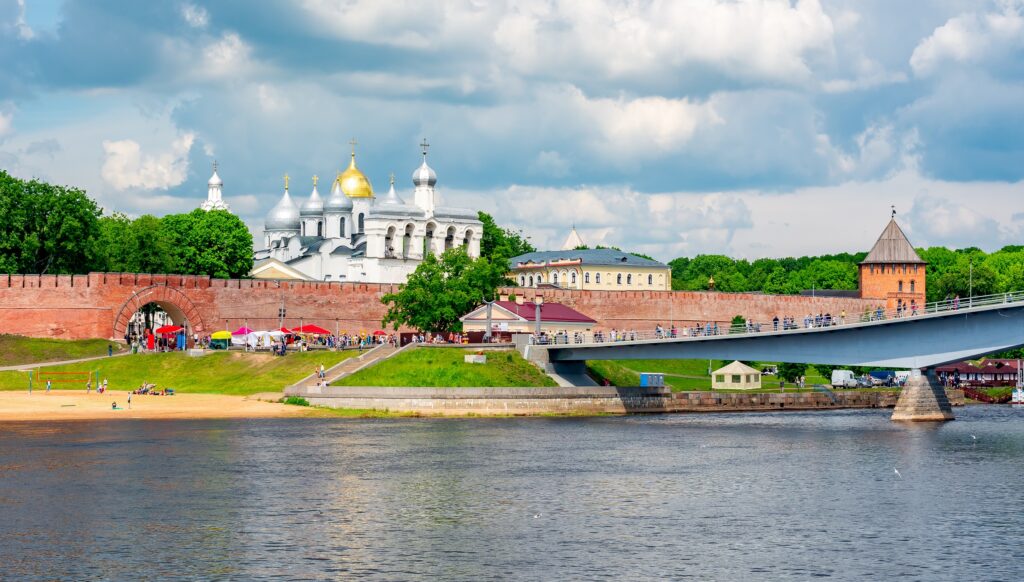 Novgorod Kremlin
Veliky Novgorod
4 hours from St. Petersburg and 7 hours from Moscow – and you get to one of the oldest cities in Russia. Summer excavations are held there: birch-bark writings are of special interest for archaeologists. If you are lucky, you will be able to take part in the excavations, and if not – you can listen to stories about the boy Onfim and look at the ancient buildings.
Armenia
Armenia's ancient sights are compactly situated around Yerevan, but it's better to have at least 4-5 days for them: our guide will help you not to get lost. Garni, Geghard, Echmiadzin, Zvartnots – the monuments of ancient Armenia will definitely inspire you. You don't need to spend a fortune on tickets to Greece and Italy to see the monuments of past civilizations.
Israel
The country is small, but very rich in various antiquities. In Israel, however, you can do everything, about this our guide to the country. In a few words: hang out in Tel Aviv, study history in Jerusalem, swim in Eilat. The main thing is not to mix it up.
Have fun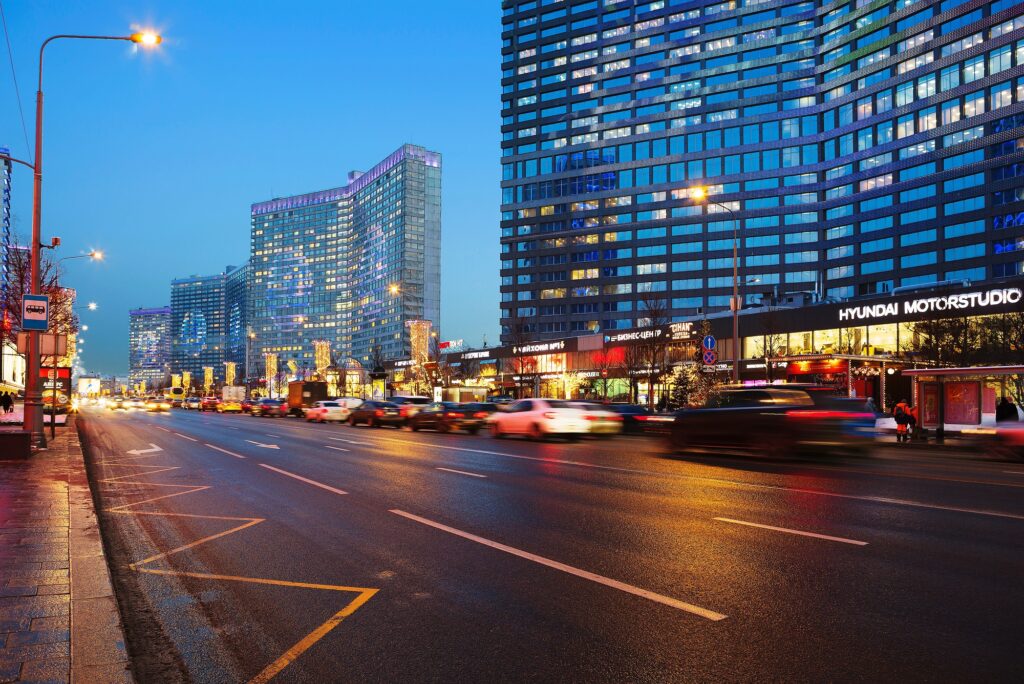 New Arbat
Moscow
The city that really never sleeps. No hardships never stopped Moscow from getting better – the best bars of the city are better to look for in "Koroche".
In summer, Moscow is beautiful with river walks and the Silver Bor. But even the center of the capital can be explored for at least a couple of weeks. And another couple of weeks to spend on the outskirts.
Rostov-on-Don
No planes fly there, but for the sake of a weekend in Rostov, you can even walk to it. In the daytime in the city you can explore the sights of Art Nouveau, in the evening – make your own bar list in the establishments on Shaumyana Street. And also summer in Rostov is the season of crawfish and trips to Taganrog.
Tbilisi
For some reason there are more one-way tickets to Tbilisi than round-trip tickets. We assume this is because of the bars and khinkals in the Georgian capital. Take a cab from the airport to Freedom Square and go through Chacha Time and Soda bar in an evening, then go up to Koshini with a postcard view of the city.
Summer 2022: 7 Countries to Vacation by the Sea
When asked where to go this summer, the answers are plentiful – and one is more wonderful than the other. You can swim in the warm waves of the ocean, lie on your favorite beaches of the seashore, conquer mountain peaks and explore new cities.
Here are the countries, with which a vacation is sure to be bright and full.
Read our reviews at Level.Media and check out our prices on Level.Travel – we have more than 500 000 tourists. We reveal the secrets of inexpensive travel: "8 ways to buy a last minute tour with a 70% discount.
What we have: all verified tour operators, the best price guarantee, easy hotel selection with easy filters, photos and reviews of tourists, protection of online payment, buying in installments of 0%, an application to search and book tours online for iOS and Android. We answer in messengers 24 hours a day, 7 days a week.
Turkey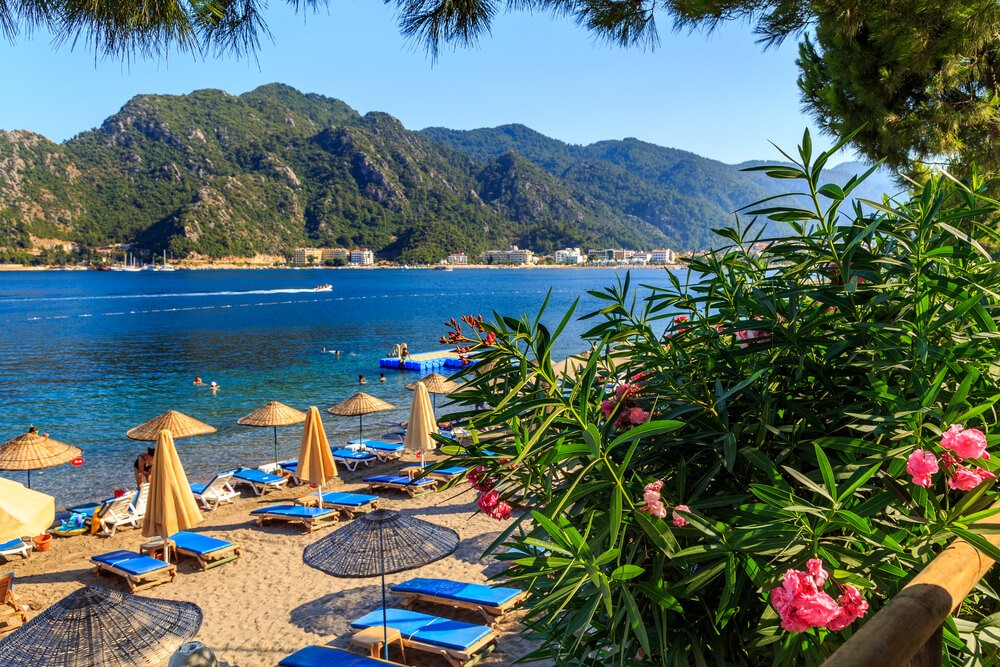 All the good things you've heard about Turkey are completely true. The sea and beaches are clean and well-groomed, the hotels are luxurious, the food is delicious, the service is quality. Flights here are made by different airlines, the flight is short and without change. The main difficulty in planning a trip is choosing a resort. There are many of them, and each is worthy of attention. Alanya is a classic option. It is perfect for those who love the good old beach vacation. Antalya is chosen by those who want to be closer to the city. Side, Marmaris and Fethiye are popular for their picturesque nature. In Belek goes for a quiet holiday, and in Bodrum and Kemer you will find a loud nightlife.
In Turkey, everyone will find a destination to their liking.
Egypt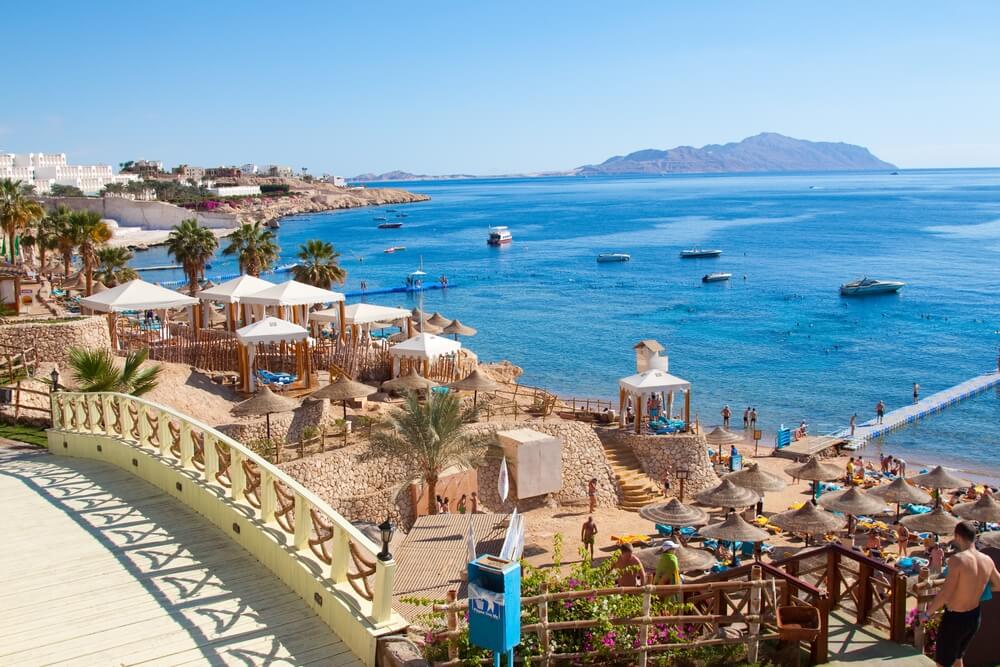 Egypt will fall in love quickly and for a long time. One has only to see the light of the sunset azure sea with clear water and miles of beaches, the hand reaches itself to book a tour of the Red Sea coast. Here is an ideal place to find a romantic vacation and families with children, and raging partygoers and fans of active recreation, and even those who want to improve their health – in Egypt, for everyone the stars will converge successfully.
Warm sea at the Egyptian coast is waiting for you!
Russia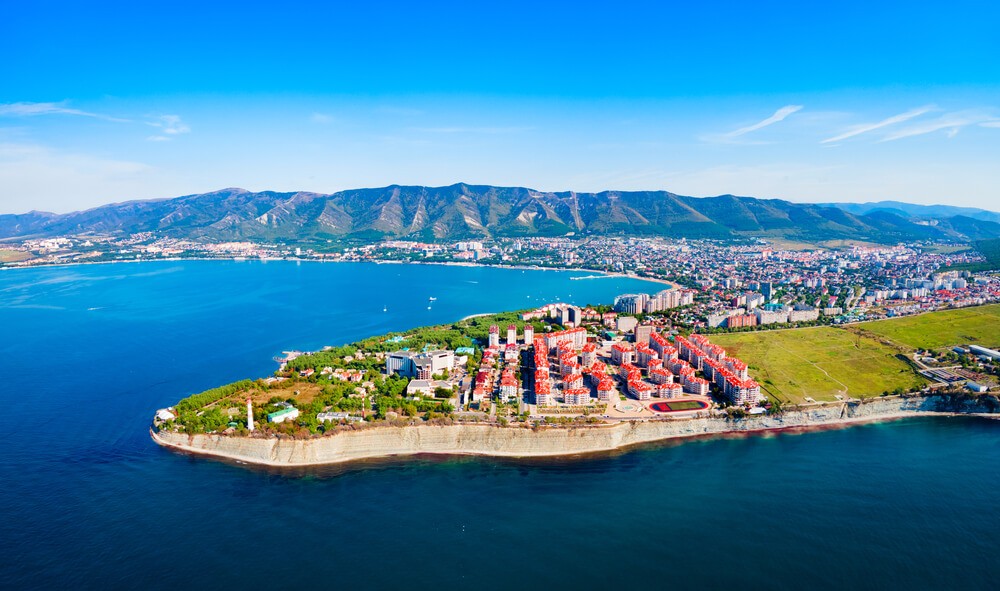 Russia is a real kaleidoscope, where everyone can find the perfect place for themselves. For a vacation at the seaside, come to the Krasnodar region. If you want to add mountains to the beaches, book a tour to Sochi. In the morning, swim in the waves of the Black Sea, and in the afternoon, arrange trekking in Krasnaya Polyana. To see even more rocky peaks, swim in waterfalls and along the way to improve their health, choose the resorts of Dagestan or the Caucasian Mineral Waters. Clean air, SPA-procedures, healing water and cosmic landscapes will help to quickly reboot.
Fans of unexpected destinations and fresh seafood should pay attention to Yuzhno-Sakhalinsk. And if you like city vacations, museums, parks and restaurants, St. Petersburg is your choice. It's the beginning of the white nights in June, so you can go for a walk till dawn.
Whichever destination you choose, you can be sure that you will have a great vacation.
Abkhazia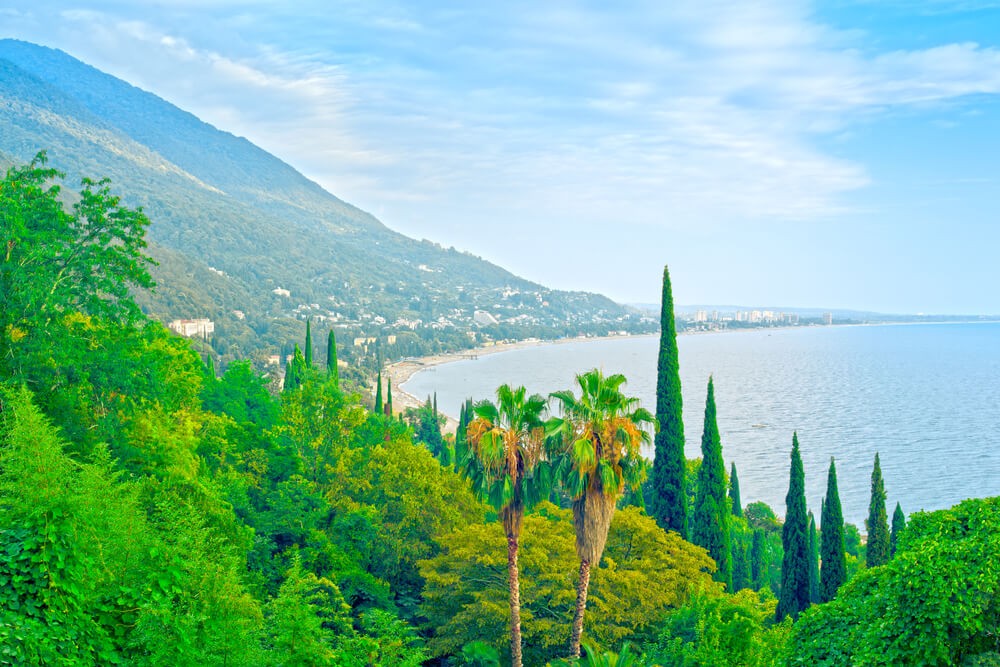 It is nice and quiet here, even for those who do not like to go far from home. There is no problem with the language, because everyone speaks Russian, conversations quickly become good toast with Abkhazian wine, the sea is warm as fresh milk, and the nature is picturesque. Soar over the mountains on a paraglider to see all the local beauty, dive to the ruins of the ancient city of Dioscuria and be sure to take a tour of Lake Ritsa, which is nestled among the mountains at 950 meters above sea level.
In Abkhazia you will be charged with the energy of the mountains, relax on the beach and discover another beautiful place, where you will definitely want to return again.
Maldives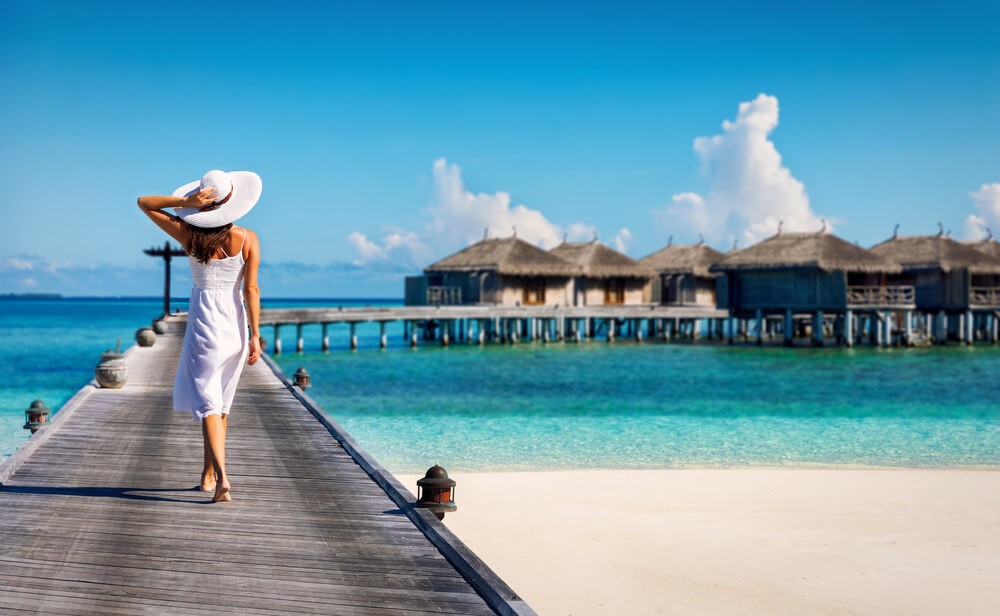 The Maldives is off-season, with the southwest monsoon making waves and sprinkling refreshing rain over the islands. But there are fewer tourists at this time, and the price of tours is reduced. Is not it an excuse to visit a paradise? Enjoy all the delights of relaxation. Relax in the aroma oil steam room and listen to the Balinese tunes in the massage. Have a delicious marathon meal and try all the local dishes that will be in your restaurant. Take a submarine ride to see the magical world without a mask or flippers. And be sure to find a lone palm tree on a white sandy beach and take photos that will keep you warm even in cold winter.
If you've been dreaming of a trip to the Maldives for a long time, now is the time!
Sri Lanka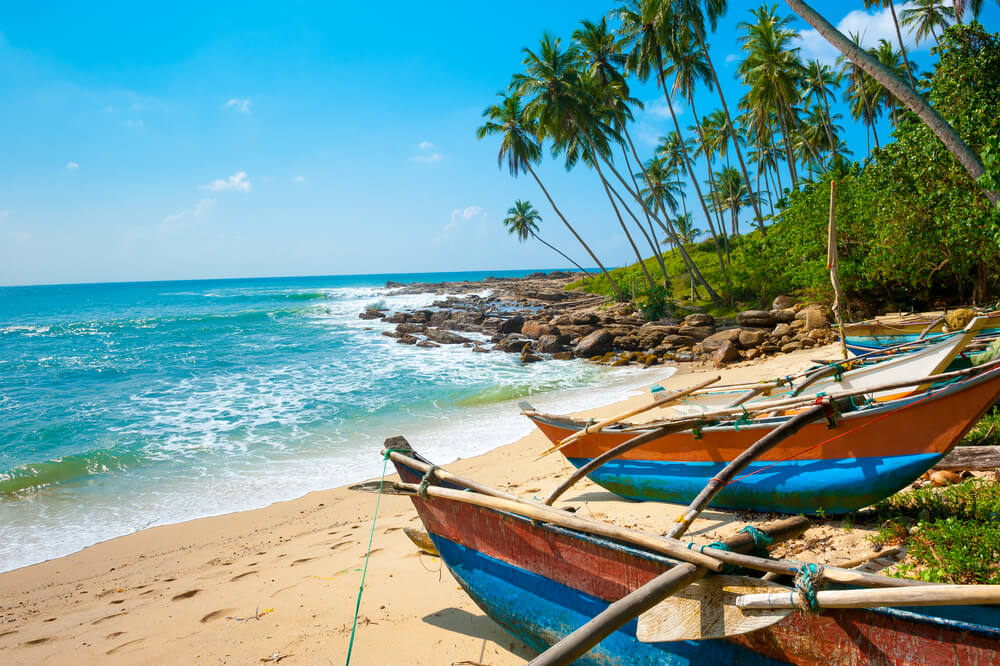 Indian Ocean, lotuses, majestic temples, tea plantations and Ceylon elephants – there are more than enough reasons to visit Sri Lanka! The main thing is not to make a wrong choice of location. From April to September, the southwest of the island receives tropical showers. But the east coast at this time for a holiday is ideal, so look at the resorts around Trincomalee. Once you've chosen a hotel, start making plans for how you'll go for an Ayurvedic massage, drink a cup of tea right on the plantation, tie a ribbon at the same Bodhi tree, under which Buddha enlightened, and meet the dawn on the sacred peak of Adam. In between, sample delicious food, cocktails, freshly squeezed juices and start enjoying life.
Book your tour and get ready for a trip that you'll have something to tell your friends about.
Thailand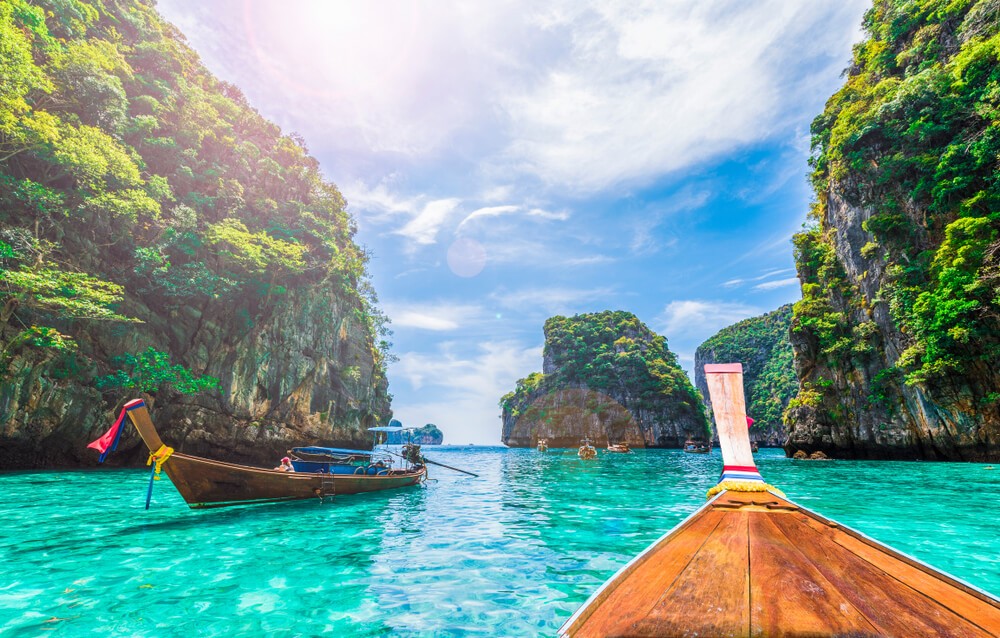 People go to Thailand for the bounty beaches, authentic atmosphere and serenity. Here you can sip pineapple shake at a table overlooking the ocean, go snorkeling and rock climbing, learn to control elephants and moisturize your skin without any creams until the New Year. Also in Thailand is good to switch to a healthy lifestyle. Yoga on the beach, stalls full of succulent fruits, seafood in local restaurants and a daily Thai massage, after which you'll feel reborn.
Life in Thailand immediately becomes more interesting. So if you lack bright colors, book a tour here.