Where to swim and sunbathe in Abu Dhabi: Best Paid and Free Beaches
In Abu Dhabi, you can have a great rest on the beach. The coast is studded with fine white sand, on which the warm waves of the Persian Gulf, by the water are comfortable deck chairs, a little further nestled nice beach cafes, around impeccable cleanliness and unobtrusive service for every guest.
The city has free beaches, which can visit anyone who wants, and there are paid. Paid usually belong to a large hotel and are called a beach club or beach club. The level of service there is higher than on the free. Hotel guests visit beach clubs free of charge.
If you want to get a personal touch, a comfortable deck chair and a large umbrella, relax in a stylish cafe and send your children to have fun with the animators or on the playground, it is worth choosing a beach club. The price ranges from $10 to $60 per day.
If you just want to relax under the sound of the waves and sunbathe on the soft sand, go to the free beach. There you can for an extra fee of $ 5-10 to rent a deck chair and umbrella, free use of showers, toilets and cabins to change clothes.
In order to rent a deck chair, you are sometimes asked to provide some document, a passport or driver's license, and a cell phone number. Yes, it's strange, but you can only live with it.
There are a few rules to follow on the local beaches:
You can not go out in a bathing suit outside the beach.
You can not drink alcoholic beverages.
Well in general you should try to behave as decently as possible, that it didn't turn out as in Sex in the City 2.
Free beaches in Abu Dhabi
Al Bateen Beach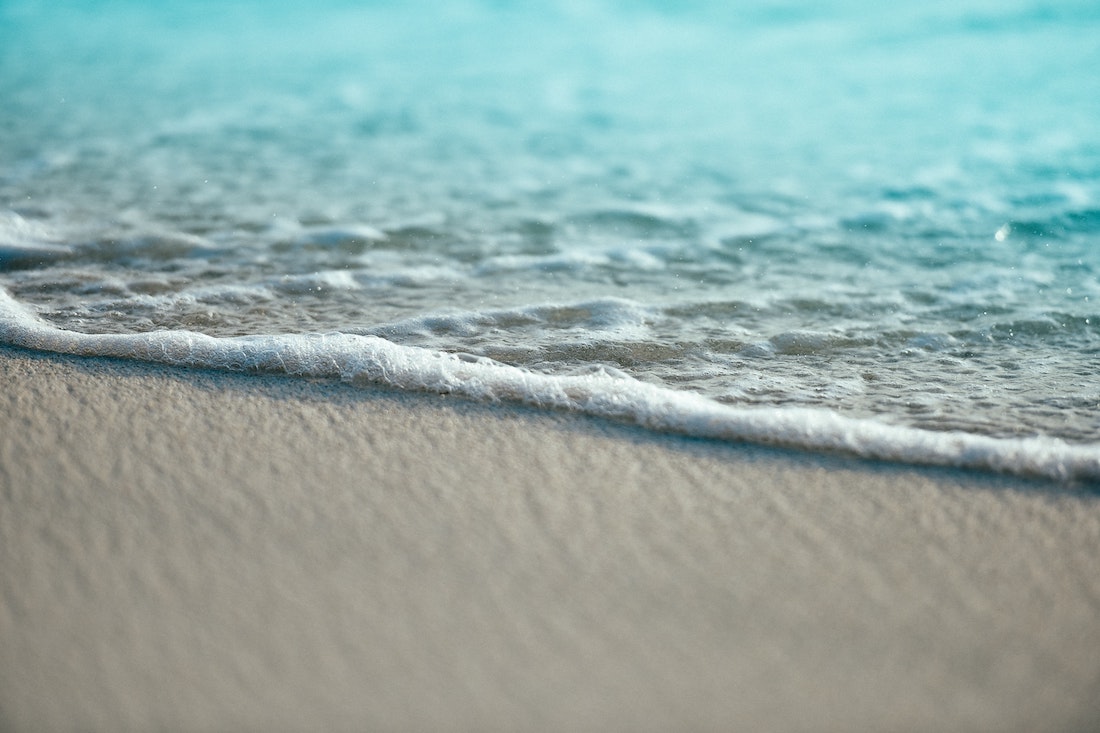 Author: Ameen Fahmy on Unsplash
Al Bateen is one of the most famous urban beaches in Abu Dhabi. It has clean and light sand, easy access to the beach, free changing facilities, toilets and showers, children's play areas and sports fields. The beach is spacious, so there is never a crowd of people, so you can spend time one-on-one with the waves and the sun.
Of the minuses – the lack of cafes and sun loungers .
The beach overlooks the nearby island of Al Hudayriat and the bridge that leads to it.
Best hotels near Al Bateen Beach
There are several hotels and apartments near the beach, such as Phoenix Plaza Hotel Apartments, equipped with everything you need, including a kitchenette and washing machine, located 6 km from the beach, the Executive Suites by Mourouj Gloria, where you can rent a cozy studio with a kitchenette for cheap, or the stylish five-star Dusit Thani Abu Dhabi, which is 4.5 km from Al Bateen.
Corniche Beach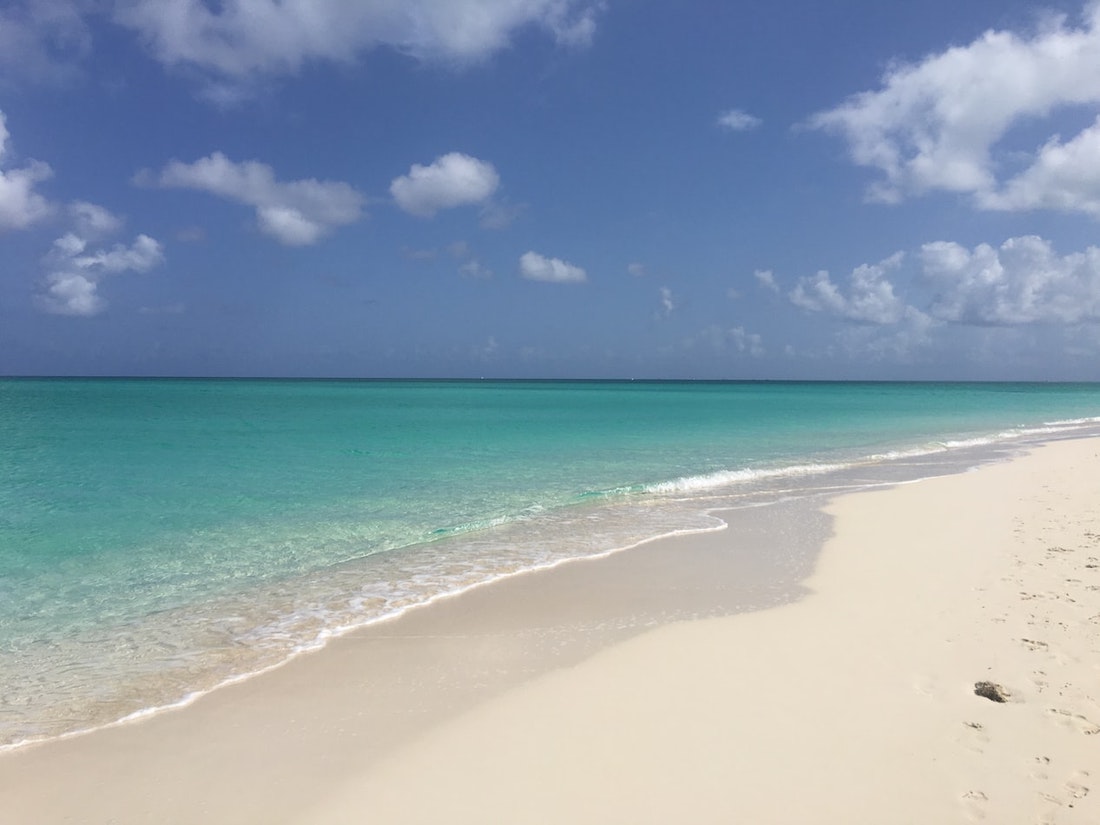 By Jennifer Ranicki for Unsplash
Another popular beach in the city is located on the Corniche promenade.
On one side of the beach stands Abu Dhabi's best hotel, Emirates Palace, and across the strait you can see the ethnographic Heritage Village. And there's an 8-kilometer promenade at your service, with all its city and seascapes, comfy benches, palm trees and lawns, cafes and restaurants.
Corniche Beach is divided into several sectors – some of them are free, some are paid, some are only for women and children. They don't differ much from each other, except that the paid ones are a little cleaner. But in general there is no problem with cleanliness in Abu Dhabi.
Entrance to the paid part is about 3 dollars. In addition you pay for the rental of a deck chair and an umbrella (10-15 dollars).
At the free part you can also rent sun loungers and an umbrella . You can not take and lie on your blanket. Is it for nothing that there is such soft sand.
The beach overlooks the neighboring islands of Al Marina and Lu-Lu. Thanks to these islands, Corniche has no waves, so the beach is ideal for guests with small children.
Best hotels near Corniche Beach
If you want to get chic, stay at the five-star Emirates Palace and experience true Arabian luxury while eating oysters, eggs Benedict and drinking coffee with gold shavings for breakfast. The Emirates Palace is the capital's equivalent of the Dubai Sail Hotel.
If you want chic but a little more budget, choose The St. Regis Abu Dhabi. A couple of minutes walk to the beach, panoramic views from the windows, comfortable king-size beds, delicious breakfasts, gourmet menu, panoramic lounge, spa and personal butlers.
An even more budget-friendly but traditionally high-quality hotel is the Radisson Blu Hotel & Resort.
A comfortable yet economical option, Khalidiya Hotel is a three-minute walk from the beach. Guests are offered spacious rooms with views of the city and the bay, several swimming pools and a high level of service.
Abu Dhabi beach
Author: Guilhem Vellut, flickr.com, CC BY 2.0
This beach is located next door to the Corniche beach. The sand is clean and light, the access to the beach is gentle, the activities are clean and very few people are present – far less than at Corniche.
There are no umbrella and sun lounger rentals on Abu Dhabi Beach, for these pleasures it is better to go to Corniche. There are basic things like showers, changing rooms and toilets. But there are a couple of definite pluses here – plenty of space, clean sand with the sun-warmed waves of the Persian Gulf and incredible views of skyscrapers behind and the island of Lu ahead.
This beach is perfect for a sunset picnic, meditation and a quiet getaway from people.
Best Hotels near Abu Dhabi Beach
Courtyard by Marriott World Trade Center is a 10-minute walk from the beach. It offers spacious rooms with comfortable beds, a delicious breakfast and a rooftop pool.
Aparthotel Eclipse Boutique Suites has prepared for you luxury apartments at a very modest price – a double executive suite with a kitchen will cost you from 80-90 dollars.
Paid Beaches in Abu Dhabi
Saadiyat Beach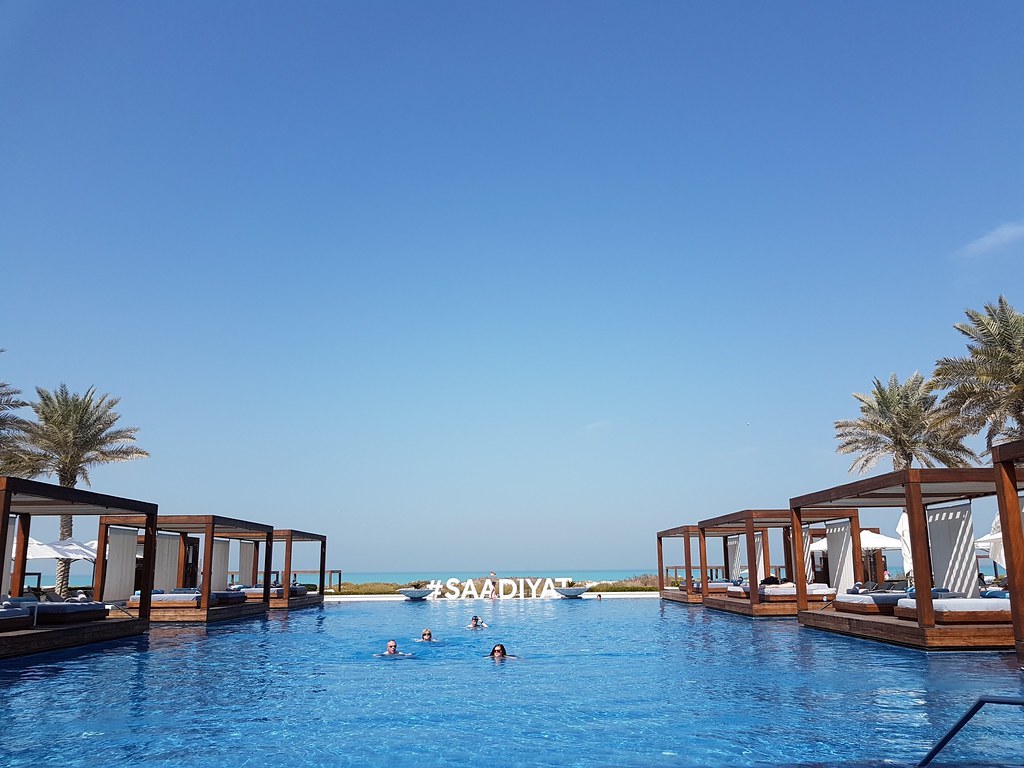 Author: andresmh, flickr.com, CC BY-SA 2.0
If you live on Saadiyat Island you're in luck – there's a reasonably priced pay beach here. Saadiyat Island beach has soft white sand, easy access to the water, umbrella and sun lounger rentals, changing rooms, showers, toilets, lockers and unobtrusive service. If bored with swimming in the bay, you can move to the pool and then warm up in the sauna.
Saadiyat beach is ideal for relaxing with children, because it is shallow and the water gets warm quickly.
On the beach are some nice beach cafes where you can have lunch on the veranda, and rumor has it that you can even drink alcohol.
The best hotels near Saadiyat Beach
The five-star Park Hyatt Abu Dhabi Hotel and Villas is located in the first line. The hotel has its own private beach. There are luxurious rooms overlooking the tropical garden or the sea, breakfasts on the balcony, several restaurants, sports fields and tennis courts, entertainment for children, spa and fitness club.
The five-star Rixos Premium Saadiyat Island is also located in the first line. You can visit the private beach with a water park and swimming pools, restaurants, spa and fitness facilities. A kids' club is open for children.
The 5-star Saadiyat Rotana Resort and Villas offers guests a private beach, elegant rooms with elements of Oriental style, restaurants and bars, two pools with green sun terraces and beach bar, spa center, sports fields, kids club with swimming pool, slides and movie area.
Yas beach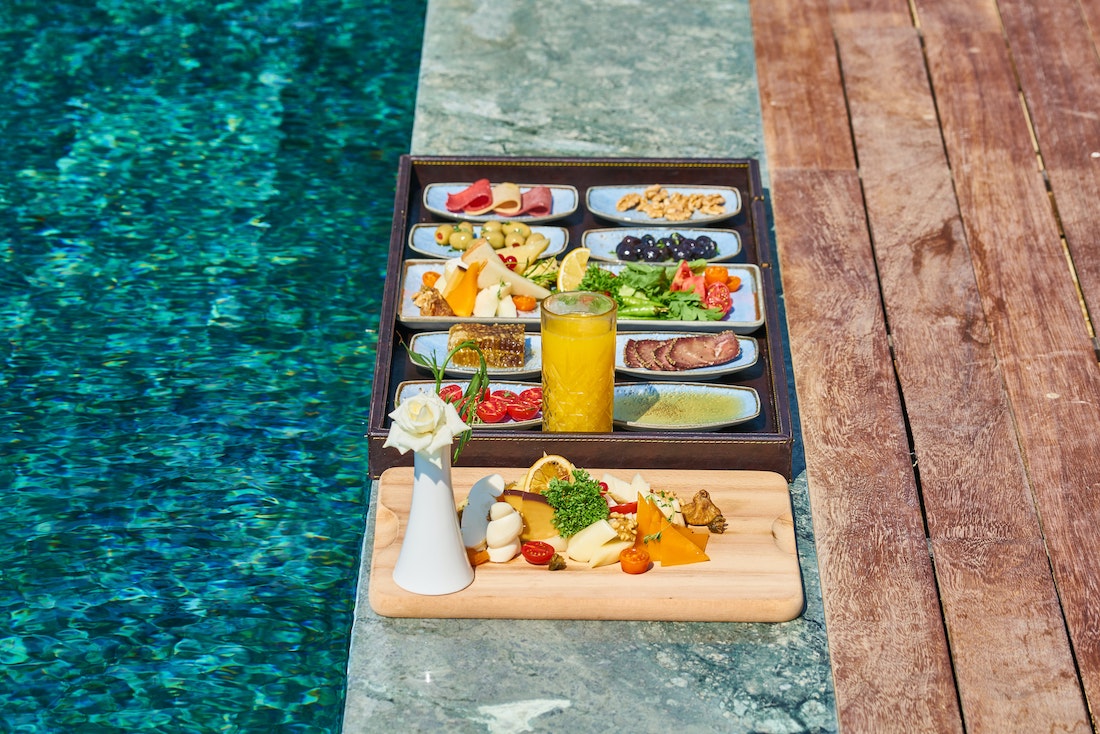 Author: engin akyurt on Unsplash
Yas Island offers guests in Abu Dhabi a range of attractions: Yas Waterworld water park, Ferrari Park, Yas Mall shopping fun, and a great beach.
The beach is owned by the five-star W Abu Dhabi hotel. Facilities such as comfortable sun loungers and umbrellas, showers and toilets, changing rooms, children's play areas and sports fields and stylish cafes with outdoor dining terraces overlooking the bay and the futuristic cityscape.
On the beach, five-star service, which helps distract from worries and immerse yourself in the shade of palm trees, the rustle of the waves and the freshness of cocktails.
Admission to the beach is $14 for adults and $7 for children weekdays and $28 on weekends for adults and $14 for children. The price includes the use of a sun lounger and umbrella.
Guests at the W Abu Dhabi Hotel enjoy free access to the beach club. Other amenities include a spa, two rooftop pools with panoramic sun terraces, six restaurants and an attentive staff.
It may be that you have chosen a hotel, but it is located far from the beach. Do not rush to refuse. Many hotels offer a free shuttle to the nearest beach, you can read about it in the description or in the reviews.
Abu Dhabi Beaches
Which beach in Abu Dhabi should I go to for a swim and sunbathing? How much does it cost to stay in a hotel with its own beach? What are the entrance prices for paid beaches? Read the answers in our article. And also about the 8 most famous beaches in the Emirate of Abu Dhabi.
Attention! As of February 26, 2022, the requirement to wear masks outdoors has been abolished in all the Arab Emirates. Accordingly, masks are no longer officially required on the beaches. And that is great.
Hotels with private beach
There are some in Abu Dhabi, but only 15 when this article was updated in February 2022. All of these hotels are expensive, starting at $200 a night. If you want a first-line hotel cheap, then choose Sharjah, Ajman or Fujairah for your vacation. We have told about all the first-line hotels in the UAE in detail in the review "Hotels in the UAE with its own beach".
These hotels are: Emirates Palace, Khalidiya Palace Rayhaan, Jumeirah at Etihad Towers, Intercontinental, Al Gurm Resort, Hilton Abu Dhabi, Sheraton Abu Dhabi, Le Meridien Abu Dhabi, Beach Rotana, The Ritz-Carlton Grand Canal, Shangri-La Qaryat al Beri, Fairmont Bab Al Bahr, Al Raha Beach Hotel.
We would like to point out that all of these hotels allow outside visitors to their private beaches for a fee. If any of them are close by, come in, pay from 100 dirhams for entrance and enjoy the sea and the sun. For the current exchange rate please see our article "The UAE Dirham".
Public Beaches
If you're not ready to pay, then welcome to public beaches. They can be free, they can be paid, but the prices are more moderate – from 10 to 25 dirhams. You have to pay extra for sun bed, umbrella and beach towel rental. And you can sunbathe on the sand on your own towel.
Do not forget that the public beach must be reached from the hotel, it is unlikely that it will be within walking distance. You will most likely have to take a cab. A visit to the beach will still cost money, at least for transportation. Read about the fares in our article "Taxis in Abu Dhabi".
The ideal is if the hotel organizes a free bus to the beach for its guests. There are such hotels in Abu Dhabi, but they are few. Read hotel reviews, tourists who have already had a rest (or exhausted, it depends on the hotel) there necessarily write about it.
What public beach to choose?
Our advice: choose the one that is closer and cheaper to get to. Usually tourists choose between the Corniche and Al Bateen, because they are free. Choose the one that is more convenient to get to.
However, most Russian tourists do not think about this problem. They choose the hotel by other parameters and then ask hotel guide or the reception desk, which of the public beaches is the closest, and take a cab.
Rules of Conduct
There is no strict dress code on public beaches in Abu Dhabi. You need a bathing suit and it must not be too frivolous. Of course, you can not be topless.
It is forbidden to drink alcohol or be drunk. See our articles What not to drink and Alcohol in the UAE for more information.
It is forbidden to go outside the beach area in a swimsuit, it is punishable. And the phrase "I'm just a minute to buy a soda" will not help if you're caught by the police.
Another thing – the private beaches of hotels, where you can drink alcohol at the bar and be a bit "under the influence". The dress code is milder here, sometimes you can sunbathe topless. The rules are determined by the administration of the hotel, which owns the beach.
8 of the most interesting
We will tell in detail about the most interesting beaches in Abu Dhabi. Let's start with the free ones and go on in ascending order of price to visit.
Corniche beach
The main promenade in the emirate of Abu Dhabi. There are beaches along the waterfront, a total of 2 kilometers of beachfront. Part of this strip occupied by private hotel beaches, some paid, some free.
If you are strapped for cash, you are welcome to the free part.
If you are ready to splurge, there are several options. Family Beach Section – only for families, women and children, no single men allowed. Admission is AED 10 for adults, AED 5 for children.
A few more paid sections have no restrictions – all are allowed in. Same price – AED 10 for adults, AED 5 for kids. A sun lounger and umbrella for rent in any section (and in free section too) is AED 25, towel rental – 10.
Along the Corniche beach area, there are about 600 lounge chairs, about 30 changing rooms, and WiFi Internet access. You can eat or quench your thirst at the snack bars or street food shops on the beach or on the promenade, there are dozens of catering facilities. You can combine beach fun with a cultural program and visit the Heritage Village across the canal, or with shopping and go to the Marina Mall.
Read all the details in our article "The Corniche Waterfront and Beaches".
Corniche New Public Beach.
Located farther down the Corniche boardwalk, after the eastern edge and the park. It is now a semi-wild beach. Admission is free. No sun loungers, umbrellas, bars here yet. For five years the authorities have been planning to improve the area, but it's still there.
Ideal for those tourists who want to save money and quite comfortably sunbathe on a towel. The water here is fine, the depths are shallow, making it ideal for children.
Lulu Island
Large and almost empty island, is across the channel from the Corniche waterfront. Lulu Island is a large, almost empty island across the channel from the Corniche waterfront. The whole coast of the island – it's beautiful and soft sand, swim and sunbathe wherever you want and completely free.
You can get to the island by boat from Heritage Village Pier or from Marina Mall for 20 dirhams. Sailing back is no problem. You can "catch" the boats that ply along the coast of the island, some stand by right on the island.
Al Bateen Beach
Located in Al Bateen area, this is where a lot of budget hotels are located. The beach is about 750 meters long. The main advantage is that it is free.
There is a small paid women's part. Only women or girls and male children under the age of 7 years can enter here. Entrance fee is AED 25 for adults, AED 5 for kids (ages 3 to 12).
Al Bateen Beach has been awarded the Blue Flag. A little clarification is required here. The Blue Flag award is only given in European countries. Outside of Europe, there is no Blue Flag and there can be no Blue Flag. So the UAE Wildlife Authority came up with their highest award for beaches and called it the same – "Blue Flag".
In any case, even the Emirati "Blue Flag" is an indicator of the quality of water, sand and developed infrastructure. You can and should trust the Emirati Blue Flag.
Yas Beach
The only landscaped public beach on Yas Island. It is located on the south end of the island, within walking distance of the hotels: Staybridge Suites, Crowne Plaza – Yas Island, Centro Yas Island, Yas Island Rotana, Radisson Blu Yas Island, Park Inn Yas Island and Yas Viceroy. If vacationing at these hotels, Yas Beach is the only option.
If you are staying at a hotel in another part of Abu Dhabi, there is not much point in going to Yas Island – it is far away and expensive.
You can go to Yas Beach if you come to Yas Island for entertainment – Ferrari World Park, Yas WaterWorld, Yas Mall or Warner Bros World Park. Then you can spend part of the day in the park and spend the rest of the day at the sea and the sun.
The beach is very beautiful, with nice white sand and clear blue water. The guests are provided with loungers, umbrellas and VIP-loungers, where you can close your eyes with a curtain. There is a large pool, a children's pool and a tropical-style cafe. The local pizzeria boasts a handmade pizza oven made in Italy and employs Italian chefs from Naples.
Admission price: AED 50 for adults, AED 25 for children from 8 to 16 years old. The price includes beach towel rental. Children under 8 years old are free. 50% discount for ladies on Fridays.
Guests of Yas Island hotels enjoy free admission. You must obtain a special voucher at the hotel reception.
Saadiyat Public Beach
This is an eco beach. Located on the northern coast of Saadiyat Island. On this coastline bissa turtles lay their eggs. Of course, visitors are not allowed near the turtles, for this purpose there are specialists of environmental services on duty. "Eco" in this case does not mean unity with nature, but observation of nature from a distance.
Beach entertainments on Saadiyat Island are also only "eco" – windsurfing, sailing, yoga classes.
The beach is well equipped, there are more than 300 sun beds, umbrellas, showers, changing rooms, it is possible to rent towels and lockers. There is cafe with wide (by beach standards) assortment of snacks and drinks, store with all necessary things.
Entry fee: 25 dirhams for adults, 15 for children.
The main advantage of Saadiyat Beach is that it is not as hyped as Corniche. There are never too many people here.
The main disadvantage is that it takes a long time to get here by public transport. If you're going to rent a car, then Saadiyat is perfect.
InterContinental Bayshore
It is a beach club, at the entrance you pay not only to be on the beach, but also the whole beach and entertainment program: large adult and children's pools, jacuzzi, sun lounger. The beach itself is small – 300 meters long, very clean and well maintained.
The beach club and the Intercontinental Hotel are located close to the Corniche promenade, the Emirates Palace Hotel and the skyscrapers of Abu Dhabi. Naturally, entry and all entertainment is free for hotel guests.
Admission price: weekdays AED 150 for adults, 80 for children, 270 for couples; weekends 200 for adults, 100 for children, 390 for couples.
Emirates Palace Hotel Private Beach
This is one of the best beaches in the Emirate of Abu Dhabi. The 1.3 kilometers long beachfront belongs to the most expensive (in terms of construction and finishing costs) Emirates Palace hotel.
The first option to get to this private beach is to rent a room at the Emirates Palace hotel. It is expensive, but not exorbitantly expensive. We described the prices and benefits in detail in the article "Emirates Palace".
The second option is to pay a one-time entry "Beach Club Day Pass". The pleasure is not cheap, but you get not only access to the beach but also to the hotel pools, you can have lunch in local restaurants, use the sports facilities of the hotel.
Entrance fee: 310 AED on weekdays for adults, 155 for children; 410 on weekends for adults, 205 for children.
Good to know
– You need not fear sharks on the beaches of Abu Dhabi, there have never been any attacks on people here. But there have been in other emirates, and potentially the threat exists, as you can read our article "Sharks in the UAE" about;
– On weekends and holidays, public beaches can be crowded as locals come here to relax. For a list of holidays, see our article "Holidays in the UAE"; for weekends (from January 3, 2022 it is Friday half day, Saturday and Sunday), read our article "Weekends in the UAE";
– Smoking on the beaches is allowed, but try to smoke so as not to disturb other visitors. Read about smoking rules and penalties in the review "Smoking in the UAE – prices and rules".
Have a nice tan and warm water, and read our interesting articles about the UAE (links below).