Benaulim Resort in Goa – white sand and hundreds of butterflies
Benaulim, Goa – a cozy village in the western part of India. People come here to meditate, take a break from the hustle and bustle of the city and admire the colorful nature.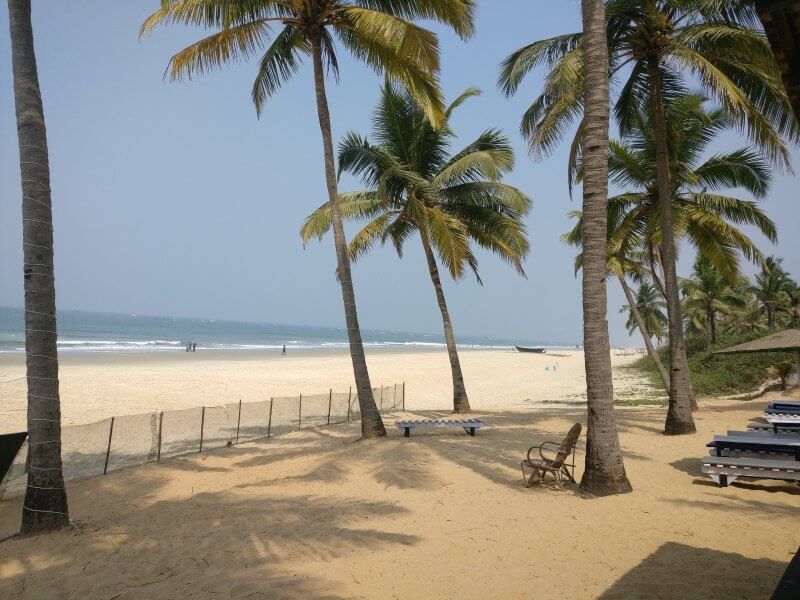 General Info
Benaulim Resort is a popular vacation spot in the state of Goa. It is a small village with spacious beaches and beautiful nature, where wealthy couples and families with children prefer to relax.
The resort is located in the western part of India, on the shores of the Arabian Sea. The state of Goa itself covers an area of 3702 km², and is considered the smallest of all 29 regions of the country. The coastline is 105 km long.
The state of Goa is home to 3 million people who call themselves Goans, which translates as "shepherds" and "cattlemen". The only official language is Konkani, but many locals speak Marathi, Hindi, and Urdu.
Interestingly, earlier the village of Benaulim had a different name, Banavalli. It means "the place where an arrow fell" (one of the Indian myths). It is believed that earlier in this place was the sea, and after its disappearance, there was built a city.
Most of the population of Benaulim village is engaged in fishing. Some also keep their own stores.
The main attraction of the resort of Benaulim in Goa is the beach of the same name. It is famous for its snow-white sand and its inhabitants – big colorful butterflies, of which there are many.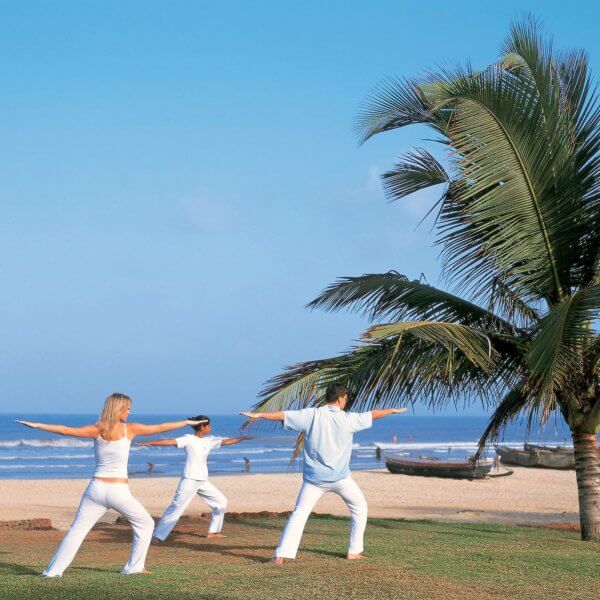 The beach Benaulim come to rest from the noise of the city and get your nerves in order. Parties and other entertainment in the village is really not, so a good rest is guaranteed. Here is what tourists love to do:
yoga;
admire the colorful sunsets;
butterfly watching;
meditative practices.
Despite the remoteness of this beach from the cities, it is well equipped: there are comfortable sunbeds and toilets, cafes and restaurants. There are hotels along the coastline.
On this beach in India has a dozen rental shops, where you can rent:
bicycle;
scooter;
water skis;
jet ski;
boat;
surf.
There are also many shops on the beach, where you can buy souvenirs, Indian cosmetics, neckerchiefs, beach accessories, spices and tea.
The sand on Benaulim Beach is fine and white. The entrance to the water is gentle and there are no stones or algae. There is very little trash and it is regularly cleaned up.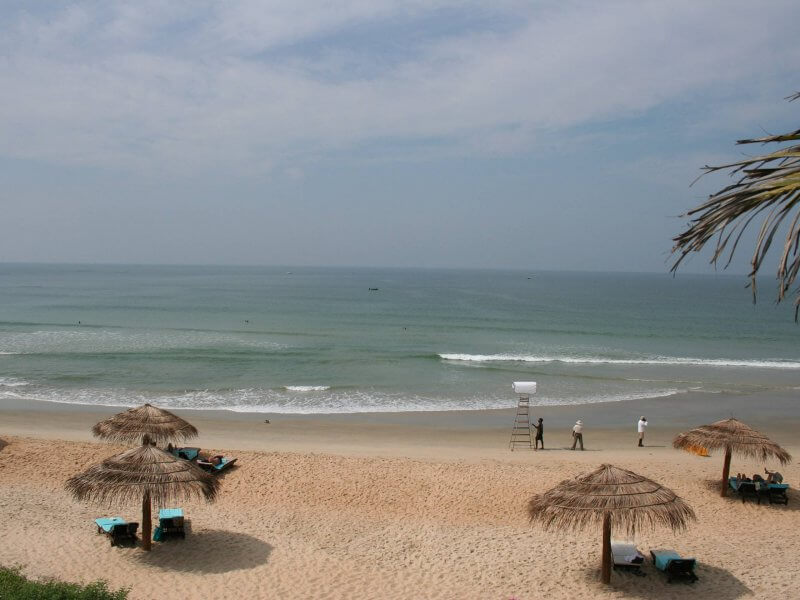 Note that there are usually no waves before 2 pm. This time is great for those who want to swim with children or relax in silence. In the afternoon the wind becomes stronger and the beach is visited by fans of water sports. The water temperature in the sea is always +28 ° C.
As for shade, there is none on the beach. The palm trees grow quite far from the sea, so it is not recommended to come here in the heat.
The length of the beach is a few kilometers, so it is easy to get some privacy by walking just 100-200 meters from the center.
Interestingly, the beaches of Benaulim resort are not divided into private and public – they are all municipal.
Unlike many other beaches in India, there are virtually no cows (with rare exceptions), but many dogs. Do not be afraid of them – these animals are very friendly.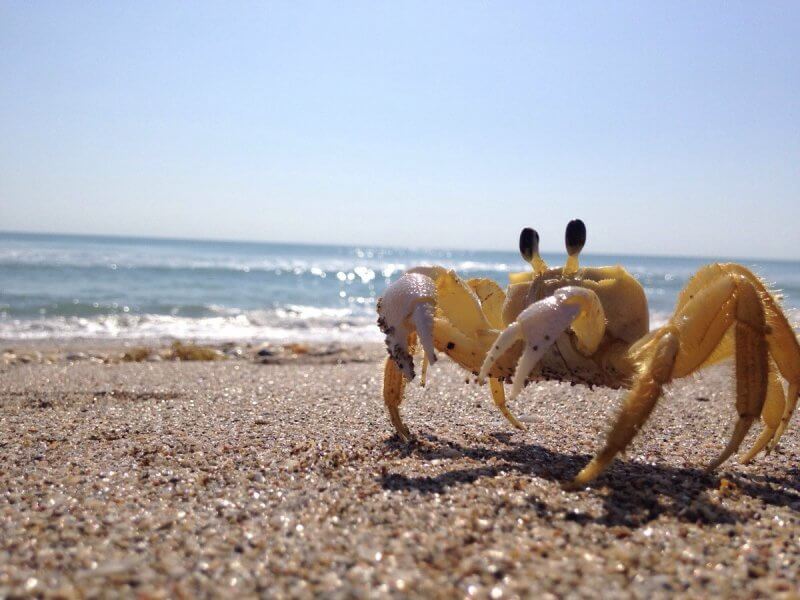 It is worth bearing in mind that in the evening small crabs appear on the beach, and in the morning they go into the water (by the way, bathing at night is not forbidden here).
However, the beach is famous for its butterflies – there are more than 30 species, and some are even included in the Red Book.
On the beach there are a number of stores where you can buy the following things:
| Item | Price (rupees) |
| --- | --- |
| Women's skirt | 90-160 |
| T-shirt | 100-150 |
| Men`s pants | 100-150 |
| Sandals | 300 |
| Kurta (traditional Indian shirt) | 250 |
| Miniature figurine (Taj Mahal, elephant, tiger) | 500-600 |
| Postcard with a picture of Benaulim beach | 10 |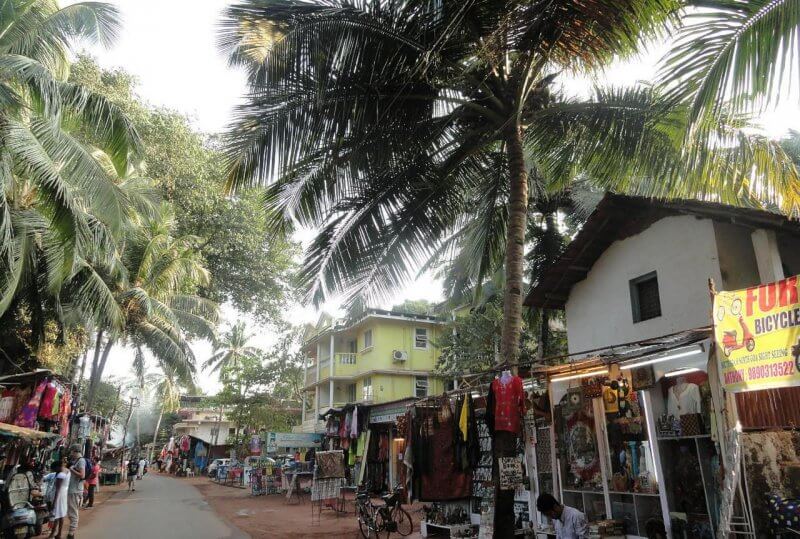 Accommodation
Goa is very popular with tourists, so there are over 600 lodging options on the island. Prices start at $7 per night.
There are 70 hotels, hostels and inns in the Benaulim resort specifically. So, a room for two in a 3* hotel in high season will cost $35-50. This price includes a simple but comfortable room with a fan (in more expensive hotels – air conditioning), TV and a beautiful view out the window (usually the sea). Hotel owners are usually ready to provide airport transfers and free Wi-Fi.
5 * hotels on the resort is the least – 3 options. The cost – from $220 to $300 per night for two people. In addition to a large room and a good breakfast, this price includes the ability to use the pool on the hotel premises, go to various procedures (such as massage) and visit the gym. Also on the territory of the hotel in Benaulim there are many areas for recreation – comfortable poufs on verandas, large chairs in the lobby, gazebos near the pools. Many hotels are ready to take tourists on an all-inclusive system.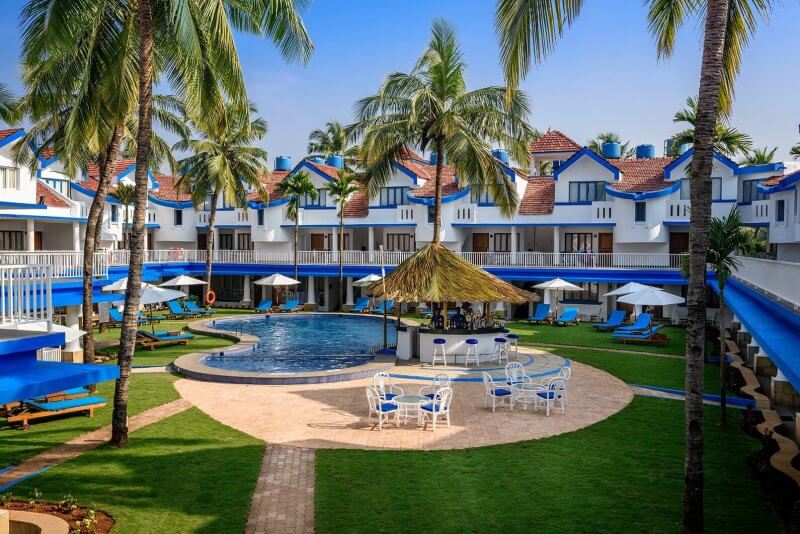 Thus, in the village of Benaulim quite a large choice of accommodation at pleasant prices.
Where to eat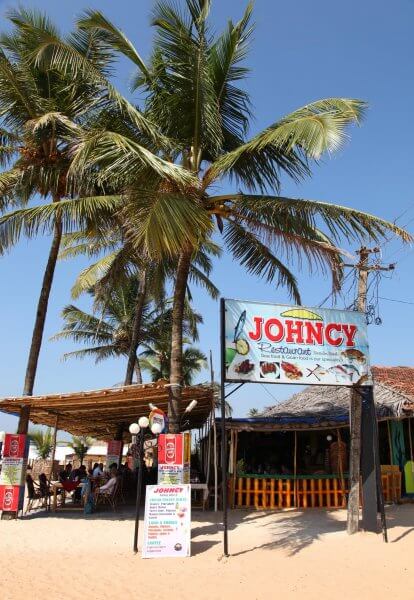 There are plenty of places to eat in Benaulim (Goa). There are many small cafes near the beach, which are called "sheki". Prices and dishes in them are about the same, but not all have a menu in Russian or English. It is gratifying that there are pictures of dishes.
Almost all of the dishes on the menu contain seafood and vegetables. Worth a try:
sea wolf (fish);
shark with potatoes;
sea bass.
Also pay attention to freshly squeezed juices and desserts.
The cost of the dishes in the cafe:
| Dish/drink. | Price (rupees) |
| --- | --- |
| Chicken and rice | 100-150 |
| Lobsters (1 kg) | 1000 |
| Flapjacks | 20-40 |
| Soup plate | 50-60 |
| Sandwich | 60-120 (depending on size and filling) |
| Pancakes and fillings | 70-180 (depending on quantity and filling) |
| Cup of coffee | 20-30 |
| Freshly squeezed juice | 50 |
| Bottle of rum | 250 (much cheaper in stores) |
Food kits (sets):
| Sets | Prices (Rs.) |
| --- | --- |
| Soup + chicken + cheese flatbread + juice | 300 |
| Rice + curry + Indian bread + Lassi drink | 190 |
| Rice + flatbread + vegetables + Lassi drink | 190 |
| Stuffed pancakes + rice + flatbread + vegetables + Lassi drink | 210 |
| Tea with milk and sweets (Masala tea) | 10 |
Thus, you can have a hearty meal in a cafe for 200-300 rupees. Prices in restaurants are much higher, but they are not prohibitive:
| Dish/drink. | Price (rupees) |
| --- | --- |
| Rice + seafood + salad | 230 |
| Spaghetti + shrimp | 150 |
| Fish + salad + potato | 180 |
| 2 pancakes with fruit | 160 |
| Omelette | 40-60 |
Remember that the cow in India is a sacred animal, so it is unlikely that you can try beef in a restaurant. Even if you find such a dish, you will be disappointed – they do not know how to cook beef in India at all.
If you don't want to have lunch in a café, you can eat in the streets, because there are a lot of takeaway stands along the beach. It is usually cooked over a fire, which makes it have an unusual taste. The prices are low:
| Dish/drink. | Prices (Rs.) |
| --- | --- |
| Flapjacks (different kinds) | 10-30 |
| Rice with curry | 25 |
| Fried fish (sea bass) | 35-45 |
| Freshly squeezed juice | 30-40 |
| Tea | 5-10 |
Since it is always very hot in Benaulim, India, and many European tourists get sick right after arriving, don't forget the simple rules:
Wash your hands.
Eat lunch only in proven places.
Do not drink tap water.
Always carry wet wipes.
Don't forget bug bite creams and sprays.
How to get to the beach
The most popular resorts in South Goa:
Vasco da Gama (30 km).
Utorda (10 km)
Colva (2.5 km)
You can get from Vasco da Gama to Benaulim resort by bus. Take the KTCL bus 74A at Vasco da Gama and get off at Margao. Then you should walk or take a cab 4 km. The total journey time is 50 minutes. The fare is 1-2 euros.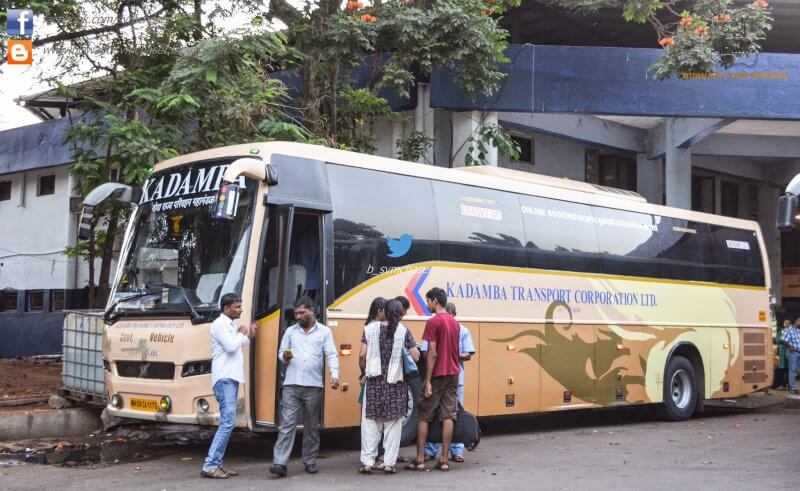 You can not get from Bernaulim to Utorda or Kolva resort by public transport. You must either take a cab or walk. A cab ride from Utorda will cost 7-8 euros, from Colva 2-3 euros.
If you want to visit one of the resorts of Goa, located nearby, tourists are advised to walk along the beach – a shorter and more scenic way.
The prices on the page are for August 2019.
Useful tips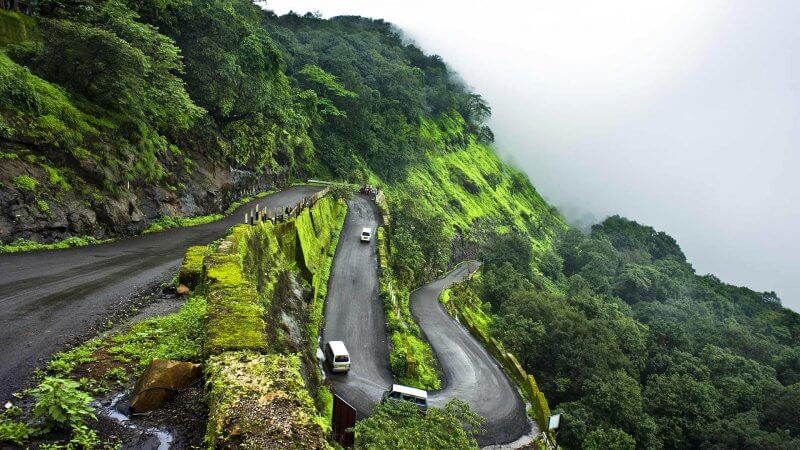 Despite the fact that the resort of Benaulim is warm at any time of the year, it is better not to come here from May to November – during this time there is high humidity and frequent rains.
Benaulim is perfect for those who are tired of the many vendors and animators on the beaches of North Goa – in the southern part there is nothing like that.
Many tourists who have bought excursions from Benaulim to different parts of India, note that the programs are really interesting, but because of the serpentine and hot weather the trip is very poorly tolerated.
If you want to buy something, be sure to bargain. All items are sold with a huge markup, so the seller is always ready to give up at least a little. The only place where such a number can't be passed is the drugstores.
Experienced tourists do not recommend ordering drinks with ice in cafes and bars – in India there are problems with drinking water, and the ice can be made from contaminated water, to which the European body is not adapted.
Doctors recommend vaccinations against hepatitis A, typhoid, meningitis and tetanus before traveling to India, as these diseases are very common.
Benaulim, Goa is a picturesque place for a quiet family and romantic vacation.
Lunch at a local cafe and a tour of the souvenir shops:
Author: Maria Protasenya
Updated: 22 Aug, 2019 The beaches of the Dominican Republic are the perfect places for a relaxing…
Updated: 23 Oct, 2018 Wat Rong Khun Temple – a famous Buddhist complex in Thailand….
Updated: 4 Nov, 2020 Nikiti, Greece is the largest settlement of…
Updated: 23 Oct, 2018 Cha Am (Thailand) is a Thai resort that will suit…
Benaulim travel guide


Alyona
The resort of Benaulim is characterized by picturesque nature, adjacent to ungroomed fields, and an exceptionally peaceful atmosphere. While these two factors combine to give this small seaside village its charm, they also discourage any lover of loud parties, upbeat music, and outdoor activities from lounging on its beaches. Benaulim is a peaceful place, and the place becomes crowded, if I may say so, only from December to early February.
This resort for the rest choose mostly tourists who prefer a quiet and comfortable pastime. Small travelers have nothing to occupy here, and young people quickly get bored of the excessive silence. But despite everything, a cozy town with well-groomed streets and houses buried in tropical greenery, attracts young and inquisitive tourists.
Accommodation in Benaulima
Unlike the nearby big city of Margao, the small town of Beaulim has a smaller selection of hotels. Yet it is easy to find a place to stay. You can stay in a private guesthouse or a small guesthouse. Most nice mini-hotels are located near the beach on cozy streets of the resort. Rooms in such places are clean and uncluttered. However, the cost of such overnight stays perfectly fits into the cost-effective vacation.
Lovers of recreation with comfort can book a room in one of the newly built hotels. Local rooms are equipped with air conditioning and everything you need for a high quality.
When better to rest in Benaulim?

Elena
The tourist season in Goan is the same everywhere, both in the north and in the south. It begins in November and ends in March. Come of course tourists here in October, and in April too, but in much smaller numbers. Of course, the peak time is December and January. It was during this period, even in Benaulim, a quiet and peaceful village can be both crowded and incredibly expensive.
Summer is considered a dead tourist season for Benaulim. If you come here at this time, it would seem that European tourists here in general can not find a day. And almost the whole of Goa there are not many of them, and if they prefer to be here, they go to the north, where it is easier to find company and entertainment. But do not forget that even most of the shakes on the beaches during the rainy season is actually dismantled.
The rains continue from June to September inclusive. And the sea at this time of the year is not suitable for swimming, storms so that even the fishermen do not go on their daily fishing. And besides you should take into account the hellish heat and high humidity, so that to experience such a season is possible only in a very well-ventilated room and in the presence of air conditioning.
With the advent of September the last rains almost come to an end. Well, with the beginning of October and in November on all the beaches again build up their necks. This period is more suitable.
Where to stay in Benaulim?

Elena
Since Benaulim is a very small village, you can settle here as near the beach, and a little in the back – and there, and it will be convenient. In general, the hostels are located a couple of kilometers away from the sea, so it's not too difficult to walk there to swim. Well, the area is full of life around Benaulim's main street, Beach Road. This is where most of the tourist accommodation is located, and in addition to it, there are also small streets that go deeper into the village.
The only five-star hotel in Benaulim is Taj Exotica, which is located in the southern part of the beach. Rooms per night here cost from 15000 Indian rupees, and by the way it is not the most expensive accommodation in the area. For example, you can find a private villa with a pool, which at its price will be one and a half to two times higher than the accommodation in Taj Exotica. In general, in the southern part of Goa is much easier to find a good house or apartment is in the European style, than in the northern part. However, for the comfort of such a great extra pay.
We can conventionally divide Benaulim into two main parts – the beach strip plus 1.2 kilometers in depth from it, and all that is further. The main intersection of Beach Road with Benaulim Colva Road will naturally serve as the divider. This is where the only bus stop in the village is located. The main options for accommodation are concentrated to this line, because there is a bus stop… read completely…
How to get there?

Elena
Because Benaulim is located in the southern part of the Indian state of Goa, the easiest way to get here is by plane. You can fly to this popular resort, both on charter and regular flights, especially in the period from November to April, when the tourist season is in full swing. Well, at other times of the year you can get here with regular flights through Mumbai or via Delhi from Moscow, because there are planes direct to the capital of India, but people from other cities in our country have at least two changes, and even more.
Benaulim is quite conveniently located from Goa's main airport in Dabolim. So when you arrive there, just 20 kilometers will separate you from the airplane to spend your wonderful vacation. Upon arrival at the airport you can immediately take the prepaid Taxi, which are pre-paid strictly on a fixed-rate and cost about 750 Indian rupees.
As for the trains, the nearest major transport hub to Benaulim is in Margao, which is considered the gateway to South Goa. Benaulim and Margao are separated by only 5 kilometers, so it is incredibly easy to get here by bus and train from almost anywhere in Goa, as well as in India. A huge number of trains pass through Margao every day. You can therefore get to Benaulim with a connection in Margao from Delhi, Mumbai and Mangalore as well as Kovalam, Bangalore and many more.
Food and drinks

Elena
The food in Benaulim, or rather all that is offered here to satisfy one's hunger differs very little from the range of other Goan resorts. You could say that virtually all the food you can find here is completely adapted for visiting tourists, so it is much harder, perhaps, to find a truly authentic Indian cuisine. Be sure to try the thali, especially in its vegetarian form, which serves only rice, vegetable sauces and roti. You can also try the thali with fish, which is called fish curry rice here.
And another thing to note about Benaulim is that for this surprisingly small resort village Street Foods is quite developed, but as a rule it starts its work after sunset. For example, at the main crossroads of the village there is a trade in momos – they are cooked right there. They are Tibetan dumplings, and they are steamed in about the same way as our manty.
These dumplings can be stuffed with chicken, vegetables, cheese, and sometimes even meat. Well, even closer to the beach you can see that they sell corn, which is roasted on coals, and it is much sweeter and much softer than ours. In addition, the local serving is very interesting because the corn here is not only salted but also sprinkled with hot peppers, oiled and even poured with lime juice, so that you get an unimaginably delicious dish. In recent years, even began to open points with our adored shawarma, because Indians also respect the meat with vegetables, by all means.
What tours are worth visiting in Benaulim?

Elena
Goa is a very small state, so it is quite possible that from Benaulim you will decide to go wherever you want, because that in the south that in the north you can find the most interesting sights within a radius of no more than 100 kilometers. Thus, you can always arrange themselves, so to speak, an excursion for a day. For example, if you are bored a little beach in Benaulim and want to see other beautiful beaches, but do not go somewhere far away.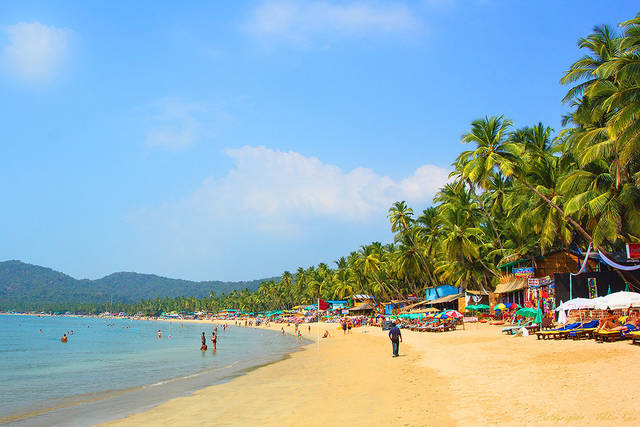 In general the south is full of such places and the southern beaches are even considered the most beautiful in the whole state of Goa. In principle, this statement can be called controversial, and it is largely due to the fact that the beaches are longer, less crowded and wider in the south than in the same north. It is possible to travel to beaches such as Ralolem and Cola in one day. Cola is separated from Benaulim by a distance of 23 kilometers and Palolem by 30 kilometers. If you rent a bike, you have no problem getting anywhere. To Palolem you can get by bus in Margao, but to Cola you can only take a rickshaw or a cab – there's no bus service.
For architecture and memorabilia, visit the state capital, Panaji, for a glimpse of the colonial period. Panaji is 30 kilometers away from Benaulim. And from there you can go to Old Goa – the place where there are still Catholic… read more

Veronika D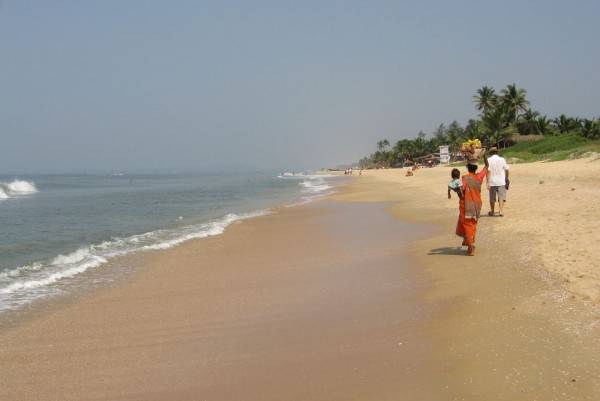 Benaulim – a quiet holiday without the hustle and bustle. That imprinted in my memory, rest at this resort. I am by nature a man active and agile, for me the beach vacation, is a real torture, but Benaulim completely changed my outlook on these things. To make a long story short, in Benaulim we just slept, ate, sunbathed and swam. We also went shopping and went to a few cafes. If you are interested, I will gladly share with you the prices in Benaulim, as I have a habit of putting them in my notebook. At the resort itself, there are no outlets as such, but they are in large numbers in the neighboring villages – Anjuna, Kalangut and Arambol. If you need to buy souvenirs and other small things, then it is necessary to go to these villages. It is quite easy to move around here, because without much difficulty, you can rent a bike, take a cab or use local public transportation in the form of a bus.