10 idyllic mountain villages in Switzerland
This list features some of the most beautiful mountain villages located in the Swiss Alps, lakes and valleys.
They impress with their beautiful houses with traditional wooden facades and roofs, the craft of which is long gone. Above all, they boast breathtaking mountain worlds and exude a serenity you will never find in most major cities. Hardly anywhere else can you find as many idyllic mountain villages as in Switzerland.
Landarrenka (Graubünden)
The small village of Landarenka, situated at 1,272 metres above sea level, is a dream for every visitor who wants to be in silence, because there is no access road – there is no car traffic in the village. In 1962, the village decided to use a cable car instead of a road, which means that it can only be reached by it or on foot.
2. Sils im Engadin (Graubünden)
The idyllic village of Sils im Engadin is located 1,800 meters above sea level and consists of the two districts of Sils-Maria and Sils-Baselgium. Famous writers, poets, philosophers, artists and musicians, from Hermann Hesse and Anne Frank to David Bowie, have often spent their vacations here. Even the residents here are international, nearly 40 percent belonging to foreign nationalities, primarily Portugal, Germany and Italy. Zils Maria was the setting for the movie "Zils Maria," starring Juliette Binoche, Kirsten Stewart and Chloe Grace Moretz.
3. Gruyere (Fribourg).
Not exactly a mountain village, as Gruyere is only 810 meters high, but it is not to be missed. It's a place with medieval walls, a beautiful castle, and world-famous cheese. Here you should definitely indulge yourself with dishes like fondue and raclette. After tasting, go to the Tibet Museum or the HR Giger Museum, dedicated to the artist who took part in sci-fi movies such as Alien and Batman Forever. Thus, the fabulous Gruyere can offer a colorful variety of attractions, including excellent mountain scenery.
4. albinen (Valais)
Albinen lies at an altitude of 1,300 meters and offers a very special view. It is an ideal place to get away from the hustle and bustle, breathe the mountain air and enjoy the sun. Conveniently, a 15-minute drive away is the thermal spa of Leukerbad, with hot healing springs. Also in the town there are several hotels, guest houses, chalets and holiday apartments.
5. Sollo (Graubünden).
Sollo is located at an altitude of 1090 meters above sea level. The area, a kind of picturesque terrace, looks like an ideal place to build a village. Perhaps so thought the founders of the settlement – Solo was first mentioned in 1186.
The first thing that attracts attention is the town church with its striking spire, which is a protected monument. This picturesque village is not without reason on our list, because already in 2015 it was recognized as the most beautiful village in Switzerland.
6. Lauterbrunnen (Bern)
Because of its location in a picturesque valley, Lauterbrunnen is one of the most beautiful villages in Switzerland. It inspired author J.R.R. Tolkien to create "Rivendell", the famous elven settlement in the bestselling book "The Lord of the Rings".
Lauterbrunnen is about 802 meters high and is also known for many waterfalls such as Staubbach and Trümmelbach. There are opportunities to explore the surrounding area, such as discovering Mount Schilthorn by cable car.
7. Grimenz (Valais)
Grimenz, which has no cars in the center, is located at an altitude of 1,553 meters in the Swiss Val d'Annivier Mountains. It is a very typical place for its area, here visitors will find the idyll of a mountain village thanks to the abundance of traditional dark wood chalets and wooden houses. Grimentz is ideal both for summer holidays, with a large network of marked hiking trails, and for winter sports, as it not only has its own ski slopes, but is also connected to the Zinal ski area.
8. Guarda (Graubünden)
Guarda is next to the village of Ardetz, so if you want to see two beautiful villages at once, it's easy to do so because they're only 15 minutes apart. Many visitors come to Guarda to climb Piz Buin Mountain or hike in the surrounding area. The mountain peak forms the border between Austria and Switzerland. In winter, you can spend time sledding and cross-country skiing.
9. Murren (Bern)
Mürren, in the Bernese Alps, is 1,650 meters above sea level, very close to the aforementioned village of Lauterbrunnen. From there, the best way to get to Murren is by mountain railroad or by taking the cable car from Stechelberg. Like some of the villages on this list, there is no road in Mürren. From here you have a view of some of Switzerland's most famous mountains, such as the Jungfrau, Mench and Eiger.
10. Grindelwald (Bern)
Speaking of the most beautiful mountain villages in Switzerland, we can't help but mention Grindelwald. It is located near the villages of Murren and Lauterbrunnen. Visitors have been coming here regularly for about 200 years. In addition to the classic hiking and skiing, you can go mountain biking and rafting on the river, and the brave can go down the slope with the world's longest rope slide at 90 km/h.
READ MORE
The 14 best tourist destinations of December
You're asking yourself: where else is it warm in December? These 10 destinations are not only warm and sunny, but also heavenly!
Top 10 Travel Destinations for 2020
Want a new experience? Here we show you ten tourist destinations that made the 2020 trend lists and are attracting more and more visitors.
Liverpool's secret tunnels, built by an eccentric "philanthropist"
The Williamson Tunnels are a maze of tunnels in the Edge Hill area of Liverpool, England that were built under the direction of Joseph Williamson between 1810 and 1840.
"Caspian Monster" becomes a tourist attraction
It's not a real airplane, and it's not a real ship – it's the "Caspian Monster." That's the term used to describe the Scranoplane, a hybrid of an airplane and a ship that was once developed by the Soviet Union in a single instance.
Top 10 Best Tourist Destinations in November
Are you asking yourself where else is it warm in November? These 10 destinations promise a great warm vacation!
The 10 greatest deserts in the world
The classic sandy desert is the most famous, but by no means the only kind of desert. Instead, there are deserts made of ice, rock and salt. There are white, red, black, yellow and green deserts.
Beautiful villages in Switzerland
The Swiss Alps are popular for many reasons, but have you ever considered them as a place for informational detox?
High up in the mountains are old villages where life develops at its own peculiar pace (no cars on the roads) and is more reminiscent of community life.
To get here, you will need to take several cable cars and quite a lot of walking. When you finally get there, forget about the everyday hustle and bustle and enjoy the special atmosphere, far from the stress.
If you've already got your suitcase ready, we've put together a selection of the 6 best places to go for the most right winter.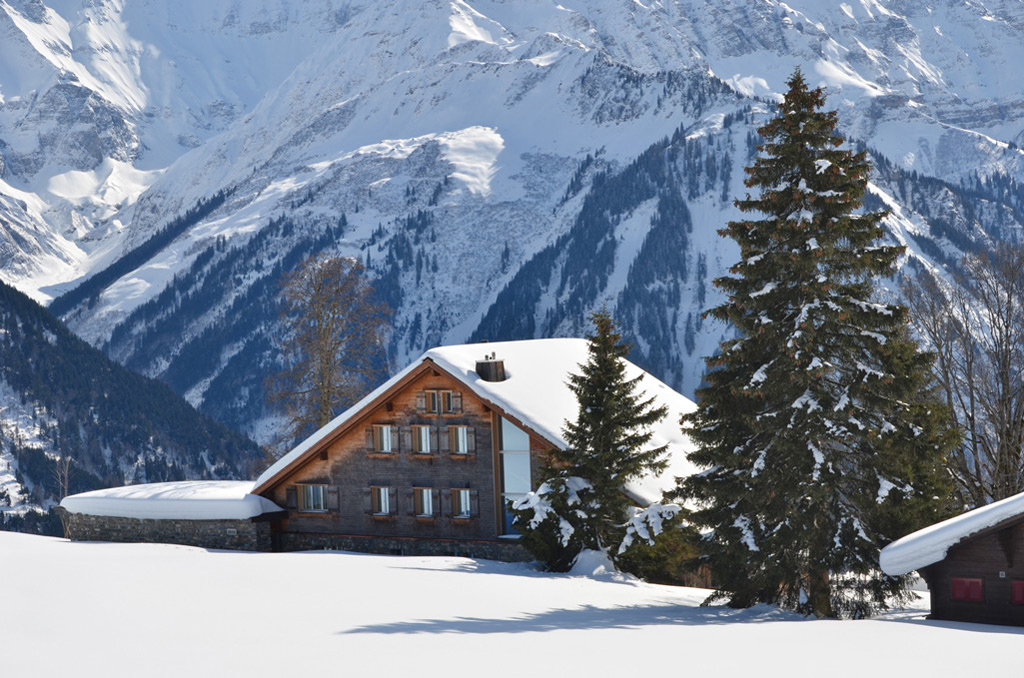 Braunwald
Braunwald is a real Swiss secret: it is located in the Glarus County in eastern Switzerland, and there are only 400 inhabitants.
In winter, the trails start literally on your doorstep. In summer, all the trails turn into trails for hiking and trekking – you can walk to Schwyz or Uri, and come back by bus.
The village has its own bakery, cafe, grocery store, cankomat and several restaurants (at the hotels).
One of the best places to stay is Ahorn, but there are a lot of decent options nearby.
The easiest way to get there is from Zurich (it's only 2 hours away),
and then you will need to take one of the longest cable cars and at an angle of nearly 45 degrees to get to your destination.
The ride is definitely magical – from start to finish.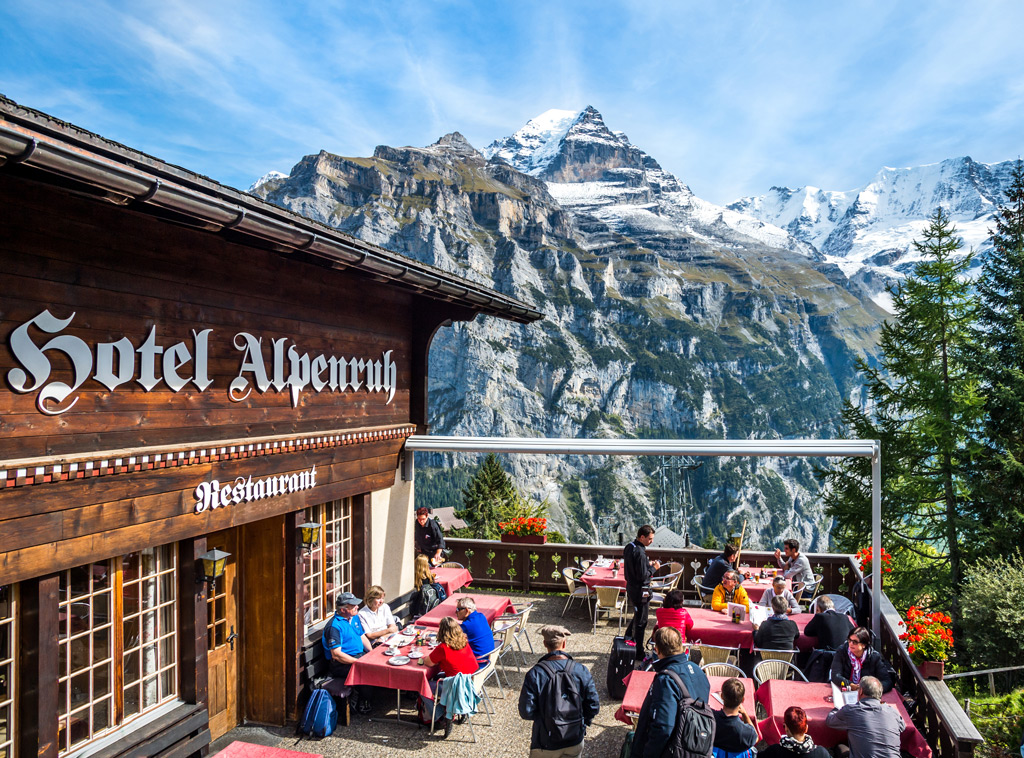 Murren .
Just above the Lauterbrunnen valley, the one that inspired Tolkien, is the village of Mürren, which offers amazing views of 3 of the world's most famous mountains: the Eiger, the Monk and the Jungfrau. Of course, it will be nice here in the summer, but if you come in winter, you'll understand what inspired the British to invent skiing here.
The village has a supermarket, bakery, butcher store and several cafes and inns. The best of the cafes is rightly considered Stägerstübli, with its tables outside, where you can catch up on all the latest news and gossip over a morning coffee.
You can get to Mürren both by car and by train.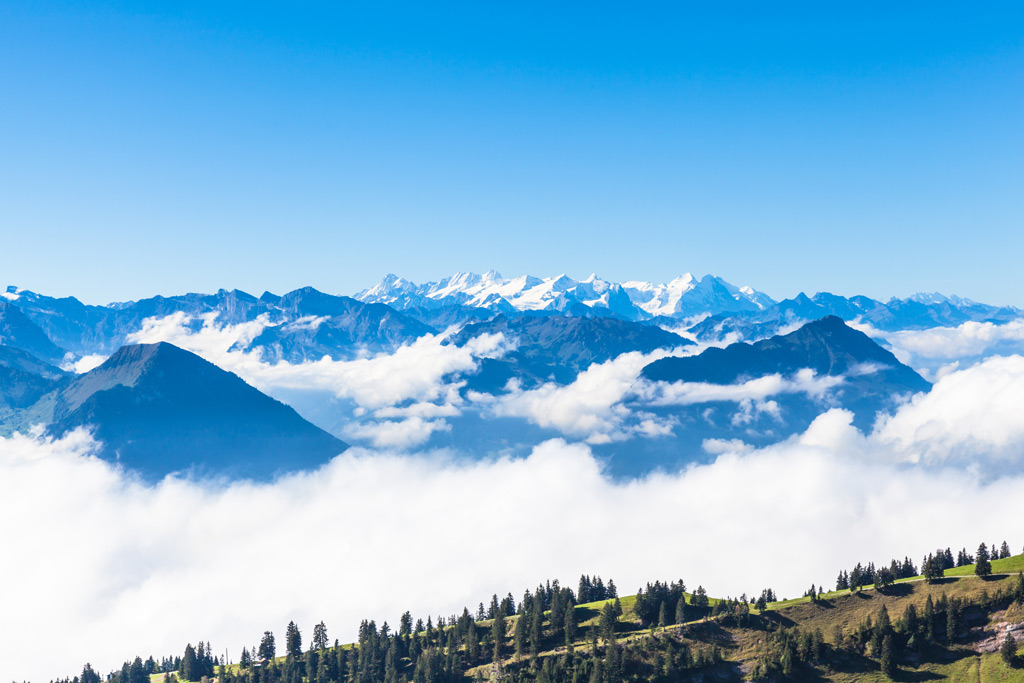 The easiest way to get to this mountain village is to take regular trains from Veggies, which is close to Lake Lucerne. When you arrive, get away from the crowds and head into the mountains to enjoy the beautiful views of central Switzerland.
If you want to stay overnight, stay at the Hotel Rigi Kaltbad, which is known for its mineral baths and spa treatments.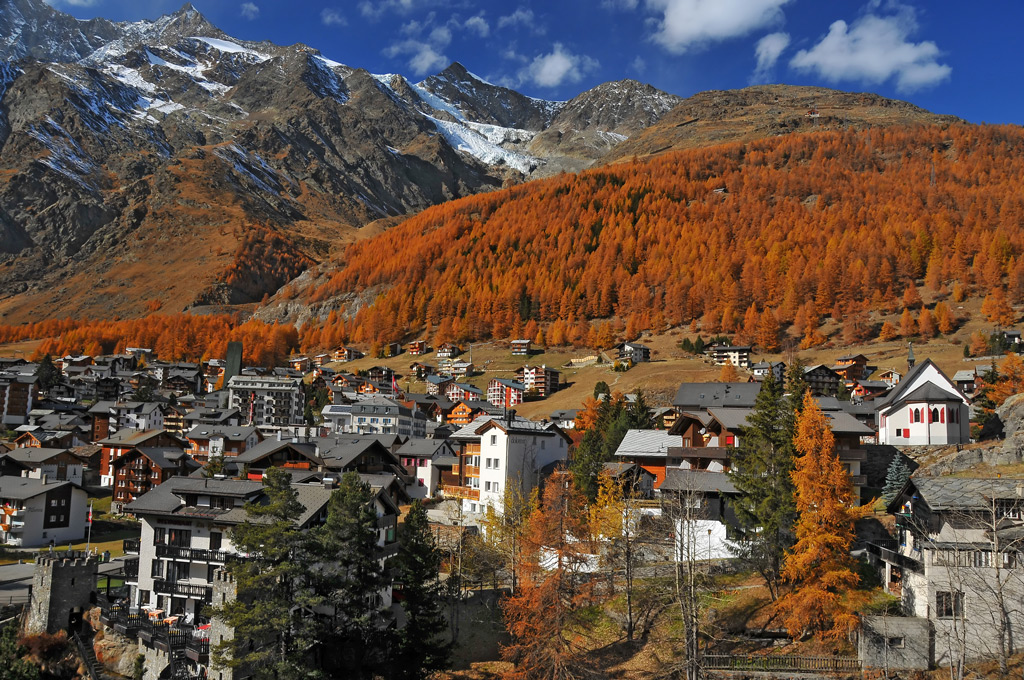 Saas-Fee
Inside a huge old rock, resembling a bowl, is the ski village of Saas-Fee. It has lost a bit of its charm due to the constant flow of visitors, but the nature has remained just as impressive: the trails here are ideal for hiking and offer great views. If you are not indifferent to the spa, be sure to check out Ferienart.
It is also worth getting into the highest restaurant in the world – threes!xty – Drehrestaurant & CofFee, not only that it is perfectly cooked and that, from there you can see the magnificent panorama, and it also rotates.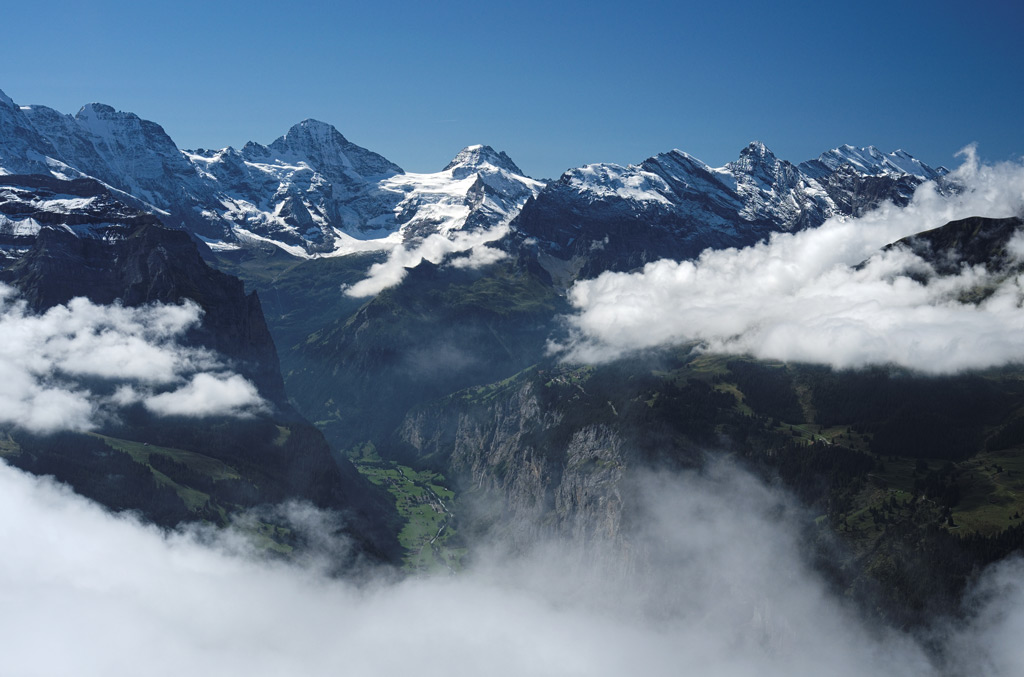 Wengen
Wengen is separated from Mürren by the Lauterbrunnen Valley, but this village arguably offers some of the best long-distance skiing trails imaginable.
Wengen is a little better developed than the other villages, as it is on the train route that takes tourists from Lauterbrunnen to Klein Scheideg.
In the summer thousands of people come here (per day),
to get to the peaks. And there's so much more to do here than anywhere else. And if you're looking for the kind of Switzerland you've seen before in pictures, you've come to the right place: There are great hiking trails and picturesque mountains.
You can also walk to Grindelwald from here.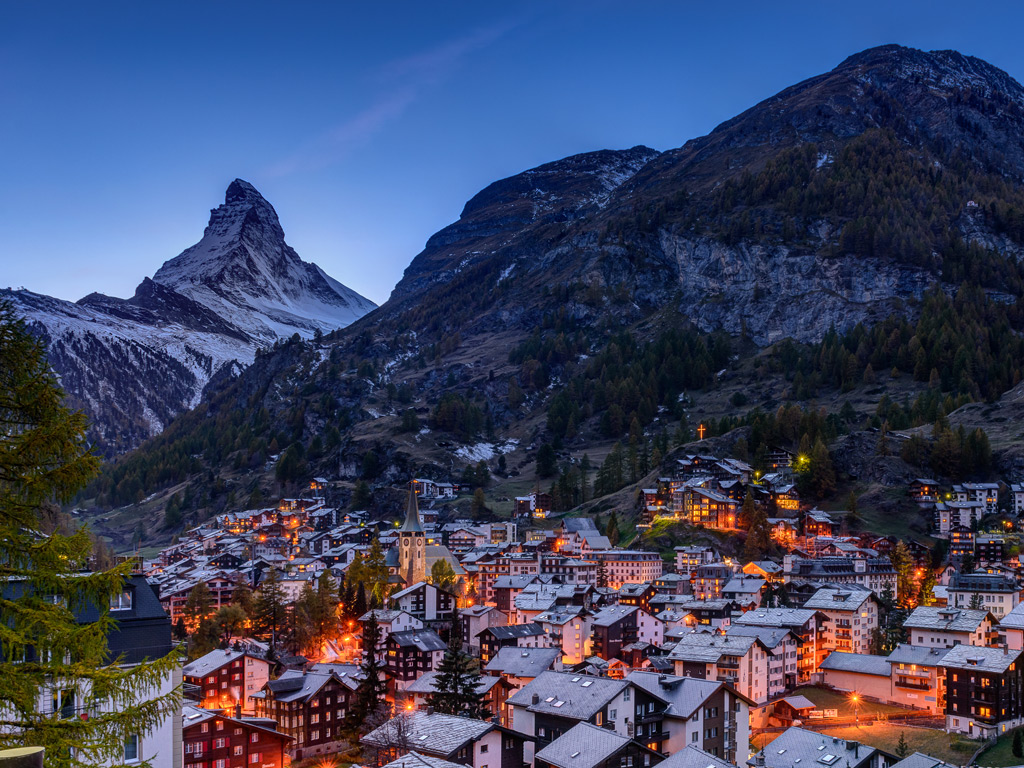 Zermatt
Zermatt is one of Switzerland's most popular ski destinations, and not surprisingly, with its quiet lanes, stunning views of the Matterhorn and wonderful slopes. At the same time, the village has managed to keep its charm and glamour, which adds brilliance fashionable stores and restaurants.
One of the best places to stay is the Riffelalp Resort 2222m, a hotel made in the best tradition of the Alps, with beautiful views of the valley.
Be sure to follow the Riffelsee trail and into Gornergrat, you can take the cable car up there and walk back down.