Which country is better to live in – New Zealand or Australia?
To answer the question of which country, New Zealand or Australia, is more comfortable to live in, let's compare the various components that make up the standard of living:
Do you want to compare other countries? Use the form below:
It's probably hard to argue that living in a rich country is better than living in a poor one. According to 2019 data, the main indicator of economic development, GDP per capita in purchasing power parity, was:
New Zealand – $43,200 ,
Australia – 51.9 thousand dollars .
Thus, in terms of gross output per person, Australia is ahead of New Zealand by %.
Where do people earn more?
Let's compare the minimum wage and average wage in both countries.
The minimum wage in New Zealand is set at NZ$16.5 per hour (equivalent to about $1,950 per month) ;
The minimum wage in Australia is set at A$21.6 per hour and $740.8 per week (equivalent to about $2,250 per month) .
The average "dirty" wage (i.e., before taxes and other mandatory fees) is:
New Zealand – 5,150 New Zealand dollars (about $3,600) ;
in Australia – 5054 Australian dollars (about 3600 USD).
The gap in per capita GDP is evened out by the difference in the cost of living. According to statistics from the Numbeo database at the beginning of 2021, New Zealand is the "cheaper" country.
The price level in New Zealand for a set of basic goods and services (including food, consumer goods, transport, communications, utilities) is on average % lower than in Australia. In other words, at the current exchange rate, $1,000 in Australia will have the same purchasing power as dollars in New Zealand.
You can compare the general level of criminality with the "crime index. This index is calculated by the portal Numbeo, which specializes in ratings of various aspects of life in all regions of the world and shows how safe to live in the country in terms of the risks of becoming a victim of violators of the law (the higher the value, the greater the risk) . As of 2020, the crime index was:
New Zealand – 42.19 ;
In Australia – 41.67.
To assess the law-abidingness of the population and the intensity of law-enforcement work, we will pay attention to the statistics on intentional homicide and data on the number of New Zealanders and Australians in places of incarceration.
Every year out of every 100 thousand inhabitants the victims of murderers become:
In New Zealand – 0.7 people;
In Australia: 0.89
As of 2020, in prisons and camps were serving sentences:
In New Zealand – 9,86 thousand people , or 199 inmates per 100,000 population;
In Australia – 43.13 thousand people or 169 prisoners per 100 thousand people
Thus, on the average it is more often killed in Australia, and imprisoned – in New Zealand.
Where do people get sick less and live longer?
The quality of life in a country largely determines the longevity of its citizens. According to the latest data, life expectancy is:
in New Zealand – 82 years ( 80.4 years for men and 83.5 years for women)
in Australia: 83 years (81.3 years for men and 84.8 years for women)
To get an idea of people's health and the condition of the public health system it is possible to examine the spread of dangerous diseases in the country. Let us compare where such diseases as HIV-infection, tuberculosis and cancer suffer more often.
According to the World Health Organization (WHO), the prevalence of HIV infection was:
New Zealand – 3,500 infected ( 0.07% of the population)
Australia has 29,000 people infected (0.11% of the population).
in New Zealand – 360 people ( 8 per 100 thousand of the population);
In Australia – 1700 people (7 per 100 thousand of population)
The situation with the incidence of cancer is as follows:
in New Zealand there are 422.9 new cases of the disease per 100 thousand people annually and 99 deaths per 100 thousand people;
In Australia there are 452.4 new cases and 83.3 deaths from cancer per 100 thousand people annually.
The quality of medicine in a country should be judged not so much by the absolute figures of cancer incidence but by the correlation between the number of new cases of the disease and deaths from it (the lower it is the higher the share of people who have been cured or continue treatment; the better the public health system works accordingly). In the countries under consideration we see the following ratio between those who fall ill and those who die:
In New Zealand – ;
We can compare the efficiency of health care systems in New Zealand and Australia on the basis of the Numbeo index of the quality of medical care. This index comprehensively reflects how good or bad with medicine in the country, and takes into account the degree of equipment and medicines in hospitals, professionalism of staff, the availability of treatment in terms of its cost. As of 2020, the index values were:
in New Zealand – 73.82 ;
in Australia – 77.81.
It is believed that it is more comfortable to live in the country where people are less exposed to bad habits. Statistics provided by the WHO show the following level of alcohol consumption (in terms of pure alcohol)
New Zealand – 10.6 liters for each resident over the age of 15 (16.4 liters for each man and 5.2 liters for women);
In Australia, it is 10.5 liters for each person aged 15 years and over (16 liters for males and 5.2 liters for females).
How different are the alcoholic drinks preferred by New Zealanders and Australians?
In terms of pure alcohol, beer accounts for 38.2% of consumption in New Zealand, wine for 33.9%, spirits (vodka, brandy, etc.) for 15.2%, and other drinks (including homemade drinks) for 12.5%;
In Australia, beer makes up 44% of all alcohol consumed, wine – 36.7%, strong drinks – 12.5%, all other drinks (including home-made brews, moonshine of various kinds, etc.) – 6.8%
The tendency to smoke in the countries under consideration is as follows:
In New Zealand, 16% of adult citizens are active smokers;
In Australia, 14.9% of the adult population are regular smokers
Australia leads in per capita consumption of tobacco products – the average annual cigarette consumption per adult population is 917 cigarettes, compared to 685 cigarettes per capita in New Zealand.
Where do people have more reasons to be satisfied with their lives?
It's probably hard to come up with an indicator that can be used to determine exactly how satisfied people are with their lives in a given country. Nevertheless, there are several such studies.
For example, UN experts calculate the so-called "World Happiness Index Country Rating," which gives an indication of the extent to which a state's achievements are able to provide its citizens with a happy life. According to data for 2019, New Zealanders are happier with a "happiness index" of 7.3 – while in Australia the index is 7.223 .
There is another composite indicator, also used by the UN, which takes into account different reasons for citizens to feel comfortable: the Human Development Index (HDI). According to data for 2020, the HDI in New Zealand is 0.931 ; in Australia – 0.944 .
An indirect assessment of people's satisfaction with their existence can be made on the basis of the number of suicides. After all, according to the logic, the more the life of the citizens of a certain country is comfortable, the less reasons for them to kill themselves. The number of suicides per 100 thousand people in the countries in question:
New Zealand – 11.6 cases of suicide ( 17.3 among men and 6.2 among women) ;
in Australia, 11.7 (17.4 for men and 6 for women).
Australia or New Zealand

We are often asked the question, what is the difference between Australia and New Zealand? Where is better? The answer is simple, it's important to compare both countries and figure out which is right for you.
Content:
I'm one of the very ones who consciously moved from Australia to New Zealand, not the other way around. Upon hearing this, many people ask: How? Why? Everyone wants to go to Australia the other way around.
For me, the decision was a conscious and considered one. But I did not want to jump to conclusions. It's been almost a year, rose-colored glasses are gone, went (almost) a period of downshifting and getting used to. I confidently declare that I still believe that my choice was the right and the best. Best for me, but not necessarily for you, so I will try to describe and compare each point as constructively as possible from a practical rather than analytical side.
I lived in Australia for 5 years in Sydney and went all the way through immigration (except getting citizenship). This is my personal opinion and I don't claim to be an expert. Just answering dozens of questions about Australia at once.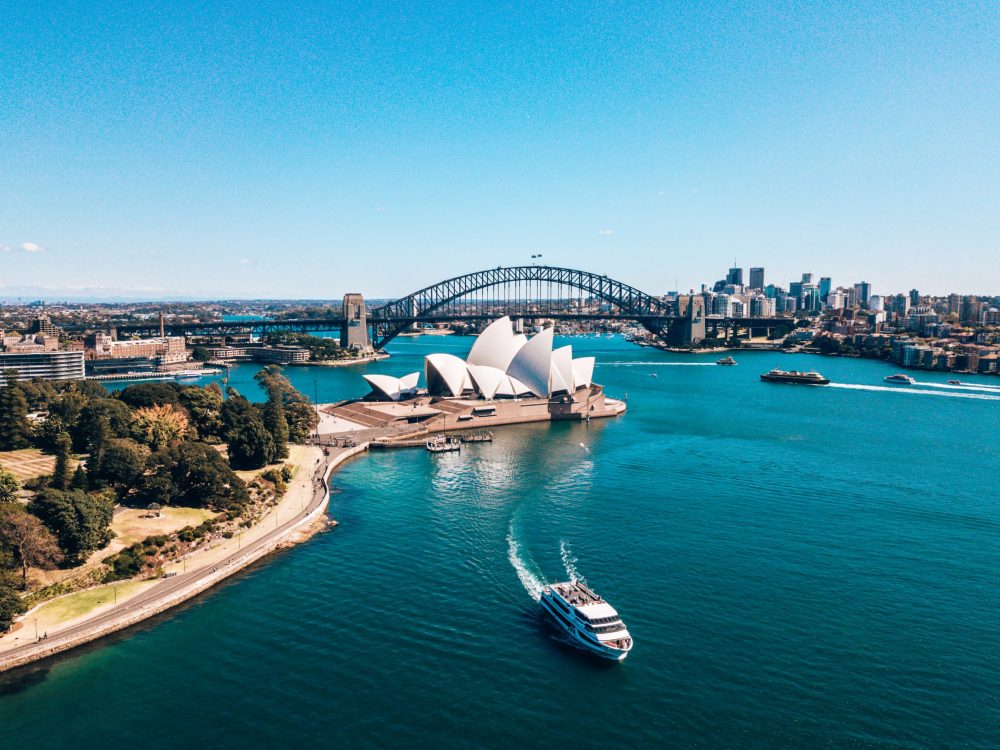 Australia, Sydney
Animal World
Are you intimidated by creepers? Spiders, snakes, etc. Australia has it all. If you live in the center (CBD) on the 25th floor, a snake is unlikely to climb up to you, but in the parking lot it may curl up on the wheel. They don't attack themselves and there certainly aren't many of them.
Spiders regularly look into homes and cars. But not all of them are poisonous, because some eat cockroaches. Cockroaches, on the other hand, I could never get used to. They're everywhere. They're different. There are some that are the size of your big toe and they also fly. In general, there are times when you come home from work in the evening when it is dark and humid, and they crunch underfoot… I can control them at home, but I'll be damned if my neighbors are filthy.
Nature and climate
That's a matter of opinion. For me it was very hot and humid in Australia. Sweaty mode in the summer. I remember in January during hot waves I would get up at night and take a cold shower because I was just melting like ice cream. Sure, it's nice in AC. But not all homes have that luxury and the price tag then also makes itself felt. But someone gets high from the heat. Then you will certainly have a great time. And winter is almost the same, maybe just shorter. But that's just about Sydney.
Prices
It's kind of the same here. For example housing is more expensive in Sydney, but food is cheaper. Public transport and petrol are cheaper in Sydney, but cars and their maintenance are more expensive.
Salaries in Australia are higher, but there are more temptations. It's about the same on the way out. But it was probably a little easier in Australia.
Employment
I'm not going to talk about professional immigration now. My path is from scratch.
I came to Sydney as a student, no local experience, visa restrictions and all. I found a job very quickly, but which one? I juggled five positions. At the same time I was a waitress, worked as a teacher in an elementary school, taught yoga, was a massage therapist in an Ayurvedic salon, took pictures. I was very tired, I got pennies, but I tried my best.
After graduation, I thought that finally I would find a real job. Yeah, OVERQUALIFIED, but NO EXPERIENCE sound familiar? So it took me another half year to find my first office job. The job was primitive and boring, but at a media agency. It meant a lot of contacts and a good start to be seen.
Half a year later I was seen. Only then did I get the position I wanted. So I organised conferences and took photographs for a few years. They didn't pay me much, because they knew I was an immigrant and I would take it anyway.
Conclusion. There are more jobs in Australia, but not the fact that it's better and not the fact that you're better recognized there. The path can be thorny and only through hard work and motivation will you achieve everything you want. Do not look for easy ways, no one is waiting for you anywhere. It's up to you first of all.
Social life and nightlife
This is where Australia wins. But then again, Sydney or Melbourne. Not so much in smaller cities. There's always a choice of things to do. There's a huge range of venues and activities. Festivals and markets. Anything you want and often.
But there are restrictions, such as Lock out, when the institutions are not allowed after 12:30 (sometimes 1:30) and all closed around 3 am. The nightlife is there, but not until the morning.
Personally, I don't value it and so I don't suffer from a lack of partying in New Zealand. But I hear that to many it is important and almost the most important. Then the question is, why did you go to NZ in the first place? Do not wait for what is not provided by default.
Nature and Outdoors activity
For me, this was one of the main reasons for choosing New Zealand. There is nothing better and more diverse, and at the same time more affordable.
In Australia, nature is tougher. If you go to the Blue Mountains (which are not mountains, but canyons) – do not get off the trails. I did not find any good lakes at all. Beaches yes, it is a lot and cool. So if the beach is more important to you, then Australia is your place. I personally need variety and in the end only mountains next to the ocean can be better than mountains. I don't get tired of the local nature and just love road trips around New Zealand, everything is so beautiful and varied. Personally for me it's a source of energy and I wouldn't want to trade that for a couple of bars in the city.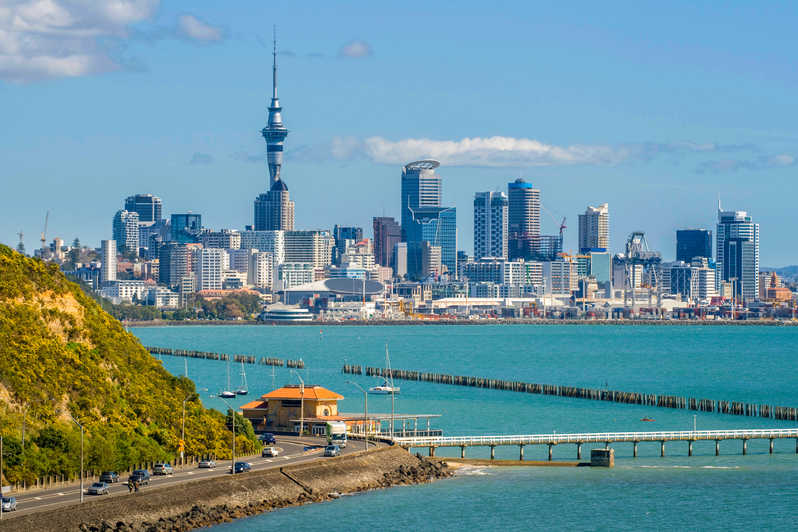 New Zealand, Auckland
Other immigrants.
We're certainly not racist nobody, but some people are stressed out by the cultural characteristics of other immigrants.
So, if it matters to you, according to the feeling (not the actual number), there are more Chinese in Australia, Hindus about the same and a lot of Arabs (mostly Lebanon).
If many just fill the areas with the dominant culture, but in the Arab areas is better not to show. There is more crime, etc. Personally, I've lived in different mixed neighborhoods and it didn't bother me much, I'm not from around here either. I was just realizing that there are districts with their own characteristics and we have to take it for what it is.
Beautiful city and culture.
Of course Sydney is a beautiful city, so is Brisbane and Melbourne (haven't been to the others). Each city has its own attractions and beautiful views. It is the beauty of the cities that I find more interesting in Australia. Australia has more galleries, plays and concerts. If this is important to you, then of course Australia wins.
Lifestyle
In New Zealand, everyone is more relaxed. In Australia there is an endless race. I remember leaving the office at both 10 and 11 p.m. and still going out after that. In NZ I am very grounded and everything seems calmer and more measured. Some people find it boring, but I enjoy it. I've had my fill of running. But if you want speed and dynamics, then Australia suits you better.
Food
Tastier, better, more affordable and varied in Australia. I'm not even going to pretend.
Russian-speaking community
At once I say we are talking about Australian and mainly Sydney.
In Australia there is a big Ukrainian community in Melbourne, but Russian community in Sydney too. I will tell you what is there.
I played on the Sydney KVN team for two years. We used to get 200-500 people in the audience. Then everybody got too busy and we gave it up. The captain of the Melbourne team moved to the Gold Coast and decided to do Standup. So we started doing Stand UP Comedy. I did three shows, we even brought in DALS and Vanya Usovich, but then I left and I don't know how it is now.
There are quests in Melbourne. Haven't participated, but I've heard a lot of good things.
There are guys who regularly bring in different stars. They're good! Great concerts and organization. I remember going to see Elsa's Ocean.
There's Theater and Musical. I didn't go, but I know that they're great too.
There's something like Russian Days. Can't say it's much different in level or stuffing.
There are guys who have a yoga studio and do a lot of retreats. I used to work for them, they are 100% dedicated.
There's a good moms' group. I'm not in one yet, but my girlfriends like it.
There are beauty contests that I personally do not recognize. But they are there and someone likes them.
In general I did not miss Russian culture in Sydney at all.
World Remoteness.
It is of course obvious that New Zealand is far away from everything. But is it a minus? It depends on how you look at it. If one wants to travel, shop, and eat at a new place every day, yes. It's nice, but it's so easy to get full. And at some point you realize that things are no longer as unusually tasty or beautiful. You buy things and don't wear them, you go to clubs and get bored.
Besides Australia, I lived in London for about half a year. And I was never as sad as I was in the abundance of everything. I asked myself, what was the point of such consumerism, how did I grow as a person in those half years? Almost nothing, I became a philistine and stopped to understand what the true value was.
In Sydney of course the concentration is less, but the view is a little foggy too. There I had waves, there were periods when everything was boring and I lost interest.
In New Zealand, at the end of the earth, where there is nothing, I realize that I don't need it to be happy. Moreover, I catch myself thinking (every day) that I am grateful to life for such a turnaround. Here I always have inspiration, fresh ideas and my love for life has only grown stronger. Even though I haven't worn heels since moving here.
Also, if you listen to the world news, New Zealand is famous for many discoveries and achievements, and useful ones at that! Simply because there isn't this mass pressure and you can do things differently than everyone else. Ask yourself the question, do you just want to enjoy the nooks and crannies of the big city or learn to appreciate life in its simplicity!
Bottom line
If you ask me, do I miss Australia? I would say that I only miss my friends and the food. More my friends, of course. Otherwise I love New Zealand much more. I feel cozy and comfortable here and would like to nestle somewhere in Tauranga. But life will tell what's next.
Watch further below.
In a duel or confrontation we compare different parameters and argue together where life is better in New Zealand or Australia.