What do I need to know before I travel to Armenia?
Armenia is a country with a rich history and a magical nature. Armenia has a lot to offer to the tourist, starting from a relaxed, quiet atmosphere and ending with extreme activities in the capital and outside of it. However, when visiting any country one should learn the peculiarities of it and the way of life of the people living there, in order to avoid misunderstanding with the local culture already during the trip. Armenia is not an exception in this regard. That's why we've prepared an article that will help you understand Armenia and make your trip much easier!
Climate
Armenia has a highland continental climate, summers are hot, dry and sunny and winters are quite cold. Also the weather in different regions of the country can be very different. But Armenia is good in all seasons: each season is special in its own way. Read this article When is the Best Time to Go to Armenia? .
Religion
The Armenian people were the first to adopt Christianity as a state religion in 301. Now the country has 95% of the Christians who belong to a special branch, the Armenian Apostolic Church. At the moment more than 4000 monasteries and churches have been built in the territory of modern Armenia.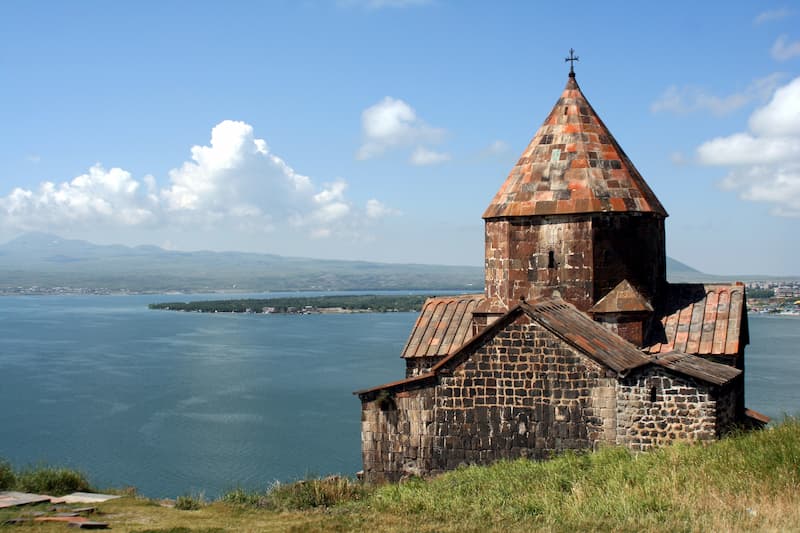 Hospitality
Upon arriving in Armenia, every tourist especially notices the warm Armenian hospitality. This point is one of the most stable and important traditions for Armenians, an important attitude that passes from generation to generation. In Armenia, a guest is always helped with all questions and will never pass by someone else's problem. They also host a sumptuous feast for their guests and never let them go home empty-handed.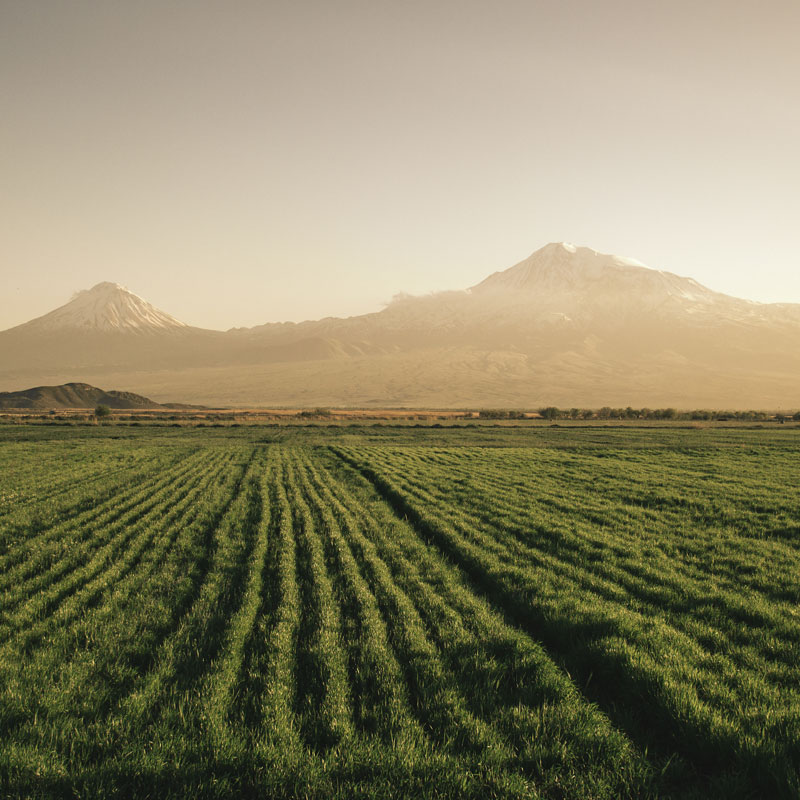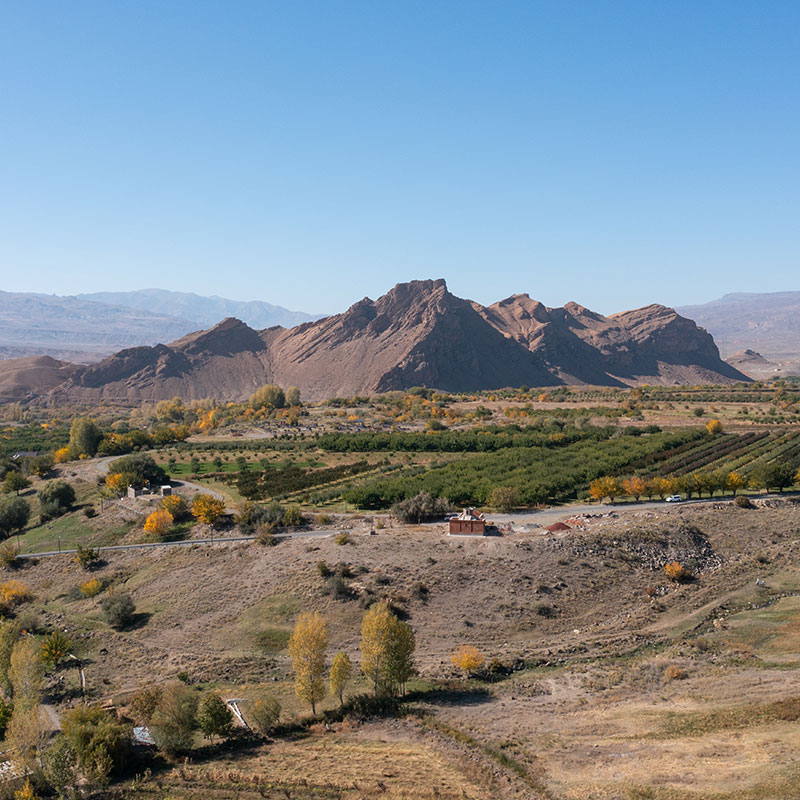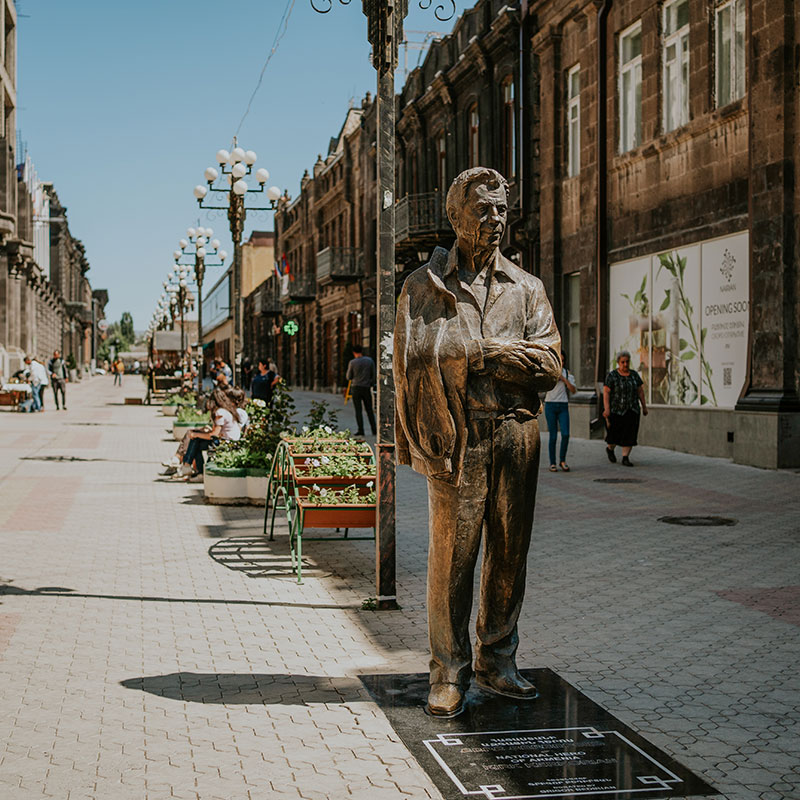 Almost everyone in Armenia speaks Armenian, but the local population also understands Russian and English, so there are no problems with that. A small part of repatriates from the USA, Lebanon and France may not speak Russian but can understand it.
Cab
There are private cab drivers in Armenia who can specifically raise the prices of rides for tourists. If you do not know how to haggle, you are advised not to contact private entrepreneurs and to download "Yandex.Taxi" or "gg" cab ordering applications to your phone in advance. If you take a private cab – you should agree on the price in advance. For example, a trip from the airport to the city center will cost you AMD 2000-3000, and a ride through the city center will cost you up to AMD 1000.
The concept of Armenian cuisine is an unusual story of an entire nation that has been divided into two spheres of influence for centuries. "There is a huge amount of delicious and varied food in Armenia," says almost every tourist who has visited the country. And the whole point is that Armenians not only take a responsible approach to local cooking, while respecting centuries-old traditions and boldly experimenting on recipes, but also try to work on cultural influences to the concept of Armenian cuisine. Be sure to note that almost all establishments in Armenia add a tip to the total bill, which amounts to 10% of the order.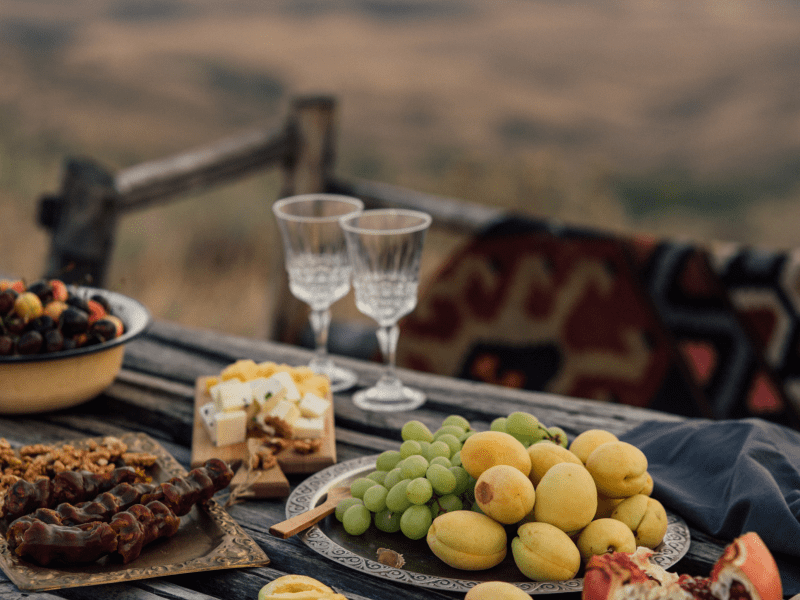 Security
Armenia is a safe country no matter what region you are in. Honor comes first for the Armenian people, and any bad deed discredits not only that person, but also their family and friends. Armenians treat each other with understanding and respect and even in a dispute with someone or address their opponent with the word "ahper" (translated from Armenian as "brother").
People in Armenia do not swear loudly and in public: this is a very important point to keep in mind when visiting Armenia and try to do so out of respect for the locals. Any such unpleasant manners can cause public condemnation from the outside, as many people are uncomfortable when such words are spoken in front of their family or loved ones.
Sami to Armenia – what a tourist needs to know about the country and how to prepare a trip
Given the aggressive environment and the exorbitant cost of traveling abroad, it's worth focusing on the neighboring countries. The friendly country of Armenia, which is easy to travel to on your own.
We were going to Armenia since the start of the pandemic in China. We did not think that the virus with the crown would have such global reach. We bought tickets, made a route and… went to Krasnaya Polyana.
The rascals at kiwi.com refunded our airfare for another year.
This time I succeeded. Armenia and Yerevan are waiting for our compatriots. Why hesitate?
Who needs clear reference points – Maps.me maps to help and my advice. Also do not forget about our guides to the Crimea and Istanbul.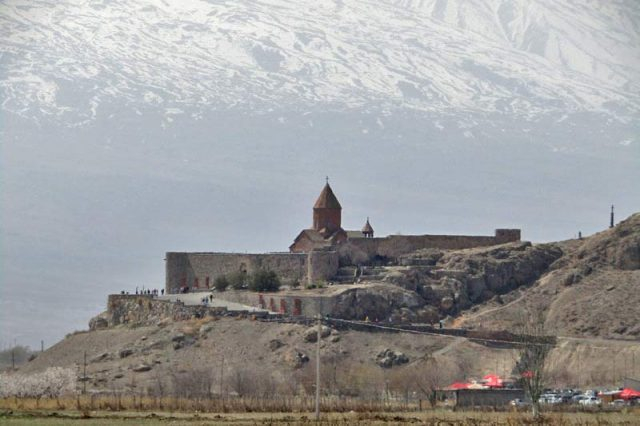 Where is
Armenia once was a Great Empire that stretched from sea to sea, today it is bordered by 4 countries: Turkey, Georgia, Azerbaijan and Iran.
Today it has no access to the sea, as well as a direct border with Russia.
For commodity chains it uses the Georgian sea port of Poti. It has land border crossings and friendly relations with Georgia and Iran.
With Turkey and Azerbaijan, on the other hand, all pedestrian borders are blocked due to the longstanding conflict over territory.
Why go to Armenia?
It's a wonderful country, available for an exciting vacation, even for a small purse.
To be specific:
Minimal paperwork. You can enter Armenia with a civil or international passport (children only have a foreign passport). PCR test in 72 hours or certificate of vaccination was cancelled as of May 1! No visas, no problems!
Rubles and MIR cards. There are no problems with Russian money. Rubles are exchanged for Armenian drams and cards are accepted in all major cities. There is a functioning Yandex.Taxi!
Prices are low. Accommodation, food, entertainment and tours are cheaper than in Crimea and Sochi. But, given the excitement, it will not last long.
Wonderful nature and attractions. You can stay in Yerevan for a few days, or rent a car and drive to the mountains.
The cuisine is wonderful: meat-eaters will love it and vegetarians won't be left out. Do not forget about the local legendary brandy.
Add to this the widespread knowledge and use of the Russian language. So, if you have a phobia of language barrier, you can safely go to Armenia.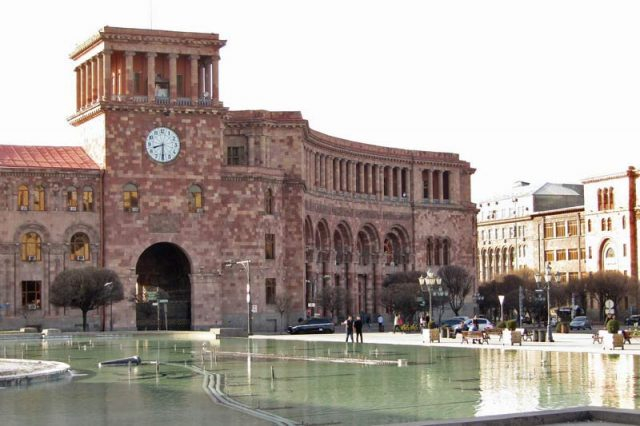 When to go – the weather
The weather in Armenia is determined by the terrain. As the altitude increases the air gets colder. Except for the valleys the whole country is above 1000 meters and on average 1800 meters above sea level.
Depending on the program of the tour you can always go. But it is more comfortable to avoid winter and July-August . There is no sea in Armenia but there is Lake Sevan.
In summer there is a scorching heat. It's not fatal, but it's not comfortable to spend much time in the sun. Unless you go to the mountains.
In winter the snow and the inaccessibility of mountain monasteries and secondary roads. This time is better spent in the city limits or on skis.
For the 1st time I would choose autumn or late spring. Already in April the days are warm.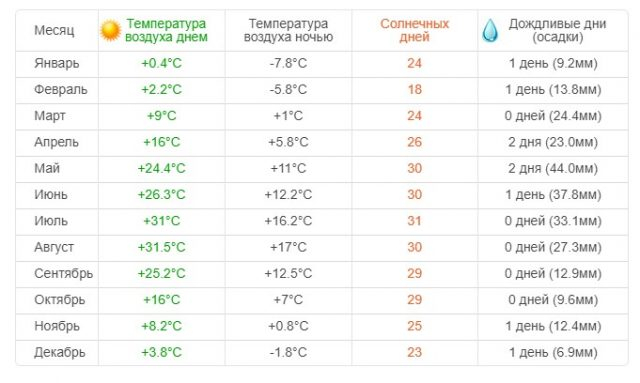 How far to go
On your own, you can go for a weekend, or even a month.
Russians can stay here for 180 days a year, so many people go freelancing at their pleasure, get an international Visa and MasterCard, and leisurely travel around the country.
To begin with I would go to Armenia for 7-10 days to explore the country and see the most important things. Few days in Yerevan and 5-6 days by car to travel round the ring road to the south and north of Armenia.
And then decide if the country deserves more or not.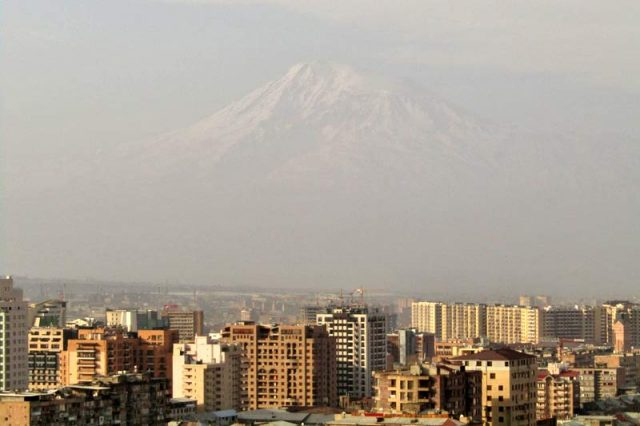 How to reach Armenia
Definitely by plane! Those who want to get here by train or bus through Georgia are few.
The price of airline tickets start (round trip):
It is better to search and pay for tickets on the Aviasales website or directly from the app on your phone .
From Russia to Armenia there are currently Aeroflot, Red Wings, Armenia Airways, Azimut, Utair and Fly One airlines. I flew with the last one. Because Yerevan is also a good transfer point on the way from Russia to Istanbul.
Note that it is a low-cost airline and registration at the airport is paid.
In Armenia there are two airports: Gyumri LWN and Yerevan EVN. If you are not lucky enough to find a cheap ticket to Gyumri, then in 10 out of 10 cases you should fly to Yerevan.
Yerevan Airport
The main airport of the country is called Zvartnots (EVN) . Official website is zvartnots.aero.
It is a relatively small airport with a capacity of 2 million people per year, which is three times less than in Simferopol. In 2006-2010, it underwent a series of renovations.
The airport has 2 terminals, but actually only the new terminal 2 is working. The airport is nice, and the prices in the cafe here are not in the example of the Russian.
The airport is nice and the prices are not unlike the prices in Russia. The passport control is speeded up thanks to an electronic scoreboard with window numbers. A little further away after the luggage belt checked PCR-test, but since May 1 this perverse practice was discontinued.
At the airport you can also change money and buy a local SIM card for the Internet around the clock.
I wrote about how to get from the airport to Yerevan in this article.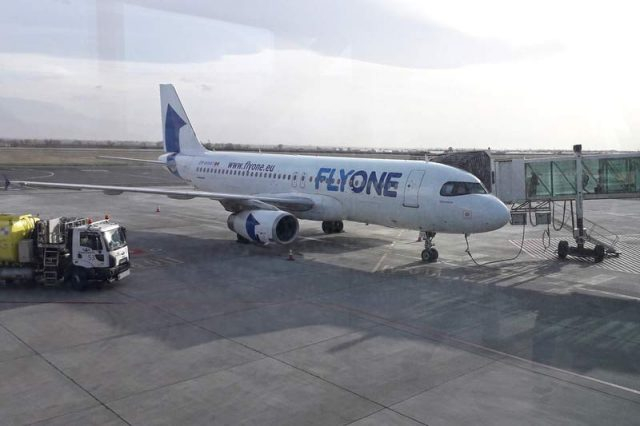 Money and Currency Exchange
Local currency: the Armenian dram varies in the range of 7.2 drams per 1 ruble. For a practical calculation, I would simply divide the local prices by 7. Here's the official exchange rate for the dram.
You can change money right at the airport at the normal exchange rate (during the day) or at exchange offices in the city. They are often located in retail outlets, SAS supermarkets and even simple clothing or shoe stores.
The opening hours are from 9:00 to 19:00, but somewhere a little wider.
At the very least remember that in Yerevan in 99% of cases you can pay with a MIR card .
For travel in Armenia itself, away from cities, I would not count on rubles and cards. The good old cash in drams will not hurt.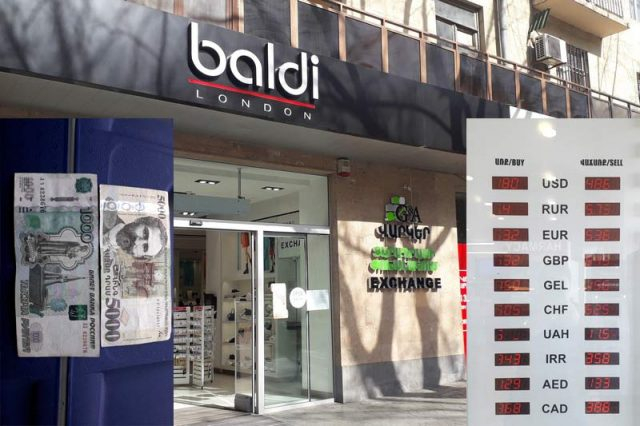 Internet
There is free WiFi at the airport, which is enough to call Yandex.Taxi and communicate with the hotel (let's go!). There is it in cafes and hotels.
For the rest you need to buy a local SIM card and use mobile Internet.
There are three operators to choose from: MTS, Beeline and UCOM. The tariffs can be compared here.
The cheapest Z tariff is AMD 1800 for 3GB of Internet. This includes unlimited social networks (except You Tube) and 200 minutes to MTS Russia.
The most expensive X tariff is AMD 5000 for 10Gb Internet and unlimited social networks, including You Tube.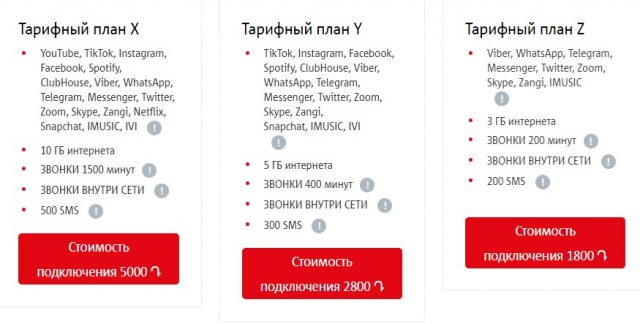 How to travel in Armenia
To see the beauty outside the capital – you need a car. It can be a rental car, a cab or a car with a driver.
There are two options for traveling in Armenia:
You can be based in Yerevan and make daily outings to different parts of the country. The farthest southern region with the ropeway in Tetevi deserves an overnight stay. Otherwise, you can ride there and back in 1 day.
Plan a round trip with overnight stays along the way for 5-6 days.
You can ride both with excursions and by renting a car by yourself, which is more convenient and cheaper.
Here are the main landmarks of Armenia and Yerevan on the map.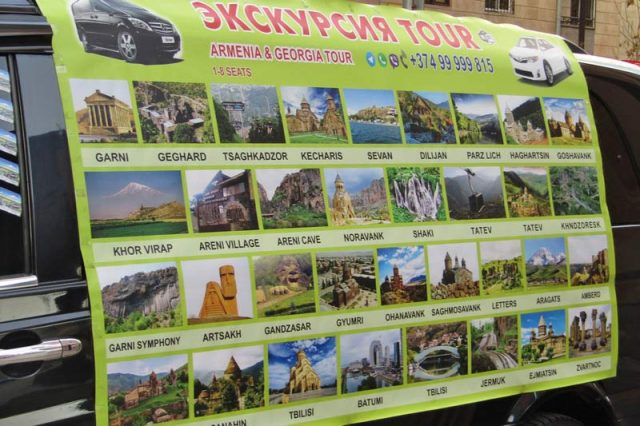 Car rental in Armenia
Car rent in Armenia starts from 28$ a day. You should have a small deposit of $150-200 in cash. You can also buy Super Casco for 50$ and do not worry about anything. Here are all prices for rent-a-car.
The main roads in Armenia are good, and the secondary roads are accessible to cars during the warm season.
Driving style is acceptable: they can cut you off, not turn on the turn signal and that's it. Bear in mind that many cars like to turn on emergency lights on the crosswalk, they say follow the distance!
If you plan to trot through the countryside, or in low season, for the confidence take Lada Niva or Renault Duster.
The price of gasoline is 500-550 drams per liter. In Yerevan and large settlements with gas stations is OK. In rural areas it is worse, so have gasoline in reserve.
And yes, if you want to make a plan of moving outside Yerevan, the speed should be about 60km/h, no more.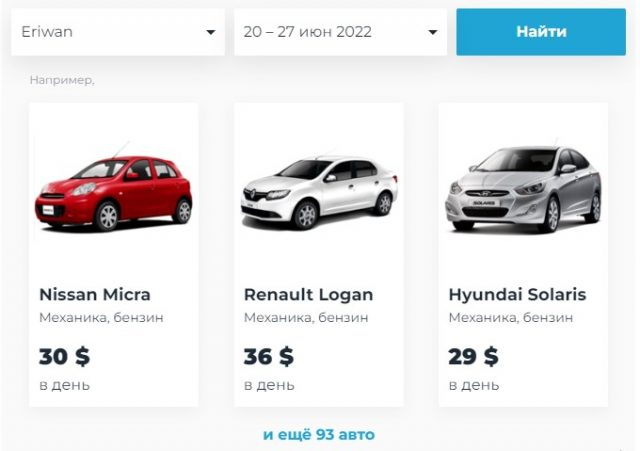 What to see
I wrote about the sights of Yerevan and its surroundings in this article.
To see the main things in Armenia you'll need 7-10 days, but you can make up 5 if you prioritize the main things.
I will write it in English, so it will be easier to find it on the map:
Khor Virap, Areni, Noravank
Karahunj, Tatev
Khndzoresk, Goris,
Jermuk, Lake Sevan, Dilijan
Garni, Gerard, Echmiadzin
Photos and prices for group tours can be found on janarmenia website
But it is better to order individual tours for your company or family through Tripster or Sputnik8. It is cheaper than buying tours from the street.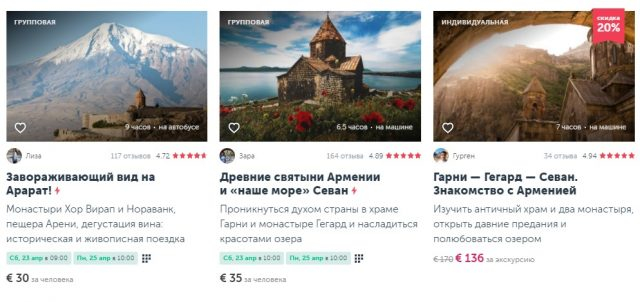 What to bring from Armenia
Brandy. Of course the most popular Armenian brandy "Ararat" is a priority, but there are many other cheaper producers in the country: Noah, Aik and Akhtamar. You can visit Yerevan and taste the factories "Ararat" and "Noy".
The wine. Not as popular as cognac, but Armenia is considered the country that gave the world the wine industry. It was here that Noah, after the flood, planted the first vine. The most popular wines are pomegranate Frans and Armenia, red dry Hin Areni (winery in Areni village) and semi-sweet white.
Ceramics, jewelry made of silver and beads, coppersmiths.
Armenian sweets: baklava, halva, sujuk, jams, Armenian cheese.
Inexpensive souvenirs: bags, scarves, plates, backgammon, hookahs and even antiques.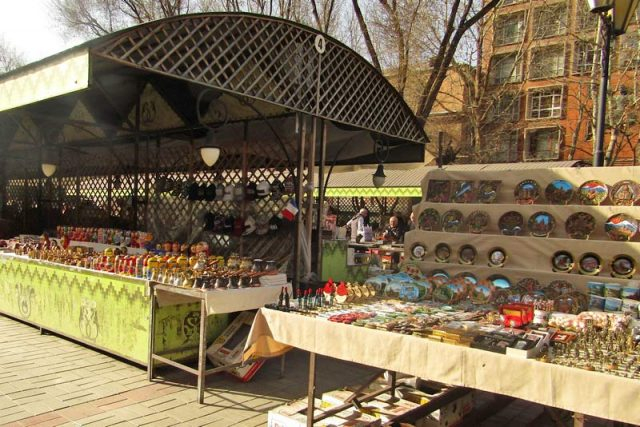 Friends, I've said enough for Armenia. Ahead are Yerevan and its sights. If you need markers and landmarks for your independent trip, they are all here.
In the meantime, I wish you a speedy arrival in Armenia and the start of an exciting journey!