Dutch people as a witness: how people live, dress and relax in Amsterdam
It's hard to find anyone who hasn't heard of Amsterdam's famous coffee shops and Red Light Street. Thousands of tourists come here to have fun, indulge in the wild, gawk at slutty dressed women and liberated "freaks" in Rastaman hats. But how do the Dutch themselves live? How do they dress, where do they vacation, and why, despite all this permissiveness, they remain a surprisingly healthy and athletic nation? We got the inside look at the locals from Daria Miskevich, who has been living and working in Holland for two years.
About lifestyle
– Dasha, let's start with the general. You observe a lot of locals, you're into street photography, you talk to Dutch people. Can you identify the main features of their lifestyle?
The main feature of the Dutch, I would say, is their athleticism. Almost all people literally from birth and at all stages of life are engaged in sports. It's a kind of ideology, part of mentality, as it seems to me. While in Belarus mostly progressive people are engaged in sports, the Dutch are amazingly active in this sense. In Minsk, I used to meet my peers in gyms, but here I see a lot of older women and men: even less than half of my age. Everyone here does yoga, rides bicycles, and therefore looks very athletic.
The second thing I'd like to mention is recreation. The Dutch like to relax, they clearly divide their time for family and work, and their main entertainment is socializing. They often meet with friends in cafes and chat on free topics: any mutual acquaintance can easily join the conversation. At such meetings there is no fixed composition of participants, everyone can invite his friend and not to warn the other party. Of course, they do not conduct intimate conversations in cafes: conversations are more often superficial.
– And in what cases can the Dutch invite their friends over?
– They sometimes organize parties and invite a large group: they just announce among their acquaintances that at such and such a time at such and such an address there will be a party to which everyone can come. Sometimes a huge number of people cram into the apartment! The hosts don't worry too much about treats, but fill the fridge with all kinds of drinks and snacks. The guests walk around and socialize and then leave after about three hours.
– I read that pharmaceutical companies in Holland are even going bankrupt because no one needs medicine: people are too rarely sick.
– Yes, that makes sense. There's a special situation with medicine here. I don't know why (maybe because of sports or genetics), but men look like Vikings. The Dutch are a very healthy nation. Maybe that's why they don't have a very well-developed medical system. They go to the doctor in exceptional cases: even those who need it, try to minimize visits to the doctor.
– In our country many people also try to avoid visits to polyclinics. It turns out that the perception of the Dutch as lovers of weed and alcohol is a stereotype?
– This is a 100% stereotype. All these coffee shops are a tourist attraction. It's the same with the red light districts. These places are in tourist areas. Yes, people from all over the world come here to hang out, but as for the Dutch themselves, you hardly hear Dutch in a coffeeshop. Probably the average Dutchman would rather smoke a joint at home than go to a coffeeshop.
About Style of Clothing
– Let's talk about clothing style. How do women dress?
– Dutch women prefer a versatile style of dress. They have fashion, but their understanding of what is fashionable is very different from the rest of Europe and even more so from our perceptions. For them, fashion equals comfort. They wear flat shoes, very rarely shoes, usually with a wedge or a stable heel, they wear stilettos only for events, where they go by car.
Usually girls prefer sneakers or sneakers, which are worn under any clothing (dress, expensive suit, etc.). One even goes to job interviews or visits in such shoes. I've seen that at Dutch women on the shelves can be almost 150 pairs of shoes, but all of them – sneakers and sneakers in different styles and shades. If you see a girl in stilettos here, it's very likely to be ours.
– And what do they like to wear?
– They also prefer comfortable clothes of restrained colors. The most popular look is leggings and a loose top: an elongated sweater, a dress, a sweater. Recently, very tight gray and black jeans and loose coats (knee-length or elongated) are very popular.
The most important element of the image is the scarf. Dutch women wear scarves at any time of the year. At first, I couldn't figure out how to wear these huge scarves: when you wind them up in half, you look, silly, and when you unwind them, the scarf is too long. They throw such scarves over their shoulders, somehow tucked into the fabric, they can secure it with a brooch. Of accessories, hats have recently come into fashion, but under leggings they usually wear R&B-style hats.
– It turns out that Dutch women prefer the style casual with a bias to the sporty.
– Yes, the girls look natural, as if they were not going out at all. But they are well-groomed, they have clean skin and a good figure. Older women like to dress up: they wear skirts, expensive jewelry, create a personal style. The older a woman is, the brighter she looks.
– For Dutch women are important brands?
– Yes, but not "top-level". Here you rarely see a girl who wears Prada, Christian Dior and so on. The Dutch are very frugal, so they prefer middle-price, high-quality things. They will not pursue the high price or the brand: the main thing for them is quality and comfort. Most often the basic closet of girls consists of simple clothes, but each Dutchwoman may have her own "chip": as a rule it is expensive and high-quality accessories. Someone buys shoes of a certain brand, someone jewelry, someone branded glasses.
– Do Dutch women pay attention to makeup?
– My Dutch acquaintance says that for local girls, grooming is more important than clothes. They prefer expensive cosmetics and hair products. I haven't noticed anyone wearing a lot of makeup myself, but she claims that Dutch women spend a lot of time in front of the mirror applying makeup, and they spend a lot of money on makeup. Maybe it's just the kind of natural makeup that doesn't catch the eye.
– Has your closet changed during your time in Holland?
– Yes, right now I have a lot of sports clothes, simple black dresses. Maybe it's because it's hard to find something feminine in a store! I have a lot of things that are comfortable to wear at home, but sometimes there's nothing to wear on holiday.
About men's style
– What can you say about the men? What do Dutch men look like?
– The men here are much more stylish than the girls. While girls even go to work as if they haven't tried at all, men always look as if they've spent a couple of hours in front of the mirror. The Dutch prefer business casual style: they go to work in suits under a shirt and tie or in something less formal (jeans or pants, shirt). They like expensive shoes in the English style (brogues, oxfords), they wear sneakers. Suits can be sewn at tailors or bought in stores of men's brands in the business casual style. By the way, the suit does not prevent them from getting to work by bicycle. Even the Dutch Prime Minister goes to meetings by bicycle.
– Do you like their style of dress?
– To me, they look super stylish. Someone attributed it to the fact that there are more men than women in Holland: so the girls can choose, and the guys have to try harder.
– So that's where you have to go to get grooms! I guess barbershops are common in Holland? What kind of local men prefer haircuts and beards?
– Barbershops are very popular, but not everyone wears beards. Men like model haircuts with elongated hair: there is even a statistic that Holland leads in sales of men's hair styling gels. Dutch men buy them up at a frantic rate and always style their hair.
About the style of children.
– Have you noticed any peculiarities in children's style in Holland? Do they dress girls here in pink?
– I have never seen girls dressed in pink. Children here dress roughly the same style as their parents. Since they are little, they already look almost like adults, that is, in a sporty way. It can be "envelopes", sneakers and loose-fitting clothes.
About what is worth borrowing.
– What do you think our compatriots can learn from the Dutch and vice versa in terms of style?
– I think that the Dutch girls could learn something from ours. Perhaps, Belarusian girls lack freedom of expression; their fear of being inferior to others could prevent them from expressing themselves. Dutch girls are more liberated, but this has its disadvantages: sometimes they are afraid to show off their looks. For example, nail care is not popular in Holland: 95% of girls do not get a manicure at all, not even basic care. It is almost impossible to find a good master, even for a lot of money. The same applies to haircuts: Dutch women take care of their hair and dye it in beautiful shades, but there is no variety in haircuts. So Dutch women should look at our girls, but they don't go too far in their decoration.
Our men lack the Dutch sense of style and attention to their appearance. It's the ability to dress comfortably, but look sexy, stylish, masculine, so that it's pleasant to look at. It's worth learning.
Living standards and prices in Holland in 2021-2022
Life in Holland, meaning work, leisure, wages, housing, education, subjective well-being and social connections has a high Index. Only the environmental indicators are below average in 2022. It is possible to apply for a visa to the Netherlands as well as to any other country from the Schengen area.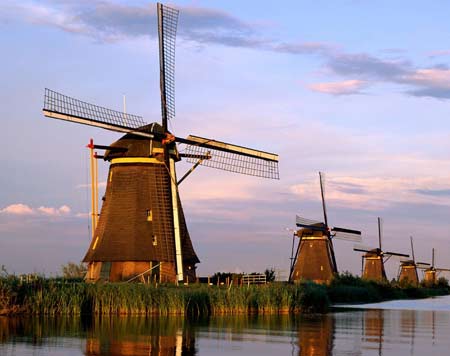 Windmills in the Netherlands
Education
Getting a good education and professional skills is very important to get a good job. But in terms of the average level of education the Dutch population is slightly below the OECD (respectively – 73:75). And this applies more to the male population. Literacy in the country is at a high level, which allows students in the Netherlands to be considered among the best.
Higher education in the Netherlands are in less demand among Russians and Ukrainians than in other EU countries.
Health
Average life expectancy in the Netherlands is quite high – 81 years, women – 83, men – 79. Pollutants that can harm your health – less than 10 microns. In large cities this figure is higher. But the Netherlands has the best water quality.
For the most part, the residents of the country are happy with their lives in all spheres. If you compare it with the OECD, it is slightly less – 7.3:6.6.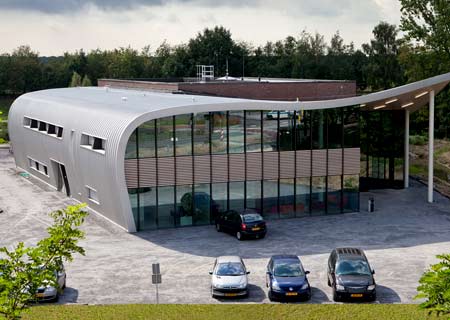 Verbeeten Hospital in Hertogenbosch
The Netherlands cannot be called the cheapest place on the planet. The situation is worsened by the constantly growing euro against the ruble.
Accommodation
Upon arrival in a major city can be a problem to find accommodation, especially for students. Holland universities do not have their own campuses or hostels, as in Russia. But can provide useful information on this issue.
Some educational institutions show assistance by concluding agreements with some housing corporation. By agreement, students are offered a certain number of furnished rooms and can rent them for a limited time – two semesters. This will cost approximately 265 to 315 euros. In general, the prices in the Netherlands for rental housing, especially in the capital, depend on the location and range from 300 to 600 euros per month. This also includes payment for utilities and internet.
Transportation
In Holland people like to ride a bicycle, which is a kind of religion for residents. On the roads motorists always yield to bicycles. After all, two-wheeled riding is good for both the rider and for the environment.
For those who prefer standard methods of travel, there is public transport. If you ride regularly, it will be more profitable to buy a chip card OV.
And to give you an example, the price level of available public transport: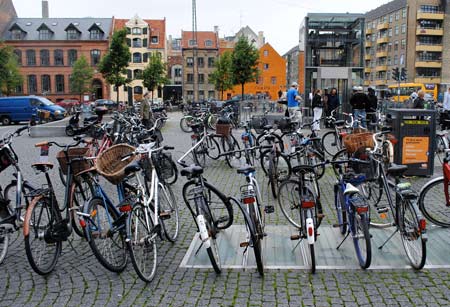 A train ride from the airport is 4 euros;
Pass valid for an hour trip on bus, streetcar and train – 2,80;
For a week to buy a pass will cost 32 euros;
For a month – 89;
Rent a bike for 10 euros a day.
Nutrition
Prices in the Netherlands in restaurants, cafes and supermarkets are different. Accordingly, the cost of food depends only on individual needs and capabilities. But as everywhere else, it is better to buy products in large stores. They offer the most affordable prices:
A liter of milk costs 0.90 euros;
A loaf of white bread – 1,20;
A kilogram of chicken fillet costs 6,50;
A pound of spaghetti costs 0.90;
For 400 grams of white rice will cost 0.80 euros;
Twelve eggs will cost two;
A liter bottle of olive oil costs 5 euros.
Many establishments in Holland provide discounts to holders of student cards for small but everyday purchases. For example, such expenditures:
A cup of coffee – 2.50 euros;
A three-liter bottle of water – 1,80;
In a mid-level restaurant three dishes will cost 30 euros;
A glass of wine at a place like this costs 4;
A trip to the cinema – 10 euros.
What you can and can not do in Holland
Going to live in the Netherlands, it is worth knowing about the procedures established in the country to protect yourself from unpleasant moments.
Alcohol
Those under 16 are prohibited from drinking alcoholic beverages over 15 degrees. Those of legal age can drink stronger drinks.
Holland is a democratic country, but there are certain strict laws regarding drinking alcohol. For example, appearing drunk in a public place will result in immediate arrest.
It is forbidden to drink alcohol on the terrace of the restaurant, the penalty is from 18 to 90 euros, depending on the strength of the drink.
In this case, the owner of the establishment will also be punished: the first time with a warning, and the second time with a fine of 500 euros.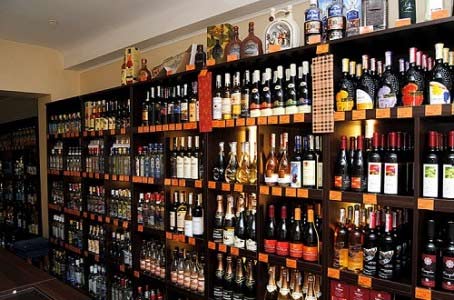 Wine store in Holland
At the third such violation of the law, it is forbidden to work first for a week, and if the situation has not changed, then at all.
Drugs
Hashish and marijuana are considered light drugs in Holland, and there is official permission to buy and use them. There are special stores and coffeeshops for this purpose, dispensing 5 grams in one hand.
Such drugs in Holland are highly potent, they are made from natural raw materials. That is why there is a chance to get an increased dose by unknowingly consuming ordinary baked goods where hashish is added. It is worth waiting at least an hour to see if you need another bun with this additive or not. If you overdose, you can safely go to the nearest medical facility. There will help even with the use of "chemicals" or psychotropic drugs that are prohibited in the country. And the incident will not be reported to the police.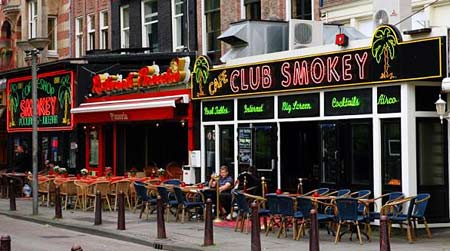 Smoking café in Holland
Smoking
On this issue, the Netherlands is in solidarity with the entire European Union, banning smoking in any public place. For those who have not yet given up the addiction, there are special places.
Public order
Driving a car in the city entails strict observance of speed limits. Failure to do so will result in an exorbitant fine that will result in the refusal to grant a residence permit. Parking spaces are in most cases paid.
It should be borne in mind that many outlets are open only until 18.00, and on weekends do not even open. But the markets are open.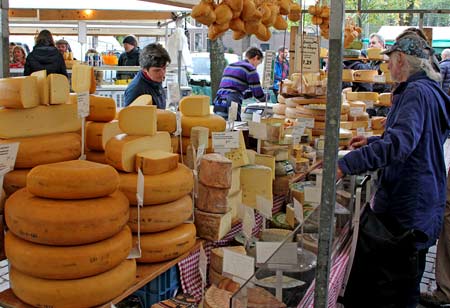 Cheese shop at the market in the Netherlands
The health care available to anyone is private. And for it you have to pay a pretty penny, and the quality of service leaves much to be desired. To see an experienced doctor working in a public institution will be quite problematic.
Pensions
Holland has a relatively small territory and number of people living in the Netherlands, but now has a very developed economic and pension system. Holland offers its citizens three different types of pensions:
Basic – state.
Supplementary – professional.
Individual.
The state pension (basic pension) is paid to every citizen of the country who has reached the age of 65. This pension is exactly half of all payments. Thanks to this approach it is possible to provide pensions to every person, which is not burdensome for the country, especially if we take into account the small number.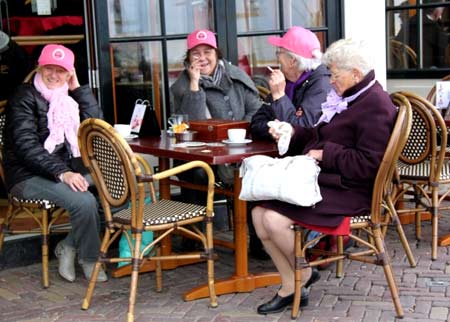 The difference in payments depends only on the status of the pensioner: singles receive more, and married couples, respectively, less. For example, in the first case, the pension will be 70 percent of salary, then in the second – 50. Supplementary pensions are very popular in Holland. Up to 91 percent of the working population participates in the program.
Employees and employers pay contributions based on solidarity. These can be either defined contributions or flat-rate payments. The second option is generally preferred. And "tying" the size of the pension in this case depends on the salary level of the employee.
Participation in this type of pension fund is a prerequisite for any economic entity.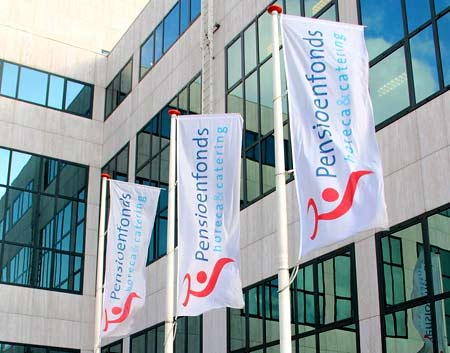 The building of a pension fund in the Netherlands
Individual pension, or non-state type of pension provision was not very popular in the country, but now the situation has started to change.
Jobs
Employment in the Netherlands is high and amounts to about 74 percent of people (15-64 years old) are officially employed. And this figure has risen even higher in recent years. But at the same time there is more unemployment.
The statistics put the number at 645,000 people with this status.
Unemployment has risen in the last four months. The reason is the long search for work. And March through September was marked by a drop in the unemployment rate. The insurance agency last year disclosed an increase in unemployment benefits paid from 17,000 to 458,000. The beginning of 2022 was marked by a decrease in these payments. Finding a job in Holland is also possible for Russians.
Jobs in Holland:
Benefits
It is predicted that in the coming years about 20 percent of the Dutch population will become pensioners, which will only increase migration, and thus the unemployment situation will be better.
But even without a job for a while, a person will receive income in the form of unemployment benefits. In the Netherlands, they are paid every day. It is calculated on the basis of the last earnings: 75 percent in the first two months, then 70 percent. Payments are made from three months to three years, and the maximum daily amount is 144.75 euros.
Investment and purchase of real estate in Dubai. Guaranteed income of 7-10% per annum in foreign currency. All the pitfalls and personal experience of how to earn and not lose 40% due to wrong investments. All the details – subscribe to the verified telegram channel https://t.me/homeindubai. How to move to live in Dubai with your family: residency visa, bank accounts, housing choices, child's school, all from personal experience – https://t.me/homeindubai
Benefits in Holland are also paid for child support. And they are intended for all parents, their income does not play a role here. They are paid until the child comes of age – 18 years, including for adopted and adopted.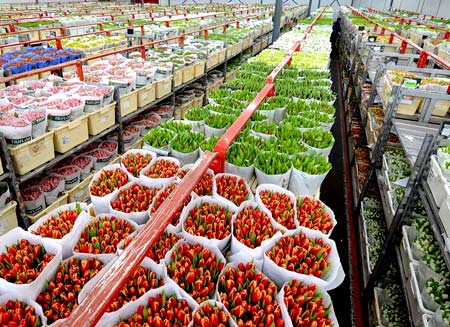 Wholesale flower store in Holland
The amounts of benefits are as follows:
Each child under the age of 6 receives an allowance of 58 euros per month;
6-11 years old – the allowance increases to 70.5;
12-17 – allowance 82 euros.
Students in Holland also receive certain benefits from the state in the form of grants. The country takes care of almost all segments of the population living in its territory. And you can safely go there for a variety of purposes: benefits in a time of need will help.
Tax system
The economic system in the country is focused on the modern market. The state provides social guarantees in education, pension services, benefits for the unemployed, as well as support and development of infrastructure. A number of benefits to foreign investors attracts international capital to Holland.

Table of taxation in Holland
Taxes in the Netherlands are as follows:
On capital income. If there is a change of legal form, there is an opportunity to be exempted from payment. In the case of unprofitable activities, profits can be reduced;
Value Added Tax, or VAT. It is 19 percent in Holland. Food, medical care, drinking water, passenger transport and hotel activities are taxed at six percent;
Income tax. It is imposed on individuals living in the country and outside the country, but the income received in Holland. The maximum rate in salaried employment is 52 percent, when participating in the activities of the company – 25 percent, income from deposits and investments is taxed thirty percent.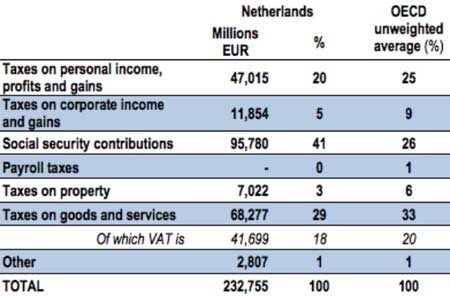 The tax system in Holland
From all of the above it can be concluded that Holland is a very attractive country where everyone can feel comfortable and protected.