The most interesting places on the planet
There are a huge number of places and attractions in the world that want to visit. All of them are something special and attract the attention of thousands of tourists every year. Take a look at this list before you set off on your next trip and maybe a visit to one of these amazing places will leave a lasting impression on you.
1) The Big Blue Hole, Belize A large castellated sinkhole located in the center of Lighthouse Reef, an atoll within the Belize Barrier Reef. This natural wonder is 305 meters in diameter and goes 120 meters deep. The blue hole attracts a huge number of divers from all over the world every year.
2) The Wave in Arizona, USA
The state of Arizona in the United States has cliffs covered in bizarre layered patterns that give the place an ethereal look. The Arizona Wave is located near major population centers, so it has become very popular with tourists.
3) Chocolate Hills, Philippines
These hills, called the Chocolate Hills, are located on the island of Bohol in the Philippines. In total, there are more than 1200 of these hills covered in greenery in the area.
4) Gateway to Hell, Turkmenistan
This place in the Karakum Desert in Turkmenistan is nicknamed the Gateway to Hell, it was formed after unsuccessful drilling for gas. When drilling in 1971, all equipment, including a drilling rig, fell into the resulting crater, which was filled with gas. To avoid accidents and poisoning, it was decided to ignite the gas and since then, it has been burning for over 40 years.
5) Wulingyuan Mountains, China
The mountains in Wulingyuan in China's Hunan province have become the prototype of the fantasy landscapes from the movie Avatar. More than 3,000 thousand sandstone mountains rise up to 800 meters and are of great interest to tourists, especially after the success of Cameron's film.
6) Pamukkale, Turkey.
One of the most accessible amazing places on the planet, many Russian tourists have already been there, because Pamukkale is only a few hours from the popular Turkish resort of Antalya. Pamukkale (Pamukkale), which means "Cotton Castle" is a snow-white terraces filled with water from mineral springs. The water in these terraces is believed to have healing properties.
7) Antelope Canyon, USA
Antelope Canyon is located in the southwestern United States 240 kilometers from the Grand Canyon. Wind and water over many thousands of years has done a great job resulting in this amazing canyon of reddish colors.
Mount Erebus, Antarctica
Did you know that the most active volcano is in Antarctica? Volcano Erebus (Ice Towers of Mount Erebus) was discovered on January 28, 1841 by a British expedition led by polar explorer Sir James Clark Ross on the ships "Erebus" and "Terror". The height of this volcano is 3,794 meters, making it one of the highest points in Antarctica. Inside the volcano is a large lava lake.
9) Cacha Katuwe Tent Rocks Monument, USA.
This national monument is located in New Mexico 60 kilometers from the city of Santa Fe and was formed by volcanic deposition.
10) Ischigualasto Natural Park, Argentina
This park, also called The Valley of the Moon, is located in the province of San Juan in Argentina. It is not the most popular place among tourists, because it is far from the main tourist routes, but it is here where NASA has tested its Mars rovers. The landscape of this place looks alien.
11) Uyuni Salt Lake, Bolivia
Salt Lake (Salar de Uyuni) in Bolivia is near Lake Titicaca and is one of the most amazing and photogenic places on our planet. Everything in this area is saturated with salt, it is everywhere, but the most amazing thing is when it rains and everything is covered with a thin layer of water, the perfect surface turns into a mirror.
12) Danxia Landform, China
It may seem that this incredible landscape is just a result of Photoshop, but it is a real geological object, formed by the superposition of sandstone and other mineral rocks. This natural feature is located in China's Gansu province. In 2010, the Dengxia Landscape was inscribed on the UNESKO World Heritage List.
13) Crystal Cave of the Giants, Mexico
This cave with the largest crystals in the world was discovered recently in 2000 near the town of Chihuahua in Mexico. These giants are up to 15 meters long and 1.5 meters wide and consist of zinc-silver-lead salts. The cave has a special climate (almost 60 degrees Celsius and 100% humidity) in which a person cannot spend more than 5-10 minutes.
14) Dry Valleys, Antarctica
Dry valley is the area of three oasis valleys (Victoria, Wright, Taylor) in Antarctica west of the McMurdo Strait. Hurricane winds, lack of precipitation, and low temperatures have created a unique climate in this place. Rare lakes have long turned into ice wells, which, according to some scientists, are inhabited by unknown microorganisms.
15) Socotra Island, Yemen
Socotra is an archipelago in the Indian Ocean consisting of 4 islands off the coast of Somalia. These islands have unique plant and animal life, many of which can only be found here. The symbol of the archipelago is the endemic dragon tree.
16) Giants Causeway, Ireland
Over 40,000 basalt columns form a path that leads to the foot of the volcano that gave birth to these amazing columns. The Giant's Path is one of the most popular tourist attractions in Northern Ireland.
17) Kliluk, the Spotted Lake, Canada
Local native Indians consider this lake sacred. The water of this lake has bright colors because it is saturated with sodium sulfates, calcium, magnesium, and other minerals. During the hot season, the water in the lake dries out and many small puddles form, which have different colors, depending on which element of the Mendeleev Table prevails in them.
18) "Preacher's pulpit" or Preikestolen, Norway
Preikestolen, a favorite place of photographers and tourists, is a huge rock cliff with a flat area of 25 by 25 meters. The height of the cliff is 604 meters and from the top there is a beautiful view of the surrounding landscape. Prekestulen cliff is one of the most popular attractions in Norway.
19) Plitvice Lakes, Croatia
The Plitvice Lakes are the main attraction of Croatia. There are 16 large and several small lakes, about 20 mysterious caves and 120 waterfalls. In this place you can find many species of plants and animals, which are unique and are found only in the area of Plitvice Lakes, so they are strictly protected by UNESKO.
20) Cappadocia, Turkey
Cappadocia, or "Land of Beautiful Horses" is a unique place, located in the Goreme Valley in Turkey. Cappadocia – this is practically a whole world, which is hidden in the caves of volcanic origin, there are houses, monasteries, unique tiered underground cities, and much more, all of which appeared before Christ. This unique place is justly popular with tourists coming to Turkey.
21) Yellowstone National Park, USA
Yellowstone National Park is a unique natural park known worldwide. The most famous and most visited national park in the United States. Yellowstone is in the UNESCO World Heritage List. This park is located in three states at once: Montana, Idaho, and Wyoming. Yellowstone is famous for its unique geological objects: geysers, geothermal vents, and the largest dormant volcano of the continent – Caldera.
22) Tunnel of Love in the town of Klevan, Ukraine
This tunnel made of trees wraps around the railroad tracks that run near the city of Klevan. Because of its amazing beauty and romanticism, this place is nicknamed the Tunnel of Love. In summer, when the tunnel is in its prime, honeymooners love to come here, making a photo on its background is considered a good sign.
23) Corinth Canal, Greece
It is impossible to believe that this canal is man-made. The construction of the Corinth Canal began during the reign of Emperor Nero in 67 BC and was finished only in 1893. This unique creation of human hands connects the Saronic Gulf of the Aegean Sea and the Corinthian Gulf of the Ionian Sea. The Corinth Canal is 8 meters deep and 24 meters wide.
24) Marble Caves, Chile
One of the most beautiful places in Chile is Lake Lago General Carrera, where the Marble Caves are located. This unique natural cave is made entirely of multicolored marble (pink and blue), with more than 5,000 million tons of marble.
25) Monsanto Village, Portugal
This small Portuguese town is lined with huge boulders, many of which serve as homes for local residents. Monsanto consists almost entirely of one-story buildings, which are separated by narrow streets, getting here, you can feel in the Middle Ages.
26) Ice Canyon, Greenland
The views of this ice canyon in Greenland are mesmerizing, its dark blue water beguiling and you can get lost in the multitude of elaborate ice arches. This canyon is the largest on the island and its waters are home to bowhead whale, seals and walruses.
27) Skaftafell, Iceland
Skafaftaftell Park is a natural wonder of Iceland, where the ice caves of Jökulsarlon (Jökulsarlön) lie.
28) Multnomah Falls, USA
29) Seljalandfoss waterfall, Iceland.
30) Petra, Jordan
This temple carved out in the rocks truly deserves the title of one of the wonders of the world. Its construction began before Christ and it is now included in the UNESCO World Heritage List.
31) Chittorgarh Fort (Benteng Chittorgarh), India
32) The small town of Riomaggiore, Italy
A small town in Italy where houses pile up on the rocks right on the edge of the sea. No cars are allowed in Riomaggiore.
33) Loi Krathong Festival, Thailand
Every year in Thailand, the Loi Krathong Festival is held, a constant tradition of which is the launching of sky lanterns. This amazing spectacle when the sky simultaneously rise thousands of luminous lights just fascinating. If you are in Thailand in November, do not miss this festival.
34) Mount Roraima, Venezuela
Mount Roraima is 2,723 meters high and the summit plateau has an area of 35 square kilometers. Reports of an expedition to the mountain area inspired Arthur Conan Doyle to write his novel The Lost World.
35) Etreta, Normandy, France
It is impossible to list in one place all the interesting places of the planet, because each place is unique and deserves attention, but we have tried to gather many interesting places that you should pay attention to, going on another trip.
Top 25: strange and amazing places of unearthly beauty that everyone should see
If you want to plan a trip to an unusual place, this selection is for you. Summer is the perfect time for vacations. And the best way to relax and re-energize is to travel! These days, for some reason everyone chooses the same places, and just look at the photos of the most popular attractions to notice there a huge number of tourists. But haven't you ever wanted to get off the beaten path and find yourself somewhere far away from the noise of the crowds? Tired of typical destinations and want to experience something completely new that you'll never know at home or at a popular resort?
It's time to do a little research of your own and go beyond the itineraries in the travel brochures. Luckily for those who are dreaming of something completely new, our world is full of incredible places that amaze with their unearthly beauty.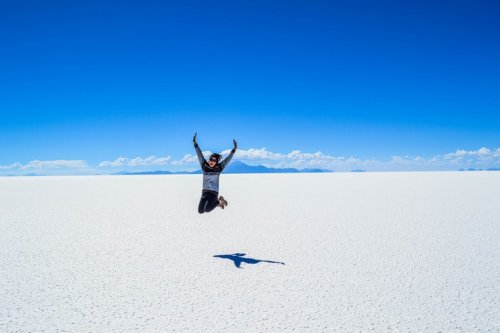 25. The largest salt marsh in the world, southern Bolivia Photo: wikimedia.com
The Uyuni salt marsh needs to be seen with your own eyes, otherwise you simply won't understand its grandeur and beauty. The best way to visit this parched salt lake is by car. You have never seen anything like this in your life, believe me!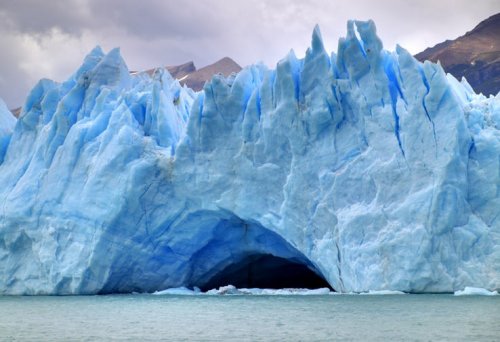 24. Perito Moreno Glacier, Patagonia, Argentina Photo: wikimedia.com
Many people dream of visiting bustling and explosive Buenos Aires. But how about stepping outside of this crowded metropolis and heading towards the most beautiful place in all of Argentina instead of the sights of the stone jungle? The Perito Moreno Glacier is a prime example of the power and beauty of nature.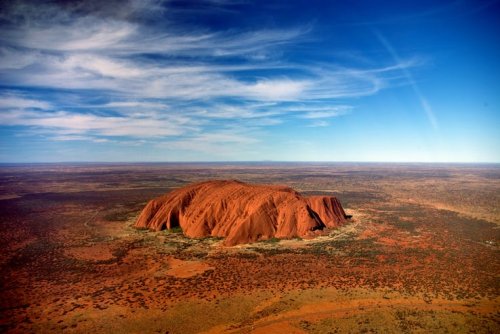 23. Ayers Rock, Australia
Everyone wants to go to Australia, right? And why not? It's full of fun cities, gorgeous beaches, and incredible wildlife like you won't find anywhere else. This continent should definitely be on the wish lists of all the most eager wanderers. If you ever manage to get away for a vacation here, Ears Rock should definitely be on your itinerary list. Ers Rock is a huge red monolith towering right in the middle of the endless desert. It is forbidden to climb this rock, but even from a distance it looks simply amazing, so do not dare to go there without a camera!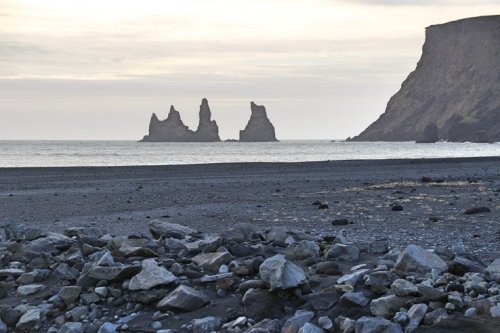 22. Black Sand Beach Vik, Iceland Photo: guidetoiceland.com
Iceland is a unique country, and for many reasons. This island nation boasts a huge number of natural wonders, which are not found anywhere else in the world. If you are going to Iceland, you must visit Vik Beach, because it looks like a place from another planet. Here you will find black volcanic sand and strange rocky cliffs. But be careful, because the water here bad jokes – sometimes it is calm, and sometimes the waves rise well up high. In general you have to keep your distance and enjoy!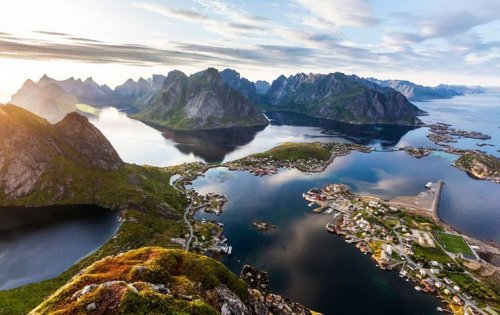 21. Fjords of Northern Norway Photo: pinterest.com
Have you ever seen these famous photos of Norwegian bays with towering rocky cliffs, gorgeous sunsets and clear water? If so, they were probably pictures of fjords. This natural topography never fails to delight foreigners and locals alike. Technically there are fjords almost all along the coast of the country, but the most beautiful of them are in the north of Norway. It is better to come here in the summer, so the weather is as mild and pleasant as possible.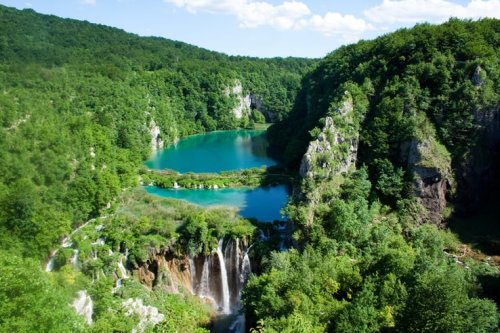 20. Plitvice Lakes, Croatia Photo: wikimedia.com
The Plitvice Lakes National Park has long been one of the most popular tourist destinations in the country. Families, couples, hikers with large backpackers and many other categories of tourists come here regularly. Plitvice Lakes is the most famous place in all of Croatia, because it is incredibly beautiful and peaceful.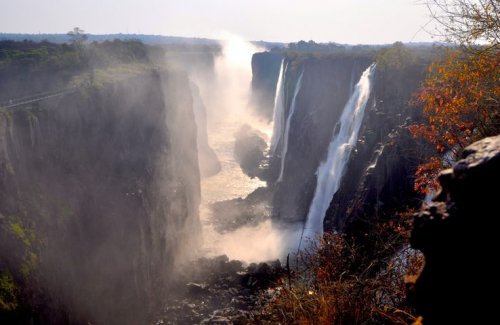 19. Victoria Falls, Zambia and Zimbabwe Photo: wikimedia.com
Seeing Victoria Falls with your own eyes is a crazy experience! This huge waterfall is located on the territory of two African states at the same time, Zimbabwe and Zambia. It is located far away from all the most popular tourist destinations, but adventurous travelers never miss an opportunity to visit it as well. The largest waterfall in the world, Victoria is famous for the effect of fog, which is created by falling water from a very high altitude. It looks truly mystical…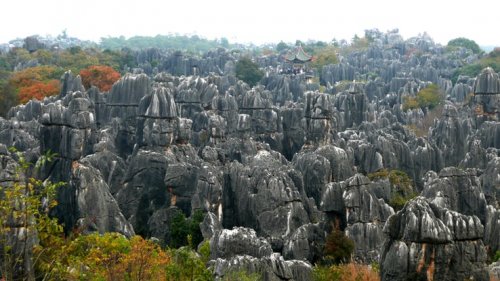 18. Shilin Stone Forest, China Photo: wikimedia.com
Most people associate China with bustling megacities, including Beijing and Shanghai. But how much do you know about the natural wonders of this country, which are concentrated far beyond the cities? China is enormous, so there are certainly plenty of beautiful places there. Surprisingly few tourists have heard of the fabulous Shilin Stone Forest, and it looks incredible!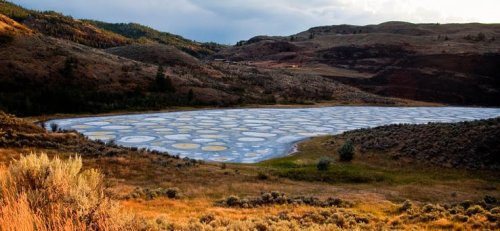 17. Spotted Lake, British Columbia, Canada Photo: wikimedia.com
Have you ever seen something like this? Probably not, because this lake is absolutely unique! Spotted Lake is located in Canada, and it looks incredible, with the mysterious colors and spots on its surface easily explained by the high concentration of minerals in this lake's water. Locals have long used its water to cure all sorts of ailments.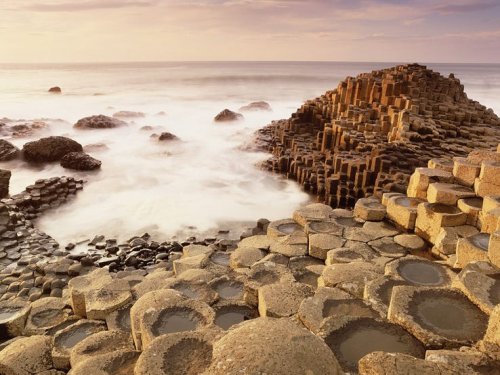 16. Giant's Causeway, Antrim, Northern Ireland Photo: flickr.com
How did this place get such an imposing name? The locals nicknamed it so in honor of the legend, according to which two giants once fought here. However, the real story of the origin of these basalt columns is not so fantastic. The stones on the photo are quite natural relief, which owes its appearance to volcanic activity. To assess Mostovaya in all its beauty you can and should do it with your own eyes, the more so that this area is easy to get on a guided tour. Believe me, it is incredibly beautiful coast!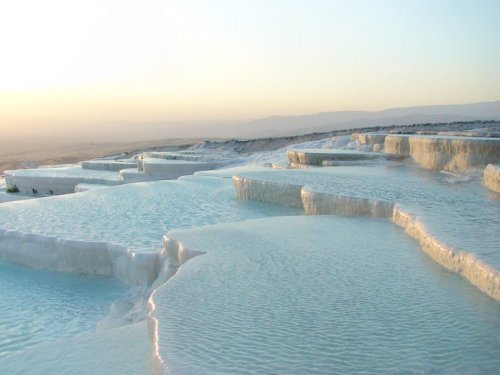 15. Travertine Terraces, Pamukkale, Turkey Photo: wikimedia.com
Turkey may seem like a hackneyed choice to you, because there are plenty of five-star hotels on the coast, outside of which it's supposedly too unsafe. But there are plenty of other lesser-known places in Turkey that offer unforgettable experiences, beauty, and no risks. Pammukale is one of those attractions. Travertine terraces with natural baths are just the perfect place to relax and admire sunsets. Couples in love especially like it here.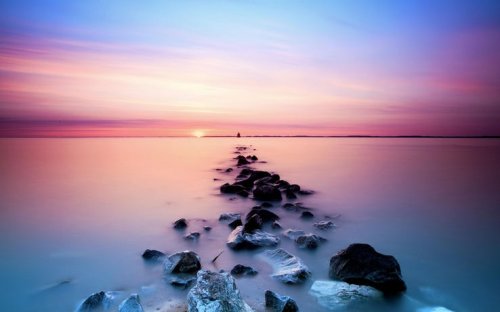 14. Hillier Lake, Western Australia Photo: snapsbox.com
Would you like to see a real pink lake with your own eyes? How is that even possible? Australia's Lake Hillier looks completely unnatural, but it actually exists. The reason for this unusual water color is due to the local plankton. You can see this place only from a helicopter, because this is almost the only way to get here, because no roads lead to it.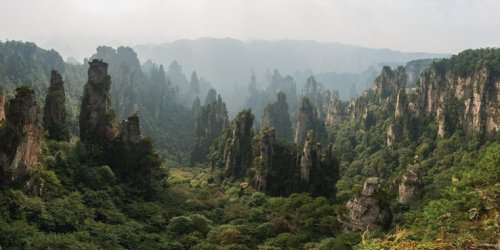 13. Tianzi Mountains, North China Photo: wikimedia.com
This is another unique place from China. This time we will talk about the amazing Tianzi Mountains. Seeing something like this is worth seeing at least once in your life! If you ever visit China, don't miss the opportunity to get here as well. By the way, you do not even need to be an experienced climber or mountaineer to admire such scenery, because you can get to the observation deck by cable car.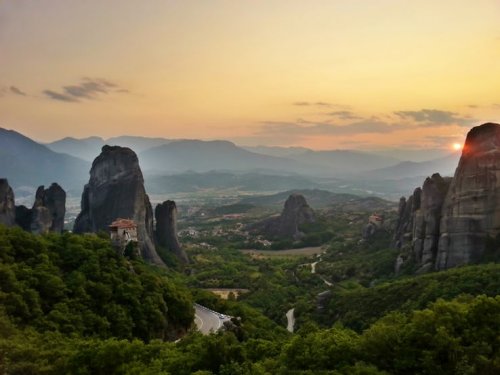 12. the monasteries of Meteora, Greece Photo: wikimedia.com
Most tourists associate Greek vacations with islands, beaches, tavernas and historical museums. But there is another very interesting place in this country that is not at all on the coast. Have you ever heard of Meteora? It's not just a historical place, because the highland monasteries are still working. In Meteora you can buy very interesting souvenirs, including honey, which the monks and nuns themselves collect from the local apiaries. This is a truly unique destination!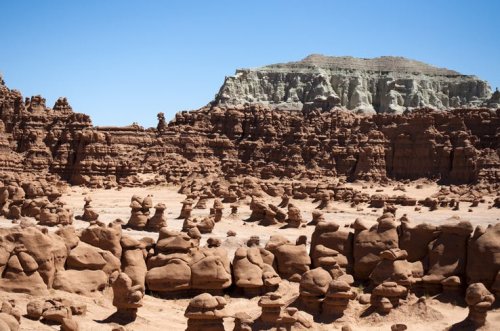 11. Goblin Valley State Park, Utah, USA Photo: wikimedia.com
America's national parks are full of true natural wonders. In Utah, for example, there is one very interesting place with simply incredible views. Goblin Valley Valley is all covered with strange mushroom-shaped rocks, which are also called hoodoos. By the way, this park got its name after the resemblance of hudu rocks with little goblins.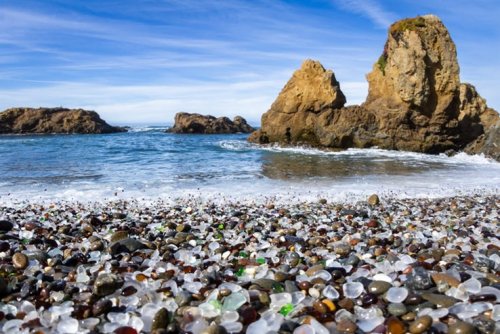 10. Glass Beach, California, USA Photo: roadaffair.com
If you dream of swimming off the coast of California, you have to put Glass Beach on your wish list. As it turns out, all that glass wasn't there all of a sudden one day; it was a long-term project. From year to year the locals filled the coast with new glass, and eventually it is almost completely covered with these colorful pebbles. In the world, such places are few and far between. By the way, the glass can be dismantled for souvenirs.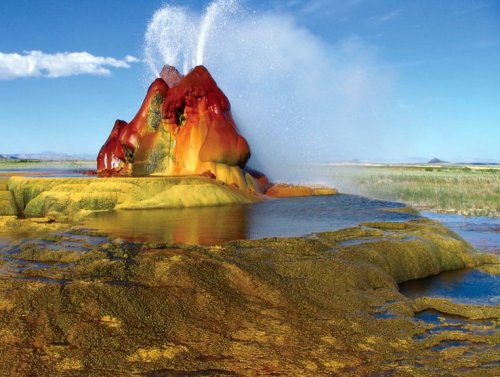 9. Geyser Fly, Nevada, USA Photo: wikimedia.com
How do these geysers come into being in the first place? So far, all of the listed attractions on this list have been completely natural places, but Fly Geyser is a man-made object. This small geothermal spring was created by accident by humans while trying to dig a well here. The colorful algae covering the slopes of the geyser loves heat and moisture, which is why they are so colorful.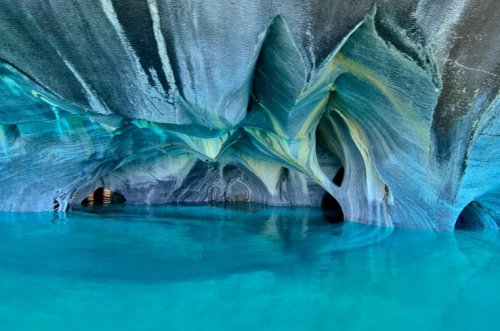 8. Marble Caves, Chile Photo: wikimedia.com
The Marble Caves of Chile look like someone took a giant brush and painted all the walls there, creating all these delightful murals right underground. However, in fact, it's not really a gallery and not the work of the artist, but a creation of Mother Nature! If you wish, you can book a boat tour and sail through these amazing caves. By the way, the attraction is located in the Patagonia mountain region, where there are quite a few other beauties.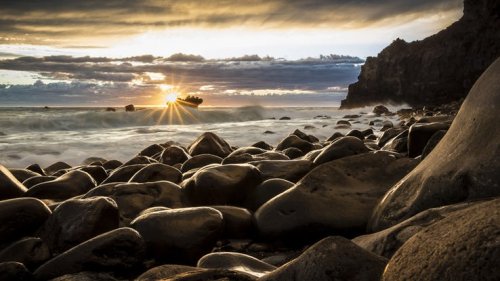 7. Moeraki Boulders, New Zealand Photo: goodfreephotos.com
If you're a passionate traveler, New Zealand should definitely be on your wish list. It seems that this country has literally everything delightful and interesting to see! Have you ever heard of the Moeraki Boulders of the South Island coast? It's a truly mysterious place because people still can't explain the origin of such unusual stones. But scientists have found out that these boulders were formed about 60 million years.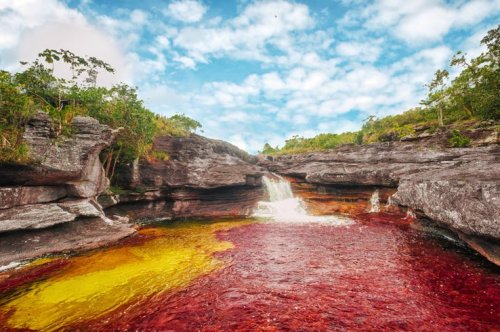 6. Cano Cristales River, Colombia Photo: wikimedia.com
There is something incredible going on here, and it is well worth a personal visit! Caño Cristales is one of nature's most bizarre rivers. Its ethereal color is due to the seasonal blooms of a rare species of algae. You can admire it in all its glory from July to December. Now is the time to book your tickets!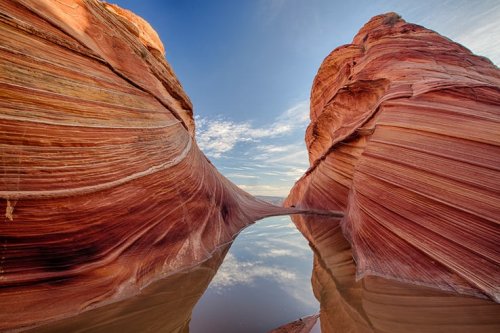 5. The Wave, Coyote Butts, Utah-Arizona border, U.S. Photo: wikimedia.com
The southwestern part of the United States is full of its own incredible landscapes. Some of them look unreal at all, and at times it seems hard to believe what nature is capable of. The Wave is an amazing rock formation located in Utah, but it is also easily accessible from Arizona if you get a special pass. The pass is necessary because the unique natural landmark is in a remote desert in need of special state protection.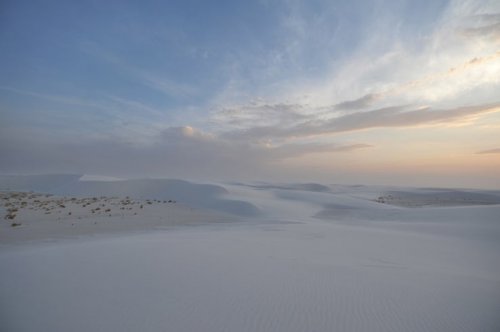 4. White Sands State Reserve, New Mexico, USA Photo: goodfreephotos.com
This is another incredibly beautiful attraction in the southwestern United States. If you happen to visit the area, be sure to visit White Sands Natural Monument as well, as it's just the perfect destination for adventurers. According to the U.S. National Park Service, it's one of the most beautiful places in the entire country, and it's also very easy to get here by car.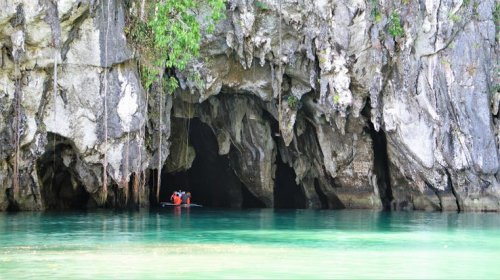 3. Puerto Princesa Underground River, Philippines Photo: wikimedia.com
Have you ever seen an underground river? According to UNESCO, Puerto Princesa National Park is home to one of the most picturesque underground rivers in the world. Find it on the Philippine island of Palawan, where there are many options for guided tours with local guides, including a boat tour of the attraction. Trust me, you won't see anything like it anywhere else, and this tour is worth the money!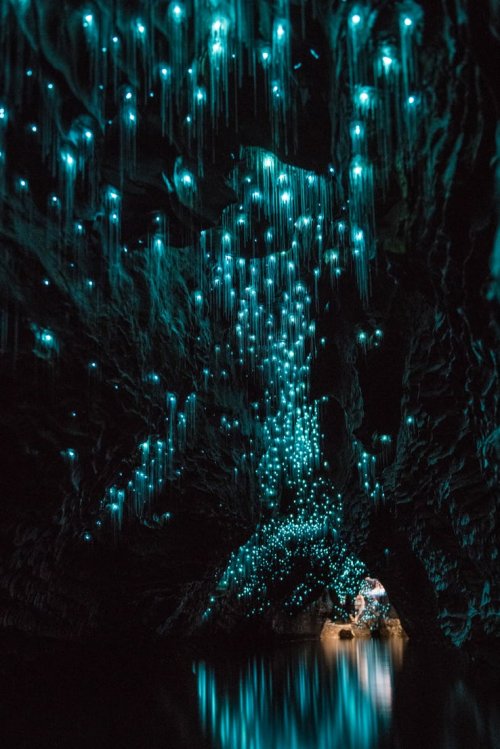 2. Waitomo or Firefly Cave, New Zealand Photo: waitomocaves.com
Waitomo Firefly Cave is a place of unearthly beauty! Here you are sure to feel like a guest on an alien planet and see what you cannot even imagine in your dreams, because millions of fireflies live in Waitomo, illuminating the darkness of the cave, like the stars in the sky.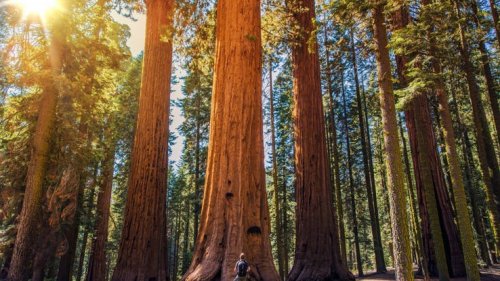 1. Sequoia National Park, California, USA Photo: nps.gov
You've probably already seen pictures of forests with trees as tall as skyscrapers. If you want to see something like that for yourself, head to Sequoia National Park. It is located in the southern part of the Sierra Nevadas mountain system. Walking through such a majestic forest is an incredible adventure. Tourists often admit that visiting this park inspires a great appreciation for nature and changes the way you think about the world around you.