Beach Vacation in Barcelona
Barcelona beach: which beaches are considered the best and to whom are more suitable, how much does vacation cost in 2022, when is better to go to the resort, as well as tourist reviews. For your convenience, a map of Barcelona with descriptions of beaches.
Millions of tourists visit Barcelona every year to see Gaudi's famous creations, visit museums and stroll through historical sites. And if the trip to the metropolis falls in the warm season, a considerable interest cause the city's beaches – we will tell about them in this article.
Spain accepts tourists from the Russian Federation, if they are vaccinated with a vaccine approved by the WHO. You can also enter through another EU country. Look at the list of open countries. Tours to Spain are not yet on sale. For convenience, we give pre-pandemic prices for travel and flights. Information about visas and flights may not be up to date now, check with official resources.
Contents:
When to have a rest in Barcelona by the sea
Active beach vacation in Barcelona begins in mid-May and lasts until the 20s of September. In May in the resort is already warm enough +22 ° C, although the Mediterranean Sea is still cool for swimming +17 ° C, but tourists are not afraid. In June during the day +26. +28 ° C, the sea is still brisk +21 ° C, the maximum water gets warm only in the middle of summer to +25 ° C.
Since mid-July the temperature rises strongly, and with it the humidity. And when the summer sales start, the city's crowds are just too high. Relatively comfortable to relax by the sea in Barcelona in September, especially with children: the air temperature is +26 ° C, the same warm water. Most days are sunny and the rain, if it rains, is rare. In October the weather is already beginning to be capricious, but the prices in hotels significantly decrease.
According to many tourists, the best time to relax in Barcelona is May or September: it's not too hot, not too crowded on the beaches, not as high prices as in the middle of summer. If the beach holiday is decisive, it's better to go in September.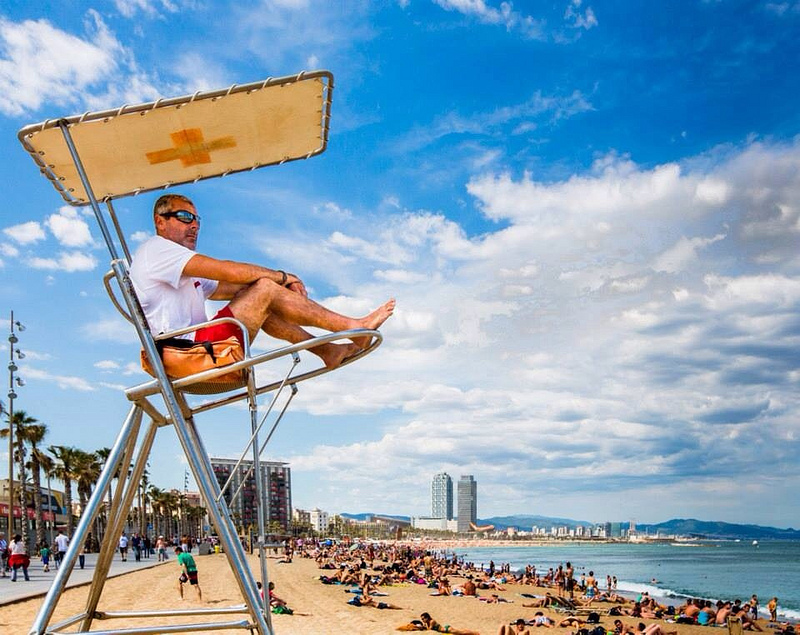 (Photo: heatherbuckley / flickr.com / License CC BY-NC-ND 2.0)
Prices for holidays in Barcelona in 2022
Independent vacation in Barcelona.
Flight. The lowest price for airfare from Moscow to Barcelona and back in summer and early fall 2022 is 12 thousand rubles per person. It is quite inexpensive for the high season. We recommend searching for tickets on Aviasails – so you will find the cheapest. Also read the instructions how to find the cheapest flight tickets and how to get to Barcelona cheaply.
Food. You can have breakfast for 3-6 euros per person (breakfast is usually light), lunch costs 5-9 euros, dinner – 8-15 euros. A pint of beer in a pub is 2,5-4,5 euros.
Hotel accommodation in the high season (July and August) is a major expense item during the vacation in Barcelona. Hotel prices, frankly, bite. In 2022 the prices are following: one night in a hostel costs from 24 euros per person, a standard double room in a budget hotel in the center – approximately from 60 euros, a room in a 3* hotel – from 120 euros. Apartments in the center of Barcelona can be found from 90 euros, a separate room from 45 euros.
Do you want to save money? Holiday in Barcelona from May to June and September to October.
We recommend looking for a hotel on Roomguru.ru, it finds the best price by comparing offers in all popular booking systems. We advise you to book accommodation in advance, because half of Europe goes on vacation.
Accommodation selection :
Barcelona tour prices – 2022
High season holiday in 2022 (in July and August) for 7 nights with a flight from Moscow costs from 70 thousand rubles for two people, for 11 nights – from 90 thousand rubles, for 14 nights – from 120 thousand rubles.
Do you prefer "all inclusive"? The prices for weekly tours to hotels by the sea start at 110 thousand rubles for two people. It is worth noting that in Barcelona there are few hotels that work on an all-inclusive basis, mainly offering tours without meals or with breakfast, in rare cases – with breakfast and dinner.
How to buy a last minute tour? Compare the prices of all popular tour operators and choose the best option with the help of Level.Travel and Travelate services. We also recommend studying 7 rules of online searching for the cheap tours.
Map of Barcelona beaches with descriptions in Russian
Best beaches in Barcelona
A beach holiday in Barcelona for many tourists is an important part of the trip. The municipal beaches of the resort open in mid-April and close in October. The sandy coast is well maintained, all beaches are well equipped, for the safety and convenience of tourists are serviced and catering facilities.
Cabins for changing clothes are provided only on some beaches, in particular, Barceloneta and Nova Icaria can boast the presence of such, but they will be available only to people with disabilities. After 19:00, lifeguards stop working and the beach toilets close at the same time.
Barceloneta
This is the oldest and most popular beach in Barcelona, easy to get to from La Rambla. Some people call it a proletarian beach – there are always a lot of people of all ages and it's quite noisy. Despite this, many vacationers with children in Barcelona come here, as the beach is long, wide, equipped with playgrounds, toilets and lifeguard towers.
Children have fun in the children's corners, young people go kiting and surfing or play soccer and volleyball. Just behind the beach stretches a large promenade, where everyone can ride rollerblades and bikes.
You can eat at any of the institutions on the beach, food and cold drinks carry street vendors. You can get a massage – their services actively offer a subtle ladies of Asian descent. There is a serious flaw in this beach – in a large crowd, it's easy to get lost, so the cases of theft are common here.
Useful articles: find out more about the prices of holidays in Barcelona, attractions and read tips before you go.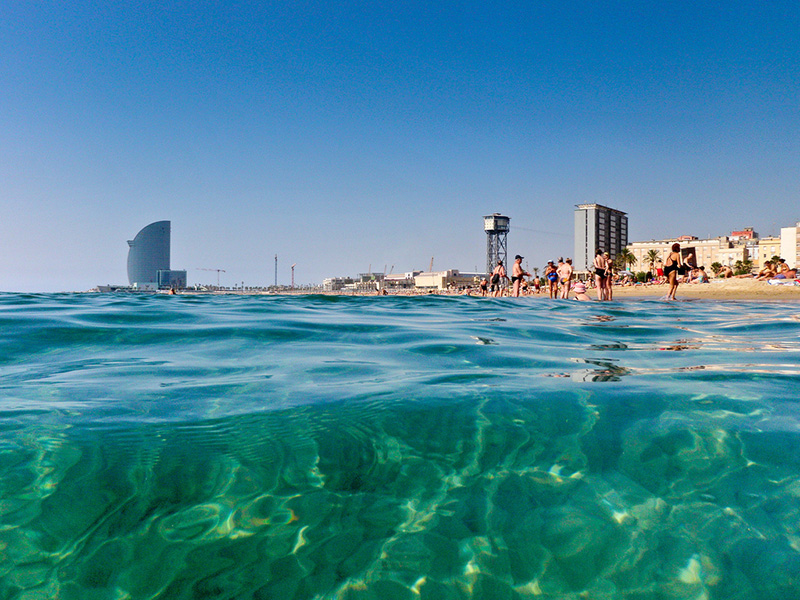 (Photo: rbrands / flickr.com / CC BY-ND 2.0 license)
San Sebastian.
Large beach with coarse sand, with pebbles at the entrance. The water here, according to tourists' reviews, is much cleaner than on Barcelona, and there are a lot less people. The place is atmospheric, more suitable for young people, but comfortable conditions have been created for everyone. For people with disabilities, special paths are made, an elevator and allocated parking spaces. There are even special points, where you can take any publication for free. In front of the beach there is a sports club with swimming pools where pensioners like to gather.
Sant Miquel
Between the two big, lively beaches of Barceloneta and San Sebastian lies the narrow, small beach of San Miguel. Despite its compact size, it can hardly be recommended to holidaymakers with children – sometimes nude sunbathers wander here, and there is a lively Placa del Mar with restaurants and stores next to the beach, and there are plenty of tourists in this part of town.
La Nova Icaria
According to reviews, this beach in Barcelona can be safely recommended for holidays with children: it is called a big children's sandbox. The beach itself is located near the Olympic port, from it on the promenade is easy to walk to Barceloneta Beach.
Soft sand, clear water, the beach itself is fenced with breakwaters, so the sea is always quiet. Well thought out infrastructure: the beach has sports grounds, close to a small park with play areas for children, to the nearest cinema and shopping center is a short walk away. For people with disabilities there are various small things, like entry, a special service provides the necessary assistance to those in need.
Bogatell
For those who are looking for a quiet holiday in Barcelona by the sea, Bogatell is the right place to go. This is a new beach, established in the 90s of the last century: a coastal strip of 50 m wide, clean and quiet. Suitable for recreation for people of all ages. Two breakwaters protect the sea from strong waves, so vacationers with children will also be comfortable here. There are umbrellas and deck chairs for rent, there are storage rooms, showers and toilets. You can play volleyball and table tennis.
Mar Bella.
The main contingent vacationers of this beach – young people, often – nontraditional. Behind the special bamboo fence there is a separate section for nudists. Everything else is just like on the other beaches: there is a rental of deck chairs and umbrellas, showers and toilets, but bars and cafes are few. Widespread all kinds of recreation – beach volleyball, kiting, kayaking and diving. Not all tourists liked the sand on the beach, some even found it a bit dirty.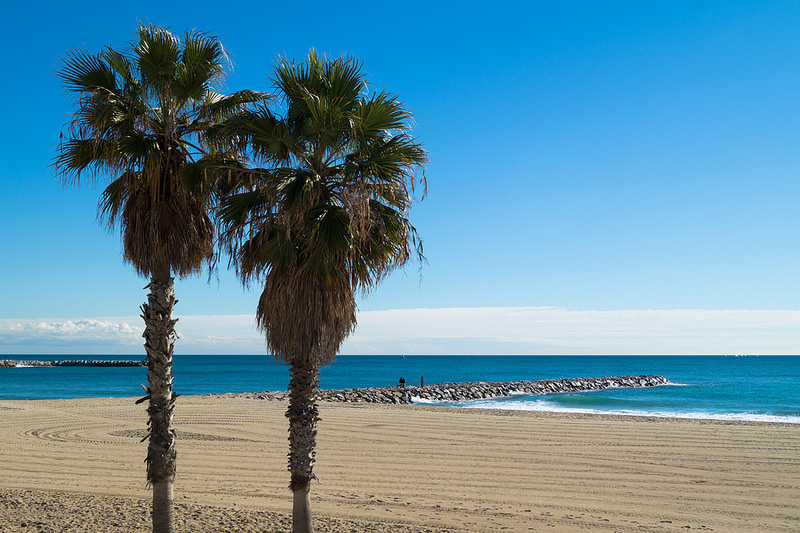 (Photo: Almusaiti / flickr.com / License CC BY-SA 2.0)
Somorrostro.
This beach was once part of Barceloneta, but over time it has been separated into an independent unit. There are all kinds of active entertainment here. For the little ones there are beach toys for rent, for students and businessmen there is free Wi-Fi.
Levante.
This is the youngest and most remote beach, so it's always quiet and not crowded, there are no problems with parking spaces. According to what tourists say, you can safely vacation on this beach in Barcelona with children: swimming is safe, the entrance is shallow and shallow.
Forum (Zona de banys del Forum)
This beach is artificial and more like a swimming pool – its entire surface is paved with special wooden covers, the water is accessed by stairs. But no wet sand on all parts of the body and dirty limbs. The infrastructure is developed the same as on other beaches of the city.
Reviews about the disadvantages of a beach holiday in Barcelona
With the pluses everything is clear – the beauty indescribable around, fine golden sand, warm sea, delicious food and drinks. Now about the disadvantages of vacationing in Barcelona by sea, according to reviews of tourists:
Litter . Despite the fact that the beaches of Barcelona are cleaned daily, the multi-million city can not compare with the small resort in terms of cleanliness of water and sand. If the first half of the day is relatively clean, by evening you can already see signs of people.
Some tourists are annoyed by particularly relaxed vacationers – the sight of naked bodies of varying degrees of maturity is not to everyone's liking.
On the beaches there are prohibitions, which it is desirable to know, so as not to get trouble in the form of a fine. For example, you can not bring your animals. This is our wet dog, skipping smartly with the kids, will cause placation (at least the majority), in Spain, these things look different. The amount of the fine is impressive – 1500 euros. And no soap or shampoo in the shower on the beach – the fine is almost the same as for the illegal entry of a dog.
By the way, you have to pay higher fines if you swim with red flag drawn. But it is a question of personal safety, and with such a measure is difficult to argue. Thus, in recent years, visits of sharks to the shores of Barcelona have become more frequent. As a rule, they are small predators up to 1.5 meters long, not dangerous for people, but rescuers always react to uninvited guests promptly, and the beaches are closed for a while. And then you have to think a hundred times whether you need such a bathing or it's better to heed the warnings and wait it out.
Where to have a good rest in Barcelona
Spain – an amazing country, which combines a rich history, rich culture, architectural heritage, multi-faceted nature. Every city is worth visiting. However, you should start acquaintance with this country from Madrid, or arrange a holiday in Barcelona, which is the pearl of northern Spain. Here you can combine cultural and educational program and a visit to the beach.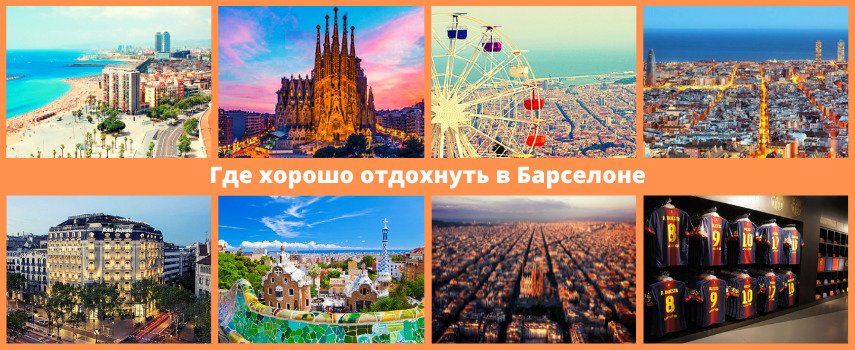 Difficulties with obtaining a tourist visa to Spain in 2021
Spain is a member of the Schengen area. To enter this territory you must obtain a visa. It allows you to visit all Schengen countries without obtaining additional documents. When independently obtaining a visa it is necessary to collect a number of certificates and statements, which are handed over to a special center. It passes them to the consulate, it considers the case on average 1-2 weeks. The visa is issued for different time period. The decision is always taken by the consul.

Spain requests a certificate of negative test for coronavirus infection.
How to reach Barcelona at low prices
There are several ways to get from Russia to Barcelona: by plane, train, car and even by sea liner. The choice of transport depends on your desires, free time and budget. The most inexpensive option would be a plane trip. On average, the flight takes 4.5 hours from the Central region of Russia.

There are several sites (like Aviasales) on the Internet to choose a cheap flight, which allows you to take into account all your preferences. They show you the cheapest deals, including low-cost flights. The sites also suggest days when tickets are even less due to low passenger activity.
When is the best time to go to Barcelona?

When choosing tours to Barcelona, you always want to get a great vacation for a low price. To make the right choice, you need to consider not only the purpose of your trip, but also the accompanying weather and social conditions. This will allow you to get a comfortable trip without unnecessary costs and disappointment.
Price Decline

Airfare from Russia reaches its lowest prices from November to February due to the fact that most tourists go to Spain in summer to rest at the sea. In winter the flow of travelers is reduced. Hotels are in less demand, so there is an opportunity to stay in an expensive place for a small cost.
Weather and climate by season
In the summer, the temperature can reach +40 º C, the sea is warm, and in the evening there is a light breeze. This weather disposes to a beach holiday. The season lasts from May to August.

During the winter period, the temperature outside is about +12 º C and the weather is changeable, the sun is replaced by rain and cold. A trip from November to February will be a pleasure, if the purpose is to visit historical sites and entertainment events.
During the transition season, in September, October, March and April, it would be better to avoid visiting Barcelona, because it rains most of the time and there are almost no sunny days.
Table of temperatures and rainfall
| | | | | | | | | | | | | |
| --- | --- | --- | --- | --- | --- | --- | --- | --- | --- | --- | --- | --- |
| Month | January | February | March | April | May | June | July | August | September | October | November | December |
| Average daily temperature (C°) | 12 | 12 | 14 | 16 | 19 | 23 | 26 | 26 | 23 | 20 | 15 | 12 |
| Air temperature at night (C°) | 9 | 9 | 11 | 13 | 16 | 20 | 23 | 23 | 20 | 17 | 12 | 10 |
| Air temperature during the day (C°) | 15 | 16 | 17 | 19 | 23 | 26 | 29 | 29 | 26 | 23 | 18 | 15 |
| Rainfall (mm) | 44 | 31 | 33 | 48 | 47 | 26 | 25 | 41 | 82 | 97 | 45 | 47 |
Water temperature
From October to early May, the average daily temperature of the sea water in Barcelona is +13ºC. However, at the same time, strong winds blow, preventing you from swimming for long periods. In early June, the water becomes a comfortable 20 degrees centigrade and allows the beach season to begin.
Holidays and festivals
Barcelona likes to celebrate its festivals in a big way. Every event involves the whole city, locals and tourists. Some people come especially to the city to take part and engage in Spanish culture.
The main holidays and festivals:
Highlights

When planning a trip to Barcelona, it's useful to know the peculiarities of living and traveling in the city. Also, think ahead about the language you will use to communicate with locals and how you will pay for purchases. Don't forget to prepare interesting itineraries for sightseeing and discovering Spanish cuisine.
Holidays with children

Traveling with a child requires some preparation before the trip. Don't take unnecessary food and hygiene products with you; baby products are readily available in stores in Barcelona, it will save space in your suitcase. Take a comfortable stroller, all public places in the city are adapted for people with limited mobility, ramps are installed everywhere.
In one day you can visit only a few places, because children are unhurried, for them the concept of time is blurred. You will not be able to visit everything at once. It is better to visit a few attractions, but avoid overworked child and a tantrum, which would spoil your mood.
Choose places of interest not only for adults, but also for children. Barcelona has several parks, a zoo, an aquarium, a fountain show and an amusement park.
The Language of Barcelona

The inhabitants of Barcelona actively communicate in 2 languages: Spanish and Catalan, which is popular in this region. In tourist areas and hotels, many locals know English. If you don't speak any foreign languages, Spaniards will try to help even with gestures, because these people are friendly and hospitable.
Currency Exchange
In Barcelona use the euro, which is the currency of the country. It is convenient to exchange rubles in advance in Russia. If you decide to do it in Spain, go to a local bank branch, they provide a favorable rate. Many hotels, stores and private guides offer to exchange your currency into euros, but they do it with a large surcharge.

You can also withdraw cash at any ATM, for this payment card must be VISA or MasterCard. Please note that your bank charges interest for currency conversion, so check the bank's official website for the rates.
Mobile communication and Internet

There is free Wi-Fi in the city, but the connection is constantly interrupted and will not allow, for example, to watch a movie or listen to the radio. But every restaurant and cafe has a stable Internet, the password check with the staff, in the fast food chain it is printed on the receipt. Most hotels provide free Wi-Fi, but there are still some hotels that charge for its use.
The mobile network works well throughout the city, except for some sections of the subway and in the mountainous areas around Barcelona.
Housing and transportation

Barcelona has an extensive transportation system, including the metro, buses, and cabs. You can rent a car, there are pick-up points at the airport and within the city limits, and traffic is right-handed. The subway is modern and clean, trains run on time, and stations are located near the major attractions of the city. The official cab rides on fixed fares, the cost can always be clarified with the driver in advance. Private individuals make overpriced rides.
Buses in Barcelona allow you to comfortably get from one part of the city to another. There are routes to the suburbs and neighboring resorts. For a reasonable price you can buy tickets for a red tourist bus, which travels on the three most interesting routes of the city, on it you will visit all the important attractions.
Hotels, hotels, hostels, apartments and apartments are available for accommodation. In the resort area you can rent a small house or villa.
Sightseeing and interesting places
A lot of time and a lot of sightseeing will be required to visit all the points of interest in Barcelona. Take a look at the 10 most popular attractions, and see what you can do there first.
Sagrada Familia Basilica. This is Barcelona's main temple and was laid out in 1882 under Gaudi's direction.
Las Ramblas. It runs through the heart of the city. The street is always crowded with cafes, stores and attractions.