Abu Dhabi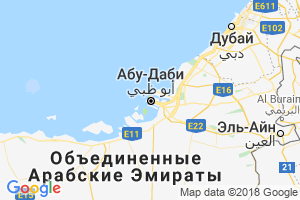 Abu Dhabi is the richest yet largest emirate of all that makes up the UAE. The city of Abu Dhabi itself is especially remarkable for tourists because it is the capital of the United Arab Emirates, and it is rightfully considered one of the few true city-parks today. Much of the wealth donated by the UAE oil went to improve the infrastructure of Abu Dhabi and turn it into a unique luxury resort. The city covers an area of 67 thousand square kilometers and each of them is filled with luxury.
The city of Abu Dhabi includes several dozen islands located off the coast of the Arabian Peninsula. In the eastern part of the emirate of Abu Dhabi is a small town Al Ain, famous for its rich and beautiful greenery. There are a large number of parks, farms and even artesian wells. The most amazing places in the area are Mount Hafit, Ain Fayad Park, Al Haley amusement park, Al Ain Museum and Zoo.
Every visitor will be amazed by the abundance of greenery in Abu Dhabi – the main road into town, as well as the entire waterfront is fringed with lines of plantings that hide the arid soil. Palm trees and eucalyptus trees grow here. The city itself is filled with a huge number of ornamental shrubs and grassy lawns. In the evening Abu Dhabi can delight in the game of jets in its fountains located along the waterfront.
The city of Abu Dhabi is separated from the mainland by a strait; the temperature in the capital is a few degrees lower than outside the city, also because there are a lot of green spaces.
Speaking of the climate, you can define it as subtropical. Because of the high humidity in the summer it is very difficult to endure the heat, especially tourists. For this reason, the season of relaxing and comfortable rest is the period from October to May. Precipitation is very rare, in winter it rains only occasionally. The statistics states that on average it falls here 13 mm of rainfall per year, which can be compared with about 3-4 rainy days in Europe.
The population of Abu Dhabi is 1,145,000 (2017), half of whom live directly in the capital. The locals are of Arab nationality, but they make up only a small part of the population. Foreign communities are dominated by Hindus, Pakistanis, and British. The dominant tribe is the Baniyaz.
The geographical location of the city of Abu Dhabi has led to the construction of hotels of the emirate right on the beach, which is not typical of Dubai and Sharjah. This irresistible capital combines the traditions of the East with the urban scenery and is the leading leisure center in the UAE along with Dubai.
Abu Dhabi is especially famous for its beautiful beaches that bathe the azure sparkling waters of the Persian Gulf, as well as numerous restaurants, all the necessary facilities for sports, nightclubs and other types of entertainment.
Founded: circa 1760 Area: 972 km 2 Population: 1,145,000 (2017) Currency: Dirham Language: Arabic Official website: http://www.abudhabi.ae
Flight time: from Moscow – from 5 hours 25 min. from St. Petersburg – from 8 hours 55 min. (1-3 connections) from Kazan – from 12 hours 50 min. (1-3 connections) from Ekaterinburg – from 10 hours 40 min. (1-3 connections) from Novosibirsk – from 13 hours 15 min. (1-43 connections)
European tourists may be surprised by the ban on alcoholic beverages in restaurants located in the city. Note that the United Arab Emirates has a dry law. Therefore, you need to consider that only the institutions of the hotels can sell alcoholic beverages. However, if you are not embarrassed by the dry law, we advise you to fully immerse yourself in the life of Abu Dhabi and visit the most popular establishments in the city.
Getting to Abu Dhabi
All flights arrive at Abu Dhabi International Airport. Of the Russian cities, only Moscow is connected to the capital of the UAE by direct flights. Flights to this destination are Etihad and Transaero.
From other Russian cities you can fly to Abu Dhabi with connection in Moscow or with connection flights of other carriers. However, the most logical option would be to fly to Dubai – in this case you will have more options. About how to get from Dubai to Abu Dhabi, read below. And on how to get to Dubai, read here.
In addition, Emirates airline has a special "aero-bus" flight with arrival in Dubai and further travel to Abu Dhabi on a company bus. Such a flight is sold in our booking system, the bus is included in the price. This option can be used by citizens of Moscow and St. Petersburg, the cities where Emirates operates flights.
If arriving to the UAE capital's airport is essential for you for some reason, you can take advantage of the following connecting flights (connecting airport is in brackets):
Turkish Airlines (Istanbul): Moscow, St. Petersburg, Yekaterinburg, Kazan, Rostov, Ufa, Sochi, Novosibirsk.
Lufthansa (Frankfurt): Moscow, St. Petersburg, Kazan, Nizhny Novgorod, Perm, Samara.
Czech Airlines (Prague): Moscow, St. Petersburg, Yekaterinburg, Kazan, Nizhny Novgorod, Rostov-on-Don, Sochi, Samara, Ufa.
Finnair (Helsinki): Moscow, St. Petersburg, Yekaterinburg.
Qatar Airways (Doha): Moscow.
Air Berlin (Berlin): Moscow, St. Petersburg.
How to get to Abu Dhabi from Dubai
If you need to get to Abu Dhabi from Dubai, consider that a cab will cost you 250 – 300 Dhs one way.
However, a cheaper way to get around is to take the 1E bus from Bar Dubai bus station every 15-20 minutes from 5.30am. The cost of the trip is 80 dirhams. You will spend almost 2 hours on the way. The station where the bus comes to Abu Dhabi is Central.
Also from Bar Dubai station you can leave by shuttle bus, minivan. Such a trip will cost one passenger 120 dirhams. Of course, this transport will get you in a shorter time, but not everyone likes to be in close proximity to another culture.
If you're thinking about how to get from Abu Dhabi back to Dubai, the same applies here. Importantly, in addition to the listed modes of transportation, there are buses that stop along the way, the ticket price is 60 dirhams. You can also ask the driver to make a stop wherever you want if your destination is not at the bus station.
We compare all available flight options for your query, and then direct you to the official airline and agency websites for purchase. The airfare you see on Aviasales is the final price. We've removed all the hidden services and tick boxes.
We know where to buy airline tickets cheaply. Airline tickets to 220 countries. Search and compare airfares among 100 agencies and 728 airlines.
We cooperate with Aviasales.ru and take no commissions – the cost of tickets is absolutely the same as on the site.
Get to your destination without changing flights. When traveling with a travel companion you won't have to worry about lines and hours spent waiting at the station.
We work with Blablacar and don't charge any commissions – the fare is exactly the same as on the website.
Showing transfers from Abu Dhabi
We cooperate with kiwitaxi and do not charge any commissions – the rent is absolutely the same as on the website.
Abu Dhabi climate & weather
Weather forecast
Abu Dhabi weather by month
Temperature during daytime, °C
Temperature at night, °C
Water temperature, °C
Precipitation, mm
January
23
11
19
2
February
24
13
18
42
March
28
15
23
24
April
33
19
27
7
May
38
22
27
June
39
24
27
July
42
27
29
August
41
28
32
September
40
25
27
October
35
21
27
November
30
17
25
1
December
25
14
24
9
Reviews by Month
Transport
In Abu Dhabi, the capital of the United Arab Emirates, public transport is currently represented by buses, water and land cabs and ferries.
Buses
Regular bus service in Abu Dhabi was introduced by the Department of Transport only in 2008, when modern comfortable air-conditioned shuttles were bought for the city routes. People with disabilities can easily use them.
At the moment there are 7 suburban and 7 urban routes in the capital city. In addition, there is also an intercity bus service, carried out both within the territory of one emirate, and within the whole country.
It is worth noting that the buses can be seen only in the only part of town – near the major hotels. In fact, there are special stopping points and complexes near which there is a cafe or a restaurant, where the drivers can grab something light or a cup of coffee. These are the places where Abu Dhabi buses are based. Speaking of the city itself, it is worth emphasizing that there you can spend almost a whole day waiting for public transport. Some hotels in order to create a particularly comfortable environment for their tourists organize a local bus services that provide passenger transportation.
With suburban buses there is a slightly different situation: they are more punctual. We can also say that their number is slightly higher than the number of city buses, and this transport is better developed, because it is in high demand. Despite the fact that the suburban buses are modern and well equipped, it is almost impossible for them to cope with the exhausting heat and long distances between sites in the UAE. So, naturally, for many tourists such trips can be a real challenge.
City buses run all week from 5 am to 12 am on weekdays and up to 2 am on weekends and holidays. Interval varies depending on the time of day and the specific route, it can range from 10 to 40 minutes. The fare on this transport is low: 1-3 dirhams or $0.3-0.82. When bus transport was first introduced in Abu Dhabi the fares were free in order to attract as many passengers as possible.
Cab
At the moment there are four different types of cabs in Abu Dhabi: white cars – these are private old cabs, which are about to be decommissioned; gold-colored cars; silver-colored cars, they are the newest; and pink-colored cars. Pink cars are driven exclusively by women, and only women and boys up to 10 years old can take advantage of such cab services. In each type of cab cars are equipped with special meters, in Abu Dhabi for all introduced standard fare, but at the same time it is possible to agree on the price in advance with the drivers, especially in older private cabs.
There are cab stands near all the city's main shopping malls, and in all other places you can "catch" a cab by making a certain sign with your hand. Of course, you can call a cab using a special phone, this service costs about $ 1.4, and the fare is paid by the meter. It is necessary to say that tariffs for cab use are revised all the time.
In the day time boarding costs about $0.82, if you go for less than 50 km then you have to pay $0.27 for every 750 meters, and if the distance exceeds 50 km you pay $0.41 for every 750 meters. If you need the car to wait for you, you have to pay $0.14 for every minute of idle time (over 5 minutes).
At night, of course, there are slightly different rates. If you go less than 50 km distance, 750 meters are charged at $0.33, and if you go over 50 km, you pay $0.5. However, a minute of waiting time is charged the same as during the day – at $0.14 per minute over the first 5.
If you need to travel a long distance, for example from one emirate to another, you can take a special cab which stops where Defence Street intersects with Al Muroor Street. In these cabs the fare is also determined by the meter.
If you need to get from the airport to the city center in Abu Dhabi the journey time will be about 30 minutes and the cost is $16,5 or 60 dirham. It's worth noting that it's best to take a cab to the airport, as the long wait for the bus may result in you missing your flight.
Tourist transport
Tourist transport in Abu Dhabi consists of buses and yellow motorboats. BigBus Tours organizes sightseeing trips in red double-decker buses with air conditioning. Tickets can be purchased for 1, 2 or 3 days. The buses are Hop-On Hop-Off type. You can get off at the stops and visit the sights and then get back on the bus.
Water excursions are organized by The Yellow Boat Company. Yellow motorboats ply on 3 routes – Yas Marina, along the Corniche waterfront and Al Maya Island. The trip lasts 60-75 minutes and costs 210-220 AED.