Itinerary for your trip to Morocco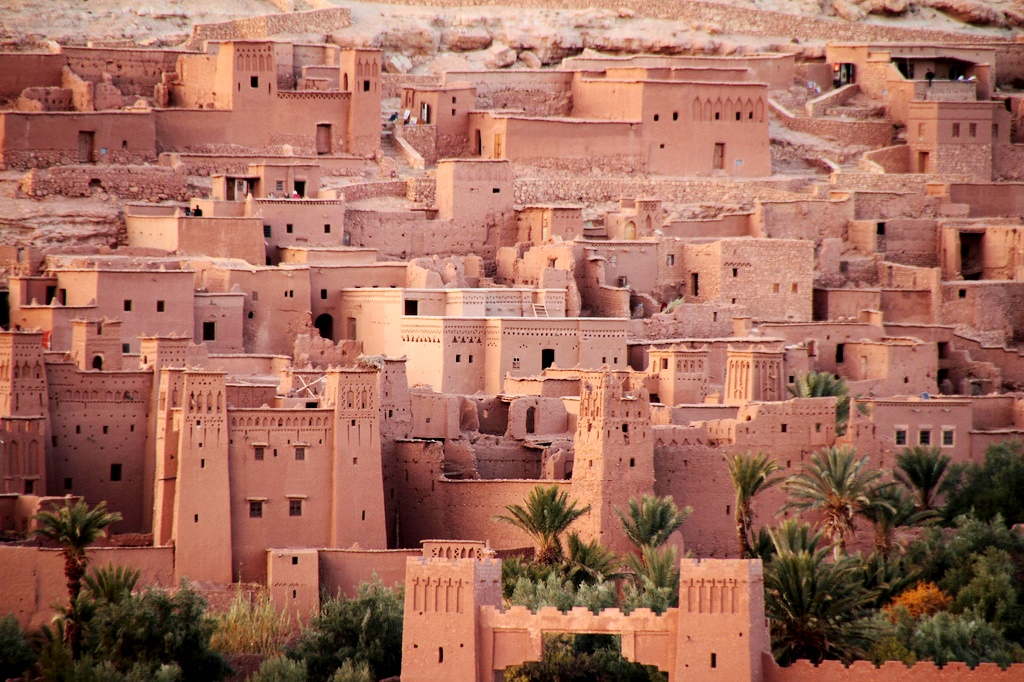 It's very easy to travel to Morocco on your own! We have worked out for you a detailed itinerary for your trip to Morocco with a detailed travel budget. The goal is to go around the whole country without missing anything interesting.
Morocco is a great option for an independent travel. First, visa-free entry is open to Russians. Secondly, it is very safe and politically calm country, which, moreover, is considered the most Europeanized Arab country. And thirdly, there is so much to see in Morocco, that it makes absolutely no sense to go there on a tour. If Morocco – only on their own!
Exchange rate: 1 Moroccan Dirham (MAD) ≈ 5.5 rubles.
Here is a scenario of the most profound dive into this wonderful country.
We also recommend you to read our article about Morocco – valuable information about the country for those who go to Morocco on their own. We also have a separate article about beach holidays in Morocco.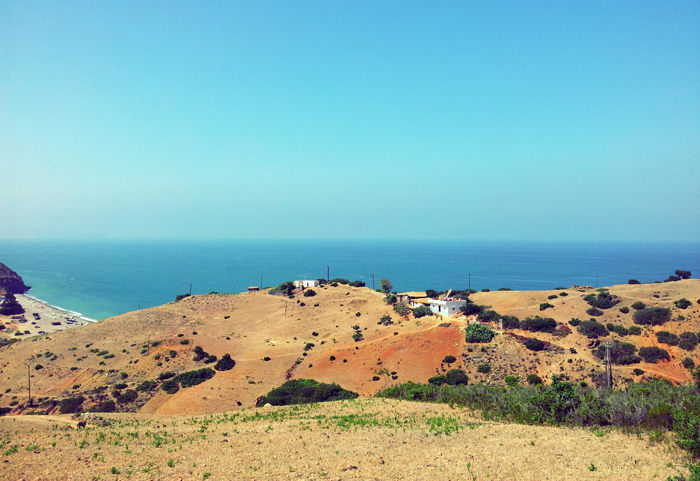 Morocco: how to get there
The easiest way to get to Morocco from Russia is by air. Many variants are possible. These are direct flights of Royal Air Maroc from Moscow to Casablanca, and a whole range of possible combinations of flights with connections in different European cities (Paris, Brussels, Madrid, Rome, etc.). There is even an option to get to Morocco by sea: first you must fly to Spain, and from there, from one of the southern ports on the ferry to Morocco. The journey will last from 1 to 2 hours. However, the last two options require a Schengen visa. In addition, they are too tedious and time-consuming.
Most often, the easiest and cheapest way to get to Morocco is to fly with Turkish Airlines. A flight from Moscow will take you to Casablanca with a connection in Istanbul. If you want you can not choose the minimum connecting time of two hours, and take, for example, 8 hours or more, to have time to get a few hours to the center of Istanbul, there will be a little walk and see the main sights (we did so). Read how to get to downtown Istanbul from the airport.
Anyway, to find the best option for both price and convenience, you need to compare all possible options. Aviasales and Skyscanner services search for tickets on all airlines. To learn how to find and book airline tickets at the lowest price, study our tips.
And, of course, it always makes sense to keep track of new airline promotions on our website .
We also recommend that you read our very useful article about how to fly cheap. And if you still decided to get to Morocco through Europe, then we recommend an article on how to travel cheaply to Europe through the Baltics and Finland .
If you feel that you are not ready to organize an independent trip to Morocco, but you want to go to this beautiful country, then fly on a tour. You can find a trip online, too. Tours in Morocco →
Hotels in Morocco
In popular tourist destinations to find a hotel is not a problem. A wide range of hotels for all tastes and wallets are in Chefchaouen, Casablanca, Agadir, Essaouira, Rabat, Marrakech, Ouarzazate and many other cities.
It is better to book accommodation in advance, especially in high season.
We recommend searching for hotels on the service Roomguru.ru. This is a search engine, it compares prices for hotels on all popular booking systems (Bucking, Agoda, Ozon, Island, etc.) and finds the best option. In general, it both provides a wide selection and allows you to make a reservation at the best price. Pay attention to hotel reviews and ratings – they are made by tourists themselves, it's useful for choosing a good hotel.
We also recommend you to pay special attention to the service Airbnb.ru (experienced travelers surely know it). On it you can book very interesting accommodation from the owners. Instead of a banal hotel you can check into authentic riads, apartments, or houses – and you'll agree that this is much more interesting, as well as comfortable and often even cheaper. The selection of accommodation on Airbnb.ru is vast – there are thousands of options. Be sure to find something you like!
Casablanca
So, our independent journey through Morocco has begun – we're in Casablanca!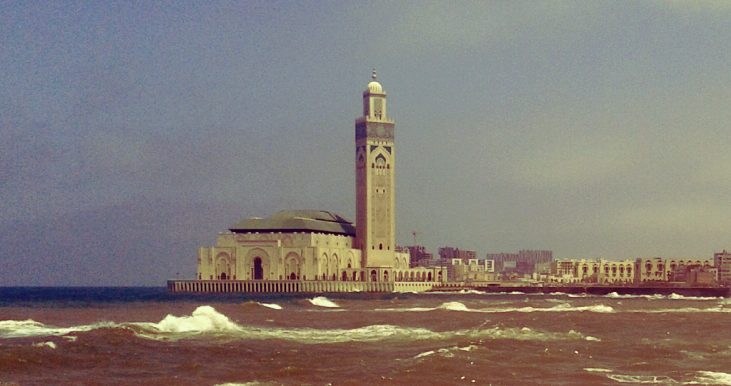 Some travelers, having been in Casa (that's how this city is called by the Moroccans), dissuade people from going here, saying, the city is not an authentic, and there's nothing to do here. Do not believe it – they are lying. Go to the second largest city in Africa is hundred percent worthwhile. The city is beautiful because it is a rich mixture of the most diverse elements: there are colorful slums, reminiscent of the slums of Rio, partly a black neighborhoods American metropolises, there is the spirit of Miami and something of southern European port cities like Marseille, and, of course, its own life flows in the medina.
A stay of two or three days in Casablanca is quite enough to see the city.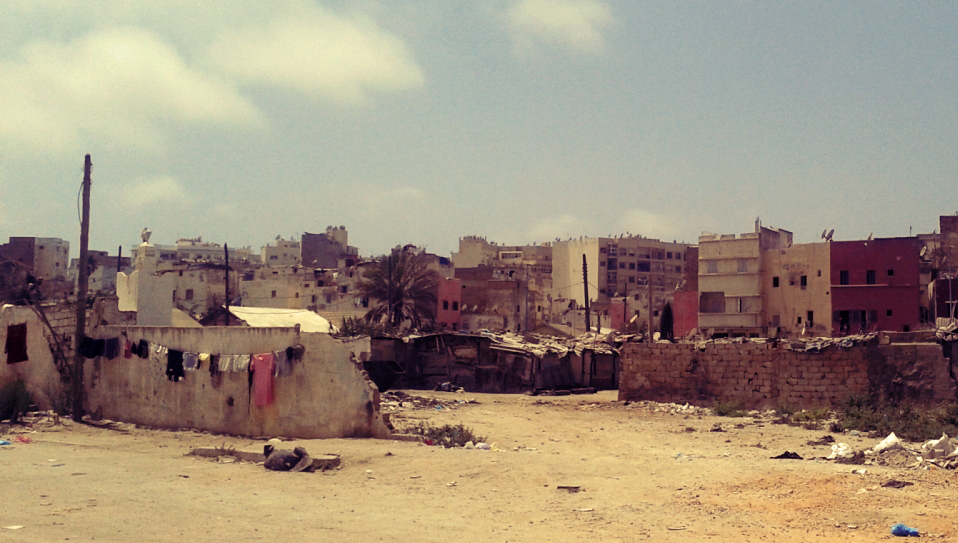 How to get to Casablanca from the airport
Casablanca airport is quite far from the city itself – around 40 kilometers away. A cab will be unrealistically expensive – 300 dirhams. Therefore the easiest way to get from the airport to Casablanca inexpensively (and at the same time comfortably and quickly) is by train. The station is directly under the airport and trains run every hour. A second class ticket will cost 40 dirhams. Go to the central station of the city – Gare Casa Voyageur.
Hotels in Casablanca
The cheapest hotels can be found in the medina. You can get a double room for 100 dirhams. But be prepared for no toilet or shower in the room and an extra 10 dirhams per person for hot water.
Hotels with a higher comfort level will cost around AED 150-200. You can find them in the central area of the city. You can also check out the accommodation options on Airbnb.ru.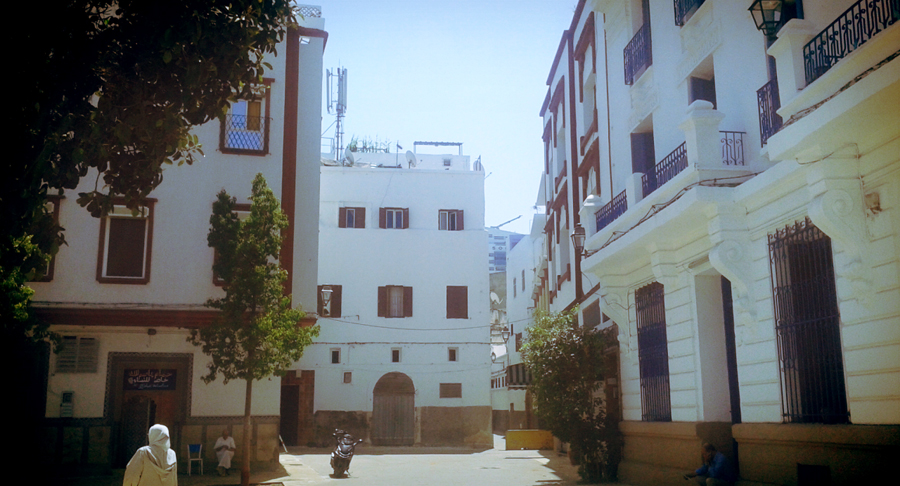 Public transport in Casablanca
The pride of the city is the ultra-modern streetcar that connects the two residential areas, the city center and the beach. Tickets cost 7 dirhams and can be bought from the ticket machines which are located near each stop. After buying the ticket you go through the turnstile and get on the streetcar. This mode of transport is considered expensive and only middle class people use it. But it really is a comfortable and fast mode of transport.
The ticket for regular buses is cheaper – 3 dirhams. But be aware that buses are often packed to capacity.
A petit cab (small cab) will take you, depending on the distance for 10-20 dirhams. No more than three people can be seated in the car. You can ask to turn on the meter, or you can negotiate the price in advance.
Grand Taxis (old Mercedes) carry up to 6 passengers. The fare will be around 6 dirhams.
Asila
Once we have walked around Casablanca, we can move on. From the familiar Casa Voyageur station we take the train to the small resort town of Asila, which is located almost in the north-west of the country on the shores of the Atlantic Ocean. The ticket is best taken in first class, taking a ticket in second class, you risk of not having a seat and spending five and a half hours in a stuffy carriage or standing on your feet, or sitting in the vestibule or even the toilet of the car with a density of four or five people per square meter. The price of a first class ticket is 164 dirhams.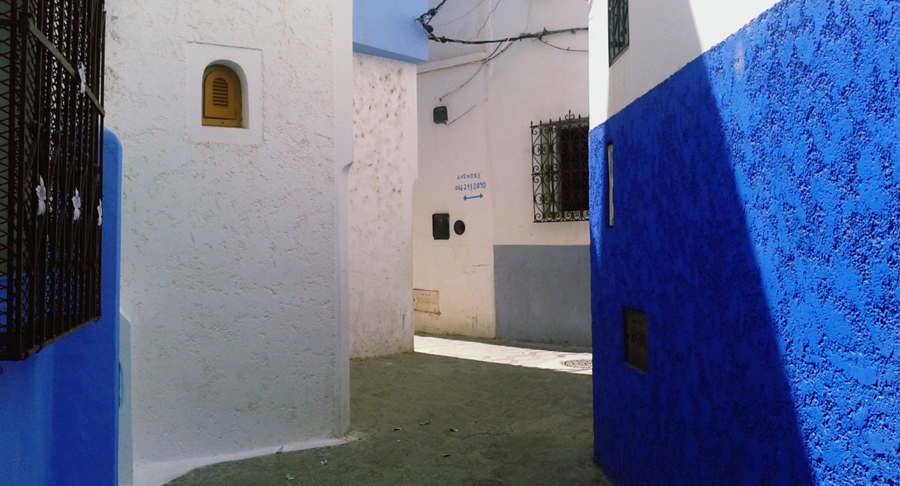 By the way, here is the Moroccan Railways website where you can see all the routes, schedules and ticket prices.
There is a wide variety of places to stay in Asilah for cheap. You can even find nameless hostel hotels, which will cost 40 dirhams per person.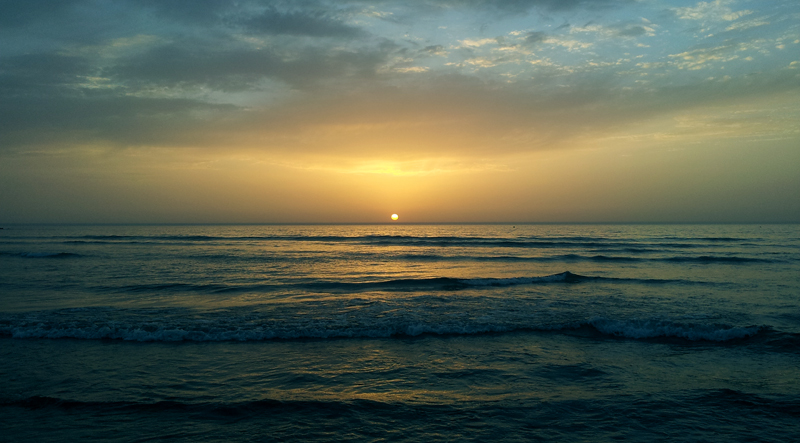 Asilah is not just a classic resort town where you will find everything you need for a relaxing beach holiday, it is also a very beautiful place known for its charming medina. And to top it all off, there's also a great selection of seafood in local restaurants.
Larache
If you wish you can take a trip from Asila to nearby Larash. This city is picturesquely situated on the rocks near the ocean. It is first of all famous for its Roman ruins which are near the city on a small hill. You can get to Larash from Asila by regular minibuses for 15 dirhams. Departure from Asila Bus Station which is located to the east of the city. To go directly to the ruins you have to ask the driver to drop you off at the ruins before you reach the city. The travel time is about one hour. After a short walk in Larash you return to Asila by minibus.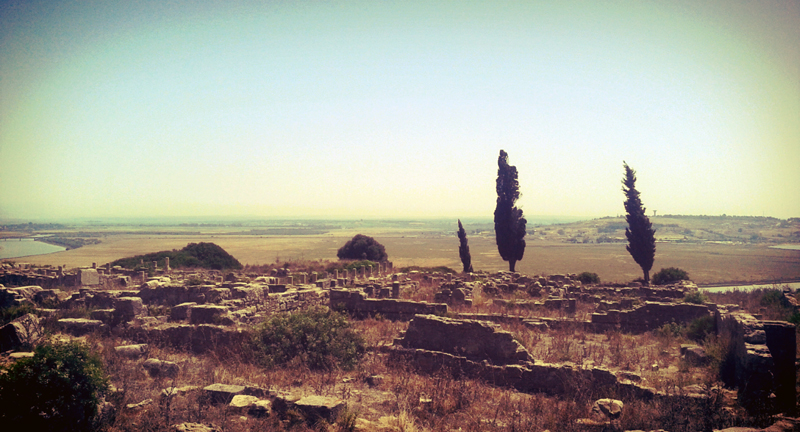 Chefchaouen .
From Asila, again, we take the same 15 dirhams by minibus to Tangier, once a city of international status, an interzone and a magnet for European and American writers and artists, the marginal and outsiders.
The city is no longer the same now, so there is no point in lingering here. At the bus station we buy a ticket to Chefchaouen for 50-60 dirhams and after 2-3 hours of travel through the mountain roads we are in one of the most famous and beautiful cities in Morocco.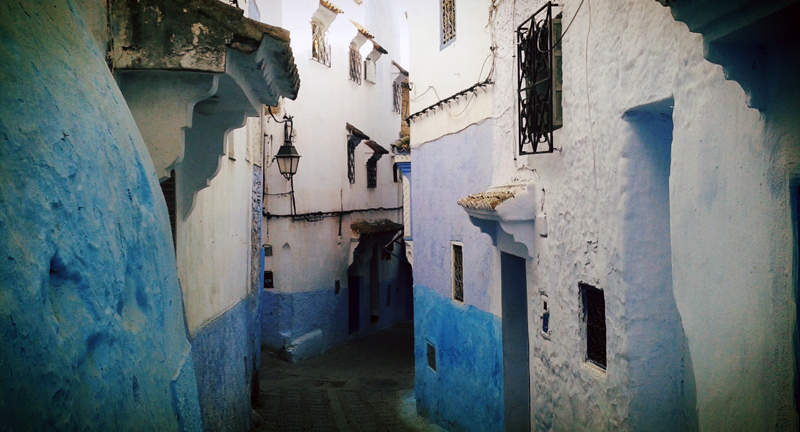 Chefchaouen is one of the most entourage cities in Morocco. Foreigners were not allowed here for centuries because the place was considered sacred. Times have changed – now it's the other way around, with an endless stream of tourists. So be prepared that every minute your peace and quiet on the streets will be disturbed by clingy helpers, each with his proposal: a hotel, restaurant, cafe, hashish.
Speaking of the latter, Chefchaouen is located in the Rif Mountains, which are famous for their cannabis plantations. This is why hashish is offered by almost everyone you meet and is smoked by locals sitting on the street.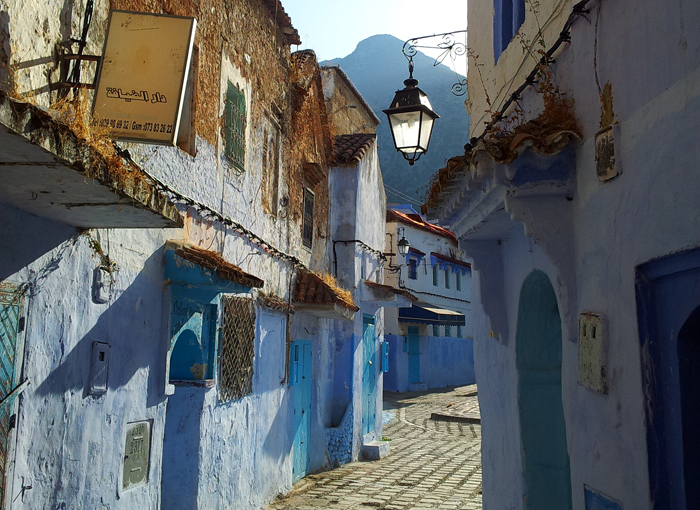 Shefshawen's beauty comes from two things: first, its picturesque location in the Rif Mountains, and second, its colorfully painted medina in various shades of blue. Early in the morning is the best time to walk the intricate streets of the medina, at no other time will you have such a pleasure. There are no vendors, no annoying helpers, and no tourists with their cameras in the morning.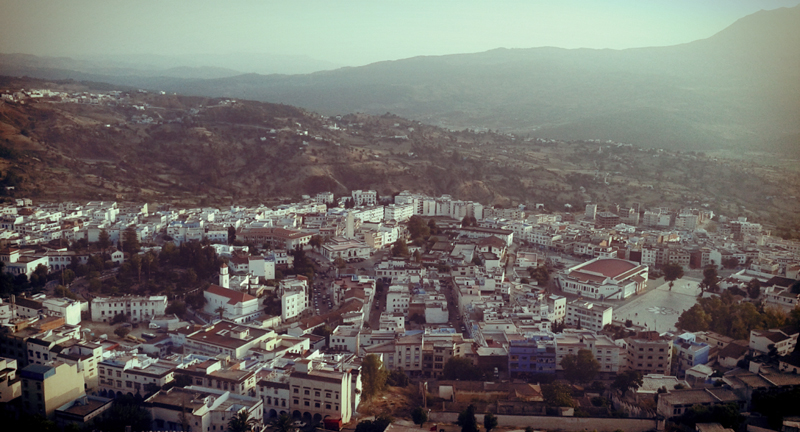 From small walks to multi-day hikes, you can go trekking if you wish. There are even small waterfalls, mountain lakes, and rivers in the mountains north of Chefchaouen.
Marrakech
From Chefchaouen we go to Tetouan (25 dirhams) to change buses and go to Marrakech (225 dirhams for STM). It will be a long drive of almost 10 hours with two stops for refreshments.
The bus station in Marrakech is right outside the walls of the medina. It's best to settle in the medina, preferably close to the main square of Jama el Fna. This will make it easier not to get lost, because the streets of the old city are a real maze. A night in a budget hotel will cost 100-180 dirhams for a room for two.
Marrakech is the most popular city for tourists in Morocco, so be prepared for the same problem as in Chefchaouen: the annoyance and desire to get any money out of you.
When visiting Marrakech it is worth devoting a couple of days to a trip to the nearby Atlas Mountains. You can even climb to the top of the highest mountain in North Africa – Jebel Toubkal (4064 meters). Any healthy person can do it, because the ascent is very simple and does not require any special training. To make it happen you need to take a grand cab from Marrakech to the mountain village of Imlil where the ascent begins. After conquering the summit we return back to Marrakech.
Ouarzazate
From Marrakech we go to Ouarzazate. The town is known as African Hollywood, because many movies were shot here, from Lawrence of Arabia to Gladiator. A CTM bus ticket costs 80 dirhams, other carriers cost about 60-70. Travel time is four and a half hours.
The road between Marrakech and Ouarzazate passes through the Atlas Mountains and is considered one of the most scenic in the world. It is here, on the southeastern side of the Atlas Mountains, that the Sahara Desert begins.
The main attraction of Ouarzazate is the ksar (earthen fortress) of Ait Ben-Haddou, which is located 30 km from the city. It is considered the most beautiful in Morocco. To get there, it is worth using the services of a grand cab.
Todra Gorge
From Ouarzazate we go to the east, to the small town of Tangir (ticket price 70 dirhams). There is nothing to see and do in the town. But there is a wonderful oasis near it, and a little further is the Todra Gorge. It is a fantastic place with incredibly high (up to 300 meters!) steep cliffs. Here you can do mountain climbing, or you can just enjoy the scenery. There are many hotels and restaurants in the gorge, so you can stay right here.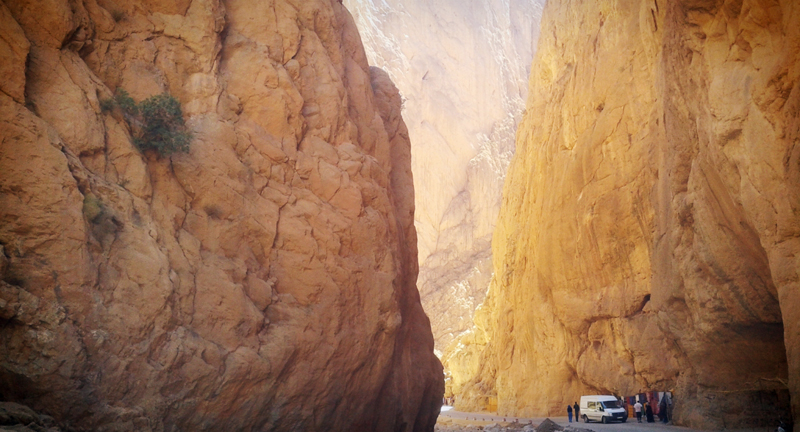 Fum Zgid and Erg Shigaga
From Tangir we return to Ouarzazate, where we change to another bus to Foum Zgid. The ticket for the latter will cost 60-70 dirhams.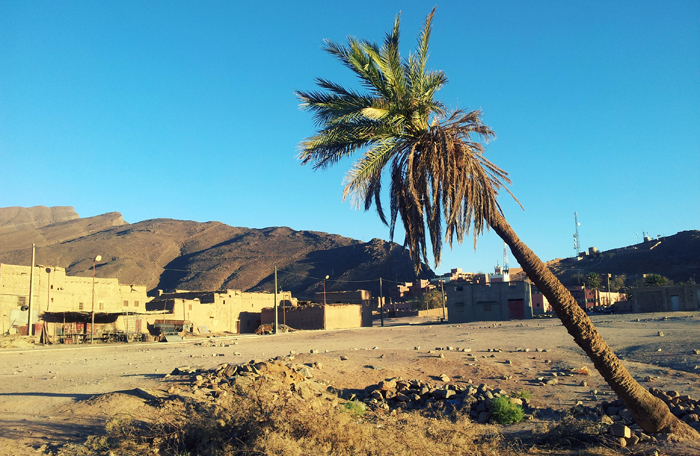 Foum-Zguid is a small village in the south of Morocco, close to the border with Algeria. It is attractive because from here you can go to the sand dunes of Erg Shigaga. To do so, you would have to look for people who make these trips to the dunes and arrange for a tour. Alas, this is the only way (unless, of course, you have your own off-road vehicle). As a rule, in the dunes, people spend the night in a small Tuareg settlement, meet the sunset and sunrise, and in the afternoon return back to Foum-Zgid.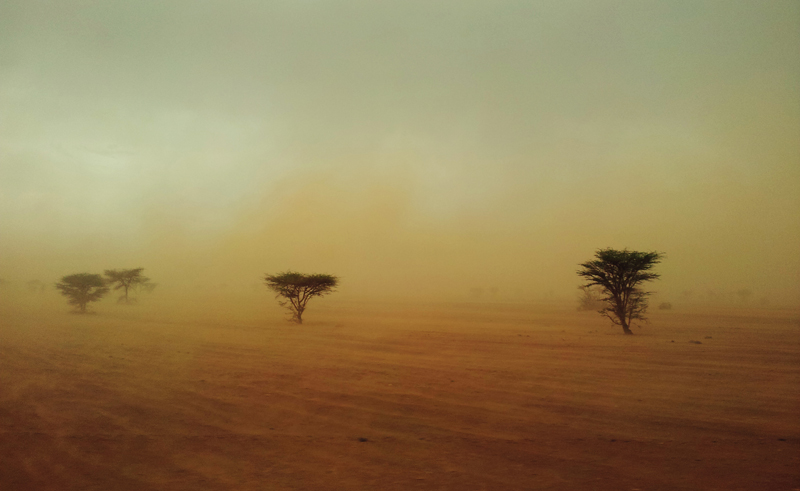 Choosing the way forward
In Foum-Zghid we take the morning 9 o'clock bus and go to Guelmim (ticket costs about 90-100 dirhams). It is a long trip, so it is better to leave at 9 am. The bus will arrive in the afternoon to Guelmim. And here you have to make an important choice about the further route.
Dakhla. Western Sahara
The most desperate can head south to the unrecognized Western Sahara, which is really under the control of the Moroccan government. Western Sahara is more than a thousand kilometers of monotonous desert landscapes. If you're ready for that, welcome to Dakhla, a city at the crossroads between the real Africa and Morocco.
There's not much to see in the city, but here you can feel like you're at the very ends of the earth. After all, on one side of you is a vast desert, reaching thousands of kilometers into the interior of the continent, and on the other is even more boundless Atlantic Ocean. It's certainly worth enduring the hours-long bus ride. Dakhla is also known for its waves and is therefore a kind of mecca for surfers. The geographical location of Dakhla is also unusual: the city is located on a narrow peninsula stretching for 40 kilometers.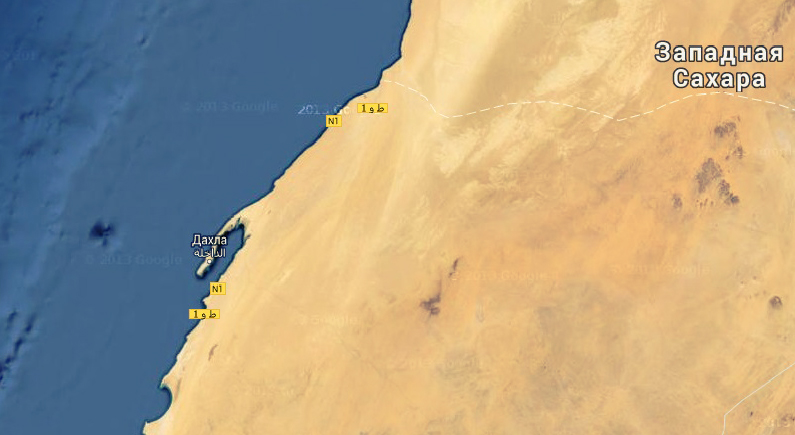 After getting to know Dakhla you will need to take the same road back to Guelmim.
Sidi Ifni
There is no point in staying longer in Guelmim, so we immediately take a grand cab and head north to the port town of Sidi Ifni, located 60 kilometers from Guelmim.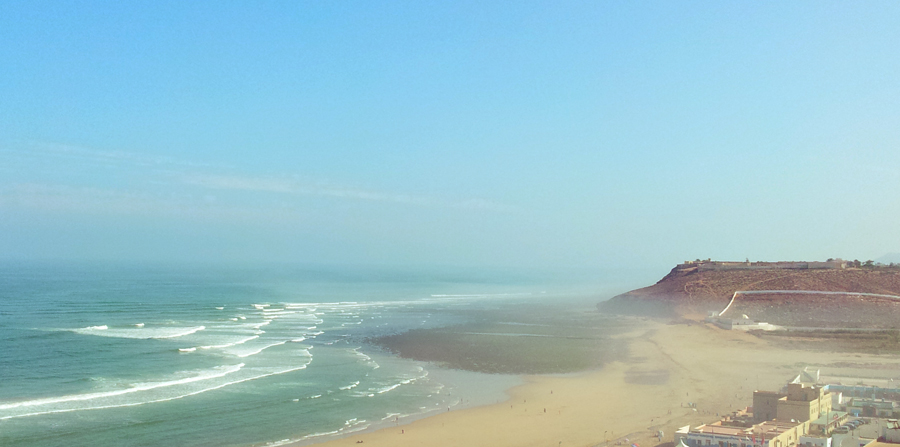 Sidi Ifni is the place to finally be able to really relax after the hard drives through the desert. It has a great beach and a great selection of seafood.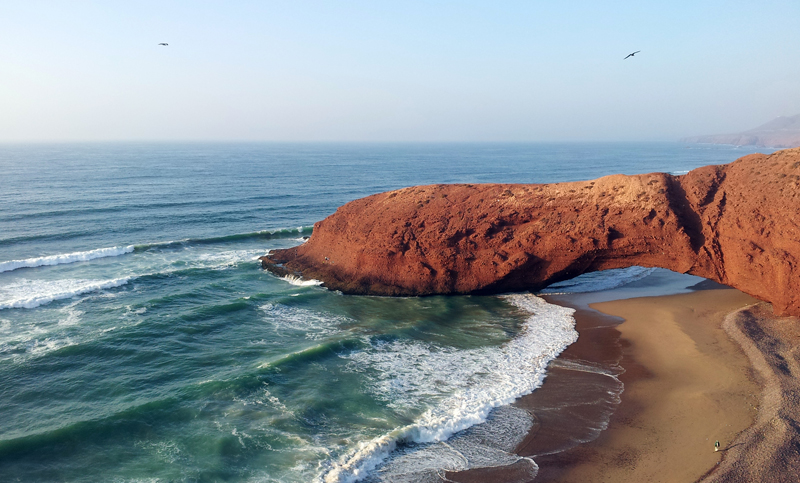 The jewel in the crown of the land, Legzira, is 15km to the north and is famous all over the world for its amazing arches. This place is not to be missed. You can go there by grand cab for 20-30 dirhams, depending on the arrangement.
Essaouira
To get to Essaouira you will first need to go to Tiznit (CTM bus for 25 Dirhams) and from there take a bus to Essaouira (80-100 Dirhams).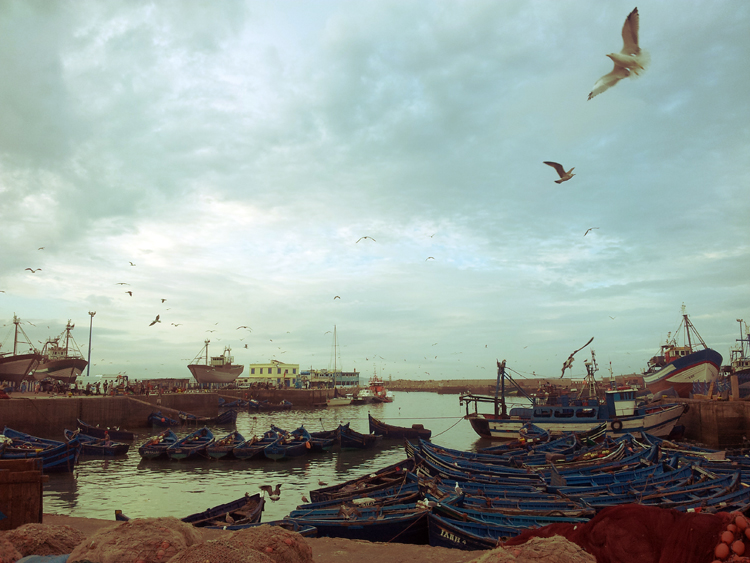 In Essaouira you can relax even more than in Sidi Ifni. Here, too, there is a great beach, an abundance of seafood, and a large number of clubs, discos, and even museums. In Essaouira, an excellent medina, where it is best and settle down (a decent room for two can be found and for 100 dirhams). Another pride of Essaouira is a wonderful port, which is best seen early in the morning.
Finish
Essaouira is the end point of the Moroccan trip. All the key cities, places, and sights have been seen – now you can go back to Casablanca and fly home from there.
The bus from Essaouira to Kassa will cost about 100 dirhams. In Casablanca we take a train to the airport (40 dirhams) and in a few hours we arrive in Russia.
This is the end of our trip to Morocco. But no doubt that once you have made this fantastic trip, you'll want to do it again sometime. Believe me, to bring to life this amazing journey is not much harder than reading this text. Honestly. Just do it.
P.S. The text is based on personal experience of a two-month solo trip to Morocco by the authors of the site make-trip.ru in August-September 2013. We were able to do it, you can do it too.