The whole truth about winter in Montenegro: the features, pros and cons of wintering
When we were going to winter in Montenegro, we tried to understand how cold it is there, and how the winter looks like in Montenegro. In the Internet there was only a vague "mild winter on the Adriatic coast. But what does mild mean? How mild? After all, on the South Coast of Crimea winter is also considered mild, and it snows. Is it warm enough in Montenegro in winter to walk in autumn jackets, or we will freeze to death? There were no answers to these questions. Only skimpy figures gismeteo more or less outlined the reality.
Now, having spent a few winters in Montenegro, I want to share with you a detailed description of the winter months: photos of Montenegro in winter, about winter holidays and what you can do here in winter months.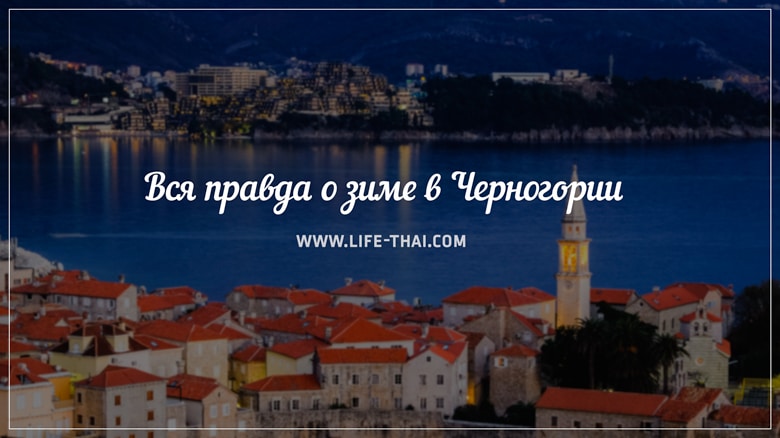 Weather in Montenegro in winter by months
Features wintering in Montenegro. Pluses and minuses.
5 Tips for those who go to Montenegro to winter
Hibernation in Thailand vs hibernation in Montenegro.
After we have arrived in Montenegro, recovered from the first impressions and put our minds together we wrote a big post about Montenegro, the way we saw it: madly beautiful, but with its own features. Now we want to share our impressions about Montenegrin winter.
Weather in Montenegro in winter by months
The reality is that although there is no snow on the coast, but there is an abundance of water. I have never seen so much rain anywhere. In fact, in Montenegro it can rain uninterruptedly for a week! What about a week, in Cetinje it rained for 27 (!) days!
But I'm getting ahead of myself. A little later I will tell you more about what to expect from which month from October to May, but now I suggest you watch the video:
October Weather in Montenegro
October is spoiling the weather. During the daytime even at the end of the month it is still +24. However, in the evening it is already cooler. When we arrived, the local girls were already walking in uggs and vests, but to me, frankly, it was hot. I wished I had brought light shoes. It was very comfortable in a T-shirt during the day. I wrote a detailed article "What to expect from a holiday in Montenegro in October".
Weather in November in Montenegro
In the beginning and middle of the month in the daytime is still warm, in the evening without a jacket is already uncomfortable. On sunny days it is comfortable even in a T-shirt, but inexorably cold. Winter is close, and you can feel it in your gut.
There is no year for every year. For example, in my first Montenegrin winter, by the end of November the sky was cloudy and stormy. Last year it was warm and sunny all through November.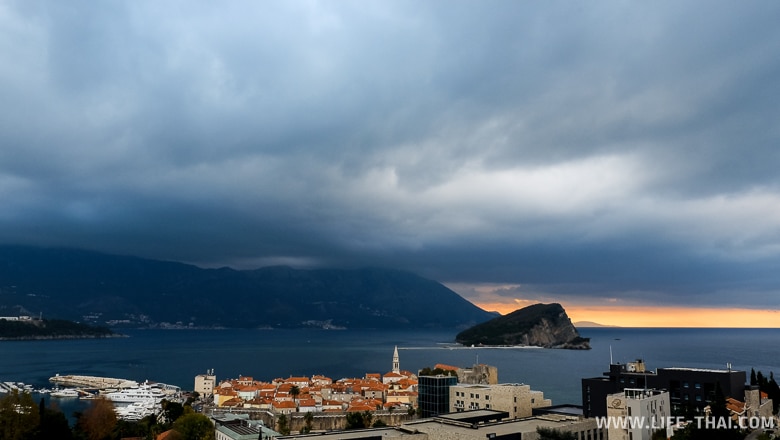 November in Montenegro can be sunny and can also be so gloomy.
In November, I already wrap up my scarf and put a warm sweater under my jacket. The jacket is still autumnal.
The woman we met at the airport told me that on the coast, spring starts in December. We must be patient, it will get warmer soon, but the Montenegrins are actively stocking up on firewood. Apparently, they know something.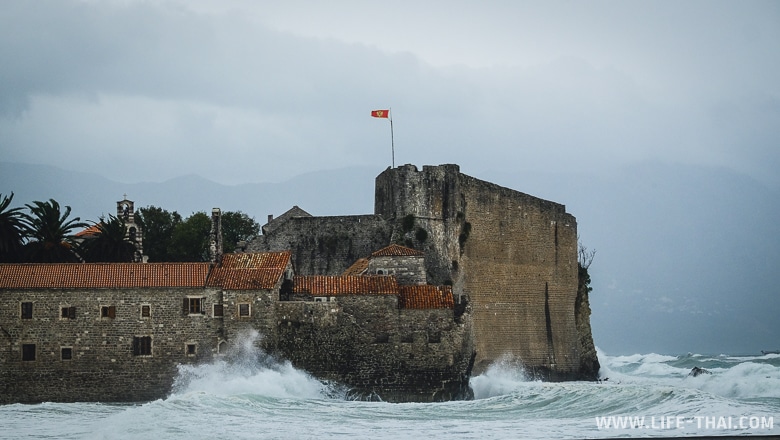 Old Town in Budva during one of the November storms.
In November, many Montenegrin attractions stop working. For example, this is the last month to visit the cave Lipa, the village of Rijeka Crnojevica is already empty, and on the route to Grlo Sokolovo, the Ministry of Tourism does not officially recommend to go.
From November to April, almost all roads in Montenegro require winter tires. Only along the coast you can drive with summer tires.
Weather in December in Montenegro
First month of winter. The sun is less and less, gloomy days are more and more. Because of this, even in our super-sunny apartment is cold. I walk around the house in a t-shirt and jeans! At the end of the month we are going to buy a heater.
There were still some sunny days in early December when it was a little hot in the sweatshirt. This picture was taken on December 8 on the beach in Rafailovichi. If you look closely, you can distinguish a man in shorts and a T-shirt: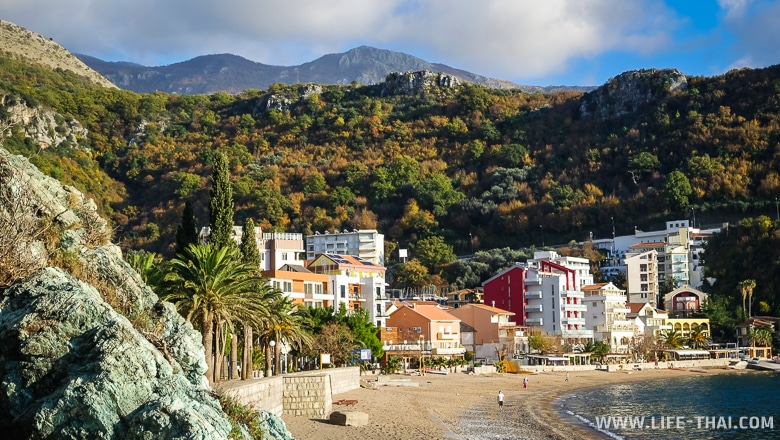 At the end of the month, it just gets colder. Montenegrins are all in winter jackets and shoes. You have to put warm tights under jeans, otherwise it's cold and uncomfortable.
December is a month of changeable weather and winds. If the wind blows south, it is very cold. If there is no wind, people go out to sunbathe, and the Siberians even bathe in the sea.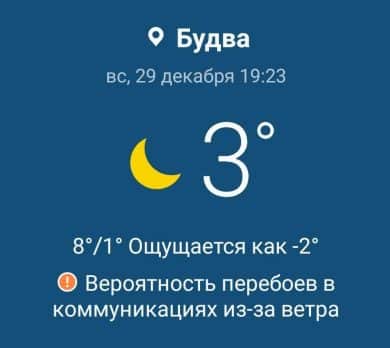 Where is the spring the woman at the airport was talking about!
January weather in Montenegro
January in Montenegro is one of the gloomiest months. It's +10 during the day and often a strong wind. I can't stand it, I buy myself a winter jacket.
The New Year started with rain, then a 2-day break and 5 more days of rain, and so on for a month. Cetinje does not dry out, it's just dangerous to drive through the mountain – visibility is almost zero.
A strong wind. In the Montenegrin group there are such posts regularly: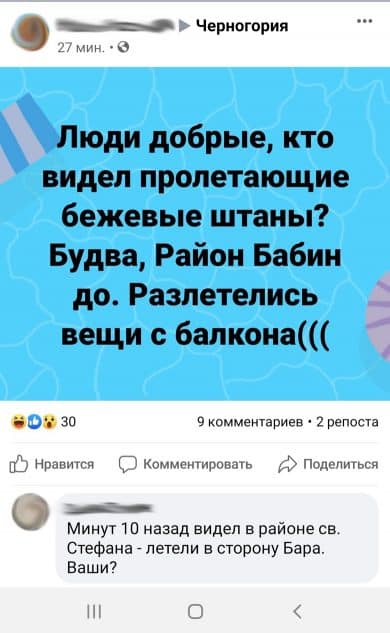 An acquaintance once had a couch blown off a balcony. The pants are nothing.
In Kotor, by the way, it is noticeably colder than in Budva.
In the north of Montenegro it has already snowed. We went to Virpazar, admired Skadar lake: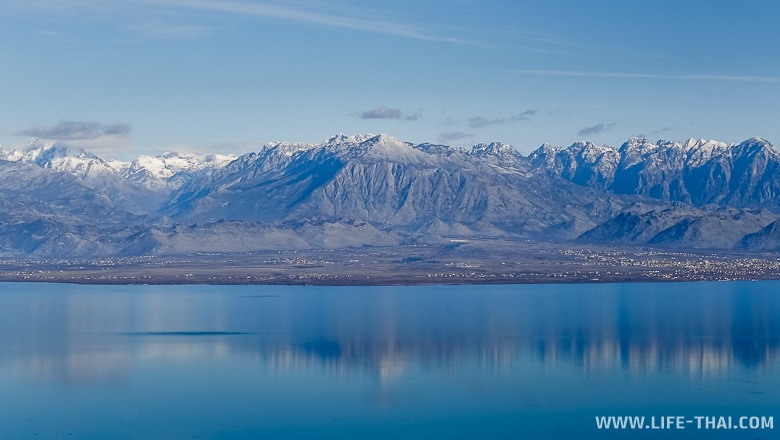 Just in time for the old new year, winter came even closer to us. The view from the window changed: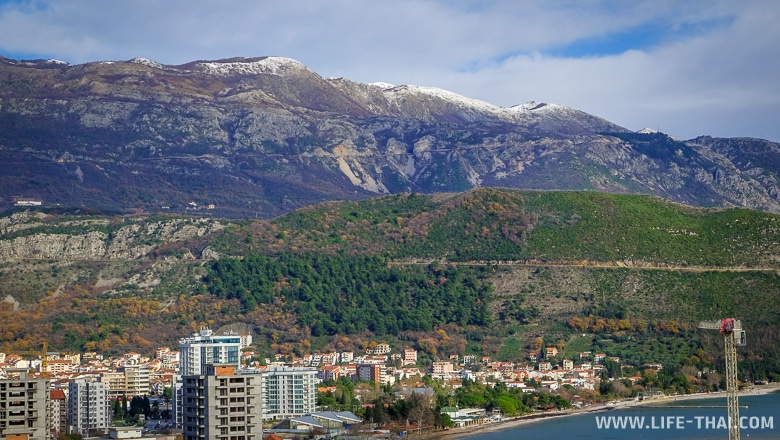 Despite the cold, Montenegro is to be enjoyed. It is beautiful at any time of year!
Weather in Montenegro in February
In short, it rains, rains, rains. Days are short as it is, and because the sky is always covered with clouds, the time is completely unrecognizable – morning, afternoon, and evening are equally gray. The days when the sun looks out are perceived as a gift from heaven. Montenegro teaches you to appreciate every moment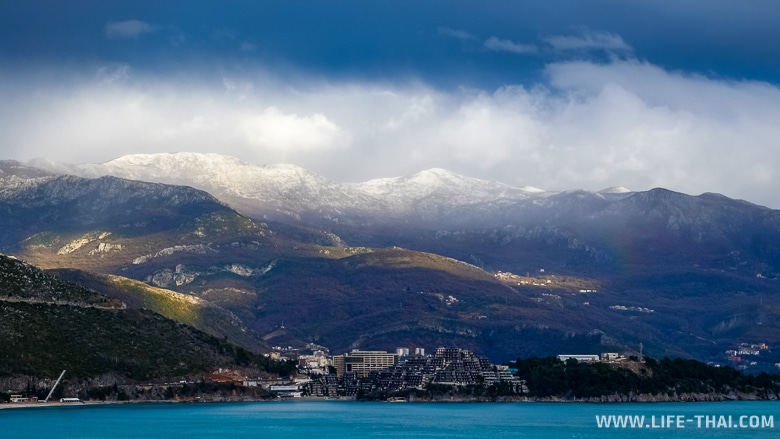 The beginning of the month was an encouraging first spring festival, the Mimosa Festival. It was a sunny, warm day. Probably not a single Montenegrin left home – everyone went out to the shore of Boca for free fish and wine.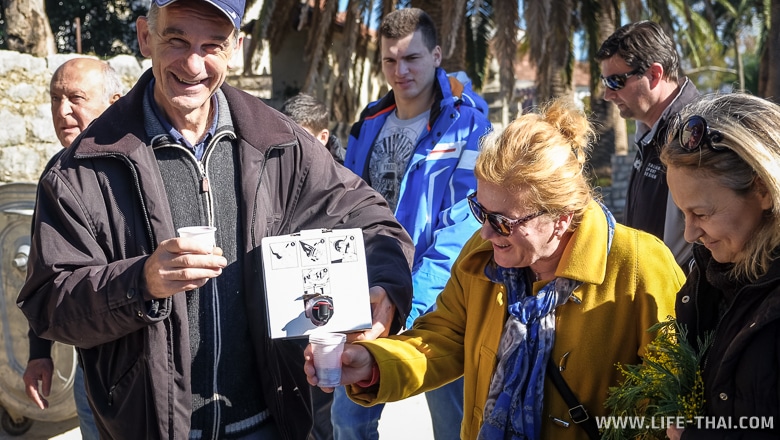 At the end of the month it is still stormy.
Weather in Montenegro in March
I finally put away my winter jacket and boots in March. It's still raining, but it's already noticeably warmer than in February. After the long rains we are more and more excited about every sunny day, and there are more of them.
On the coast it is already comfortable in daytime in a light jacket, in a sweatshirt sometimes even hot. And in the mountains there is still snow.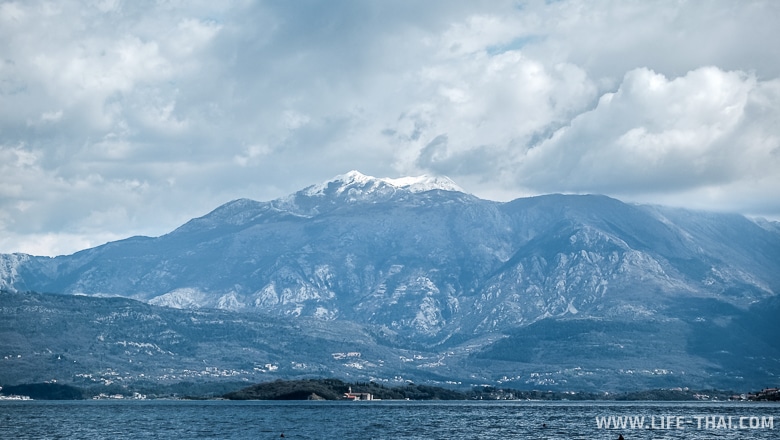 Nature around is waking up, the first flowers appear. But in spite of this it may snow. The pictures were taken on March 8: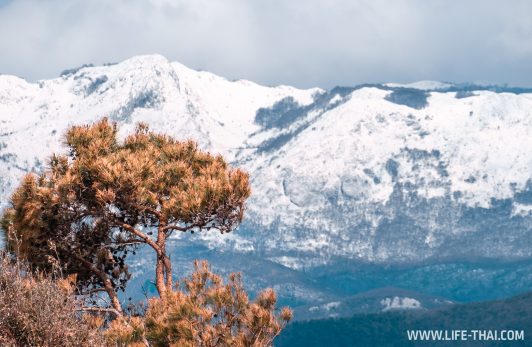 In March-April we met sandstorms . It turns out that in the spring, southern winds bring sand from Africa to Montenegro. On a day with a sandstorm, it's best not to go outside to avoid breathing the dust.
In March in Montenegro there are still strong winds.
Weather in April in Montenegro
April in Montenegro is beautiful, despite the fact that at the beginning of the month it rains sometimes. All around is blooming, especially wisteria with its amazing aroma. It's warm – it's already +18 in the daytime. It's still cool in the evening, but my ears don't get cold anymore
This is what April looks like in Montenegro in the photo: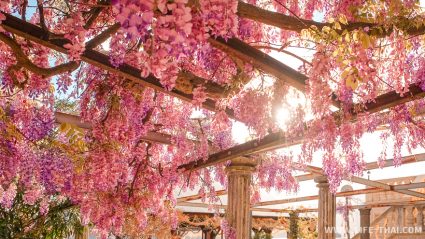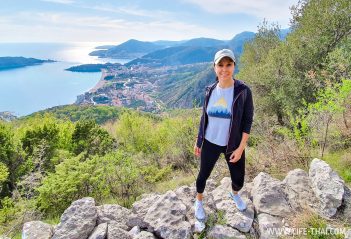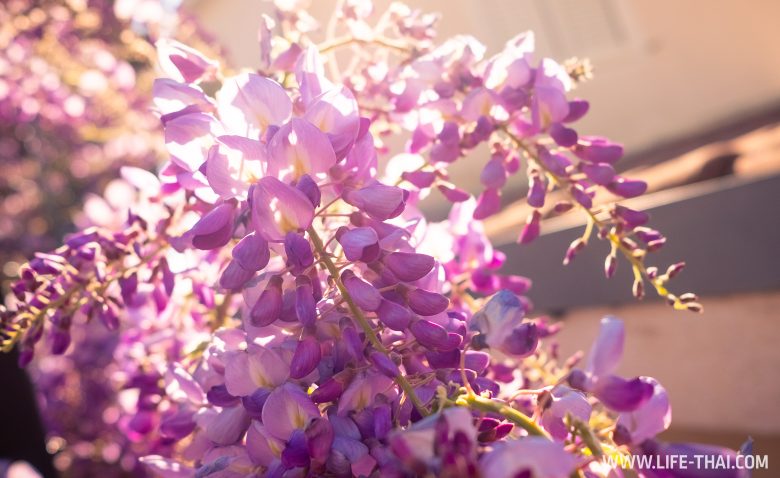 In Budva, the summer cafeteria sites are opening. In the daytime you can walk around in a T-shirt only, in the evening I wear a warm shirt. We enjoy walking in the evenings.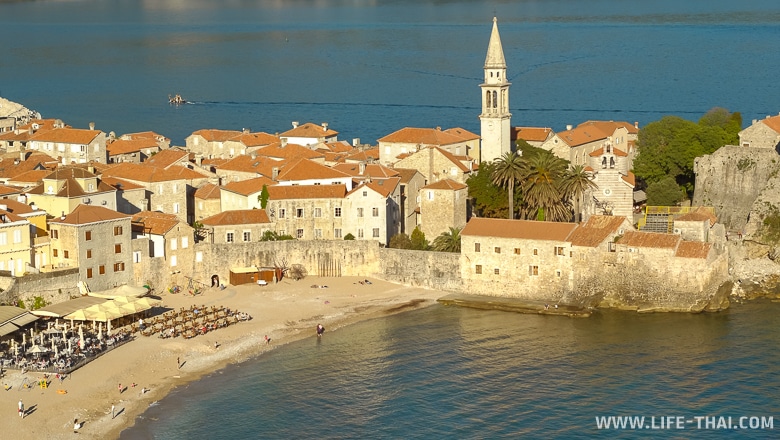 We feel that we have been sitting at home for a rainy winter, so we start hiking in the mountains. It's not too hot, and it's great to stretch out.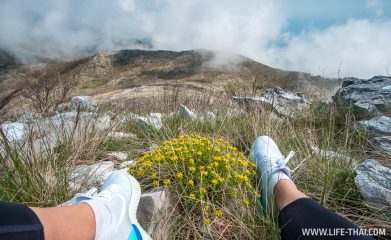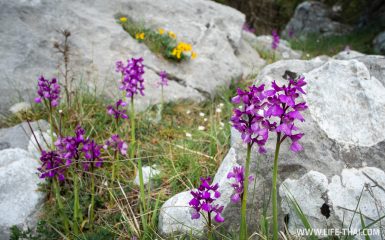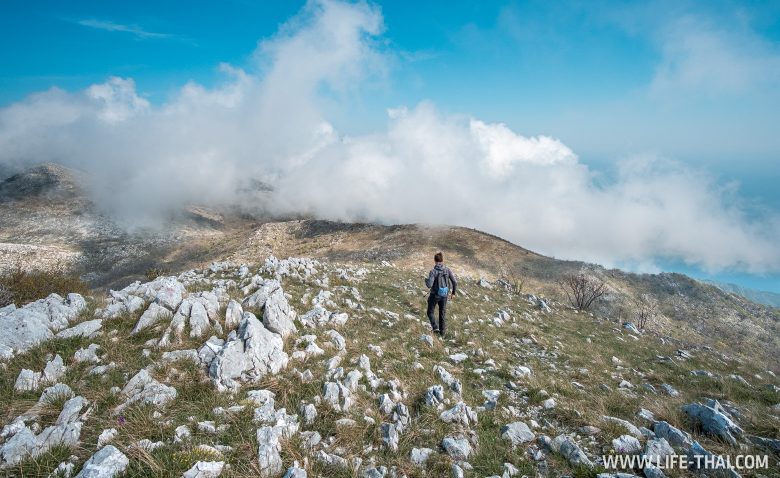 In this photo, the quintessential Montenegrin mountains – the clouds clinging to the peaks, and the stone plains in between.
The side has also changed – the slopes of mountains, which in winter seemed lifeless, suddenly covered with greenery, and the water in the bay played with new colors in the sun. In spring Montenegro is even more beautiful!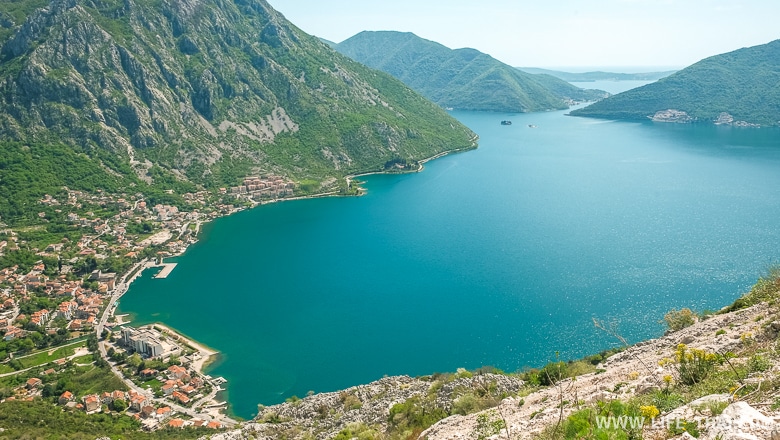 At the end of the month tourists appear, some tourist attractions begin to work. For example, in the middle of April there were no boatmen in Perast, and at the end of the month they offered to take you to the island of the Virgin on the reef.
Weather in May in Montenegro
Peace, Labor May, "Niksicko" pour! That's probably how the Montenegrins' socialist slogan would sound. It was already quite hot in the daytime, but only on sunny days. And May turned out to be stingy on them. It would be raining for a couple of days, or just overcast and gloomy. And in May I want the sun very much. I remember, even in the Crimea May is the first of June.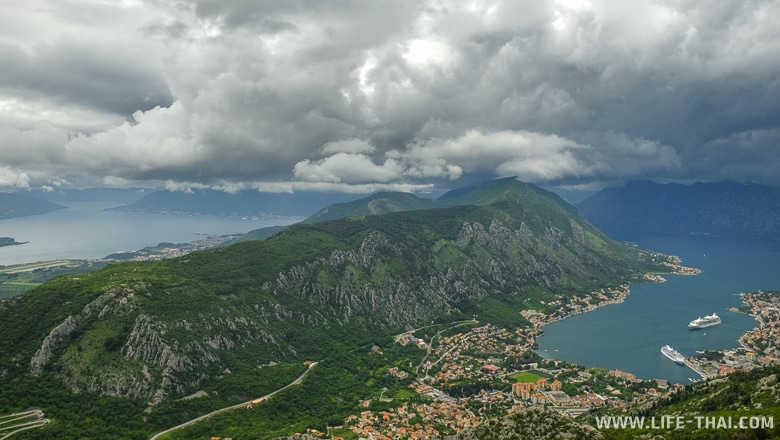 At the end of the month people are bathing, and in Kotor the first liners call. As far as I'm concerned, the water is still cool. That's why my husband and I prefer hiking. I told you how in May we walked the whole Vrmac for 1 day, and how beautiful it was! In my opinion, May is the best month for such hikes.
In May you can already drive all over the country without winter tires. Tourist attractions such as Lipska Cave and Rijeka Crnojevica start working. It is May is a great time to visit Lake Skadar, where at this time the water lilies are in bloom, and you can see the pelicans.
Features wintering in Montenegro. Pluses and minuses.
To fully describe the peculiarities of Montenegrin winter, it is worth remembering about the size of the country and understand what the locals live by. And they live by the tourist season. In October, most cafes / bars on the coast close. There are only those where Montenegrins go. The coast falls into hibernation.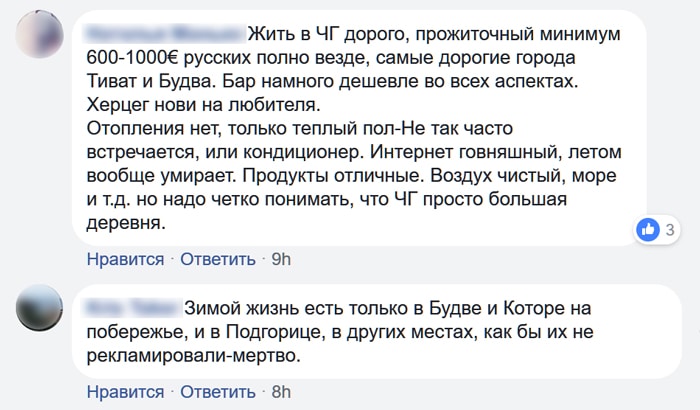 About life and weather in Montenegro, a discussion in a Facebook group
In Montenegro there are no big shopping centers, shopping here is sour and mostly in Podgorica. In theaters the movies are in English with Serbian subtitles. This is rather a plus: you can improve your English and learn Montenegrin.
If you want to come to Montenegro with the hope to find a job, the winter is the worst time.
The biggest disadvantage of winter in Montenegro is a huge electricity bill. New buildings are not adapted for winter. And in Montenegro itself there is no central heating. Have to be heated by electric heaters or air conditioners.
Added to the huge electricity bills is mould. It grows from nowhere, and the struggle with it continues throughout the winter, until the heat comes.
And now for the good stuff! But if bad is not enough, I can recollect gypsy beggars and a divorce at the Budva gas station.
So, but still. It is time to talk about the pros of winter in Montenegro. They are also related to the tourist season. In winter the prices for rental property and cars drop dramatically (about our experience of renting cars we wrote here), because winter is the dead season.
5 Tips for those who go to Montenegro to winter
Look for accommodations that face the sunny side. Ideally the apartment should have normal glass in the windows. We lived in an apartment with tinted windows, and despite the sunny weather, the apartment was always semi-dark.
Look for housing with underfloor heating at least in the bathroom and toilet. The bathroom must have an electric dryer, otherwise things will take forever to dry.
Choose your city for wintering carefully. Budva, Bar, Herceg Novi, Tivat or Podgorica are good options. In other small resort towns in winter is a real "tumbleweed" and construction site.
Choosing a place to stay, be sure to clarify whether there is construction nearby. In winter, construction work is allowed from 7 am to 7 pm. We unluckily rented an apartment, and woke up at 7am with the start of construction. But it was nothing. When they were blasting the rock with dynamite to build the house, our house was shaky. It was a little uncomfortable.
Look for housing with parking. Often there is no parking or it is spontaneous near the house. Well, if there is an underground parking, but 90% of the time it is paid.
Hibernation in Thailand vs hibernation in Montenegro.
The choice between winter in Montenegro with Thailand is akin to the question "What do you prefer: freezing in the apartment or sweating by the pool? This is a matter of personal preference: some people like to feel like cabbage, wearing a lot of warm clothes, and some prefer a swimsuit and flip-flops.
For us the winter in Montenegro was very productive. It rained a lot, and we worked all day long. In Thailand, for example, it didn't work like that. How can you work when there is summer and the sea around?
If we compare wintering budgets, it is cheaper to spend the winter in Montenegro than in Thailand. First of all, decent accommodation in Thailand is much more expensive. Secondly, there are problems with visas and visarans. In Montenegro, of course, you also need to get a visa, but day trips to Bosnia are very, very budget-friendly.
Montenegro's strongest argument against Thailand is fast internet. Seriously. If you're a remote worker, you know how important this is. In Thailand, the ping from European and Russian servers takes forever. In Montenegro there is no such problem.
And otherwise, again, a matter of personal preference.
I look forward to your questions and comments!
Useful Materials for winterers
Hi! My name is Tatiana, and I'm happy to see you on the Life is unpredictable! blog. I love to travel, and on the blog I share my experiences, tips and other helpful notes.