Malacca, Malaysia. What to see in Malacca [45 photos], where to stay and how to get there
November 2017 (updated: 11/18 2017) 15
The city of Malacca (aka Melaka) is one of the most interesting places in Malaysia. Malakka is an ancient colonial city, a UNESCO World Heritage Site. Melaka is located 150 km from Kuala Lumpur. What to see, do and taste in Malacca and why does this city draw crowds of tourists from all over Malaysia and other countries?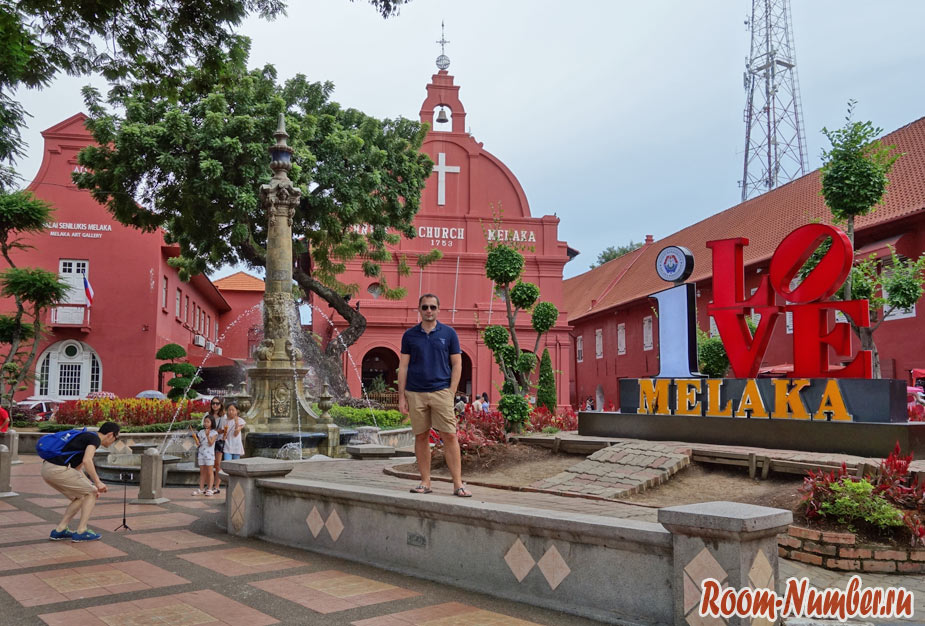 Malacca in Malaysia
We've known about this unique city for a long time and have always wanted to visit Malacca. On my fifth visit to Malaysia, our wish finally came true. After flying from Hanoi to Kuala Lumpur, we headed straight from the airport to Melaka.
The sights of Melaka. What to see on your own in 2-3 days
You should stay at least 2 nights in Melaka, to see the most interesting sights. One day will not be enough, unless you load yourself with the program from morning to evening, running everywhere. We stayed in a hotel in the old quarter for 5 days, so as not to rush anywhere and feel the Malacca in full. I think that's the only way to get a little touch of the city. The plan was to see the sights of Malaca, ride the river streetcars, visit the night market and drive around the neighborhood. We made it and even had a day to spare.
So, what to see in Melaka. All points are marked on the map at the end of the article.
Red Square and the old Dutch city
The center of Melaka. The 17th century Dutch houses that have been preserved to this day. You can't even believe you're in Asia! Old Catholic cathedrals and churches, monastery ruins, forts with cannons. Old Europe in Malaysia.
Red Square in Melaka (Dutch Square), Malacca Clock Tower and Christ Church One of the main streets A small old fort on the riverfront, which you can climb the Church of St. Francis Xavier. Church of St Francis Xavier (1845) St Paul's Church
Panorama of the city from a hill
This is the view from the hill near St. Paul's Church. You can see the sea a little bit. And this is a tube in the center – attraction + viewing platform. Periodically a cabin with tourists goes up on it and rotates for a few minutes.
View in the other direction
Museums and exhibitions
There are dozens of different museums in Melaka. Islamic Museum, Melaka History Museum, Architecture Museum, Maritime Museum, Baba Nyonya Museum. There is no need to visit them all as they are all about the same. We usually don't look for the number of places to visit, it is enough for us to see 1 or 2 museums. In Melaka we only visited the Palace of Sultans Museum.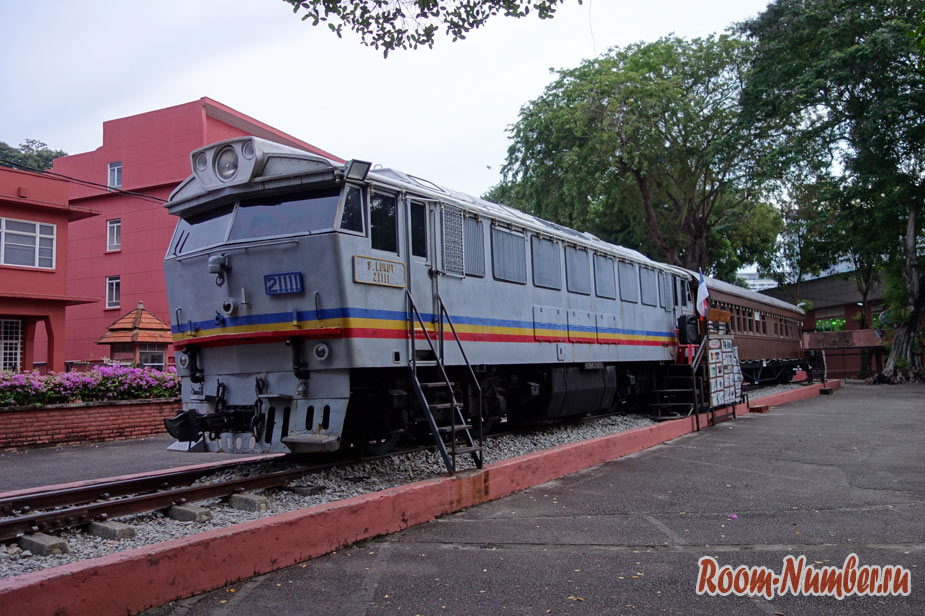 The old train in the square in front of the hill and the street of museums.
Unique bicycle rickshaws with flowers and music.
You can only see this in Melaka! Bicycle cab drivers put all kinds of gaudy decorations, flowers and toys on their bicycles with strollers. They set up a speaker, turn on the music on the whole street and ride the tourists. It looks spectacular!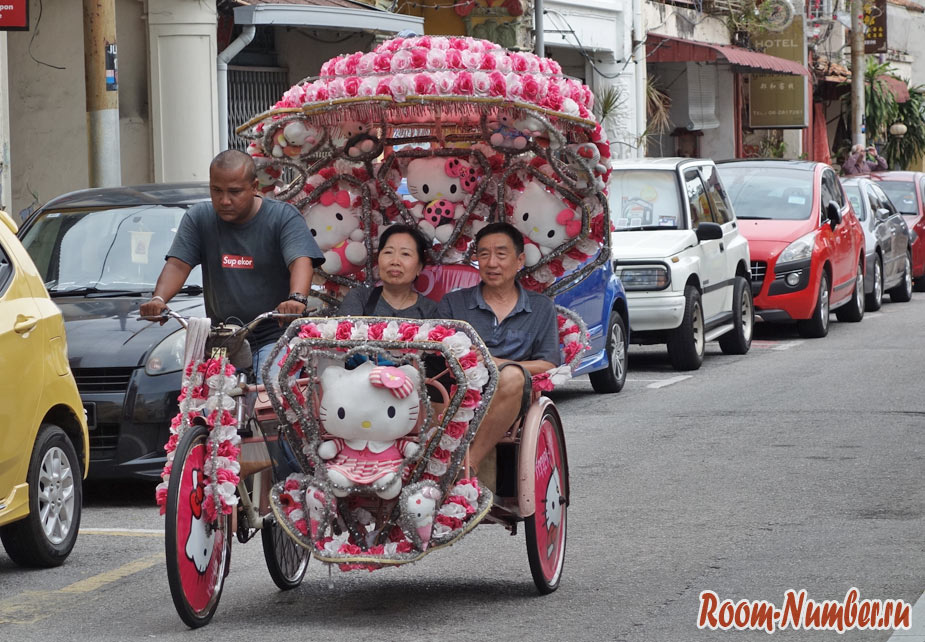 The river, bridges and promenade
The promenade in Melaka is very pleasant and interesting. Somewhere there are cozy cafes set up, somewhere there is street graffiti and various installations. It reminds me of Georgetown in Penang.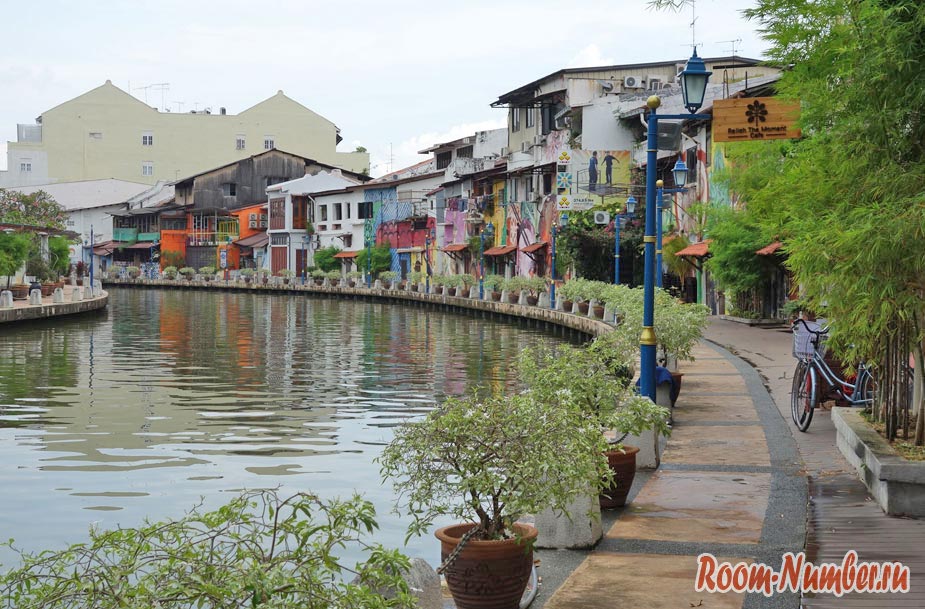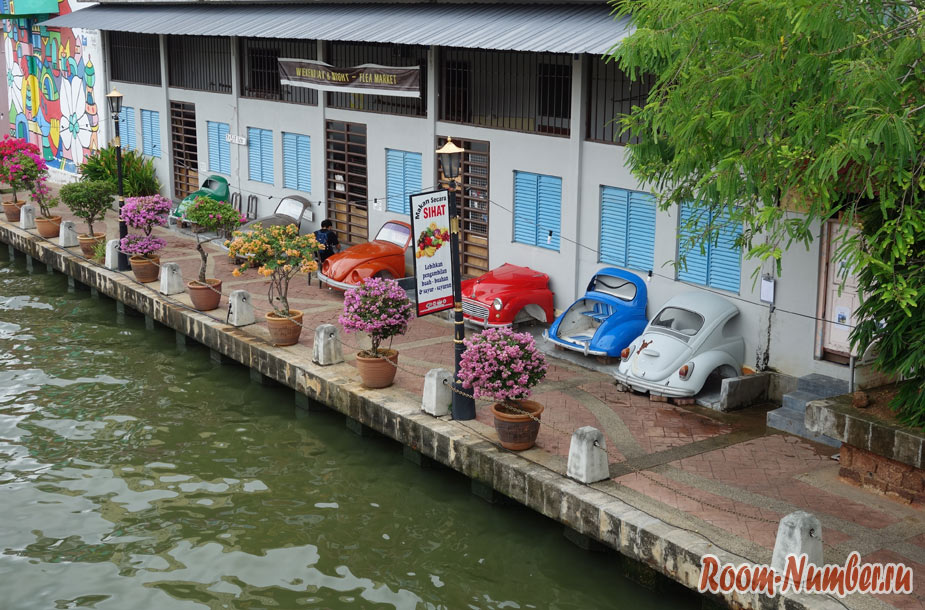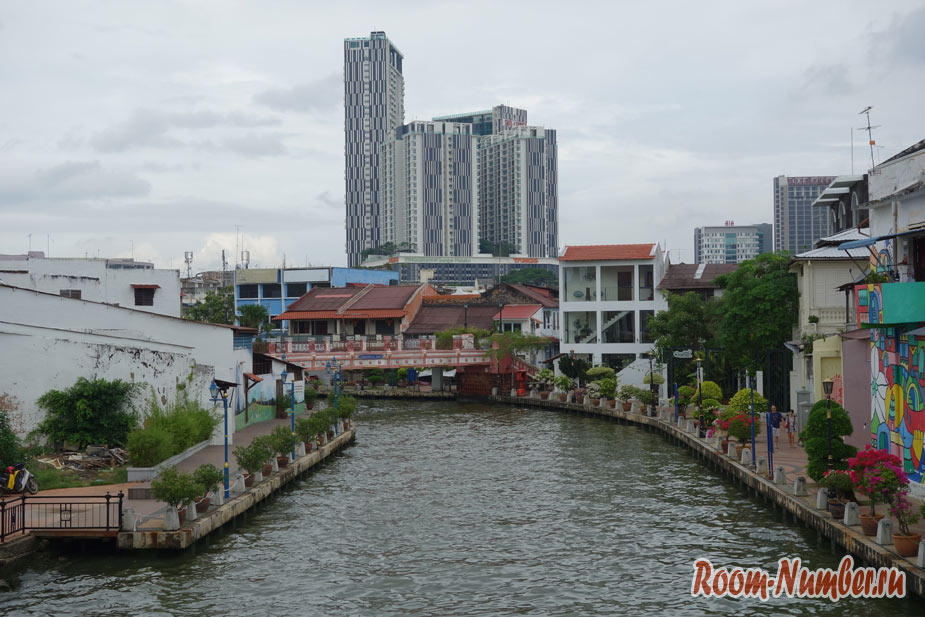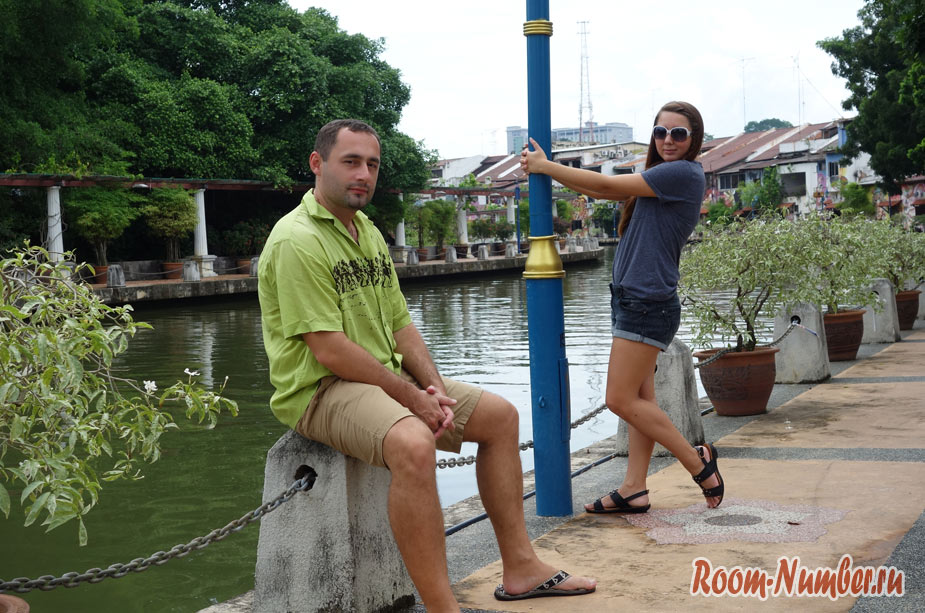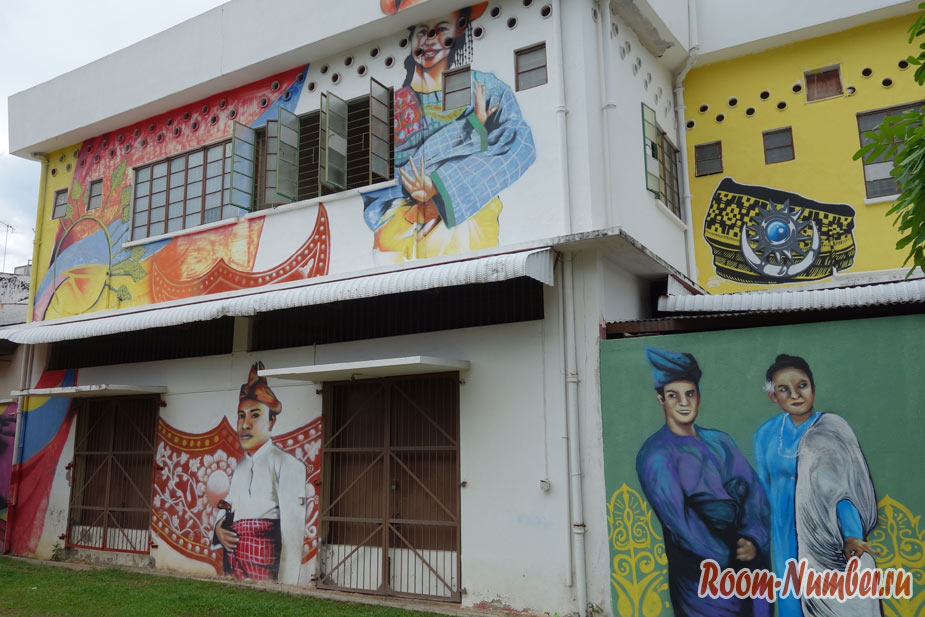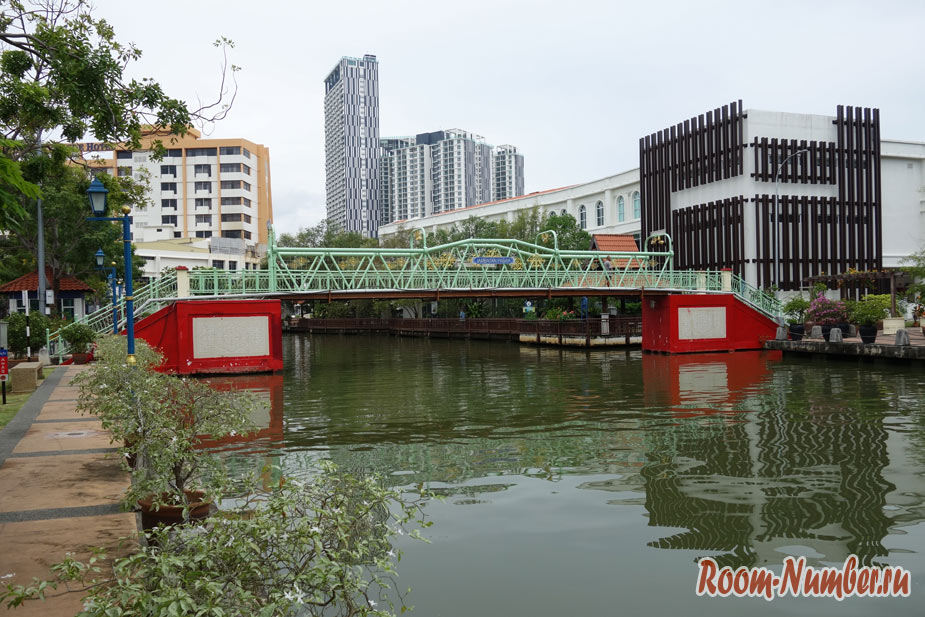 River Cruise
We recommend a boat ride on the Malacca River. We rode in the evening. A very pleasant experience. A 40 minute river ride costs about $5.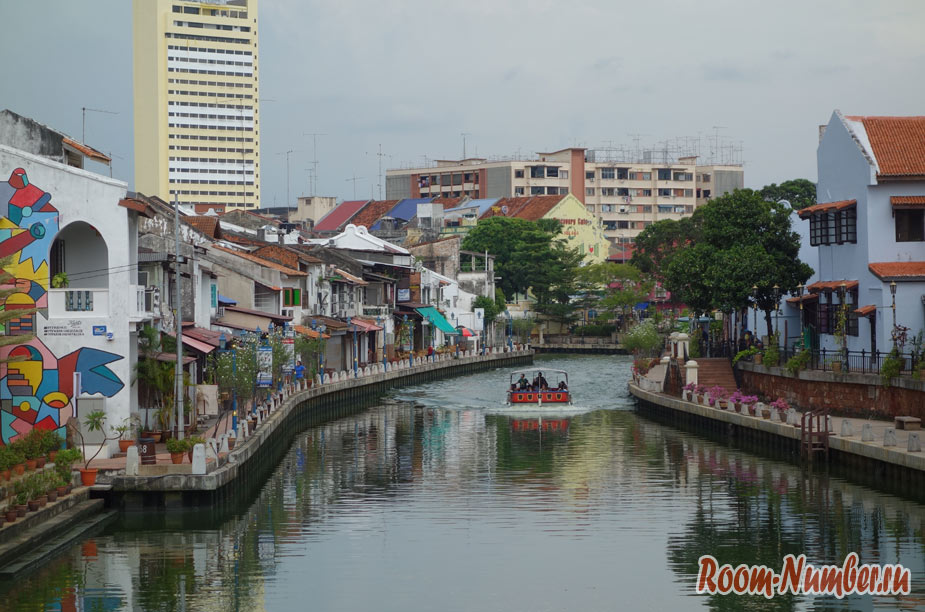 Mosques
In Melaka, all the guidebooks recommend seeing the Kampung Kling Mosque, built in the 18th century. It is in the center of Chinatown, on one of the alleys off Jonker Street. You can also go see the floating Melaka Straits Mosque.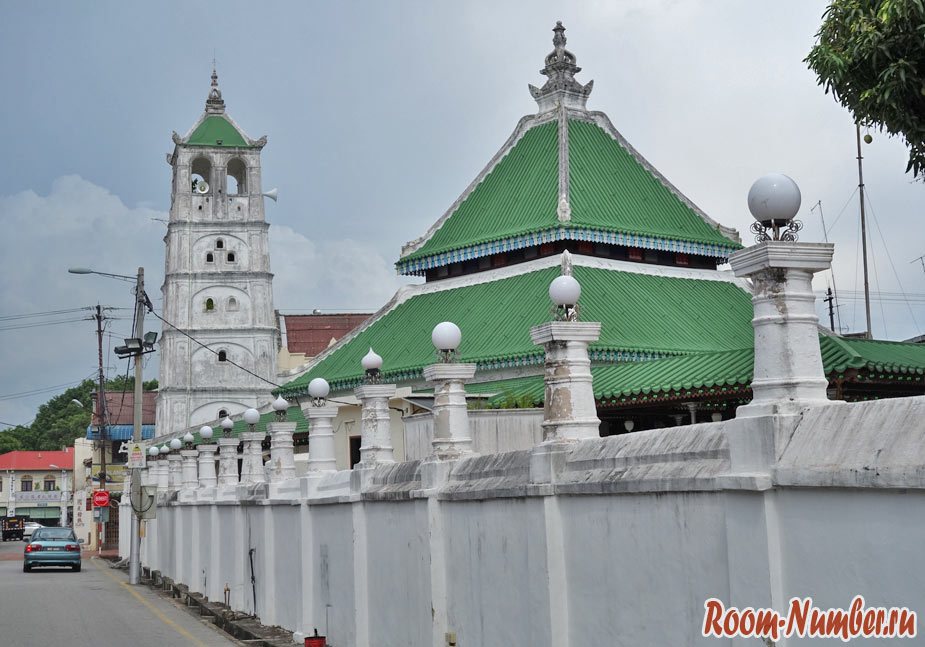 Masjid Kampung Kling
Chinatown
Chinese temples, old narrow streets, red lanterns. An amazing juxtaposition of religions that coexist peacefully in Malaysia. A mosque, a Buddhist temple, a Hindu and a Christian church can be on the same street and no one is outraged.
Cheng Hoon Teng Temple Chinese Temple Xiang Lin Si Temple Buddhist Temple Just walk down the street and look at these houses
Mr. Malaysia Sculpture
Gan Boon Leong, or the daddy of all bodybuilders in Malaysia. I could not find out more about this man, there is no information either in Russian or in English on the internet. But the statue is cool. All the tourists take pictures with the same pose in the background.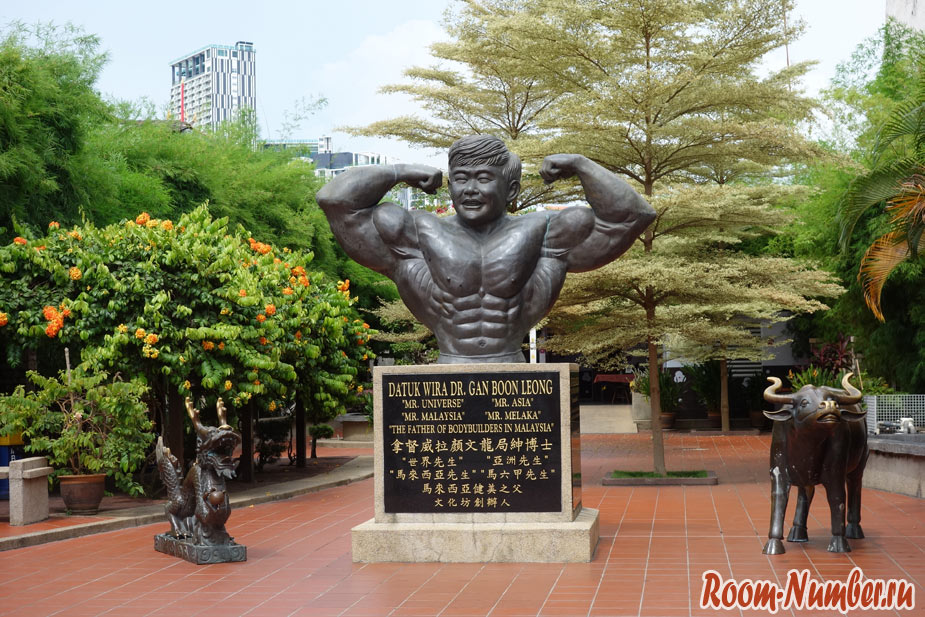 Jonker Walking Street
Jonker Walk Melaka Street should be visited on weekends around 7-8pm. At this time the street becomes pedestrian and turns into one big evening market. It's a great opportunity to try some Malay street food. During the day, Jonker street looks like this.
Jalan Jonker walk during the daytime cars drive down the street. But there is a wide sidewalk. There are souvenir stores on the street Take pictures of the quaint little houses and on Friday evenings and weekends there is a market. A kebab or sausage on a skewer costs 4 ringgit ($1).
Malacca Zoo
Of the attractions around Melaka, we saw the zoo and botanical garden. The zoo is recommended if you like animals. In it all the animals are kept in normal conditions, live in huge aviaries and almost none have cages. The most adorable are the tame rabbits. Read more in a separate article – Melaka Zoo and Rabbit Feeding. A place that will not leave you indifferent.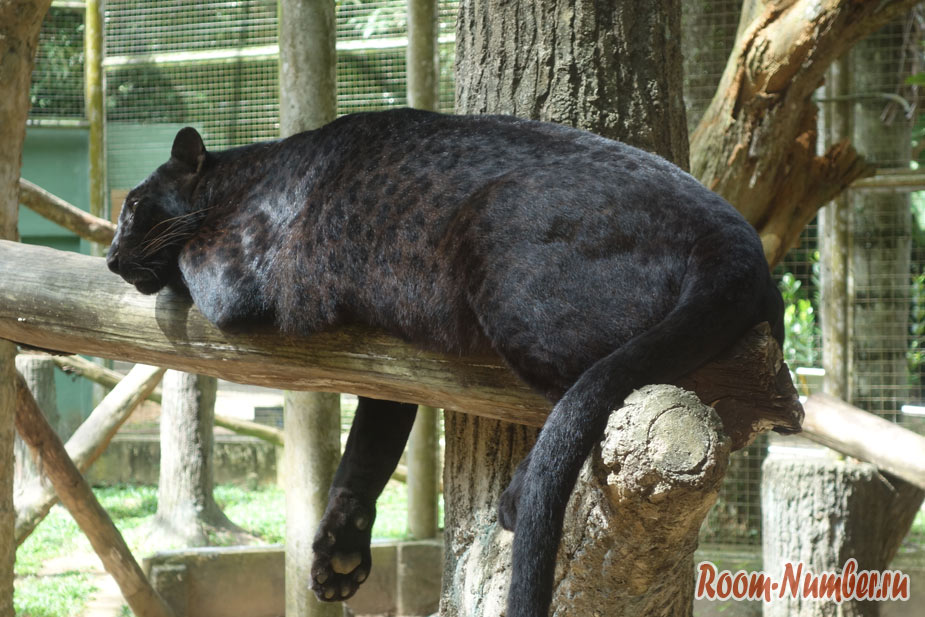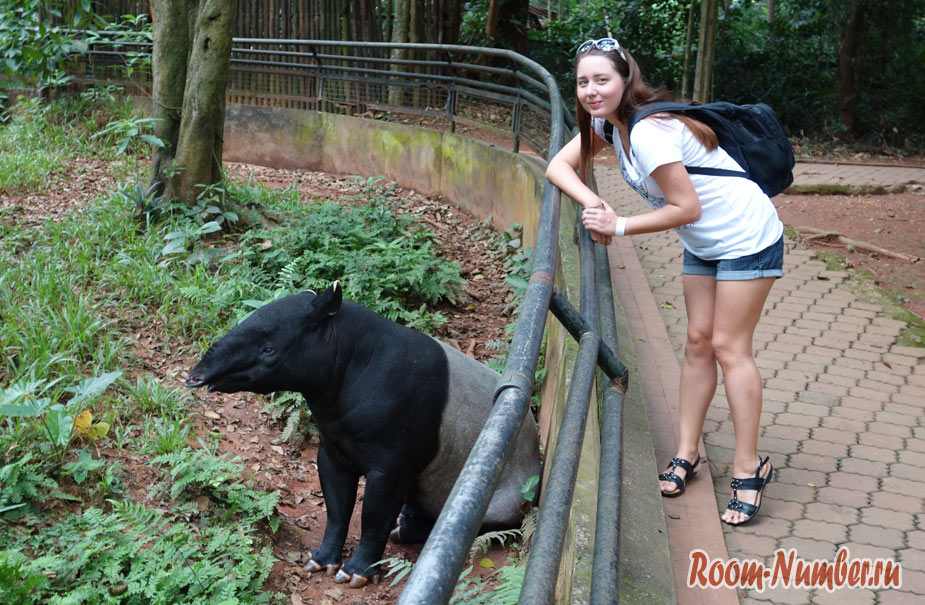 Botanical Gardens
Taman Botanikal Melaka Park is across the street from the zoo. The park is small and doesn't take more than an hour to walk through. You can look at the monkeys. The most memorable thing is these huge plants. Like a giant replica of the potted plants in the window.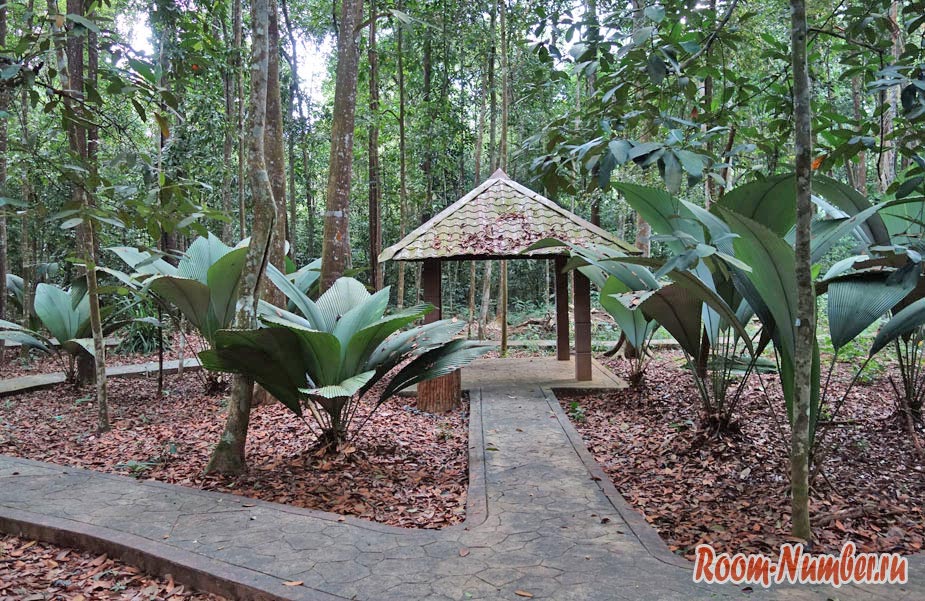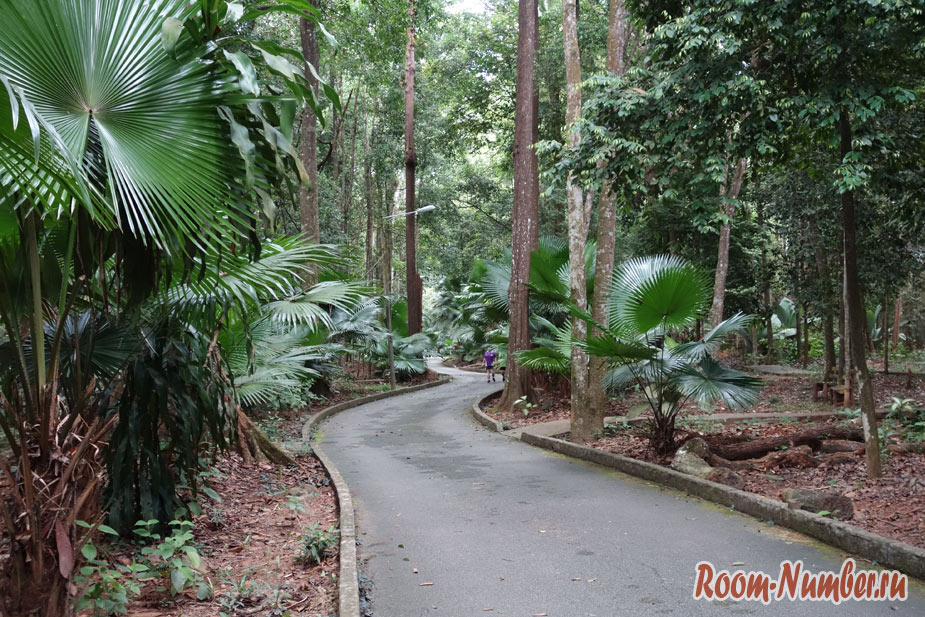 Shopping malls, supermarkets and shopping in Melaka
The city of Malacca is quite small. That said, there are several large shopping malls here. There are chain supermarkets – Tesco, Aeon and Giant. The prices are not different from Kuala Lumpur. This is what the area between the three shopping malls looks like.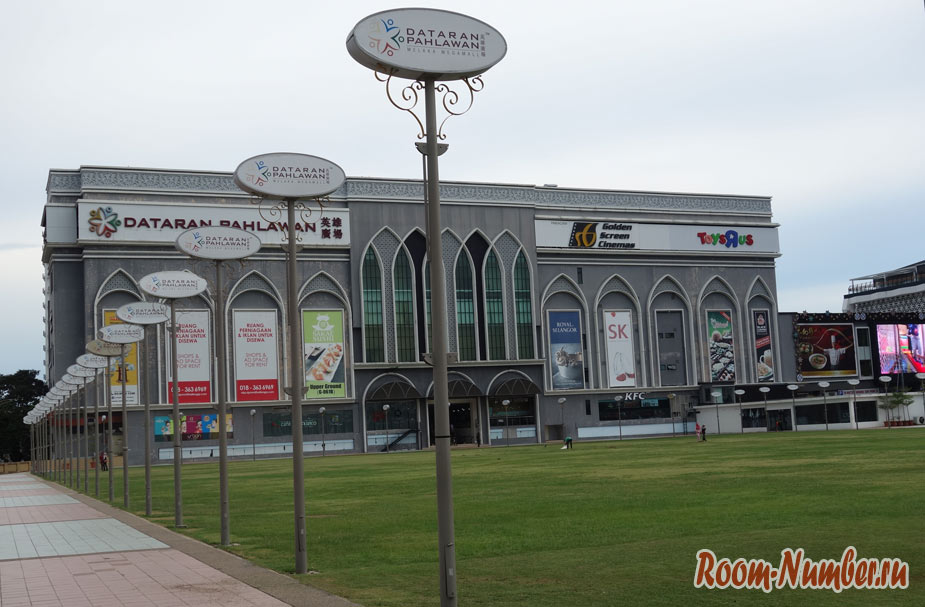 Nature
As in many cities in Malaysia, Malacca cares about nature. Here in the middle of the city you can find these centuries-old trees.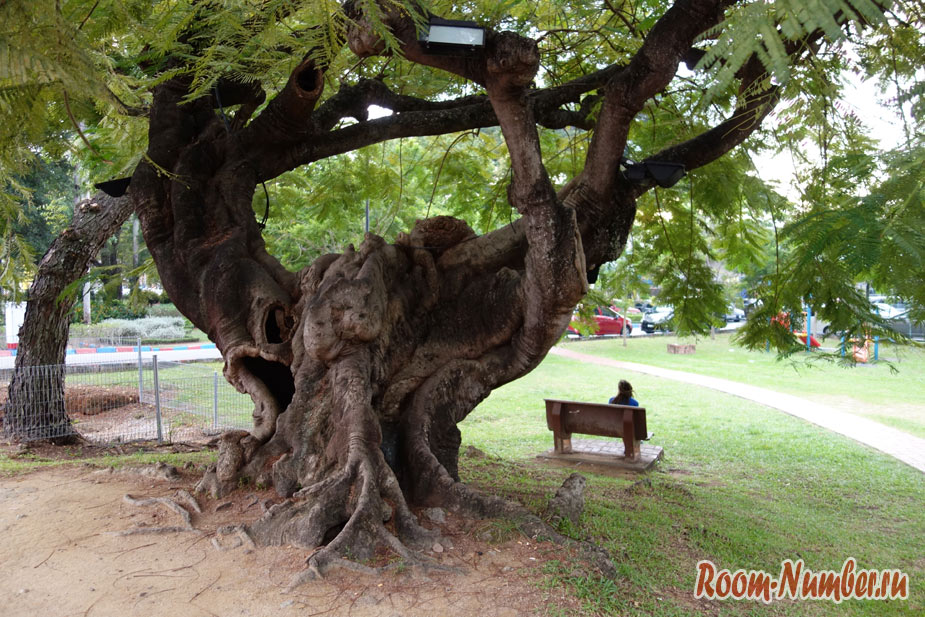 Malacca in the evening
At night, everything is beautifully illuminated.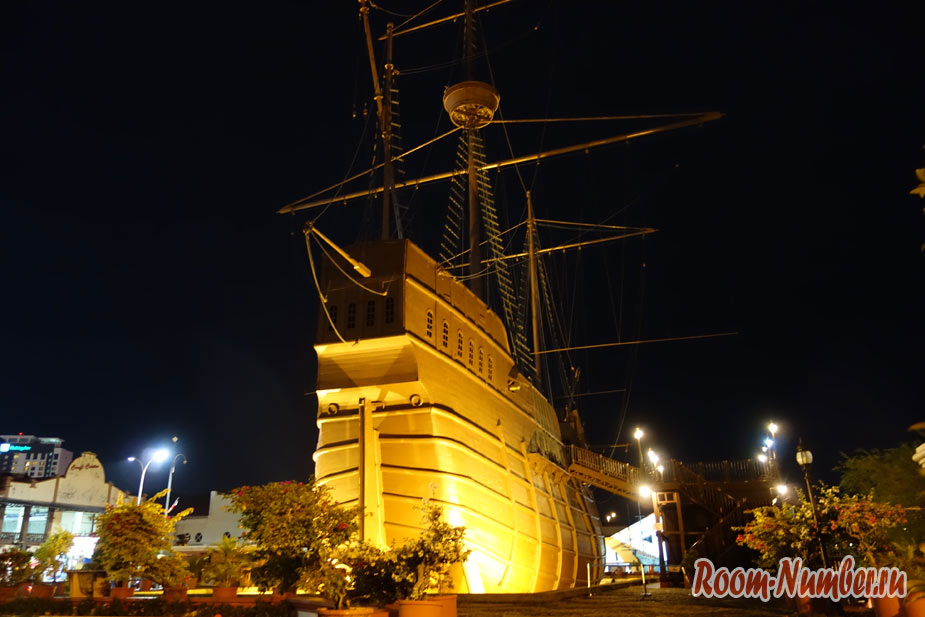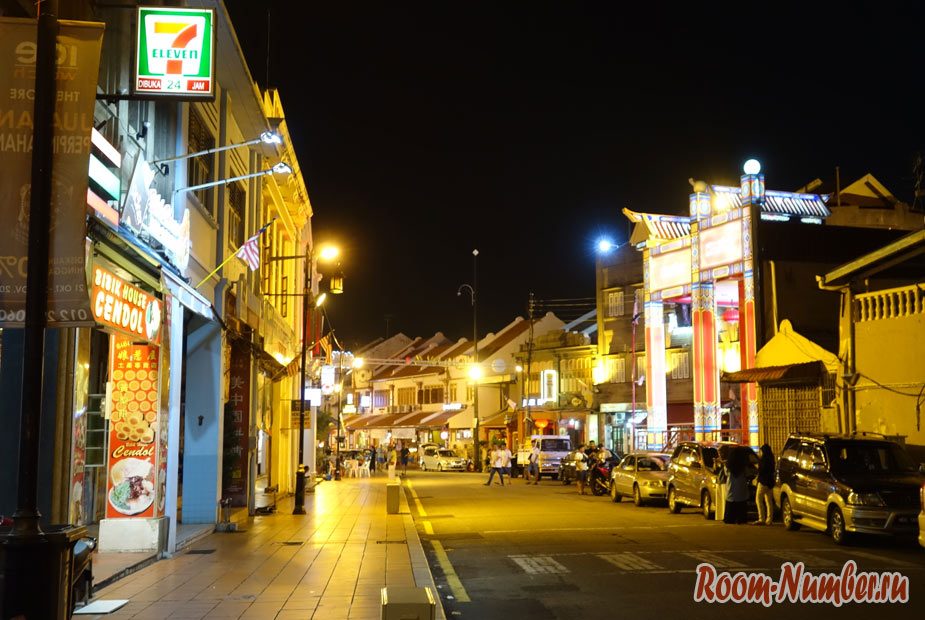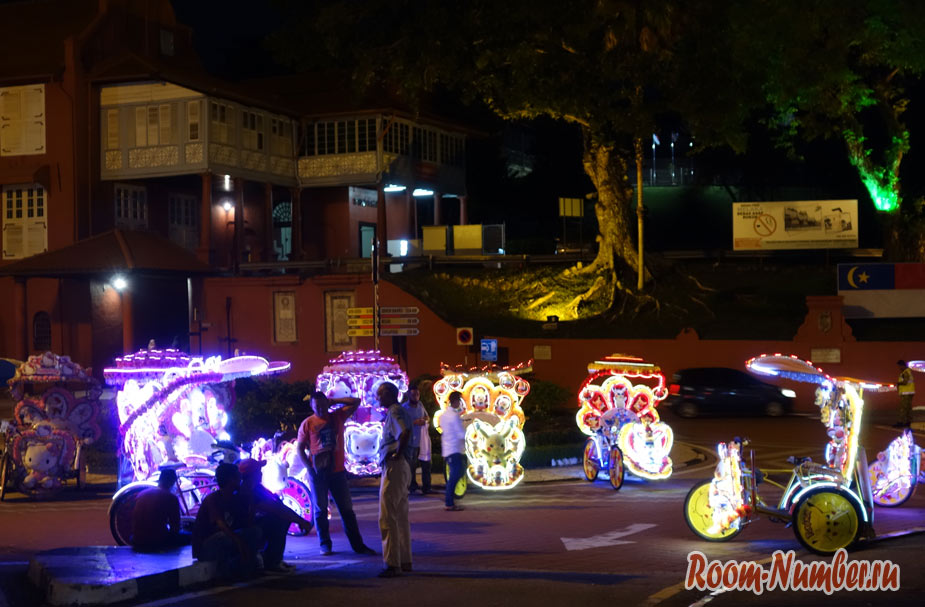 Watch this video!
Where to eat and what to try in Malacca
There are many inexpensive cafes and mid-range restaurants in the center of the old city. Like everywhere else in Malaysia, Malacca has several KFCs and McDonald's that are located in shopping malls. Malaysians love fast food, and for a European, it's a good opportunity to eat familiar food inexpensively.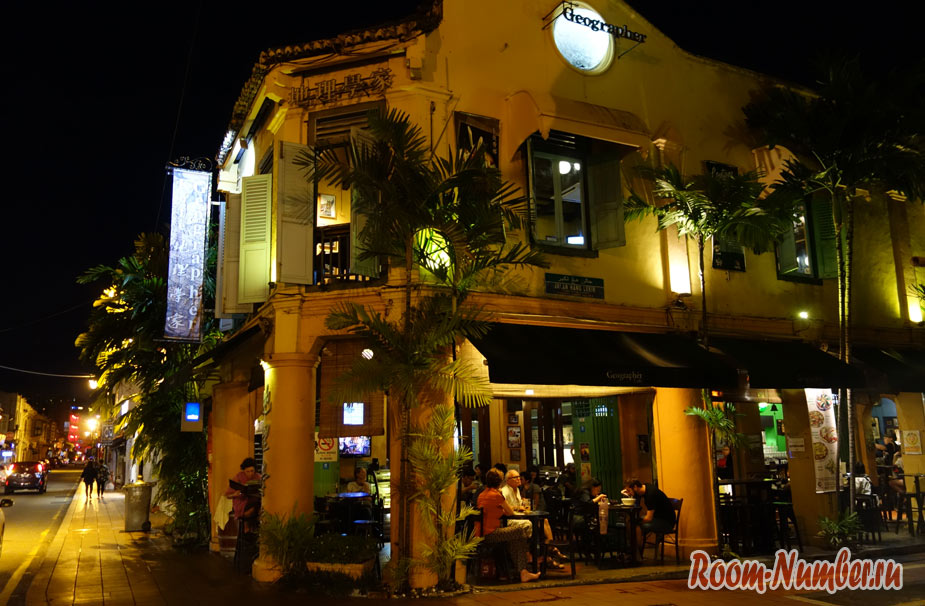 Cafe Geographer, where we had dinner a few times
We've had dinner at the Geographer restaurant on Jonker Street a couple of times. Walking by, we noticed it was crowded and had live musicians singing. We stopped in for a meal. Prices are average for Malaysia. Dishes from 10 to 30 ringgit ($2.5 to $5).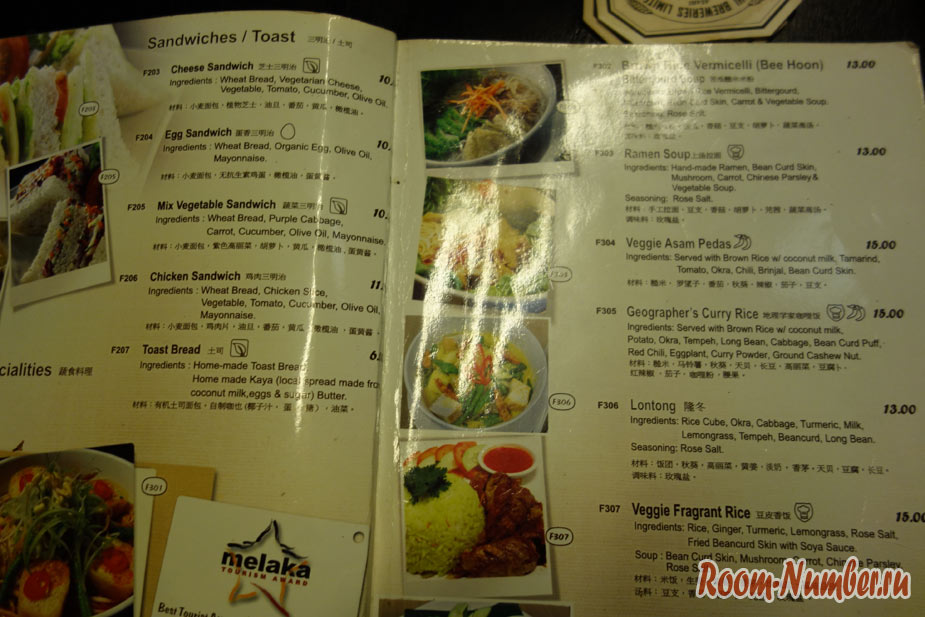 Prices in Malacca at Geographer
We tried the famous Malacca chicken satay and Malacca Kopi-O coffee.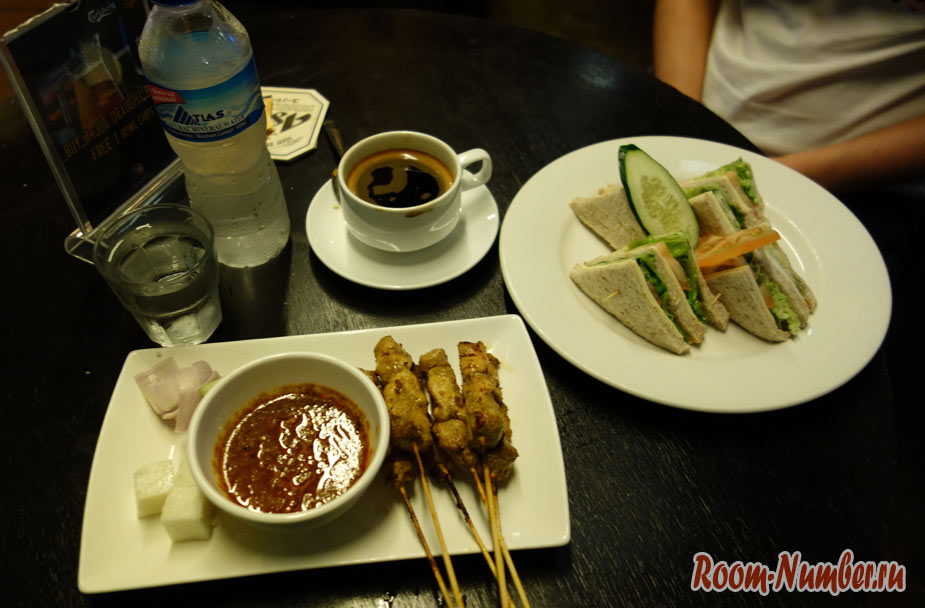 The meal cost about 35 ringgit ($9).
Where to Stay in Malacca
Hotels in Malacca are inexpensive and many are of good quality. It is recommended to stay in the city center so that all attractions are easily accessible on foot. We chose Swiss Heritage Boutique hotel near Jonker street. We paid about $ 25 a day with breakfast. Read a separate article about it.

The hotels in Malacca have two unfortunate features:
You have to pay a tourist fee of 10 ringgit ($2.5) for each day.
Also in Malaysia they like to add taxes to everything. On Bookings, taxes are usually not included in the price and it is written in small print. So add 17% more taxes to the hotel price and 10 ringgit per night.
Malacca reviews
We both liked Malacca. The city is cozy, romantic in places, quiet during the day and a little fiery in the evening. It has everything you need to live here: condos, blooming little parks, evening market, shopping centers, supermarkets. We wouldn't stay here for a month, yet Kuala Lumpur and Penang suit us much better by their energy. And to come to Malacca for a weekend or a week will only be a pleasure.
In general, Malacca is recommended to visit. For a couple of days from Kuala Lumpur, be sure to visit. If any of you have been here before, write your reviews in the comments, what you liked, what you didn't. And if you haven't been, write if it was interesting to read and if you want to see it now?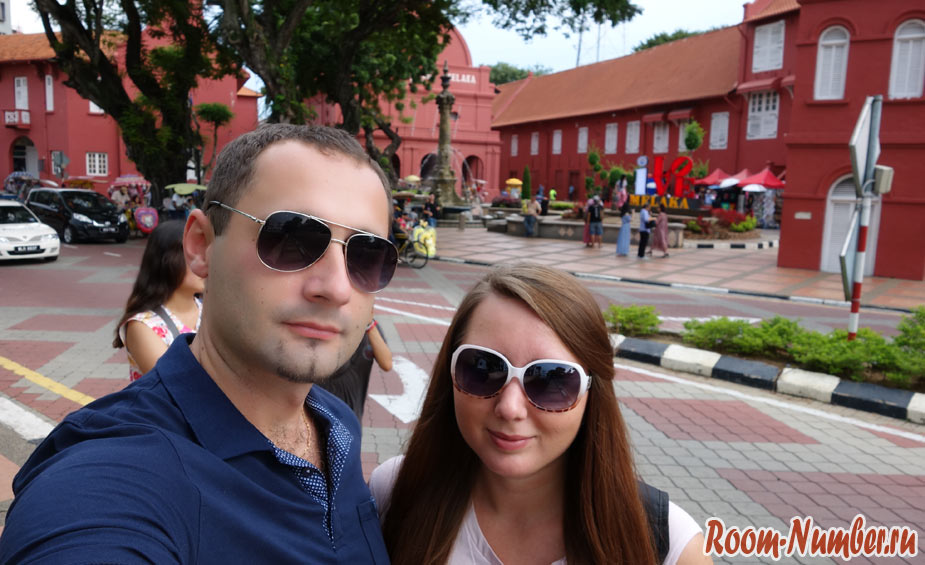 How to get to Malacca
There are two ways to get to Melaka from Kuala Lumpur. The most budget-friendly is by bus. The fastest and more expensive is by cab. You can book a transfer on this website . Buses leave from both the airport of Kuala Lumpur, and from the bus station TBS – Terminal Bersepadu Selatan. The bus station is modern and very convenient to get there by subway. The station is Bandar Tasik Selatan.
10 things to do in Malaysia
Malaysia is a country about which tourists know little. Meanwhile, you can make amazing discoveries here. The combination of jungle, modern technology and cultural diversity make the country a unique point on the globe. We will tell you about the highlights of a vacation in Malaysia, which should be part of the trip.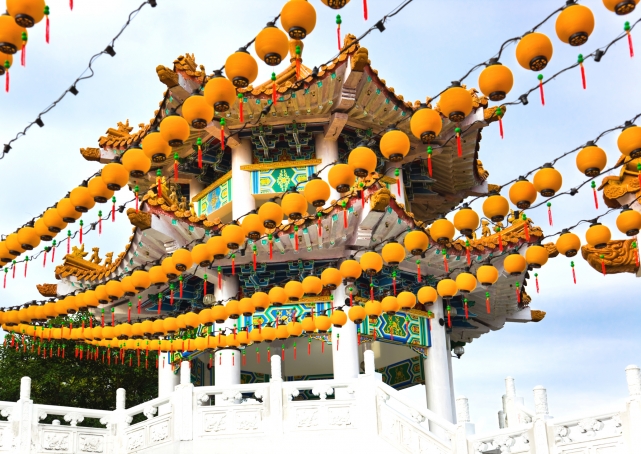 See the capital from all angles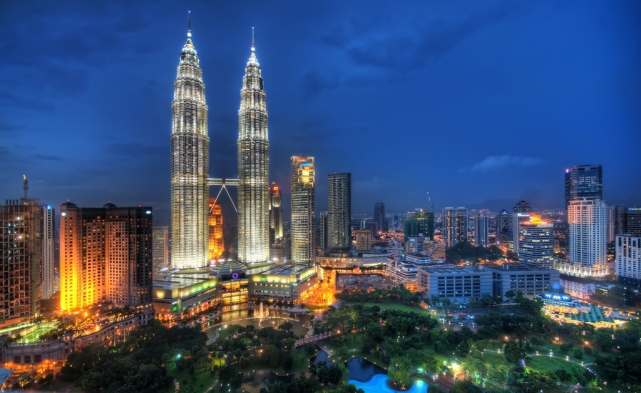 Hiding from the main "postcard" view of Kuala Lumpur – the towers of the Petronas skyscraper – is definitely not possible: 88 floors are visible from everywhere. The new business center is built according to the latest technology and design. At the same time the real Asia is just next door, in Chinatown. Not only Chinese people live here, but also people from other countries, especially Hindus. So it's a potent mix of Asian street food, vendors, bars, and colorful crowds.
Go clubbing all night in Kuala Lumpur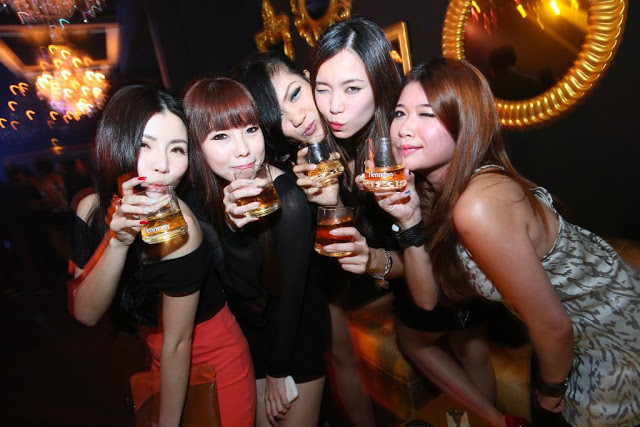 Nightlife in Kuala Lumpur certainly doesn't compare to what goes on in the Thai hotspots, as Malaysia is a Muslim country after all, albeit not of the strictest morals. On the other hand, nightlife lovers won't get lost in the country as the discos and clubs are spread across two streets – Ramlei and Chongkat Bukit.
To learn how to gracefully solve the problem of "non-residence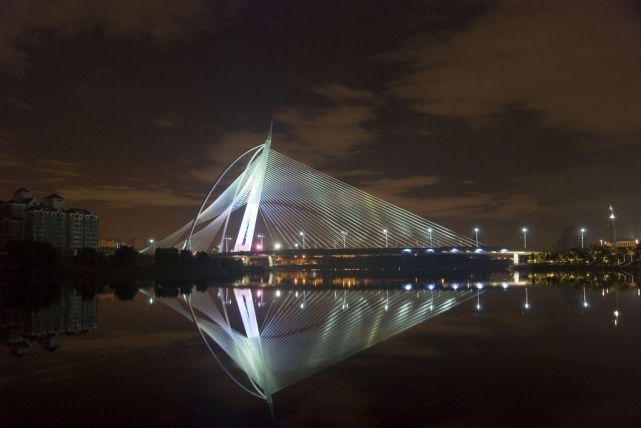 The Malaysian authorities decided to fight urban congestion and traffic jams in perhaps the most sensible, albeit unusual, way. All administrative offices and state-owned enterprises were moved 25 km away from Kuala Lumpur to a specially built new city. Government offices – this is not necessarily boring, so many go to Putrajaya to see the latest architectural solutions in the style of high-tech, and most importantly, the extraordinary lighting of the city at night.
Attend a shocking festival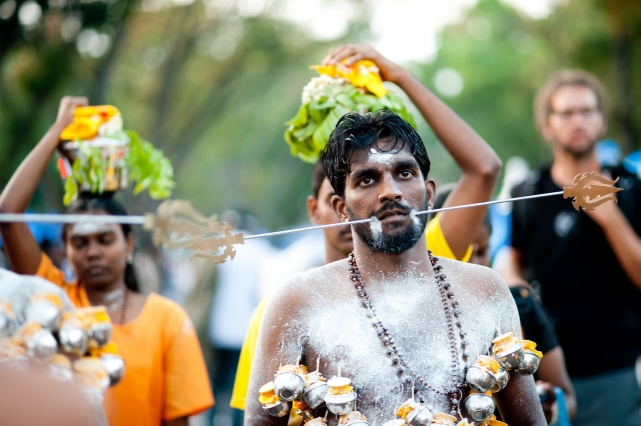 The Hindu festival Taipusam is celebrated every year in late January and early February. Especially colorful show is staged in Kuala Lumpur, which is home to a large diaspora of Tamils. The holiday is associated with the god of war, so many elements of the show in the Asian bloody and brutal. For example, the gifts that people bring to the sacred cave Batu, clamped directly to the body with iron hooks.
See a lot of interesting things in one place
The number of attractions on the 104 islands of the Langkawi archipelago abounds even on the scale of exotic Malaysia. Waterfalls, thermal lakes, colorful sands on the beaches, wildlife reserve – this is only part of the natural heritage of the islands. And thanks to the people here is a mountain cable car with an incredibly scenic route and Asia's largest oceanarium.
Trekking through the wild jungle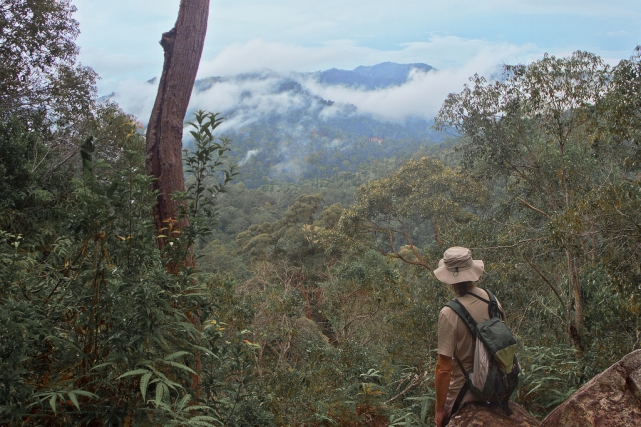 Many towns and villages in Malaysia launch jungle trekking tours. You can choose an easy walk, combine walking and river rafting, or spend a few days hiking in the harsh environment, sleeping in the forest.
Borneo Island vacations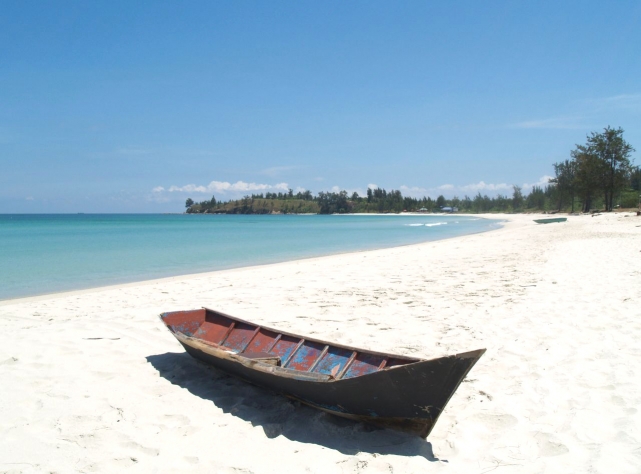 The coast of Borneo is considered one of the best places for beach vacations in Malaysia. By the way, the island is famous not only for the snow-white sand and warm calm water. Many tourists go to the orangutan nursery or the Turtle Island, located near Borneo. You can spend a few days in the jungle or climb Mount Kinabalu, whose height is 4093 meters.
See the underwater world of Sipadan Island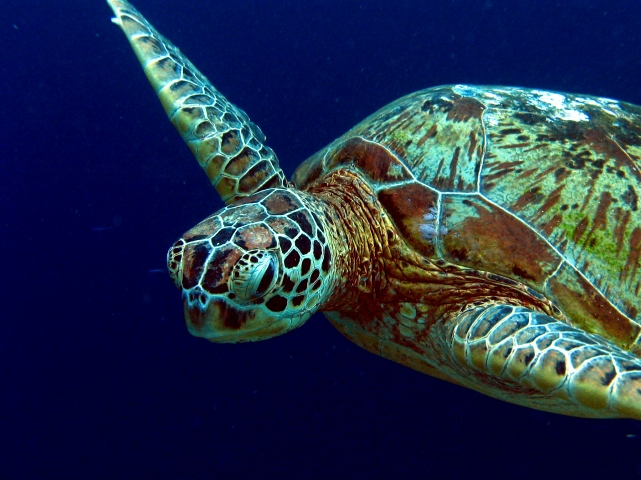 The tiny island of Sipadan is actually the tip of a huge extinct volcano. Together with several neighboring islands, this area is recognized by the Jacques-Yves Cousteau Society as one of the best diving and snorkeling areas in the world. All conditions are really fulfilled: transparent warm water, huge coral gardens and an incredible number of big and small sea creatures.
Learn about history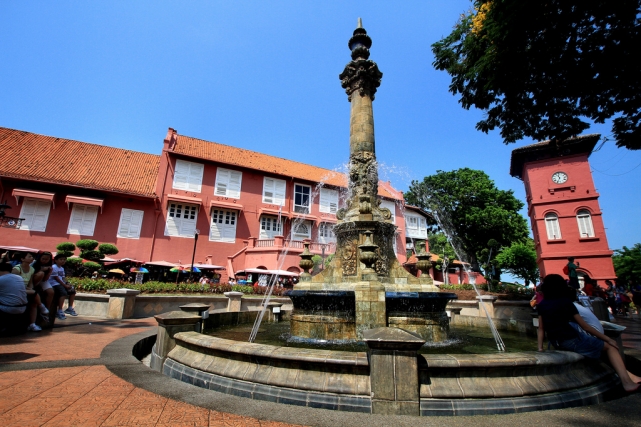 The city of Malacca, or Melaka, as it is often called, has perhaps the richest history of all Malaysian cities and, of course, the richest architectural heritage. This settlement has managed to try on the role and ceremonial capital of the Sino-Malaysian state, and a busy commercial port, even before the appearance of Singapore, and the outpost of the Portuguese colonization in Asia, and then was ruled by the Dutch and British.
Get a dose of excitement, fun and adrenaline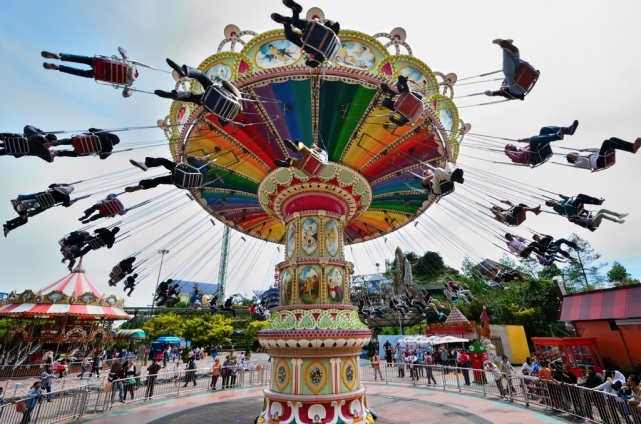 Malaysia has a giant amusement city with concert halls, casinos and, most importantly, two themed areas with more than 50 rides. The highlight of this place called "Genting Highlands" is its location at high altitude among the mountain peaks and clouds – there is fresh air and comfortable non-hot weather all year round.