Family Hotels and Homes in Napa
Vacation as a family! Find options your kids will love.
Check information about travel restrictions. Only travel for a specific purpose may be permitted, particularly travel for tourism purposes may be prohibited. Learn more
All Filters
Review ratings
Check dates to see current prices and special offers. Select dates
Cambria Hotel Napa Valley
Cambria Hotel Napa Valley is located in Napa, 1.3 km from Morimoto Restaurant. It offers a restaurant, free private parking, a fitness center and a bar. The hotel was clean, the staff was very helpful and we enjoyed staying at this hotel very much. Will definitely be back!
Churchill Manor
Overlooking the garden, B&B Churchill Manor in Napa offers rooms with free bike rentals, a shared lounge, garden and terrace. It's like staying at one of those old houses in the movies, just wonderful!!! Don't read to many reviews, just go and stay there, I'll promis, you won't be disappointed
Actually it's hard when you have to leave at the end of your stay… Thank you Joanna & Brian for your hospitality.
Archer Hotel Napa
Downtown Napa, Napa
Archer Hotel Napa is located in Napa, 300 metres from the Napa Valley Opera House. It offers a fitness center and a bar. The front desk is open 24 hours. it's excellent ! we love the hotel!!!
Stahlecker House Inn
The ranch-style Stahlecker House Inn is a 5-minute drive from downtown Napa. It offers free on-site parking and free Wi-Fi. One of the best hotels on our long trip across America! Incredible design of the rooms and common areas, Wonderful courtyard. Very nice and pleasant host who told us many interesting stories and recommended places in the area) Lots of free snacks and drinks. Perfect place to explore the Napa Valley!!! We thoroughly enjoyed everything!
Elm House Inn.
The charming Elm House Inn bed and breakfast is located in California's famous Napa wine region, just off Highway 29. It offers a full range of services and amenities. The to go breakfast was nice but the hot breakfast pre-pandemic was awesome & I hope it returns My room was noisy since right next to the elevator but they were great and moved me the next day
The McClelland House
Set 200 meters from Uptown Theater, The McClelland House offers 5-star accommodation in Napa and has a restaurant, a bar and a garden. This 5-star hotel offers a 24-hour front desk and room service. Unbelievable place and attention to detail. This is the finest B&B I've ever stayed in. It was recently renovated with such great taste and attention to detail. The owner Choe checked up on us several times and was so friendly. Also, Isiah the chef is truly world class. Finally, Trini, Rosalba and Benny were so nice and accommodating. world class staff all around!
Bann at Oak Knoll Napa
Bann B&B is located in Napa, 7 km from Napa Factory Stores and 8 km from Oxbow Public Market. It was an amazing stay! The room is gorgeous and super spacious and gorgeously decorated. The pool and spa is a plus. The staff are super friendly and going above and beyond to make sure our stay was above our expectations. Free parking with free Tesla charger is a nice perk. The view is awesome. Highly recommended.
The Cottages of Napa Valley
Guests at The Cottages of Napa Valley are given a free bottle of wine upon arrival. The complex is located 3.2 km south of the town of Yountville. All cottages have a fully equipped kitchen. Awesome property with so many amazing touches
Hennessey House Bed and Breakfast
This bed and breakfast is located in downtown Napa. It offers uniquely decorated rooms with free WiFi, an outdoor patio and a well-tended garden. unique building with beautiful rooms
5 Days Napa Valley Guide: Wine, Restaurants & Hotels in America's Leading Wine Growing Region
Napa Valley is one of the world's top wine regions. But in a valley with 400 wineries, 7 Michelin restaurants, and plenty of other attractions, it's hard to decide where to start.
This guide suggests exploring the valley from south to north, spending a day each in the most popular spots: Napa, St. Helin and Calistoga. The best way to do this is by staying in Yountville, the center of the valley. You can visit California at any time of year: in spring you'll enjoy an abundance of wildflowers, in summer you can hike and bike, in fall you'll see the wine region in the midst of harvest, and in warm winter you'll have a chance to enjoy the cozy atmosphere of restaurants and good wine.
Day 1. Arrival
Yountville is a convenient starting point for exploring Napa Valley. Only 3,000 people live in this town, but it is not without its charms. It is in Yountville that the Napa Valley Museum is located, and its exhibit shows a brief history of the region: from the first winemakers of the 19th century to the incredible development of the valley in the last 50 years. The museum also hosts temporary exhibitions by local artists.
Many wineries have opened tasting rooms in Yountville, so you can sample the sparkling wine of Domaine Chandon or the wine of family winery Stewart Cellars without going out of town. Local restaurants (Ciccio, Redd Wood or Mustards Grill) offer great wood-fired pizza.
The best option for lodging in Yountville is the Bardessono Hotel, which reflects the Napa Valley spirit in every detail of its design and amenities. Even the smallest rooms have huge terraces, and the hotel spa complex offers treatments with wine components.
Day 2. Napa
By the standards of the valley, Napa is a "big city." 80,000 people live there. Start exploring the city at Oxbow Market, where local produce and handicrafts are sold. There are also branches of popular restaurants. Then take a walk along the Riverfront . The west bank of the Napa River was converted into a public space 20 years ago and has become a favorite place for residents and tourists. The waterfront has everything from trendy stores to small cafes.
After lunch, head to Oakville to visit wineries like Opus One or Far Niente . Also worth stopping in Rutherford for an olive oil tasting at Round Pond Estate .
Day 3. St. Helena
It was in St. Helin that the wine history of the Napa Valley began. The oldest winery, Charles Krug, was founded in 1861. There are tours every day at 10:30, but the tasting rooms are open until five in the evening. A visit to the winery is a great way to sample the wines available only here. Although Charles Krug was founded before anyone else, it has been operating intermittently, so the title of the oldest continuously operating winery belongs to Beringer Vineyards, founded in 1879. Besides the grapes, the local mansion, a reconstructed replica of the Beringer family home on the Rhine in Germany, is also notable.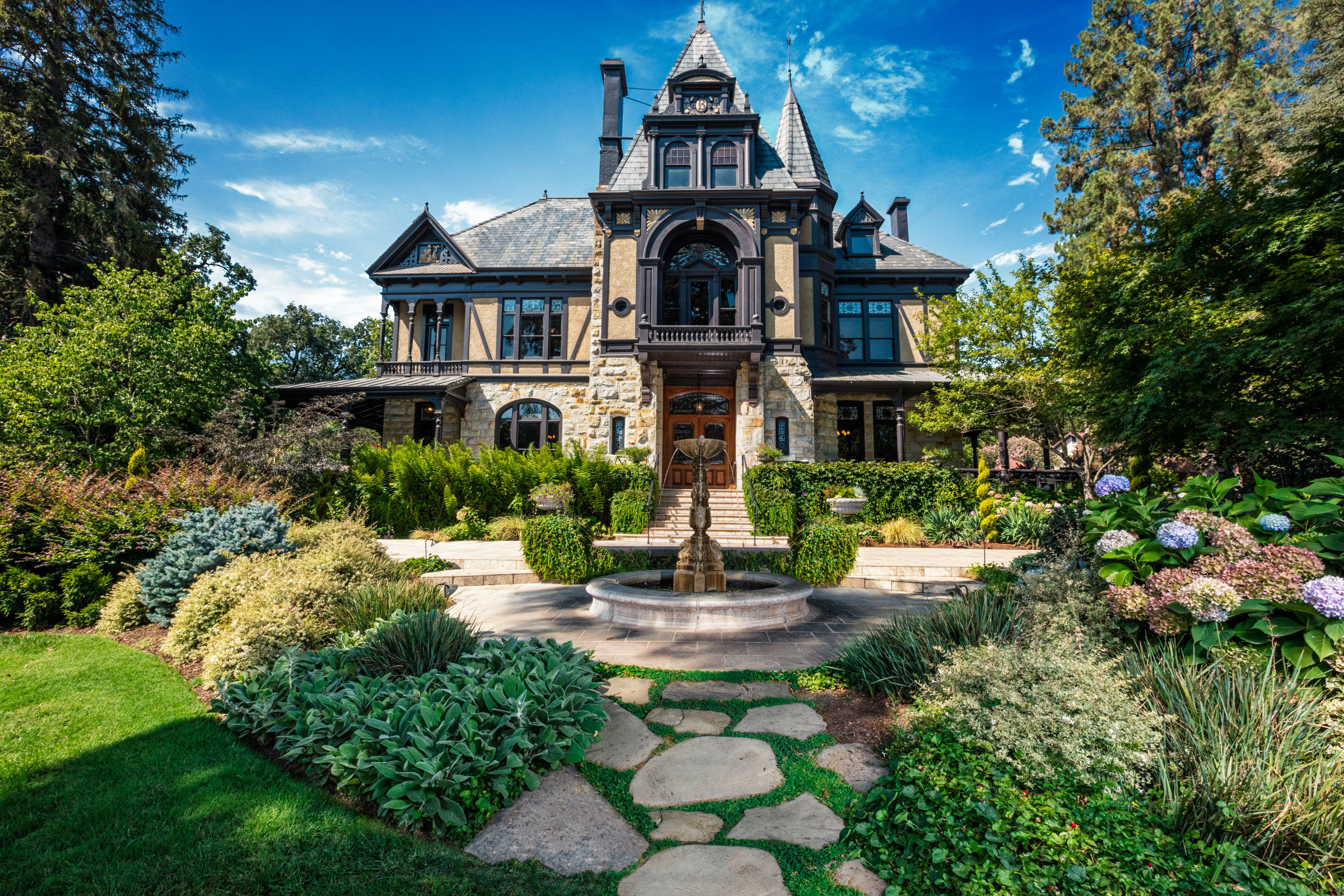 Beringer Mansion. (from) visitnapavalley.com
Grab a bite to eat on the main street: sandwiches at Harvest Table or bruschetta and salad at Clif Family Bruschetteria. Then it's on to the vineyards!
Most of them can only be visited by appointment. This is to preserve the agricultural character of the region. Not far from St. Helena there are two vineyards worth visiting – Crocker & Starr and Newton Vineyard . The beauty of visiting by appointment is that you get to interact with the winemakers themselves. It's a good idea to sign up in advance, as soon as you buy your plane tickets.
You should also make reservations in advance at one of the valley's Michelin restaurants: French Laundry, Restaurant at Meadowood, La Toque, or Restaurant at Auberge. Tasting menus at all of them will be expensive but memorable for a lifetime.
Day 4. Calistoga
In the morning head to Chateau Montelena, the most important winery in California. Although it has been developing since the nineteenth century, its prestige rose after 1976. At that time a competition between Bordeaux and California wines, the so-called "Court of Paris", was organized in Paris. Chateau Moptelena Chardonnay of 1973 harvest was recognized the best white wine at that time. The Chateau Motelena tasting room is open daily, although you should also visit a charming 19th century mansion with a Chinese garden.
The next place will give you an exceptional Northern California experience. These are the mud baths that have been attracting tourists to Calistoga since the 19th century. Many spas, from the ordinary to the luxurious, offer mud "baths.
In addition to mud baths, Calistoga also has excellent dining restaurants. For example, Calistoga Kitchen with produce from local farms or Evangeline, a noteworthy menu with Creole dishes and a patio with orange trees.
Day 5. Departure
Your stay in Napa Valley is coming to an end, but there is one more town to visit. American Canyon is in the very south of the valley, where the Napa River and Trail Bay form a marshy backwater. This is a great place for birdwatching, and you can see about 180 species of birds, from the acorn woodpecker to the myrtle wood warbler.
It's unlikely you'll see them all in one morning, or visit all 400 Napa Valley wineries at once. There is only one way out: plan your next trip.
Subscribe to us in social networks: Telegram-channel, Vkontakte, Yandex.