Winter holidays in Lombardy
Over 70 ski resorts, including some of the most prestigious in Italy, 100 mountains over 3000 m high, 390 elevators and 12300 km of groomed slopes: for lovers of skiing and snowboarding, Lombardy is a real paradise.
However, Lombardy is also a paradise for those who prefer other types of entertainment than skiing. So what does this region have to offer those who are cool with snowboarding, cross-country skiing, mountaineering and freeriding? How to get warm and have fun this winter? Here are some ideas on "winter in Lombardy."
Winter mountains by moonlight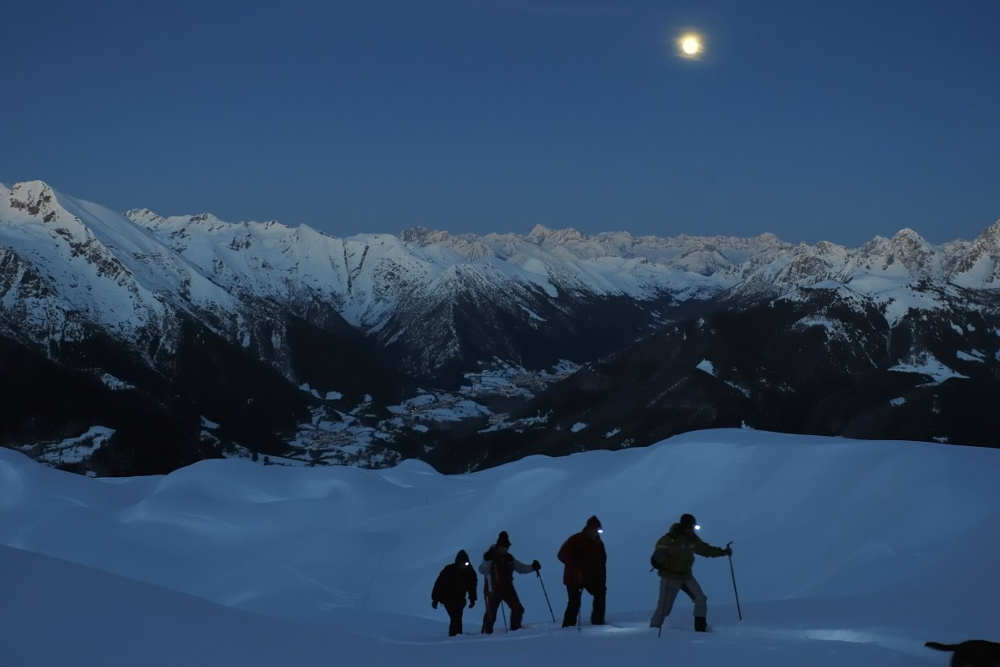 In the mountain valleys of Lombardy, day and night group snowshoe hikes are organized in winter. The difficulty of the route depends on the composition of the participants: there are also options for families with small children. Snowshoes can always be rented, and guides will take care of food and tastings during breaks. Night walks are usually timed to coincide with the full moon. For example, a mass snowshoeing trip takes place every year at Vezza d'Olho in the resort of Adamello. The night journey in the light of the moon that shines on the surrounding mountains is an experience you will remember for a long time.
Learn to drive a dog sled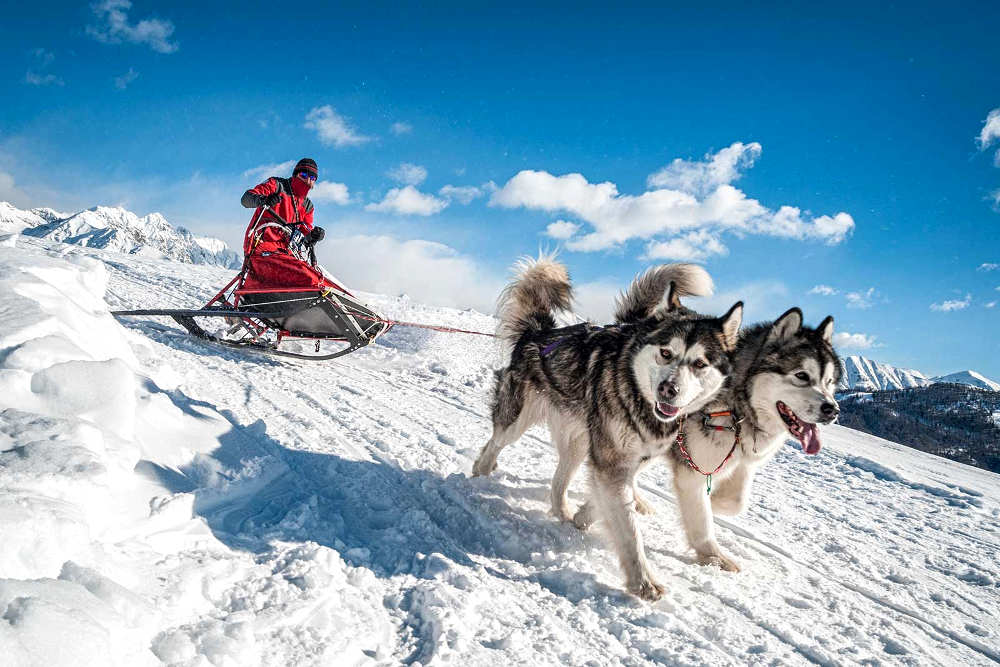 In the mountains of Lombardy you can become a sled dog handler for a day. In Valdidentro, in Valtellina, there is a whole "dog" village, the Husky Village.
Here is located the Italian "School of dog sled dog handlers". In Pond di Legno-Tonale, adults and children, under the supervision of an instructor, can try to drive a sled pulled by two or four sled dogs. It is an incomparable pleasure to slip through the snow on the sledges of a sled dog in front of the unspoilt nature of the Valtellina. There are courses for those who seriously want to learn the profession of a sled dog handler.
Skating in unusual places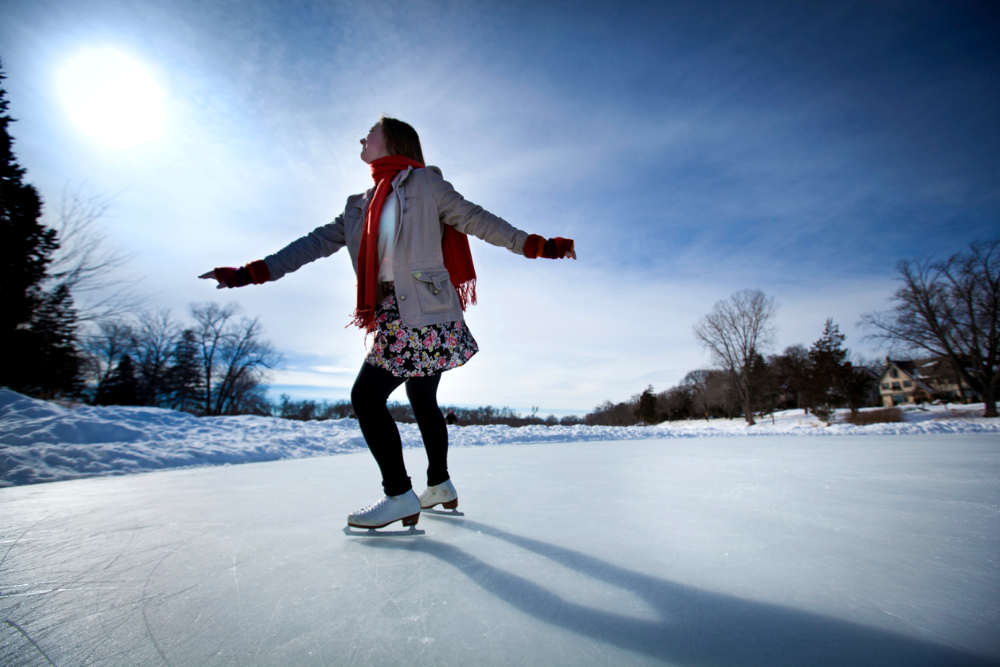 Skating is another pastime that both children and adults love. In addition to the ice palaces in Lombardy, you can skate outdoors, for example in the picturesque Montecampione in Val Camonica. The local lake, surrounded by spruce forests, turns into an ice rink in winter, which offers a magnificent panorama of Lake Iseo in the distance. By the way, you do not need to have your own skates: you can rent them here.
Tubing – a new kind of snow fun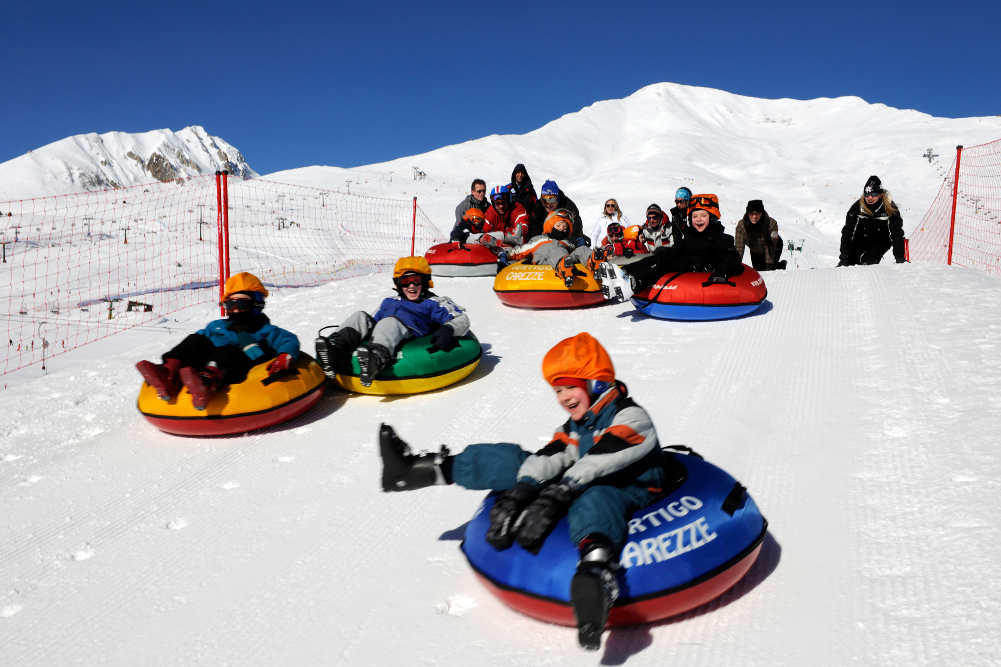 Tubing is another trendy winter activity in Lombardy. This is a meteoric descent down a specially prepared trail on an inflatable rubber "bagel".
The descent abounds with profiled turns and jumps. You can sit on the tubing, or you can lie on your stomach, holding on to the special loops. Children's slopes are allowed to ride from the age of three. The best biking courses in Lombardy are located in Adamello and Valtellina.
Flying on a cable over Valtellina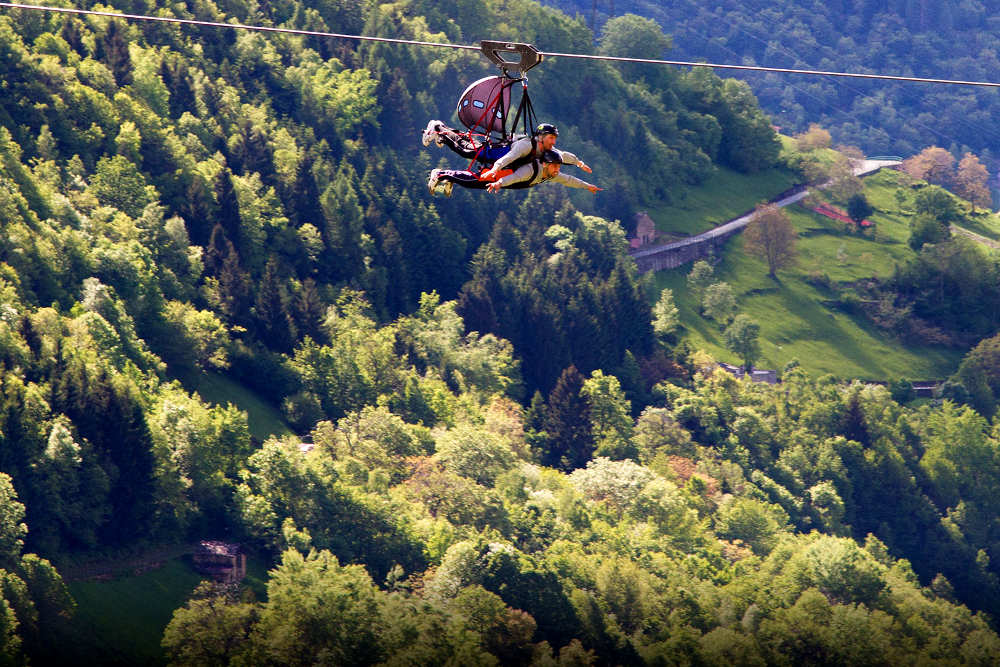 Flying over the Valtellina valley on a rope stretched between the mountains is a thrilling adventure that offers an indescribable range of emotions. It looks like this: you are strapped to a trapeze securely connected to a carriage rolling on a rope and you go flying, sometimes at 100 km/h, over the forests and streams of the Valle del Bitto. In spite of the abundance of adrenaline, it is a safe activity that even children are allowed. In addition, you do not have to be physically prepared. As mentioned above, the ride is located in Valtellina and is called Fly Emotion. In winter, it operates on weekends and holidays, giving you the opportunity to admire the snow-capped mountains and the valley.
Relax in the Thermae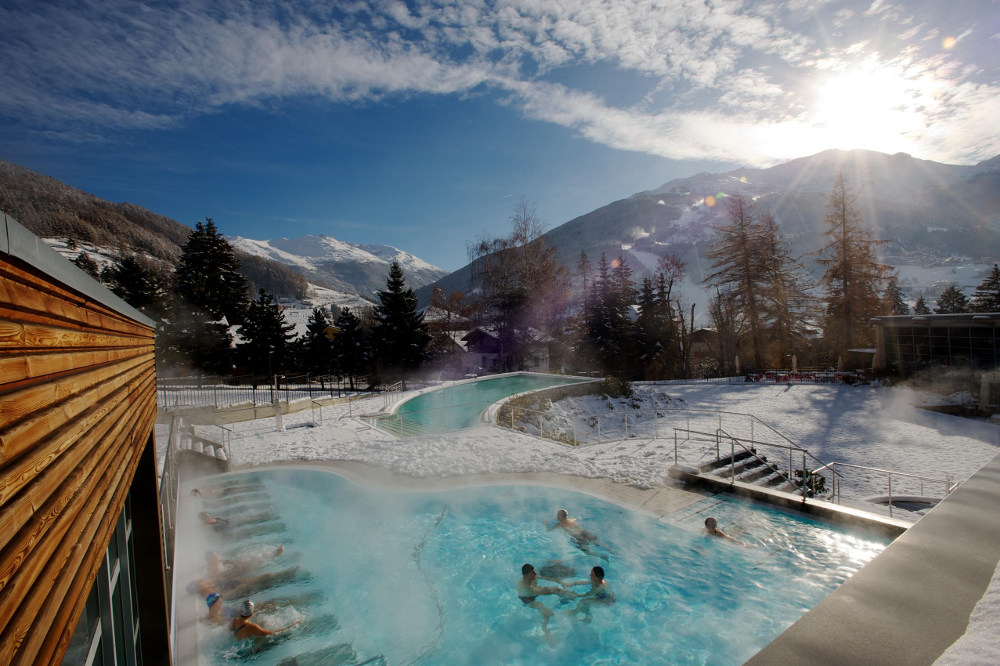 If you're a little tired of the activities we offer, it's time for a good relaxation – in the thermae! Lombardy has more than enough spas and the beneficial effects of thermal waters were already appreciated by the Romans. Bagni di Bormio in Valtellina, by the way, is one of the ancient Roman thermae still in operation. After winter fun in the fresh air what could be better than to relax in the warm water with a view of the amazing mountain scenery.
Related materials
Thank you for reading us again!
Italian valleys in winter: how to find yourself in a snowy fairy tale?
Mountain Italy: 5 borgoes for mountain climbers
Passo del Tonale
Bardonecchia
Gambarié: the snow-covered south of Italy
Courmayeur


Terms and conditions for uploading and storing your photos on "Your Italy".
By uploading photos to Your Italy, users agree to the following terms and conditions: 1. All users who have filled in the form with their name, contact details and the description of their photo are allowed to take part. 2. The photo must be original and the rights to it must belong to the user. 3. Uploaded photos must not contain: 3.1. recognisable people, unless they have given permission to publish their photos on Your Italy; 3.2. logos and trademarks, unless their copyright holders have given Your Italy permission to publish them; 3.3. nude bodies, unless they are works of art, obscene, immoral, unacceptable images; 3. 4. any objects that violate the rights of third parties; 3.5. by placing a picture in a photo gallery, users agree to its placement in this gallery and in the site's materials with an explicit indication of the author of this picture, as well as in the social media publications associated with this site. 4. The users also agree to be contacted by representatives of "Your Italy" to discuss other possible uses of the photo provided.
Where to ski near Milan. Lombardy's top ten slopes.
Milan, along with the small mountain town in the Veneto region of Cortina d'Ampiezzo, wasn't chosen by chance as the capital of the 2026 Winter Olympics. Lombardy, of which it is the center, has 12,300 km of pistes, 390 of the most beautiful ski resorts in northern Italy, scattered across 110 alpine and pre-alpine peaks. For lovers of downhill skiing it's easy to find the right destination, without having to travel far from Milan.
Livigno
Let's start with Livigno, the sunniest ski resort in the Alps. It is located at an altitude of 1816 m, where it borders with Switzerland and is immersed in the greenery of two national parks – the Italian Stelvio and the Swiss Engadin. The abundant snowfalls all winter long are the main reason to go here for skiing. Due to its geographical position the season here starts earlier and lasts longer than in many other alpine resorts.
There are 32 tracks of varying difficulty lengths of 115 km, the highest one is located at an altitude of 2798 m. Livigno is also known for its flat skiing. This is why by the Olympics of 2026 an Olympic village for cross-country skiing competitions will be built here.
The only drawback is the remoteness from Milan. It will take you 4 hours to get to this snowy paradise by car.
Madesimo
The village near the alpine town of Sondrio, is one of the most favorite places of Milanese. It is easy to reach: only two hours by car. The resort, surrounded by a mountain range, has about 60 km of pistes of all colors, which start at an altitude of 2800 meters. Many of them are wide and ideal for children and beginners. But fans of extreme will not get bored here either and will be able to drive with a whistle, for example, on Canalone, 2.5 km long and with a difference of 1000 meters.
Chiesa Valmalenco
Chiesa Valmalenco is not just about skiing and pistes. It is the stunning mountain scenery. The peaks of Pizzo Scalino, Monte Disgrassia and Bernina surrounding the village will make your winter vacation even more pleasant and memorable. All 20 slopes are 60 km long and are connected with each other by eleven cableways and elevators. The gems of the resort are the track of Gustav Teuni, laid by the famous skier, with a gradient of 70% and the Snow Eagle – the longest elevator in the world. In 4 minutes he manages to overcome the rise of 1000 meters.
It takes less than 3 hours to get from Milan to Valmalenco.
Aprika
Aprica – is a ski resort located in a beautiful valley on the border with Switzerland between the two provinces of Lombardy: Brescia and Sondrio. It includes 50 km of pistes located at an altitude of 1200 m to 2300 m. On its south-facing slopes, the snow cover is maintained throughout the season in perfect condition and its numerous artificial snow generators make it possible to prolong it considerably. After a day on the mountain peaks, I highly suggest stopping by the nearby town of Telho, known throughout Italy for its traditional dish of pizzoccheri – a type of tagliatelle made from buckwheat flour, topped with potatoes, cabbage, local cheese and butter. All in all, what a skier needs after a day of skiing.
It takes about 3 hours to get to Aprica from Milan by car.
From this site you can download a detailed brochure on what you can do in Aprica in winter (and summer):
Foppolo
Foppolo is the most famous winter resort in the province of Bergamo, located in the lower Brembana Valley. Its 19 trails are suitable for experienced skiers and "dummies" alike in terms of difficulty. If you prefer alpine skiing to cross-country skiing, Foppolo is the place for you. Here you are sure to find a track to your liking. On the way you can stop in San Pellegrino and – why not? -Why not? Enjoy the thermal baths of this famous thermal spa.
Foppolo can be reached from Milan by car in about 2 hours and 40 minutes.
Presolana
Presolana is one of the most attractive ski resorts in the entire province of Bergamo, located in the Scalve Valley. More than 25 km of ski slopes suitable for skiers, snowboarders and tobogganers of all levels.
You can reach Presolan from Milan in less than 2 hours.
The website, unfortunately, is still only in Italian: www.presolanamontepora.it
Ponte di Legno – Passo del Tonale
Ponte di Legno ( lit. Wooden Bridge ) is an ancient mountain village with a population of 1,700 souls. 26 trails for all tastes are located on a sunny plateau at an altitude of 1258 meters in the heart of the Camonica Valley. 5 cable cars, a gondola elevator and 8 runs connect it to the famous ski resort of Temo and the Tonale Pass.
From Milan, Ponte Do Legno can be reached by car in 3 hours.
Pian di Bobbio – Valtorta
Piani di Bobbio (lit. Plateau Bobbio) – Valtorta is the closest ski area to Milan and can easily be reached in an hour and a half by car. The resort offers about 35 km of pistes, suitable for all types of skiers, snowboarders and tobogganers. Many improvements have been made in recent years to satisfy all the visitors, often coming here from Milan for the day.
Bormio
Bormio Santa Caterina Wolfurva and Piazzi San Colombano peak is a ski resort located at an altitude of 1280 to 3012 meters (Chima Bianca). It has 16 ski elevators, 20 runs with breathtaking views of the Stelvio Pass, where in summer the Giro d'Italia is held and in winter the famous Stelvio track, where the World Cup Free Skiing takes place. Bormio can be reached by car from Milan in less than three hours. And do not forget to visit the delightful thermal springs, which were known already to the ancient Romans!
Montecampione
Montecampione is a plateau in the lower Val Camonica valley, famous for its breathtaking views of Lake Iseo. 30 km of snow on 20 pistes with a maximum altitude of 2000 m.