10 fun places to go from Rome for 1 day
Rome is one big attraction, but sometimes you want to take a break from the crowds of tourists and be in silence. You don't need a huge vacation to discover new places. Here are 10 places you can go from Rome for 1 day.
If you have little experience traveling independently, we advise you to buy this tour with a Russian-speaking guide in the vicinity of Rome.
The most advantageous way to get to another city is by bus, they go to all tourist destinations in Europe. But this applies more to large cities, and in smaller cities more often go by train. Routes, schedules and tickets can be found here.
In addition to trains and buses, you can travel around cities near Rome by rented car. It's a little more expensive, but much more comfortable. In Rome itself, we do not recommend traveling by car (traffic jams, lack of parking), but the highway is a real pleasure.
Choose a car on this site, there are offers from different rental companies.
And now let's go!
Tivoli
Tivoli is a small town about 24 km to the north-east of Rome. It is famous for its ancient villas, such as Villa d'Este, Villa Adriana and Villa Gregoriana.
"Read the article – All about the villas of Tivoli
The first two villas are listed as UNESCO World Cultural Heritage and Villa Gregoriana is protected by the country's heritage foundation.
Admission to each villa costs about 10 euros. It is very convenient to travel on this one-day tour, which includes a transfer from Rome (and back), a guided tour of the two villas, D'Este and Hadrian, and lunch (be sure to choose a meal when you book your tour).
Tips for travelers
We recommend the following sequence of visits:
Villa Adriana.
Villa Gregoriana (entrance near the train station on the right).
Villa d' Este.
How to reach?
By train: departure from Termini station (one-way ticket price €2.60) or from Tiburtina station (one-way ticket price €3). You can buy tickets for the desired date at the link. Fill in the names of points in English.
The duration of the trip is about an hour one way, so you just enough for one day to go there and back. But if you want to stay, Tivoli has a lot of cozy and not too expensive hotels.
There is a bus number 4 to Villa Adriana, the stop is on the central square in front of the train station.
Viterbo
Medieval town 100 km north from Rome has two places of interest:
The Papal Palace (Palazzo dei Papi). In the 13th century a new pope was elected here.
The Cathedral of San Lorenzo (San Lorenzo) next to the palace.
The only thing that can spoil the impression of walking through the streets of the old city is the constant passing cars that make you constantly look around and step aside.
Walk around the city with a local guide who will show you the best spots and the most convenient paths. Here's a link to a 2.5-hour walking tour of Viterbo.
How to reach?
By train from the Roma Ostiense train station (Roma Ostiense, Pyramide metro). The fare is 5.60 euros one way. Click here to check tickets.
There is a cost-effective way to get to Viterbo: the Metrebus Roma single fare of 1.50 euro is also valid in the direction Rome – Viterbo.
The duration of the trip one way is 2 hours.
What to see in the surroundings:
Thermal baths a few kilometers from Viterbo.
The town of Bagnaia, a colorful town of the 13th century.
Villa Lante is a model of an Italian park with numerous fountains and bronze statues (entrance fee €5). We recommend visiting Villa Lante with a Russian-speaking guide, here is a link to the tour.
Interesting Events
Another reason to come to Viterbo from Rome for 1 day is the Feast of Saint Rose. It takes place in the city every year on September 3. The procession of a huge 30-meter statue, illuminated by numerous lights, takes place at about 9:00 pm with the city lights completely off.
Lake Bracciano
One of the largest lakes in the Lazio region, which you can visit from Rome for a day trip. It is located 32 km north-west of Rome, in the town Bracciano.
Here everyone can find a holiday to his/her own taste:
Those who want to relax can just lie on the beach and swim in the lake, watching the local ducks and swans, which are not afraid of people at all. The beach at Bracciano is one of the best beaches near Rome.
If you prefer an active vacation, go windsurfing.
For the lovers of architectural sights: Castello Orsini Odescalchi. The cost of admission to the castle is 8.50 euros. If you want to spend more time there, book a half-day tour with lunch.
How to reach?
By train: from Roma Ostiense train station (Pyramide metro). The cost of a one-way trip on the local train is 3.60 euros. The travel time is 1 hour.
You can reach Bracciano economically in the same way as in Viterbo. The Metrebus Roma single fare of €1.50 is also valid in the Rome-Bracciano-Viterbo direction.
Frascati
A small and silent town, 21 km far from Rome, attracts tourists with its luxurious villas and famous white wine.
The main part of the villas are the former residences of the "black nobility", that is, aristocratic families who were close to the Pope at one time. These are the villas of Aldobrandini, Mondragone, Falconieri, Lancelotti and Torlonia.
Among the wines worth tasting is Casale Mattia Spumante Brut, whose straw-yellow color is reflected in the colors of the city itself. If you want to pay more attention to the wines, we recommend exploring them as part of a wine tour of Frascati with a tasting and lunch. You can meet your guide at the Frascati train station.
By the way, in Rome itself there are also interesting types of wine, read about them in this article.
How to reach?
By train from the railway station Termini. One way ticket costs 2.10 euro, a little cheaper can be bought through the website. Travel time from Rome is 30 minutes.
Ostia Antica
This is an ancient city of the Roman Empire, founded in the IV or VII centuries BC (according to different sources). Until the 16th century Ostia, or rather the part of it that is now known as Ostia Antica, was washed by the sea, so the city was of strategic importance to the country.
Over time the Tiber has changed its direction, and the sea moved away by 3 km from the city. Nowadays, only the modern part of Ostia has access to the sea, starting from the coast Lido Nord.
Ostia Antica is an open-air archaeological museum. Almost like Pompeii Park, but not as famous. It is better to see the sights with a person who knows a lot about history.
Practical information
Hours : 8:30, closing depending on the time of year.
Weekends: Monday, December 25, January 1 and May 1.
The ticket price to the archaeological area is 12 euros (free for under 18 years).
How to reach?
Go by train from Porta San Paolo station (metro Pyramide). The single ticket "Metrebus Roma" is valid in the direction Roma – Lido, exit at the stop Ostia Antica.
The journey time is only 20 minutes, so you can easily get here from Rome in 1 day.
Perugia
Perhaps the most common 1-day trip from Rome is to Perugia, the capital of the Umbria region, 173 kilometers from the capital. A little intimidating and belligerent look to the city is given by the buildings, built of travertine stone. But it is precisely this detail that gives it a special charm.
The history of Perugia goes back to the 5th century BC. Already then it was full of events, from Etruscan settlements and capture and burning of the city by Emperor Augustus to joining the Kingdom of Italy in 1860.
You can watch a short video about the history of the city for free in the fortress Rocca Paolina. And if you want a full guided tour (and you understand English well), choose one of the tours at this link.
There is also a Russian-language tour, here it is:
Tip
Perugia is located on a series of hills and consists of ascents and descents. So moderate physical activity awaits you, for which you will need comfortable shoes.
How to get from Rome to Perugia?
By train from Termini station. The cheapest one-way ticket costs 11.40 euros and takes 2.5 hours. Slightly faster but more expensive can be reached by bus.
Since the drive to Perugia is not too close, many allocate two days to visit this city, not one. And this is justified – there is a lot to see and you will not be as tired on the road.
How to get from the Perugia train station to the historic part of town? On the local mini-metro. The cost of a one-way trip is 1.50 euros.
Orvieto
Architecture lovers will notice first of all the main pride and heart of Orvieto – the Gothic cathedral and the well of San Patrizio (il Pozzo di San Patrizio) 53 meters deep. The latter was built in the 16th century. Entrance to the cathedral is free, if desired, you can make a donation.
Lovers of underground life are advised to visit the "Underground City" (Percorso Orvieto Undeground), which for a long time was considered secret, but is now open to the public. The cost of admission is 6 euros.
In Rome, by the way, there are also dungeons and catacombs, about which few people know.
Even if you come to Orvieto for 1 day, be sure to visit Civita di Bagnoregio – a city on a rock where time is said to have stopped. It's a thrilling adventure, as you will enter the town by a three hundred meter bridge over the gate of Saint Mary.
A guide will meet you in Orvieto, Viterbo or Orta, take you into the city and show you its ancient streets and the best views of the Valley of the Barren Lands (formerly the bottom of the ocean). You will learn why the city is crumbling and many other interesting facts.
How to reach?
By train from Termini or Tiburtina train stations. Tickets range from 7.80 euros on a local train to 17.50 euros on a more comfortable train. All options are here.
Travel time is an hour or an hour and 15 minutes, depending on the type of train.
Assisi
If the Vatican was a must-visit, take a day trip from Rome to Assisi. This city in the region of Umbria is known as a place of worship of St. Francis of Assisi.
The main attraction, of course, is the Basilica di San Francesco d'Assisi, for which pilgrims come here.
But the city is interesting not only from a religious point of view, but also for those who like a quiet holiday. It's a great place to take a quiet walk and enjoy the peace and quiet without the crowds of tourists.
There are also a lot of wine tours in the city. Umbria and its wines! You can sign up for an inexpensive wine tour of Assisi at this link.
How to get from Rome to Assisi?
By train from Termini station. The ticket costs 10.95 euro one way. Travel time is 2:10-2:30 but note that there is a "long" train that takes 3,5 hours, don't miss it.
The bus will take you in 2.5 hours, but a little more expensive.
You can get from the Assisi train station to the historic part of town by bus, which starts from the train station building. Tickets are sold in the bar inside the station.
Spoleto.
Nice (and one of the oldest) towns in the Umbria region, 95 km from Rome. Unfortunately, not many travelers dignify it with their attention, and for good reason.
If you think about where to go from Rome for 1 day, choose Spoleto. Here you can see something new and fresh, not yet trampled by tourists. It is most convenient, by the way, to visit this city as part of a tour together with Perugia.
In Spoleto, the main attraction is the cathedral with the famous fresco "The Marriage of the Virgin" by Filippo Lippi. Also see the Rocca Albornoziana fortress and the 81 meter high tower bridge consisting of 10 arches.
Events in the city
Every year since 1958, Spoleto hosts a great event: the Two Worlds Festival, in which dancers, music, theater and film have taken part. The festival takes place in the first half of July.
There are plenty of festivals in Rome in the summer, too, so you might grab a few at once, including the Spoleto Festival.
How to reach?
Simply take the train from Termini station for a one-way ticket at €8.85 but sometimes cheaper. Travel time will be 1.5 hours.
Bomarzo Monster Park
There are many beautiful parks in Rome. But to see a truly amazing place, you must go to Bomarzo. In this case, it is not the city itself that is famous, but the Sacred Forest (Sacro Bosco) or, as it is also called, the Park of Monsters (Parco dei Mostri).
This imposing park was built by Pier Francesco Orsini in memory of his dead wife. Thanks to the fantastic figures hidden in different corners of the park, there is a feeling of something inexplicable and mysterious.
If you are traveling with children, they will love the walk. The only inconvenience is the inaccessibility of the park. The best way to see Bomarzo along with the town of Viterbo is on this 7.5-hour tour. The price includes an Italian lunch!
Practical information
Entrance fee : adults and children over 13 years old: 11 euros.
Opening hours : from 8:30 to 19:00 between April 1st and August 31st and from 8:30 to sunset the rest of the year.
How to reach?
The fastest and most convenient way is by car. You can rent a car or book a transfer.
By train (long but economical): from the train station Roma Ostiense (Pyramide metro) to Viterbo. The fare is 5.60 euros or 1.50 euros with a Metrebus Roma ticket. Travel time one way is 2 hours.
In Viterbo, take the Cotral bus towards Soriano (Via della Stazione Papacqua) and go to Bomarzo station (Piazza Matteotti). The travel time is 30 minutes. The ticket can be purchased at a tobacco kiosk or bar. The cost depends on the area, on average 2-3 euros.
And then you have to walk 15 minutes and you are in the park. The way is long, but beautiful.
We hope you enjoyed our selection of places and cities that are definitely worth a day trip from Rome. All of these points are not too far away, so you can combine them into one itinerary. By the way, we have a good article about an 8 day road trip through Italy, here it is.
Where to go from Rome for one day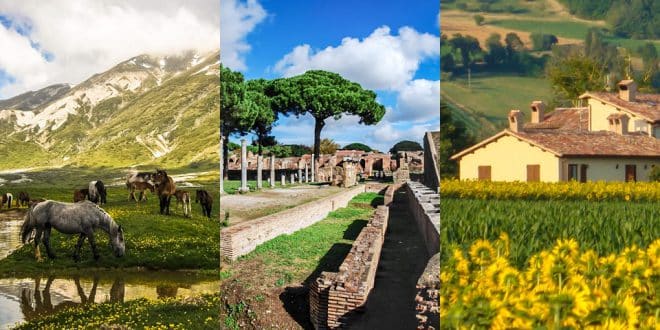 There are dozens of interesting cities and attractions around Rome where you can go for a day trip. Most places can be reached independently by public transport or you can book a private tour.
I present to you my personal list of destinations for day trips from Rome:
Tivoli
Tivoli is one of the first towns near Rome that I visited. Getting there on your own is relatively easy by public transportation, see instructions. Villa d'Este, Villa Gregoriana and Villa Adriana are very chic and the Ristorante Sibilla is a very tasty restaurant right by the waterfall.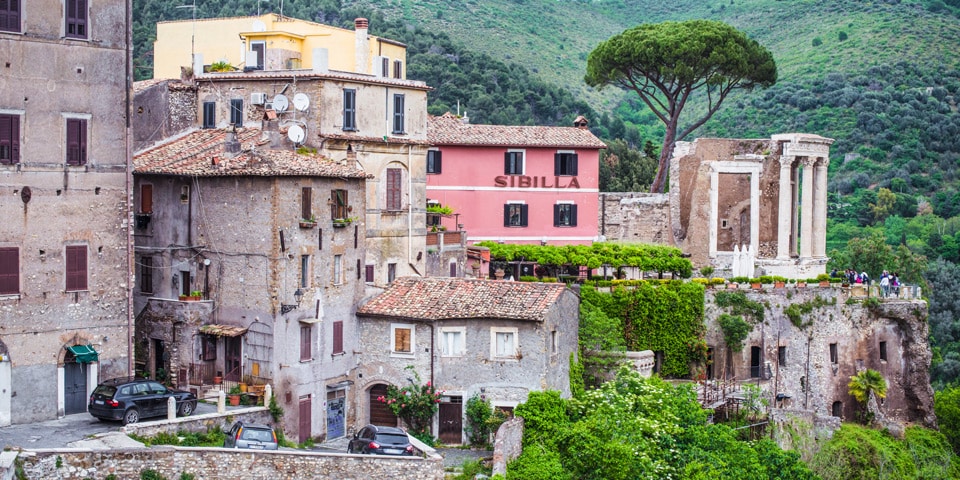 I recommend ordering an individual guided tour to Tivoli from Rome, your guide will pick you up straight from your hotel, explain the villas and take you to the restaurant and back.
Florence
Thanks to the high-speed trains Italotreno and Trenitalia, it is possible to visit the cradle of the Renaissance, Florence, in just 1.5 hours. Of course, the capital of Tuscany deserves to spend at least 3 days there, but in one day you can manage to run around the city and even visit the Galleria Uffizi.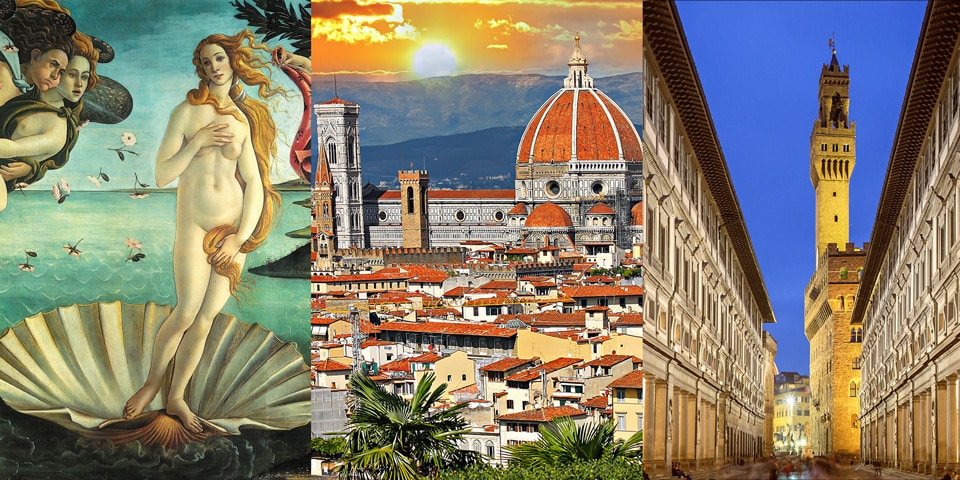 If you are not a professional art critic, I recommend to visit all galleries and museums in Rome, the Vatican and Florence only with a professional and interesting guide.
Castelli Romani
Castelli Romani (Castelli Romani) or Roman castles are one of the most popular destinations for lovers of good food and enjoy nature. The protected area of Castelli Romani includes 14 small, cozy towns.
Independently by public transport you can get to Castel Gandolfo (Castel Gandolfo). The ticket for the train costs 2.1 euros, the journey time is 41 minutes.

You can also book a tour of the papal summer residence on the official website of the Vatican Museums, see instructions. The tour costs 19 euros. Departure from Roma San Pietro station at 10:45, departure back at 17:24.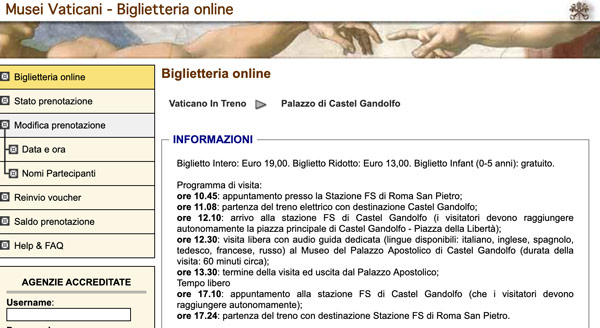 The town of Ariccia, famous for its Porchetta and Nemi, a strawberry paradise, can only be reached by car.
On an individual tour from Rome to Castelli Romani in a day you can visit:
The 2,400-year-old Appia Antica Ancient Road.
A walk through Castel Gandolfo and, if you wish, a tasting of wine, local cheeses, sausages, bread and olive oil, one of Rome's most beautiful mountain views and the deepest Italian lake Albano, formerly a volcano crater.
The town of Ariccia keeps the secret secrets of "porchetta": dozens of restaurants throughout the town serve suckling pig roasted with herbs and spices.
Nemi is a strawberry paradise, where you can taste strawberries and other wild berries all year round. Nemi is one of the smallest towns in Castelli, and at the same time the most soulful.
The winery in the town of Frascati – a visit to the farm, where 50 hectares of picturesque vineyards and olive groves.
The tour lasts from 4 to 8 hours, see full description.
Orvieto
A real marvel to fly from Rome to Orvieto is the city's cathedral, an incredible example of Italian Gothic mosaics, reliefs and frescoes, which may have inspired Michelangelo himself for his "Last Judgment" fresco in the Cappella Sistina in the Vatican. In addition, those who have already visited the Vatican Museums will finally see for themselves the relic and learn the story behind Raffaello Santi's fresco of the Mass at Bolsena, painted for the chambers of Pope Julius II at the Vatican.
There is a direct regional train from Rome to Orvieto once an hour, the ticket costs 8,25 euro and travel time is about 1,5 hours.

You can go to Orvieto and Bagnoregio as an individual tour with a guide from our team.
Read more about the main attractions of Orvieto.
At sea
There are many beaches near Rome where you can go not only in summer but also in autumn. The bathing season is until the end of September.
I will tell you only about those beaches that can be reached independently by public transport on a day trip:
Ostia Lido.
The closest beach to Rome is in Ostia Lido. The trip by train from the metro station Piramida takes 30 minutes and costs 1.5 euros one way. See the step-by-step instructions. I also suggest visiting the archaeological site of Ostia Antica, which is on the way.
Santa Marinella.
You can also head north to the town of Santa Marinella (Santa Marinella), home to a beach popular with Italians. Regional trains leave several times an hour from Roma Termini station and Roma S.Pietro station near the Vatican.

Sperlonga
Less convenient but theoretically possible to take a day trip to Sperlonga, which is my favorite place near Rome, especially in the off-season. I suggest leaving as early as possible on the regional train in the direction of Fondi-Sperlonga, the ticket costs 7 euros. From there, a bus will take you to Sperlonga in 15 minutes and about 1 euro.

Watch the schedule carefully and always keep an option in mind for getting back on another train.
Ancient Ostia
Ostia Antica is located 30 km from Rome. It is convenient to get there by the same train from the metro station Piramide as to the sea. The ticket costs 1.5 euros.
5 reasons to visit the ancient city of Ostia Antica:
This route is not offered by popular tour operators, so there are not many tourists here;
You can see what you can't see on one excursion in Rome: forum, theater, temples, thermae, houses of ordinary Romans, taverns, mosaics, frescoes, necropolis, toilet, and even an underground temple of the god Mithras!
You can not only experience Roman history, but also touch it! Here you can enter the houses where the Romans lived, the thermae where they bathed, the taverns where they ate and drank. It is a rare opportunity to experience the history of an ancient city without fences, video cameras and strict caretakers.
Ostia Antica is a stunning combination of archaeology and nature. Here you will find a large number of pine trees – sea pines with a fluffy umbrella crown, which are adored by travelers and locals alike.
The area of excavations in Ostia is almost 2 times larger than Pompeii, so it is impossible to deny yourself the pleasure of visiting this amazing place!
See the description of the tour to Ostia.
Naples
Napoli is only an hour away from Rome by high-speed train, see the guide. By yourself I advise only experienced and courageous travelers to walk in Naples, the rest strongly recommend to take at least one sightseeing tour with a local guide to orient in the city. In any case, leave all the jewelry in the hotel safe in Rome. Naples is a poor city and there is no need to draw attention to yourself.

Theoretically, if you leave early in the morning, you can even tick off the island of Capri or Iscia, where boats leave from the port of Naples several times an hour.
Note the program "All Naples in 1 Day" which includes a guided visit to ancient Pompeii and Vesuvius volcano, and is perfectly planned for a day trip from Rome.
Lake Bracciano
A trip from Rome to volcanic Lake Bracciano is an amazing opportunity to have a variety of experiences that will not leave anyone indifferent: stroll through the halls of a medieval castle, wander among the streets of old towns, feed the seagulls and swans, see a magical flower house, taste the lake fish in a local restaurant with a view of the lake.
There's also a free but very cool airplane museum near the lake, as well as the picturesque towns of Anguillara Sabazia and Trevignano.
See the description of the tour to Bracciano from Rome
Gran Sasso National Park – eat Arrosticini
If you're traveling around Italy on your own in a rental car and have chosen Rome as your overnight destination for a few days, a cool idea is to take a day trip to the Parco Nazionale del Gran Sasso to eat Arrosticini, for example.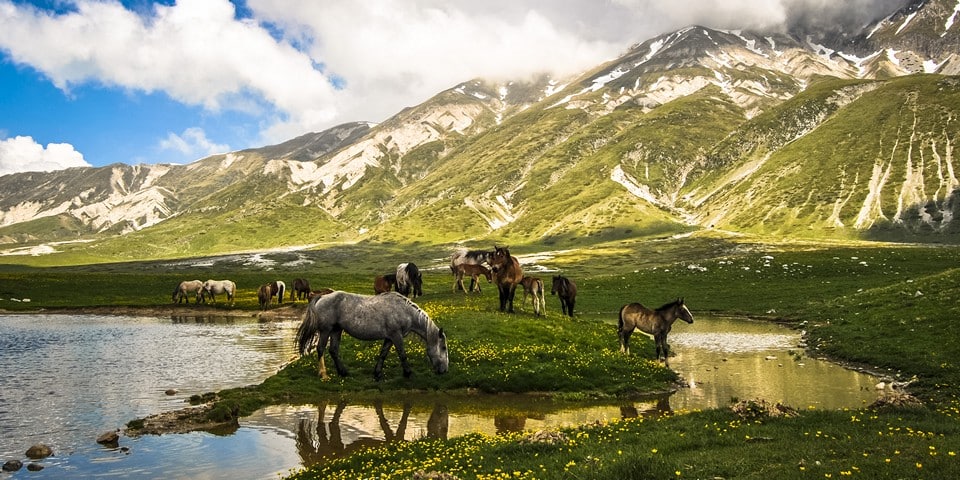 The trip itself, which takes about 2 hours, is already an unforgettable adventure. Watch a video of how my friend Leonardo and I periodically go to Gran Sasso:
Calcata
Calcata is a small fairy-tale town, 50 km from Rome, not very popular and not very popular because you can't get there by public transport, but only by car.
This medieval town with a population of less than 1000 people is located right on a rock 220 meters above sea level, in the gorge of an ancient river. The nature around is simply wonderful: here, for hundreds of thousands of years, volcanic eruptions and the river have created a striking area – valleys, canyon, forest everywhere, and the river Treja, which flows quietly below.
Calcata is not only a "city on a rock," its other peculiarity is that it has been home to a community of artists and hippies since the 60's, and there are certainly as many cats in the city as there are people.
Excursions to Calcata are led by my friend Leonardo, who speaks excellent Russian and knows the Lazio region very well.
The Land of Olive Oil
Sabina is one of the most important and beautiful regions in Italy, where the olive oil is produced, this divine nectar, is located 30 minutes by car from Rome! On your own, I suggest a trip to the beautiful town of Fara in Sabina.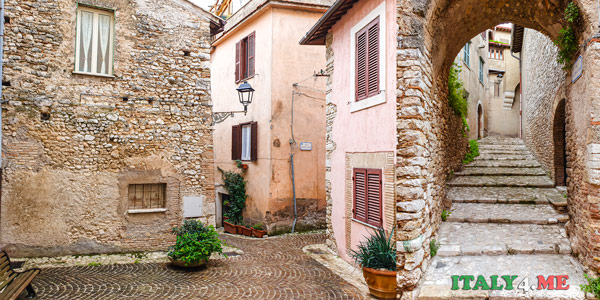 We usually buy Pecorino sheep cheese and olive oil from them.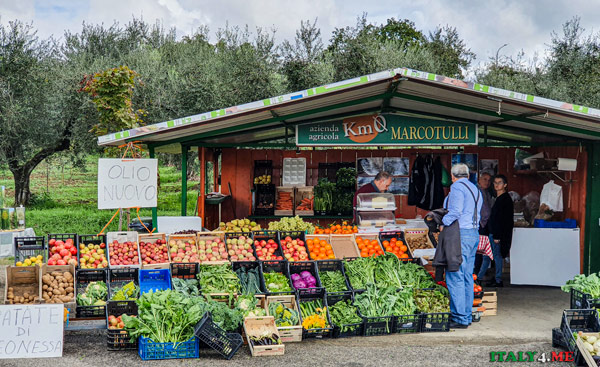 On the way back you can visit the restaurant and local delicatessen store www.ecofattorie.it at Via Ternana, 2, 02047 Poggio Mirteto Scalo RI. Prices for cheeses, sausages and olive oil are 1.5-2 times lower than in Rome.
Those who want to feel the local color, to see the largest olive tree in Lazio are invited on a tour with my friend Leonardo, who speaks Russian. Leo is a great patriot of the region and Italian cuisine, will be happy to show you his native places.
Umbria
Umbria is a region neighboring Lazio, called the lungs of Italy. Umbria is manageable in 2 hours by your own car.
From Rome we organize individual excursions to Umbria. Let me just quote my fellow guide Vladislav:
"The excursion from Rome to the enchanting Umbria runs through the famous vineyards. The legendary path of Sagrantino, where the air is saturated with the aroma of the noblest varieties of grapes. And during the period of distillation the air is saturated with intoxicating aromas. The wonderful wines of Sagrantino and Grechetto are good all year round. Let's try ourselves as a sommelier and enjoy their wonderful bouquet."
Bologna
Although Bologna is 370 km away from Rome, it's possible to visit this wonderful city for a day trip. The trip takes 3 hours and round-trip tickets cost about 130 euros per person. If you are going to Bologna, you should arrive by morning train at 9 am. Back to Rome, look for tickets for 18:00 hours.
– Bologna, through the eyes of locals
To Pisa
The trip to Pisa from Rome takes about 3 hours, with a one-way ticket ranging from €24.90 to €66. I suggest taking the morning Frecciabianca, Trenitalia train at 06:57 to get to Piazza dei Miracoli by 10 o'clock.

Two hours will give you enough time to climb the Falling Tower (Torre pendente di Pisa) and take creative photos with it. Get ideas for photos with the tower from this article.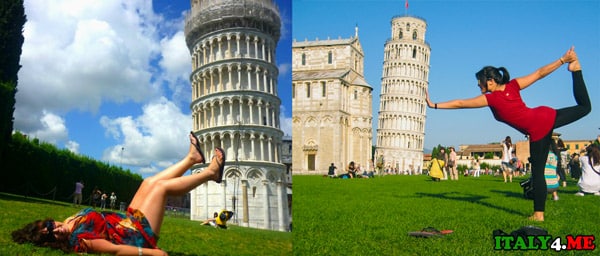 By 12:00-12:30 the local restaurants will be open for lunch and after the meal you can head back to Rome for the perfect plan for the day.
As you can see, there are dozens of interesting destinations to go to for the day from Rome. Share your experiences and impressions in the comments. Where did you go, what did you like best?