8 good reasons to choose Valencia as your next vacation destination
Valencia is in vogue among travelers. The influential American publication The New York Times in its travel guide, which gives alternatives to the most popular (and therefore oversaturated by tourists) European travel destinations, recommends choosing the city on the river Turia instead of the overcrowded Barcelona.
The New York Times insists that Valencia is in no way inferior to the hyped Barcelona, and in connection with the excessive flow of tourists, unstable political and social situation, increasing crime rates and inflated prices in the latter also gets a number of compelling advantages.
Valencia vs Barcelona
With a population of 800,000 people Valencia is visited by 2 million tourists a year. For comparison, Barcelona in 2019 broke the record of 12 million tourists with a population of 5.5 million. The Catalan capital is on the list of the busiest cities in the world along with Amsterdam, Paris, Prague, Rome, Stockholm, San Francisco, Toronto and Vancouver. This state of affairs could not but affect the quality of recreation and comfort of both locals and tourists themselves, as well as such indicators as security, prices, easy access to attractions, etc.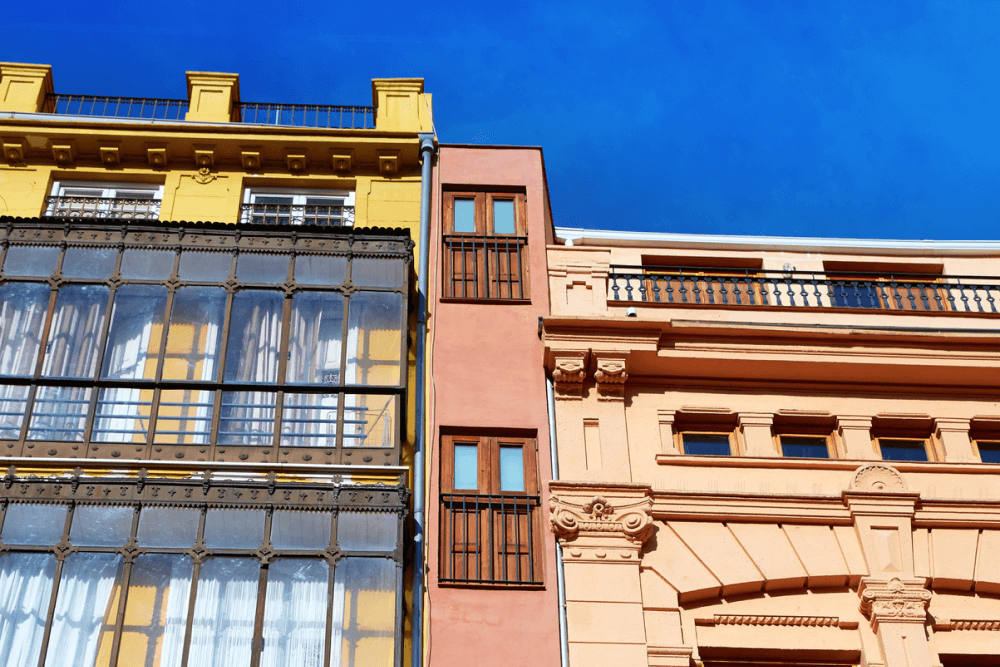 Valencia apartments for rent – an expert in Valencia will help you select the right apartments for rent, sign contracts with tenants, and accompany you to property viewings.
The safety aspect of Valencia is not even remotely bad, and according to numbeo, its safety score is 91,10 out of a hundred by day and 76,30 by night, while the crime rate is 17,73 out of a hundred. By comparison, in Barcelona these numbers are 75.06, 51.44 and 48.16 respectively.
The best attractions of Valencia according to The New York Times
Among the pluses and attractions of Valencia, the American edition highlights the following:
The Cathedral, which was built between the thirteenth and eighteenth centuries, and in the appearance of which several styles merged.
Silk Exchange (Lonja de la Seda) of the XV century, declared a UNESCO World Heritage Site and is a reminder that Valencia was and is an important strategic trading point.
City of Arts and Sciences (Ciudad de las Artes y las Ciencias) built by Santiago Calatrava and Félix Candela. Read more about this unique complex in our article.
The Bioparc of Valencia is one of the main zoos in Spain with more than 800 animals of 116 species. The animals live in conditions as close to natural as possible, and you can interact with some of them: feed them and pet them.
Valencia Marina, where the headquarters of the America's Cup sailing used to be.
Magnificent beaches.
More than 300 days of sunshine a year.
Restaurants with top-notch cuisine, such as celebrity chef Ricard Camarena's restaurant in the Bombas Gens arts center and the legendary La Marcelina restaurant. In addition, The New York Times notes that Valencia is considered "the cradle of paella.
Exclusive hotel on Las Arenas Beach.
A historic city center full of architectural treasures in Gothic, Romanesque, Renaissance and Baroque styles.
The modern markets of Mercado Central and Mercado de Colón, considered some of the most beautiful in Spain.
The bohemian districts of El Carmen and Ruzafa are the hub of fashion and culture in the city.
The Jardín del Turia is a unique park in Valencia, located in the dry riverbed of the Turia River, and we would like to elaborate.
Jardín del Turia in Valencia is "Spain's Central Park" according to The New York Times
The publication calls it the "Central Park of Spain". With an area of 100 hectares and a length of 9 km, he is the largest city park in the country.
Strange as it may seem and sad, Jardín del Turia was born out of tragedy: In 1957 a major flooding occurred due to the release of the river Turia which killed more than 100 people and caused millions of dollars in damages. By order of July 22, 1958, the Council of Ministers approved the construction of a new riverbed, outside the city, which cost 6 billion pesetas. Work began in 1965 and ended in 1969. But the river did not flow in the new channel until four years later, in 1973.
Another 13 years later a park was opened in the dry riverbed of the Turia, with the participation of renowned architects such as Ricardo Bofill, Santiago Calatrava and the Vetges Tú – Mediterrània team. In this way, the old riverbed, once a source of numerous problems, has been transformed into the "green lungs" of Valencia and one of the main attractions of the city and a cultural and leisure center: the beautiful Music Palace, bicycle paths throughout the park, sports spaces, playgrounds, including the unique Gulliver Park, made in the form of a giant figure with slides and "climbers" for children, all this and much more can be found here.
You can read about other parks in Valencia here.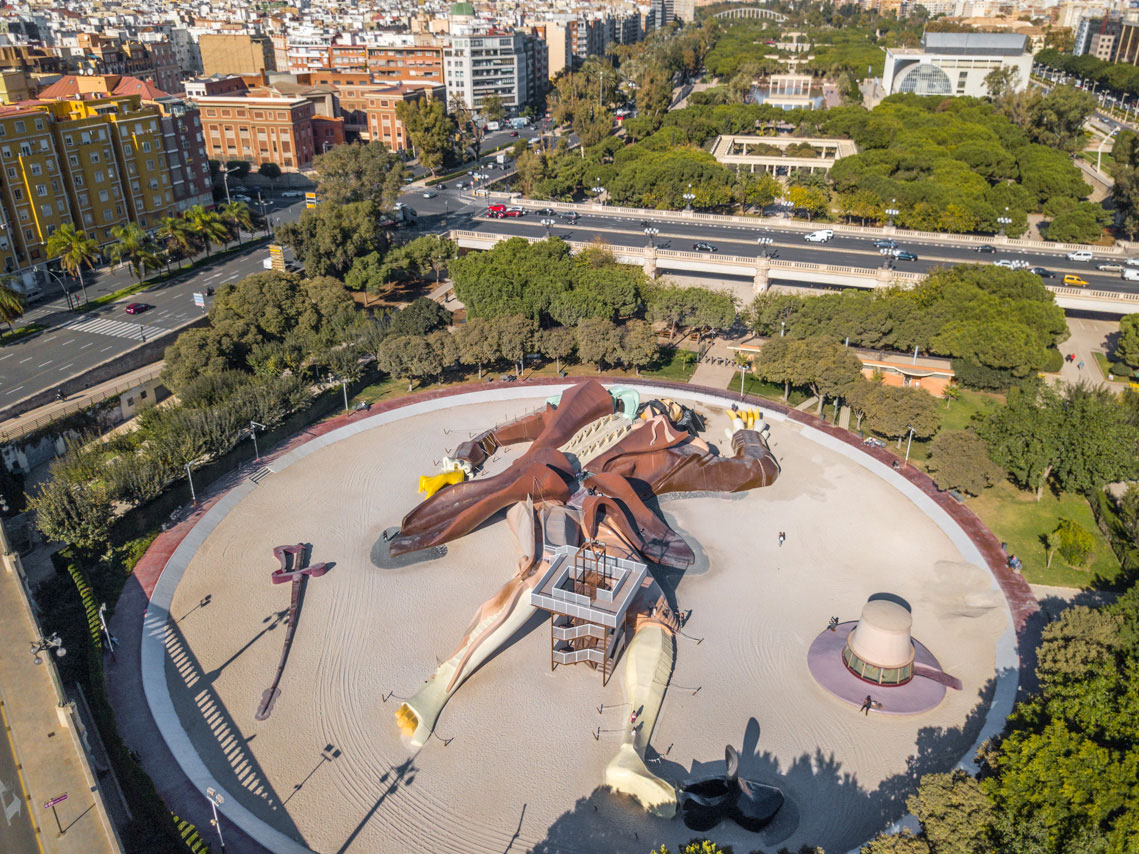 Valencia is one of the best cities in Spain to live and work in
The article concludes with the words: "Obviously, any European city with over 300 days of sunshine a year, endless beaches, world class culture, superb gastronomy and impressive architecture will never lack for tourists, however Valencia has managed to avoid an excessive influx of visitors, thoughtlessly running from one attraction to another, leaving behind mountains of garbage and causing outrage from locals".
We agree with these words: Valencia is a remarkably beautiful, hospitable and luminous city with its own atmosphere and many charming nooks and crannies which are a pleasure to discover. Another undeniable plus is the smiles and friendly attitude of the people who live here and who do not suffer from the crowds of tourists, not only because Valencia has not yet become an overloaded tourist destination, but also due to the competent policy of the local authorities. The administration of the city is doing everything possible to make the city comfortable for everyone – both for tourists and locals, so Valencia is safe to choose both for leisure and for life.
If you are interested in living, studying or working in Valencia, or coming here for vacation, please contact our experts who will help you find a place to rent and buy, arrange residence permit, buy real estate, arrange a child in school, etc.
Top 10 reasons to visit Valencia
Most tourists visiting Spain are limited to Barcelona and resort towns on the Costa Brava and Costa Dorada. On rare occasions, receives attention and the capital of Spain – Madrid, but in Spain there is a huge number of cities that deserve attention and tourism in them is developed as well. One of these cities is Valencia, which is the third city in Spain by number of inhabitants (after Madrid and Barcelona) and is located on the Mediterranean coast. We were able to visit this wonderful city and we've compiled a small TOP-10 reasons why you should definitely come here.
300 days of sunshine a year
Valencia is a very warm and sunny city. In comparison, Valencia has a higher average annual temperature than Barcelona and a considerably lower rainfall. January is the coldest month of the year and the weather is great, so you can still enjoy a nice day out in a T-shirt;
Valencia's beautiful gardens and national parks
Valencia is a very green city and even in the small squares or parks hidden between houses, you can find mighty trees, as if you were somewhere in the jungle, or orange plantations. What about Valencia's central park, the Jardi del Túria, which stretches around the old city for 9 km. But that's not all: the Jardines de Monforte, the Jardines del Real, the Jardines de la Glorieta, the Jardí Botànic and of course the El Parque natural de la Albufera, a national park 15 km from the city;
Valencia's historic value
Valencia was founded by the Romans in 138 B.C. Even today the city has something to offer: Old towers and city walls, cathedrals and bell towers of the 13th and 14th centuries, squares, bridges and palaces. You are bound to be enchanted by the Plaça de la Verge and the Valencia Cathedral, the home of the world-famous Grail. See more about what to see in Valencia in the general information about Valencia;
Cuisine of Valencia
There's a reason why this chicken and rabbit paella is called 'paella valenciana' and considered by many to be the most delicious! Where better to try this dish than in Valencia itself? The local cuisine is not only about seafood and rice. The selection of bocadillos (appetizers), empanadillas (pastries), and the delicious baked potatoes served as a snack with tomato sauce is simply sensational. The famous drink Horchata of peanuts and the place where it is served (Horchateria) is a local landmark. Don't forget the sweet treats: churros with a glass of chocolate, Fartons, cookies with almonds, coconut and marzipan, and from December to January you can indulge in a Christmas cake – Roscón de Reyes;
Valencia's kilometers of sandy beaches
Do not forget that in addition to the beautiful old city, whose streets you can walk around for a day, Valencia is located on the coast and there are wonderful beaches and promenades right in the city limits. The city beaches of Las Arenas and La Malvarossa are just a few minutes from the center. Venture further afield and you'll find secluded beaches, such as those at the Albufera Nature Reserve;
Valencia as a symbol of the European avant-garde
Many of you have seen photos of the famous City of Arts and Sciences (Ciutat de les Arts i les Ciències) and were probably surprised to learn that it is located in an ancient Spanish town. The amazing creations by architects Santiago Calatrava and Félix Candela will amaze even the sophisticated tourist. The huge complex of 350,000 square meters, consisting of five buildings, is surrounded by a park, streams and pools. It is already called the outstanding example of modern architecture. It is definitely worth a visit, both during the day and at night. The spectacle of Valencia in its third millennium will be remembered for a lifetime;
Valencia Football Club
To talk about Spanish soccer, probably, is not necessary – everyone understands the level. Valencia soccer club is not a provincial team, one of the giants of Spanish soccer and the champion of Spain in the recent past. Even not ardent soccer fans go after visiting home games charged to 100%. At these matches there is a special atmosphere, the same can not be found, not even at the games of the Russian teams, but even at the huge Camp Nou of Barcelona. The whole city, every resident cheers for Valencia. There are few tourists here, and it seems that every fan knows the other one by sight. You won't find so much emotion, excitement and support and by the end of the match you'll be jumping up and down with the locals, embracing with them after every goal scored by your favorite team. A visit to the Estadio Mestalla will allow you to take in the city and the local spirit even more;
Valencia's Festivals
If you plan your trip around one of the local festivals, you are guaranteed a lot of extra impressions. Valencia loves festivals and celebrates them in style. The most famous is the festival of the Fallas or the festival of fire (Las Fallas), which is celebrated annually from March 14 to 19. This holiday is accompanied by a huge number of fireworks, burning dolls, which are set up throughout the city during the festive week, parades and dances;
Graffiti Valencia.
If you love street art, it's not just in London or New York that you can enjoy it to your heart's content. In Valencia's old town, almost every other building is covered in graffiti. You can walk for hours, turning into this or that alley, bumping into a new creation of street artists. It is so beautiful, when the city opens up to you from different sides and Valencia is not just a Spanish small town with a central square, and an interesting city in which there is a place even for contemporary art;
Valencia's museums
Museum lovers have a lot to see here as well. Valencia Institute of Modern Art (El Instituto Valenciano de Arte Moderno, IVAM), Valencia Museum of Illustration and Modernity (Museu Valencià de la Illustració i la Modernitat), Museum in the Silk Exchange (Lonja de la Seda), Museum of Fine Arts (Museo de Bellas Artes de Valencia), Museo Nacional de Cerámica y de las Artes Suntuarias González Martí, Museo Histórico Militar de Valencia, Museo de historia de Valencia, Museo Fallero and many others.
If after reading this article you want to visit this wonderful city, on our website you can find out in detail how to do it by reading the columns "General information about Valencia" or "How to get to Valencia". And you can also immediately download information about Valencia in PDF format for printing and quick access (if you don't have internet access): "Brochure. General information about Valencia." Let it be your small and free guidebook!