Istanbul's non-touristy places
Istanbul is a majestic city in which you can live for a month and not explore even a 10th of it. But, if you have already visited the main attractions of Istanbul and the museums of Istanbul, inquisitive travelers will have a question, what interesting non-tourist places can be found in Istanbul. In this article, we will try to answer this question.
Istanbul Markets
The Egyptian spice market and the Grand Bazaar can hardly be called non-tourist places, but these markets have preserved their identity, and it is very interesting to wander around them and look for gifts for yourself and your loved ones. What can you bring from Istanbul, you ask? Anything: a turk, handmade lamp or candlestick, handkerchiefs, oriental sweets, spices. It's all available in these bazaars. Or maybe you'll be lucky enough to find some treasure among tons of trinkets and incomprehensible things.
Everything is clear with the markets in the center of Istanbul, but if you want to see where the locals buy, then try to ride to the Beşiktaş Fish Market. In general, Beşiktaş Fish Market sells a lot of local products such as textile and other Turkish knick-knacks, apart from seafood. And if you go down from the market to the seafront, you can have lunch in numerous cafes or simply take a break and drink Turkish tea.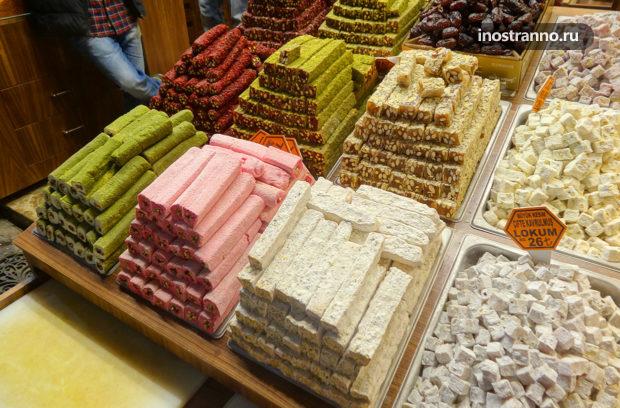 Ferry between the Asian and European parts of Istanbul
There is no other city on the planet that is located on two continents. And it's a sin not to take advantage of this advantageous geographic location and take a regular ferry ride with the locals from Asia to Europe. In addition to enjoying the views of Istanbul for a small fee, you will be able to see the ordinary people of the city going to work. Would you agree that it's not every day you take such a magical journey between continents in 20 minutes?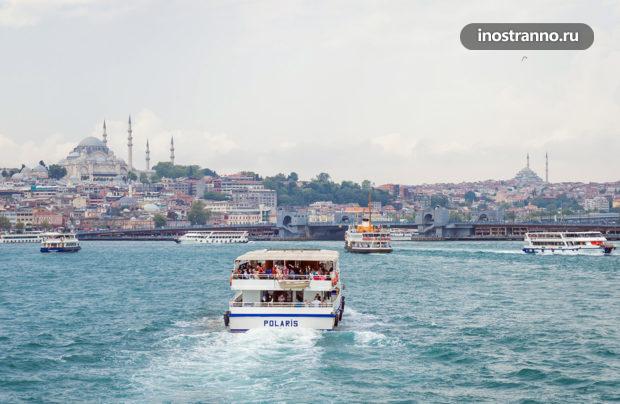 Streets with Street Art
Istanbul is a city in which you will find a large amount of colorful graffiti. That's because in this multimillion-dollar city there are many people who want to use this form of art to protest, to disagree with the authorities or just to show how cool they paint. Graffiti is scattered all over the city, but the largest numbers are in the Sishan, Karakoy, and Kadikoy neighborhoods. If you are afraid of getting lost in Istanbul's illogical labyrinthine streets, you can join the city's famous Istanbul Street Art Walk or download the special Streetart-Istanbul app with graffiti markings on a map.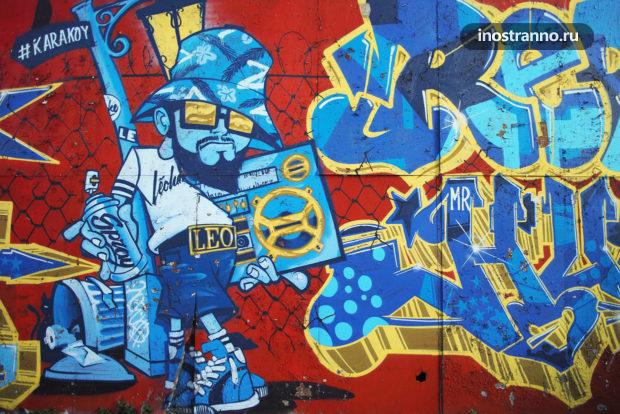 The Colorful Staircase
Despite the fact that the multicolored staircase has already become quite a popular place among visitors to Istanbul, it still looks unusual, and causes delight to photographers. How did this work of art come about? Once a local resident painted the staircase to decorate his neighborhood. But the authorities considered it an act of vandalism and a couple of days later repainted it gray! After that, people painted several staircases in the neighborhood in protest and never repainted them again. The most popular staircase is near Cafe Nove in Beyoglu.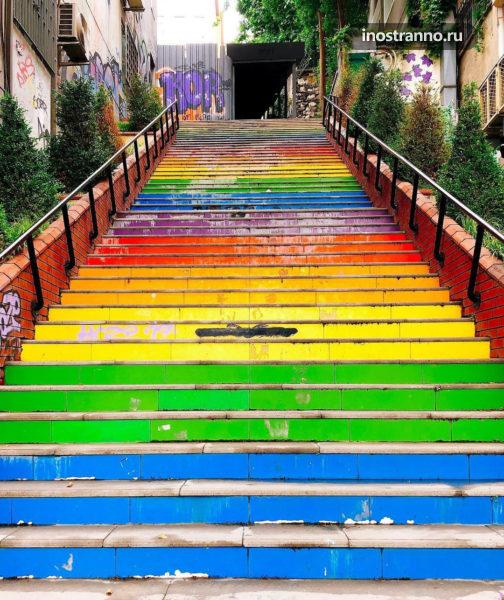 The umbrella street in the Karakey neighborhood
Streets with umbrellas have become a decoration of many cities in the world, and Istanbul is no exception. If you want to take bright, positive photos, go to Karaköy, which has many cafes and stores in its narrow cobblestone streets, and where you will find this umbrella street next to the Karaköy Bulldog Café.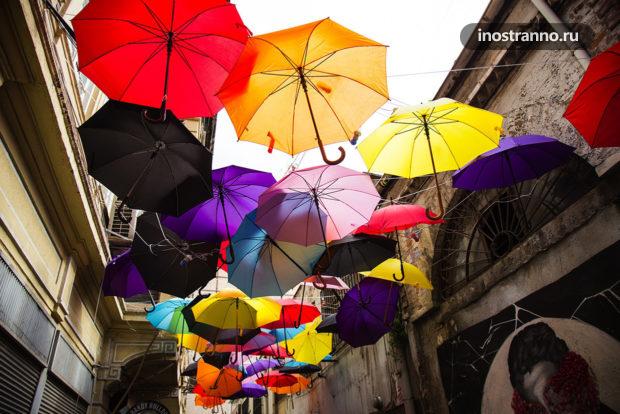 Istanbul Railway Museum
Istanbul Railway Museum (İstanbul Demiryolu Müzesi) is located at Sirkeci Terminal station, which was the terminus of the Orient Express. The museum is small and you can save 30 minutes for a visit. But you can touch the history of the famous train and see many exhibits (about 300 pieces), old photographs and various elements of the train.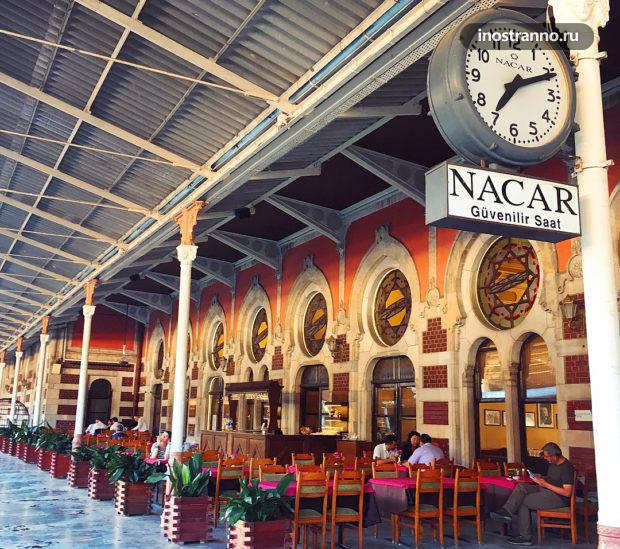 Turkish bath hamam.
For those who do not know, hamam is a Turkish bath with a lot of steam. Visiting the Hamam is a whole ritual: you first need to get a good steaming, sitting on marble slabs, and then you can go for procedures. Procedures consist of bath attendants rubbing you with a rough loofah, removing dead skin cells, and then making a gentle foam massage.
There are a lot of Hamams in Istanbul: there are public and hotel Hamams. It is a great way to recover from the many kilometers of walking around Istanbul.
I would advise you to visit one of the historic hamams:
Süleymaniye hamamı, a beautiful 16th century architectural complex that is still very popular today. The cost of the visit, which includes Hamam+foam massage+peeling package, is 40 Euros.
Ayasofya Hürrem Sultan Hamami is a luxurious and very famous bath in Istanbul, which is recognized as an architectural masterpiece. In this Hamam you can be really royally steamed and feel like a sultan, because even the basins and taps are gilded! The cost of visiting this bathhouse is 80-160 Euros depending on the package.
Ali Paşa Hamam (Kılıç Ali Paşa Hamamı) is a popular and lovely Hamam, completely renovated in 2012. Fee for a visit with Hamam ritual + foam massage + peeling: 40 Euro.
Çemberlitaş Hamamı is a historical Turkish bath. We offer a variety of services, the Hamam alone costs 20 Euros.
Cağaloğlu Hamamı – The fee for a visit is 20 Euros.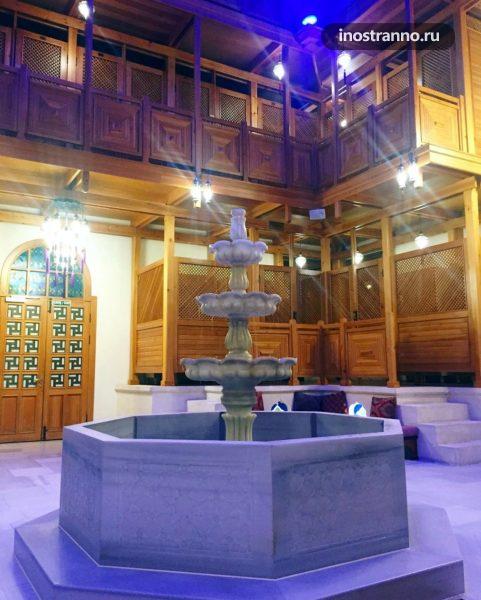 Hookah Smoking
Since you came to Istanbul and are in search of non-tourist attractions you should definitely plunge into the atmosphere of the 17th century and visit one of the numerous hookah houses of the city. I'm not urging you to become an avid smoker, but I advise you just to visit an authentic place and smoke hookah from the real Eastern gurus. Before ordering a hookah, be sure to tell the hookah-maker your taste preferences, so that you get a really great hookah. We'll serve traditional strong black Turkish tea to your hookah.
Erenler Nargile
Ağa Kapısı Cafe
Sadabat Nargile & Cafe
Ali Paşa Medresesi – Get a taste of old Turkey in this colorful hookah bar.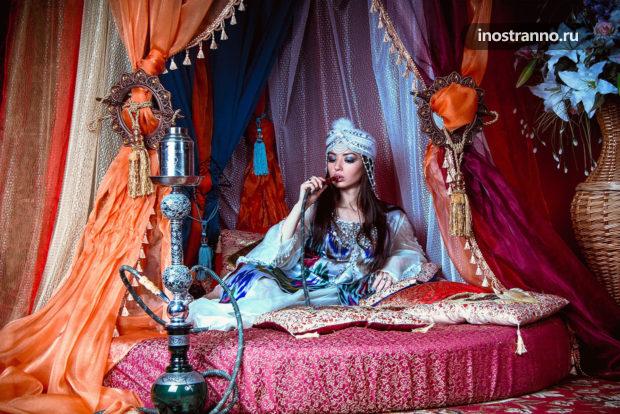 Street Food
Istanbul is not a city to be spent in restaurants, it is a city designed for walking around and trying street food, and the variety is breathtaking!
There are street food vendors in every corner of Istanbul. What are the best things to try? The classics of street food are a good place to start:
Turkish sesame bagels Simit, an Istanbul street-food classic.
Dolma in mussels (Midye Dolmasi)
Kokoreç (kokoreç) – a giblet dish.
Döner – no need to explain what it is.
Alyk-ekmek – fish-bread, i.e., fresh fried fish stacked in a half loaf with vegetables and herbs.
Kumpir – large potatoes baked in the skin and filled with butter and cheese and various ingredients: lettuce, vegetables, mushrooms, sausages, etc.
Turkish Pide pizza.
Gözleme is a flatbread with a filling. The filling can be very different: cheese, potatoes, spinach, mushrooms, minced meat, egg.
Börek – pie with filling (minced meat, potatoes and cheese).
Lahmajun – a type of so-called Turkish pizza. Ground meat, tomatoes, bell peppers, onions, garlic, herbs and spices are placed on a crispy flatbread.
Sweets and tea
Turkey – an agricultural country, so here on every corner you will find the sale of freshly squeezed juices from ripe fruit. Drink them in good health, because they are quite inexpensive.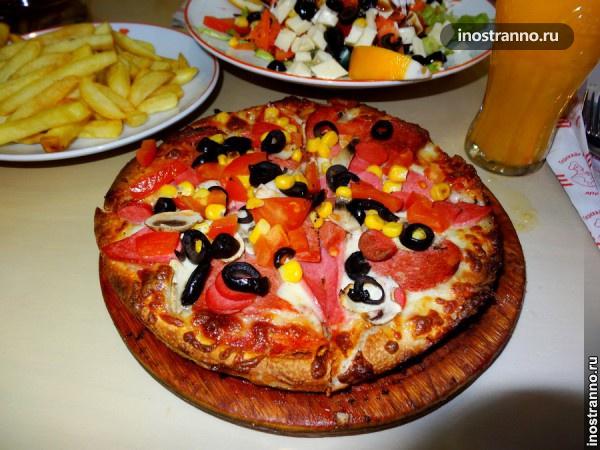 A non-touristy observation deck
If you are tired of the touristy center of Istanbul, here is my advice – go to Pierre Loti Café Tea House. This modern tea house is located on a hill in the Eyüp district, with a breathtaking view of the Golden Horn Bay. The cafe is very cozy, decorated with old photographs, furnished with cute wooden furniture, and the tables are decorated with traditional white and red tablecloths. This cute cafe is like taking you back to the 19th century. You can take the Pierre Loti cable car up to the café, which is also a kind of interesting attraction.
In addition to visiting this beautiful tea house, you can also stop in for breakfast at Bâb-ı Âli Kahvesi or İstanbul Sapphire Seyir Terasi.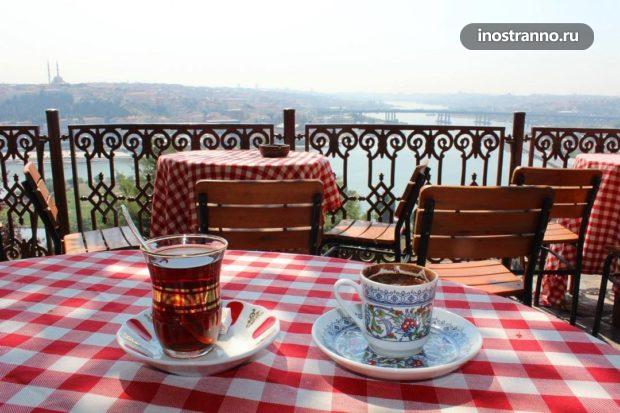 A coffee shop in the style of 'Breaking Bad'.
Fans of Breaking Bad will be happy to visit an unusual coffee bar and bar called Walter's Coffee Roastery that resembles a chemical laboratory. In the cafe you can feel like the famous chemist Walter White and make yourself a favorite drink. Coffee is not expensive here: a cup of Latte costs about 1,5 Euro.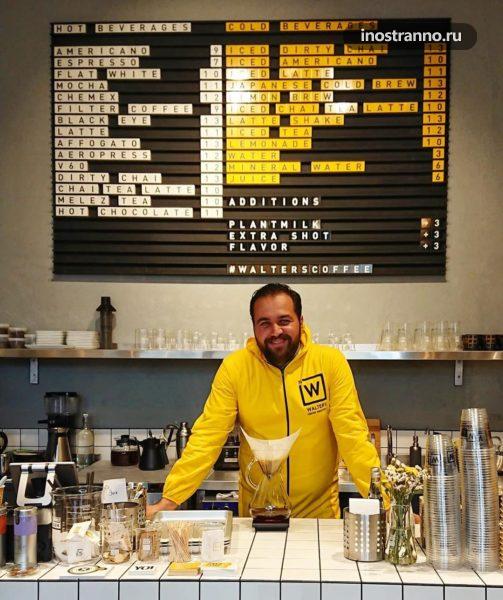 St. Stephen's Church in Bulgaria
You did not expect to find an Orthodox church in Istanbul? Well, there is. This Orthodox church was erected in honor of the First Martyr Stefan and belongs to the Bulgarian community of Istanbul. The main feature of the church is that it is made entirely of cast iron. It is one of the few churches left in the world that is made of this material. The church looks very unusual. You can reach the church by ferry running on the Golden Horn Bay (from Karakei or Uskudar, sail to the pier Fener).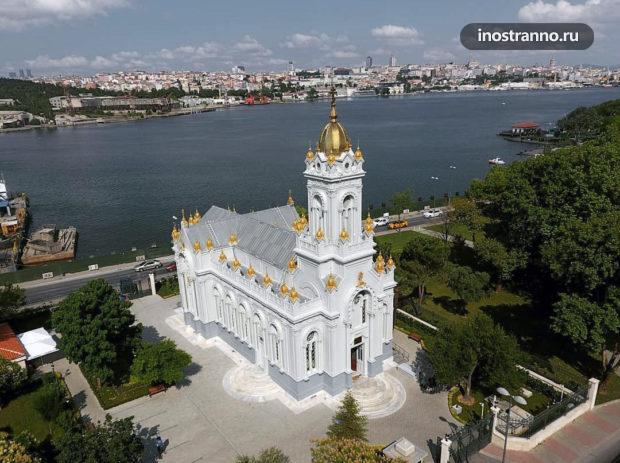 Take a walk through interesting neighborhoods
Fans of interesting architecture should take a walk through some of Istanbul's neighborhoods:
Fener, a Greek neighborhood with colorful houses, cobblestone streets and cute buildings.
Balat – A Jewish neighborhood with colorful houses, historic buildings, and vintage stores. In addition to Istanbul's oldest synagogue, there are also Greek and Armenian churches in Balat.
Kuzguncuk is another neighborhood with colorful quaint houses.
Arnavutköy is a very beautiful neighborhood with a promenade on the Bosphorus. It is famous for its wooden houses and fish restaurants.
Yeniköy is an affluent neighborhood of Istanbul located on the European side of the Bosporus. Yeniköy is home to Istanbul's wealthy residents and prominent politicians. The beautiful Ottoman houses stretching in rows along the water and the fish restaurants are noteworthy. There is an interesting Köybaşı Caddesi street which stretches under the crowns of plane trees. The neighborhood neighbors the Besiktas neighborhood where the Dolmabahçe Palace and the Çırağan Palace are located. You can get to the district with transfers by bus number 336M.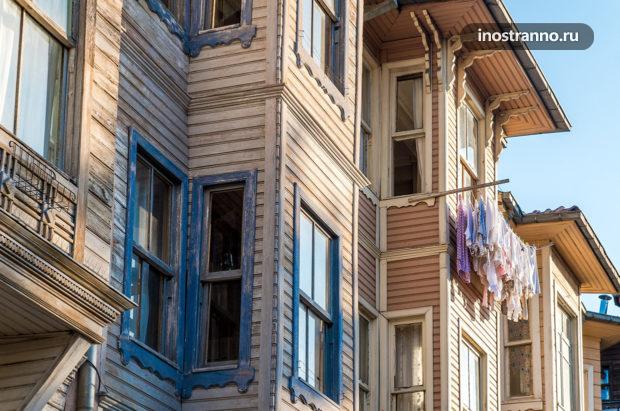 Take hundreds of pictures of cats
Istanbul is a real city of cats, which can be found everywhere – at the main attractions, and on the trees, and on the piers. In the article about cats in Turkey I told you why cats have become sacred animals in Turkey, I will not repeat myself. I just advise you to always keep your camera at the ready, because you never know where you will meet another furry cutie. Cats in Istanbul are very kind and trusting, as the inhabitants of the city constantly feed them, so do not be afraid to pet them or give them a little food.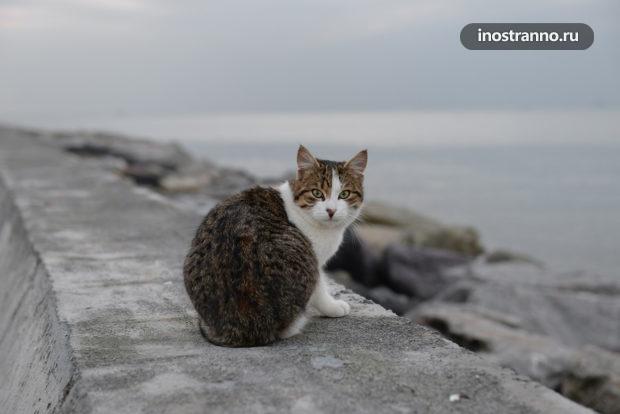 Stay in an unusual hotel in Istanbul
Istanbul is a city of contrasts, so you will find a lot of interesting and chic hotels, as well as exclusive apartments. For example, the Empress Zoe Hotel (from 45 euros per night), which is located in the heart of Istanbul in an old building, but its rooms are decorated very colorful and very clean. It is not for nothing that the hotel has earned the love of tourists and a rating of 9.2.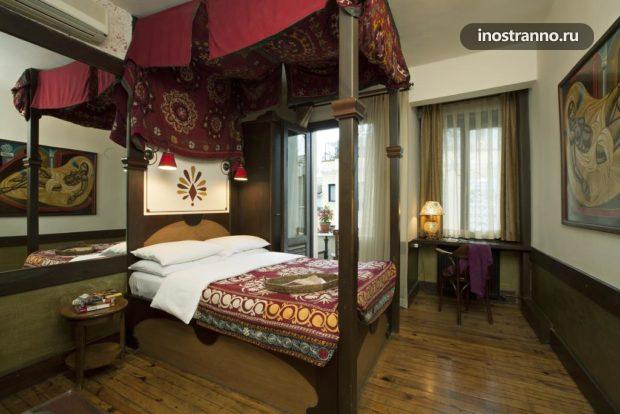 Do you think that hotels are soulless? Then go to the website Airbnb, which offers exclusive apartments and apartments all over Istanbul. You'll find something for every taste, from modern to traditional. If you're not a registered user, you'll get a €30 discount when you first check in. The cost per night varies from 9 euros for a simple apartment to 300 euros per night in a penthouse with a pool. For 200 Euros you can rent the Sultana Suite.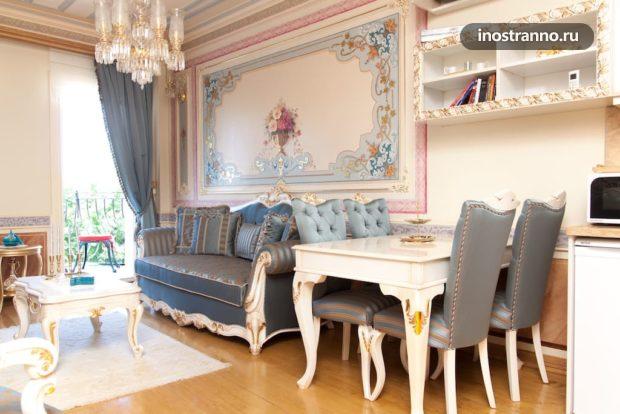 Some of these places you can see by visiting the unusual excursions of local residents, which are offered on the website Tripster.
You may also be interested in
Websites for saving money when traveling!
Hotellook – Honestly compare prices and discounts on hotels and apartments in 50 booking systems (Booking, Agoda, Ostrovok.ru, etc.). Plan your trip in advance and save up to 40%!
✈ Search for the cheapest tickets without extra charges from the reliable agencies of Aeroflot, S7, Ural Airlines and all known airlines around the world.
Istanbul – what you need to know before your trip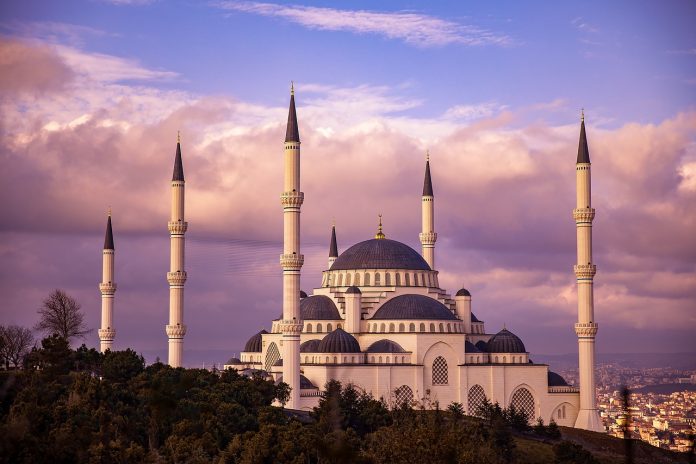 1) Let's dot the i's and cross the t's right away. Istanbul is not the classic tourist Turkey that most of our compatriots love so much. Istanbul and Turkey are like Moscow and Russia – one country, but different concepts. You will want to come back to Istanbul again and again if the city opens up and shows all the charm, and it doesn't do that for everyone.
2) Many people mistakenly think of Istanbul as the capital of Turkey. Remember: Ankara is the capital of Turkey.
3) You only need a passport to travel, no visas needed. For covid you need a PCR test (they only look at it on the way out, they don't check it in Turkey) or a certificate of vaccination with a QR-code from the state authorities, only the satellite is suitable. You also need to get a free HES code on the website, they ask for it only in shopping malls.
The local currency is Turkish Lira, which is approximately equal to 5.5 Russian rubles (December 2021). If you want to pay in dollars or euros – no problem, these currencies are in circulation, but the rate may be overvalued. ATMs take a fee for withdrawal of money, it is on the side of Turkey, even if the Russian bank does not take a fee. The commission-free ATMs operate PTT (Post Bank) and HalkBank, but it is not known what their rate is. MIR cards work in Turkey.
The best cards (reviews)
Polza Travel card – 5% for travel
10 reasons to issue Tinkoff Black card
Alfa-Card – cashback of 2% on everything
Tinkoff ALL Airlines – forever free card with health insurance
Alfa Travel is the best card for travelers
4) You can buy tickets from Moscow to Istanbul from 5,000 rubles, but that's if a lot in advance or on sale. The average price in the season is 15,000 rubles round trip. You can buy package tours from different Russian cities!
&#128165 Open cards of foreign banks without a trip! Make purchases on foreign sites, travel, store currency: Kazakhstan: Simple Bank | ⭐VIP Bank | ⭐Freedom Finance Belarus: Paritet |⭐BNB Bank Kyrgyzstan: KICB ‼️‼️‼️ It would be stupid not to take eternal health insurance нахаляву‼️‼️‼️
5) Istanbul has 3 (2 active) airports, one of which opened recently (and the old one closed) – by 2023 it is promised to be fully completed and then it will take the place of the largest airport in the world.
6) Istanbul is one of the world's top cities for traffic jams, so think carefully before you rent a car or take a cab. Traffic here is worse than in Moscow. And the fines for traffic violations will cost a pretty penny.
7) It is obligatory to buy Istanbul Card to travel on public transport, you can buy a tourist card with tickets to museums. It is a prototype of Moscow's "Troika" – you buy once, it works indefinitely, the fare is noticeable. It's convenient to travel by metro, high-speed streetcars, and ferries. The last option is especially romantic and non-standard – you pay as in the subway, and the feeling of a ride on a ship with an included excursion – a buzz! Electric scooters appeared in Istanbul. Tourist will get a ride on Marti – send your passport to be checked many times until you are approved and your account is activated. BinBin does not accept foreign cards as of December 2021.
To rent a car in Turkey without a card you can in the car rental service Localrent.com (formerly Myrentacar) they work with Russian cards, and the deposit can be left in cash (more details)
Istanbul is the only city in the world located in Europe and Asia at the same time.
In the 19th century, travelers called the city the Paris of the East because of its half-European and half-Asian culture.
9) Istanbul has a subway line called MARMARAY, which runs underwater. The 13.6 km tunnel, located directly under the Bosphorus, connects the European and Asian parts of the city.
10) In addition to the underwater tunnel, the Asian and European parts of the city are connected by the Martyrs' Bridge or the Bosphorus Bridge. The suspension bridge looks impressive, especially in the light of nighttime lights. Pedestrian traffic on the bridge has been strictly prohibited for several years (except for the dates when the Istanbul Marathon is held) due to the large number of people who decided to end their lives beautifully.
11) The İstanbul Maratonu or Istanbul Marathon is the world's only transcontinental sports marathon, starting from Asia over the Bridge of Martyrs across the Bosphorus to Europe. A 42.195 km run by athletes – how's that for you, Elon Musk?
12) Apple tea is drunk only by uninitiated tourists. The real Turkish tea is black. Locals drink it all the time from those very colorful cups – tulips. Thanks to the simple but rich taste, you can drink tea in huge quantities. And remember – if locals invite you to drink tea, then bravely agree, refusal is perceived as a sign of disrespect.
13) Turkish coffee is recognizable around the world, which is strange considering the fact that there are no coffee plantations in Turkey. The secret of the drink lies in its preparation – Turkish coffee (or Turkish coffee) is called so because of the way it is prepared in a coffee mill. Coffee in Turkey is a culture! According to the tradition, coffee is brewed on low heat for at least 20 minutes, the coffee is sure to foam (do not bring it to the boil in any case), spices are added to spice it up.
14) There is a funny wedding tradition that was originally known in Istanbul and Izmir and later spread all over Turkey: the groom comes to ask the bride's parents for her hand, she brews for him a strong and very, very salty coffee, and the groom is obliged to drink it. In this way the man shows his readiness for family life and his patience for the hardships of life.
15) Turkey is a Muslim country. Don't be surprised when you hear prayers blowing in the air all over the city. Namaz (prayer from the Koran) is offered five times a day in Istanbul. There is even a schedule online. I'm not a religious person, but there is definitely some magic in the sound of namaz!
16) There are over 3,000 thousand mosques in Istanbul. The most famous of them are the Blue Mosque (Sultanahmet Mosque), the Süleymaniye Mosque, the New Mosque and the Ayia Sofia. The last mosque for thousands of years was the largest temple in the world and is even now in the top 10 largest cathedrals. All the mosques have a rich history and the interior decoration simply can not fail to impress. I recommend to visit even to atheists.
17) Many people think that because this is a Muslim country, everything is strict here. But Istanbul is unique and colorful to the point of madness. Here the burqa meets luxury brands, graffiti in the streets next to the business district and towers reaching into the sky, modern art museums compete with historical castles and the heritage of Constantinople. In short, there is something for everyone.
18) I'm writing this article to Turkish vocals and it's all about how Istanbul is a delight for music lovers! Turkish violin, duduk and other instruments in combination, melodically spilling through the streets of the city, give just a magical effect.
19) Istanbul is a hell of a photogenic city. You want to photograph every corner, so make room in your phone. I recommend especially the Balat district, French Street, the embankments of the Bosphorus, the Grand Bazaar, the MODA district in the Asian part.
20) Cats have long occupied the niche of world domination over people of different ages, but in Istanbul they are especially revered. Cats are considered untouchable here, so don't be surprised if a kitty jumps up on the table during lunch or sits gracefully next to you on the couch. Watch the movie KEDI ("Cat City"), a stylish account of Istanbul, seen by cats and the people who care for them.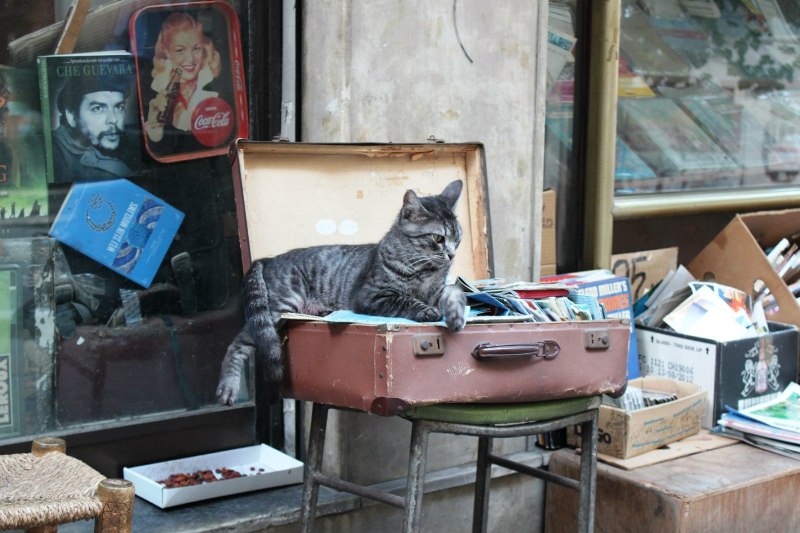 21) Before, during or after your trip, read Elchin Safarli's books. No other author has ever written so subtly and deliciously about Istanbul. The Travelinka website has a lot of information about Istanbul and Turkey.
22) You can't come to Istanbul without eating baklava and Turkish delight. These sweets can be found anywhere, but every time I visit the lovely Hafiz Mustafa 1864. The prices here are a bit higher, the place is touristy, but the variety of the menu of sweets and the cool view of the Galata Bridge from the second floor are really worth it.
23) A big smile, discounts and hospitality are provided if you know at least a couple of words in Turkish.
Hello – Selam How are you? – Nasılsınız ? (Nice to meet you – Memnun oldum Please – Lütfen. (Thank you – Teşekkür ederim Yes – evet Excuse me – Efendim? (Very nice/tasty – çok güzel (çok güzel) Bye-bye (goodbye) – Güle güle (güle güle)
24) Turks like Russian women very much. Very much! Therefore, a single trip for a girl may not be comfortable – attention will be to the maximum.
25) The dress code in Istanbul is free, but do not forget about respect for local customs and religion. In the city center any outfit seems appropriate, but in non-touristy areas (such as Balat district) wear short skirts, shorts and cleavage is not worth – unhappy looks with reproach will be ensured.
26) The most photogenic product of the Turkish cuisine is simit, but do not be in a hurry to buy it from the carts, which are on the streets. Locals take simit exclusively freshly cooked. Feel free to go to the SIMIT chain of cafes, various variations of bagel for cheap are guaranteed.
27) Bazaars are a separate story, especially dangerous for people who like to buy everything. If you're one of those people, it's your duty to haggle with the vendors. For them it's like a game, without bargaining the process makes no sense and no discounts, and we have to buy everything at a maximum and the best price!
28) The largest bazaar in Istanbul is the Grand Bazaar, with more than 5000 stores and stalls, working exclusively for tourists, locals don't buy anything here. Expensive, but you can find anything you want to your heart's content. The Egyptian Bazaar (Misir Carsisi) or Spice Bazaar is nearby. The legendary Pandeli Restaurant, where Mustafa Kemal Ataturk, Leon Trotsky and Agatha Christie at one time had lunch, is located in the north wing of the bazaar. Among the non-pop: Sahaflar Market – you can find rare books there, go to Kumkapı and Eminenyu Fish Bazaars for fresh seafood, Besiktas Market for fresh fruits and vegetables.
29) The Bosphorus is the true heart of Istanbul. The strait connects the Black Sea and the Sea of Marmara. The water in each season has a different, but saturated hue – from cold blue to bluish-emerald. The only other body of water I have ever admired so much was Lake Baikal. Take a tour of the Bosphorus, most of them leave from the Eminönü pier (bring warm clothes).
30) I haven't seen so many seagulls as in Istanbul in any other city in the world. Watching the Bosphorus and the flocks of seagulls circling over it is priceless.
31) Turkey is famous for its soap operas, girls will understand. So if you're a fan of Kara Sevda, you can make a full itinerary of the filming locations of the series. And there is also a chance to meet on the street Burak Ozcivit, but it's not certain.
32) Turkey is famous for pomegranate juice and pomegranate wine (NAR)
33) If you decide to go to the famous Pierre Loti restaurant, which offers a truly magnificent view of the Golden Horn Bay, keep in mind: you can only get there by cable car, called Teleferik – a kind of public transport. Not to be confused with the funicular – in Istanbul it is a subway branch consisting of one station.
34) Never pick up a shoe brush that fell out of the shoeshiner's hands, as we did on one visit. This is a popular type of tourist debauchery, especially around the Galata Bridge. The scheme is this – the tourists pick up out of the goodness of their hearts dropped brush, the cleaner offers to clean the shoes of noble people, and then begins to demand a fee for the service (from 50 lire, for a second). So don't fall for this story and walk by with a stony Russian face – in this case it will be appropriate.
35) Istanbul is not about the sea. But if you want to combine your trip with a beach vacation without flying to your favorite all-inclusive, there is a way out. Option one: get to the Princes' Islands. The ferry will take you in 2.5 hours, you can walk around the beautiful places and sunbathe on the beach. I'm telling you right away – the water is cool and the coastline is modest. Option two: there are many cool beaches near Istanbul, some of them host various music festivals and hangouts, such as Suma Beach.
36) Not to go to a Turkish hammam in Istanbul is a crime. The choice of baths for every budget is provided. The famous soapy foam will make anyone close their eyes with pleasure. I recommend Aga Hamami, the hammam has existed since 1454 and Nastya Ivleeva was here for the filming of the travel show "Heads and Tails".
37) Tasty ice cream is everywhere, but you won't find such a presentation of sweetness as in Turkey! Dondurma is a lingering ice cream made with goat's milk. The spectacular presentation, just like in YouTube videos, will make everyone smile.
38) There is a stereotype that there is nothing to do in the Asian part of town or that there is a kind of ghetto. This is complete nonsense. The Asian part is full of cool places (Maiden Tower), hipster photogenic streets and bars, where you will see the local life and have a great time.
39) Walking across Galata Bridge don't be surprised by the huge number of fishermen; they are here at any time of the day or night and in any weather. There are even girls with fishing rods. The most "fishy" district of the city.
Istanbul Sapphire, Turkey's tallest building, is located in the business district of the city. Climb to the top of the observation deck at 360 and you will see perhaps one of the best panoramas of your life.
41) Istanbul is so vast and endless that no matter how much you think you know the whole city, you don't. The city has a population of over 15,000,000 according to official figures, and unofficially… well, you get the idea. Turkish cuisine is not only shawarma, kebabs and baklava. The variety of dishes will please any gourmet. Balık ekmek (fish sandwich) is especially popular with me. Don't be afraid to try new dishes, but it would be better to ask local people where to do it, it will be more reliable.
42) KIZ KULESI or Maiden Tower is one of the main symbols of the city and an inspiration for many creative people. There are many legends of its origin, but the most popular version for tourists is as follows: the emperor had a daughter and she was predicted to die from a snake bite on her 18th birthday. The emperor built an entire tower for her where there are no snakes – in the middle of the Bosphorus. The princess lived in confinement for all the years and the day of her majority came. Her father, satisfied that he had deceived the prophecy, brought a basket of exotic fruits as a gift for his daughter, but a cunning snake managed to get in and bit the princess. She died in the arms of the emperor, just as the seer had foretold.
43) There is an expensive restaurant in the tower – make it to 6 p.m., it closes quite early.
44) Istiklal Caddesi or Istiklal Street is world famous and the busiest pedestrian street in Istanbul, over 3,000,000 people visit it every day! The street begins at the famous Galata Kulesi (Galata Tower, which is visible from almost every corner of the city) and ends at Taksim Square. It has everything – stores, cafes, bars, restaurants, souvenir shops. The prices are high but it is a must see.
45) The most Instagrammable and historic T4 Taksim – Tunel streetcar runs along the aforementioned Istiklal Street. The line consists of 5 stations and is just over 1.5 km long.