Independent travel in Sicily by car. Itinerary
It is only possible to reach the most beautiful places of the island of Sicily on your own by car. In order to take your time to see the main attractions of Sicily, you will need at least two weeks. During this time you can see not only the historical monuments, palaces and churches, but also enjoy secluded corners of wonderful nature and relax on the beaches of the Sicilian coast.
We have calculated our itinerary exactly for this time, but you can shorten or increase your trip if you wish. We will start and end our route in Palermo, the regional capital, but you can also do it from Catania. You can rent a car when you arrive at Palermo airport, but it is better to order a car in advance at this link and it will be waiting for you. There are also car rental outlets at Catania airport (you can compare prices of different companies here).
Palermo
Our car journey starts from Palermo, the capital of Sicily. For a first acquaintance with Palermo two days are enough. During this time you will be able to see the main sights, taste the local cuisine and, if you wish, visit the local beaches. Accommodation in Palermo is best booked in the center of the city, avoiding the suburbs. See hotels in the best areas of Palermo at this link.
You can explore Palermo on your own or book city tours with a Russian-speaking guide. See a list of available excursions at this link.
First, let's walk through the local markets. Palermo's three main markets: Vucciria, Ballaro and Capo are located in the city center. You can walk through the markets on your own or join a gastronomic tour where you will not only have the opportunity to enjoy Sicilian delicacies, but also to learn more about the history of the markets and the culinary traditions of Sicily. One of the advantages of the local markets is that they are open all day, so you can stock up on provisions in the early morning and late evening.
The easiest way to see Palermo's key attractions is to walk along its main street Via Vittorio Emanuele. Here you'll find not only palaces, churches and museums, but also a variety of stores, cafes and restaurants. In Via Vittorio Emanuele you can get to the famous "Four Corners" square Quattro Canti that symbolizes the seasons.
Wander around the city center and you're sure to see the Palermo Cathedral, the city's main architectural landmark. Try to find time to see the Norman Palace, also known as the Palermo Royal Palace, which was once occupied by the kings of Sicily.
Cefalù
After exploring Palermo, we will head to Cefalù, which is 73 kilometers from the capital of Sicily. The trip by car will take just over an hour.
Cefalù is a charming town with many places of interest, but its main attraction is the Cathedral, decorated with picturesque mosaics. Cefalù has one of the best museums in Sicily, the Museo Mandralisca with a good collection of paintings. If you miss being outdoors, why not climb La Rocca or head for a walk in Madoni National Park, a huge nature reserve between Palermo and Cefalù.
Cefalù is good not only for architectural delights, but also for beach holidays. The city has only one beach, but it is considered one of the best in Sicily. Cefalù is not as crowded as Taormina's beaches and is even more comfortable – you can rent umbrellas and deck chairs and take public showers. If you want to rest in a more secluded place, near Cefalù, there is Le Salinelle beach, about 8 kilometers long and much less crowded than in Cefalù.
Not far from the beach there are two cozy hotels where you can stay during your stay in Cefalù. The Dolce Vita Bed and Breakfast (Via Carlo Ortolani di Bordonaro 8, from 75 euros per night) is actually by the beach, just a two-minute walk from the sea and a five-minute walk to the Cathedral. The Bohémien B&B (Via Umberto I, 15/C, from 85 euros per night) is a little further away, a five-minute walk to the beach, in a historic mansion built early last century. For other hotels in Cefalù, see this link.
Taormina
From Cefalù we will head to the pearl of Sicily, the famous resort town of Taormina. The trip to Taormina, which is about 210 kilometers from Cefalù, takes 2.5 hours. Many people think Taormina is too pretentious and expensive holiday destination. This is true in part, especially regarding the high price, but one cannot deny the beauty and charm of this city. You can stay here for a couple of days and if you have a car it is best not to settle in the historic center, as it is closed to the public and there is no parking. To see car-friendly hotels, click here.
From historical sites to relaxing on the beach, from cultural history to discovering Sicily's culinary delights, there is plenty to do in Taormina. At the heart of Taormina is the Anti-Theater, a unique historical monument of Ancient Greece, which dates back to before our era, and is still the venue for the city's main cultural events. Another popular sight in Taormina is Palazzo Corvaggio, which today houses the Museum of Sicilian Art. Palazzo Corvaggio is near Piazza Vittorio Emanuele.
But many travelers visiting Taormina are not attracted by its rich cultural heritage, but by its beautiful beaches, most notably Isola Bella. You can go to Isola Bella, one of the most beautiful beaches on the Sicilian coast. The beaches of Mazzaro, at the foot of Taormina, are also very popular. To reach the beaches of Mazzaro and Isola Bella, you have to use the funicular.
"Read the best beaches in Taormina.
You can stay in Taormina at the Hotel Excelsior Palace (Viale Pietro Toselli 8, from 70 euros per night), which is a 10-minute walk from the Antique Theater. Hotel Taodomus (Corso Umberto 224, from 80 euros per night), on the main pedestrian street of Taormina, is also worth considering. For other Taormina hotels, see this link.
Volcano Etna
Taormina is only an hour away from Etna, but to visit the volcano it is better to book a sightseeing tour, you can do it here.
It is also possible to get to Etna on your own. By car you need to go to Rifugio Sapienza. There you can buy a ticket for the cable car or jeep, which go up Etna. The second option, which is suitable for fans of extreme holidays, is to try to climb Etna on foot by yourself. But this is a risky way, which also requires good physical preparation.
Riding
After visiting Etna volcano we drive to Catania, located 68 km from Taormina. The trip takes about one hour. You can get to know Catania better and get to know the city from all sides on a tour with a Russian-speaking guide (you can book here).
One day is enough to see the historic center of Catania on your own. Walk through the Cathedral Square, where you will find the main cathedral of Catania – the Cathedral of St. Agatha and the famous fountain of the Elephant. In Catania be sure to see the Ursino Fortress – one of the few buildings that have survived and during the eruption of Etna in 1669 and after the earthquake of 1693. Today in the castle Ursino is the Municipal Museum of Catania.
A walk along Catania's main shopping street Via Etnea, which connects Cathedral Square to the foot of Etna, will give you an opportunity to see the many churches and palaces that adorn the center of Catania. You can also check out the fish market not far from Cathedral Square. It is considered the best seafood market in Italy: you will be amazed by the colorful palette of the catch of Sicilian fishermen.
If you want to stay in the heart of Catania, pay attention to Una Hotel Palace (Via Etnea 218, from 113 euros per night). This is an elegant hotel in minimalist style from whose terrace you can admire views of Etna. And at the B&B Crociferi (Via Crociferi 81, from 75 euros per night), on one of the most beautiful streets of Catania, you will be surrounded by family care and homeliness. For other hotels in Catania, see here.
Syracuse
The next destination of the trip is Syracuse the ancient city which is about one hour away from Catania by traveling 65 km. You can easily stay 2 or 3 days in Syracuse because it has beaches and many tourist attractions. For hotels in Ortigia, the historic center of Syracuse, see this link.
The best place to start in Syracuse is Ortigia, the old town. Here you will find most of the sights and it is a very pleasant place to walk. In a couple of hours you can walk around the entire island of Ortigia and see the palaces in Archimedes Square, the Cathedral, the spring of Aretusa, Maniace Castle and the Temple of Apollo.
A day in Syracuse can be spent visiting the Archaeological Park of Neapolis, which contains the Greek theater, the "Ear of Dionysius" cave, the quarries of Syracuse, and the remains of other ancient structures.
To learn more about Syracuse, to admire the monuments of antiquity, to admire the beauty of modernity and to get acquainted with the most interesting historical stages of the ancient city, you can on an interesting Russian-speaking tour of Syracuse, book by this link.
The best beaches in Syracuse are Calamosche, Fontane Bianche, Vendicari and Marine Reserve Plemmirio. They are well worth taking some time to laze on the white sand under the rays of the generous Sicilian sun.
If you like the historic spirit of Ortigia, stay at the small, family-run L'Approdo delle Sirene (Riva Giuseppe Garibaldi 15, from 65 euros per night). Fans of designer hotels will love the Scandinavian-style Gutkowski (Lungomare di Levante Elio Vittorini 26, from 75 euros per night). For other hotels in Syracuse, click here.
From Syracuse we will go to the town of Noto, which is only 37 kilometers away. The trip will take just over half an hour.
It is very easy to enjoy Noto – just stroll along the main street Corso Vittorio Emanuele, occasionally turning into narrow alleys. A distinctive feature of Noto is the unity and consistency of the architectural style. The city acquired such a harmonious appearance after an earthquake in 1693, when Noto was completely rebuilt. Among the most important architectural structures of Noto are: the Cathedral, the Ducezio Palace, the Nicolaci Palace and the Church of San Carlo.
To fully immerse yourself in the historic atmosphere of the city, stay at the small guesthouse Montandon (Via Antonio Sofia 50, from 80 euros per night), which is located in a luxurious palace in the upper part of the city. In search of solitude, you can hide in the settlement of Noto Antica, staying at the rural Hotel Borgo Alveria (Contrada Noto Antica, SP 64, from 100 euros per night), which has a pool overlooking the mountains. Other Noto hotels can be found here.
Ragusa
Next we will go to one of the most picturesque cities in Sicily, Ragusa. It's about an hour's drive from Noto, about 53 kilometers away. By the way, it was in Ragusa that the shooting of the popular Italian detective "Inspector Montalbano" took place.
A day in Ragusa is best spent exploring the lower town of Ragusa Ibla, strolling through the ancient streets and occasionally giving yourself a break in small cafes for a cup of coffee or a portion of homemade ice cream. As in other Italian cities, Ragusa's main architectural attraction is the Cathedral. If you're tired, hop on the tour coach in the Cathedral Square, which will take you around Ragusa's main attractions.
Be sure to check out the city's pride and joy, the picturesque Ibley Park. If you have time left, you can also explore the upper town of Ragusa Superiore to see modern Ragusa and the luxurious palaces built for the Sicilian nobility.
For an overnight stay in Ragusa, the B&B L'Orto Sul Tetto (Via ten Distefano 56, from 85 euros per night), a 19th-century building, is perfect. A good option for a stay in the center of Ragusa is Hotel Il Barocco (Via Santa Maria La Nuova 1, from 70 euros per night), which is a five-minute walk from the city's main attractions. Look for other hotels in Ragusa at this link.
Agrigento
We have quite a long drive ahead of us, which will take at least 2.5 hours. To get to the next stop, Agrigento, we will have to drive almost 140 kilometers.
In Agrigento come primarily for the Valley of the Temples, where in addition to the ancient ruins you can see interesting historical artifacts. The Valley of the Temples is one of the greatest monuments of ancient Greece, preserved to this day, which gives you a more complete picture of the life of ancient civilizations. You can also visit the Archaeological Museum which contains unique exhibits related to Ancient Greece.
Exploring the Valley of the Temples and visiting the museum is likely to take up all your time in Agrigento. But if you have the chance, we suggest you go beyond the Valley of the Temples to the city itself, with its beautiful cathedral and the Greek Church of Our Lady, and to the beaches of Agrigento. The coast of Agrigento is dotted with beautiful, but as yet little-known beaches with wonderful white sand.
In the center of Agrigento, stay at the B&B Monte Dei Pegni (Via Atenea 247, from 70 euros per night). For visiting the Valley of the Temples and going to the beach, choose a hotel further away, like the Colleverde Park (Via Dei Templi, from 90 euros per night) which is a short walk from the Valley of the Temples. See other hotels in Agrigento at this link.
Return to Palermo
Our road trip through Sicily is coming to an end. After seeing the sights of Agrigento, we return back to Palermo. The way back will take about two hours, about 133 km. Please note that during the summer season there are a lot of cars for rent, so it is better to take care of the rental a few weeks before the trip, and arrive at the airport in advance to have time to safely take your car back.
Of course these are not all the interesting cities in Sicily. You can also stop by and visit Sciacca, Messina, Trapani, Erice – these and other cities will not leave you indifferent.
Itinerary for 10 days by car in western Sicily
For the last 7 years, my friends and I have been to western Sicily with enviable regularity – an average of 3-4 times a year. We fly here like we're going on a vacation, and that's exactly how you should treat this adventure. No luxury, just good food and good people, 100% downshifting.
My guide and itineraries are suitable for experienced independent travelers who want to understand and experience the atmosphere of Italy's most famous island. It is only possible to move here on your own in a rented car.
In the western part of the island, you should settle in the countryside to get a better sense of the color. This is a very ascetic and close to Spartan holiday, away from civilization, and you should want just that.
There can be problems with the Internet, hot water, heating, and so on. When in doubt, go east to Siracusa or Taormina. I warned you.
Usually our visits last from 3 days to a week. In July 2017, we spent 3 weeks in this part of Sicily and were also satisfied.
It so happens that every time in our company there is at least one newcomer, who must be shown and explained everything all over again. However, we just enjoy it.
Guide is a starting point, a base for you and, of course, you can repeat everything 100% or supplement it with your own routes.
So, let's go, or rather fly!
When to fly: Any month except August.
June, July, September and until mid-October you can swim in the sea. We also like to fly here in November or February, when we are the only tourists on the island.
Answer yes to three questions:
Do you have experience traveling independently or are eager to get some
This is not your first time in Italy.
Ready to rent a car and be
Expenses for 2 people per week
Expenses for 2 people for a week's stay will range from 750 euros to 1300 euros. Of course, you can get cheaper or much more expensive, but that's the range I would focus on. In fact, in this part of Sicily, there is nowhere to spend money, and there's not much point in it.
Your main expenses will be for:
Flight from Rome to Trapani: 50 euros one way per person. You can also fly from Moscow, Kiev, and St. Petersburg to Palermo for 100 euros. From Palermo to Trapani is 100 km along a good highway.
Local accommodation: 250-400 euros
Car rent: 100-250 euro
Meals: 200-400 euro
Other: 100 euros
Now let's have a closer look at each expense item
Flights – how to get there?

Our destination is Trapani, the westernmost point of Sicily. Here you can see the underdeveloped tourism and that's the beauty of it. The only flight to Trapani from Rome right now is Alitalia.com. There are also many Ryanair.com low-cost flights from other Italian cities, as well as from Lithuania, Belgium, the Czech Republic, Germany, Greece, Malta, the Netherlands, Poland, Slovakia, and Spain. You can combine vacationing in Sicily with a visit to Rome or Milan.
Where to stay
We usually rent a villa for 3-5 people for 80 euros/day, but it's easy to find accommodation for two for 35-50 euros/day. We live 10 km from Trapani, in the direction of Salinagrande and the town of Marausa. If you want to be able to walk to the beach, book one of these 5 options:
– Ideal for two couples or a group of 4-5 people. – cabin for two.
Nearby is a NATO military base, sometimes there is a chance to watch fighter planes training in aerobatics.
Rent a car
For trips to the supermarket, the bar, the port and to the sights you will definitely need a car. I recommend booking a car in advance – it is much cheaper, faster and safer than when you arrive at the airport. It is also advantageous to return the car in the same place where you get it. About car hire in Italy read at auto.italy4.me You can rent a car for about 20-30 euros per day.
Nutrition
It's the food, not the beach – our main goal. After the local croissants, cannollo, pasta, seafood and gelato, all the food even in Rome, it seems no more.
Holiday plan for 10 days
A vacation plan that we repeated many times.
Day 1: Acclimatization
On the day of arrival there is no need to rush anywhere. Upon arrival we go straight to Bar Tiffany, get two cappuccinos with cornettos and other goodies. We check in, have a rest. We go to the supermarket to buy wine and provisions. In the evening we go for mussel soup (Zuppa di Cozze) at La Piazzetta, a specialty cozzeria-restaurant.
The opening of 2019 is Malibu Bar, we go there at least twice a day.
Day 2: Erice.
After breakfast at our favorite Bar Tiffany, we go for a walk through the "city in the clouds." The medieval and very beautiful town Erice is on the mountain and is visible practically from every point. There are also panoramas from it. Going home for lunch, drinking wine with cheeses and prosciutto, going to the beach. Dinner.
Day 3: the island of Favignana.
The first half of the day is worth to be spent on the island of Favignana. There we go to the port, buy a ticket for a boat. In 50 minutes we are on the island, rent a bike and ride around the coves. At 14:40 we go back. At 16:00 we get home, have lunch.
Renting a bike costs 5 euros a day, and for 10 euros you can rent an electric bike. In August, rental prices are 3 times higher.
Day 4: Trapani
Breakfast, beach, lunch. In the afternoon we go for a walk in the historical center of Trapani. After a pizza walk we go to the pier, where we can watch the sunset, separating the Mediterranean Sea from the Tyrrhenian Sea.
Day 5: San Vito Lo Capo
The beach of San Vito lo Capo is one of the most beautiful in Sicily, and in all of Italy. From Marausa it's only 50 km and 1 hour by car.
Also, the fifth day can be devoted to doing nothing – just eating, drinking, going to the beach or taking a trip somewhere not too far away.
An alternative – a trip to the town of Corleone, "home" of the Italian mafia.
Read tips for choosing a hotel in San Vito-lo Capo for a beach vacation.
Day 6: Zingaro National Park
Zingaro National Park (Riserva Naturale dello Zingaro) is 60 km from Marausa, the drive takes 1 hour and 20 minutes.
In the video below I show what one of the first coves on the route through the park looks like. The video is available in 360-degree format for the Chrome browser, swipe your mouse:
Day 7: Segesta.
In the morning you can go see the unique ancient statue of the Youth of Mozia (Giovane di Mozia) – it's only 25 km from Trapani. The statue is from the 5th century A.D., almost 300 years older than Venus of Milos. I saw it for the first time only in November 2019, crying. Amazingly, the museum had only 2 visitors – me and my friend!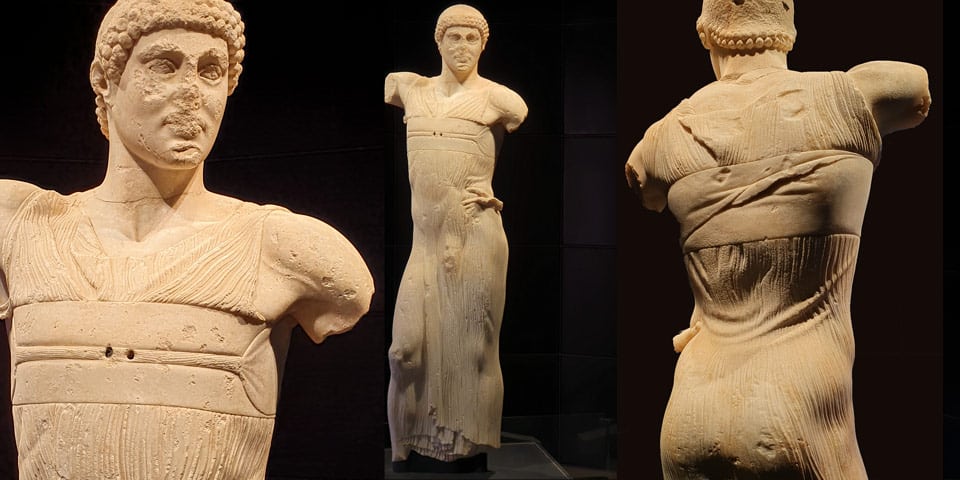 In the afternoon go to Segesta. The remains of the ancient city of Segesta have a perfectly preserved Greek amphitheater and temple, built in the 5th century BC. The drive from Maroussa to Segesta takes only 30 minutes.
Day 8: Museum Village of Sicilian Life
You can go to Grotta Mangiapane, a village-museum of Sicilian life. The cavemen lived here in ancient times and somewhere around 1800 a small village of 4 families was formed near the cave, living a subsistence lifestyle until World War 2. After the war, most residents left, leaving only one family. Gradually, there were no residents and the village fell into disrepair. In 1982, a group of enthusiasts decided to restore the life of the village and turn it into an open-air museum.
From this video you can get an impression of what awaits you
Day 9: Madzara del Vallo
I recommend you go to the town of Mazara del Vallo to see the unique statue of Satiro danzante, which dates back to the 4th century B.C.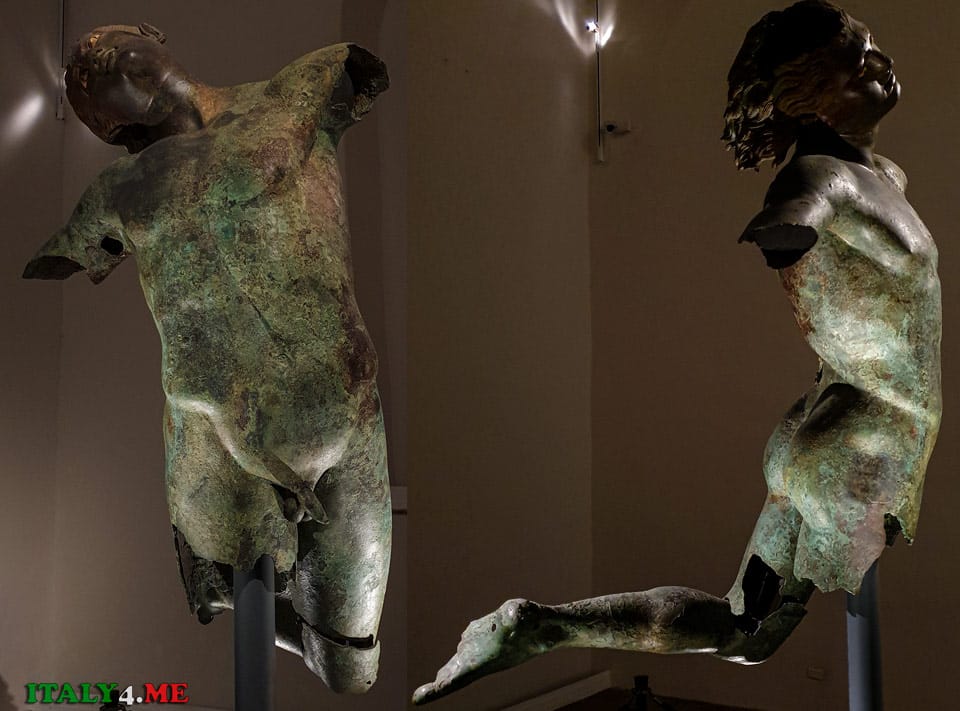 The statue was found in 1998 off the coast of Sicily, has long been restored in Rome and is now presented to the public. It made a strong impression on me. After visiting the Satire Museum, check out the Jesuit College (Collegio dei Gesuiti), it's across the street, it has a very beautiful courtyard and often hosts free but interesting exhibitions.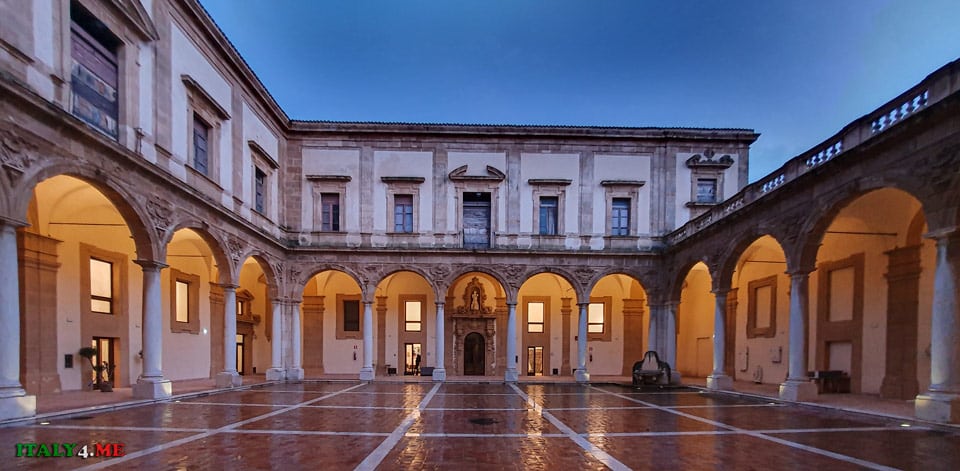 Day 10: rest, prepare for departure
On the last day of vacation, I suggest planning breakfast at your favorite bar, pack your bags and go to turn in the car at the airport.
Vacation in October 2019
In October 2019, my friends from Siberia, Vasily and Xenia, finally made it to Sicily. On October 9, the guys flew to Palermo, picked up their rental car at the airport, and went straight to check into Mario's villa.
Renting a car cost 200 euros for 12 days.
I flew the next day from Rome to Trapani, by Alitalia, to give them an introduction.
Of course, we went straight to the bar for lunch, then to the supermarket to stock up on local delicacies.
We stopped at the villa and went for a swim by the sea, of course, taking a bottle of local beer with us. It was windy but warm. Beside us on the beach were windsurfers.
In the evening, mussels and swordfish were waiting for us at La Piazzetta.
The evening was so good that when we returned home we had to open another bottle of our favorite Sicilian wine, Donna Fugata, before going to bed.
After breakfast at Malibu, we went with the guys to walk around the town of Erice.
We stopped for lunch at Malibu, then came back home and went for a swim.
In the evening we ate again on the terrace.
After breakfast in Malibu we went to the island of Favignana. We rented electric bikes and went to explore the coves of the island. On October 12, the water was quite warm and we swam on several beaches.
We almost didn't meet any other tourists. Almost the whole island and its beauties were only for us.
We came back to Trapani port for dinner, and decided to go to the bar that makes the best cannoli on the island. Bar Erice is located in a godforsaken place and without a navigator it's very difficult to find it, but locals know everything. Keep the address: Via Milano, 295, 91016 Napola TP
You can read more about this bar in the article in English.
The guys, especially Xenia, were thrilled with the size and flavor of the cannoli. We paid 9.60 euros for three cannolli and three coffees. The question of dinner was closed.
Nothing new happened that evening – we ran along the sea, went for a swim and ate at home on the terrace watching the sunset.
My short visit came to an end, it was time to go back to Rome, and the guys went on to discover Sicily on their own. I'll pass the word back to them:
After seeing Arthur home, we headed to Castellammare del Golfo. A town with narrow streets, on a slope, it was difficult to get around by car. The promenade of the city is divided into two parts. You can rent a boat.
Checked into the apartment Casa Levante on one of the streets with panties on a rope. On the top floor with a chic terrace overlooking the sea.We walked around the city and decided to look at it from above. To the west of the city, there is an observation deck. We drove on to the Faraglioni di Scopello, a viewpoint on the rocks in the sea. We returned to town and had dinner at the restaurant Sailing (the bread is divine). Address is Via Fiume, 4, 91014 Castellammare del Golfo TP.
In the morning we had breakfast at Millenium cafe with local gaffers. Don't expect super service and attention there, just take it and eat it. Next we went to the most beautiful beach San vito lo capo. Had lunch in the same town at Morsi e Sorsi in Via Savoia, 85, reasonable prices, open all day.
We went to Zingaro Reserve. The entrance is 5 euros per person. We stopped at the first bay Cala Tonnarella dell'Uzzo, where Vasya was stung by a jellyfish. You have to be careful. After 5 pm, there is no sun and we drove home. On the way we stopped for coffee in Castelluzzo at the bar Galateria A.Giara.
Went to Conad for some local delicacies and had an evening on the terrace.
Breakfast at Millenium cafe and drive to Sciacca. On the way we stop at Segesta. At first you have to park and pay 5 euros for two people to take a shuttle to the temple. There you have to pay 12 euros for two to get to it. To see the ancient theater, you have to pay more. There are pennies all around.
In Shakka we checked into the Perriera House apartment with a very friendly hostess, who advised us In Pausa cafe on the same street. Very tasty pasta and huge portions. A very strange city divided into two parts – the lower level is a fishing village, the second is for the rich with temples and palaces. Quay as such is not, but a very beautiful view of the city from the pier. We were not lucky with the weather, it was overcast and we did not get to see the beaches.
In the morning, breakfast at one of the bars on our street. Departure to the rock of the Turks. Photo session. Then we visited the excavation of Eraclea Minoa. Entrance 8€ for two. Nice park with beautiful views.
17.10-18.10
We decided to go back to San Vito-lo Capo for a seal holiday. Had two days of beach here. Hotel A'Cavalera with a beautiful interior and a delicious breakfast. Lunch at Tarattoria du Lantirneri. Dinner at Pizzeria Sambrero. Delicious Margarita. One has to realize that the city is super touristy and the food is appropriate.
Decided to go back to our village. Zu'Mikele apartment across from the Malibu Café. Beach, prosciutto, mozzarella and ricotta. In the evening we went for a walk in Trapani.
Breakfast in Malibu. Drove to the artisan village Grotta Mangiapane in Custonacci. Dinner at sorsi i morsi in Trapani. Score. Dinner at La Piazzeta.
Breakfast in Malibu. Departure to Palermo airport.
Ksenia and Vasily spent 12 days in Sicily and they liked the western part of the island so much that they decided not to even go to Syracuse and Catania, where they originally also were going.
Founder of the website ITALY FOR ME. In love and in love with the Eternal City. I meet dawns in Rome, for 7 years already 694 at the Colosseum and 225 times in the Vatican. I know all the Roman cats and emperors, control the weather and mood. In the project auto.italy4.me I share my personal experience of traveling in Italy by car.