On vacation in Bali with a child. Helpful tips.


Maroona
Bali – this is one of the best places for family vacations. It has everything: good beaches, rich culture, friendly people, great weather and great food. Speaking of food. I think that Balinese food is suitable even for small children. It is not very spicy, with lots of rice, noodles and familiar foods – although they can be mixed in an unusual way. Fruit is a constant addition to any meal – so don't hesitate to ask for a plate of fruit for breakfast, lunch or dinner. Western food, like pizza, burgers and pasta, is available in crowded restaurants and hotels. About this in general, do not worry – if your child refuses to eat the local food, you can always feed him the good old pasta with chicken.
Well, a few tips for those who go to Bali with children.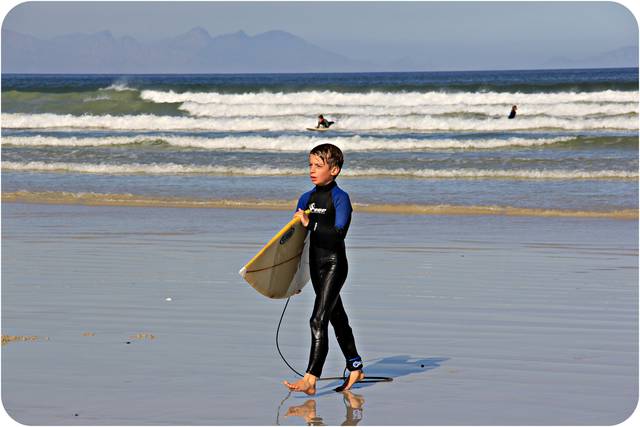 The beach is the center of fun in Kuta. Especially fun here will be older children. Kites, active games, or just swimming and lying on the sand – that's what you can do here. Kuta beach is good for older children. There are a lot of offices rental boards and equipment, a lot of instructors and schools. Kuta is generally the most active beach in Bali, and is highly recommended for children and teenagers who would be bored running around the pool.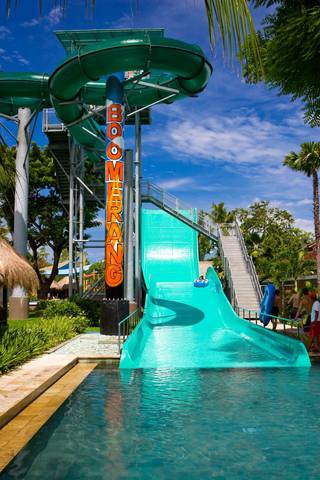 Kuta beach stretches from Tuban in the south (near the airport) to the north, to Legian and Seminyak. It's a great place to walk in the evening with the kids, too. Walk one way as far as possible and take a cab back. You'll see your little ones will sleep like angels! Waterbom park is in the center of Kuta and offers lots of fun for families – water slides, pools, games. Shopping is also a very popular activity in Kuta. For children in the stores you will find plenty of things and toys.
Restaurants for children in Kuta and Seminyak
"Papa's Italian Family Restaurant (Jl. Pantai Kuta, Legian)
"Splash Bistro" (part of the Hard Rock Hotel on Jalan Pantai. You can swim for free in a huge pool there)
"Zanzibar (Great pizza on the beach. Address: Jalan Pantai Arjuna, Legian – walk to the end of Jalan Double Six and turn left after 150 meters)
"Mozzarella (Pizzeria. Addresses: Jl. Padma, 9, Legian; Jl. Padma Utara, Legian; Jl. Kartika Plaza; Jl. Melasti, Legian Kelod, Legian)
Discovery Mall (Huge food court and several bakeries. Address: Jalan Kartika Plaza)
In Seminyak, go to Warung Italia (Jl Kunti 2) and Tuesday Night Pizza Club (JL. Subak Sari, 4).
In Jimbaran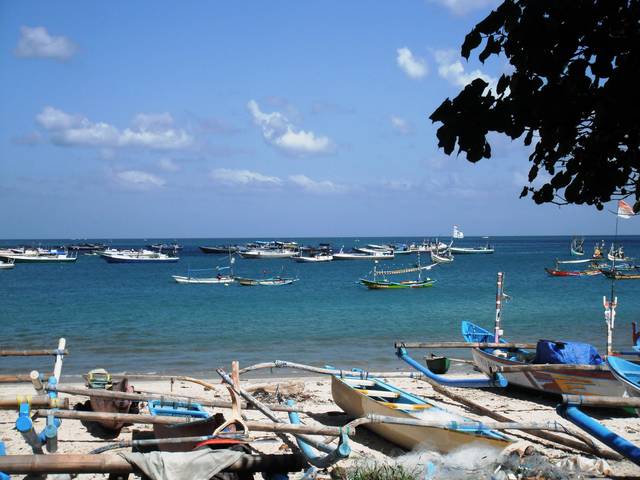 The highlight of your stay in Jimbaran is dinner at the seafood restaurant on the beach. At this time the children will be happy to play in the sand around your table. The kites, the beach and the morning fish market are all great fun. But don't expect much from Jimbaran. Better bring your own toys and beach supplies and get ready to bum around on the beach or next to the pool.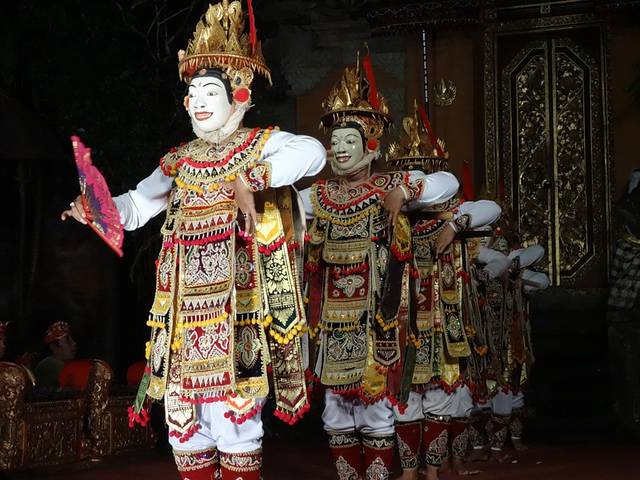 In the main cultural point of Bali, Ubud hosts numerous concerts of Balinese songs, dances and traditional performances. Most of these venues are outdoors, and very interesting for children, as it turns out. Theatrical performances, colorful faces and expressive dancing – don't be surprised if your kids whine about wanting to stay here.
Also in Ubud, there are many great restaurants with children's menus. After the show, go for dinner at a cafe (like Casa Luna at Honeymoon Guesthouse on Jalan Bisma) to sample the local cuisine and sweet desserts. Take a walk through the mountains and rice paddies surrounding Ubud. Hanging out by the pool is also fun, and most hotels in Ubud have pools.
Monkey Forest Sanctuary is a 10-minute walk from the center of town. Buy bananas at the gate and feed the monkeys, it's all fun. With older kids, you can rent mountain bikes and ride through the expanse of the province.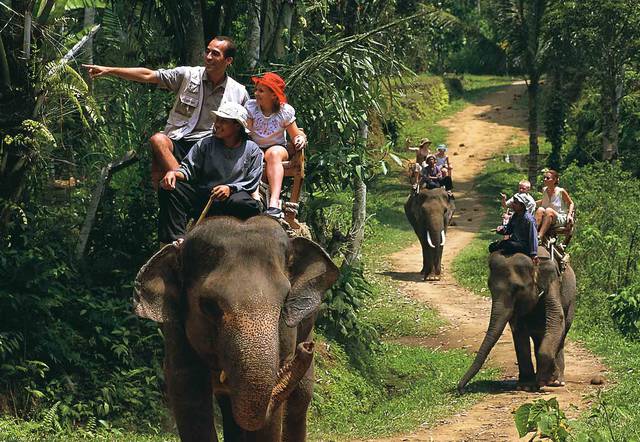 Elephant Safari Park is one of 2 places in Bali where you can ride an elephant. The ride usually lasts half an hour and the trails lead through the jungle. The park itself is about an hour north of downtown Ubud. You can read about this and other tours from Ubud here: http://www.baliadventuretours.com/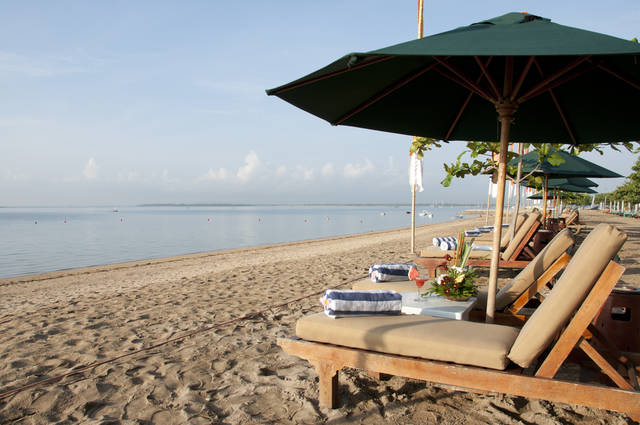 Sanur beach is the most suitable for children in all of Bali. There are some reefs and a gentle shore which is washed by calm waters (most of the time). The beach is narrow, but there are a lot of shady corners than on the larger beaches. It is also quite quiet, but on the other hand you will find a number of restaurants and stores a few meters from the beach, a perfect place for an evening stroll.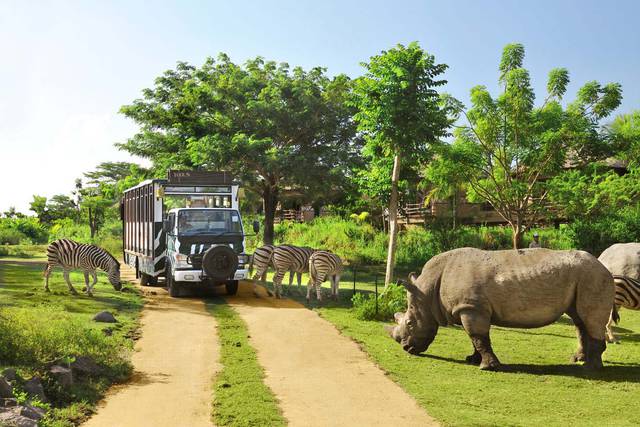 Bali Safari & Marine Park (http://www.balisafarimarinepark.com/) is great for families and is less than an hour away from Sanur. You can ride an elephant or see how different animals live and eat there – tigers, varans, monkeys, giraffes and many others.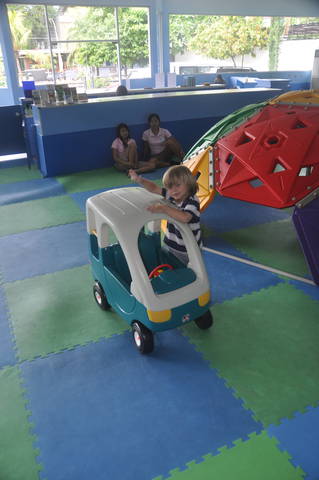 "Peek A Boo" (http://www.peekaboofun.com/)- indoor playground for children under 10 years old. Good, new, interesting. The address is Jl Bypass Ngurah Rai, #17.
As for restaurants for children, we can highlight "Beach Cafe" . Located, as it is easy to guess, on the beach and offers a children's menu. Look for the cafe near the hotel "The Oasis Lagoon".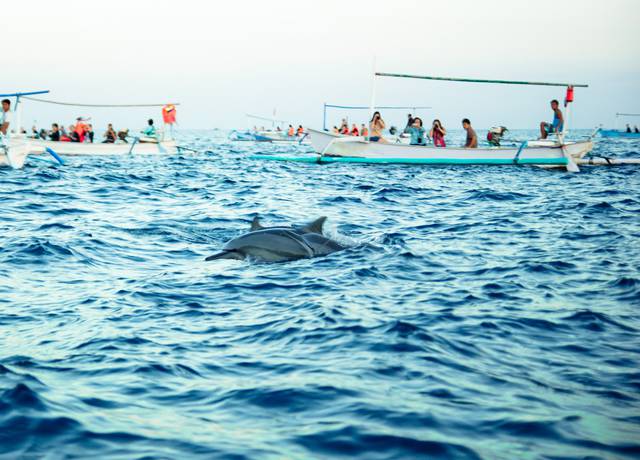 In addition to the usual beach activities – swimming and snorkeling – here you can try the "dolphin tour". That is, early in the morning you will be put on a boat and taken to the ocean, so you can admire the dolphins playing in the waves.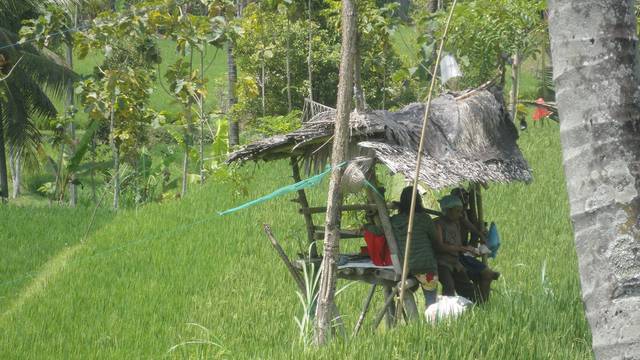 Also in Lovina is very cool to explore the natural beauty of northern Bali. You will be offered a full day tour of the best places in the area. Generally, there are fewer tourists than in the south, so it is a great place to see the "real Bali.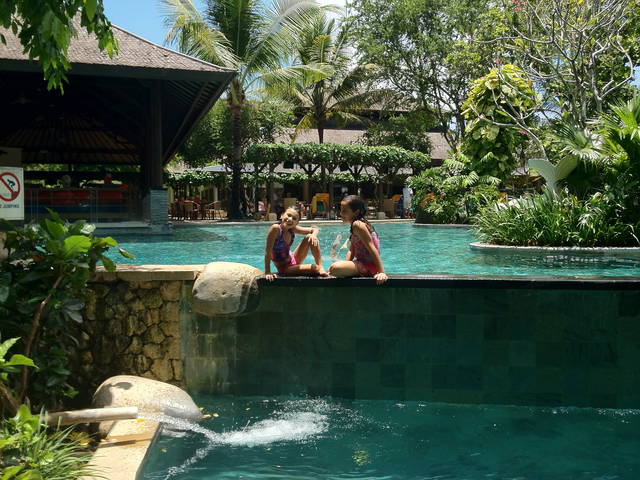 In Nusa Dua you will find large resorts, a huge shopping center and beautiful beaches. The downside is that it is far from the cultural attractions of central and northern Bali. But if you are only interested in a beach holiday, expensive resorts with children's clubs, Nusa-Dua is ideal.
Holidays in Bali with children
Bali has few sandy beaches and many steep banks. You wouldn't expect the average beach-goer to go there, but we've found some great places to take your kids in Bali. We tell you about the best beaches and hotels in 2022. Important nuances and tips for vacationers.
Not so long ago, the little-known island of Bali was a place of relaxation for hippies, but now it is a world exotic resort. Its unique location between two seas, ancient culture and scenic nature attract millions of tourists to the island every year, including children.
Content: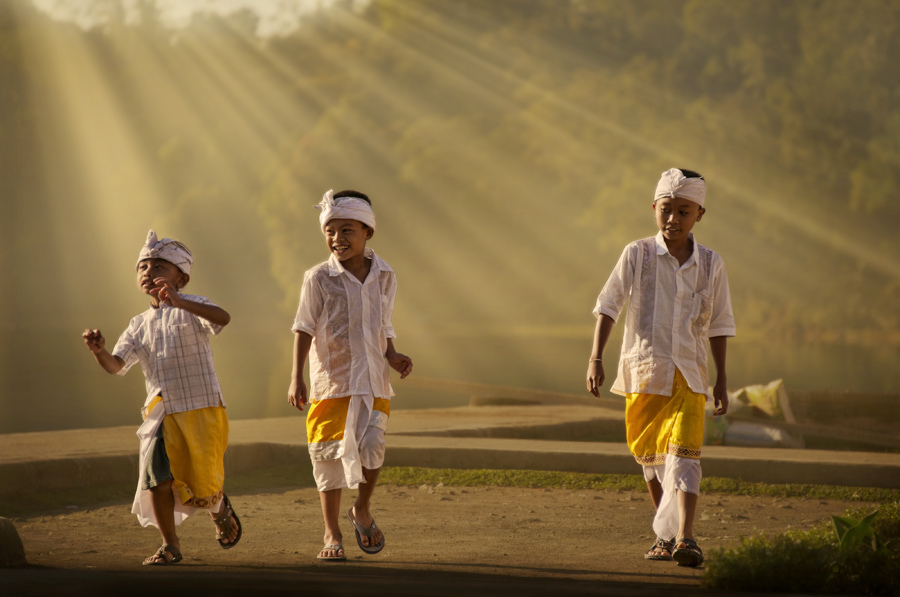 (Photo: alex_hanoko / flickr.com / CC BY-ND 2.0 license)
The nuances of vacationing in Bali with a child
Lodging. Bali has a good hotel base and a wide range of private accommodation, all of which can be booked online. If you are planning a vacation with children for more than 3 weeks, it is better to rent a house or villa. Houses are offered different levels of comfort and value, but they are all equipped with a kitchen, and if you want you can hire a housekeeper and even a babysitter.
Food: The island has inexpensive pizzerias and Chinese restaurants, the local dishes can be ordered rice with vegetables or chicken noodle soup – usually, these dishes are eaten by children with pleasure. The supermarkets offer all kinds of food, fresh fruits and seafood are a must, as are our usual French cheeses and crusty baguettes.
(Photo: Thomas Depenbusch (Depi) / flickr.com / CC BY 2.0 license)
Renting transportation. How is it to vacation on an island and not see the surrounding area? After all, all the most interesting things are outside the resort. Transport in Bali is easy to rent. But driving on the island is not easy, given the volume of traffic and traffic jams. But there are so many beautiful places to show the kids! In addition, it is quite affordable.
Some parents vacationing in Bali with children, rent a bike – and just put the child in front or between them, as the locals. This is not safe. It is better to rent a car. Find a rental car at Rentalcars.com – it compares prices from popular car rental services. Choose a make and then specify where you want to take the car and where you'll return it.
Beaches. There are few good "kids' beaches" – clean, shallow and safe – in Bali. The ocean is often rough, there are strong tides, because of which you have to choose between them to swim. At low tide, you can not swim, but you can wander and watch the scurrying fish and crawling crabs.
Entertainment. When beach pleasures bored, you can look around a little: a trip to Waterboom Water Park in Kuta, visit the elephant park in Taro, the turtle farm and the famous Monkey Forest. If your child is at least 6 years old, you can enroll them in a children's surf school. Explore the best Bali excursions.
When to go
The island is warm all year round, but from December to March is the rainy season, and from mid-April to November, the weather is dry and comfortable. The daytime temperature is +28. +30 ° C during the day, and +22. +24 ° C, the average water temperature is +28 ° C. Most rainfall occurs during the winter months from December to the end of February.
Have not yet planned your vacation? Read about the weather by month on the island and about celebrating New Year in Bali.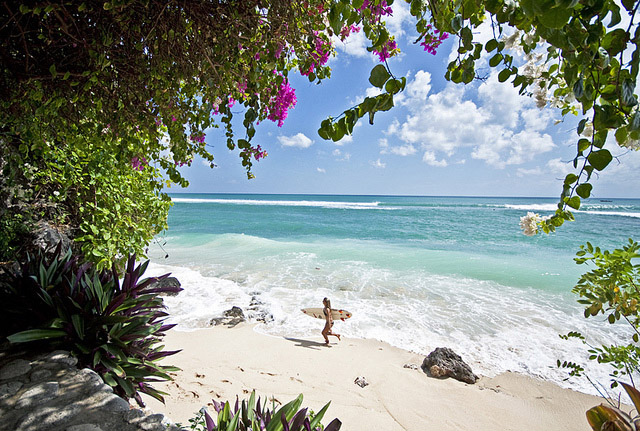 (Photo: Sunova Surfboards / flickr.com / License CC BY-NC-ND 2.0)
The best beaches for kids in Bali
Наибольшее число курортов, подходящих для семейного отдыха, сосредоточено на юге Бали. Нуса-Дуа считается туристической резервацией с приличными песчаными пляжами и роскошными отелями — это самый популярный курорт для отдыха с детьми. Отдых на Нуса-Пенида >>
Kuta and Jimbaran are pretty crowded for a family vacation, and the water here is not the most clear. However, these resorts are suitable for the first surfing lessons in children's surf schools, and in Jimbaran there are excellent seafood restaurants right on the ocean. Tourists are not advised to stay in Kuta with children, as the waves are strong, the beach is dirty, and the place itself is noisy and partying.
The resort of Uluwatu is famous for its temple and beach of the same name. It's a popular surfing spot, but at low tide the shallow, clean sandy waters are good for swimming, and there are crabs scurrying about. In addition, there are a few cozy cafes, where you can sit and watch the sunset.
There is also a beach Dreamland near Ubud. The place is great, but suitable for swimming only between the ebb and the tide.
According to reviews, the best place to relax and bathe with children in Bali is Virgin Beach, or White Sand Beach (aka Pantai Pasir Putih). It is located next to the village of Chandidasa, where you can stay. You can swim only on the left side of the beach, where there is no coral. There are sun loungers and a cafe. Admission is 10 thousand rupees. The beach is chambery and natural, there is no infrastructure. Known for the white sand and quiet lagoon.
(Photo: Ryo / flickr.com / License CC BY-NC-ND 2.0)
Best hotels in Bali for vacations with children – 2022
Independent travelers are advised to look for hotels on the service Rumguru. It will help you find the lowest price. Not sure how to use it? Read our tips on how to book a hotel inexpensive.
Search for Last Minute Deals at Level.Travel and Travellata which compare prices from 120 popular tour operators. Want to save? Check out our 7 rules for buying tours online.
(Photo: dronepicr / flickr.com / CC BY 2.0 license)
Holidays in Bali with children: tourist reviews
If you are afraid of acclimatization and the change of food and water, it is better to rent a house with a kitchen. Some even bring their own products, although such actions make sense if your child – well, a very big fan of buckwheat.
Particular discomfort causes high humidity, which is poorly healed scratches and abrasions. Even ordinary mosquito bites, scratched by a baby, turn into something terrifying. Therefore, repellents and a minimum supply of pharmaceuticals take with them.
When vacationing with children in Bali, use creams with maximum UV protection and carry a bottle of water, because so much sun leads to burns and rapid loss of water. The big problem is that babies don't tolerate long trips around the island during excursions. Either refuse such trips around the island, or choose cloudy days.
Read tourist reviews of Bali before you go.
Luckily, there's no malaria on the island, but there are general safety and hygiene rules. The ocean poses a danger – the whip currents are treacherous and can drag people away. Serious problems represent corals, they can deeply wound. When swimming wear special slippers on his feet and generally very carefully to the choice of beach. Do not let a child in thickets of grass – there may be poisonous insects or reptiles.
Temperature changes and time zone change – all this affects the health of children, body temperature may rise or malaise. As a rule, such conditions are temporary and pass in 1-2 days, but it's better before a trip to Bali to get insurance, because on the island of medical services are not cheap.
See how to get a visa to Indonesia, if you're flying more than a month. Are you afraid of the high costs? Find out how much a Bali vacation costs and how to fly with minimal costs on your own. You can also read our articles about holidays with children in the Dominican Republic, Sri Lanka, or the Maldives.
Anton Ptushkin's film about Bali.
A well-known blogger and presenter understands the phenomenon of the popularity of the island of Bali, talks about surfing, beaches and hotels. Check it out!