A short hike through Colca Canyon in Peru – the deepest canyon in the world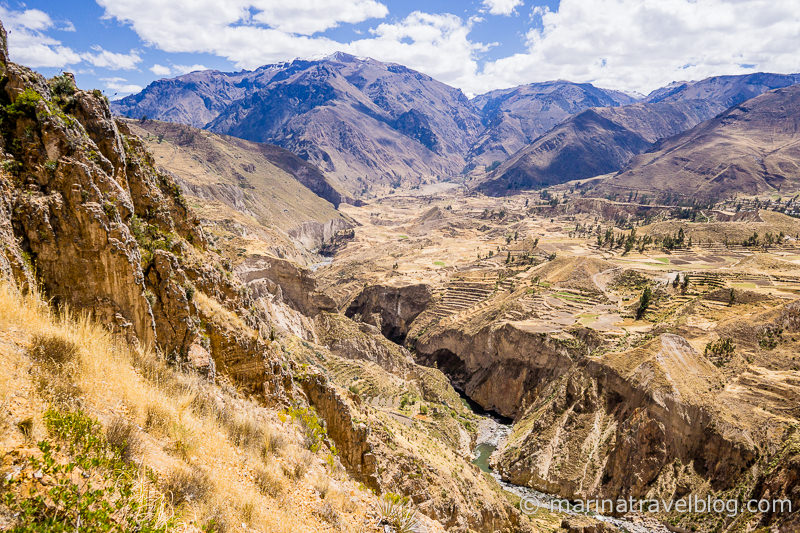 After four treks in Peru (Cordillera Blanca, Cordillera Huayhuash, Salcantay and Ausangate), we decided that we wouldn't like Colca Canyon, and it would also be hot, and at 70 soles ($22) we had to pay, so we wouldn't go.
And then we ended up with a host in Arequipa who is from Colca himself and knows every bush there. He recommended us a non-tourist route without controllers, so we decided to give it a try
Especially since Colca Canyon is considered the deepest canyon in the world, and you can see the Andean condor there.
How to get to Colca Canyon from Arequipa
Day 1
All tourists arrive in big buses to Cabanaconde, and there they are immediately charged 70 soles each. The bus runs twice a day at 5:00 and 1:00 pm. We were offered to go to Chivay by minibus, which is used only by locals and the ticket holders don't control it.
The bus leaves from street Andres Avelino Caceres, in the alley 200-300 meters from Terminal Terrestre, on the right side, there is a large sign. The fare is 15 soles ($4.5), tickets with seats. Flights are at 4:00, 5:00, 6:00, 7:30, 9:45, 12:00, 13:45, 15:45. There are plenty of cafes around, a barbershop, and a bazaar. Sergey even had a haircut while waiting for the bus
We were the only passengers, and the bus decided to go earlier. Then it stayed for a long time in the north of Arequipa, collecting people
The road went through a pampa like this. Check out the quality of the pavement.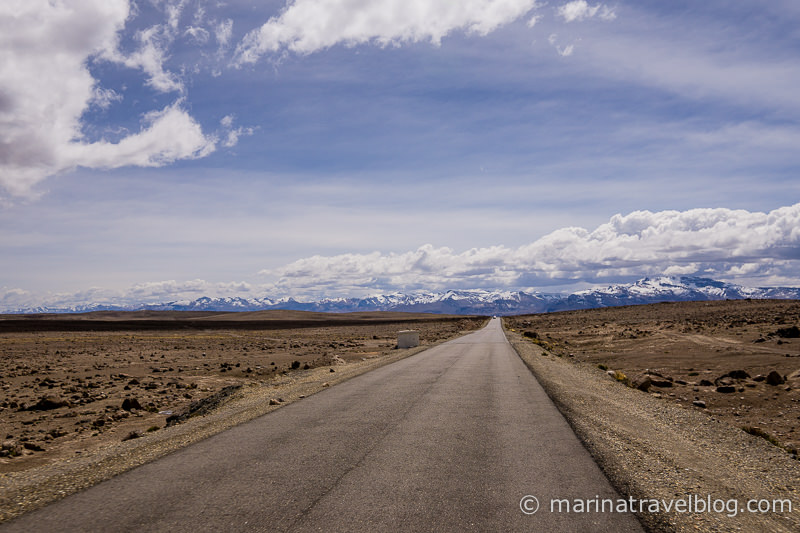 Once we had to wait until a herd of llamas crossed the road (or alpacas? I always get them mixed up, though Pauline wrote the detailed instructions a long time ago).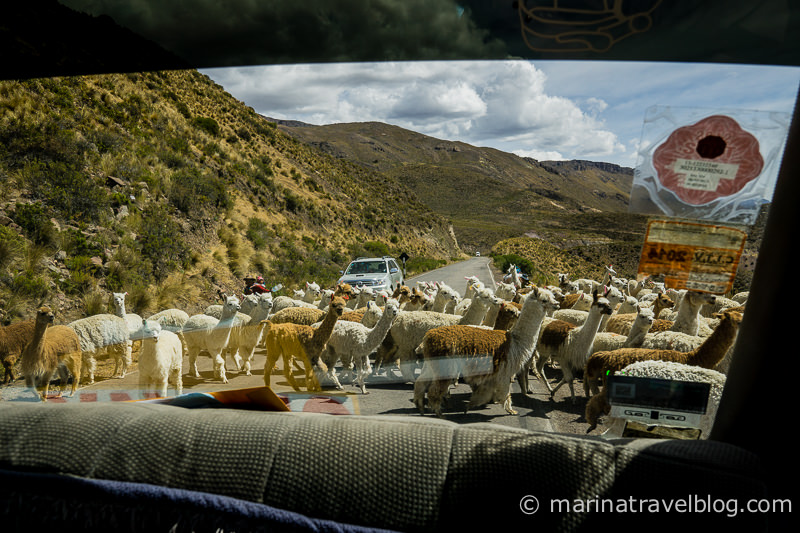 In the end, we arrived in Chiwai at one o'clock in the afternoon, so we decided that on the same day did not go anywhere, and to find a hotel and go to the thermal springs.
By the way, ticket holders are right at the entrance to Chivay, and stop all the big and tourist buses, and our proletarian did not stop
And the driver didn't stop either, it's very necessary for him to wait until we're pampered. Inside the city, no one was interested in our ticket.
Chiwai and thermal springs
Chiwai itself is a very quiet and nice little town, quiet and calm, with fresh air. In the streets and the main square funny statues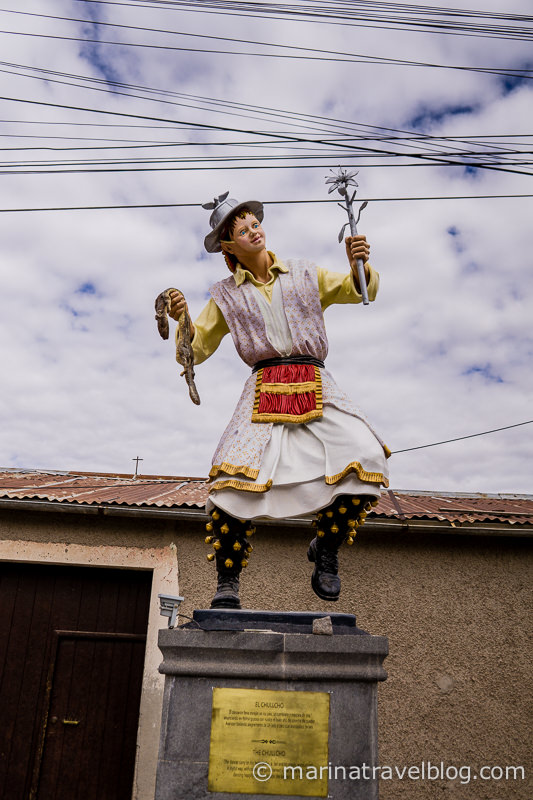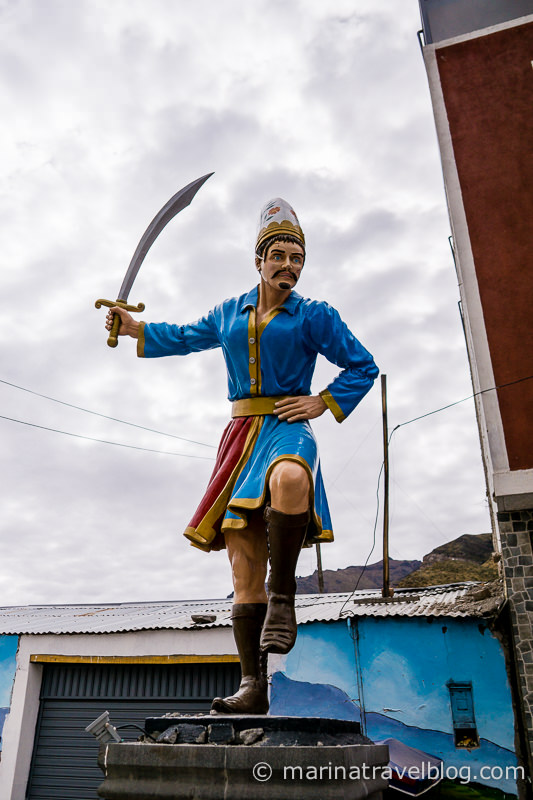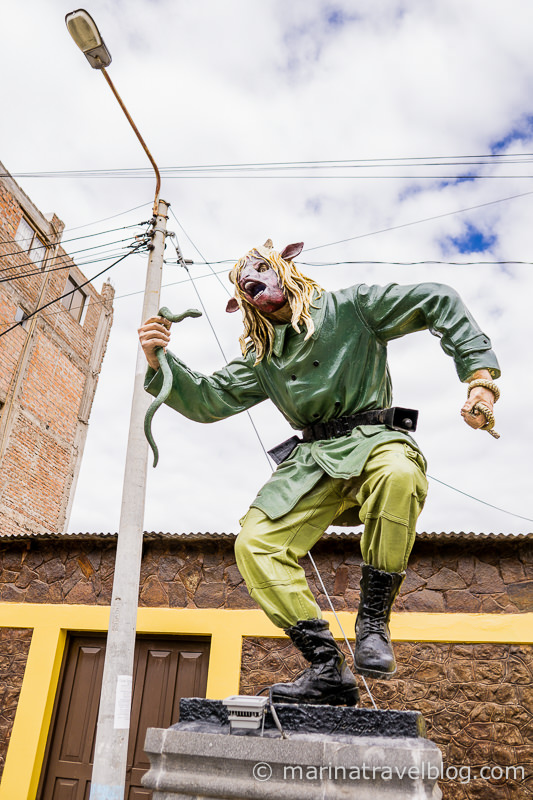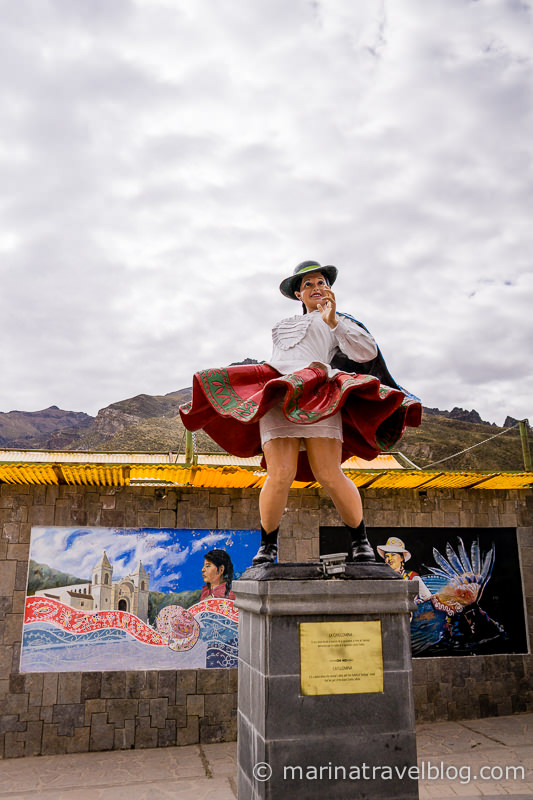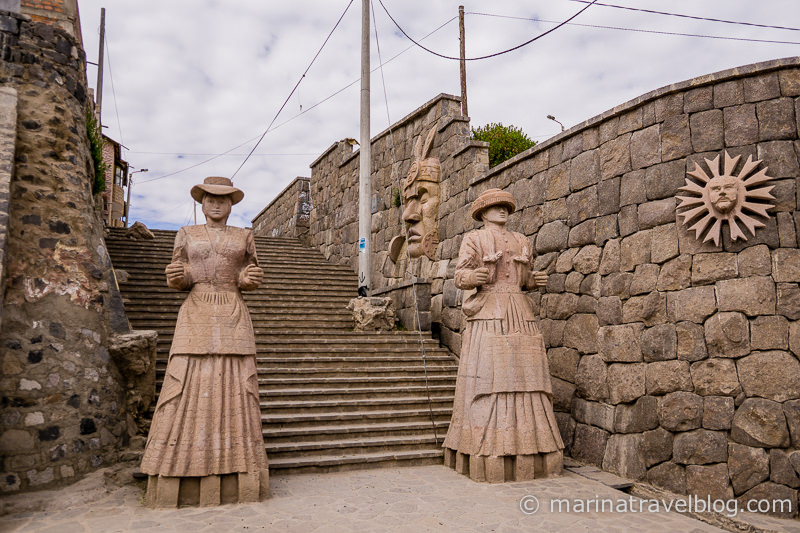 Near the river – a couple of observation decks with views of the canyon.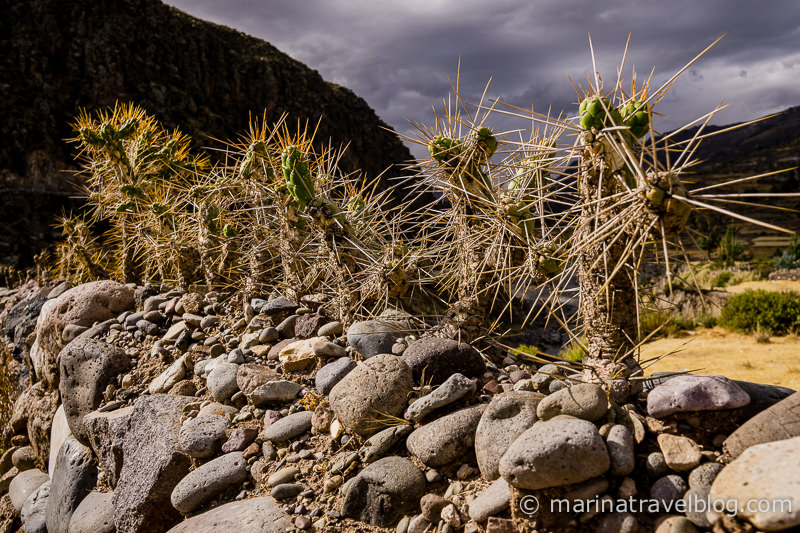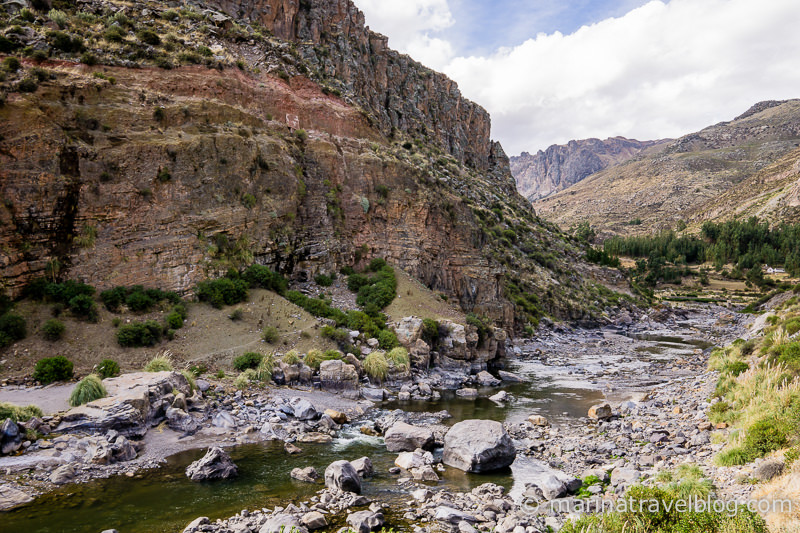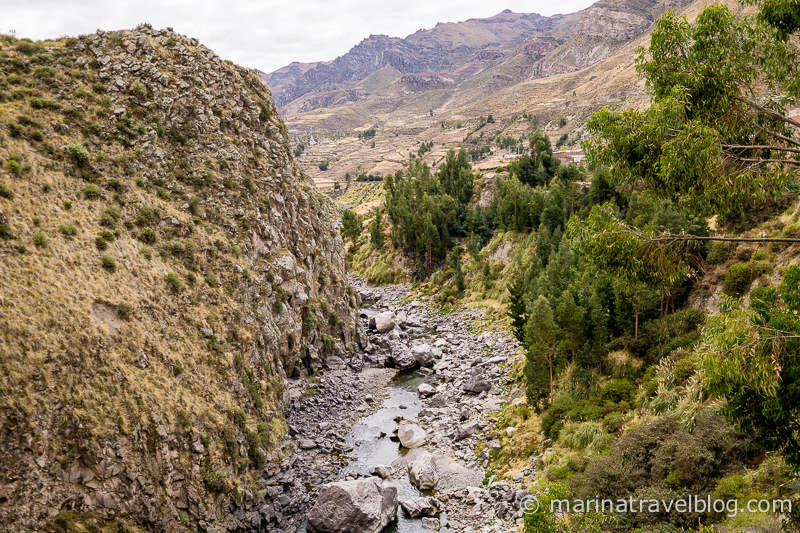 The thermal springs are 3 km from the town if you walk from the center to the river, and without crossing it go to the right. You can walk or take a minibus for 1 sol from the street Salaverry.
Login for tourists 15 soles (4.5 dollars), for locals only 0.5 soles, so they just go to the baths. There are toilets, changing rooms, and showers. Five pools. Tourists usually wash before diving, locals never :/ And you can see just a stark difference between the slender bodies of European women and fat Peruvian women. There are more people in the evening than in the morning and afternoon. We couldn't get into the pools area for free.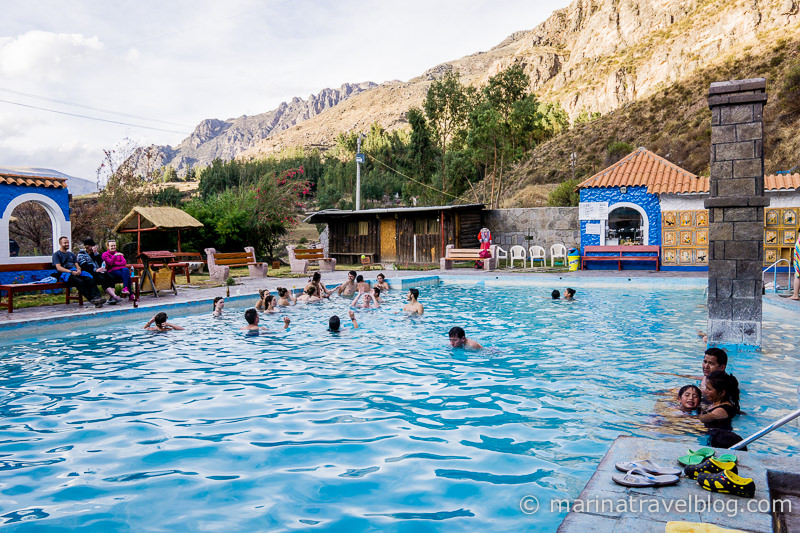 There is also a small ethnographic museum within the pools. Here we can see the interiors of the local Indians: stoves without a chimney that are stoked with dung, a cross and statuettes of Jesus as grain is pounded on a hide, primitive tools and a loom, and yet brightly colored costumes with rich embroidery.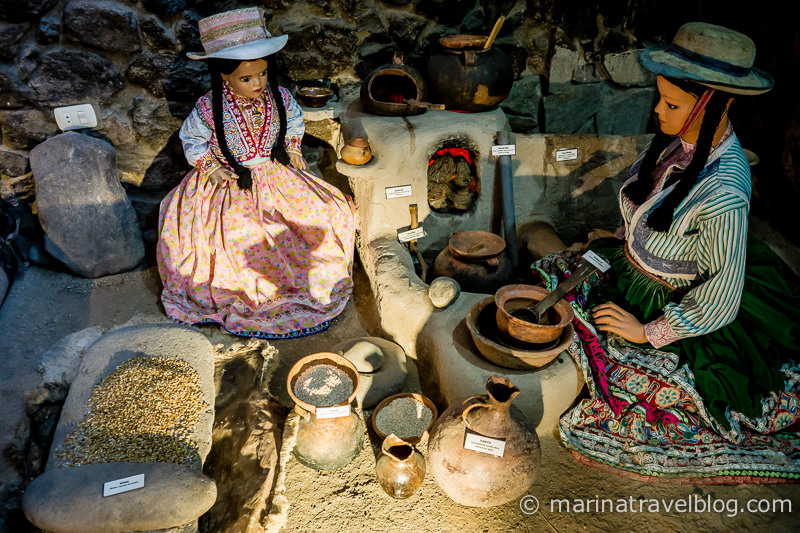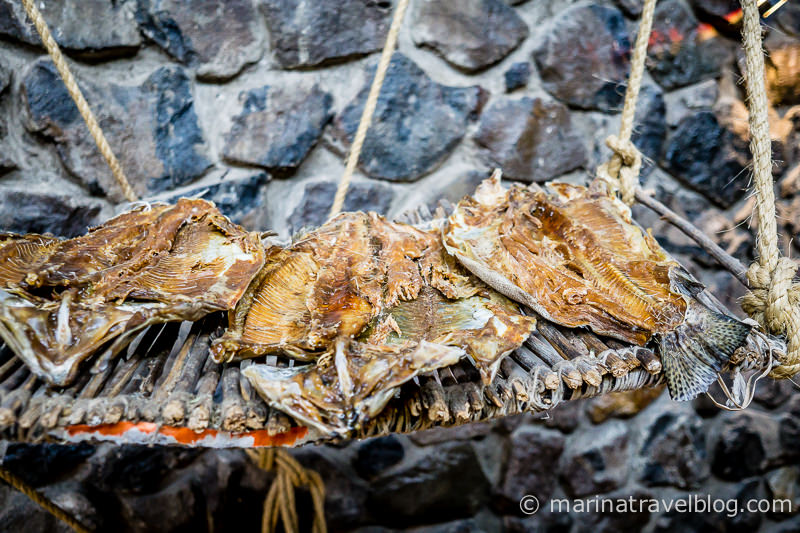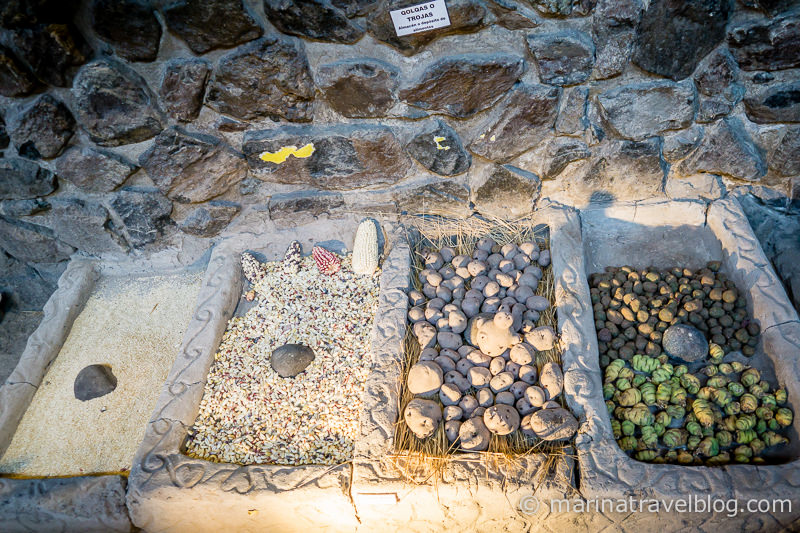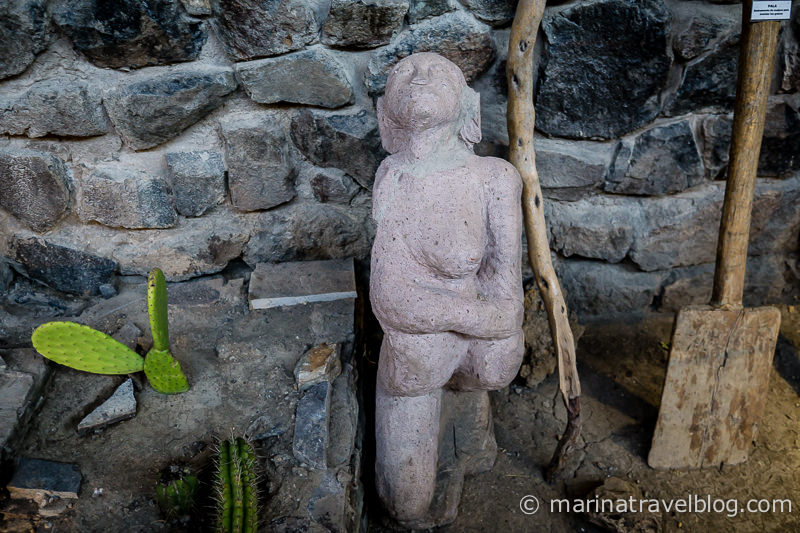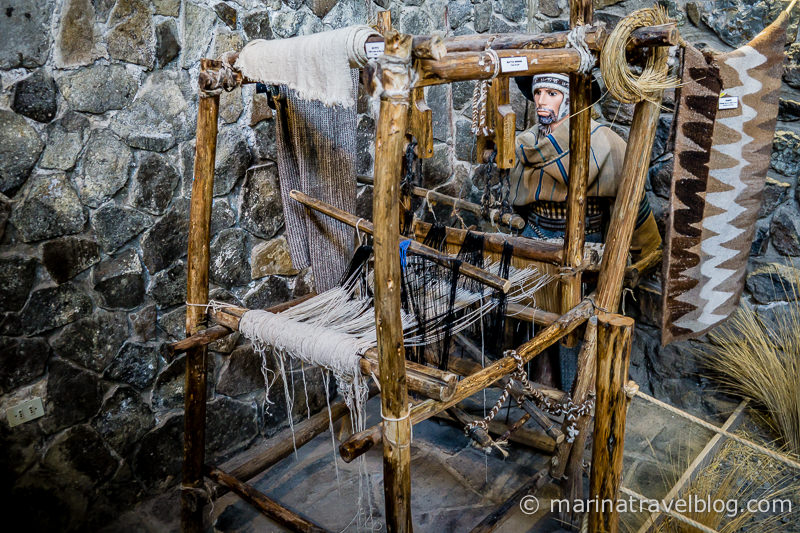 There are a couple of dozen hotels in Chiwai, we just walked down the street and picked an inexpensive but decent one. Many of them are even on Booking.com, which as for such a province is amazing
Koporake, the ancient cemetery and the ruins of Uyo Uyo
Day 2
In the morning (between 8:30 and 9) it turned out that none of the coffee shops were open! Breakfast was found at a local bazaar. It all looks unpresentable, but it was delicious, just like any other bazaar in Peru
You can walk 7 km to Coporaque or take a colectivo (shuttle bus) for 1.20 sol. We walked part of it, photographed the scenery, and then caught a colektivo for 2 sols for two.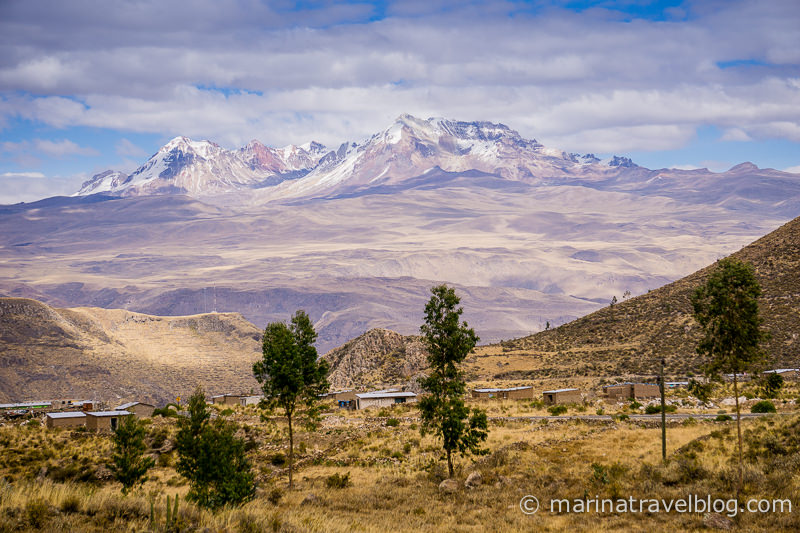 On the way there was another village with a church and a statue.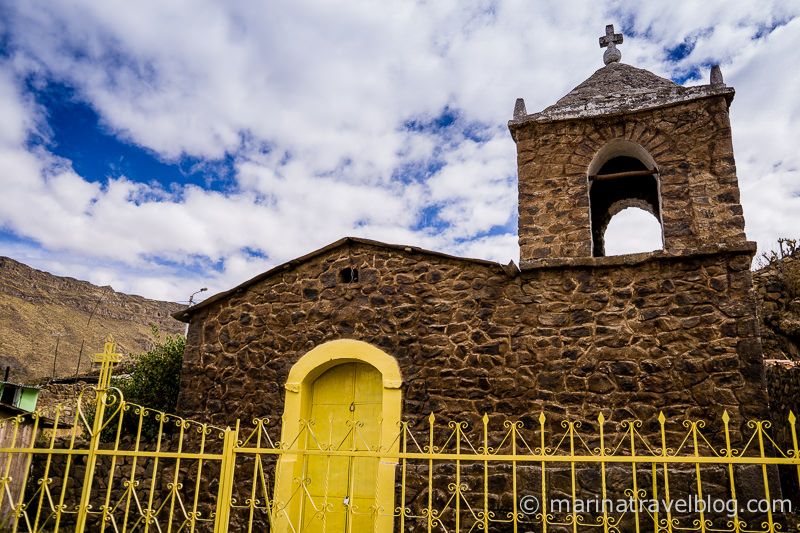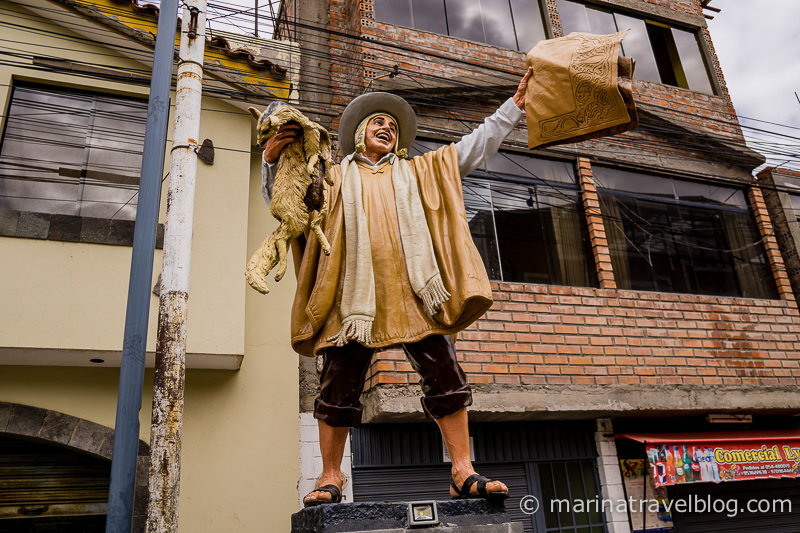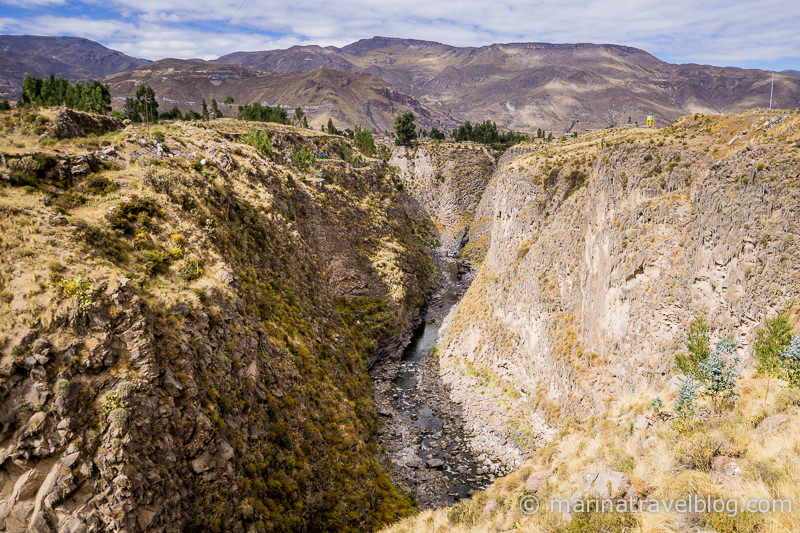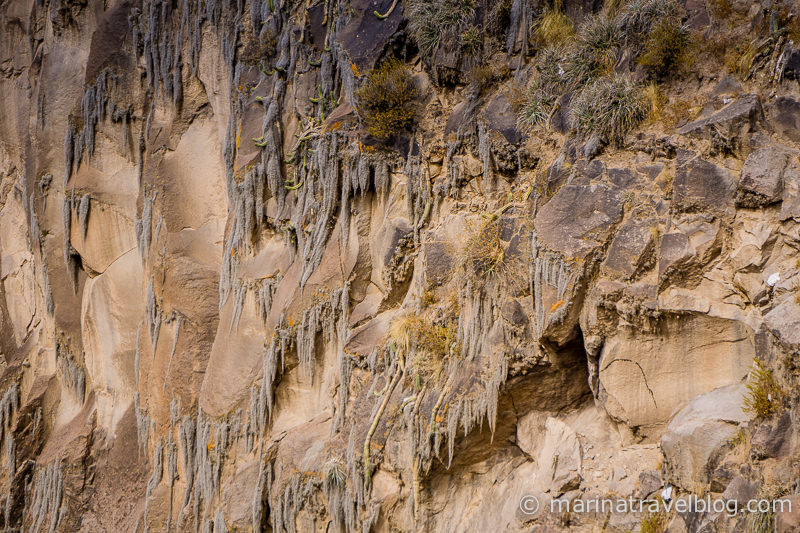 Volcano puffing
Not like in Guatemala when we saw the real eruption, but still active.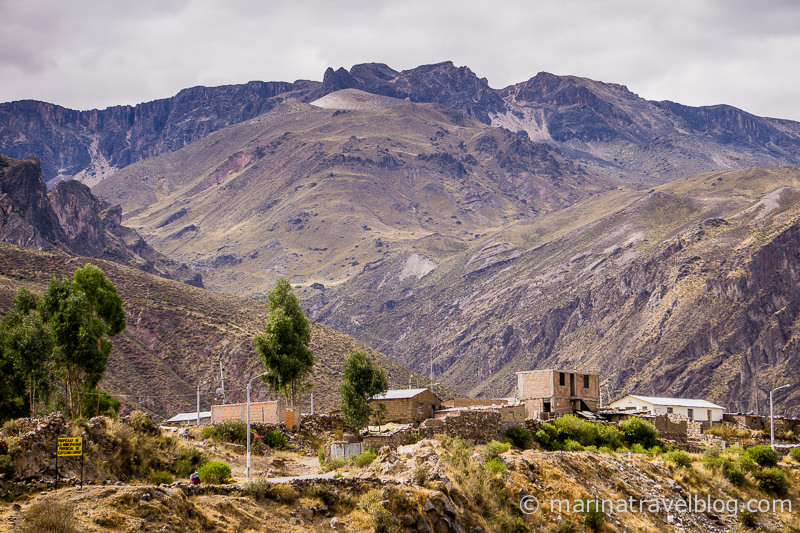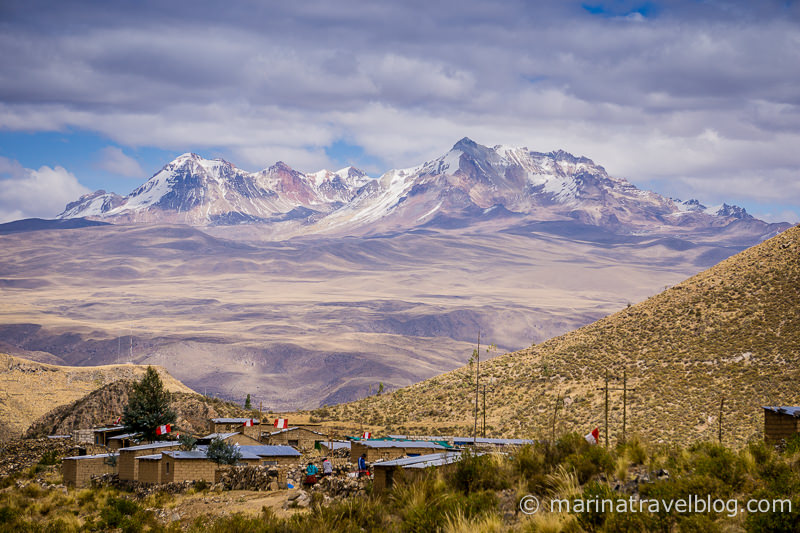 This is Koporake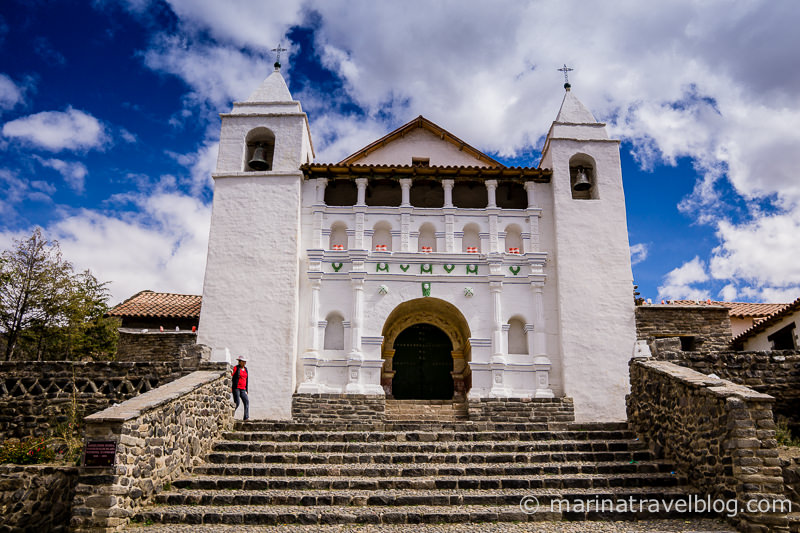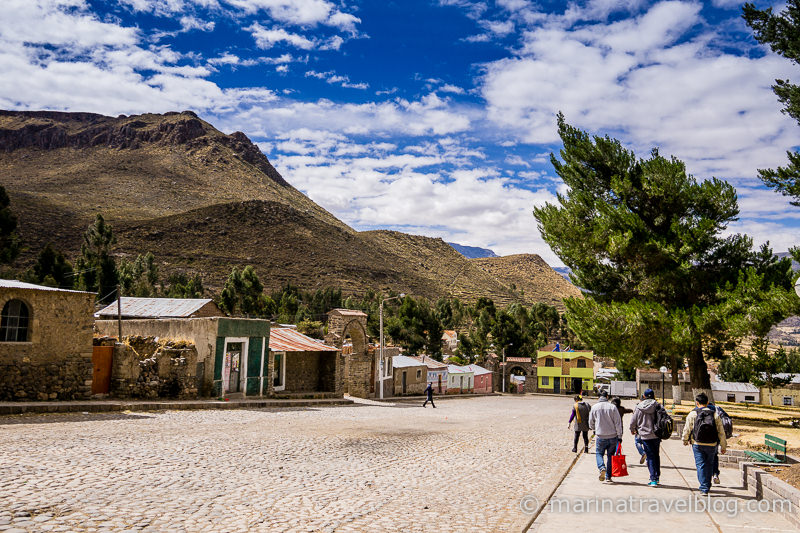 Yuraq Qaqa (Yuraq Caca) is a cemetery that existed before the Incas. There are still not only graves made of stones, but also skulls and other bones. People before the Incas and in the Inca era preferred to live and bury their dead higher up in the mountains, that is, close to the gods.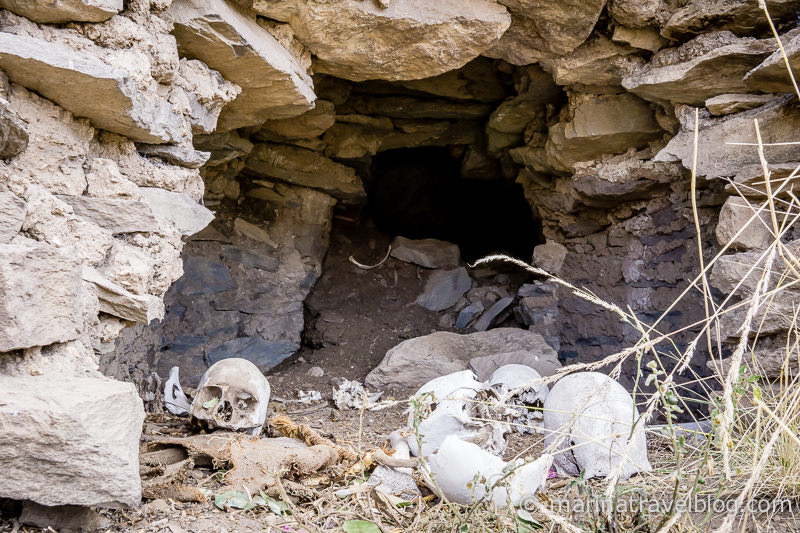 Mirador San Antonio: nothing new and some cactus-covered ruins.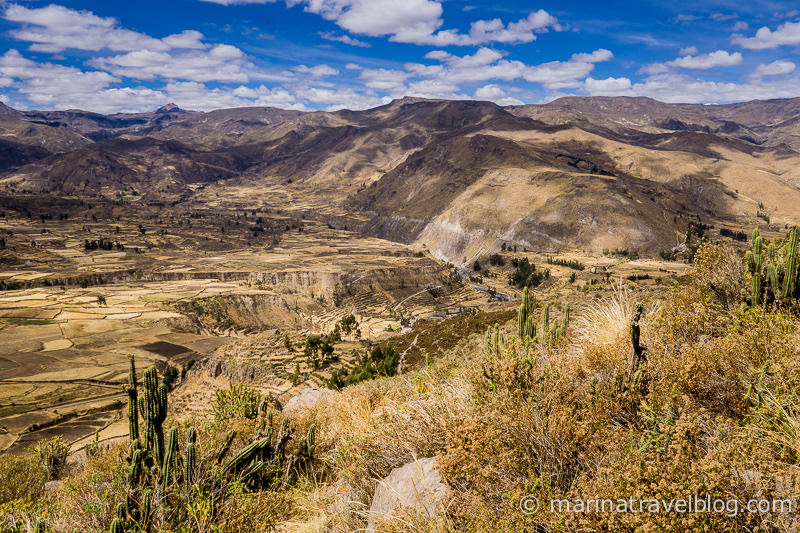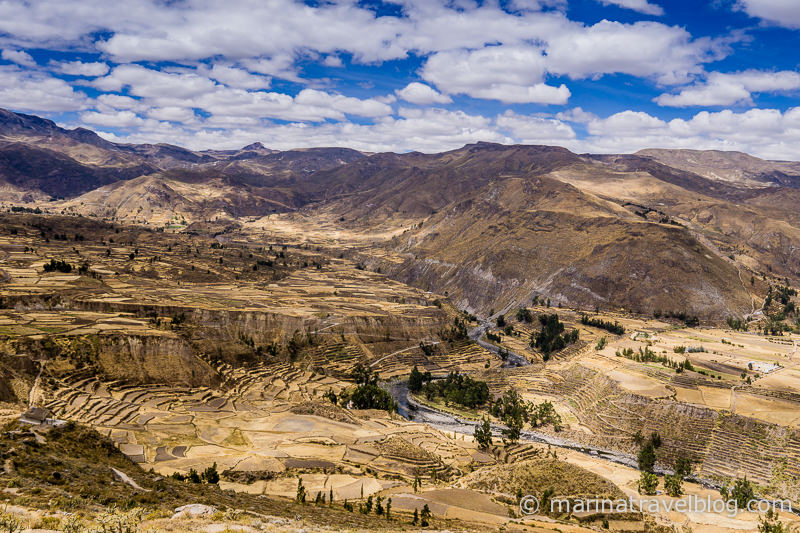 Uyo Uyo: big restored ruins.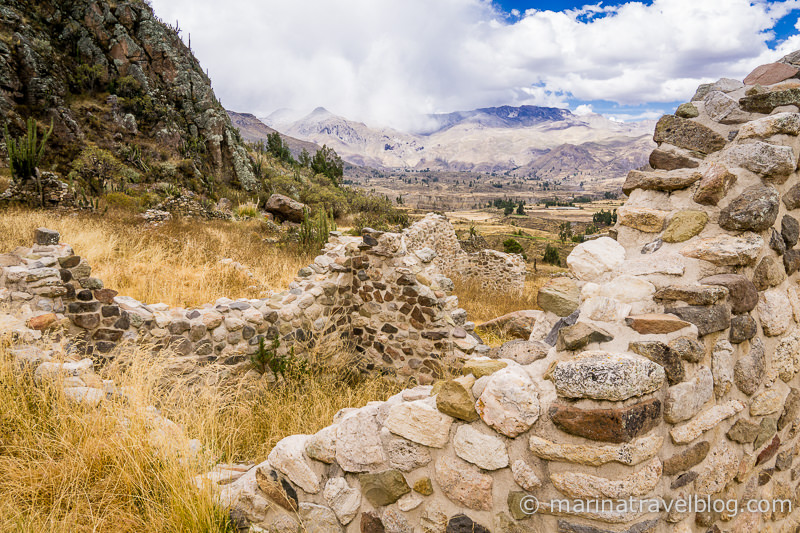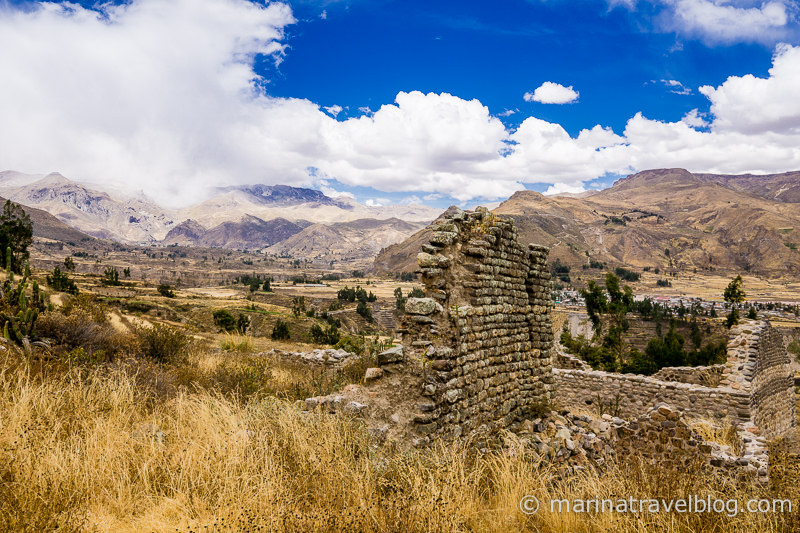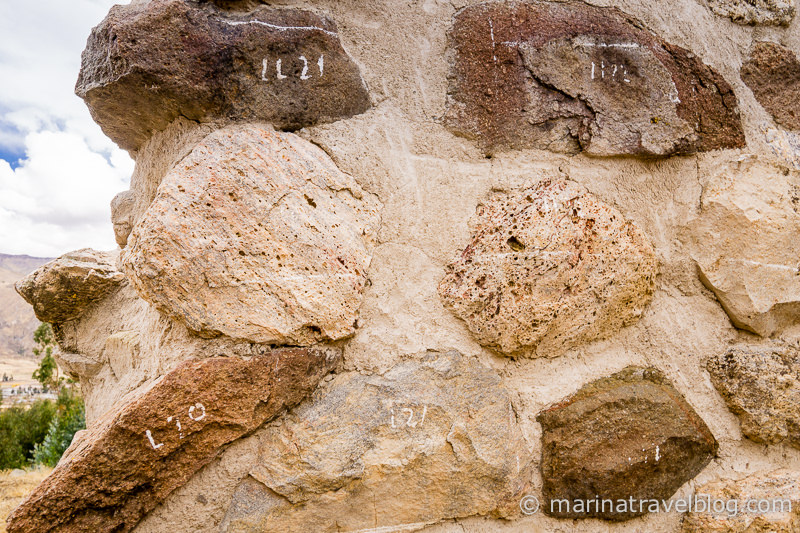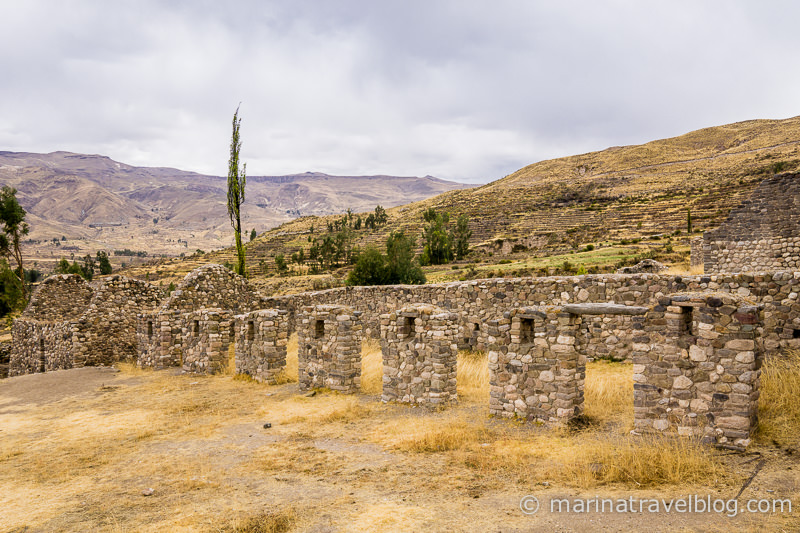 Pinchollo.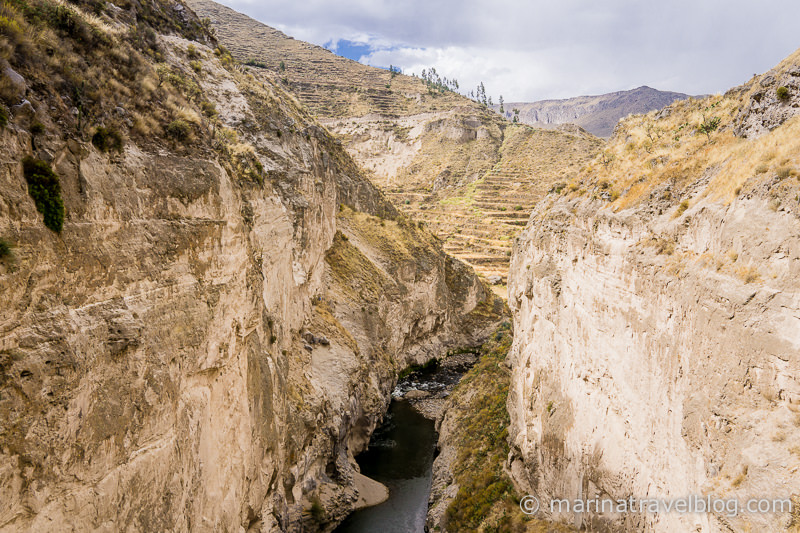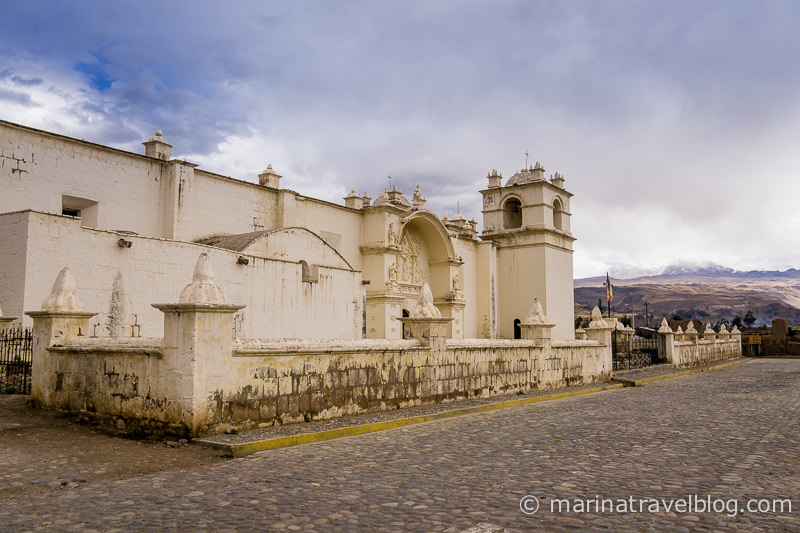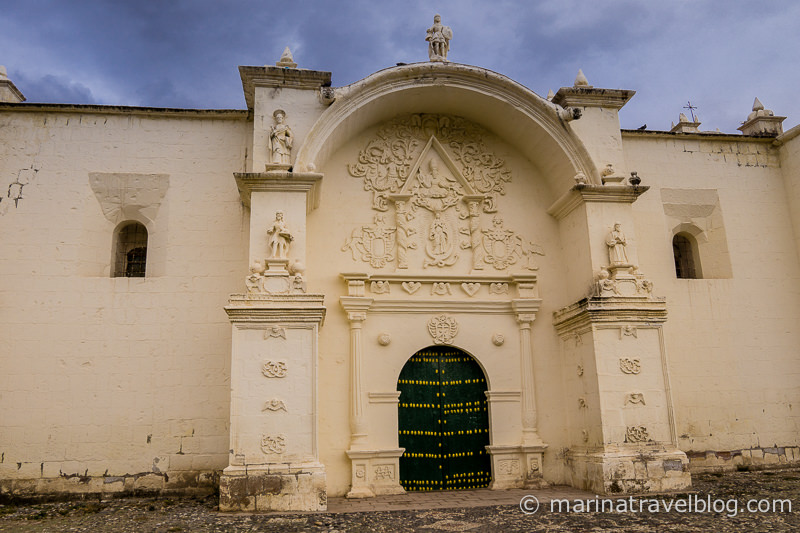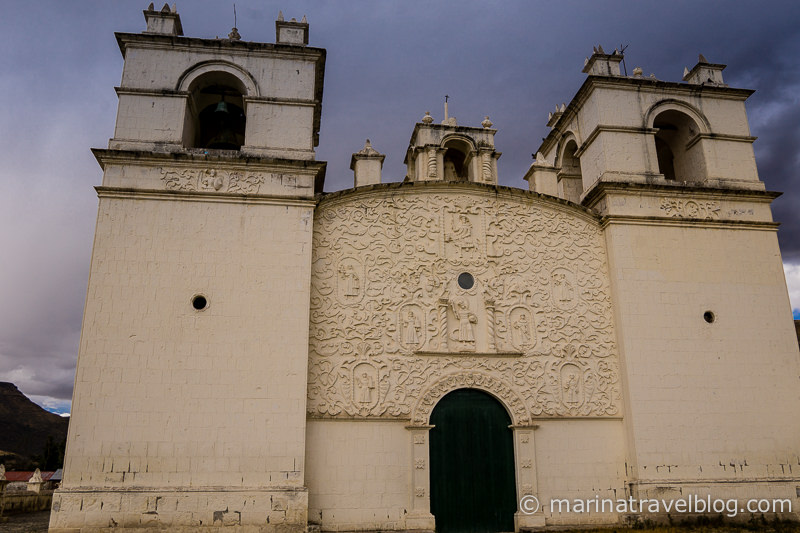 From Yanque to Pinchoyo the last bus goes at 5 pm. The fare was 1 sol. It's better to get on the right, it has very cool views.
Pinchollo turned out to be a pretty remote village. There were two hostels, that cost 50 soles for two (without hot water and internet, so we negotiated for 30), a couple of stores with no choice (even without beer, but there was port wine for 4 soles – a little over a dollar! – We didn't risk it), one canteen with big portions and very cheap (first, second, tea 3 sol, but not much meat).
I see that since we were there, this hostel has been completed, opened a cafe and even listed in the bookings and they have a good rating there – more than 9. Well done
Day 3
We were offered to go from Pinchoyo to the volcano and geyser, then to sleep there and go to the condors in the morning, but we did not want to stay here longer, and photos of geyser did not impress us, so we decided to skip the volcano. We set the alarm for 6:30.
HAHAHAHAHAHAHAHAHAHAHA. 5 (five!) In the morning the whole village began to shout loudspeaker, urging people to subbotnik (Wednesday) and the people's meeting in the dining room and something else, and it lasted until 6 and something. The alarm sounded somewhere in the middle of our breakfast :/.
When we got out, people were trimming the bushes on the main square and burning the trash there.
How to avoid the controllers on Cruz del Condor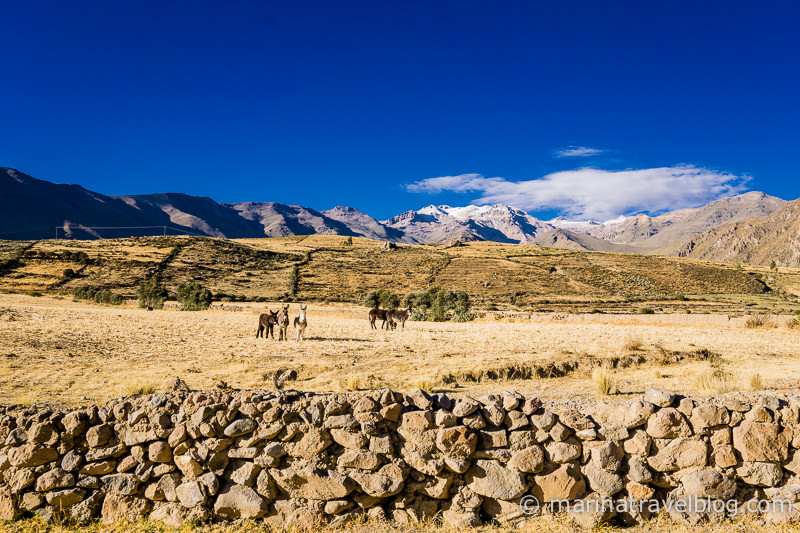 As our friend from the couchsurfing explained to us, there is a control at the exit from Pinchoyo, and another one is right on Cruz del Condor, and stops everyone on the way to Cobanaconde. So we walked part of the way on the dirt road, which is a little lower down the road. Then you have to follow the road to Cruz del Cura, and then turn off onto the trails and walk around the lookouts. We did just that.
Back in the village we were joined by a local dog, we called him Bobik (el Bobik) – he accompanied us to the viewpoints.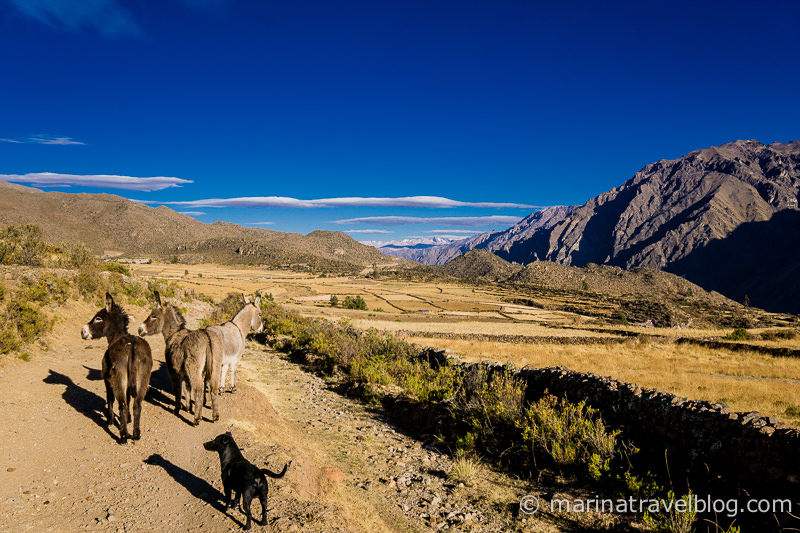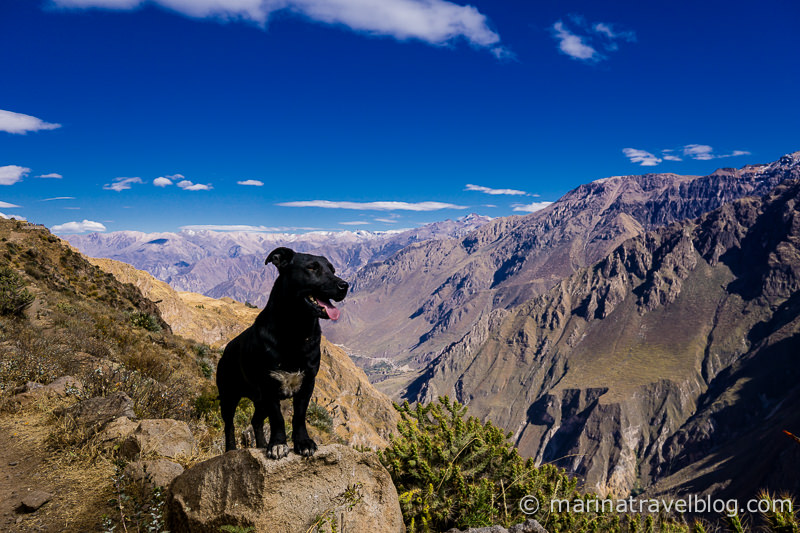 You can see it all on the map.
On the road we tried to stop, but there were only farang trucks and tourist buses, so no one picked us up. Only dusted us with Bobik.
The views from the observation decks were beautiful, but we never saw any condors
Then we sat down to eat, and El Bobik was not lucky – he did not find peanuts and raisins edible.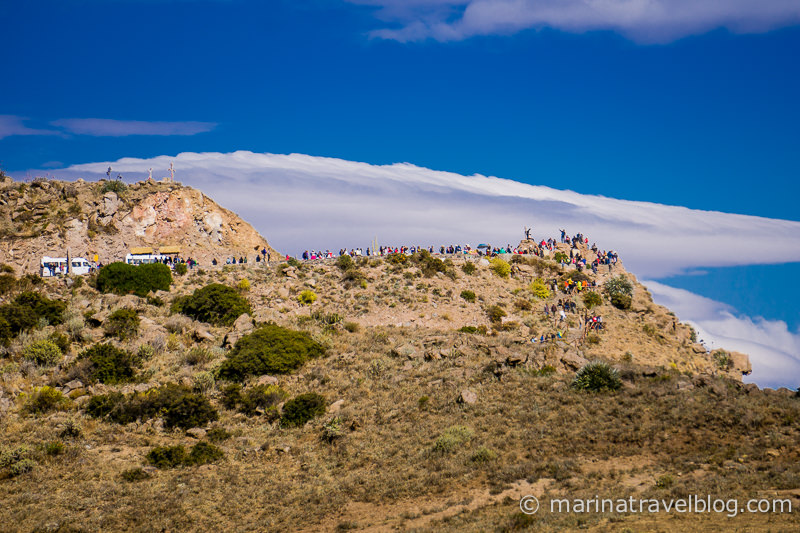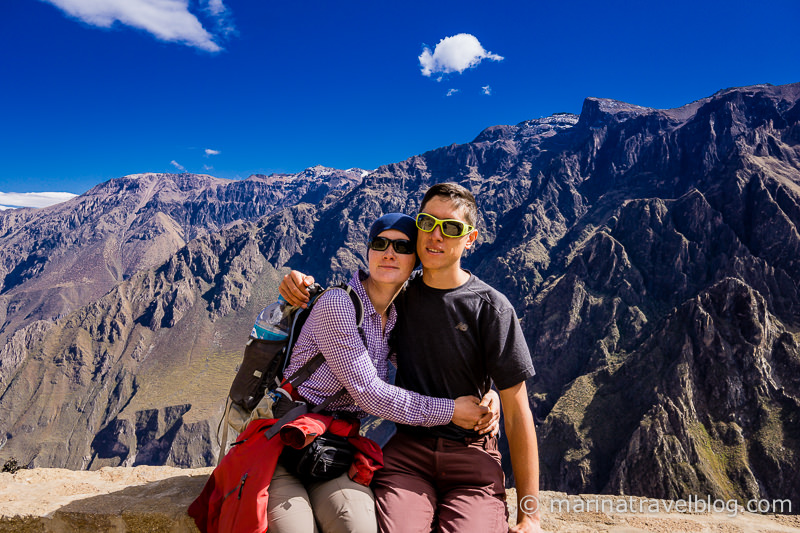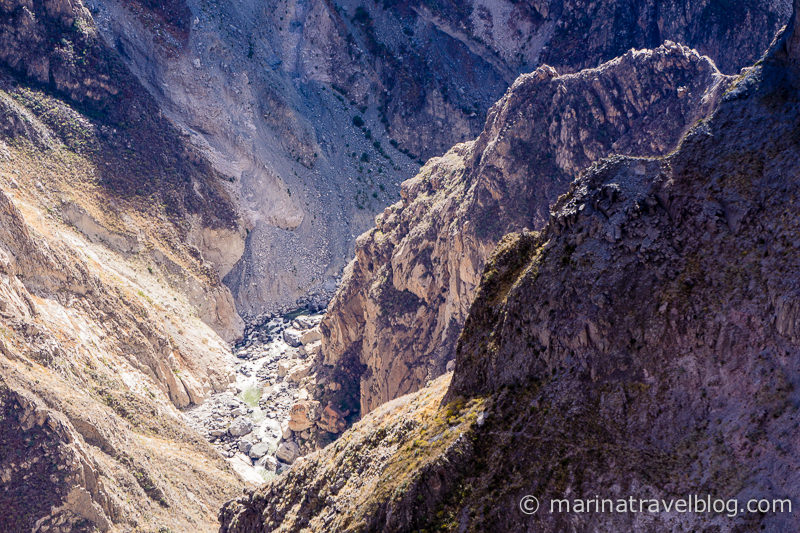 We were about to leave, and then – condors! We saw a total of 8 birds, some very close. Hurrah!
In general, they say that condors fly out only in good weather and in the morning from 7:30 to 10 (el condor tiene su horario y su reloj!), but we saw ours at 10-10:30.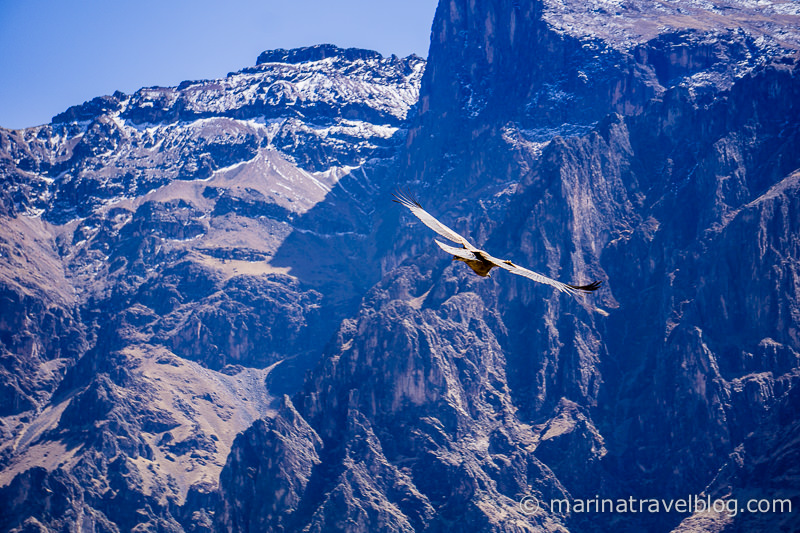 Return to Arequipa
Returning back to Cruz del Cura is best so you don't run into ticket takers over Cruz del Condor. There we waited for the bus (and it runs very rarely) and tried to stop.
Literally five minutes later a tourist bus stopped and took us to Chivay. Along the way, we stopped to try cacti (souring eerily), and on a very steep mirador: from it, according to National Geographic, you can see the stream from which the Amazon River is believed to begin.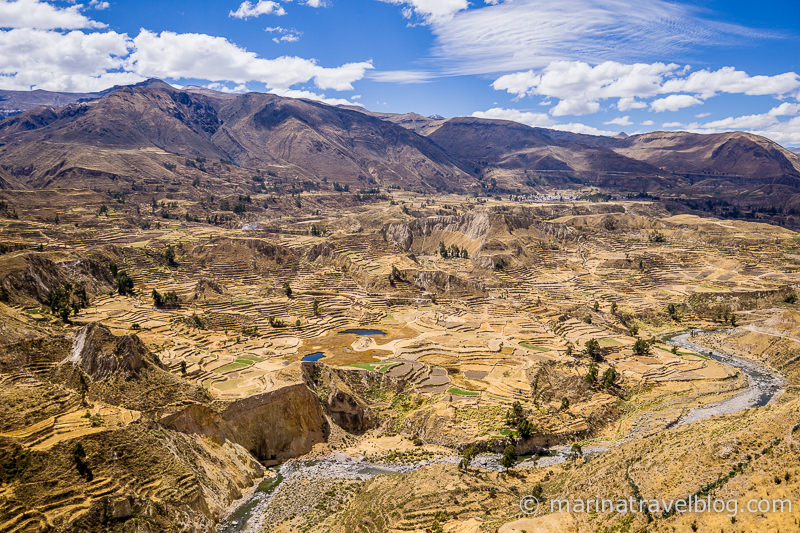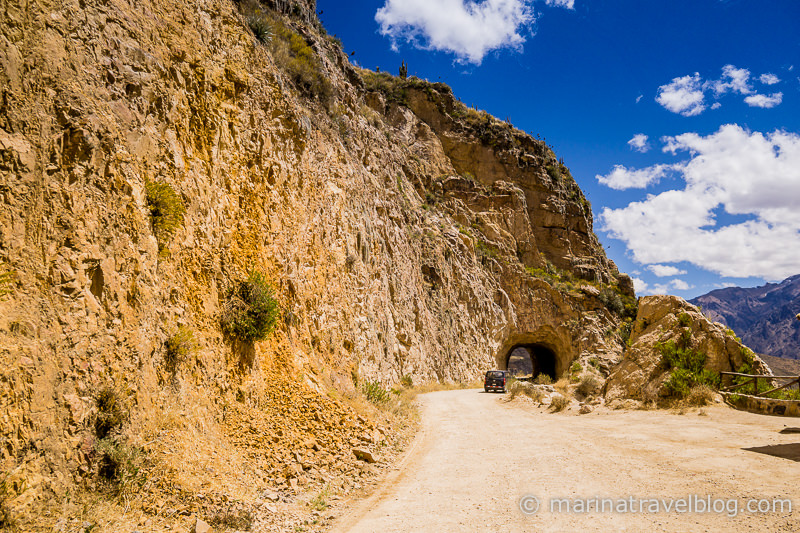 There are no more controllers at the entrance to Chivay on that side, and no more at the exit either. We had lunch there and drove to Arequipa, buses full, from 5am to 6pm.
This whole trek is so elementary that you could not even take trekking poles
Orienteering is also elementary.
Kolka Canyon Excursions.
If you do not want all these difficulties, as we have, and just go in a comfortable minibus with air conditioning and a guide who will tell you everything and show you, it is more convenient to go to Kolka with an excursion.
Usually take from Arequipa, less often from Puno. There are different options:
Insurance for hiking up to 6,000 meters.
Regular policies do not cover mountain hikes of any difficulty category. You need a separate sports insurance. The best option is to buy for active days insurance from Worldnomads – an international insurance, takes out online even if you're already on the trip, and covers hiking up to 6,000 meters.
Unfortunately, for Ukrainians and Belarusians Worldnomads is not sold (but you can buy if you are a resident of another country that is on their list).
For Ukraine there is a site with different insurance – you can pick up a policy with a sports option there. Just do not take Providna and do not buy insurance with Balt Assistance – we had a very bad experience with them!
Useful information
1) There are no ATMs in these places, and the exchange rate is just robbery – bring enough reserves of Peruvian salts!
2) All the mountains there are no higher than 4000m, so not as big a chance of mountain sickness as on other trails, although there is a pass over 4800m on the way. But you should listen to your organism and drink plenty of clean water, and if you suddenly get mountain sickness, immediately go as low as possible!
3) There are hikes to the bottom of the canyon in the same area, but since we were already on steeper hikes and saw everything from above, we did not go down to the bottom. The pictures on the internet look nice.
Did you like the entry? Be sure to share!
Subscribe and stay up to date with all the news!
Read more about Peru:
Read about our other hikes:
Still have questions? Any clarifications or additions? Leave a comment!