The cheapest and most expensive cities in Italy
Italy is one of the top tourist destinations of the world, because in this charming country, bathed by five seas, everyone will find their own flavor. Romantic fans will find Venice and Verona, lovers of antiquity – the eternal city of Rome, art lovers dream of Florence, gourmets – Prosecco and prosciutto, and connoisseurs of excellent beaches go to the resorts of Ligurian, Ionian, Tyrrhenian or Adriatic Sea. However, Italy is considered one of the most expensive European vacation destinations, especially when it comes to popular resorts and cities with rich history.
The cheapest and most expensive cities in Italy
The most expensive will be a vacation in the Veneto region, which is famous for its many monuments, interesting cities and provinces, including Venice, Verona and Treviso. A little cheaper will cost a vacation in the capital cities of art and fashion – Florence and Milan, as well as on the islands of Sardinia and Capri. In the fabulous Sardinia one of the most expensive resort is Porto Cervo, located on the Emerald Coast. The average room rate here is about 600 €, and a villa for a large group – more than 3,000 € per day. In Capri a similar villa will cost cheaper, but still quite expensive for the average tourist – about 2 000 €.
By the way, in Tuscany is concentrated more than half of all attractions of Italy, the UNESCO World Heritage List. This ensures the third position in the ranking of the most expensive region. At the Tuscan resort of Forte dei Marmi the average cost of a hotel is more than 300 €. Slightly cheaper, but still significantly expensive are rooms in the Campania hotels – 248 € and Liguria – 241 €.
Among the most expensive cities of Italy are (average price per room)
Venice – 176 €.
Sorrento – 152 €.
Livigno – 139 €.
Milan – 126 €.
Florence – 125 €.
Taormina – 144 €.
Fasano – 132 €.
Abano Terme – 123 €.
Como – 121 €.
Ostuni – 119 €.
The cities and resorts of the south and central part of the country are considered the most budget-friendly. Even in high season you can relax there twice cheaper than in Venice. Beach lovers will be pleased with the prices in Sicily – about 100 € per room, and resorts of Tyrrhenian Sea: Naples, Pisa and Genoa, where a night in a 3* hotel will cost 70-80 €. The most economical excursion destination is the ancient city of Pompeii, and excellent and democratic island resorts are, oddly enough, in Sicily – Trapani, Sciacca and Agrigento.
Before your trip is worth considering not only the cost of housing, but also other costs, such as renting umbrellas and sun loungers. In Italy, there are free and paid beaches, with vacation spots for smokers are more expensive. The most budget-friendly prices for beach costs in Gallipoli – 5-15 €. Traditionally one of the best options in terms of value for money remains Rimini, which is reflected in the cost of beach attributes – 10-18 €. Most of all you have to pay for sun protection and a sunbed in the Ligurian resort of Alassio – 24 €.
The most budget cities in Italy are:
Trapani – 64 €.
Pompeii – 70 €.
Sciacca – 71 €.
Castellammare del Golfo – 72 €.
Viterbo – 74 €.
Pescara – 74 €.
Agrigento – 75 €.
Taranto – 75 €.
Reggio di Calabria – 76 €.
Palermo, Naples – 76 €.
Venice – the most expensive tourist city in Europe
Venice is considered the most expensive city for tourists not only in Italy but also in all of Europe. The average cost of a night is 176 € – quite an overhead price for budget travelers. Bed in a hostel also will not allow to save much money, because you will have to pay for it from 60 €. Usually, democratic three-bedrooms in the city of canals and bridges also do not please: you must pay about 130 € for a night.
Obligatory item of the program of every self-respecting tourist is canal boat trip – and to deny yourself this pleasure is certainly not worth it. The average cost of travel by gondola, individual cab with a charismatic captain, will cost 80 €. To save money, but still see the grandeur of the Grand Canal, it is worth to take a vaporetto – sea streetcar for 7 €. The best seats are at the headland of the ship to take them, get in at Piazza Roma, which is the final stop of the central route.
Of course, even the most unpretentious tourists will have to think about food. Here is universal advice for all tourist cities in the world: avoid restaurants in the center and at popular attractions. For example, in St. Mark's Square even a cup of coffee will cost you an outrageous amount of money – about 12 €. A dinner at a restaurant with alcohol in the nearby area will cost at least 70-80 € for two.
There are several ways to save money:
Fast food chains: a big mac set at McDonald's will cost 9-10 €;
Cicchetti – local fast food: sandwiches with prosciutto or smoked cod cost 1 € and are very filling;
cafes with inconspicuous signs in the distance from the center – a universal option for any resort;
The national Italian drink produced in Treviso, prosecco sparkling brut, costs 1-2 € per bottle in a wine shop or supermarket and can be enjoyed with cicchetti everywhere;
Food from supermarkets, small local shops, bakeries and pastry shops will allow you to save up to 70%. For example, for 6-9 € you can buy a couple of apples and buns, a bottle of water, and a mini-pack of cheese and prosciutto.
On the topic of budget gastronomy and sightseeing, there is another tip. Since Italy is one of the safest countries in Europe, every visitor to Venice can afford an overnight trip without the risk of endangering themselves. Therefore, having previously purchased a delicate wine and flavorful snacks, after 11 p.m. it is worth returning to Piazza San Marco. The magnificent architecture will remain, but the people will be virtually gone. Seated comfortably at a table in the by now closed sidewalk cafes, you can have a stunningly atmospheric dinner that will surely be remembered for a lifetime.
Sicily – An Island with Good Budget Vacation Opportunities
Oddly enough, the cheapest place to vacation in Italy was Sicily with the resort of Trapani, where the average cost per night in a hotel was 64 €. The Sicilian resorts of Sciacca and Agrigento were not far behind, with rates of 71 € and 75 €.
Trapani
In the center of Trapani prevail economical hotels with a minimum of services. As you get closer to the coast the hotels are of a higher class – here you can choose 3-4* hotels. The resort is famous for its nice sandy beaches, wild nightlife and plenty of attractions, which makes it popular with a wide range of active tourists.
Agrigento
Agrigento is a two-hour drive from Palermo and attracts primarily history buffs. It is a small town of interest in its own right, but its main tourist magnet is the nearby Valley of the Temples. Here are the ruins of ancient Greek sanctuaries and the surrounding catacombs of the early Christian period.
You can visit the archaeological complex with a guided tour, which will cost at least 100 €. To save money, you can get to the Valley by public transport, the fare which costs 1-3 €. But it is not worth saving for a tour of the places of fame of the famous Italian Mafia, many representatives of which are associated with Agrigento. The more so that they are more budget: private guides will organize a fascinating journey for 50-70 €.
Palermo
Another Sicilian city, Palermo, is also one of the ten most budget Italian destinations. The average price for a room is 76 € and the minimum is from 37 € in a hotel, 23 € in a B&B and 16 € in a hostel. Trains are ideal for getting around Sicily: 3-7 € for suburban lines and 10-16 € for long-distance lines. A transfer from the airport in Palermo costs 50 €, while buses cost 6-7 €. At the same time, you don't have to sacrifice too much comfort: public transport is equipped with soft seats and air conditioning.
Shakka
The resort is located on the west of the island and is famous mainly for thermae, known since antiquity. It is a quiet and comfortable family resort, where people come to improve their health with the help of mineral springs, which form a kind of steam baths, and therapeutic mud. There are no good beaches in the center of Shakka, but in the vicinity there are many undeveloped pieces of beach with white sand, where you can sunbathe for free. The average cost for dinner is about 40€ for two and a room is about 70€.
Sorrento is luxurious, but there are options to save money
Sorrento is located in the Campania region in the southern part of the country. It has long had the status of a prestigious resort, so the prices here are appropriate: for a room will have to pay, on average, 152 €.
In the center of Sorrento, including the main square, are many trattorias and cozy cafes. Prices here are much lower than in Venice:
A cup of coffee – 2 €;
pizza Margarita – 6 €;
dinner for two with alcohol – from 50 €
A glass of beer or wine in a club – 5-6 €.
The resort is considered one of the most gastronomic in Italy, so do not deny yourself the pleasure of tasting freshly caught seafood. Among them there are many kinds of tuna, as well as mussels, shrimp and other delicacies. To save money, go to the fish market and choose the most appetizing goods from the local fishermen. You can cook them yourself in the apartment or go to any nearby cafe. Also Sorrento is considered the birthplace of limoncello: to combine work with pleasure and to save money you can buy a guided tour at the I Giardini di Cataldo for 8 €. The standard way to save money is to shop in a supermarket where you can pay 10-12 € for a popular wine from Vesuvius, a set of cheese and prosciutto for two.
Milan – the fashion capital with excellent shopping
Milan is the fashion capital and economic center of the state and therefore prices here are comparable to the Venetian. Prices for accommodation options:
average – 126 €;
3* – 80-120 €;
4* – 120-180 €;
apartments – from 60 €;
5* – from 300 €.
To reduce costs, it is worth settling outside the central areas and buy a pass for public transport: savings of 100 € daily for cabs and about 30% for accommodation. A single ticket for 1.5 € entitles you to travel on any transport for an hour and a half, but it is better to buy a travel card for 10 trips for 14 €. Good news for families with young children: young travelers up to five years old travel for free. You can also get a MilanoCard for 19 €: it is both a travel card and discounts to the city's main museums.
Dinner for two at a restaurant in the center of Milan will cost you at least 80-100 €, and in a small family trattoria only 20-40 €. The price for a cup of coffee near the sights is 3-4 €, for dessert – from 7 €, for pizza – 7-15 €. It's worth remembering that all cafes have a service charge. Usually it is not more than 2 € from the bill, however, if you drink only coffee, its size will be almost equal to the price for a cup. To avoid additional costs, you can take a seat behind the bar.
A good option is to go to small bars after 6 p.m., where a glass of wine or a mug of beer is served with free snacks. These can often be prosciutto or anchovy sandwiches, familiar to Italians but delicate to us. In supermarkets the picture is typical for any Italian city: a light dinner with fruit, cheese and wine will cost 10-15 €.
Shopping in Milan can not be called a budget, but you can save a lot of money: in boutiques in the main streets of the brand clothing is 20% – 30% cheaper than in Moscow. If you do not pursue new items, things from past collections in outlet stores can be purchased at discounts of up to 70%, and in the period of sales price tags can cut even twice. For furs should go directly to the factories, where you can get additional discounts from manufacturers.
How to travel cheaply to Italy – 11 secrets
Hello friends, here is Alexey Sinitsyn, Federico Fellini of the world of budget travel. Today I will tell you how you can get cheap trip to one of the most wonderful places on earth – Italy. I share the secrets of how to save money wisely in this expensive country. Learn when to fly on vacation, where to eat and where not to eat, how to rent cheap accommodation, so that you won't end up in the middle of the emigrant quarter. Read about this and much more in my review!
Italy welcomes tourists from Russia. There is no direct flight connection, but you can take a connecting flight. The issuance of new visas for Russians has been suspended. This article may not include up-to-date information about prices for tours and flights. See list of open countries.
1. Do not fly in August.
This is the most important rule for those who want to have an inexpensive vacation in Italy. August is the most expensive month to travel. Prices soar to their heights, resorts are crowded, and museums and restaurants are cracking at the seams. I was in Italy in August (by the way, it was my first trip abroad) and I know what I'm talking about.
If your main goal – beach vacation, I advise to come in September or October (ideal weather), or at least in June-July (it will be hot). If you're flying to Italy for museums, architecture, food and just a holiday of life, you can safely come in any other month.
I went to Italy three times: in August, July and November. The end of autumn was especially good with an almost total absence of tourists, even in such world tourist centers as Cinque Terre and Pisa. And in general, my dream is to go to winter Venice, as Brodsky bequeathed us to do.
Twelve years ago I went to Italy for the first time. I went in August, and it was crowded! I remember how in Venice I barely managed to find a moment to take a photo without strangers in the frame. But the city is amazing and now I dream of going there in winter, like the man in the photo below. Brodsky is definitely on point.
2. Find an inexpensive flight.
Since March 2022 it has become impossible to get a cheap flight to Italy from Russia. There are no direct flights, no charters, and Pobeda doesn't fly to any Italian airport anymore. Previously, in the low season you could buy round trip tickets for just 5,000 to 10,000 rubles. Now it is difficult to find tickets even for 30-40 thousand.
Look for tickets on the Aviasails search engine – it will show the most convenient and inexpensive options for your dates. The service will warn you about flights that are not available to Russian citizens. Check the price of tickets from your city, from nearby and from Moscow – the difference can be significant. Also read my tips for buying cheap airline tickets.
Also check how much tickets cost for different segments of the flight separately. For example, separately purchased tickets Moscow-Istanbul and Istanbul-Milan may be cheaper and more convenient than a single ticket Moscow-Milan with connections.
The cost of flights to Italy from Tbilisi, Kutaisi and Yerevan is considerably lower. There are cheap flights to Armenia from various Russian cities, and you can get to Georgia cheaply by land.
Cheap tickets to Italy are available from Lithuania, Estonia, Finland, Serbia, Turkey and Israel. Slightly more expensive – from Azerbaijan, UAE, Kazakhstan. You may be able to build a route through these countries.
3. Buy a last minute tour.
UPD: You will not be able to buy a last minute tour to Italy in 2022. The tours are sold, but they are very expensive, because they include connecting flights on regular flights.
Sometimes I fly abroad on last minute deals. If you catch the right moment and be ready to break away at any time, you can save a lot of money. I look for and buy bargain tours on Level.Travel and Travellata. Check out my 7 rules for buying cheap trips.
Italy is no exception: inexpensive last minute tours often appear there too. The cheapest trips are usually to Rimini, but there are also other resorts. From Moscow you can fly on a tour for 20-40 thousand rubles for two. The lowest prices for tours usually occur at the turn of the season: in May and June and in the fall, which again encourages us to abandon our trips to Italy in July and August.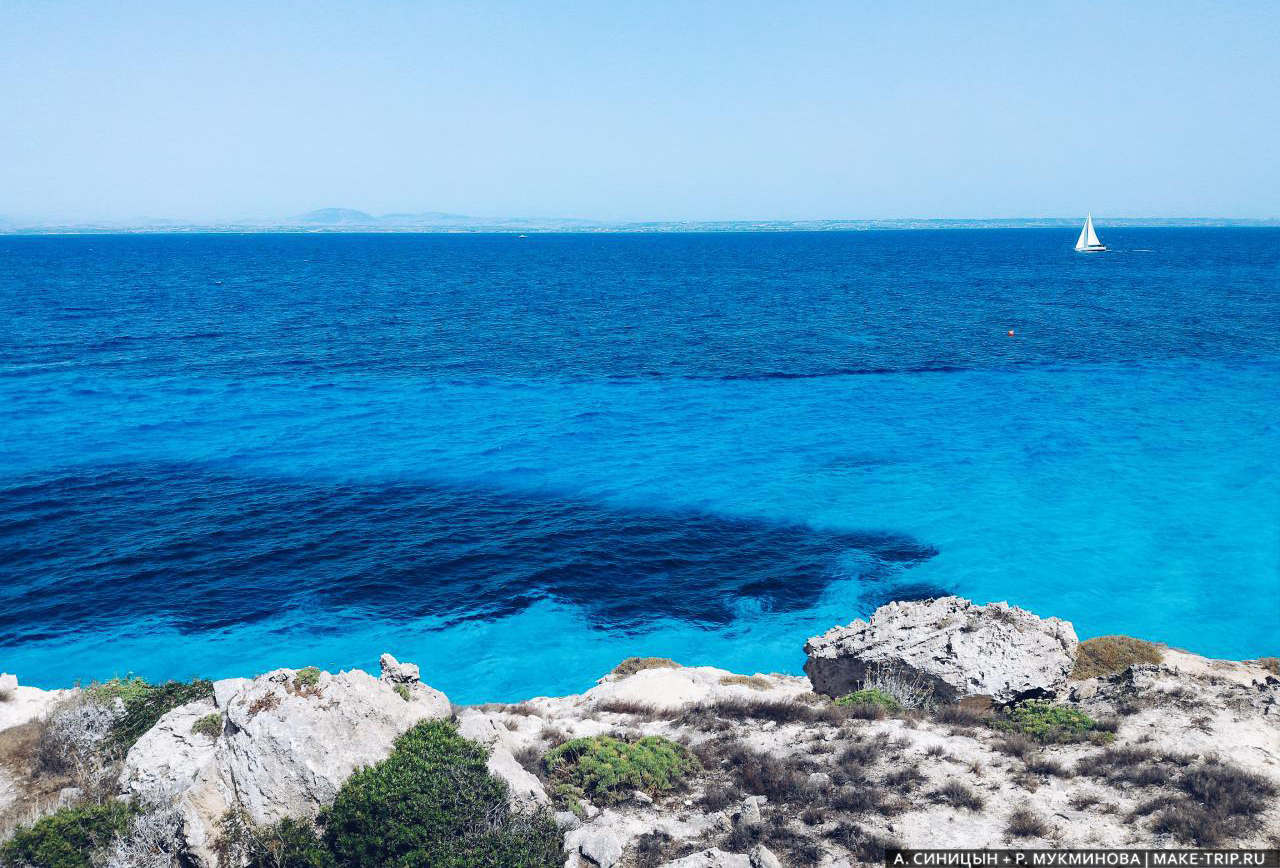 One of the most enchanting places in Italy, and indeed in the world! The island of Favignana near Sicily. I fell in love with this place at first sight. Consider this a recommendation
4. Travel by bus, lowcosters or car.
Italy is not an all-inclusive hotel somewhere in the Dominican Republic where you can sit your ass in one place for two weeks straight. Italy requires and, I would even say, obliges to constantly travel and explore its beauty, which it has so much that even for the life of you can't see. So every self-respecting traveler is faced with the question of moving around the country or at least the nearest surroundings.
Trains in Europe are expensive, bus tickets are much cheaper. Advice is logical, but here, of course, you need to look at the situation: whether the savings in time and convenience justify the cost, which option suits you better in terms of schedule, where the departure and arrival, and so on. Just 5-10 years ago I had to manually scour the websites of all bus and rail carriers to compare schedules and prices. But now life became easier – there are handy services like 12GO which compare all (or nearly all) ways of getting from one town to another. I recommend it – it's a great help, and saves money. You can also look for train tickets in Italy at Trip.com. Keep in mind that we will need a card that works abroad to pay.
Our guide to Rome will tell you how to get from the Eternal City to Venice, Naples, Milan, Florence and other Italian cities or vice versa.
Between cities that are far away, it is best to travel by air . Italy is a country with healthy competition, unlike ours, so you can fly around the country for cheap. More precisely – for a few euros. You can fly from virtually any major city to another for a mere 10-30 €. For the same or a little more money you can fly to other European countries, which I also always use. The Aviaseils search engine finds all these super-low-cost tickets, and you can buy the tickets you find from agents who accept any Russian card.
In order not to puzzle with the schedule of public transport and be free to move around, I advise to rent a car. In Italy you can rent a car for 1-2 € (on special offers) or at least for 8-15 € per day (almost always). Look for a rental car on the site Rentalcars.com (Note: you need a card that works abroad to pay). Renting a car can be even cheaper than taking buses and trains, especially if there are two or more of you. There is only one pitfall – expensive paid parking lots. We almost always rent a car abroad. Learn more about car rental in Italy and all the important nuances of renting a car abroad.
Do not be afraid to rent a car – it's inexpensive and convenient. You can take a ride in a very scenic places. Rifugio Montecristo, L'Aquila. Photo: Lorenzo Lamonica / unsplash.com.
5. Eat in trattorias
First of all I advise to pay attention to trattorias . They are a special type of restaurant with simple service and a small selection of traditional dishes. The food there is delicious, hearty and inexpensive. You can fill your belly with fine examples of delicious Italian cuisine for just 10-12€. And they don't try to charge you any coperto or other fees, and they don't insist on tips.
It should be understood that the trattoria is not some McDuck, but the most authentic Italian or local regional cuisine, just without the pathos and trinkets. Healthy food at decent prices, and you will also get acquainted with Italian manners – trattorias have a regular clientele, who go there from year to year for generations, everyone knows each other and communicates. It's fun and authentic.
Well, avoid all the tourist restaurants. If you really want to have a nice dinner, then find a good place away from the beach and touristy streets, the same level in a less "hot" area you get a lot cheaper. Read restaurant reviews of the desired city on TripAdvisor or on blogs.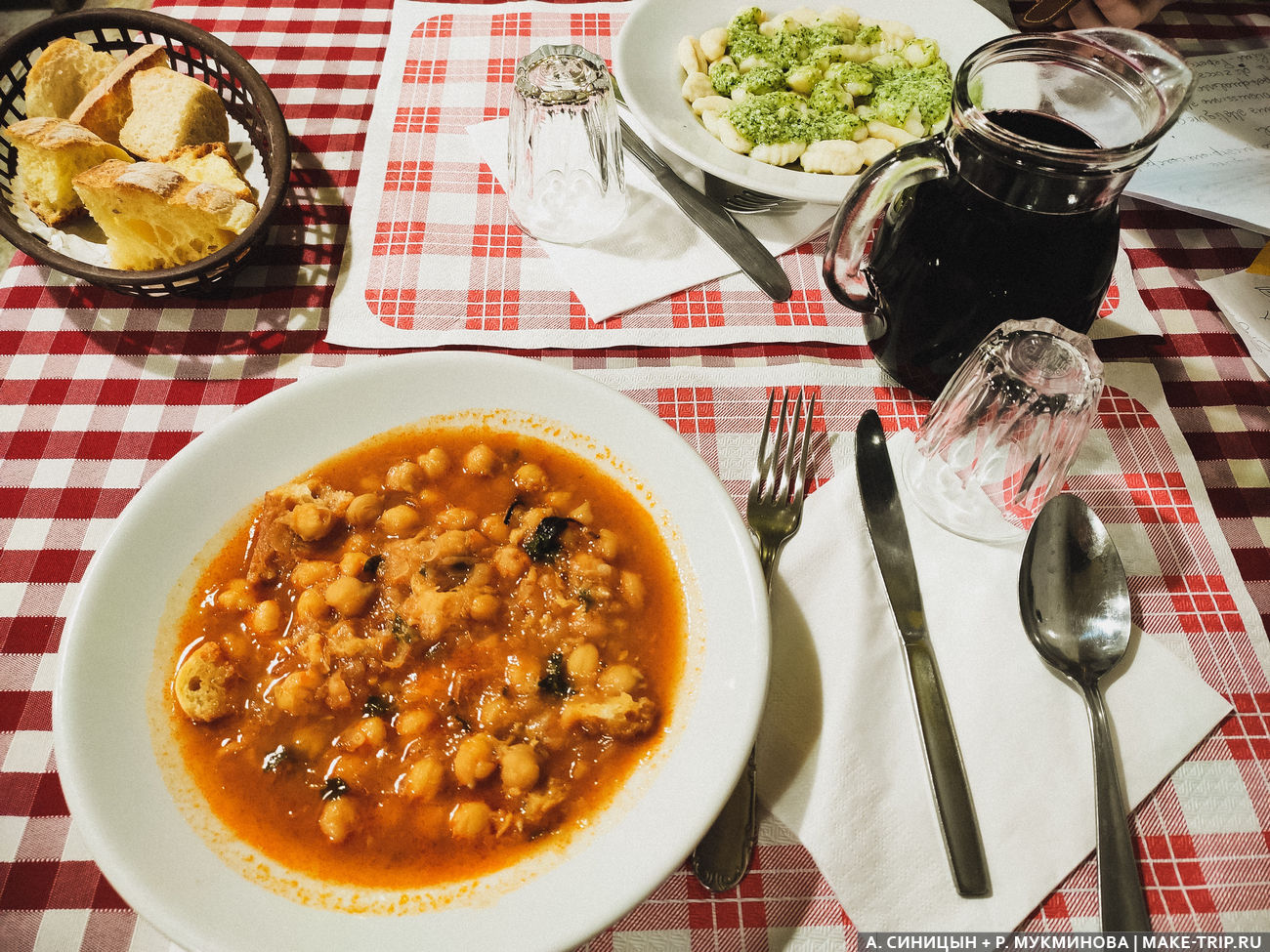 Our delicious lunch of regional cuisine in a trattoria in Genoa. First, second, dessert, wine – the whole feast of the belly cost us 12€ per person.
6. Book lodging very early
Italy is one of the most touristy countries in the world, and the demand for hotels there is very high. I advise to book accommodation as early as possible: in the summer – at least 3-4 months, but better six months, and for the less hot season – at least 1-2 months. Of course, you can find an apartment a day before the trip, but the best and cheapest options will already be occupied. If you follow my advice, you can find a great hotel or apartment for a reasonable price, and there are a lot of gems in housing in Italy.
I, for example, once lived in Sicily like a real Russian prince in a luxurious mansion for only 40 €. Just look at this beauty in the photo below! The first few hours of my Italian vacation, I spent just looking at the decor and interior of this fabulous apartment.
And in Genoa, we lived in a large three-story apartment with its own terrace and just a roof-top view of the city. We paid only 80€ for this miracle, which is quite inexpensive for Northern Italy.
So gather your willpower in your fist and force yourself to plan a trip as early as possible. To search for hotels in Italy, the best way is to use Yandex.Travel or Ostrovok.ru, because they accept any Russian card to pay for reservations. I also advise to compare prices on Hotelluk – it often finds a lower price for the same hotel on other booking services.
Gorgeous interiors of my hotel in Sicily. A bedroom in a hotel room in Sicily. View from our terrace in Genoa.
7. Choose an inexpensive neighborhood
Every city has cheaper and more expensive neighborhoods. Lodging near the main attractions or a stone's throw from the beach will be much more expensive than a similar one a little away. Be brave and do not be afraid to spend an extra 10-20 minutes for walking – walking in Italy will be just for fun. In addition, in inexpensive neighborhoods you will be close to supermarkets and inexpensive restaurants. Convenient and profitable!
But first make sure you carefully read the reviews of housing, so as not to accidentally find yourself in the heart of the immigrant ghetto, and they are in Italy in almost every city. Take into account that the unfavorable area in Italian cities can be not on the outskirts, and in the center. For example, this is the old town of Genoa – in its dark narrow alleys, where from every street you can hear the sighs and groans of old-school toilers, some of the most sensitive people will feel uncomfortable. It's a safe neighborhood, however, just not combed. We lived there quite calmly, and the landlord confirmed that there is no need to worry. So read the reviews and make your own decision.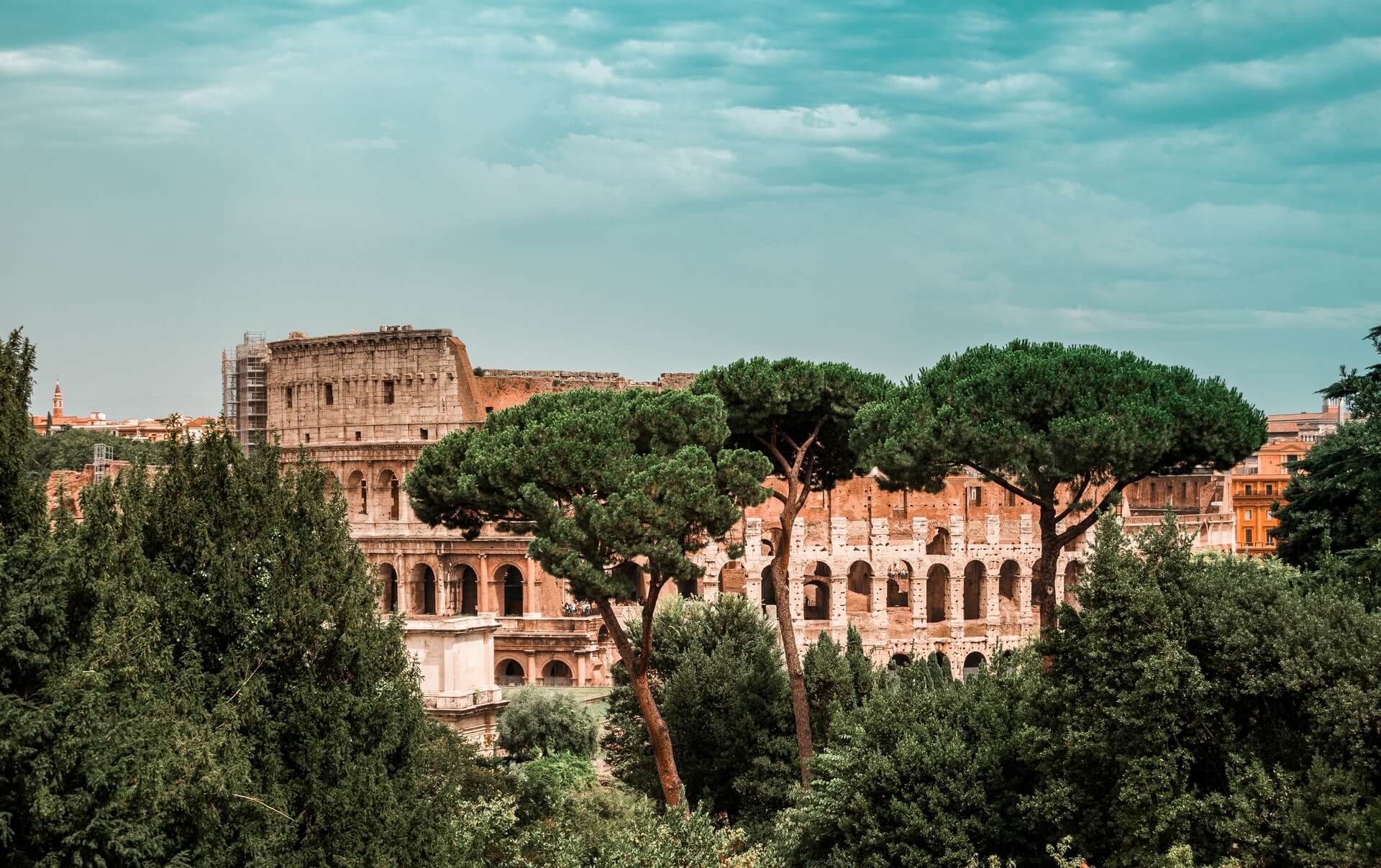 Living near the main attractions is nice, but expensive. Colosseum in Rome (Photo: unsplash.com / @dinges)
8. Book an apartment with a kitchen instead of a hotel
How nice it is to sit in a restaurant every night with a glass of wine and scoop up mussels or devour insane amounts of great pasta! How nice to start the morning in a cozy cafe with a cup of coffee and my favorite cannoli! How good, how wonderful! One bad thing: such delights are expensive, especially if the vacation lasts not a couple of days, but a week, two weeks or a month, as I usually have. Good luck with the cuisine: the food in Italian stores is about the same as in our country, but the quality and taste is ten times higher. Believe me, in Italy you can enjoy not only food in restaurants, but also more affordable things: wines, cheeses, fruit, vegetables, sausages – in general, our favorite sanctioned foods. We don't eat cheese in Russia for a long time already – why should we poison ourselves with our surrogates, when in Europe a real work of art for 1-2 € is waiting for you on the shelves in any supermarket?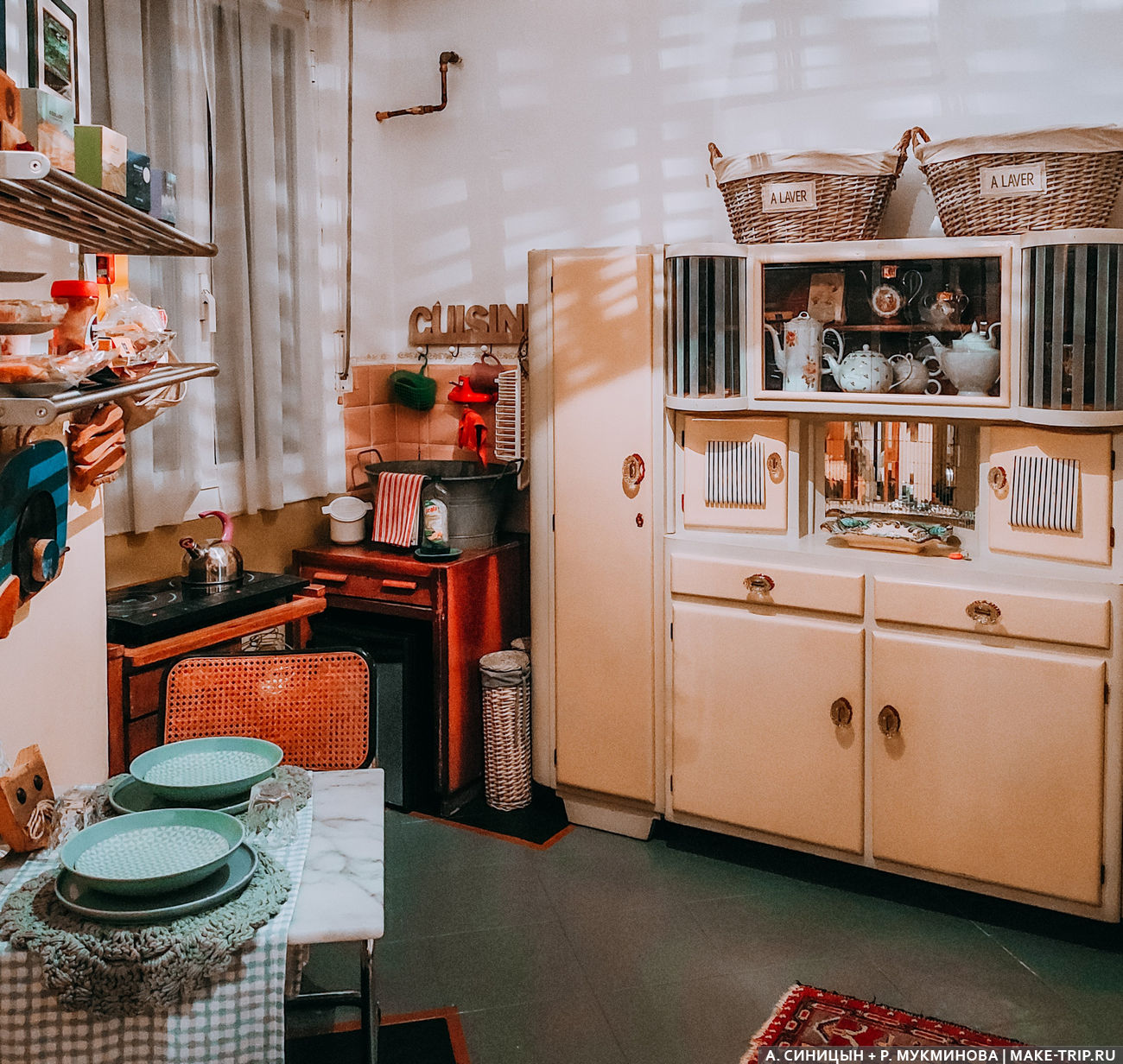 The kitchen in our cozy apartment in La Spezia.
9. Think financially
From March 2022 Russian Visa and Mastercard cards do not work in Italy, and the country does not work with the "MIR" system. Therefore, you need to go on vacation with cash euros (if available), a card of another payment system or a foreign bank.
Read my review of the credit card All Airlines, the most profitable card for travelers.
10. Look for free beaches.
Italy flirted with communism a lot in the last century, but it was in vain – the beaches there are nothing but fees! And even more and crowded: and tourists from all over Europe, and the Italians just love beach leisure. Well, and you-know-which-month it is a living hell!
Many resorts have free beaches: I found them in Rimini and Sicily. It's true that they're quite small, but there's nothing to complain about. Find these municipal beaches and swim there if you want to save money.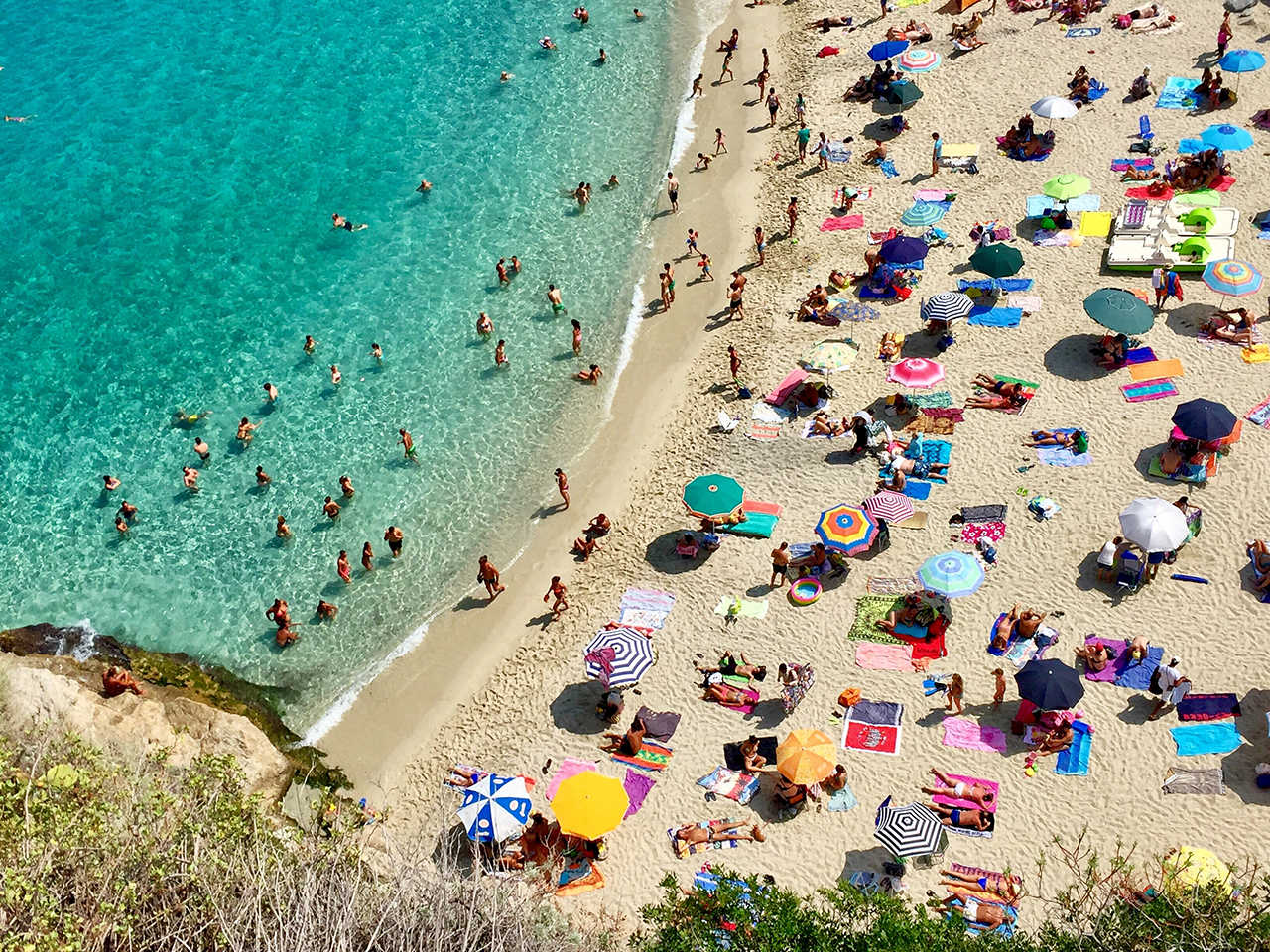 Free beach in Tropea, Calabria. Photo: @metapolitica / unsplash.com.
11. save money on attractions.
Major museums, amusement parks, sightseeing and other very popular tourist attractions in Italy are quite expensive. For a short trip only on them you can waste many hundreds of euros. If you want to rest cheap, then reject the expensive attractions, visit only free and inexpensive or try to get into the major museums on free days. Walk around more, because Rome, Milan, Venice, Florence and any other famous city in Italy is an open-air museum. None of these cities even a week or two to see the whole – so if you want you can completely avoid the museums, or at least see just a couple of the most important. In Italy you will not get bored!
If you want to learn as much as possible and walk with a tour, then book them on Tripster – there are good prices and, most importantly, there are real reviews of tourists about the quality of excursions. So it's better than looking for a guide on the spot or a tour operator.
It would be willingness, and you can visit many cool sights in Italy for free and without a tour. Even such as the volcano Etna in Sicily. I climbed Etna volcano on my own and walked its slopes practically alone. That's how I spent my birthday. It was great!