What to try in Germany: traditional food and cuisine
"Serve dessert first! Or else I'll die before I've tasted the main thing, the thing I wanted most…" – It was this phrase from a movie I loved as a teenager that stuck in my memory for so long that in every country in the world, the first thing I try is desserts. Germany, with its plethora of simple and refined dishes, was no exception:)
Desserts
Here, of course, it is worth saying right away that in terms of sweets in the German land there is no pathos, ingenuity and a lot of choice, as, for example, in the neighboring country, France. On the one hand, this seemed to me a rather bad fact, because everything seems typical and already tried. On the other hand, sweet dishes are already familiar to our stomach, which is why there will be no unexpected surprises for you.
In cafes, restaurants, and beer bars, the menu with desserts is almost the same: assorted chocolate, ice cream, jelly, fruit mousse, and plain pastries like pretzels, only not salted and with garlic, but covered with caramel.
The only thing that stood out from all this familiar to the domestic eye "abundance" was the traditional dessert "rote grutze". It resembles a mixture of grinded fruit with sugar, but looks to us like the usual mashed potatoes.
By the way, it came as a big surprise to me that Germans are not big tea drinkers. That is why when ordering something sweet, you will be offered either cider or a glass of water in addition to your meal. Usually there is tea and coffee in gastronomic places, but the choice is so small that it is better to stop at what is offered or recommended by the waiters.
Desserts in Germany are inexpensive, the average price is 2 EUR.
Pastries
In Germany, pastries are very popular, but you can buy them only in coffee shops or bakeries. Pies, cakes, muffins, pastries and casseroles – all this abundance beckons with its aroma and appearance. The average price for a single serving is about 2.5 EUR.
It is impossible not to mention the airy buns, which are baked from a variety of flours with simple and original fillings.
Be sure to try strudel, a sweet roll of thin dough, mostly with apples, but often the locals like to dilute the "classic" recipes by adding unexpected ingredients. Also, don't fail to try the streusel, a shortbread pie with berries, fruits, nuts, and cream.
Breakfasts
I spent all my breakfasts in Germany in a home environment, with a native German family. That is why I can say that this meal with the Germans is similar to the typical breakfast of Europeans. However, there is a peculiarity here, too:)
On weekdays, Germans are not used to savor their morning meal at all, which is why breakfast from Monday to Friday is fast, tasty and nutritious. It usually consists of appetizers, such as cold meats, cheeses and a vegetable platter. Along with this, fresh buns made from different kinds of flour are served. Those who get up five minutes early sometimes have time for hot toast with jam or honey.
On weekdays you won't see omelets, cereals, and salads on the table of typical Germans, but on weekends, when the family has plenty of time, they will enjoy such a delicious leisurely breakfast with a cup of aromatic coffee.
First courses
Soups are just as popular in Germany as they are in Russia. The choice of first courses is always very extensive. I have not found any zest in the preparation or taste of local soups. By the way, the average cost of a portion is 3,5 EUR.
At first the prices for soups seemed to me overpriced, but when I saw a portion and tried it I realized that it was a good combination of price and quality. All the first courses that I have tried in Germany were very rich and dense, so to speak "to make a spoon stand out".
Be sure to try the "eintopf". It is a soup with a large number of ingredients, somewhat reminiscent of our Solyanka. While cooking it in the student dormitory, the Germans told me that the soup was "invented" by peasant women who simply added to the boiling pot all that was in the fridge. That is why the recipe for "eintopf" is different for every German, one thing remains the same – several kinds of meat, lots of onions, hot peppers and vegetables.
Another classic soup, which has the same popularity as borscht in the CIS countries, is called "Saxon soup". It is served exclusively hot. The ingredients, as in "eintopf" are also many, but the basis for Saxon soup is potatoes and spinach.
I have tried soup based on both mashed potatoes and finely chopped potato tuber. It doesn't change the flavor, but it feels pretty weird. So if you have a chance to taste "Saxon soup" in different variations, do not miss your chance.
And here are a couple of other first courses that you can't avoid:
Pea Rib Soup . Cooked in a clay pot and after the fire is turned off, simmer under a lid for about another half hour. Served with garlic croutons or croutons.
Beer German Soup . The most common meat soup, only for a special spice in the chicken, pork or beef broth is customary to add about 200 milliliters of beer. In restaurants, usually the liquid base is mixed with a dark base, but if you cook yourself, then the choice is yours:). I will only say that with light beer, the soup gets some nice bitterness, and with light beer it becomes pleasantly sweet.
Berry soup with wine. Berries and wine are crushed until thick. Chefs often add mint or cream to serve. It tastes like an alcoholic smoothie. Quite tasty and extremely unusual.
Second courses
Secondary dishes in Germany, as well as the first, are characterized by the fact that they are very hearty and tasty. Portions are usually large if you eat lunch or dinner away from home. It is worth noting that there are no specific dishes or names, in German cuisine there is a slightly different rule.
In cafes, bars or restaurants you can choose the meat you like and choose a side dish. And in ten-twenty minutes there will be a hot and delicious plate in front of you with some sort of collective dish.
Of the meat, I would highly recommend tasting:
Baked pork knuckle or, as the locals call it, "icebine." This is already a fairly typical, but so delicious gastronomic classic for locals and tourists alike;
sausages. A very diverse meat dish, sometimes three or four kinds of meat are used to make one sausage at once. Pork sausages are considered a classic.
sausages. There are a lot of them in Germany, I wanted to count the approximate number of varieties in a simple store and just lost count. I would recommend trying sausages with paprika and cilantro. By the way, giblet sausages are very popular. Apart from them, the locals simply adore "krovianka". It is made from classic ingredients, but its main highlight is the blood of cattle.
Garnishes:
Sauerkraut, or "Sauerkraut" as the locals call it. It resembles sauerkraut with the addition of fresh vegetables, spices and herbs.
Spätzle. Homemade egg pasta. Due to the fact that they are made mostly in factories that do not use mechanical labor, often the shape of the products are different: from stars to long tubes. Often the pasta is sprinkled with cheese or sauce.
Potatoes. They are boiled, fried, and less often baked. Salt and seldom olive oil are added as spices.
Dumplings. Flour balls of flour, water and eggs. In Germany, they are often served with a "heart". In the classic version of the gnocchi do not add anything extra to the dumplings, but modern German chefs often experiment. For example, I had dumplings with potatoes and onions, mozzarella and herbs. The taste is unusual and memorable for a long time.
Salads
It came as a huge surprise to me that Germans really love salads. And if in Russia the most popular salad is Olivier, in Germany everyone is just delighted with potato salad. It tops café and restaurant menus, and at home the German family tries to serve it once or twice a week.
By the way, quite often the Germans themselves say: "Every housewife has her own potato salad". And I think this is really true. But in the classic version of the "potato" salad is a very rich dish with potatoes with onions, pickles, smoked sausage or bacon.
An even greater revelation to me was the fact that the usual Russian appetizer – boiled potato rings, onions and herring under vinegar, in Germany is considered a full salad. It is often served with baked apples and herbs.
To tell the truth, the taste of this dish is very unusual and specific. It is served in a deep plate with a beautiful decoration. But despite my mixed impressions, it is still worth trying this salad. Not for nothing it is called one of the most delicious in German cuisine:)
Drinks
The main drink of Germany is, of course, beer. But about alcohol I will tell a little further. Let's start with what Germans are used to see on their tables for breakfast, lunch and afternoon snacks, in addition to the "hop elixir".
It is worth mentioning that the locals just love freshly squeezed juices. In the streets, shopping centers and squares you can find special machines in which you can buy a can of juice with pulp. What to say about cafes, restaurants and stores. By the way, in every German family has a juicer and often even more than one.
As well as juices, Germany is very fond of compotes and morses. They are prepared at home and also sold in stores.
Of course, you can not ignore the German beer. It is available in incredibly large quantities and all kinds of varieties, in general, for taste and color.
Schnapps is local hop vodka, which is not inferior in strength to domestic. It has a mild taste and is quite easy to drink. It is often served with sausages and sausages.
Street Food
There is a lot to say about street food. Despite their arrogance, Germans do not shy away from a quick snack on their way to work or a meeting. Basically everyone buys something tasty, fatty and nutritious in small stalls on wheels that move around actively and can change three outlets at once in one day. But vans with street food in large cities can be found at every turn. That's why be sure to spend literally a couple of minutes in line and have a taste:
Germany's top 10 dishes
Traditional food in Germany is often associated with pork knuckle, sauerkraut and fried sausages. But these are not the only dishes of the rich German cuisine.
The country loves to eat well. Proof of this is the huge number of national recipes created using pork, veal, vegetables and other natural ingredients. Experts recommend to begin the acquaintance with the main culinary masterpieces of Germany with the 10 favorite dishes of the country's natives.
Weißwurst (white sausages)
White sausages made from a mixture of ground pork and veal with the addition of herbs, egg white, lemon zest and onions is a food that must be tasted in southern Germany.
>>> Rent a car in Germany. The secrets of a profitable lease, features and Lifehacks
The famous German dish was born in 1857 in Munich. Since then, boiled wieners dressed in pig intestines have become traditional guests on the tables of Bavarians. According to the rules of national cuisine, Weißurst is served in the pot in which it was boiled. Salty pretzels and sweet mustard serve as a garnish to this popular dish.
Tourists should note: Germans prefer to eat white sausages in the morning, so ordering them after 12:00 in Germany is considered bad form.
Sauerkraut
Traditional national food in Germany is unthinkable without the famous Sauerkraut. The country even says, "Leb wohl, ess Kohl," which means "live well, eat cabbage." Germans love this uncomplicated and delicious dish so much that they jokingly call themselves Krauts.
No holiday meal in Germany is without this beloved side dish. Before serving, the shredded white cabbage is left to ferment for a few days under pressure in clay pots placed under water. A properly prepared dish includes pepper, apples, pork fat, juniper berries, onions, cumin, and beer or white German wine.
Beef rolls (Rinderrouladen)
This high-calorie meal is a frequent "guest" at traditional family Sunday dinners. It becomes especially popular with Germans during the Christmas cold season.
The thin, long slices of beef tenderloin are wrapped in a filling of bacon, mustard, onions and pickles. The highlight of Rinderrouladen is a spicy, dark sauce made from broth, red wine and vegetables that exudes a mind-blowing aroma. The combination of simple ingredients gives rise to a uniquely rich taste of this national dish, which perfectly complements a side dish of stewed cabbage, boiled potatoes or flour dumplings.
Maultaschen
Those looking for something original to try in Germany should try the giant dumplings Maultaschen. They are envelopes of dough cooked in beef broth and filled with shredded meat, lard, ham, spinach, nutmeg, marjoram and parsley.
At home, in Swabia, Germany, the dish is also called Herrgottsbescheißerle ("Deceive God"). According to German legend, the culinary invention belongs to the inhabitants of the Maulbonnais monastery. On Good Friday, when the eating of meat is prohibited, the cunning novices secretly filled herb-stuffed lean dumplings with minced meat.
Berliner Eisbein (Berliner knuckle)
This favorite dish of East Germans is the lot of true meat-eaters. Pork shank boiled in German beer and then baked on the skin, generously seasoned with garlic, onions, juniper berries and spices, is so huge that it is enough for three people.
The word Eisbein translates from German as "ice foot. This national food got its name because the natives only eat it during the winter frosts. What's more, the deliciously crispy crust on the shank shines as if it has been covered by a layer of ice.
In restaurants in Berlin and other German cities you can try Berliner Eisbein with stewed sauerkraut and mashed peas.
Labskaus
Traditional German cuisine cannot be called dietary. This is exemplified by the unattractive-looking but incredible-tasting thick pâté soup.
The recipe for this popular dish originated in northern Germany. Sailors who sailed the Baltic Sea prepared this soup with everything they had on board. The basis of the famous stew was boiled corned beef, seasoned with onions, gherkins, pieces of herring, beets and potatoes.
Today, labsaus is a favorite food of many Germans and a favorite dish of restaurants in Bremen, Bremerhaven, Hamburg and Rostock. It is served with scrambled eggs and pickles.
Koenigsberg Klopse
Seasoned tourists say that the famous Prussian meatballs are the best thing you should try in eastern Germany.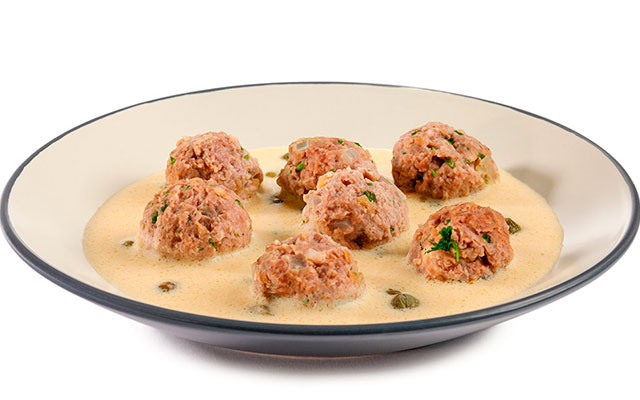 Tiny meatballs made from ground veal, softened in cream, egg and anchovies, topped with a sauce of lemon juice, white wine, mustard and capers, were once served as dinner at the house of the famous philosopher Immanuel Kant.
Half-finished products of this popular product, packaged in tin boxes, can also be bought in supermarkets. But the real cutlets, the recipe for which originated in the 19th century in Königsberg (now Kaliningrad), are worth trying in restaurants of national German cuisine.
False Hare (Falscher Hase)
A simple casserole with a funny name also belongs to the famous German dishes. The food is minced pork stuffed with potatoes and onions and stuffed with hard-boiled whole eggs.
The recipe for Falsche Hase originated in Germany after World War II, during a time of food shortages. Rabbits and rabbits, whose meat was used to make the popular Sunday roast, had all but disappeared after numerous bombings. Enterprising hostesses found a way out. They invented a roll, the top part of which resembles the back of an animal.
Black Forest Cherry Cake (Schwarzwaelder Kirschtorte)
Sponge cake soaked in liquor, airy whipped cream, cherries, and bitter chocolate. All this is the most famous and perhaps the most beloved dessert in Germany.
The first official mention of the layered cake dates back to 1915, when Bavarian pastry chef Josef Keller decorated the then popular chocolate cakes with buttercream and cherries. By 1930, the recipe was known nationwide.
This popular German delicacy gets its name from the combination of white, brown and red – the colors of the traditional costumes of the inhabitants of the Black Forest.
Dresden Stollen (Dresdner Stollen)
Popular German sweet dishes can't be imagined without the Stollen. The history of baking with nuts, marzipan, raisins, candied fruits and spices goes back to 1474. That was when St. Bartholomew's Christian Hospital in Saxony offered Christmas bread made of flour, water, and yeast for the first time at the festive table. Over the centuries, Germans have perfected the beloved Christmas treat by adding new ingredients.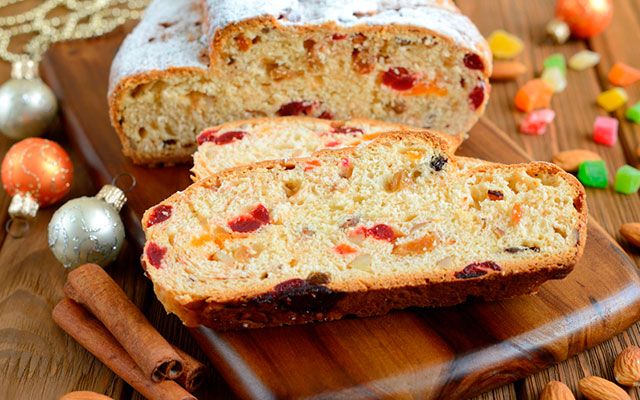 Since 1730, on the second Sunday before Christmas Eve, the Stollenfest (Stollen Festival) has been celebrated in Dresden on a grand scale. Confectioners use 1.6-meter-long knives to cut up the 4-ton birthday boy.
For Germans, the Stollen has become a traditional symbol of Christmas. It can be seen and tasted at all the fairs held in honor of this holiday.
The above popular food in Germany is only a hundredth of the German cuisine – the national dishes of the country are very diverse. Recipes depend on the region of which they are the hallmark. For example, in the Rhine area gastronomic traditions of Belgium and Holland prevail, reflected in the potato mashed potato "Heaven and Earth" (Himmel un Ääd), beef blood sausage "Koelscher Kaviar" (Koelscher Kaviar), beer soup (Biersuppe) and curd cheese "Half a Rooster" (Halve Hahn).
International cuisine is prevalent in eastern Germany, and Bavarians have adopted the culinary customs of the Czech Republic and Austria. Cheese snacks such as Obazda, Eintopf, Schweinebraten, Spaetzle, Brezel and Bienenstich (bee sting) have become favorites.
But whichever region of Germany you find yourself in, there is bound to be something for you to try. And perhaps it's the German national cuisine that will set you apart in the preparation of some incredibly tasty and hearty dishes for a long time to come.