Where to eat in Milan – the best restaurants and pizzerias
I am often asked by tourists: why Italians (read – Milanese) are so slim despite the pizza and pasta? Part of the secret of their slimness is in their dietary regime: war is war, but dinner is on schedule. Especially since Milan's non-tourist restaurants (and the locals only eat there) are only open during lunch and dinner. And if you don't make it to a restaurant during lunch time from 12:00 to 14:30, then you'll only have to eat sandwiches (panini) or lunch at a tourist restaurant in any place where, most likely, frozen lasagna and pasta will be waiting for you.
You can, of course, find a restaurant for lunch and dinner on TripAdvisor. But for those who, like me, do not really trust the (mostly bespoke) reviews on this site and are not ready to spend hours researching all the restaurants in Milan, I have compiled a little cheat sheet – where to eat delicious food in Milan.
Important: Restaurants and pizzerias in Milan are open for lunch from 12:00 to 15:00 and for dinner from 19:30/20:00 to 23:00/00:00.
So, let's begin: today I will tell you about the best restaurants and pizzerias in Milan. And in the next article, you will learn where you can eat inexpensively and deliciously in Milan, where the most delicious seafood is served and where the best meat is cooked.
The best restaurants in downtown Milan
Restaurant Seta
Address: Via Andegari 9
Average bill: 200 € per person
Seta is just steps away from the Fashion District inside the luxurious Mandarin Oriental Milan. Seta is housed in one of four nineteenth-century palaces and has a beautiful tranquil courtyard. While dining there you can watch the work of the chef and his team.
Recently opened, Seta has already earned two Michelin stars and the title of one of the best restaurants in Milan. The secret of success? The perfect balance of food excellence, elegant design and location, attention to detail, and most importantly – it's delicious! And the rich wine cellar can amaze anyone – 500 best wine labels, chosen with love and attention. The main accent is made on the best wines of Italy and France.
The menu and dishes are an original version of Italian cuisine, enriched by experiences from around the world and inspired by Mediterranean cuisine with strong influences from Tuscany and France.
Trussardi alla Scala Restaurant
Address: Via Manzoni 5
Average bill per person: 140€
One of the most beautiful and elegant restaurants in Milan, not only in terms of the interior, but of course the "view from the window" that its privileged location on Piazza della Scala affords. Everything is delicious indeed, although a snobbish atmosphere is present. In the kitchen of Trussardi alla Scala many of the most famous Italian star chefs have worked, and the restaurant itself confidently holds its two Michelin stars. There is a bistro on the first floor where the menu and atmosphere are more democratic but still delicious.
Cracco Restaurant
Address: Galleria Vittorio Emanuele II
Average bill per person: 200-300 €
In Italy, food is more than food, and a chef is not just a chef, but sometimes a sex symbol. And Carlo Cracco is Italy's most famous chef and contemporary sex symbol. His restaurant in Milan bears his name and has been on the list of the best restaurants in the world for 10 years, confirming its 2 Michelin stars every year.
But is Cracco really that good? Is it worth going there? Or is it, like all Michelin star restaurants, dominated by molecular cuisine? Yes, it's really good, and no, the cuisine at Cracco is inspired by Milanese cuisine: not for nothing was Carlo Cracco chosen as an ambassador of Lombardy at the Expo in Milan.
If your trip can't do without a culinary experience extraordinaire signed with Michelin stars, Cracco's restaurant should be on your list at number 1. Especially now that it has moved to the Galleria Vittorio Emanuele II. Booking a table in advance is a must.
Berton restaurant
Address: Via Mike Bongiorno, 13.
Average bill per person: 180 €, tasting menu from 130 €
Berton is named after its owner and is located in a skyscraper in downtown Porta Nuova. For those who love haute cuisine and modern design, this is the ideal place for a special lunch or dinner in Milan. The chef is famous for his broths, and check out his signature shrimp dish, Gamberi rossi di Sicilia crudi e cotti, amaranto croccante, olio di oliva taggiasca and sorbetto alla barbabietola. It's a real delight – worth tasting at least once in a lifetime!
Milan's best restaurants worth leaving the city center for
Milan and its attractions
The best Champagne and Spumante
Shopping in Milan with a stylist
Restaurant Sadler
Address: Via Ascanio Sforza 77
Average bill per person: 160 €, tasting menu from 130 €
Another Milanese restaurant named after its owner and chef Claudio Sadler. Elegant and luxurious, Sadler's new restaurant is located on the Naviglio Pavese canal. The perfect restaurant for special moments and sophisticated gourmets.
The dishes at Sadler are mainly from Italian cuisine, not forgetting the typical dishes of Milan (ossobuco and risotto alla milanesa), but they are served in a lighter and more sophisticated version. Sadler's cuisine is a perfect blend of tradition and innovation, where creativity plays a key role. Sadler, one of Italy's most famous chefs, has also written seven books for professionals and has a culinary school.
Il Luogo di Aimo e Nadia
Address: Via Raimondo Montecuccoli 6
Average bill per person: 149 €. Tasting menu: 120 €
In 50 years of history, Il Luogo di Aimo e Nadia has become a true legend, and in its kitchens many famous Italian chefs have practiced their craft. The restaurant is located on the outskirts of Milan.
The interior is designed in a minimalist style with an '80s atmosphere and contemporary works of art everywhere, even in the kitchen where the two young chefs are currently working. Behind each dish of the restaurant there is a story of its creation: it's a refined version of Italian cuisine flavored with the creativity of the legendary Aimo. The parents' restaurant is now run by the owners' daughter, who is sure to ask you at the end of the evening if you liked everything and perhaps share a couple of interesting stories.
Lume
Address: via Watt 37
Average bill per person: 150 €
Lume opened in 2016 and immediately received a Michelin star. It's nothing strange, considering that its chef is Luigi Taglienti, who used to work at Trussardi alla Scala and Palazzo Parigi.
The menu is a harmonious blend of classic and modern, with a strong connection to the region's cuisine and a search for the best and most unconventional ingredients. There are three menus: a traditional one, which changes depending on the season, and two tasting menus. Of the latter two, one is more traditional Milanese and the other is more original and experimental. The wine list includes a large selection of wines from small but interesting wineries.
D'O Restaurant
Address: Piazza della Chiesa 14, San Pietro all'Olmo, Cornaredo
Average bill per person: 50 €, tasting menu 75 €
D'O's new restaurant is not in Milan itself, but it is worth spending 20 minutes by cab to enjoy lunch or dinner at a restaurant with a "pop" cuisine. For twelve years, Davide Oldani has been delighting foodies with his dishes, and most recently with his new restaurant.
Two tasting menus are presented: three and six courses, with a de la carte menu featuring both classic dishes and new creations by Davide Oldani. Try his risotto: rest assured that no more than a few places in all of Italy can compete with Davide Oldani. His codfish with black caviar D'O is also terrific.
Enrico Bartolini MUDEC
Address: Via Tortona 56
Average bill per person: 100€
A new address for fans of Chef Andrea Burton. A special treat at this new Milanese restaurant is the tasting menu. Here Burton's signature style of cuisine is demonstrated in simple dishes such as "scallops and liquorice" or delicious ravioli with duck, spinach and saffron cream. The restaurant received 2 Michelin stars in 2017.
Restaurant Joia
Address: via Panfilo Castaldi 18
Average bill per person: 90 €
Cuisine: haute cuisine, vegetarian.
Pietro Leemann, owner of Joia, opened the first and only Michelin-starred vegetarian restaurant in Europe. He was the first to talk about "natural cuisine" long before it became fashionable. Despite the lack of meat and fish, Leemann's dishes are always delicious, refined and make even meat-eaters forget about meat.
Unico Milano Restaurant
Average bill per person: 85€

A stellar restaurant on the top floor of Europe – the twentieth floor of the WJC skyscraper. It is worth going there not only to eat, but also to see the whole of Milan as if in the palm of your hand. The pride of the restaurant is the six-course tasting menu.
Where's the tastiest pizza in Milan – the best pizzerias in Milan
The easiest way to solve the problem of where to eat inexpensive and tasty food in Milan is to go to a pizzeria.
Pizza – practically a symbol of Italy – in Milan appeared only 100 years ago. But these days, there are so many pizzerias in Milan that it's not easy to choose a few of the best ones. But I'll give it a try.
The list of the best pizzerias in Milan is based not only on the reviews of my acquaintances, but also on ratings by culinary experts. After all, in pizza, the quality and freshness of the ingredients are as important as the quality of the dough itself, and its recipe is probably the main secret of a true pizzaiolo. A good pizza should not make you feel heavy, but should leave you with a feeling of total satisfaction, we are in Italy!
In Milan, gourmet pizza is in fashion these days. Want to eat not just pizza, but something special, which you definitely can't find at home? Here are a couple of addresses that pizza fans shouldn't miss while in Milan!
So, the most delicious pizza in Milan at:
Pizzeria Dry
Address: Via Solferino 33 Second address: Vittorio Veneto 28 Prices: pizza 5/16 euro, cocktail 10/16 euro
Original cocktails and gourmet pizza gourmet pizzas signed by chef Andrea Berton (Andrea Berton and Associates). In addition to gourmet pizza (always delicious), the menu offers a wide variety of salads, prosciutto and Italian specialties, bruschettas and focaccia. The pizzeria has a modern design interior: this immediately hints that this is not a classic pizzeria. Right at the entrance, as you can see from the street thanks to the huge windows, there is a bar with an original counter where the bartender Guglielmo Miriello, young but very experienced, makes amazing cocktails.
Pizzeria Da Zerro
Address: via Bernardino Luini 9
Prices: Pizza 7/13 euro
Pizzeria Da Zerro in Milan was opened recently and is located in the heart of Milan next to Corso Magenta. Pizzeria Da Zerro has been in existence since 2004 in the Parco Nazionale del Cilento, which is under UNESCO protection. The mission of the owners is "Pizza with a capital letter!". The founders of this pizzeria chose the noble goal of telling about Cilento and the centuries-old tradition of this land through taste and flavors.
For their pizzas, they chose only the best local ingredients: Cacioricotta , Soppressata, Menaica anchovies, Ammaccate Salella olives from Salento, Piennolo tomatoes. As a result, the pizza is not only tasty, but also healthy and does not make you feel heavy for a few hours. The menu is also enriched with craft beer and the best wine from Cilento.
Pizzeria Lievità
Address: via Carlo Ravizza 11
Prices: pizza 8/18 euro
Lievità pizzeria is a real brand that has won the hearts of pizza fans with very high expectations and delicate taste. There are two Lievità pizzerias in Milan, on the Ravizza street and on the Sottocorno street. The chef is Giorgio Caruso, a master pizzaiolo and chef from Caserta. It is there, near Naples, that some of the best pizzaiolos in the world live! For him, pizza is the happy union of water and stone ground flour and the culmination of a long maturation of the dough. Tomatoes, mozzarella, olive oil and all the ingredients are only the highest quality and branded by DOP. And also the unexpected combinations: it will be really delicious, but without the shocking or strong taste contrasts. For example, the pizza "Gorago" with green asparagus, gorgonzola dolce DOP, Fior D'Agerola, quail eggs and fresh basil.
Pizzeria Lievito Madre and Olio a crudo
Address: largo Corsia dei Servi
Second address: via Montevideo 4
Prices: pizza 5/12 euro
For a typical authentic Neapolitan pizza in Milan, try the famous Neapolitan pizzaiolo Gino Sorbillo at Lievito Madre next to the Duomo (on the corner of via Savona) and Olio a crudo (on Via Montevideo 4).
Where to eat cheap in Milan
Milan, the fashion capital of the world, is the most beautiful city in Italy. One facet of its unique charm – delicious national cuisine.
Where in the city center can you taste delicious pasta, pizza and pancirotti, drink excellent Italian wine and eat cheap and fast? Discover interesting establishments on Milan's gastronomic map.
The best budget eateries and restaurants
Il Politico – a snackbar in the city center, right by the Sforza Castle, a local "thing" – large sandwiches for 5 €; Macelleria Equina Pellegrini – a popular butcher shop café (no seating, only tables outside) with fantastic steak and tartare, the average bill for two with wine is 22 €; Spontini – a chain of inexpensive pizzerias in Milan, a big slice of pizza costs 5-6 €; Oro Bianco – here you can taste the real mozzarella and also have some panini and crostoni (6,50-7 €); Pasta Fresca da Giovanni – a real catch for those, who want to eat Italian pasta (made by hand) and at the same time save money for a dinner. 2 pastas 10 €, opened from 12 to 15; Viva – restaurant with inexpensive and tasty food and drinks (pizza – average 4,70 €, beer – 3,5 €, coffee – 1 €); 7's Gio Farini – café with a view of the Cathedral of Milan (Duomo di Milano), coffee costs 1-3 €, pastries and sandwiches – 1-7 €; Pasta d'Autore – nice restaurant specialising in pasta (huge portion – 12 €);
>>> Rent a car in Italy. Profitable rental secrets, special features and tips
Luini – an inexpensive eatery in the center of Milan, its specialty is Italian panzerotti cheburetti for 2-3 €; Piadineria Artigianale Pascoli – a café in Piazza Argentina, a good place to eat inexpensive piadina (4,50-7 €); Al Pizzetta – pizzeria with original small pizzas (about 15 cm in diameter) for 4 €; Zibo Cuochi Itineranti – famous for its very tasty ravioli for 9 €; Pizza AM – a small pizzeria in 20 minutes walk from the Duomo, you can eat pizza there for 8 €.
Cheap cafes and restaurants in Milan
Panini Durini
If you find yourself in the center of Milan and are looking for a quick and cheap place to eat, check out Café Panini Durini near Palazzo della Ragione. The secret of its enduring popularity among citizens and tourists is the inexpensive and tasty Italian fast food.
For 5-7 € you can enjoy panini with Parma ham, bresaola, salami and mortadella. And for connoisseurs of caffè italiano a nice surprise will be the large selection of coffee drinks (1-2 € on average), pastries and desserts (2-4 €).
Menu at Café Panini Durini
La Caveja Piadineria
An excellent fast food café not far from the Monumento Ai Carabinieri in the center of Milan. Here you can eat quickly, and most importantly, nourishing and inexpensive.
The menu consists almost entirely of traditional flatbread – piadin – with a variety of fillings: meat, fish, vegetables and even sweet, with Nutella. The piadins cost from 5 €. La Caveja Piadineria also make good alcoholic cocktails: Spritz Aperol (with Prosecco), Negroni (based on Campari) and others.
La Caveja Piadineria menu
Luna Rossa
At first glance, Luna Rossa looks like any other inexpensive cafe in Milan: small, modest and clean premises, a queue of hungry suburbanites and a simple menu of focaccia, pizza and calzoni. But once you have eaten here, you do not want to look for anything else.
At Luna Rossa you can eat real pasta – you'll find 30 different recipes ranging from the classic Al Pesto and Alla Carbonara to Al ragù di apatga (pasta with duck ragu). The restaurant's pizza is also excellent – it's not for nothing that the Milanese themselves eagerly come here for lunch.
One more pleasant bonus is a set of the most delicious Italian desserts including famous tiramisu and panna cotta. The price for food is on average 6-10 €.
Luna Rossa menu
Pizzeria Piccola Ischia
Piccola Ischia is popular in Milan: 15 minutes after it opens, there's literally nowhere to go inside. Perhaps the main reason for this is the delicious and inexpensive pizza, which everyone, young and old, rushes here to eat. You can order it in any of three variants: piccola (2,50-6,50 €), media (3,80-16 €) and grande (5,50-13 €).
Inside Pizzeria Piccola Ischia is decorated like a small ancient town square with tables. From above, from stylized decorative balconies ordinary Milanese curiously "peek" at the guests of the restaurant.
Contribute a lot to the attractiveness of the pizzeria and quite budget for Milan prices for food – calzoni and panini cost between 4-10 €. Italian alcoholic drinks are represented by wines, liqueurs (including limoncello) and beers.
Pizzeria Piccola Ischia menu
POMET by Pasquale Pometto
The best restaurants in downtown Milan don't have to be posh and ultra-expensive. To convince yourself of that, be sure to drop in at Pasquale Pometto, one of the greatest Italian pizzaiolo's of our time.
And if a pizza from master Pasquale is a little bit more expensive than in ordinary snackbar around the city (the price ranges from 10 to 13 €), but it is simply delicious! The service is also unbelievably impressive: kind, hospitable and cheerful. At the entrance you are welcomed with a glass of sparkling Prosecco and a piece of pizza and quickly escorted to a free table. The restaurant is extremely popular and there are long lines of diners even on the street.
Menu at POMET by Pasquale Pometto
Just a few dozen meters from POMET there is another inexpensive place by Pasquale Pometto – Piz.
San Tomaso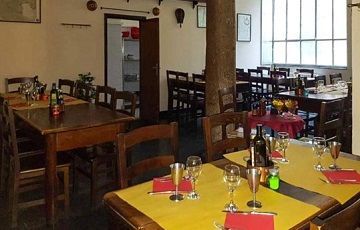 On a quiet side street not far from the old city center, this is one of Milan's best value for money places. Despite the fact that the place is always full of customers, the atmosphere inside is very family-like and many people come here to take a break from the endless hustle and bustle.
The main things to try at San Tomaso are pasta, wine and desserts. Tagliatelle with shrimp and zucchini, trofi with pesto sauce, spaghetti with octopus – you can taste them for just 8 €. Enjoy a glass of local wine to accompany the meal, and for dessert be sure to try the tiramisu, which is perfectly cooked here.
San Tomaso menu
Salsamenteria di Parma
If you want to diversify your menu and eat delicious and inexpensive meat delicacies in Milan, be sure to pay a visit to Salsamenteria di Parma. The restaurant is located in the city center, not far from the majestic Milan Cathedral.
Local menu is as if created for acquaintance with national cuisine. There are well-known Italian cheeses: parmigiano, pecorino, mozzarella, gorgonzola, several kinds of classical corn polenta and, of course, amazing lasagna. But the highlight is still the meat appetizers and dishes: prosciutto, pancetta, mortadella, salsiccia, braised pork cheeks, beef straccotto, carpaccio, trippa. The price of a meal is between 9-15 €. The portions are large.
The restaurant has a curious tradition of serving wine in piards. But if you find it too extravagant ask for glasses or goblets and your request will be fulfilled right away.
Salsamenteria di Parma Menu
La Prosciutteria Milano Brera
Authentic Italian prosciutto, one of a chain of establishments opened all over Italy. You won't experience such an incredible atmosphere in any other restaurant in Milan. As it should be, there are hams and sausages hanging from the ceiling, and the shelves on the walls are filled with bottles of the best wine. There are a lot of tables in the small hall – it's cramped, but very cozy and colorful.
The choice of food suits every taste: inexpensive paninis, salads, cheeses, hams, sausages, a few kinds of prosciutto. A glass of wine costs from 5 €. For two with alcohol you can order a huge wooden board with a variety of appetizers (15-20 €). In every way, a great place to enjoy great wine and delicious meat and cheese delicacies.
La Prosciutteria Milano Brera menu
Another prosciutteria of the chain, La Prosciutteria Milano Navigli, is located at Ripa di Porta Ticinese, 53.
Osteria Al 29.
This pleasant family-run osteria is located on Corso Magenta, one of Milan's main streets. Despite its advantageous location – about 10 minutes walk from the Duomo – the prices for food here are quite moderate (5-20 €) and more locals than tourists come to eat there.
Inside the osteria is decorated homelike. The walls are decorated with photos of famous Italian actor Toto (Antonio Vincenzo Stefano Clemente).
The menu is not only timeless Italian classics: pizza, pasta or ringlets. For juicy meat lovers they grill pork chops or salsiccia, and seafood lovers can try calamari, shrimps and lobsters.
Café Osteria Al 29's menu
Antica Trattoria dei Magnani Al Cantinone
The history of this trattoria goes back to the days of Silvio Pellico, an Italian writer of the first half of the 19th century. Thanks to the writer's visits to eat here, evidence of a small tavern near Piazza San Fedele in Milan is still extant.
Partially rebuilt in the 20th century, the building still preserves the old trattoria. During daytime hours (12:00 to 3:30 p.m.) it operates as a bistro, all meals cost up to 8.50€. A special daytime offer – side dish, first and second course can be ordered for only 9 €.
And in the evening (from 18.00 to 21.00) guests are again in for a pleasant surprise. Those who want to save on food will love the Milanese aperitivo tradition. With alcohol ordered for more than 10 € an unlimited buffet of various appetizers is offered. A great opportunity to drink delicious cocktails and have a hearty inexpensive snack.