What to see in Kakheti: top 20 places
Kakheti is a famous wine region in eastern Georgia. Saparavi, Tsinandali, Khvanchkara – all these names of local wines caress your ears and sound like a song. But not only wine is interesting in Kakheti: here are ancient monasteries, fortresses, remote mountains, the Alazani valley and much more…
In this post I'll tell you about places of interest in Kakheti, which places you should visit, and, of course, I'll tell you about wine, which are produced in the region.
Kakheti stretches from the plains of Azerbaijan in the south to the high mountains of Chechnya and Dagestan in the north. The meaningful and historical center is the famous Alazan valley, and the main city is Telavi. The region has a difficult history: the Persian army passed through here twice, destroying everything in its path. Nevertheless, something has survived, and it is interesting to look at the ancient buildings. In addition, in the north there is a hard-to-reach mountainous region of Tusheti, where you can go for adventures. But let's talk about everything one by one:
Attractions of Kakheti
The most convenient way to travel between interesting places of Kakheti is your own car or cab. Many places are not accessible by public transport, and it doesn't go very well either. You can hitchhike, but it will take longer.
Monasteries
The most important and famous monasteries of Kakheti are considered to be Davit Gareji cave monastery, Alaverdi, Ikalto, Bodbe.
Alaverdi
Perhaps the most revered temple in Kakheti, is located 20 km north-west of Telavi. This name should not be confused with the Armenian town of the same name, where there is also a monastery (Sanahin, but sometimes it is called Alaverdi).
Alaverdi monastery near Telavi
The cathedral repeatedly suffered from earthquakes and other destructions, but still retained its original form – now it is the second tallest temple in Georgia, quite a monumental structure. In the monastery grows grapes, there is even a wine cellar.
David Gareji
David Gareji is a large complex of cave monasteries near the Azerbaijani border in southern Kakheti. It is impossible to walk around them all, but there is a "small circle", which all tourists walk around: it is David's Lavra and monastery Tetri-Udabno. From the monastery there are good views of Azerbaijan and Armenia, although the nature there is harsh and desolate.
There are two other similar places in Georgia: Uplistsikhe and Vardzia, and if it is not on your way there, be sure to visit David Gareji.
Source: Andrzej Wójtowicz/Flickr
Ikalto Monastery
Ikalto, like Alaverdi, is near the town of Telavi. But it is much older and is considered one of the first monasteries in Georgia, having been founded in the 6th century. In addition to its antiquity, Ikalto is famous for its academy, where the poet Shota Rustaveli studied.
Monastery Bodbe
Located just 2 km from the romantic town of Sighnaghi and is famous for the tomb of St. Nino. The monastery is located in a very pleasant place overlooking the Alazan valley with tall cypress trees growing nearby. Now in Bodba there are two temples and a spring just below the slope – you can draw water.
If you are interested in culture and religion, you can also visit Nekresi monastery and Ninotsminda Cathedral.
Monastery Bodbe near Sighnaghi
Cities
I recommend going to two cities – Sighnaghi and Telavi. And in between, you can stop at interesting places on the way.
Sighnaghi is a beautifully restored and romantic town on a hill overlooking a valley with cobblestone streets, a real Europe. You won't see much of authentic Georgian life here, but you can visit it for the atmosphere for a day.
Sighnaghi – the city of love
Telavi is the administrative center of Kakheti and the largest city in the region. Telavi is convenient for exploring the surroundings – you can easily hang out for a couple of days, driving around the surrounding monasteries and wineries.
Telavi – Batonitsikhe fortress
Fortresses
Batonistsikhe
Fortress in the center of Telavi – the castle of King Irakli II. In the fortress there is a house where the king was born and raised, a small museum. However at the time of our visit all of this was under repair, maybe by your arrival will be finished.
Gremi
Gremi is one of the most famous castles in Georgia (along with Ananuri), although it looks more like a monastery complex. The city surrounding the fortress was only 100 years old and was burned by the raids of Shah Abbas' army in the early 17th century, but the temple and bell tower survived – now you can see them! Atmospheric and pretty place.
Natural attractions of Kakheti
There are about 10 national parks and reserves in Kakheti, but the most famous are Tusheti, Vashlovani and Lagodekhi.
Tusheti
Hard to reach mountainous area in the north of the region, there is no paved road, so the way is very difficult. You can go there only by off-road vehicle, most often there are tours organized from Tbilisi or Telavi for several days, because only one way takes one day. But it is really exciting! In addition to mountains in Tusheti it is interesting to explore local villages and way of life, here time has stopped.
Source: Levan Gokadze/Flickr
Vashlovani National Park
The park is located in the far southeast of Georgia near the town of Dedoplistskaro. The best time to visit is late spring, summer, early spring. You must register at the park office before visiting, and there are signs inside, gazebos for resting, and even two campsites where you can sleep in comfort. A good place to wander on foot or ride a horse.
Source: Lex Kravetski/Flickr
You can also go to Kvareli Lake, although it is closed territory of expensive hotel Kvareli Lake Resort, and access can be a problem. However if you have extra $200 and you are ready to give it for the night here you can feel like in Switzerland
Lagodekhi Park.
Located in the north-east of Kakheti near the Azerbaijani and Russian borders near the town of Lagodekhi. There are 4 routes among subtropical vegetation, waterfalls and other natural beauties. You can rent a horse or a tent and arrange a three-day trekking.
Source: Joar Wandborg/Flickr
Akhtala Mud Volcanoes
Georgia's only mud volcanoes are right in the town of Gurjaani, and they are quite small but unusual.
Pankisi Gorge
This place is where the Alazani River flows down from the mountains to the plain and turns to the east. The gorge is interesting not only because of its beautiful nature, but also because of the Kists who live there, who can be called almost Chechens and who practice Islam. In the 1990s, during the war, there was a trail from here to Chechnya, which was used by locals and guerrillas. For a while, the Pankisi Gorge was even independent of Georgia and Russia and was controlled by militants.
Now it is a peaceful place for ecotourism and mountain hiking.
The wines of Kakheti and where to taste them
To come to Kakheti and not taste the local wine in one form or another is a crime! The wineries here are the most visited in Georgia, and the wine is known far beyond the country's borders. Here the wine is made from both local and imported grapes.
Alazani Valley. Kakheti photo
"Shumi."
"Shumi" is a small winery in the village of Tsinandali, there is also a house-museum of Chavchavadze nearby. Here you can taste the famous Kindzmarauli, Saperavi and Tsinandali for free. Moreover, many people advise to take Kindzmarauli here.
In Shumi, there is a small vineyard where you can take a walk, and in general, the place is quiet.
"Corporation Kindzmarauli.
This is one of the largest and most famous wineries in Kakheti: there are wine and tasting rooms, a store, restaurant and even a museum. At the tour you can see the technology of wine making, touch with your hands, visit the free tasting of 5 wines. The prices in the store are lower than in Tbilisi. You can also buy the wines you like
Source: Josh Hallett/Flickr
Kvarelian Tunnel
A small tunnel is located at the Hareba Winery near Kvareli, where the store and tasting room are located. Take a tour with a tasting of two wines for 15 GEL. You can buy wine in this store, although they have a whole chain, so you can take in Tbilisi or Batumi for the same price.
There are quite a few more wineries in Kakheti, they can be dedicated a separate post.
The best time to come to Kakheti is the middle of September, when the grape harvest festival is held here. You can take part in the process, in the songs and dances, and the wine flows like a river!
Attractions of Kakheti map
We use it and recommend to our friends:
Best sites for travelers
✓Travelata.ru – search the best tours from 120 reliable tour operators. ✓Bolshaya Strana – service for booking unusual travels in Russia. Excursions, hikes, rafting, expeditions, cruises and much more! 1000 tours and 56 regions. Yandex.Travel – hotel search engine in Russia and worldwide. Compares prices on many booking systems, finding the best. Until July 22, get up to 30% cashback with PLUS points. ✓Ostrovok – a major hotel search engine. Has its own loyalty program. ✓Tripster – over 4000+ unique excursions in 500+ cities from locals. ✓Aviasales.ru – search and compare airfares among 100 agencies and 728 airlines. ✓Cruise.Online – all river cruises in Russia in one place. ✓Tutu.ru – tickets for trains, buses and planes, as well as hotel reservations. The service has many cool "features". For example, booking a ticket for one ruble. ✓Comparison.ru – travel insurance online for traveling in Russia and around the world. Rate this article:
Attractions of Kakheti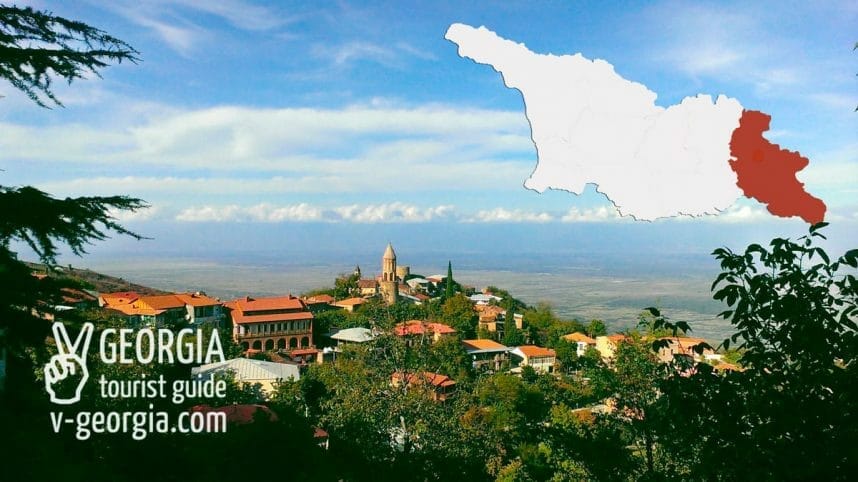 A region in eastern Georgia, which is convenient to travel from Tbilisi. Almost all attractions can be visited year-round.
Do you want to travel to these wonderful places? Write to info@v-georgia.com or call us at +7 (495) 268-07-72 / +995 555 566 540 and we will organize a trip. See also the list of ready-made tours at the bottom of the page.
Signahi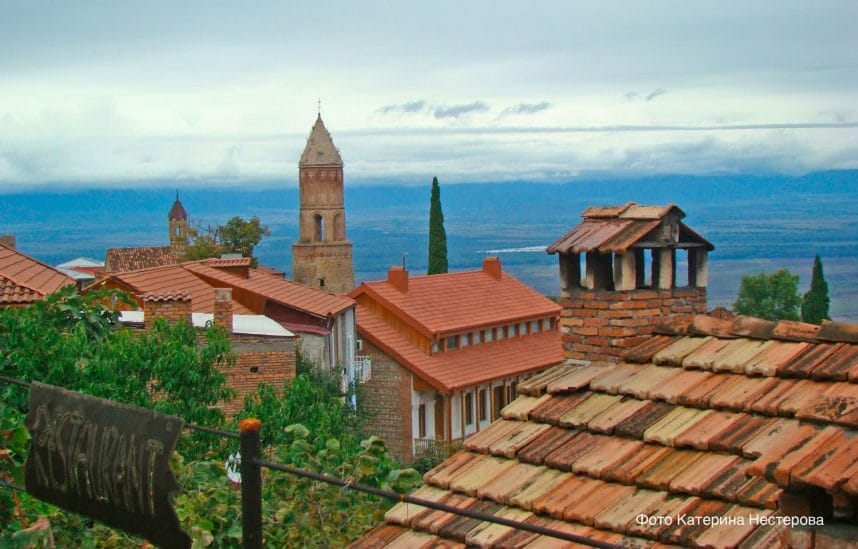 Sighnaghi. This city is called the City of Love. The town is beautiful and romantic. Cobblestones, narrow streets, carved balconies – it's pleasant to walk here. It is worth ascending the fortress wall, which offers a breathtaking view of the Alazan valley and the Greater Caucasus Range. There is an excellent museum of local lore, which has a rich collection of weapons, archeological findings, ceramics, and the second floor has Pirosmani and Gudiashvili paintings. There are a few not bad cafes and restaurants. The winery "Tears of a Pheasant" and the not bad view restaurant "Brigitte" are worth a visit. The town is not large and you will spend 1-3 hours for a visit.
Bodbe Monastery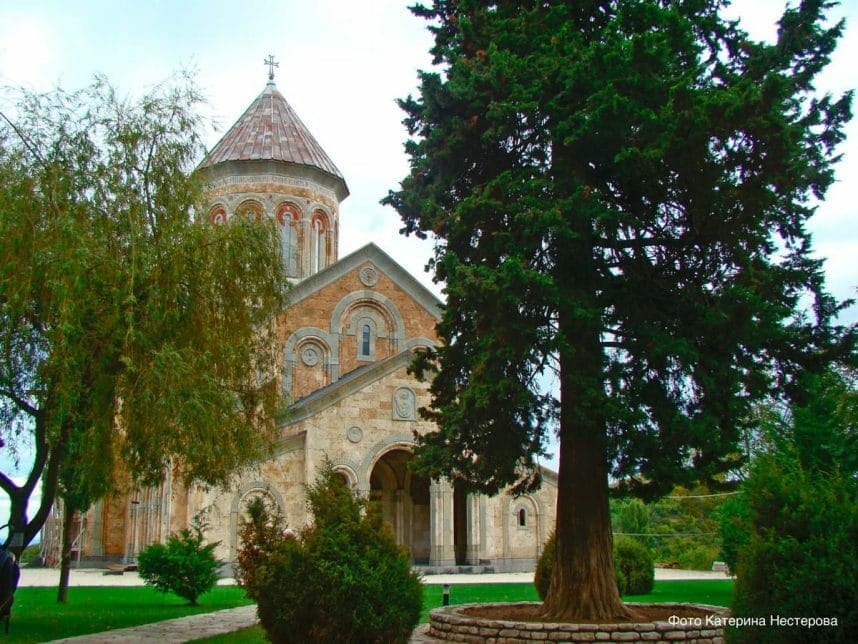 Bodbe Monastery. Located near the town of Sighnaghi. Monastery is famous for the fact that here is buried St. Nino, who baptized Georgia. On the territory of a small beautiful park with excellent views of the Alazan valley. From the observation deck you can go down to the source of St. Nino – only on foot, the road to the source there and back will take about an hour. The monastery is popular and is included in most tours of Georgia. Be prepared for crowds of people.
Gremi Castle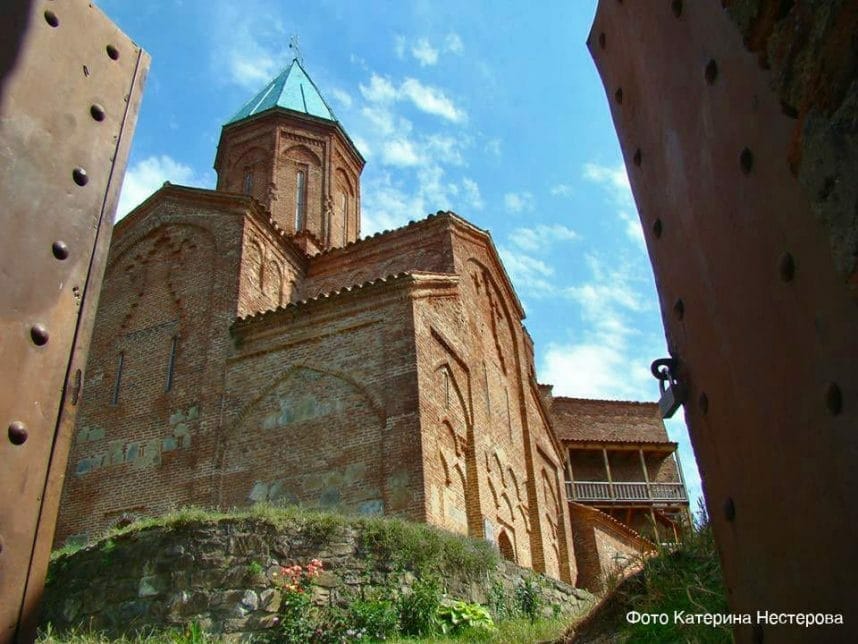 Gremi Castle. Located near the town of Kvareli right on the highway – this ensures its popularity. Almost every tour group does not pass by. The complex consists of a fortress wall, the Church of the Archangel and the tower, which now houses a small museum. The most famous exhibit in the museum is the castle "royal" toilet.
Monastery Alaverdi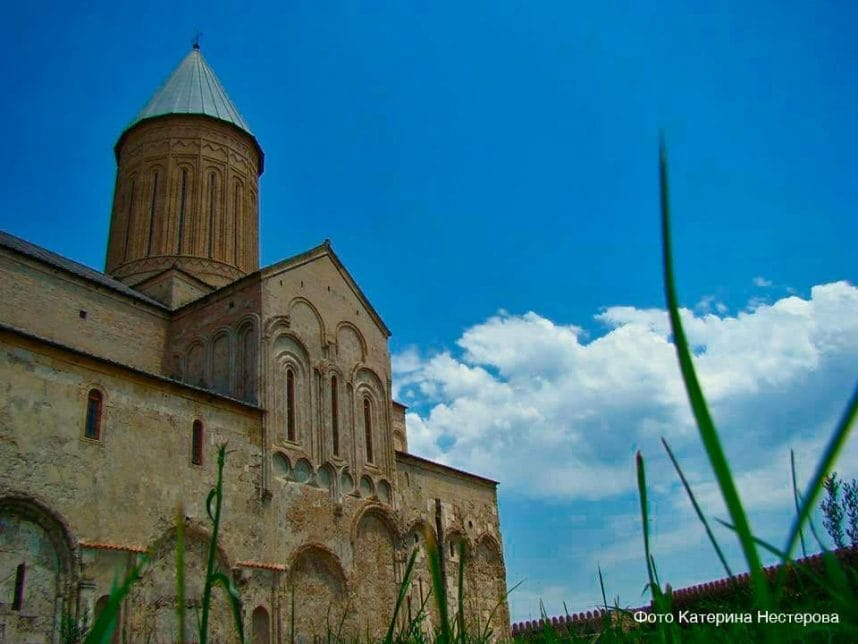 Monastery Alaverdi. The main and most revered temple in Kakheti. The temple impresses by its size, frescoes and special atmosphere. On the territory there is a strict dress code and a ban on photography. At the monastery there is a museum of grapes – the monks work on the restoration of rare and lost varieties, make very good wine. You can buy wine and honey from the monastery apiary in the monastery store.
Telavi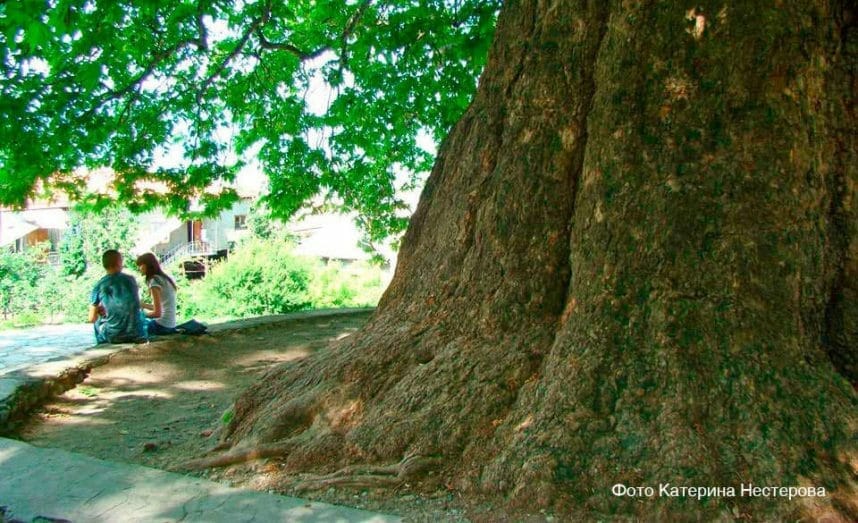 The city of Telavi. The historic center of Kakheti and the administrative capital of the region today. The town has been restored, but is not particularly remarkable. The most interesting thing here is ancient sycamore, which is about 900 years old, and the fortress Batonis-Tsike. If you are passing through here you can eat and surf the Internet.
Nekresi Monastery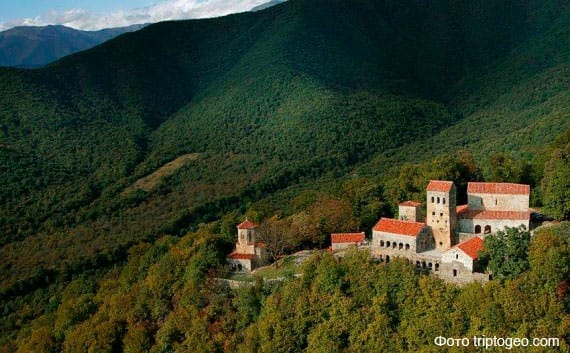 Nekresi Monastery. Founded by one of the Assyrian Fathers, Abo of Nekressi. A large, interesting complex located on a mountain above the Alazan valley. The place is curious, but there is a minus – cars are not allowed to the monastery. You must either go up on foot (about 30 minutes), or wait for a small local bus, which runs every 30 minutes. Total visit of the monastery takes about 1.5-2 hours, which in the mode of hard timing, some discourage.
City of Kvareli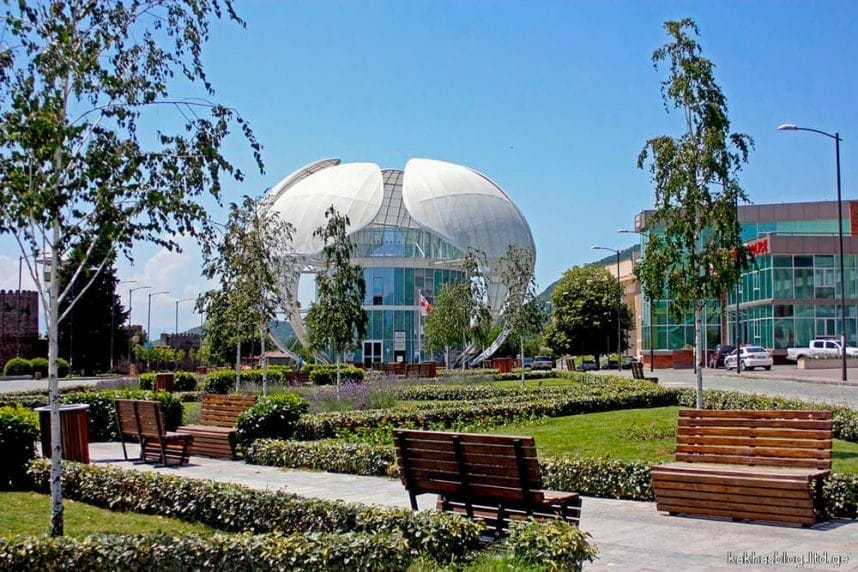 City of Kvareli. The city itself is not so big. Among the attractions – a house-museum of journalist Ilya Chavchavadze (not to be confused with Tsinandali estate!), the fort of XVIII century and John the Baptist Cathedral (XIX c.). There are a few hotels and restaurants. But you should definitely go here if you are interested in Kakhetian wine. The region is the birthplace of the famous Kindzmarauli, Mukuzani, Akhasheni and others.
Kindzmarauli Corporation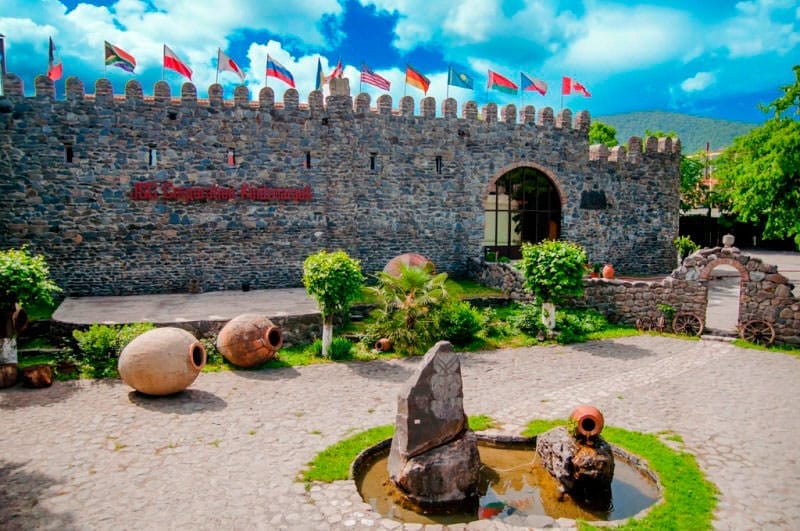 Kindzmarauli Corporation. Located in the center of Kvareli. The guys make very good wine. There are production tours and tastings. The workshops and courtyards are landscaped and very photogenic. The tour is free.
Wine Tunnel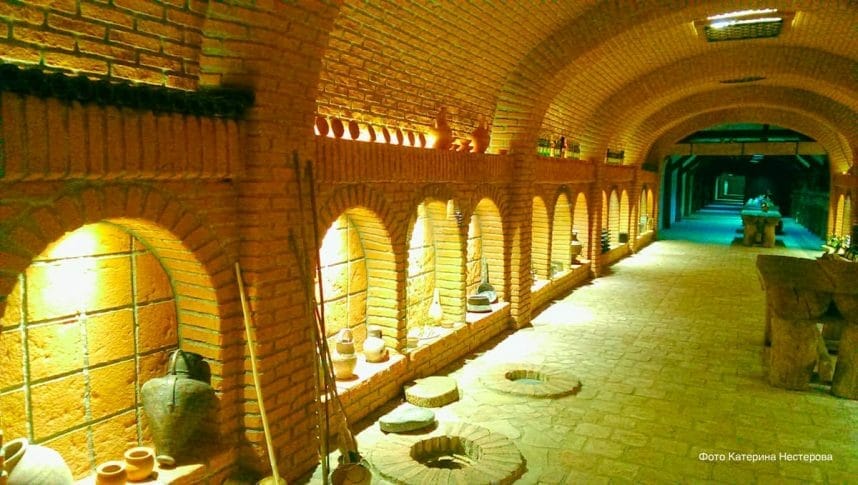 Quarel Tunnel. A wine cellar in the rock in the tunnel, owned by a large Hareb company. There are several such tunnels in the world, but this is the only one in Georgia. The place is popular – just think about it, the length of the tunnel is almost 8 kilometers. 8 kilometers of wine!
Graneli Winery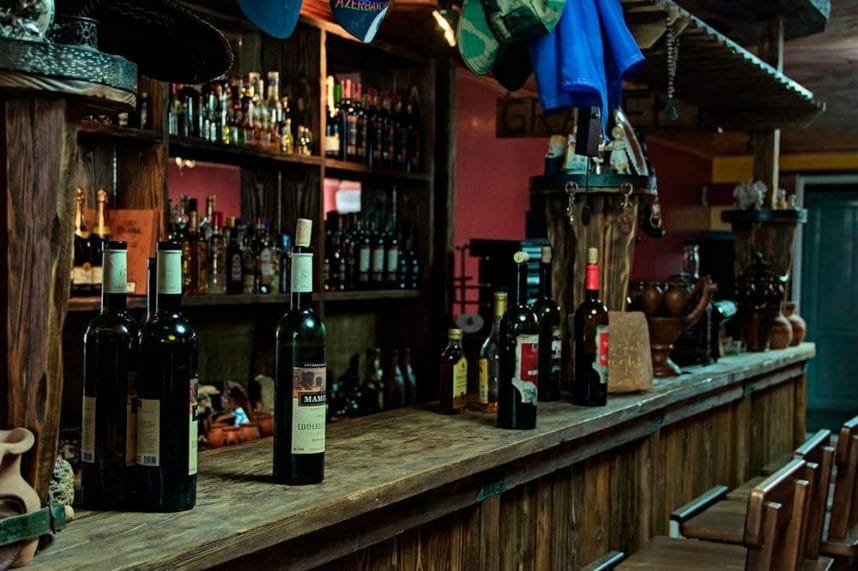 Graneli winery. Located in Kvareli next to the tunnel. Perhaps the best tasting package of any winery here in terms of value for money.
Elijah Lake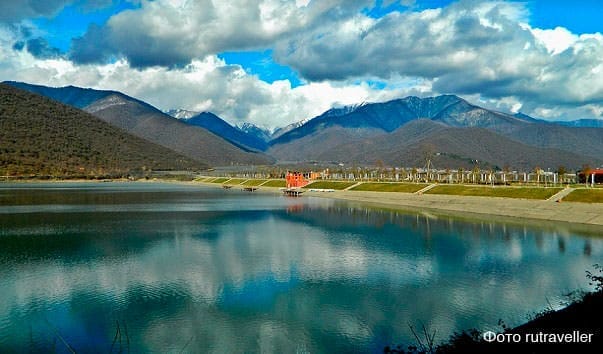 Lake Elijah. A small and new (2011) mountain lake in Kakheti. The area is landscaped with benches, lanterns and other nice things. Children are swimming in the summer heat. Over the lake is located a nice, castle-like hotel with a restaurant Royal Batoni – here it's very pleasant to take a summer break and drink a cup of coffee.
Ujarma Fortress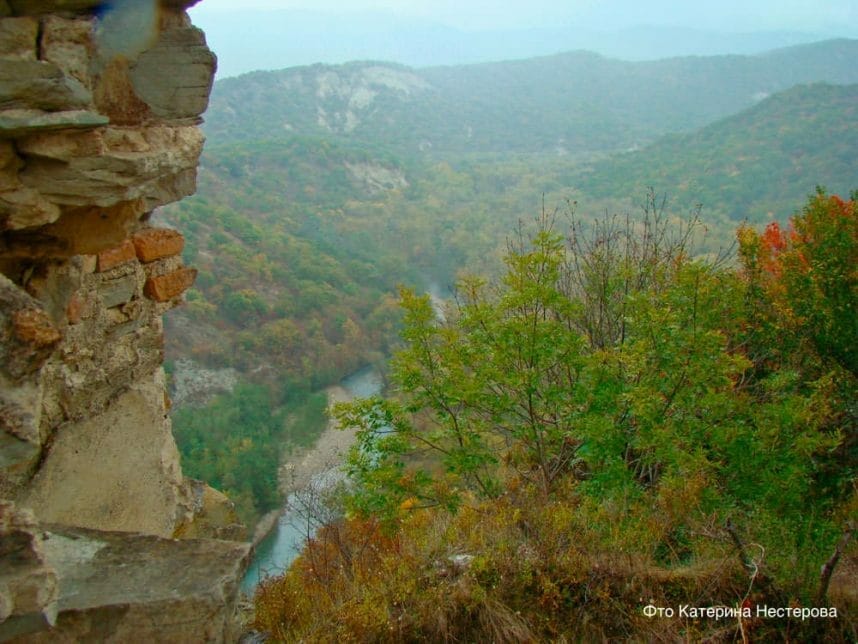 View from the walls of Ujarma
Ujarma Fortress. Located directly on the road. A large and interesting complex – very spectacular views of the ridge.
Ikalto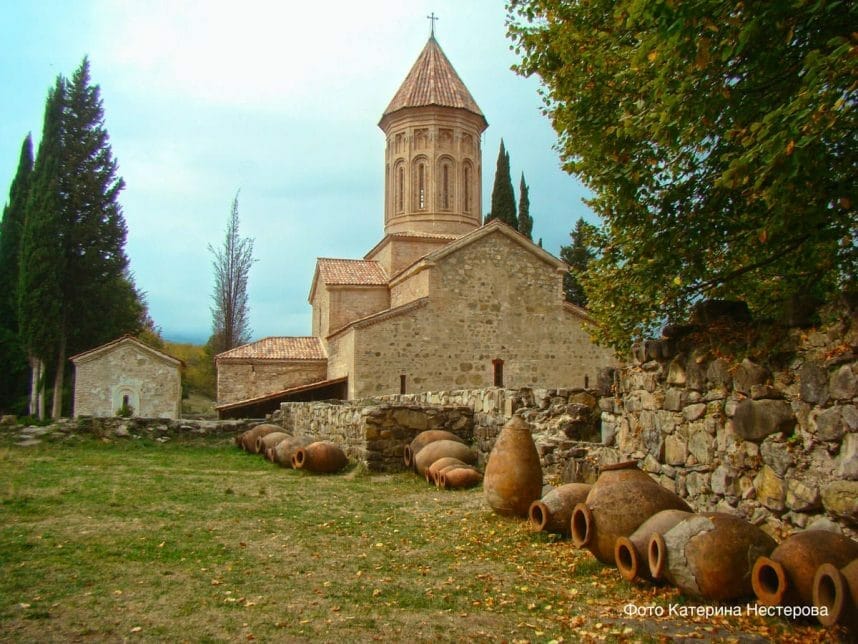 Ikalto monastery. Founded by one of the Assyrian fathers Zeno of Ikalto. In the academy at the monastery studied Shota Rustaveli.
Shuamta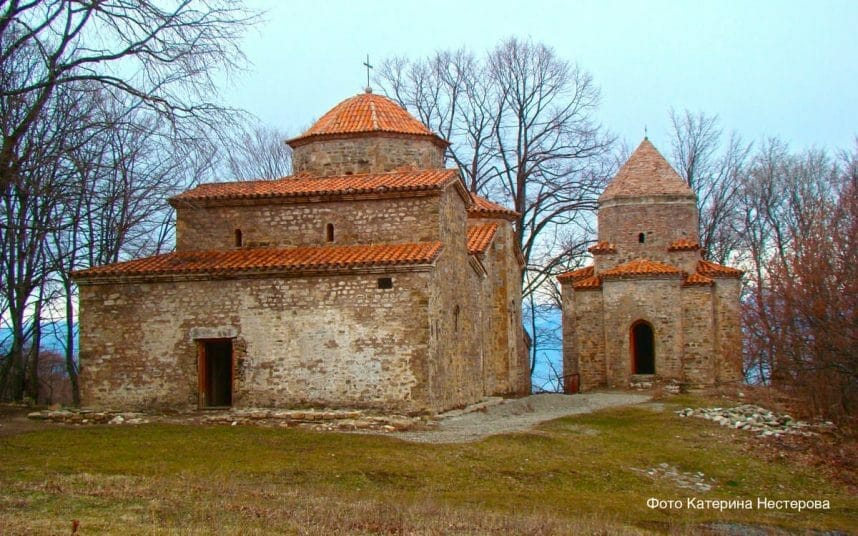 Shuamta. Nearby are the New and Old Shuamta. New – active female monastery, relatively new and with a very strict charter. Old Shuamta is much more interesting. The complex of three ancient temples is hidden in a fairy-tale mountain forest. There is no invasion of people here. Lovers of solitude, tranquility and contemplation will like it here.
Tsinandali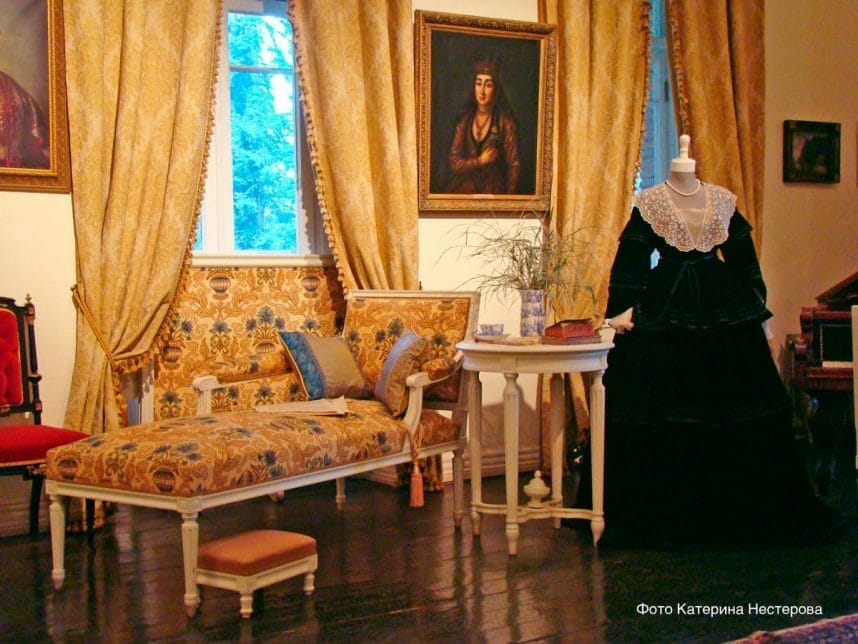 Chavchavadze House Museum in Tsinandali. Manor house of XIX century, ancestral home of Chavchavadze. Built in European style, surrounded by a beautiful park.
Shumi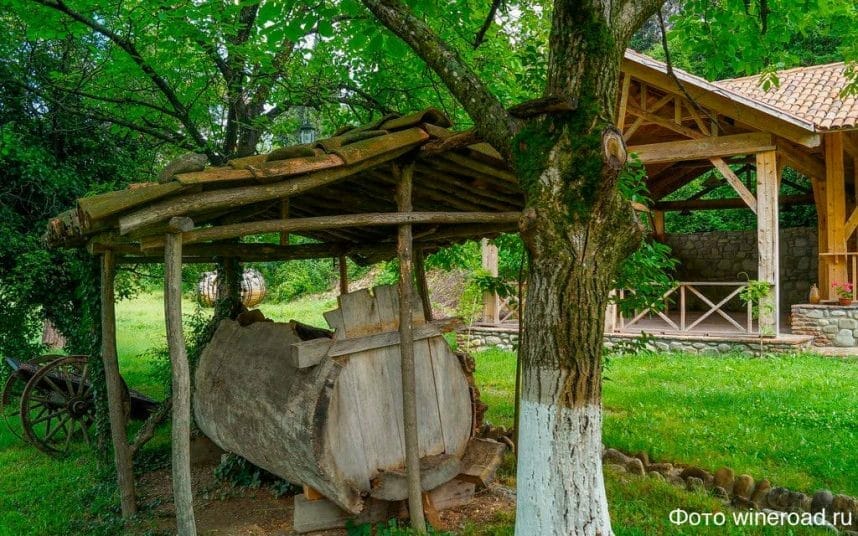 Shumi. Winery corporation near Telavi. Here you will not be given a tour of the production – the territory is closed. But there is an excellent wine museum.
Lagodekhi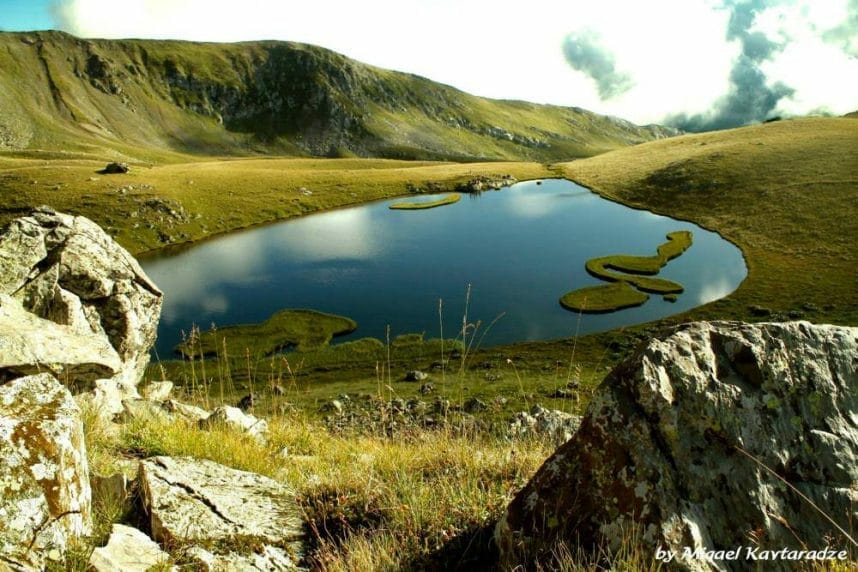 Lagodekhi national park. One of the oldest reserves in the country. The forest in Lagodekhi Gorge is unique – humid, mossy, and fabulous. There is a special, almost subtropical climate. There are 5 tourist routes in the reserve. One must register at the information center before visiting.
David-Gareji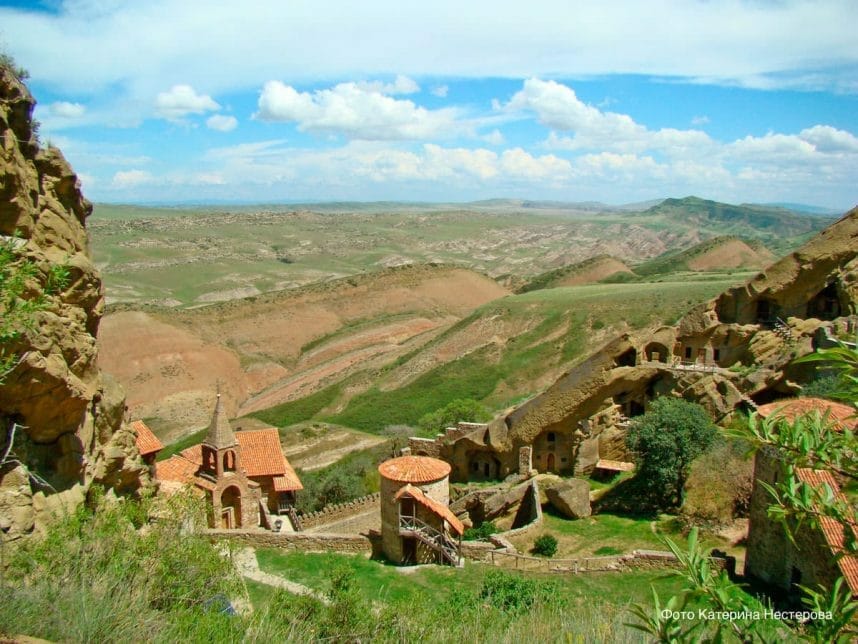 David-Gareji Monastery Founded by one of the Assyrian Fathers David of Gareji. Consists of several monasteries scattered throughout the Gareji desert.
Natlismtsebeli Monastery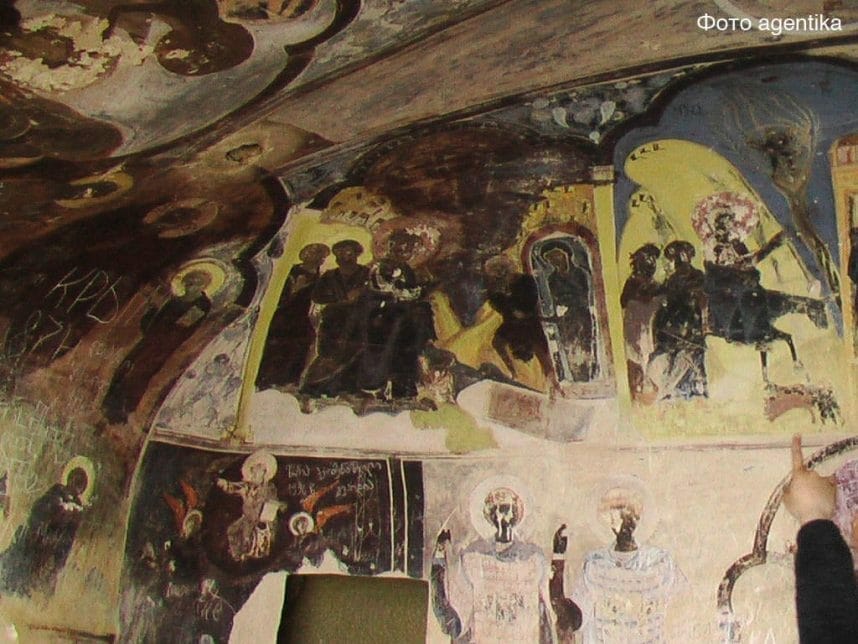 The Natlismtsebeli Monastery. Monastery of the David Gareji complex. Differs from the Lavra of David radically. You can get here only by a good off-road vehicle. There are not a large number of tourists here. There is a strict statute. The complex consists of a temple, a tower and a series of caves. Will be of interest to pilgrims and lovers of non-touristy places.
Excursions and routes in the region from Tbilisi
This trip is for wine and about wine. Where else to get acquainted with the traditions of winemaking, but in Kakheti? You will taste different wines, you will visit both big wineries and private wineries. You will taste genuine Kakhetian shashlik and bread with crispy crust baked in a tonneau. All this in the scenery of the Alazani Valley, with its snow-capped mountains, lakes and narrow streets of towns. A great trip to explore Kakheti for the first time. "picnic" (hot bread and Kakhetian cheese in the village) – city of love Sighnaghi – tour and tasting in the corporation "Kindzmarauli" – tour and tasting of Graneli – vineyards – wine museum of Aunt Nunu
On this trip you will get acquainted with the ancient culture of the region, visit ancient temples and monasteries, learn the centuries-old history of Kakheti. Although you can't do without wine – Kakheti remains a very wine region. The trip will appeal to those who are interested in religion, history and architecture. Ujarma – Ikalto monastery – Alaverdi monastery – Gremi castle – tour and tasting at Kindzmarauli Corporation – City of Love Sighnaghi – Bodbe monastery
Sightseeing tour of the masthi sites. This route contains the main attractions of the region. It is perfect for those who travel to Georgia for the first time. Sighnaghi – Kindzmarauli winery – Gremi – Alaverdi – Telavi – Ikalto – Ujarma
Kakheti is large and very rich region. If you have time, we strongly recommend you to spend at least two days there. This route includes everything – winemaking, ancient castles and cities, mountain lakes and unique nature. This is the best route in Kakheti, we recommend it. Overnight stay in Telavi, Ikalto or Sighnaghi. Ujarma – Ikalto monastery – Telavi – Alaverdi monastery – Gremi castle – excursion and tasting in the Corporation "Kindzmarauli" – Sighnaghi city of love (overnight stay) – museum in Sighnaghi – Bodbe monastery – excursion and tasting in Graneli – vineyards – wine tunnel "Khareba" – lake Kvareli – Chavchavadze estate – wine museum of Aunt Nunu
Going to Georgia? Write to info@v-georgia.com – we will choose the best route for you. Come, and we will try to make your vacation unforgettable! You can get free consultation by phone +995 555 566 540 *WhatsApp *Viber
To order individual program for visiting these sights please fill the form. In the 'Message' please specify the date of your trip, number of travelers and your wishes.