17 things to do in the department of Gard, France
The Pont du Gard is the highest of all the Roman aqueducts that have survived to this day, and one of the finest bridges and monuments of antiquity in France. The bridge is named after the river it crosses, the Gard . Now, however, it is renamed the river Gardon. The bridge is located on the outskirts of the city of Nîmes in the Languedoc-Roussillon region, in the department of Gard.
The bridge was part of a 50 m long aqueduct that was built to transport water from the Uzes springs to the city of Nîmes. Its construction is believed to have begun in the mid 1st century AD, during the reign of Claudius or Nero. About a thousand people worked on the construction of the Pont du Gard for 5 years. It's the highest bridge built in antiquity.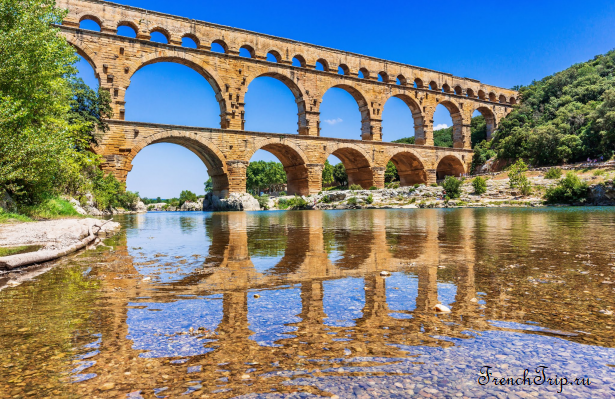 It is a grandiose building 275 meters long and 47 meters high, built of stone without using lime. The bridge consists of three tiers: six arches in the lower tier, 11 arches in the middle, and 35 arches in the upper tier. The closer to the shore, the narrower the arches become. This is the last of the three-tier bridges of Ancient Rome to survive.
The aqueducts were built at an angle, so that water flowed to the right place by gravity. With literally the smallest incline at an average of only 25 cm per kilometer, the Pont du Gare provided between 30,000 and 40,000 m3 of running water per day to Nîmes, supplying numerous thermae, fountains and waterworks in the wealthy homes.
The aqueduct was no longer in use nearly 500 years after its construction, shortly after the fall of the Roman Empire, although the Pont du Gard served for many more centuries simply as a bridge over the River Gard. In the mid-18th century a modern bridge was built nearby, and traffic across the Pont du Gard was gradually closed. The first restoration of the bridge was ordered by Napoleon III.
In 1985, the Pont du Gard was inscribed on the list of UNESCO World Heritage Sites.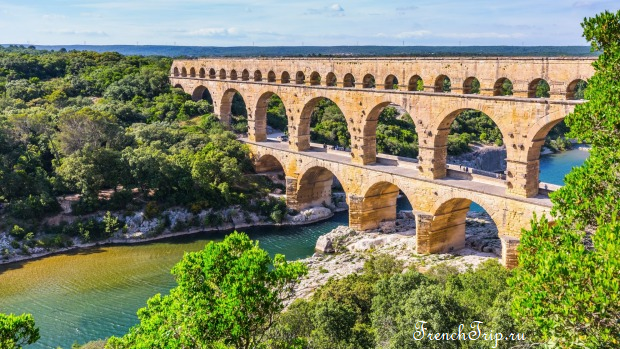 A visit to the Pont du Gard
Only the lower level is accessible to the public. The upper levels are closed for security reasons.
Pont du Gard tickets:
It is possible to visit not only the bridge, but the entire Pont du Gard :
The ticket includes all the attractions of the Pont du Gard complex : (Pont du Gard, Museum, Ciné, Ludo, the Mémoires de Garrigue path) :
Adults : 9.50€/person
Reduced rate* : 7€/person
Free for under 18 years old
Guided tour : +6€/person
Evening tariff in July and August :
Adults : 5€
Preferential fare*: 3€
Free for under 18 years old
Parking is included in the ticket price and is exclusively for visitors (i.e. those who have bought a ticket). Prices are valid until December 31, 2019.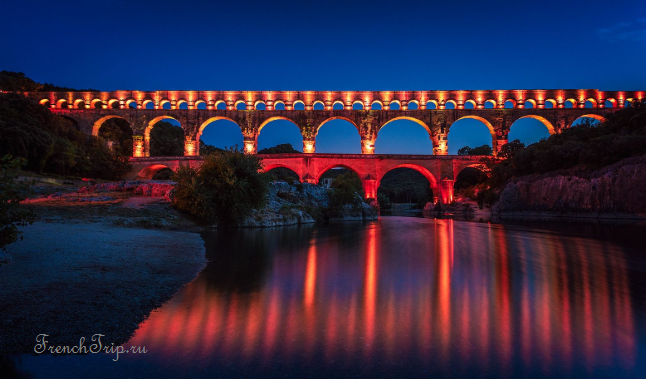 The ticket to the Pont du Gard park includes:
An introduction to Pont du Gard and elements of the aqueduct,
visits to the museographic complexes: museum, cinema, arcade, exposition, outdoor route "Memory of Garigue",
free cultural and entertainment activities,
access to 7 kilometers of marked and groomed trails for hiking,
picnic areas,
secure parking lots…
In the evening, after the sites close, there is a flat rate of 10 € per car (up to 5 people) . You can come and admire the lighting of the monument!
Opening hours:
Daily throughout the year.
In the winter season the left bank and its cultural facilities are open.
Stores and cultural venues open at 9 a.m. and close:
7 p.m. in June and September
at 8:00 p.m. in July and August
5:00 p.m. November to February
6 p.m. March through May and October
The parking lot has souvenir stores, toilets, cafes, a restaurant and even a cinema.
Directions to the Pont du Gard
The Pont du Gard is located between Remoulin (RN 100) and Ver-Pont du Gard (D 81), on the edge of several large towns in Provence:
– 26 km, 30 minutes by car – 26 km, 34 minutes – 38 km, 30 minutes by car – 40 km, 42 minutes – 51 km, 50 minutes – 72 km, 1:20. – 83 km, 1 hour by car – 135 km, 1:21. – 136 km, 1:22
Marseille – 152 km, 1.5 hours. – 152 km, 1.5 hours.

By car to Pont du Gard.
Freeway A9, exit 23 for Remoulins (gare de Remoulins – Pont-du-Gard), direction Uzes, then follow the signs to the right or left bank.
Near the bridge, there are parking places open from 7 am to 1am*, the price of which is included in the entrance fee of 18€ per car.
* Since the parking lots are closed to visitors between 1 a.m. and 7 a.m., a flat rate of 43 € is charged for each car left during this time.
By train to Pont du Gard.
Nîmes and Avignon train stations (accessible by TGV trains).
Paris – Nimes by TGV – 2:50 . Marseille – Avignon by TGV – 30 min.
The nearest regional train station is Remoulins . It is 4,1 km on foot (about 50 minutes).
Trains from Givors-Canal to Grezan stop here.
Givors
Condrieu
Serrières
Tournon-sur-Rhone
Saint-Péray
Voulte-sur-Rhône
Le Teil
Bourg-Saint-Andéol
Pont-Saint-Esprit
Remoulins – Pont du Gard
By bus to Pont du Gard
By bus from Nîmes – route B21 (Nîmes – Pont-Saint-Esprit)
Combination bus ticket on any route above + visit the bridge and the park: 10€ per person or 20€ per family (3 to 5 people).
Things to do around Gare du Nord station: tips for where to go
Are you staying in a hotel near Gare du Nord or maybe you are looking for something to do while waiting for the train? Then this article is written just for you! Although Gare du Nord train station may not be the trendiest place in Paris, there is certainly plenty to see and do in the surrounding area. So let me show you the best things to see and do around Gare du Nord station.
Explore "Maison Fond".
The first thing to do near Gare du Nord station is near the main entrance from Rue Dunkirk. As you exit Gare du Nord, you will see a unique work of art. "Maison Fond" is the work of Argentine artist Leandro Ehrlich.
The title literally means "melting house." The artist tries to denounce global warming by showing a typical Ottoman melting structure. At the very least, it should create food for thought or make for an interesting photograph.
Scare at Le Manoir de Paris
Now for one of the scariest things near the Gare du Nord train station and probably in all of Paris. If you like spooky stories from horror movies, this attraction is really made for you.
Le Manoir de Paris was built on the site of a former ceramic factory, and is the first haunted house in France. You will find yourself in the frightening environment of the Manoir , and the special effects and actors will try to scare you. As you can guess – it is definitely not for the faint of heart.
ADDRESS | 18 RUE DU PARADIS 75010
PRICES | FROM 20 EUROS
Visit the Canal Saint-Martin
The charming Saint-Martin canal is only a ten-minute walk from Gare du Nord station. This narrow waterway was originally built to bring fresh water to the northern parts of Paris as it connects to the Seine. Nowadays, the area around the canal is filled with cool boutiques, trendy cafes, and lots of street art.
During the summer months, you'll find Parisians stretching along the banks of the canal. It's a popular spot for picnics or just reading a book in the sun. So why not grab some food from one of the next two places in this article and try your hand at a Parisian picnic?
Explore Little India.
One of the most unexpected things near Gare du Nord train station is a trip to India. Well, not exactly to India. But this neighborhood is known as Paris's India, and there are plenty of Indian boutiques, grocery stores, and delicious Indian restaurants.
Go on a wonderful adventure to walk through Passage Brady and Rue du Faubourg Saint-Denis to experience this unique part of Paris.
Taste French cuisine at Marché Saint-Quentin
This indoor farmer's market just steps away from Gare du Nord train station. It is the perfect place to shop for French food and organic produce.
Inside you will find cheese makers, butchers, fish departments, and bakeries. However, you can also find good small restaurants as well as wines or oysters.
ADDRESS | 85BIS BOULEVARD MAGENTA 75010
OPENING TIME | TUESDAY TO SATURDAY | 8:00 TO 20:00
Check out the fabrics at Marché Saint Pierre.
The multicoloured Marché Saint-Pierre is one of the most famous fabric stores in the world. And it's a short walk from the Gare du Nord train station. So if you're into sewing, knitting or embroidery, you'll find everything you need here.
There are five floors filled to the brim with almost every kind of fabric you can imagine: satin, velvet, lace, tulle, etc. It is also a good place to visit if you are looking for something new in Paris.
ADDRESS | 2 RUE CHARLES NODIER, 75018
OPENING TIME MONDAY-SATURDAY | 10:00-18:30
Visit the Chocolate Museum
The Museum of Chocolate, also called the History of Choco, is located near the Gare du Nord. It really is like Willy Wonka's Factory. If you want to discover 4,000 years of chocolate history and see chocolate sculptures and clothes, you should definitely visit this museum.
CHOCOLATE MUSEUM – BOULEVARD BONN NOUVELLE 28, 75010
Visit the church of St. Vincent de Paul
This cathedral, built in 1850, is obviously less famous than Notre Dame or Sacré-Coeur, but it's worth a visit. It's a secret place in Paris that many people miss. The architecture is certainly stunning, but you will find that the church is more impressive from the inside than from the outside.
ADDRESS | SQUARE CAVAILLÉ-COLL, 75010
Buy candy in an old candy store in Paris
A few steps from Gare du Nord train station, you can find one of the oldest and tastiest stores in Paris. "A La Mère De Famille has been making some of the tastiest candies since 1761.
You'll quickly recognize the store's antique facade. They make their candy from tried-and-true recipes. In our opinion, this is simply one of the best places to try French sweet delicacies: caramel, nougat, sugar almonds, jelly beans, fruit pastes, calzones and more.
ADDRESS | 35 RUE DU FAUBOURG MONTMARTRE, 75009
Now you know the best things to see and do around Gare du Nord station. Stay with us and explore Paris by strings.