Top 25: Hotel interiors in the style of beloved Hollywood and Disney movies
You'll literally feel like you're in a movie at these hotels, an experience you won't have anywhere else.
A huge number of the hotels that you might have seen in the movies and in the TV series exist in reality. For example, the cult film The Shining (1980) was based on a story by Stephen King, which he was inspired to write after staying in a haunted room with his wife. Very often we look at hotel interiors in movies without even thinking that these are very real places, not sets.
On the other hand, some hotels began to open inspired by stories from movies and books. Themed rooms help to create a special atmosphere of relaxation, and in this selection you will find places that will transport anyone into the world of the most popular novels, action movies, comedies and thrillers. Such places are loved for the fact that they remind us of exciting fantasies, fascinating characters, and just lift our spirits.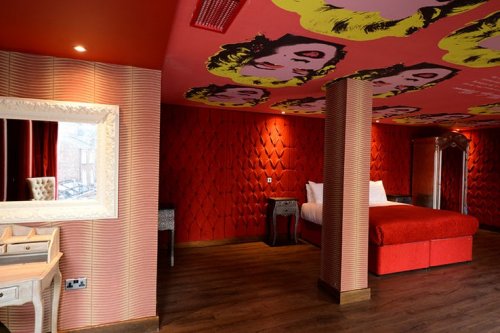 25. Arthouse Hotel, Liverpool, UK Photo: Arthouse Hotel
The Arthouse is a cool place where the most ardent movie fans usually check in, because each room here is dedicated to one of the rather famous movies. If you've ever dreamed of walking down a path paved with yellow bricks like in Oz, that's the first thing that awaits you at the entrance to Arthouse Hotel. If you like the world of music, there are rooms styled after musicals like Grease (Grease, 1978) and The Rocky Horror Picture Show (1975). Do you like horror movies and thrillers? Then you'll love the numbers inspired by the works of the legendary filmmaker Hitchcock.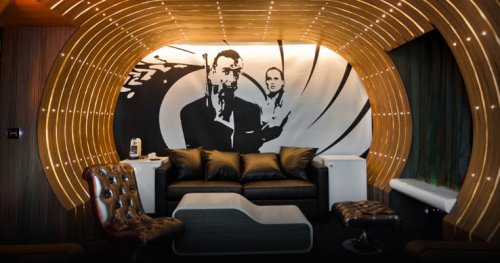 24. Hotel Seven, Paris, France Photo: tripadvisor
If you are a fan of the famous spy James Bond, you will certainly appreciate the Secret Agent Suite at the Hotel Seven in Paris. One night in it will cost you $398, but the experience is worth every penny. The futuristic style here is mixed with the vintage furniture that everyone remembers from the first Bond films. Perhaps the most interesting thing about this room is that it's complete with a great bar, so you can mix a martini with just about any other drink. You do remember that it was the legendary agent-007's favorite drink, right, and that Bond even had a special recipe for the perfect drink?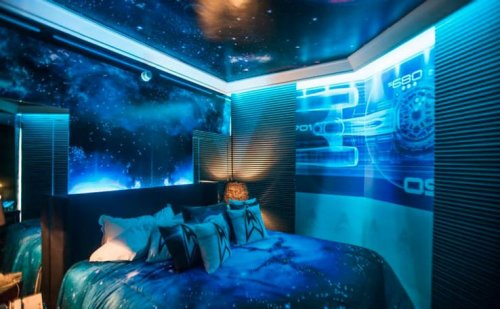 23. Sheraton Hotel, Sao Paulo, Brazil
And now the good news for Star Trek fans – there is a stylized room for them as well. Or rather, there was. Unfortunately, the Sheraton only temporarily decorated this room as a promotion for the Star Trek Into Darknessand the premiere of the movie franchise, and it was only open for one month in 2013. In any case, the project was a success – the room was lit by LED lights in the style of a spaceship, the walls were decorated with wallpaper depicting distant galaxies and everywhere the emblems of Star Trek were applied.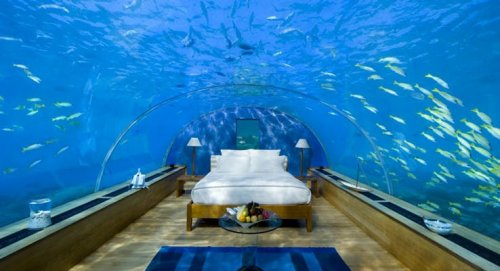 22. Poseidon Undersea Resorts, Fiji Photo: JEBIGA
If you like the movie "Poseidon" or the book "Twenty Thousand Leagues Under the Sea", you will love this resort. The highlight of this place is the opportunity to live underwater! This unique pleasure will cost you 15 thousand dollars, but for that money you can get on a compact submarine brand Triton and get her to the underwater hotel, where you are waiting for the most fabulous views of the life of marine creatures under the water column of many meters. You will remember this trip for the rest of your life!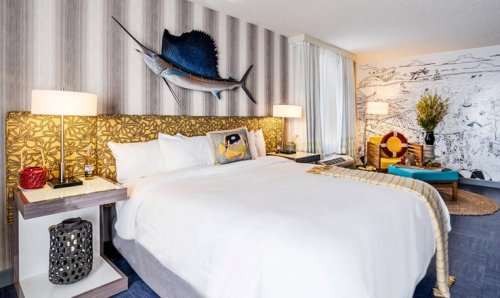 21. The Curtis, Denver, USA Photo: thecurtis.com
If the idea of island living appeals to you, or even if you share the "tropical worldview" of American musician Jimmy Buffett, grab a ticket to Denver and book a room at The Curtis, where you'll find a variety of themed rooms. One of them is completely decked out in the style of a beach house. Hand-painted murals decorate the bright walls as if illustrating novels about islander adventures, the floor is tiled in blue, and a chic stuffed blue marlin adorns the bed. The famous phrase from Buffett's song "it's five o'clock somewhere" hanging on one of the walls reminds you that it's time for another cocktail.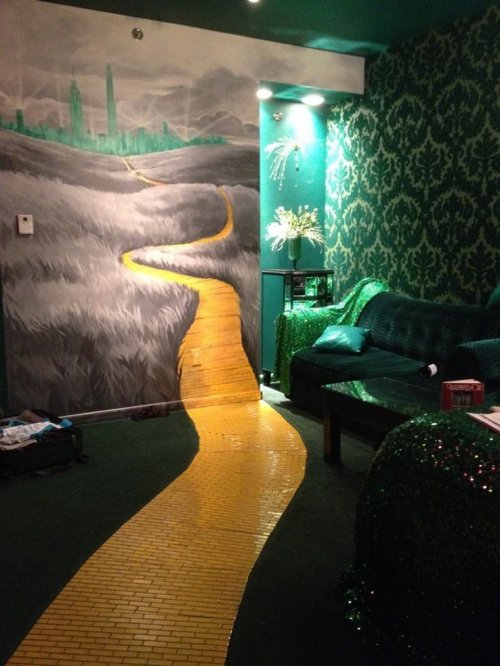 20. The Roxbury Hotel, New York, USA Photo: pinterest.com.au
This amazing hotel can be found in upstate New York, and one of its rooms was inspired by the famous children's book, The Amazing Wizard of Oz. The most noticeable element of the emerald interior is the pathway paved with yellow bricks. You'll even find magic slippers at the headboard of the bed, so watch out! One of the main attractions of the room is the 320-liter bathtub. In fact, this motel is full of other very interesting rooms, so don't forget to put a new item on your wish list.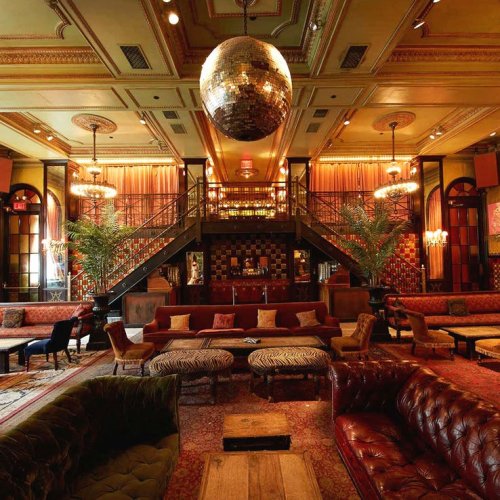 The Jane, New York, USA Photos: Tablet Hotels
The Jane Hotel takes you into the world of the American comedy The Royal Tenenbaums (2001). It is full of vintage furniture, Burgundy wallpaper and paintings. Hotel owner Sean MacPherson said the following about his project: "This building seemed like a giant mansion, and it reminded me very much of the Tenenbaum family home, which is what inspired me to go this way."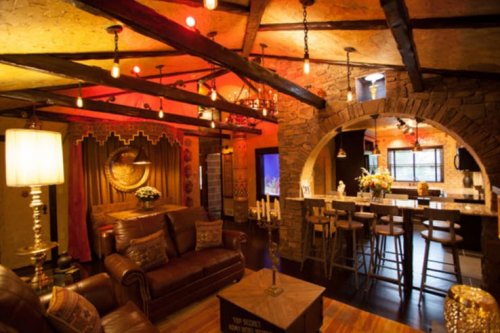 18. The Roxbury Hotel, New York, USA Photo: theroxburymotel.com
As we said, there are so many different themed rooms at this hotel. If you're excited by stories about archaeological digs and love the Indiana Jones movies, The Archaeologist's Digs room is the one for you. It's a three-room suite that's sure to make you feel an irresistible urge to go on a treasure hunt yourself. In the room there is a huge aquarium with 1,900 liters of salt water, and the bathroom can transport you to the world of ancient Egypt when it was ruled by Cleopatra herself. This room even has its own secret passages and hidden treasures! Rest in this room will seem to you a truly exciting adventure.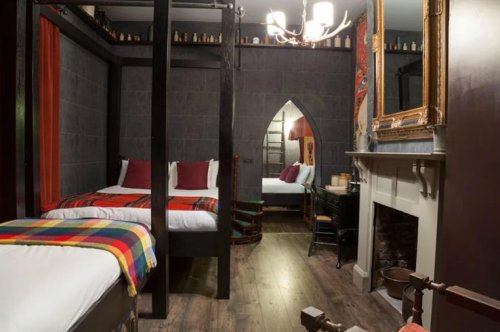 17. Georgian House Hotel, London, UK Photo: Georgian House Hotel, London
For all the Harry Potter fans, the owners of the Georgian House Hotel in London have arranged rooms called Wizard Chambers. A night in such a room allows you to plunge into the world described in the famous series of books about young wizards, adored by millions of children and adults around the world. Inside you'll find four-poster beds, potion vials, potion vats, and other things you'll find at Hogwarts School of Witchcraft.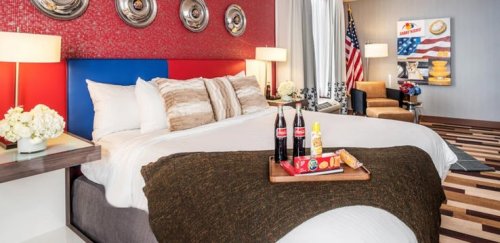 16. The Curtis Hotel, Denver, USA Photo: The Curtis Hotel
If you love the movie Talladega Nights: The Ballad of Ricky Bobby (2006) and auto racing, this room is made for you. As you've noticed, The Curtis Hotel is full of pleasant surprises, and they sure know how to create the most fabulous and realistic themed rooms. Fans of Ricky Bobby will definitely appreciate the room dedicated to this famous car racer. The interior is full of NASCAR-related details, the room is dominated by red, white and blue colors, and you're sure to enjoy the wheel rims on the walls and posters with traditional cheese fountains.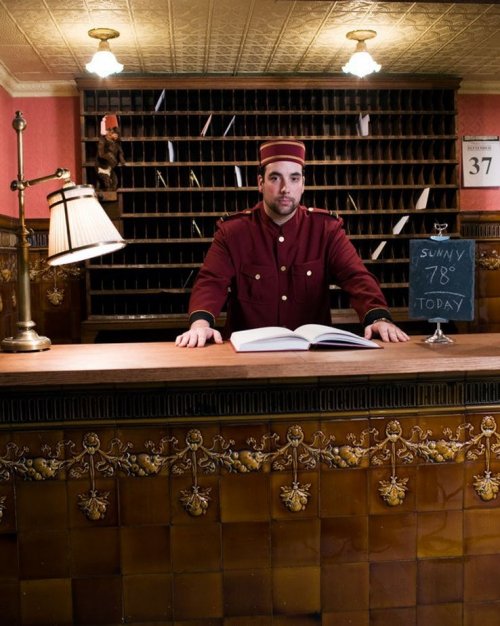 15. The Bowery Hotel or American The Grand Budapest, New York, USA
Sean McPherson is a man very passionate about the world of film and the hospitality industry, which is why he opened another themed hotel in New York City called The Bowery. McPherson liked the famous movie The Grand Budapest Hotel (2014) so much that he wanted to create something similar in Manhattan. The hotelier even had the front desk and staff uniforms copied from those in the movie.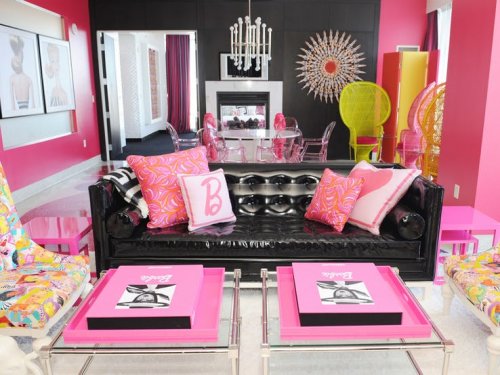 14. Palms Casino Resort, Las Vegas, USA Photo: pinterest.com
If you adored Barbie dolls as a child or even watched cartoons about them, then you will definitely like the Hot Pink Suite. Here you are sure to feel like a real princess, which almost all girls dream of. Barbies have always been fashion conscious and tasteful, and the themed rooms at the Palms Casino Resort Hotel are a testament to that. To get a night in the Dream House room, you have to pay $3,000, and that's because it is furnished in the spirit of real Barbie fans – stylized chairs, the sun mirror with beams made by 65 dolls, and a thousand other things, the creation of which was inspired by the famous toy.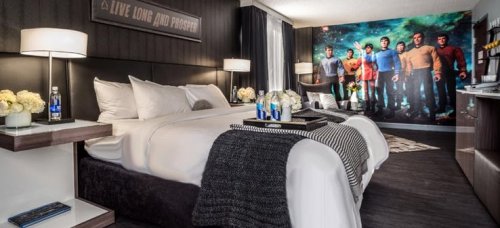 13. The Curtis Hotel, Denver, USA Photo: thecurtis.com
Besides the Brazilian Sheraton, there's another hotel in the world where you can check into a Star Trek-inspired room at any time, and we're talking again about The Curtis Hotel, which has proven its originality and love for pop characters more than once. One of its rooms has an ambiance that can easily be compared to the interiors from the USS Enterprise spaceship. The walls here are adorned with full-size photo wallpaper depicting the entire Star Trek crew. You might even feel like you're spending time in the company of real-life heroes. Fans will definitely appreciate this room.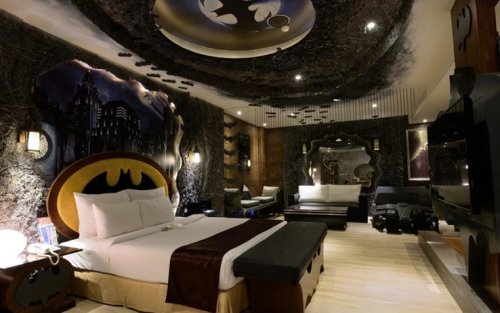 12. Eden Hotel, Taiwan Photo: Travel + Leisure
For all those who have a crush on Batman, and who have watched all the superhero movies and even accepted the fact that he was once played by Ben Affleck, there is a very unusual themed room in Taiwan. In it, you'll feel like you're in the legendary secret cave, where every detail tells you that you're in Batman's own territory (even the TV, mirrors, safe and bed headboard). You'll also notice the famous Bat-signal right above your head.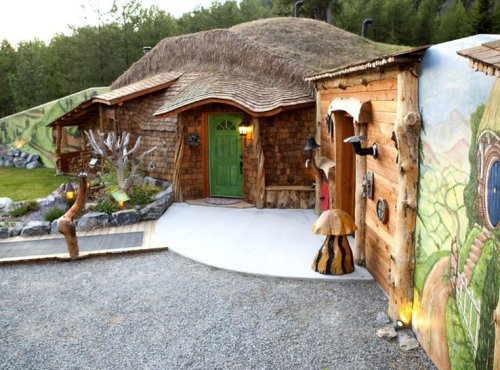 11. The Shire Of Montana, USA Photo: VRBO.com
For hobbit fans, The Shire Of Montana complex features guest houses that literally say everything about their connection to the fairy tale people. By the way, these lodges are built partially underground. In these bizarre forest abodes and want to look, just to catch there bustling hobbit. However, in the themed houses also have something of our world – wireless Internet and HDTV systems, so that your plunge into the world of fairy tales will run as smoothly as possible.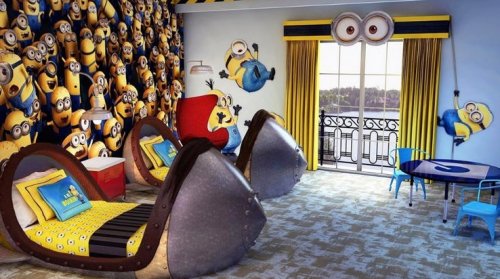 10. Loews Portofino Bay, Florida, USA Photo: YouTube
Isn't this room super cute? The room was decorated specifically for kids who adore the yellow minions from the cartoon "Ugly Me" (Despicable Me). Beds here are definitely very unusual and cozy. There are two of them in the room at once, if your family has as many as two beautiful children, not one. Don't worry, the parent's room is right across the wall, and there is a normal full-fledged double bed.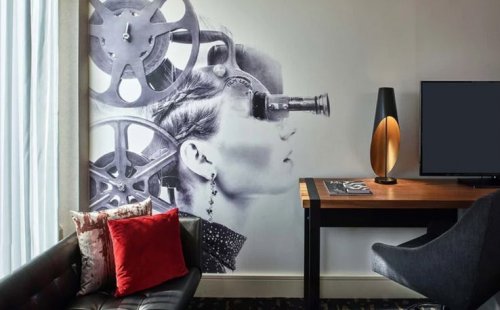 9. Palomar Hotel, Beverly Hills, California, USA Photo: Kimpton Hotel Palomar Los Angeles Beverly Hills
When this hotel was renovated, the Palomar became a place dedicated to the film industry. There's now black-and-white wallpaper, pillowcases imitating still images from old film stock and shelves of books about movies, and the latest editions of prestigious magazines like The Hollywood Reporter and Variety are not only found in the hotel lobby but also in the rooms. The hotel's main lobby has a round-shaped fireplace that resembles an enormous video camera lens. In the lounge area you will find yourself under the light of real spotlights, like any star pursued by paparazzi, and the ceilings there are stylized truss structures of pipes and fixtures for lighting devices. Local cocktail bar Double Take has drinks whose recipes were inspired by iconic movies shot in Los Angeles.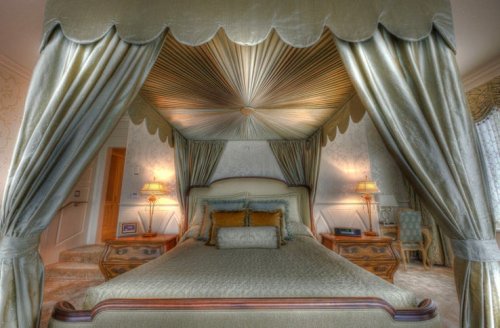 8. Disneyland Hotel, California, USA Photo: Disney Parks
Any fan of the world of Disney cartoons and movies has probably dreamed of being a little princess. As it turns out, you still have a chance to feel like a member of the royal family, if you just spend the night in the Sleeping Beauty Room at the Disneyland Hotel. Everything about this room says fairy tale, extravagance, and even luxury! Here you can take a bath or lie in a chic Jacuzzi while a mosaic depicting a fairy tale castle flaunts right above you. The foyer of the room is almost entirely made of marble.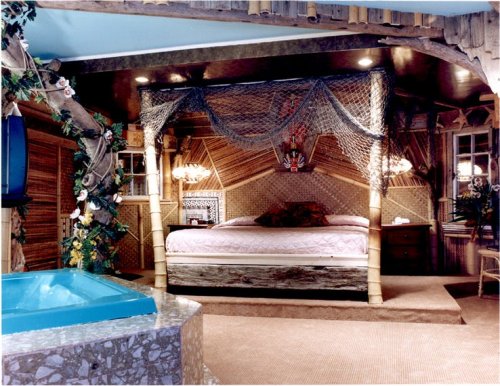 7. Radisson Hotel Valley Forge, Pennsylvania, USA Photo: flickr.com
At one time, Gilligan's Island was a very popular television series that even had quite a few devoted fans. If you've ever imagined what it's like to live on an island, a local hotel room will definitely appeal to you. The unusual hotel is located on the outskirts of Pennsylvania, and once there, you're sure to feel like a shipwrecked wanderer. The stylized room will have a fishing net right above the bed, tropical flowers wrapped around a tree trunk, starfish, reeds, its own mini-pool with Jacuzzi, ritual masks, and cases of wine. Wine alone is reason enough to spend at least a couple of days here.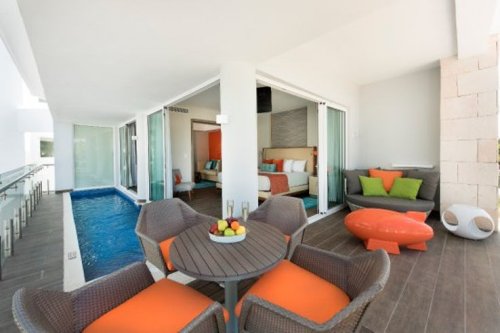 6. nickelodeon Hotels And Resorts, Punta Cana, Dominican Republic Photo: TripAdvisor
If you loved the SpongeBob SquarePants cartoons as a kid, you should definitely check out this themed room there. It even has its own private pool, but you'll have to pay as much as $3,800 for one night. The outside of the genre it looks like a huge pineapple, but inside it provides 2 bedrooms, 3 bathrooms, which are adjacent to the garden, living room in the air and in the room, patio, pool, and even relies personal butlers. It's just the perfect place for a vacation.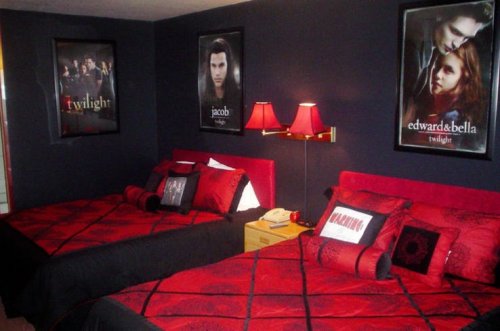 5. Pacific Inn Hotel, Forks, Washington, D.C. Photo: Pinterest
Not surprisingly, a room themed around the Twilight vampire saga appeared somewhere in the town of Forks. Yes, yes, it's the same town where the acclaimed film was filmed, so you can spend the vacations here enjoying not only the room setting, but also exploring the streets of Forks. The windows in the room are draped with black curtains, in case you're a vampire and the sun is against you. The interior is full of blood red, and posters of your favorite characters from the novel hang on the walls.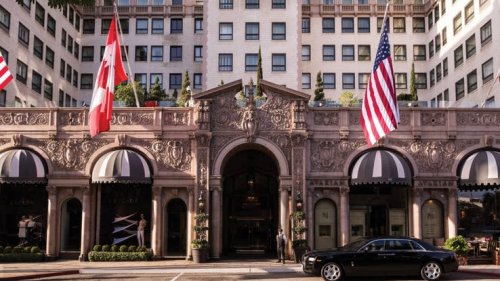 The Beverly Wilshire Hotel, Beverly Hills, U.S.A. Photo: Beverly Wilshire Hotel
At the Beverly Wilshire Hotel fans of the melodrama Pretty Woman (1990) can feel like they are in their favorite movie. True, the price for such an experience is not trivial – as much as 10 thousand dollars a day. The classic romantic comedy about the reincarnation of a simple girl into a posh lady will not only take place due to the conditions of the room. The package includes a tour along the prestigious Rodeo Drive with a personal stylist and closet adviser (in a Mercedes provided by the hotel), dinner for two in the room itself, couple's massage and a bath with essential oils.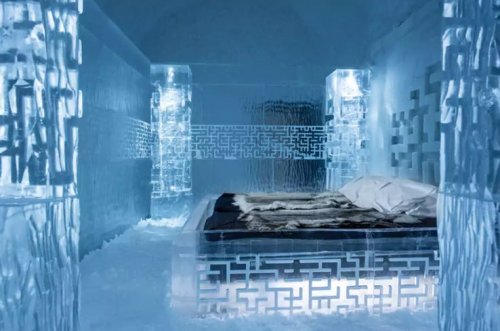 Ice Hotel, Jukkasjarvi, Sweden Photo: Hotels.com
Good news for fans of the sci-fi action film Tron: The Legacy. This room will drive you crazy, because it is not only a room made of ice, which in itself is incredible and very unusual, but also with elements of the mentioned movie. Every year the hotel owners restore these ice chambers, each time changing the design of the rooms, and this year the main inspiration for the next installation was a scene from "Tron", filmed in a futuristic nightclub.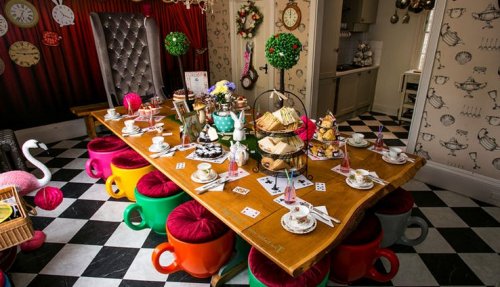 2 The Wonderland House Hotel, Brighton, UK Photo: Wonderland House
The whole hotel is stylized as the famous story of Alice in Wonderland, and it looks very cool. You will definitely feel like a giant in the world of fairy tale creatures. Look at least at this dining table in the picture, because it looks just fantastic. Each room in the hotel is decorated differently. For example, one room is dedicated to the Black Queen and another to the beautiful flamingos. You can even play cricket here with flamingo bats. All in all, there will be a lot of fun here, so hurry up and book your room!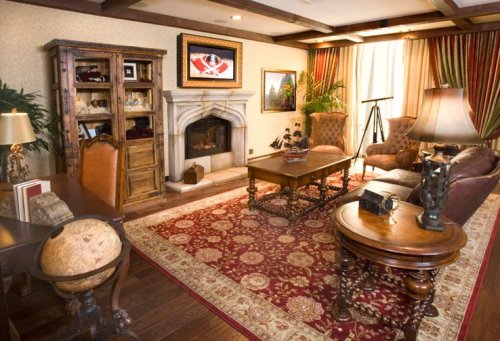 Disneyland Hotel, California, USA Photo: Disney Parks
If you're not a princess or prince at heart, but rather a brave and cheerful pirate, this room is definitely for you. The Disneyland Hotel has very different accommodation options, and one of them might remind you of Captain Jack Sparrow's cabin. To get into this room, you'll have to ring the doorbell first, and the bell will play the famous phrase "Yo Ho, Yo Ho, A Pirate's Life For Me" (Yo Ho, Yo Ho, A Pirate's Life For Me, a 1967 musical theme written for the Pirates of the Caribbean attraction). The room is full of vintage rugs, wooden beams everywhere, a boardwalk floor, a four-poster bed and generally lots of all kinds of themed curiosities. One night will cost you $1,086.
Wish List: A list of the top 160 wishes for life
We spend our lives running somewhere and then we remember that we haven't done a lot of great things. We haven't climbed a mountain, jumped in the water, kissed in the rain, scuba dived, boarded a surfboard, raced a sports car, or seen the Eiffel Tower. It's time to make a list of all the things you want to try in life to make it more exciting, fulfilling, interesting and happy, which is the most important thing.
If we ask ourselves what we want to try in life, we often get lost. What do we really want? What are our dreams? What are our plans or goals? What crazy or bizarre ideas do we have? What do we want to see, try, achieve, or feel in our lives? We need to live in a way that is something to remember!
Wish list and goals
It's time to think about what you'd like to do in your long life. After all, in retirement it will be too late to do most of the things you planned or dreamed about. It's worth thinking about now, and making a long list of things still to try.
The interesting thing is that we already have some dreams, ideas, plans, goals, and daydreams, but we rarely think about shaping them more clearly. We have them in the form of daydreams that stand on some pause called "later," "tomorrow," or "until better times." We want to do them, but when there's a weekend, when we go on vacation, when there's money, when there's strength, or when there's something else out there. But you could say that basically we'll never find time for them, even though that's what we want to do the most.
Doesn't that seem strange to you? Maybe try to think about what you're really interested in and want to do? If you make your wish list today, tomorrow life could be much brighter, fuller, more interesting and happier. Just doesn't say that you don't want that.
What could be on your wish list?
What countries and places do you want to visit?
What experiences do you want to have?
What have you always wanted to do, but never got around to?
What do you want to get involved in?
What accomplishments would you like to have?
What would you like to accomplish if you had the time, money, and energy?
What moments do you want to keep in your memory?
What are your biggest goals and plans in life?
What experiences do you lack?
Should we think about what you want to see in person?
What skills do you want to learn and master?
What do you want to tell some people and do with them?
What do you want to make sure you do before you die?
If you think about it, there really are quite a few of these things.
Wish List. The best examples for wishes or dreams
Especially for you, we've compiled examples of wish lists that might interest, inspire or encourage you to do something exciting. Something will seem alien to you, and something extremely interesting and attractive. It's up to you to choose what you want to experience in your long journey through life.
1. Smile more every day and feel happy.
2. Find a profession to your liking and taste so you can go to work with satisfaction.
3. Periodically do something you really want to do, even if it's crazy.
4. Run a half marathon, marathon or triathlon.
5. Ride a horse, camel or elephant.
6. Raise children, sponsor their education, and help them go out into the world.
7. Make time for your hobbies and hobbies and find new and interesting ones.
8. Spend a birthday or new year in another country.
9. Go on a real hiking trip.
10. Furnish the house according to my taste and hobbies.
11. Learn to sipboard, surf, or kitesurf.
Sameplayer , Unsplash
12. Go yachting, boating, and cruising.
13. Parachute jumping.
14. Go on different dates and be in a happy relationship.
15. Visit Disneyland and other big amusement parks.
16. Buy real estate and decorate to my liking.
17. Make time for family and friends and visit and call more often.
18. Be outdoors more often.
19. Learn to dance.
20. Do good things regularly without expecting anything in return.
21. To visit all the countries of Europe and to visit all the continents of the planet.
22. Have a grand party or surprise party.
23. Learn to play any musical instrument.
24. Staying up all night thinking about something deep, inner and personal.
25. Finding a sport that I can play regularly.
26. Eat healthy foods.
27. Read a lot of interesting and useful books, or listen to audiobooks and podcasts.
28. Learning to get up earlier and go to bed on time.
29. Fly a hang glider.
30. Flying in a hot air balloon or attending a hot air balloon festival.
Rachel Peri , Unsplash
31. Canoeing.
32. What should be on your wish list? To find true friends.
33. Don't put off things you want to do now.
34. Learn self-defense and martial arts.
35. Spend time on the roof admiring the stars.
36. Feed a homeless man.
37. Ride quad bikes through the sand dunes.
38. Become a popular or maybe not so popular blogger on YouTube or TikTok.
39. Try car camping and road trips.
40. Take a nude swim somewhere and then sunbathe.
41. Make another spring unforgettable.
42. Join a running club to run regularly.
43. To invent something new, interesting and useful.
44. Go on picnics with buddies and loved ones.
45. To try the cuisines of different countries.
46. Create a passive income.
47. Get another education that will come in handy.
48. Go on an African safari or just take pictures of animals.
49. Go to all the carnivals that seem interesting.
50. Dive under the water and try scuba diving.
Patrick Jansen , Unsplash