Top 10: Treehouses that will amaze your imagination
The concept of a tree house started with old boards, nails and a rope ladder. Such houses were built among the tree branches by fathers and their friends. Tree houses have come a long way since then, improving greatly. Designers, architects and builders from around the world have taken the concept of living in a tree to the next level. While you won't be able to spend the night in all of the treehouses we'll cover in this list, most include incredible furnishings, offer striking views, and are so unique that you would never mistake them for a "regular treehouse." From square to round to hexagonal, these tree houses come in a variety of shapes and sizes. Whether you're looking for a romantic night under the stars in a light, warm breeze or you're looking for a comfortable family vacation spot with cable cars and hiking trails, you can find the right tree house for you on this list. From a restored airplane complete with a terrace instead of a wing to a 306-square-foot private treehouse, the treehouses below range from Sweden to Costa Rica to Oregon, and they'll all strike your fancy.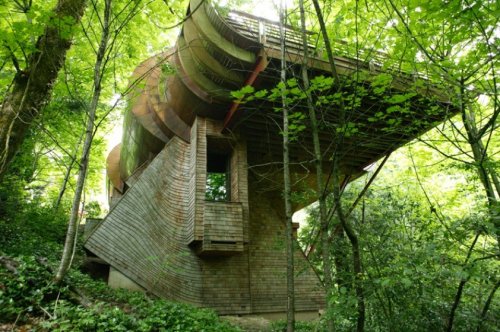 10. Wilkinson Residence, Oregon This treehouse has as much as 306 square feet of living space with an additional 46 square feet of adjoining outdoor space. The architecture of the structure is simply stunning, from the glass wall that surrounds the living room to the open spaces that allow sunlight to flow freely into all rooms. Mostly natural materials were used in the construction of this building. The owner built this home to find musical inspiration. The house is built on a sloped lot, making the living space of the house in a forest canopy. You can't spend the night here as it's a private residence, but photos can't authentically convey all the beauty of this tree house, you really have to see it with your own eyes to believe that such beauty really exists.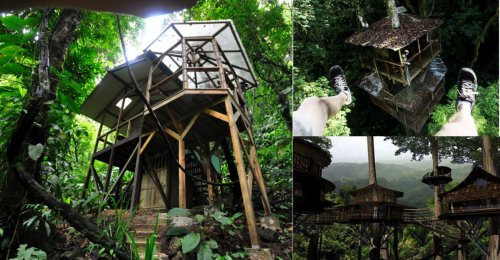 9. Finca Bellavista, Costa Rica A true paradise awaits visitors in Costa Rica, which is actually a community of people living in treehouses, where some residents can also fulfill their dreams and live for a while among the forest canopy. From tree houses with sleeping accommodations for children, to houses that are filled with sunshine or twin tree houses for romantic nights out. You'll find a myriad of options here. Tree houses and buildings are connected by cable cars and platforms. In this community you can go hiking, see beautiful waterfalls, go snorkeling in rivers and nearby bodies of water. The minimum reservation is two days. During this time, guests of the community can truly enjoy the unusual surroundings and gain a lot of impressions. Regardless of whether you want to stay in an octagonal, square or multi-level house, you can find one here.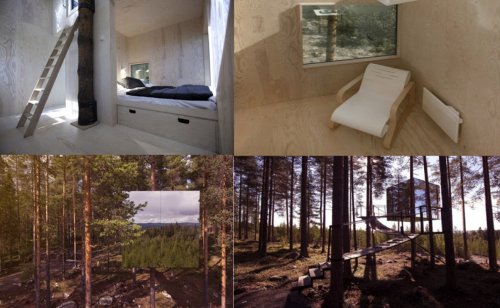 8. "Mirrorcube, Sweden
This tree house is nestled high up in a tree and blends in so well with the surrounding woods that you'd have to look closely to actually make sure it was there. "The Mirror Cube" is cloaked with four walls that reflect the surrounding landscape, thereby creating a tree house unlike any other. Fortunately for the birds, this mirrored house is covered with a special covering that only the birds can see, thus avoiding collisions with its walls. The interior of the house is stunning on its own with a double bed, bathroom, veranda and rooftop terrace. Six windows provide stunning views of the surrounding nature, and the house itself can be accessed by walking across the bridge. This unique opportunity to relax in such a cabin is available to everyone in Sweden.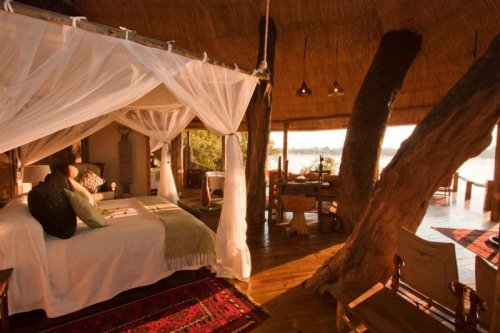 7. Tongabezi Lodge Treehouse and Hotel, Zambia This amazing treehouse is hidden in a huge ebony tree. The house sits in a completely open space and even includes luxuries such as a bathtub with decorative legs that overlooks the Zambezi River. The lack of exterior walls provides stunning views of the surrounding landscape. The gorgeous double bed is complete with a mosquito net canopy and occupies the middle level of the home. Walking down a few steps leads to the recreation room, where guests sunbathe on comfortable chaise lounges on the terrace overlooking the river. Your stay in this guesthouse will leave you with a lot of pleasant impressions and memories of the beautiful decoration of the lodge decorated with works of art of West African craftsmen, Asian furniture and woven carpets.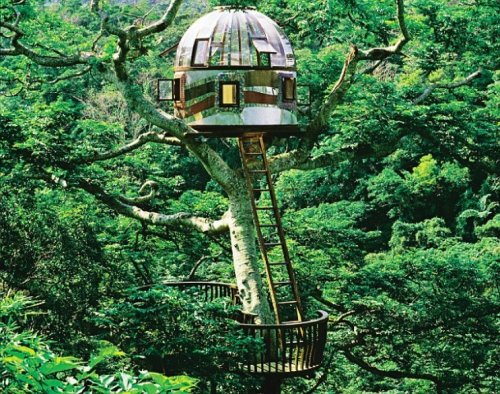 6. Beach Rock Treehouse, Japan This treehouse is located on a private island in Okinawa, Japan and was originally built to communicate with the cosmos. The design looks appropriate for that. According to legends, this tree house is a portal of organic glass in this world. The entrance to this round tree house is accessed by a series of stairs. Although contact with the cosmos was never established from this house, it is currently a place where people come to hide and rest from the hustle and bustle of everyday life and find inner harmony and peace.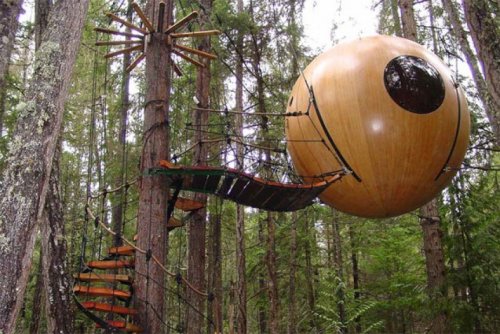 5. Free Spirit Spheres, Vancouver Island These three spherical tree houses are suspended in the coastal rain forest along the west coast of Vancouver Island. They are open year-round, but exclusively for adults. These spheres are set in the middle of two hectares of beautiful forest with a huge pond in the center of the land and a huge variety of fauna. Each orb is unique in what it offers, from the availability of electricity to other amenities and bed size. In addition to being strikingly unique, these tree houses offer their guests an opportunity for spiritual fusion with nature as the spheres gently sway in the wind. Walkways, platforms and spiral staircases allow visitors to reach their sphere. If you don't feel more inspired to do great things after a night spent in one of these spheres, we'd be very surprised.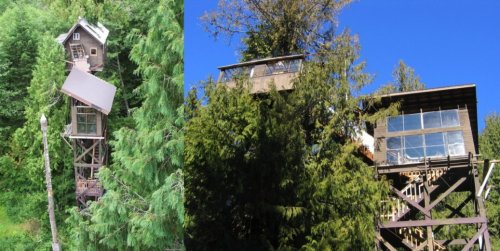 4. Cedar Creek Treehouse, Washington The treehouse is 15 feet off the ground and nestled in the trunk of a 61-foot-tall tree of the tuia species folding tree. The house overlooks the lush forest and the rushing river. This eco-friendly, homemade bed and breakfast mini-hotel gives guests the opportunity to spend the night in a two-story structure equipped with excellent amenities, such as a sun room, kitchen, and comfortable bedroom. The lodge also has a 30-meter observation tower, which can be accessed by walking across the bridge. The tower offers stunning views of the surrounding mountains. This is a very secluded tree house and it can be yours for a day or more, without any other guests. It's just the perfect cabin for romantic time for the two of you.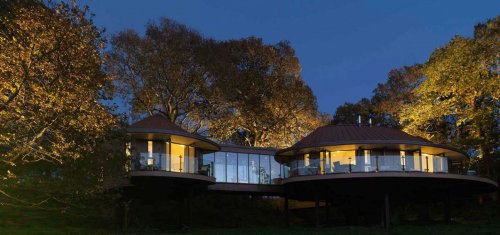 3. Chewton Glen Treehouses, England Perhaps the most luxurious treehouses on this list are in Chewton Glen with floor-to-ceiling glass walls that allow guests to truly feel at the heart of nature. These elegant homes feature separate bedrooms and living spaces, decorated in warm, cozy tones and furnished with comfortable furnishings. An outdoor hot tub, shower, wood-burning stove and flat-screen TVs are just some of the amenities offered to guests. These treehouses are nestled in a cozy retreat in the forest canopy and offer a luxurious getaway for those who want to spend a night in nature without sacrificing extravagance or comfort.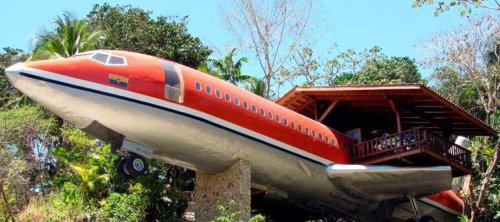 2. Fuselage House, Costa Rica A classic 1965 Boeing 727 airplane is the next incredible tree house on this list. This two-bedroom cabin sits on a 15-foot pedestal in the heart of the Costa Rican jungle. This Boeing 727 was once used for passenger transportation by South Africa Air. Now, visitors can enjoy relaxing in the cockpit or dining in the patios attached to the wings. Air conditioning, private bathrooms, flat-screen TVs, spiral staircases and a terrace overlooking the ocean are just some of the luxurious amenities offered on this redesigned aircraft. Handmade furniture, surrounding gardens and howlers as neighbors make this a unique place to spend the night.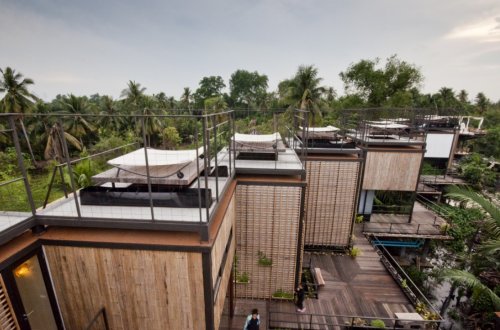 1. Bangkok Tree House, Thailand Just a thirty-minute drive from the bustling city of Bangkok is a place where visitors can breathe in the fresh air, relax in nature and sleep under the twinkling stars. The Tree House in Bangkok offers guests the opportunity to spend the night in one of the best jungle houses. Guests don't have to worry about the eco-friendliness of the structure, as the hotel does its best not to harm nature. From a family nest that has access to three rooftops and can accommodate four people for the night to a two-person room that overlooks the sky and the surrounding nature, thanks to the absence of a ceiling and walls. This hotel is definitely the perfect vacation spot. With beautiful summer showers, a natural pond and privacy, the tree house in Bangkok is one of the most incredible tree houses in the world.