Malia, Crete – the most interesting things about the resort in Greece
35 km from Heraklion, the administrative center of Crete in Greece, lies the resort town of Malia (Malia). It is quite a small town, populated by a little less than 3500 people.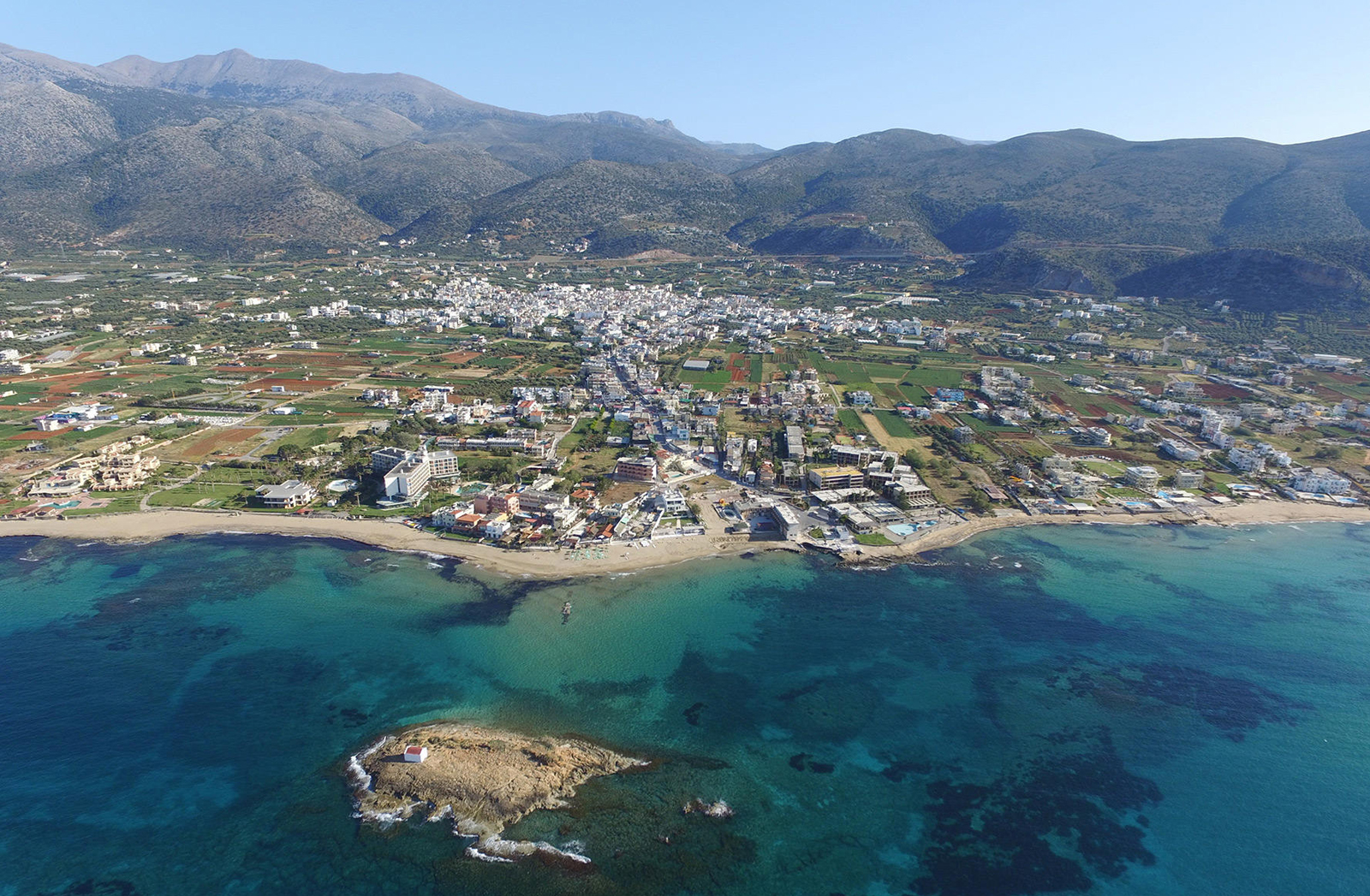 Entertainment available in Malia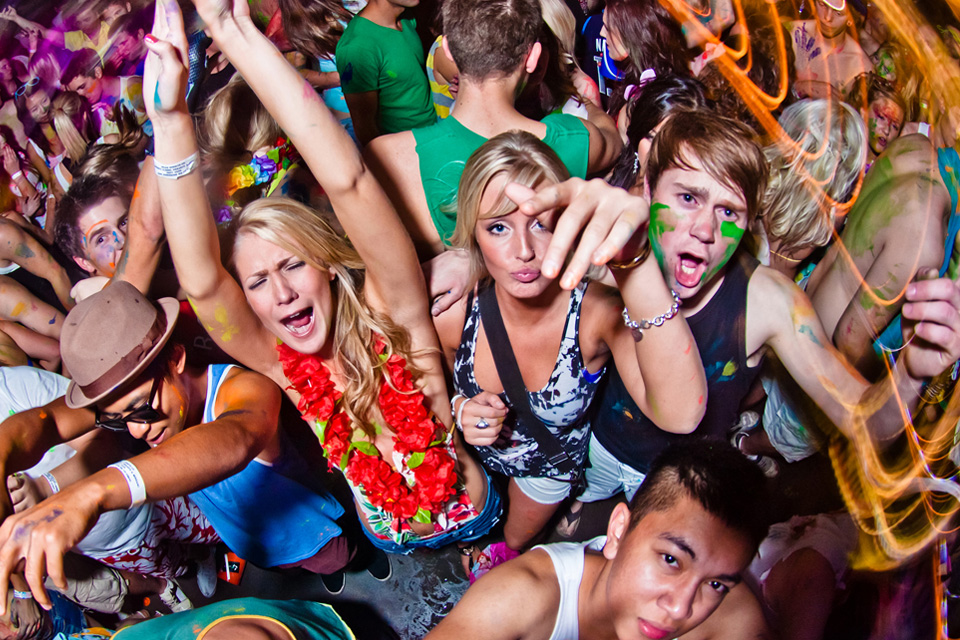 On Crete and all over Greece, Malia is known as one of the most partying places – it attracts lots of young people and lovers of nightlife. It should be noted that these young people are mainly from France, Germany and England, there are almost no Russian speakers. People who come to Mali for the first time and go for a walk closer to the evening, may be not only surprised, but perhaps shocked. Local TV channels do not stop showing what happens in Malia in the evenings, and the residents of Crete are only indignant, but do not take any concrete action.
As a rule, young people from European countries come here in large groups, relaxing relatively peacefully and without fights, spending a lot of money – this is one of the main reasons why they are welcomed in this small Greek city.
Nevertheless, Malia has everything to make your vacation memorable: clean sea, comfortable beaches, numerous clubs and restaurants, hotels of different stars, souvenir stores, large supermarkets, a variety of entertainment and attractions. Here you can rent any vehicle: bicycle, scooter, motorcycle or car.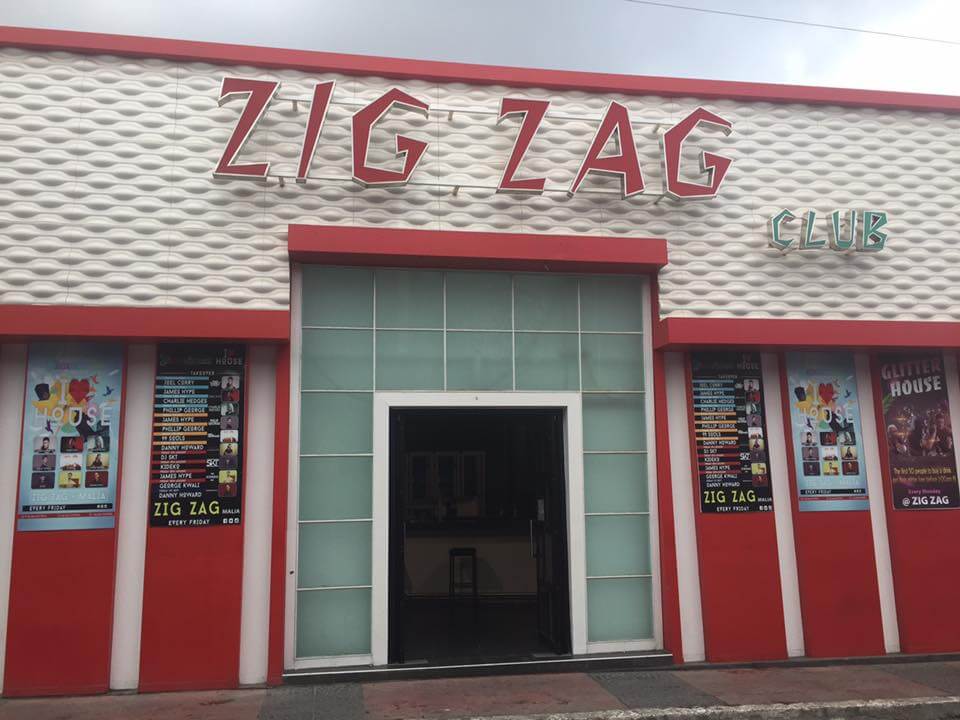 Zig Zag
The central part of Malia is a concentration of clubs, bars, discos and restaurants. Camelot Castle, Candy, Appolo, Zig Zag, Malibu Club are the most popular among the young people. Almost all of them are open from 10 p.m. until morning, the entrance is free, you pay only for the drinks you order.
In addition to restaurants and clubs, this resort in Greece has other entertainment. What can be seen in Malia on Crete? For example, you can see the aquarium, visit the water park, take a horseback ride.
The nearest horse stable to Malia is located at Nikis, 70007 Stalís 60 meters from Everest Hotel Iraklion, Greece. It's also not only the closest, but also the cheapest on the island – an hour and a half ride costs 38€ per person.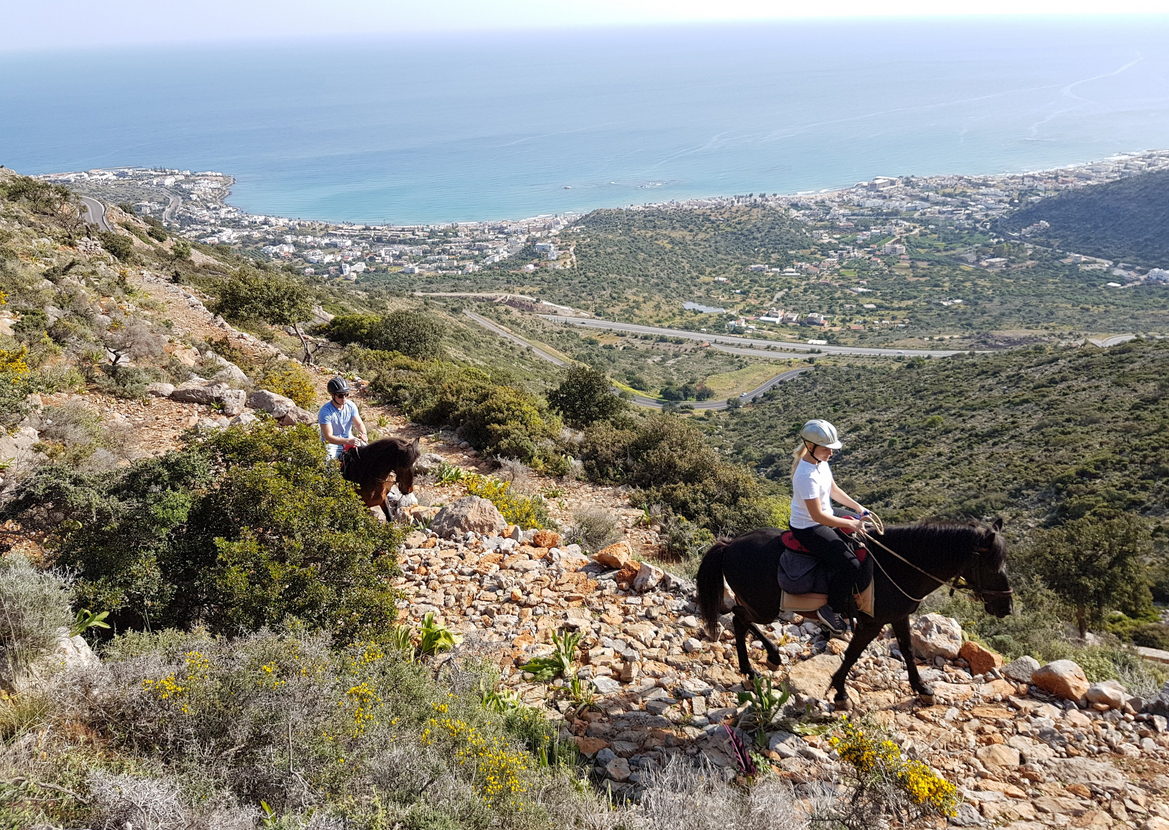 Amarillis Stable is located in the mountains near the town of Stalis. It keeps well-groomed and well-trained horses, short ponies. There are no cafes or taverns on the grounds, and the only facilities are toilets.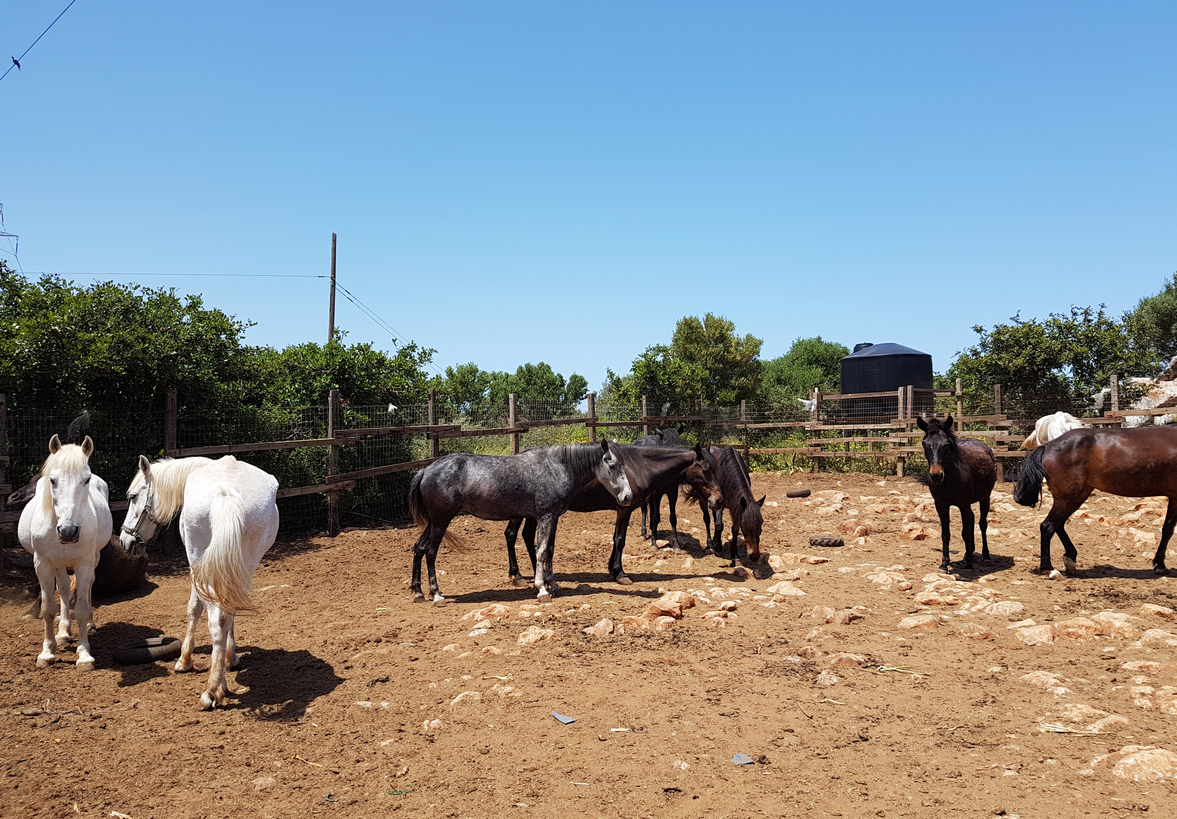 Amarillis Stable
It is the Amarillis Stable for horseback rides that is offered by the staff of many hotels and tour agencies in Malia. But you can order an excursion tour by writing directly to Amarillis Stable – the owner of the stable Nicholas answers very quickly and, if necessary, picks up from the hotel.
Tourists are offered a walk and a half hour to the sea, or longer trips (5-6 hours) in the mountains, deep into the island of Crete to the lake, in the village Mochos. The way to the sea is quite monotonous (on the asphalt road, along which there are houses and hotels), but the coast is very beautiful. The tour in the mountains is much more interesting, although more tiring and sometimes more dangerous. The terrain dictates its conditions: sometimes you have to get off the horse and lead it behind you. During every trip Nicholas in good English talks about the history of Crete and the interesting places along the way.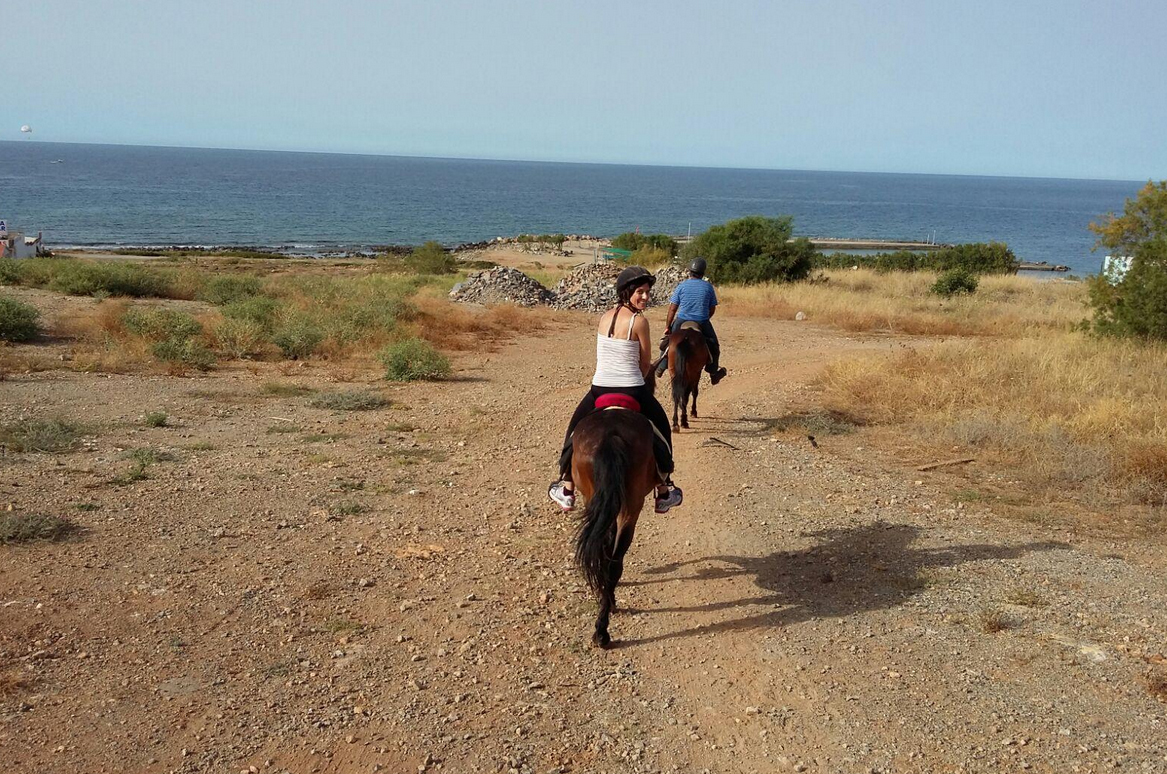 Nicholas advises how best to handle the horses, watching their behavior. But newcomers getting on a horse for the first time should still be very careful and make a safer trip to the sea first. As for small children, it is better not to take them on a trip on horseback at all.
One more important thing: you should find out in advance if your insurance will cover medical expenses for treatment, if it is necessary after a fall from the horse.
For your information! The recommendations of the best tours and Russian-speaking guides in Crete can be found here.
The water park is not located in Malia, but in Hersonissos. Many people find the water park a great alternative to the usual beach of Malia on Crete, especially since the entrance is free. There are almost always a lot of people here.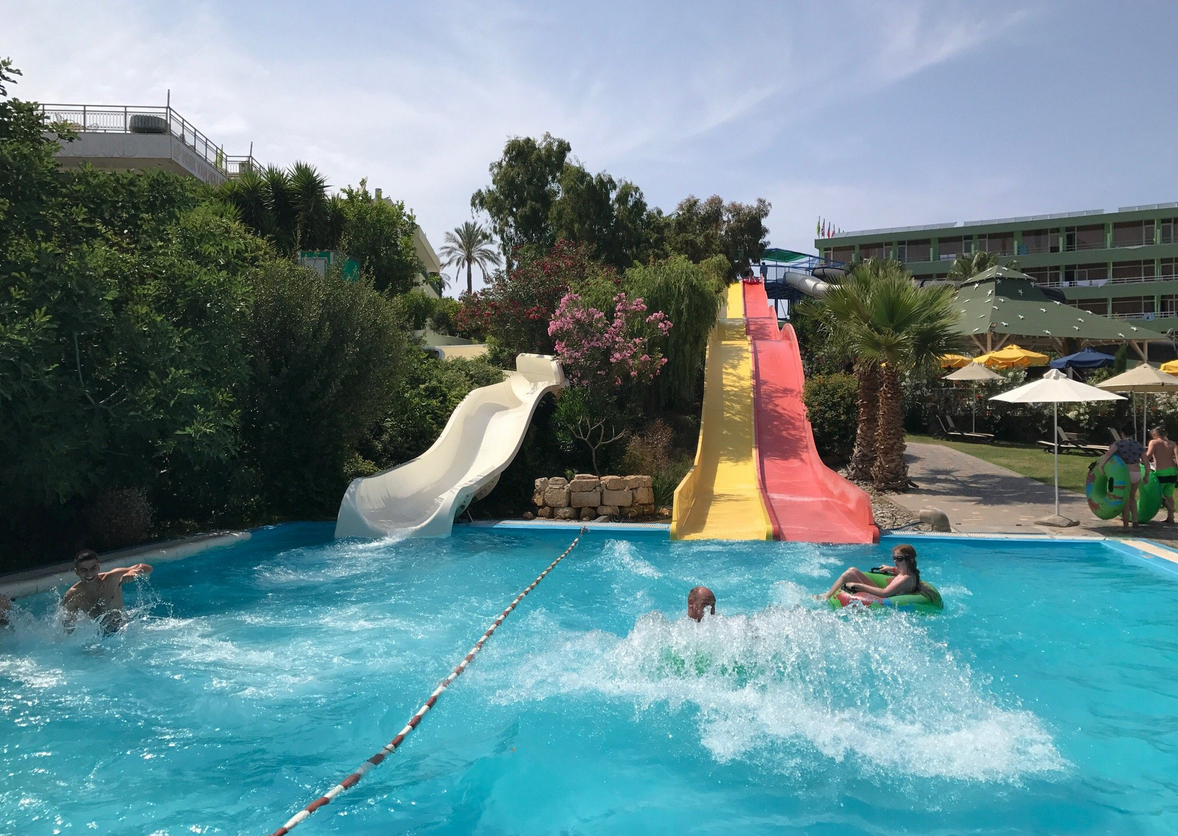 The beach is small, the beach is narrow and the sun is hiding very quickly. But the entrance to the sea is very comfortable: sandy and gentle. There are no breakwaters, so some days in the morning waves rise to a man's height and it is impossible to swim.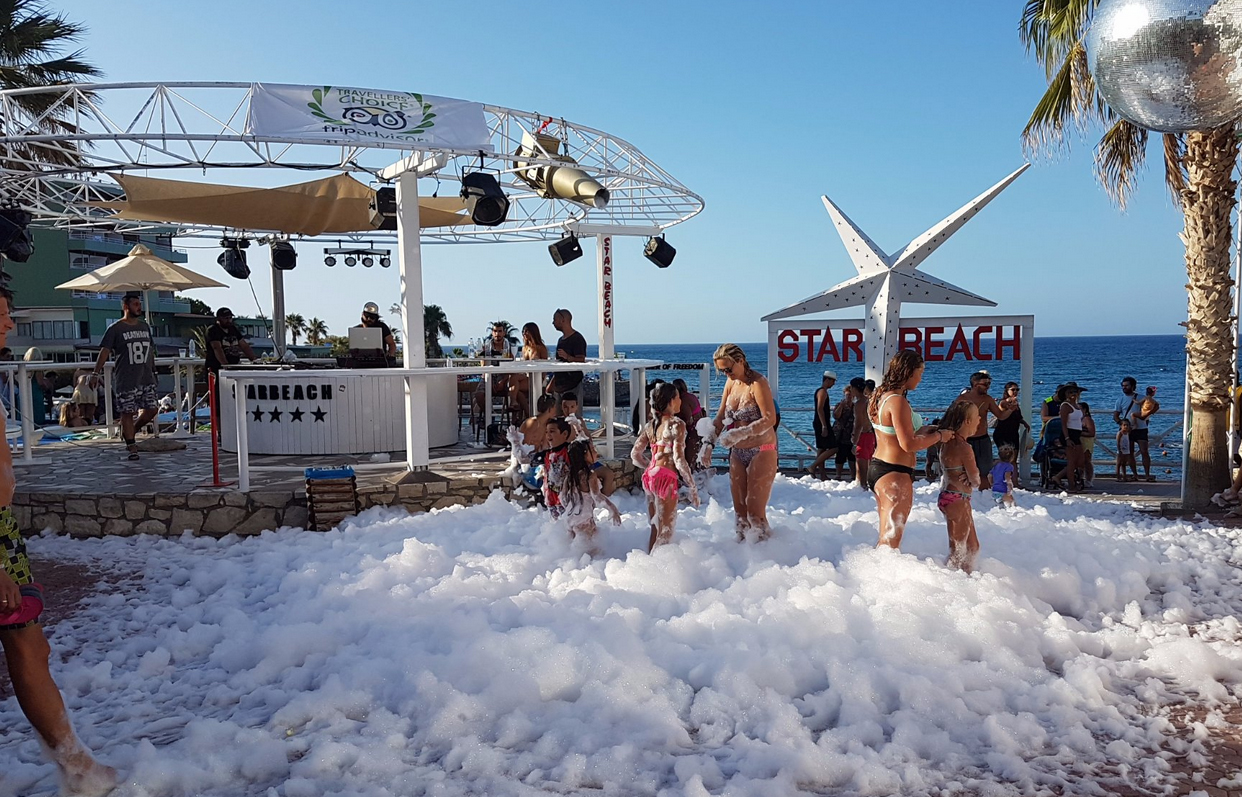 There's music all day long, and at 16:00 they organize a foam party – both adults and children like this show.
Address: Hersonissos 20, Crete.
From 11:00 till 18:00 the slides are open, the ticket for all time costs 8 €.
The pools are free, rent an umbrella with two sun loungers for 10 € (they give you a receipt, so you can leave and come back later). There are 2 playgrounds and 2 areas with pools for children – where the sun beds are free.
On the territory of the water park there is an open stage, on which in the evenings there are DJs.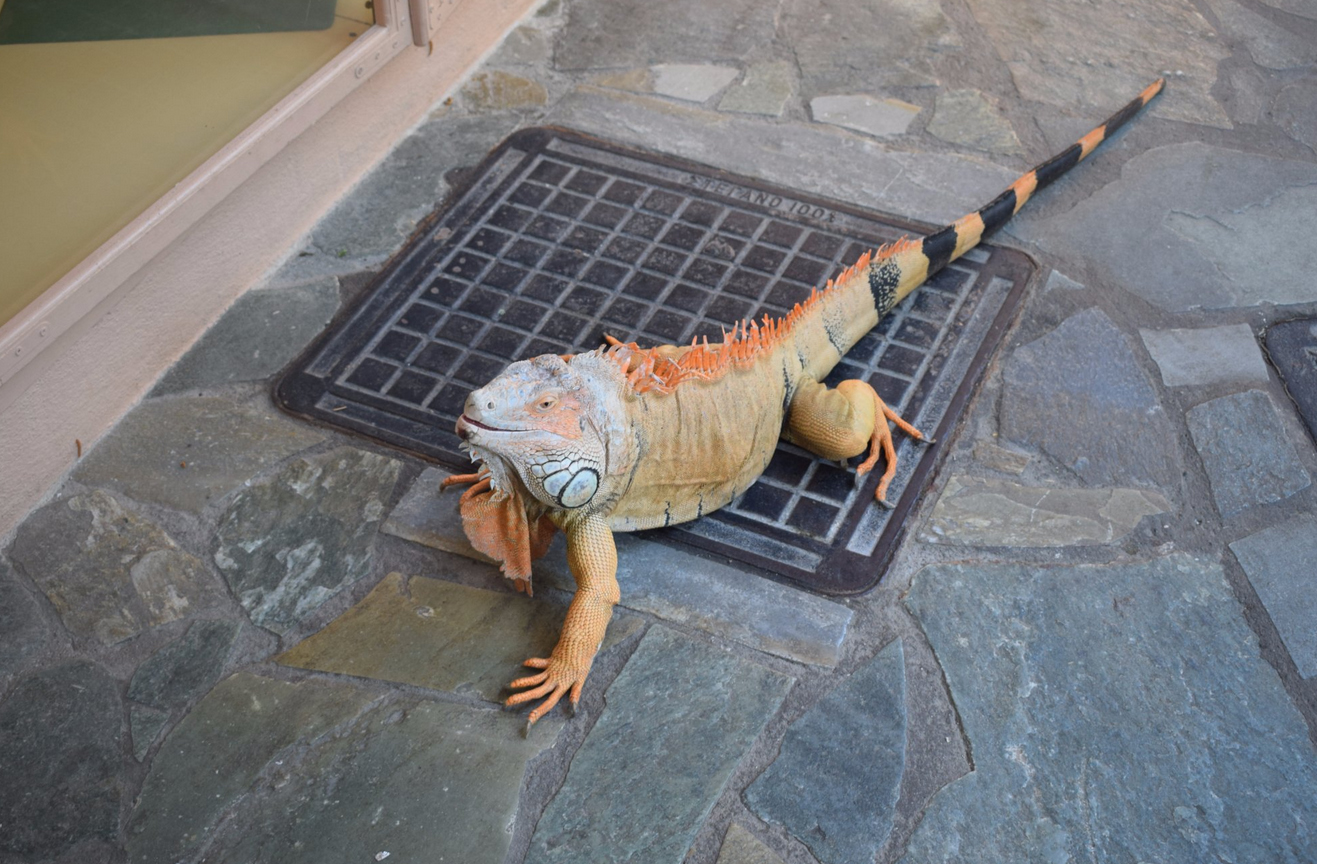 Hersonissos boasts another interesting place, which can be attributed to both entertainment and sightseeing. The Aquarium is located at: 7 Filikis Eterias /Hersonissos Port.
It is a very small aquarium that is of interest to children. The staff is very friendly, they let you hold a python, turtles, and reptiles. In general, good mood and a lot of different pictures to remember about Malia, Crete and Greece is guaranteed.
The ticket for adults costs 9 €, for children 5 €.
The entrance for visitors is open Monday through Saturday from 10:00 to 15:00 (admission open until 14:00).
Web site: https://aquaworld-crete.com/.
Attractions in Malia
Sightseers will also appreciate this small town in Greece on the island of Crete: In Malia, more precisely in the old town, there are many interesting things to see. For example, the church of St. Demetrios, the Venetian church of St. John, the church of St. Nektarios. It is nice even just to walk through the narrow streets of the Old Town, where there are nice houses with beautiful blue doors, with shutters on the windows and curly flowers on the balconies, where there are small taverns with live music.
But still the most important sights of Malia are located in the vicinity of this famous resort of Greece.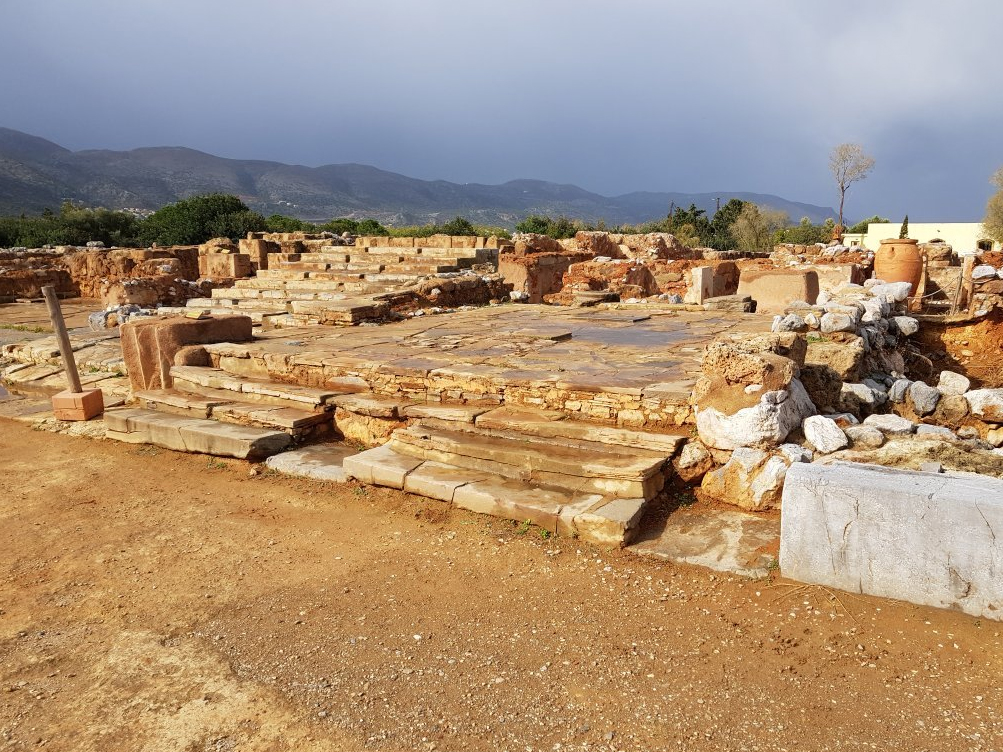 The ruins of Malia palace are 3 km from the resort and you can easily get there on foot or by bus from the center of Malia in just 10 minutes.
Admission is 6 € per person. Tour service is not provided, tourists walk among the excavations themselves, guided only by schemes and short captions in English.
The palace was roughly built around 1650 B.C. This Greek site is notable because it is as it was discovered during the excavations, that is, without reconstruction. There is no palace as such, but mainly the meter long outlines of large ancient structures and a few restored human-sized vases. Part of the excavations are in the open air, some are under a canopy.
By the way, the excavations continue, and who knows what other sights will be found here.
Tourists of Malia resort can visit, among other places of interest of Crete, the open-air museum "Likhnostathis", which is located near Hersonissos (address: Plaka, Hersonissos 700 14).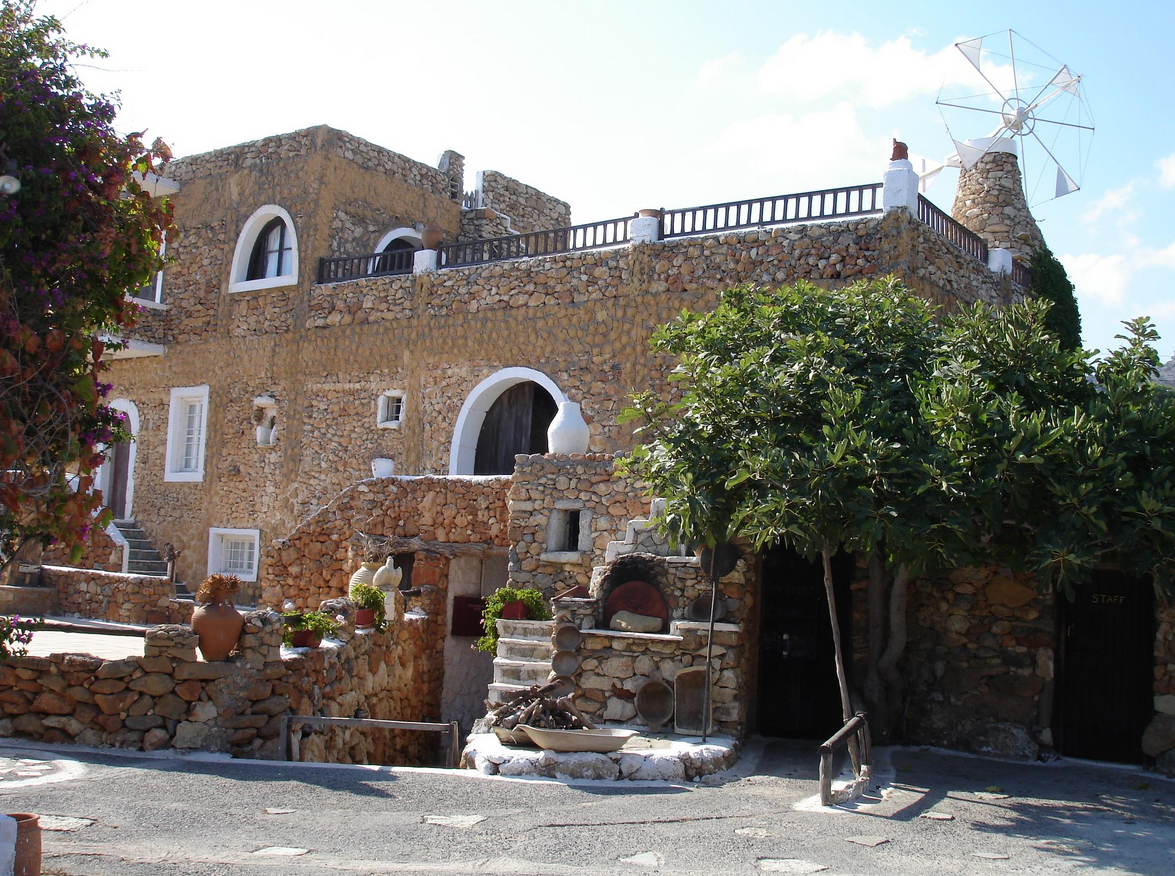 Likhnostathis is one of the most colorful and visited tourist attractions in Greece. Its exhibits allow you to learn the customs and peculiarities of everyday life of the inhabitants of Crete and acquaint you with the history of cultural development. The most interesting expositions are the reconstruction of a traditional Greek farm, weaving and pottery workshops, liquor and vodka production. A small movie theater shows a film about the history and life of Crete.
The museum adjoins a garden, walking through which you can get acquainted with the rich local flora.
Entrance fee is 6 €, 3 € for students and 2 € for children aged 4-12. For an extra fee you can get the audio guide in Russian.
This attraction is open all days of the week except Saturday from 9:00 to 14:00. Go best by the opening, because by 11:00 am there are a lot of people.
Website: www.lychnostatis.gr.
Beaches
How can you be a resort town in Greece without a beach? In Malia on Crete there are many, all that remains is to choose the most suitable one.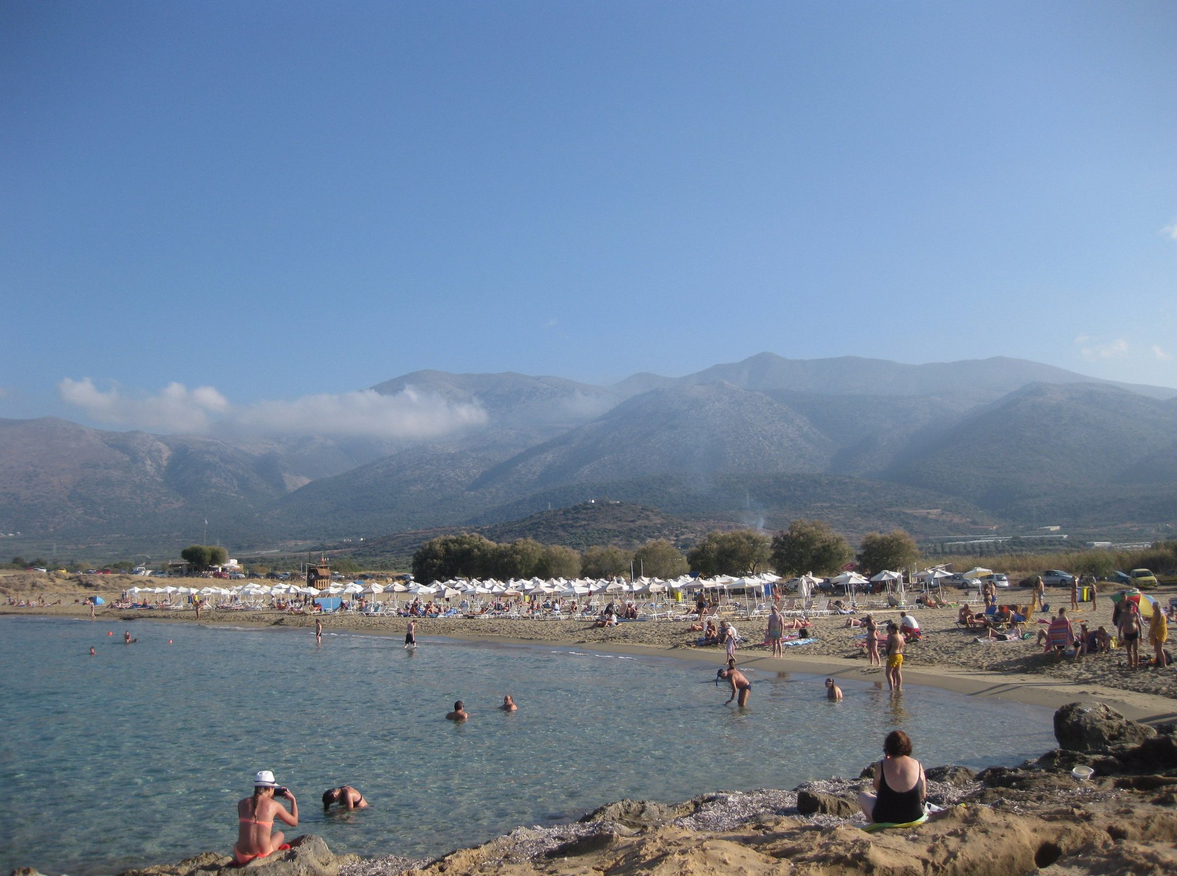 At 2km east of the port of Malia, close to the famous attraction, the ruins of the palace of Malia, the beach of Potamos is not too crowded. It is a spacious beach with coarse golden white sand, access to the sea and crystal clear water. At a small distance from the shoreline there is a stony ridge, on which the waves crash. As a result it is always calm and the water is clean, without any seaweed and there are sea urchins in some parts of the beach.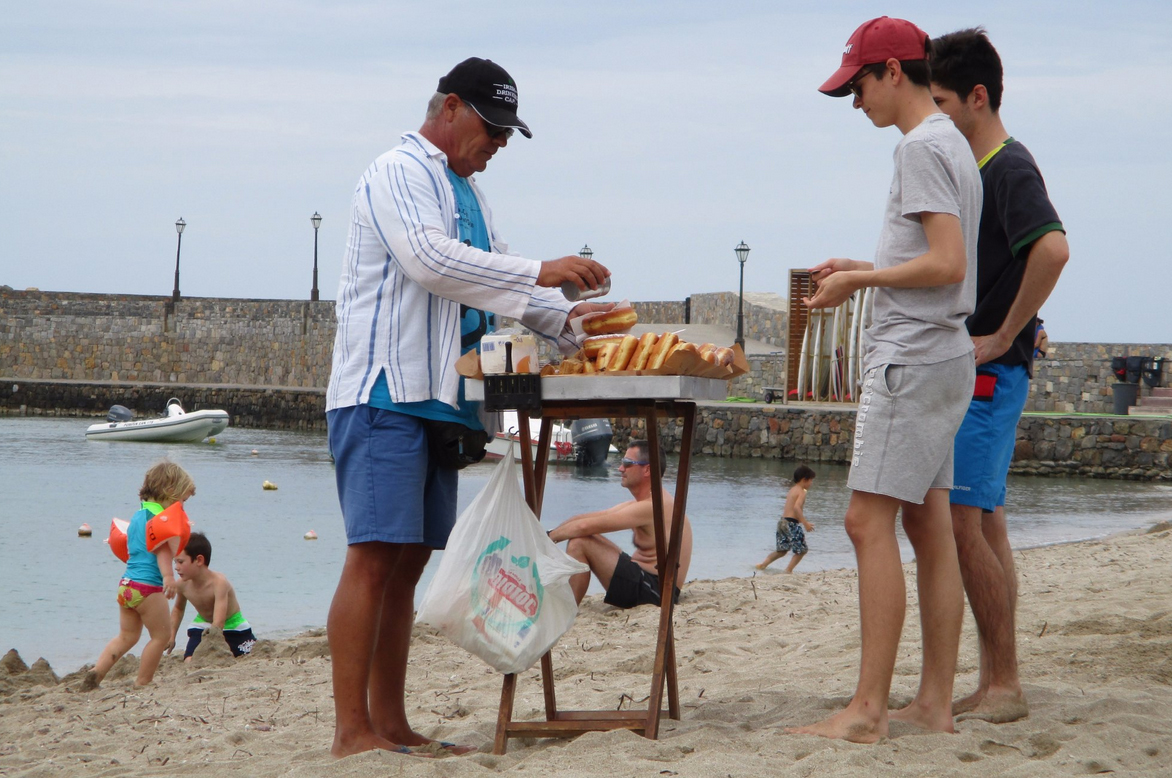 The beach is equipped with everything you need: cabins for changing, showers with fresh water, toilets (sometimes even with paper). For 7 € you can rent sun beds (2 pcs) and an umbrella for the day.
Near a cafe, a few bars, a fruit tent, and in the morning a van arrives with ice cream, drinks and food (gyros, sandwiches).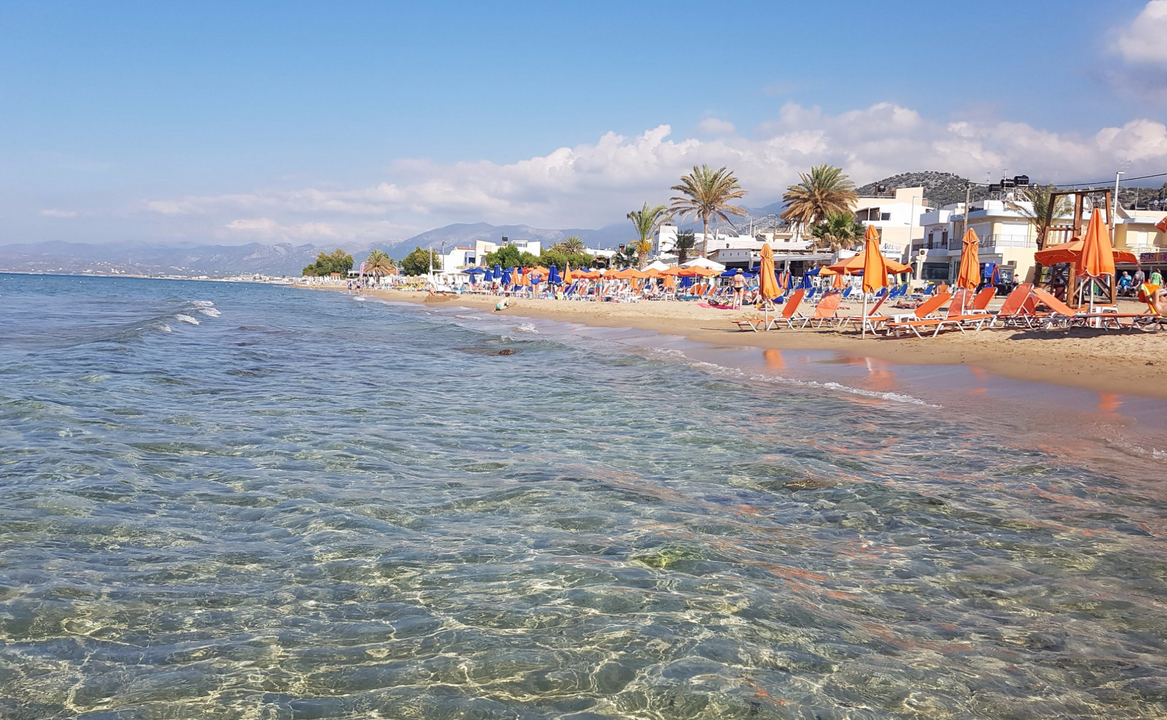 The beach of Stalis (Stalida) is considered the best and closest beach of Crete. It stretches along the central part of the homonymous settlement and is 4km from the center of Malia.
It is long and fairly wide, with sandy bottom, though you can find stones here and there. The beach has a gentle entrance to the sea, the water is clean and you can find crabs and even large sea turtles by the rocks. The concentration of people here is quite high, although there is enough room for everyone, most of the people – on weekends.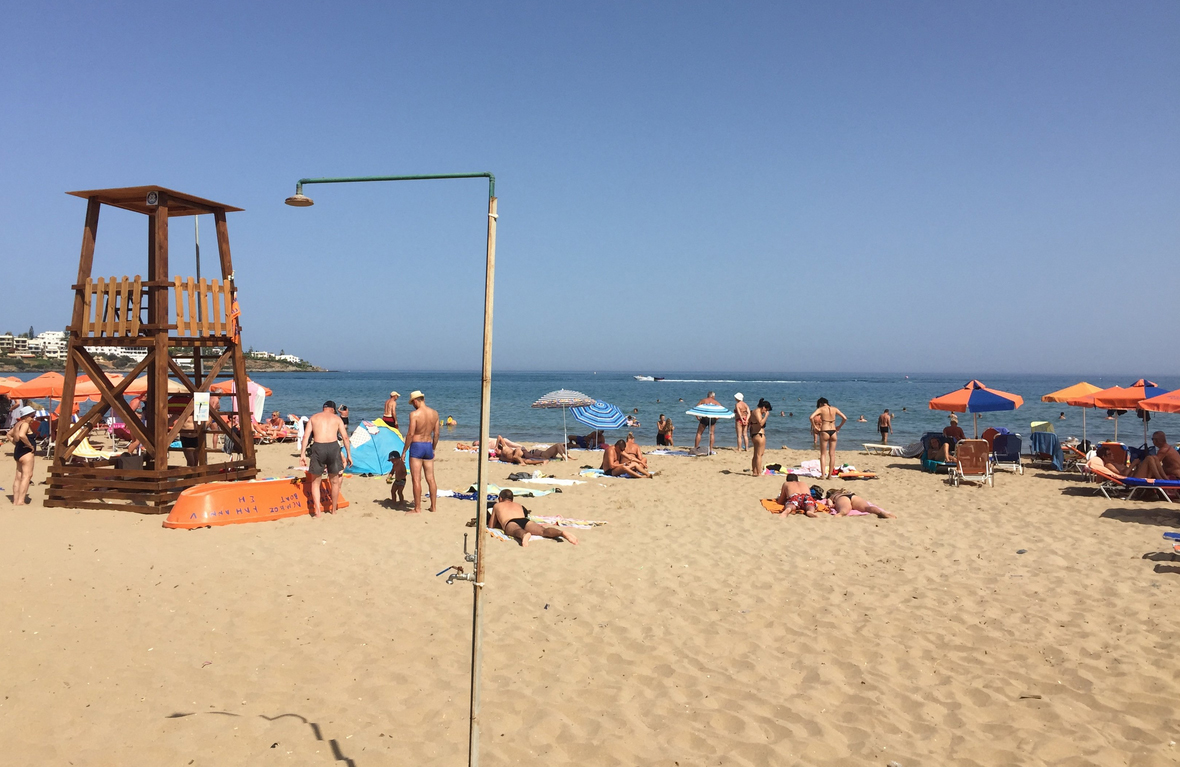 Along the beach, many cafes and restaurants with good food, almost all have a children's menu.
By the way, you can rent a deck chair with umbrellas for 6-10 € per set. And some restaurants (for example Ocean, Irish Pub) give them to visitors for free: you can order drinks and lie and sunbathe.
Toilets are also in cafes, there are none on the beach. There are no cabins for changing, there are only showers.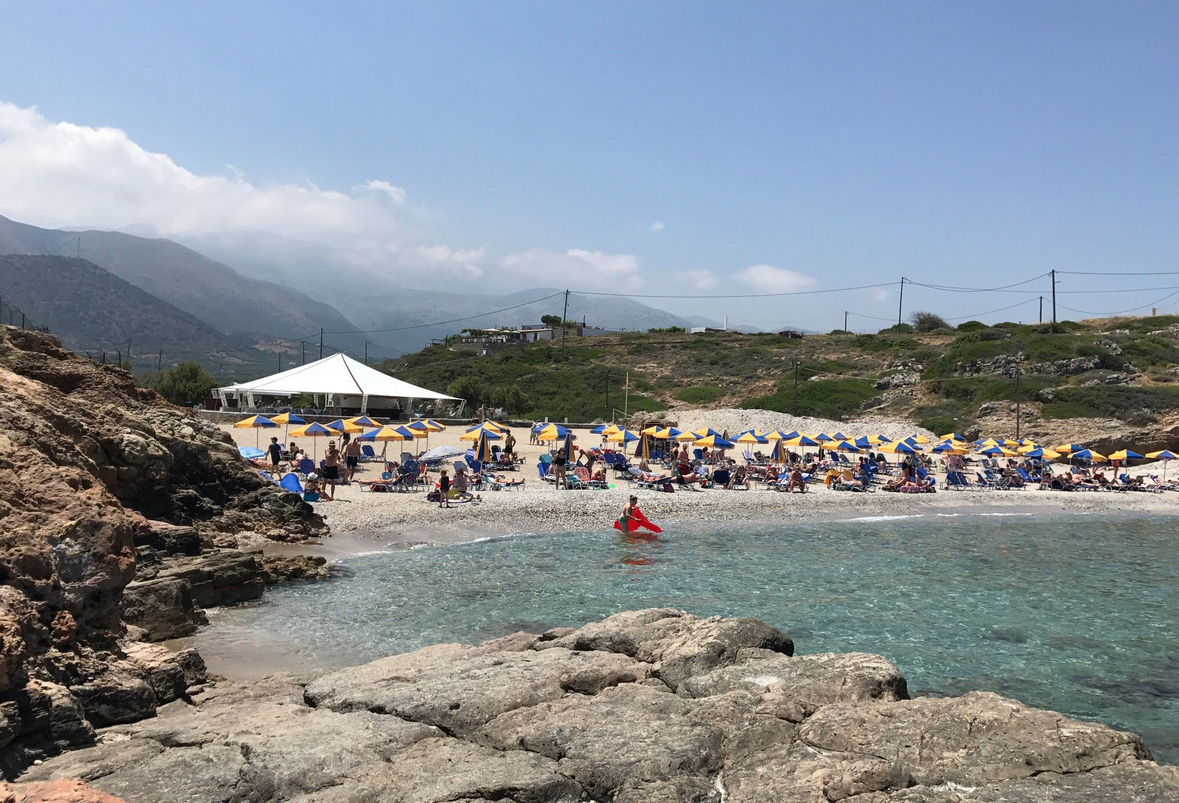 At some distance from Malia is the beach Bufos, which belongs to the resort of Sissi.
It is 60 meters wide and the water is clear. The beach is pebbly, the entrance to the water is pebble and sand, but a little further the bottom is covered with large stones and rock outcrops. If the wind blows stronger, the waves rise and it becomes dangerous to swim. The depth from the shore gradually grows "by the chest", then comes a stony bank, and then the depth abruptly increases to 3-4 meters.
The beach has a volleyball court, showers, a cafe and a bar, it's possible to rent 2 sun beds with an umbrella for 7 € for the whole day.
Please note: For pictures of other top beaches of Crete, see this page.
Accommodation in Malia
The choice of accommodation in Malia, Crete is very wide. The hotels of the resort (there are around 100) have different star ratings and offer rooms in various price ranges.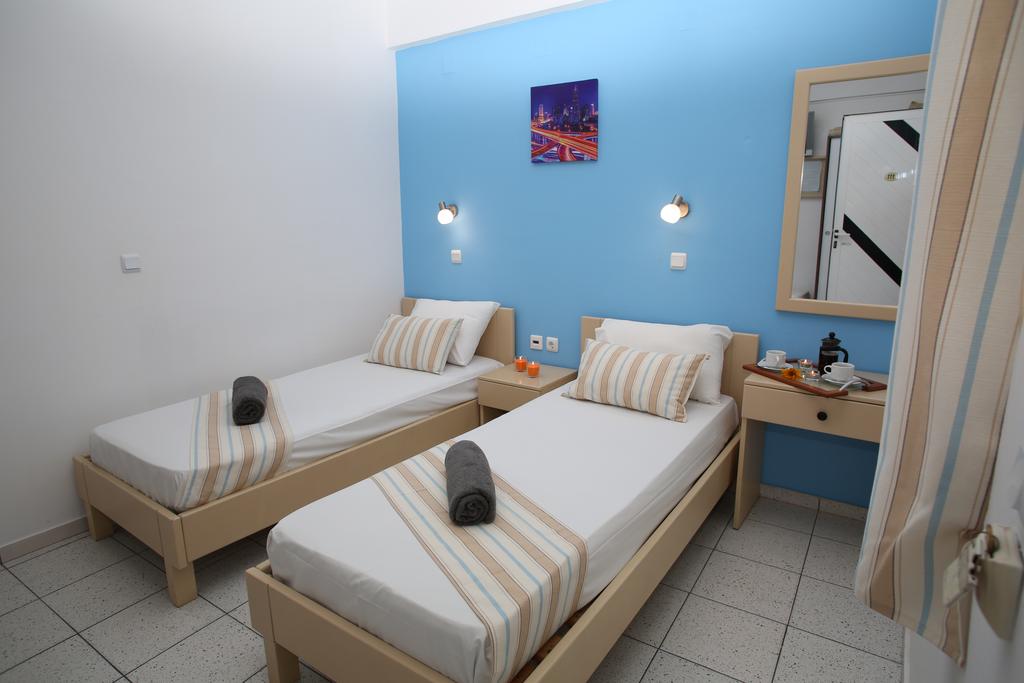 Happy Days
For example, for 20-25 € per day you can rent a standard studio with two single beds in the apart-hotel "Happy Days". The hotel is located in the heart of the old town of Malia, within walking distance of the best clubs and bars.
For 50-70 € you can stay in a standard double room, such as the 3* Malia Mare family hotel.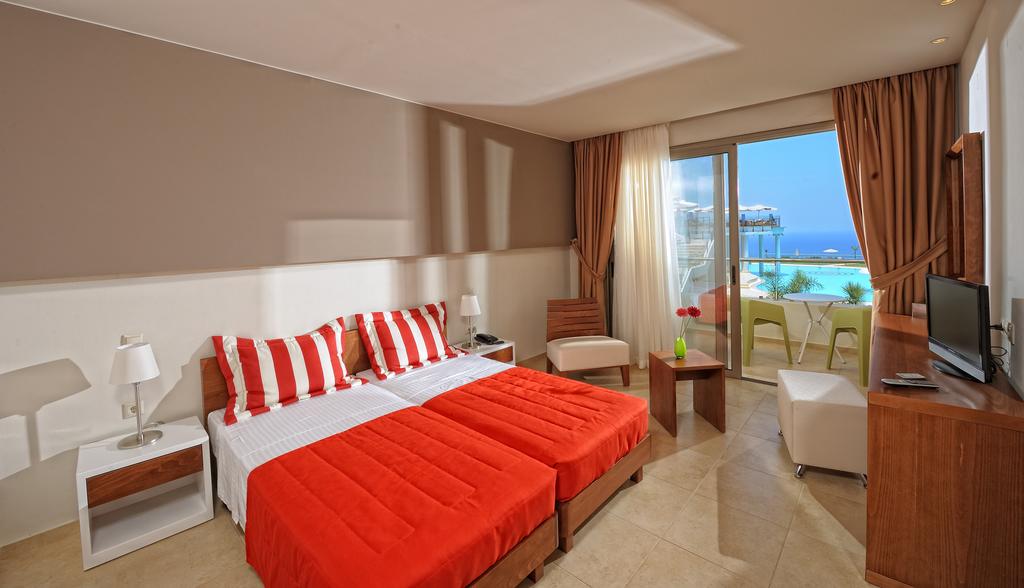 Royal Heights Resort
A spacious room in a 5 * hotel, of course, will cost more. For example, a suite at 5* Royal Heights Resort costs from €100 in high season. The room has one bedroom with 2 single beds and a living room with a large sofa where two children under 12 years old can sleep.
A word of caution: Those who want a quiet holiday should stay on the outskirts of Malia, where there are no loud clubs and discos.
All prices in this article are for April 2022.
When is the best time to visit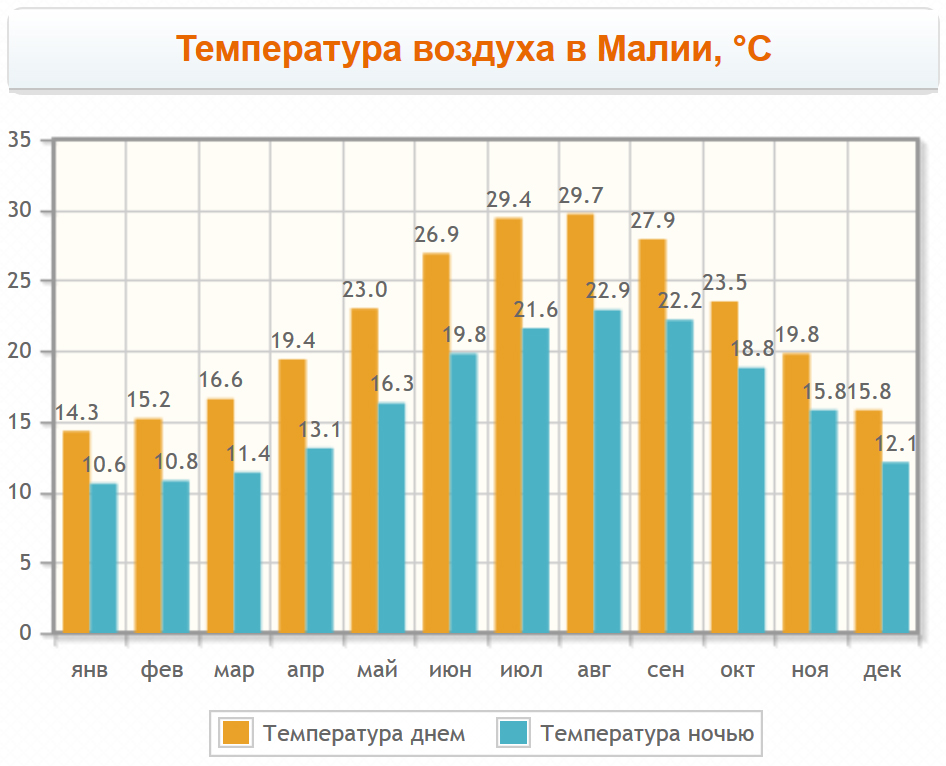 The weather conditions in Malia are the same as in all the resorts of Crete on the Aegean coast: warm and humid in winter, hot in summer.
The season in Malia, as in many resorts in Greece, begins in April and ends in late October. The air temperature can reach +35 ° C, the water temperature is about +25 ° C.
The warmest month in Malia is August when the average daytime temperature is about +29.7 ° C, and night-time temperature is +22.9 ° C. The sea is also the warmest in August with an average of + 26.2 ° C.
In winter it is rainy but not cold in Malia (Crete) – you will never see less than +14 ° C.
Video: a walk through the old town of Malia, what the beach looks like, a recreation review of the resort and useful travel tips for travelers.
Author: Irina Kovaleva
Updated: 18 Oct, 2021 The island of Rodrigues, which is part of the state of Mauritius, is a great…
Updated: 20 Mar, 2019 Hersonissos (Crete) is a miniature resort town located in…
Malia Travel Guide.


Antalya Suite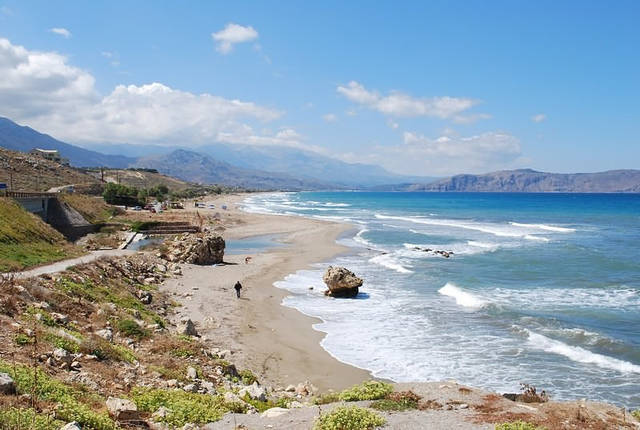 Crete is quite an attractive and interesting island, so tourists from all over the world are happy to visit it at any time of the year, and when you consider that even in winter the average temperature is at plus fifteen degrees, it is almost and winter, in the full sense of the word, it cannot be called. For this many hotels are equipped with heating, indoor swimming pools with heated water and work here all year round. But, of course, call it a year-round season is impossible, because swimming in the sea water with a temperature of seventeen-eighteen degrees of heat, not everyone would dare, and thus the beach season, which we will talk about, this time can not be called.
Some people say that they had a good vacation in Malia, or in Crete in general, at the end of April. I agree that in April you can rest and sunbathe quite well, but only if you are so hardened that you can afford to swim in eighteen-degree water. Or you can refuse the sea and compensate this lack of swimming in the hotel pool, especially since many hotels, as I have said, have not only outdoor pools. As for my personal opinion, I think the earliest time to come on holiday in Malia, you can call the middle of May, when the sea will have at least twenty degrees. However, many of our compatriots prefer to arrive during the long May holidays, and it makes sense, because the prices in this month, or rather… read more
Where to stay in Malia?

Antalya Suite
Malia, or as it is also called Malia, is a rather popular and well-known resort on the island of Crete. It attracts not only by its beautiful beaches and warm Mediterranean waters, but also by its historical sights, which are located both in its surroundings and in the whole Crete. Who hasn't heard about the Minoan Palace or the Minotaur's Labyrinth for example? All this together explains the popularity of the resort. According to this, hotels and properties for tourist accommodation during the holidays, there are many, and quite good and luxurious hotels. For those who have decided in the future to spend your vacation at this resort, I will describe a few of these hotels that might appeal to you.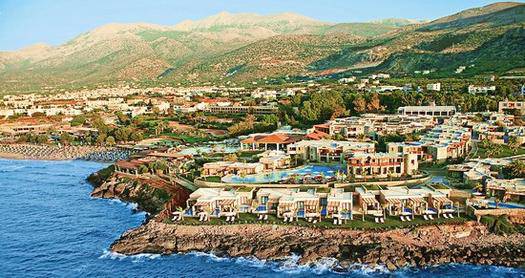 One such hotel is Ikaros Beach, Luxury Resort & Spa , which is located within walking distance of Malia. This is a rather luxurious five star hotel with a spa and wellness center that offers a wide range of facial and body treatments. Since the topic of the spa was mentioned, I can add that it has a sauna, whirlpool, Turkish bath and massage room. The hotel also has an indoor swimming pool. All the procedures are carried out by highly qualified specialists.

Veronika D
Malia is a wonderful place for a relaxing holiday with friends and is perfect for families. All day long you can walk around the ancient streets, and in the evening to party hard in the entertainment venues. I don't like noisy places, so I prefer to indulge in dizzying shopping. I want to share with you the prices in Malia, which were current for the month of April this year.
Prices in Malia taverns
– A serving of crab salad, costs six euros;
– One serving of spaghetti with a variety of sauces to choose from, costs six to ten euros;
– Pasta with a delicacy such as mussels costs six euros;
– A portion of meat, ranges from eight to twelve euros, and it all depends on the meat itself, and how it is prepared;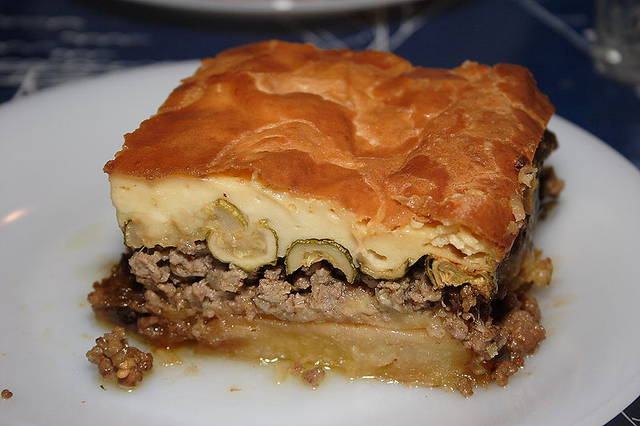 – The traditional dish, moussaka, which is a casserole of vegetables with cheese and minced meat, costs from six to eight euros;
– Everyone's favorite French fries, you can order for just two and a half euros;
– Fragrant hot cheese, generously flavored with local spices, costs five euros;
– Locally made cheese, five and a half euros;
– Squid, mussels, or shrimp on the grill or in sauce, cost from twelve to eighteen euros for a single portion, and a very large and delicious one at that;
– Tender veal cooked in tomato sauce costs twelve euros. Who did not try this deliciousness, I advise you to try and it is better to do it, just… read in full
Weather in Malia by month:
How much does it cost to relax in Malia? June 2013.
My husband and I had our honeymoon from 2nd to 9th of June in Crete, in Malia. Hotel 4* Creatan Malia Beach, all-inclusive. The room was in a bungalow, 1st floor with an access to the pool. The flight Kiev (Borispol) – Heraklion + accommodation cost 2000 euros, taking into account the early booking (in April). The bonus of our trip was a higher class room (with access to the sea) for 3 days and 3 nights, due to the fact that we were newlyweds. You have to notify the hotel in advance if you want to get the bonus. You must have your marriage certificate, but we were not asked for it.
The excursion to the Zeus cave – 40 euros per person, if you take it at the hotel. On the street you could find 35-37 euros.
The Island of Santorini – 150 euros per person, again, if you take it from the hotel.
In Malia we went to a fish restaurant. We took octopus, swordfish, Greek salad, 2 0.5 liters of beer. It cost us 25 euros. Bread and fruit were free after the meal. At the other restaurant the sum was similar (we took meat, fries, salad and 2 Fanta 0,5 l.).
We bought for my husband a traditional shirt with long sleeves for 20 euro, cap for 8 euro, lady's hat for 10 euro. Magnets from 1 to 5 euro. The set of spices cost 10 euros. We bought pomegranate tincture in the monastery near Malia for 8 euros, we wish we had taken more.
We rented a quad bike. The day 40 euros, we took for 3 for 100 euros. Be careful when renting, we were deceived with the volume of the engine (the first gas station right in the rental center).
It was a wonderful holiday. Weather on Crete at the end of May is fully consistent with the summer, so you can use the beach at its full strength. At the same time, it's not so hellishly hot as August, so it's quite comfortable to spend your free time outside the beach. It is a good time for sightseeing. Besides at this time there are relatively few tourists and you'll do everywhere discounts for shopping and take pictures without the crowd too handy.
In Malia, there are recreational opportunities for people of all ages. It will be comfortable for children, the elderly and young people. The main thing is that there is entertainment for everyone. But we can say that this resort is ideal for an active family that does not want to sit still.
You should take with you only what you personally need from clothing and belongings. Do not forget the sunscreen and medications you may need. Of clothing, along with summer clothes take some warm clothes, because it may get a little cold. Also do not forget about sneakers or comfortable shoes, which will be very helpful during excursions. On the same tours will not hurt roomy backpack to put there water and purchased souvenirs. If you have a rest with small children, take a swimming circle. In general, try not to pack too much, so as not to overload the suitcase. Back you will take a lot of souvenirs, so you need to leave room for them. If you forget something, do not worry. In Malia, there are a lot of stores where you can buy everything. The prices are quite affordable.
All kinds of hotels and apartments in Malia abound. It is best to choose something away from the bustling center. You are guaranteed a peaceful night's rest. The hotels in Malia may be so comfortable that you may not even want to leave the grounds that often. But even if you want to go to the beach, then find out in advance if the hotel has a bus that delivers holidaymakers to the coast all the time. Most often there is such a service.
What tourists go to a seaside resort for is the beach, the sea and the sun. This is the main pastime. If you're not a supporter of monotonous rest, it is worth at least a walk around town. During the day you can go shopping or walk the streets. Malia is conventionally divided into old and new parts. Just in the old part will be relatively quiet and interesting. You can walk through the narrow streets, see the houses and small flowering courtyards and visit Byzantine churches. Among them are the church of St. Nektarios with frescoes by a Greek artist, the Venetian church of St. John, and the church of St. Dimitrios. It is also interesting to explore the surroundings of Malia on your own. At 3 km from the city are the ruins of Malia palace, which is not inferior to the palace of Knossos and preserved in its original form. It is also worth a trip to the small town of Mojos to see the traditional lifestyle of the locals. For those who adhere to the faith, will be interesting trip to the monastery of St. George in the mountains.
And of course, you can't forget about the bustling nightlife in Malia. There are a lot of clubs and nightclubs, for which crowds of young people come here. These institutions are open until 5 am, so the music does not stop and there is always fun. Attendance at all the clubs is free. Pay only for drinks.
It's easier to choose excursions on the Internet, so you should take care of it in advance, especially since the choice is very large. If you are for the first time in Greece, it is worth to visit the island of Santorini and it is better to take an excursion for 2 days with overnight stay. Then you will be able to explore the main sights, and to meet the famous sunset. Among the other tours worth seeing are the Palace of Knossos and the labyrinth of the Minotaur, the plateau of Lassithi and the cave of Zeus. These attractions are located near Malia, so excursions here are either for the whole day or on a reduced program for half a day. If you wish, you can take beach trips either to Balos Bay or to the pink sands of Elafonisi. There is also the opportunity to visit deserted beaches on the Libyan coast. These are the golden beaches of Chrysi and the wild beaches of Koufonisi. But these trips are long and designed for a full day with an early departure and a late return. Inexpensive and interesting excursions in Western Crete. It is worth visiting the cities of Rethymno and Chania, with a stop at the freshwater lake of turtles in Kournas, and for those who are not afraid of long walks, it is interesting to visit the Samaria Gorge. You should also take a trip to the island of Spinalonga and the town of Agios Nikolaos. From Malia you can also take a trip to Athens or Heraklion. For those who want more rest and entertainment you can choose a boat trip with fishing. If you're on vacation with children, you can go to one of the water parks on the island, especially since the transfer is already included in the price. Also provides and evening tour, which includes a visit to the olive factory, followed by an entertainment program, where you can enjoy music, dance and traditional cuisine.
The beaches of Malia are sandy and have a gently sloping entrance to the sea. All beaches have appropriate infrastructure, which includes sun beds and umbrellas (for a fee), toilets and showers, sports and children's playgrounds. You can use the services of a bar or cafe on the beaches. You can also visit the beaches of Stalida village near Malia. You can get there on the bus, which comes every 15 minutes. Stalida has the same well-equipped beaches as Malia. The beach at the ruins of Malia palace is also worth visiting. This beach is called Potamos. Here you can find everything you need for your vacation, but with less people.
It is worth adding that all beaches in Malia are awarded the Blue Flag for purity and environmental friendliness.
Souvenirs can be bought on Dimokratias Street in a large 3-storey store. There is a very large selection of such products. You can also buy souvenirs at a cheaper price in a small store at the entrance of Malia from Heraklion. For groceries you can go to two supermarkets SPAR. The same feta cheese and olive oil can be bought here at a lower price. Be sure to buy a bunch of small bananas from the street vendors. It is inexpensive, but tasty.
For more serious purchases, like fur coats, clothes, jewelry, you should go to Heraklion or other big cities.
In Malia there are a lot of food establishments, including cafes, restaurants, chain cafes and street fast food. The first place to look for are the smaller establishments with traditional Greek cuisine. There all dishes are prepared with high quality and homemade, because such cafes are usually owned by the same family, which cares about the reputation of the institution. Also, you can have a very good meal in fish restaurants or tavernas. Seafood and fish are always fresh from the morning catch.
Approximately one dinner for two, consisting of a main course, salad and beer or local wine, will cost 45-50 euros.
Malia is primarily a resort with an active nightlife, so a lot of young people come here for parties and parties. For most visitors there are beaches and swimming pools at the hotels. It is worth noting that the beaches of Malia work recreation and sports centers, where you can rent a catamaran or a ride on a banana boat. You can also go parasailing. If you want to take a walk, choose the narrow streets of the old town, where you will always be interesting. In the neighborhoods of Malia, too, there is something to see. Every travel agency will be happy to offer you an excursion anywhere in Crete. But in some places around the resort you can go on your own. For example, you can take a bus to Agios Nikolaos and see the beautiful freshwater lake of Voulismeni. From Agios Nikolaos you can also take the bus to Elounda, to admire the bay of Mirabello and to swim in the local beach. From Elounda you can take a boat to the island of Spinalonga. You have to time your excursions so you'll be back in Malia in the evening. It is worth to visit Heraklion, especially if you want to buy something expensive. But the city has some interesting attractions, including the Archaeological Museum. You can also go to the Palace of Knossos, and if you want you can go to Santorini, too, without a tour group.
I liked the sandy beaches, which have enough space for everyone and have everything you need to spend a whole day there. Also, the atmosphere of the resort itself disposes not only to active recreation, but also to complete relaxation. It is also interesting that here you can touch the old streets of the old town, and some of the surrounding attractions are quite realistic to get to yourself without resorting to the help of travel agents.
It could be called a drawback – too noisy nightlife, but it's worth considering it and looking for a hotel further from the center. If a travel agency selects your hotel, you should pay attention to this point. Also note that this is a small resort, where there is not much space for hiking. If it were not for the old town, it would not be so interesting. Another disadvantage is the lack of stores for clothes shopping. I don't really want to spend a whole day and go to a bigger town for that.
Certainly it is worth to go here. After all the summer at this resort lasts long, the beaches here are sandy and equipped with everything you need. The hotels are quite decent for living. From Malia you can visit many cities of Crete and not only Crete.