Málaga travel guide


Shakymiss
Located on the southern coast of Spain in close proximity to the Strait of Gibraltar and Africa, Málaga is a medium-sized city with about half a million inhabitants. As I said, the city is on the coast, hence there are beaches within the city. Nevertheless, I would not say that Málaga is the best place for a beach holiday, the beaches there are rather average (I mean the ones within the town), first, they are crowded (locals also want to swim), second, they can be rather dirty and the sea leaves much to be desired. In general, the beach season in Málaga lasts from late May to late September, at this time you can swim, but note that just somewhere around the city are cold currents, so even on hot days in the sea can suddenly become quite cold. Close to Malaga is more suitable places for a beach holiday – a small resort towns such as Marbella, Torremolinos, Fuengirola and others. The beaches there are much cleaner than in Málaga and there is everything for a beach holiday. If to speak about beach rest within all Spain, I generally would not name the south the most suitable for this place – in my opinion, the best beach holiday in Spain offers coast of Costa Blanca (it is beaches from Valencia to Alicante – among them Valencia, Gandia, Calpe, Altea, Benidorm and other resort towns). I explain why in my opinion, lovers of sea and sun should first of all pay their attention to… read more
When is better to rest in Málaga?

Shakymiss
If you are going to Malaga for a beach vacation, then keep in mind that the beach season lasts from June to September, but in fact in June (and especially in the first half) the sea is still cool, so that only those who like very bracing water can swim. In July the water is already warm enough, and you can swim without fear. However, keep in mind that near Málaga is the Strait of Gibraltar, which has cold currents, so sometimes even on the hottest days the water can become quite cool – which means that some current has arrived. It usually does not last very long – two to three days. Since October, the water becomes quite cool, and swimming becomes impossible. The temperature in the summer in Malaga is quite high, in general, the summer is quite hot and dry, there is no precipitation at all. The normal summer temperature is 26 to 29 degrees, but on some days (especially in August) the temperature can rise to 36-37 degrees. This is why Malaga in summer is not very suitable for sightseeing tours and trips to nearby towns – it's very hot and stuffy, in this weather you can just sit on the beach or relax in a hotel.
The highest prices for recreation at this resort, as elsewhere, accounts for July and August (the so-called high season), but in September they are already much lower, and tourists are markedly less. The daytime temperature in September is still quite high – an average of 26 to 29 degrees, but the water is gradually getting cooler. This is the time when you can read in full.
Where to stay in Malaga?

Elena
With the question of where best to stay in Málaga, to sort out is not so difficult – the most important thing is to determine what is more important to you in the end, the sea or a cultural program. If the cultural program, of course, it is best to stay directly in the historic center. In fact, it is very large in territory and there is a giant selection of hotels, and for every taste and every budget.
On the south side of the center are two small very specific, but very exclusive neighborhoods – Soho and Malagatta. Here Malaguetta is famous for being the closest to the center of the beach, and therefore the most expensive and prestigious hotels are located here. And Soho is the artist and gallery district.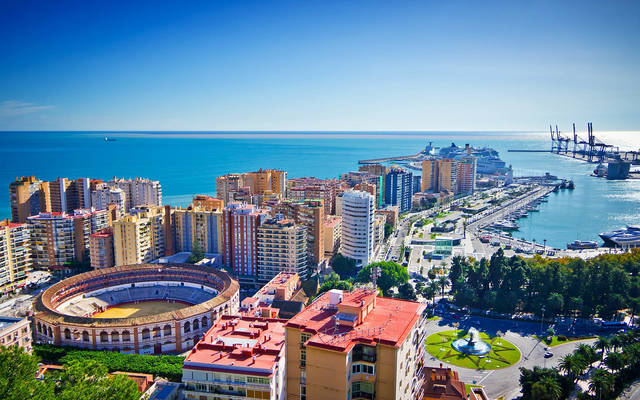 If you are more interested in going on a beach holiday then the Malaga Este neighborhood on the East or the Carretera de Cádiz on the West. The beaches on the east side are considered better quality and that is why there is a larger selection of hotels, but the prices are higher.
However, it is difficult to reach the historic center on foot from the beach areas – more than 5 km. So when you choose an accommodation here, be sure to pay attention to the presence of public transport stations near your hotel.
The historical center is best suited for those who are more interested in sightseeing. This is in fact the heart of Málaga with its beautiful houses, temples, squares, and cozy… read completely…
Useful Information

Shakymiss
Málaga is located in the south of Spain, in the province of Andalusia. In summer Malaga is visited by quite a lot of tourists but in winter it seems to die out – usually there are not so many tourists there.
Locals are friendly, we did not encounter any aggression in our address, however tourists should be aware that not all locals speak English – I would say that few of the residents of Malaga speak English. Rather, young people will know the most basic phrases and expressions such as How much is it? How to go? Where is the place? People of the older generation mostly speak only Spanish, of course, there are nice exceptions, but they are very, very few. This is why the tourist, going to the south of Spain, it would be very nice to learn at least a dozen or so simple Spanish phrases and expressions. First, you will communicate easily, and second, you will make the locals welcome you-they are very pleased that a foreigner has taken it upon himself to learn their language even a little. As I wrote above, Spaniards are very friendly and helpful in principle, so feel free to contact them, but it will probably be difficult to explain in English.
The attitude to Russian tourists at them is absolutely normal, they do not show any aggression towards us, on the contrary, they begin to ask about Russia and ask why we have chosen to rest in their country.
Our guide will lead you to the airport with a lot of things.
How to get there?

Shakymiss
Malaga is a fairly large city in southern Spain. There are several ways to get there from Russia. Unfortunately, there are no direct flights from St. Petersburg (from Moscow, it seems, also). A not bad variant is to fly to Helsinki and from there to Malaga – we did exactly so – we flew to Helsinki, had a connection (time between flights was a couple hours), and from there we flew to Malaga. Both flights were operated by the Finnish airline Finnair. The pros of the flight were clean, new planes, excellent service (stewardesses speak English well), good food, soft landing, no problems during the flight. The only minus, in general, was the price. Return round trip flight St. Petersburg – Helsinki – Malaga – Helsinki – St. Petersburg cost 23 thousand. Of course, it was overpayment, but we flew in comfort by a very reliable airline. There were no problems with the luggage, as it was transported by the airline. There were no delays, all flights left on time. To Helsinki we flew less than an hour, to Malaga – about five hours. Thus, this option is expensive, but comfortable.
There are also other options with connections in various European cities. You can take off from Moscow, St. Petersburg or another Russian city and change in Barcelona or Madrid (usually offered by the Spanish airline Iberia). The cost in this case would be lower – probably up to 15 thousand rubles. One. read in full.
Food and drinks

Shakymiss
Málaga is the capital of the Spanish province of Andalusia which is famous for its culinary traditions. In general, the basis of Spanish cuisine is fish, seafood, Jamon (a kind of smoked ham), red wines, a huge number of snacks (they are called tapas) and traditional Spanish sweets.
All this you can try in Málaga, because in this city there is an incredible number of cafes and restaurants offering traditional Spanish cuisine.
First of all I would like to note that the food in the whole Spain, as well as in Malaga, is usually of excellent quality – we ate in cheap cafes, and sometimes went to quite expensive restaurants – not once poisoned anywhere, so that you can safely eat at any institution.
As I have already written, Spain is famous for its snacks, which are called tapas. Tapas are served with alcohol (usually red wine), and there is a great variety – it can be olives, different cheeses, potatoes with different sauces, ham, jamon, tortilla (something like a hearty omelet with various additives) and much, much more. Usually the tastiest tapas are served in bars or specialized restaurants (they may be called Taperia or Tapas, meaning they specialize in appetizers). In some bars snacks are free if you order something from the alcohol, and somewhere they are dedicated to a separate menu. They are inexpensive, as a rule, the price for a snack for a few people ranges from 3 to… read more
What to see in Málaga?

Shakymiss
Malaga is the capital of the province of Andalusia. The city is home to about half a million people.
The first thing tourists should pay attention to is the Alcazaba fortress, located in the historic center of the city. It was built in the Middle Ages and is quite well preserved to this day – you can admire the powerful fortress walls, gates and Arab gardens. From the fortress you can admire the view that opens up to Málaga and the city port. It is open all days, the ticket is very cheap, the exact cost I do not remember, but not more than five euros. Inside the fortress there is an archaeological museum, which will appeal to all lovers of history and archeology. The exhibits are items of everyday life and utensils (mostly pottery), which cover both the ancient period and the Middle Ages. We spent a couple of hours on Alcazaba and the archaeological museum – in the fortress itself you can see except the gardens (we were there in January, unfortunately, there was little in bloom, it's better, of course, to come in the spring), admire the view of the port, take pictures – in general an hour will be enough for you. By the way, keep in mind that you have to climb uphill – it may be difficult for children and older people. And also we spent about an hour in the archeological museum – it is not bad, museum lovers will like it, but again not very big – you will see everything in an hour. To summarize my impressions from visiting Alcazaba and the museum, I can say that these historical places are worth attention, but do not expect from them too much – still read in full.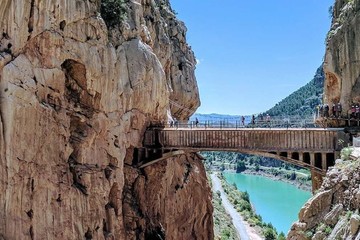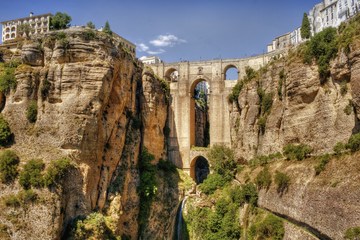 Excursion to a small town Ronda, which is considered one of the most beautiful cities in Spain.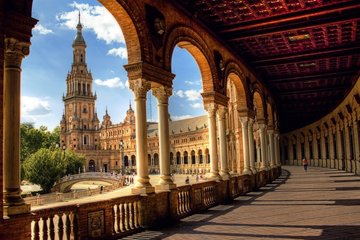 What to buy?

Shakymiss
Although Malaga is not a small town by the standards of Spain (about half a million people), but I would not call it a shopping paradise. Of course you can buy something there, but do not expect a wide variety of stores and a huge selection.
In Málaga, as in many other cities, there are shopping and entertainment centers – one of the largest centers is called Larios Centro, located near the train station, besides stores, there are a number of cafes and restaurants, a cinema complex with several halls, and a supermarket. The center is open from 10 am to 10 pm (shopping malls in Russia generally follow the same schedule, so it is easy to remember). The bulk of the stores that are located there are in the medium price category – brands such as Springfield, Desigual, Stradivarius, Pimkie, Tezenis, Zara, Massimo Dutti and others. There are also cosmetics stores (such as Yves Rocher), as well as the well-known Pandora, which offers jewelry and several specialized stores (optics, jewelry and the like). I would say that the selection there is average – the clothes are not bad, but you won't find anything super interesting there. The pluses – even in those stores which are in Russia (for example, Zara, Stradivarius, Massimo Dutti) in Spain bring a little bit other collection, so that you have a chance to get not very expensive things which however will not walk all your friends. The prices are average, in chain stores are cheaper than in Russia, but the difference is not huge.