10 things to do in Bath, UK in one day
I wouldn't be surprised if you don't associate England much with hot springs. When travelers want to go to thermal waters, they think of Karlovy Vary, Baden-Baden, Budapest and Szechenyi Baths, but old England has a surprise for us all here too
Do you want to combine business with pleasure? Then come to Bath, here you can enjoy medieval architecture and atmosphere, and have a rest on the water. And at the same time and see how the English aristocracy rested in the past.
Bath is not a big city, so if you want to see all its sights, it'll take 1,5 – 2 days. But if you are looking for a calm and quiet rest without noisy parties and lots of tourists, you are right here.
How to get there
Although Bath is a small city, the infrastructure there is very well developed. You can get to the city without problems from Russia or from different places in the UK (which is relevant if you're already traveling through the country) or Europe.
Formally the city has no airport, but Bristol Airport is closer to Bath than Domodedovo is to Moscow
But most likely you'll decide to go to Bath not directly from Russia, but just to stop there as part of a larger trip to Britain. And in addition to the widespread Easy Jet and Ryan Air low-cost airlines there, you can also get there by train.
The station is located as conveniently as possible, right in the city center, within walking distance of all the major attractions.
By plane
The nearest airport to Bath is Bristol (BRS). There are no direct flights from Moscow and St. Petersburg, but you can fly quickly and comfortably with a connection. Lufthansa and Brussels Airlines offer the acceptable variants of flights with connection in Munich and Brussels, respectively. The ticket price is about 340 USD (20,000 rubles). You can compare prices here. Travel time, of course, depends on the length of the connection, the minimum travel time is 6 hours.
How to get from the airport
There's a bus every 30 min from the airport, it takes only 50 min (if there's no traffic :). One way ticket costs 18 USD (£14).
It arrives at Bath Bus Station, which is right in the center of the city. See the map for yourself to see how close you are:
Or you can fly to London on direct flights, which Aeroflot and British Airways have. On average, the ticket will cost about 400 USD (23,000 rubles) and the travel time is 4 hours. The train to Bath leaves from Paddington station and takes 1 hour and 45 minutes, the ticket costs about 39 USD (£30). The Bath Spa train station is literally a stone's throw away from the bus station. Make sure: it's also in the center of town on the map.
By train
I doubt that you when planning a trip to Bath the idea to get to it by train
But if you do, I would advise against it. It's a great mode of transport if you're already traveling in the UK. You can get from all the major cities. In addition to Bristol and London, also from Manchester, Leeds, Birmingham, etc.
The main thing to know about Britain's railroads is that the best way to save money is to buy your ticket in advance! I suggest you check the National Rail website. You can easily buy a ticket online and print it at the train station terminal right before your trip.
If you bought your ticket online, have the credit card you used to buy it, often the terminal requires it.
When is the season. When best to go
Bath is in the southwest of England in the county of Somerset. It's much warmer there than Newcastle, Durham or Edinburgh, for example. So I'd recommend going somewhere between the end of March and mid-September. There are rarely many tourists in Bath, rather a lot of students. If you go in July or August, it will be more peaceful. In winter, in my opinion, it's worth going only at Christmas, the city is beautifully decorated and turns into a fairy tale
But if we talk about the weather, it's not the most pleasant: humidity, wind and rain prevent to enjoy the beauty of Bath.
Bath in summer
Summer is one of the best times of year to visit Bath. I would even rather talk about July and August, when students are on vacation, the city is quiet and the way. It's hardly a real summer, though, as the temperature usually hovers around +20°C.
Bath in autumn
Autumn is not the best time to go, in my opinion. Only if you're going to Bath in early September. In the middle of the month it starts to rain, it gets dark early and it rains a lot. In general, completely stereotypical weather, which is written about in English literature.
Bath in Spring
Bath is transformed in the spring! From early April, and sometimes even late March, it's a great time to travel through Somerset. Magnolias, daffodils and rhododendrons are in bloom, the daylight hours increase, temperatures reach +15-18°C and for me this is the perfect weather for a walk in the city.
Bath in winter.
As I wrote above, winter is not a good season. Winters in England are wet, and although the temperature rarely falls below 0 ° C or -2 ° C, but it is not very pleasant to be outside for a long time. The exception is December. The city is transformed for Christmas, stores open, cafes and restaurants prepare a special menu. All this is worth a walk in Bath, even in the dull and gray weather.
Bath – weather by month
Neighborhoods. Where to live
Bat, as you have already realized, the town is quite small. Despite this, I advise to stay in the center, there are enough good hotels and inexpensive decent hostels. I circled it on the map, outside – the residential areas, though it is quiet and safe, but just to get to the attractions, you will have to spend time and money on the road. And this way you can get to everything on foot.
As you can see on the map from Booking, hotels are indeed plentiful, but since Bath is still considered a resort, the cost of accommodation will not be very cheap. On average, a room for two in a 3* hotel, while a bed in a hostel can be found for 25 USD (£20). You can compare rates here.
Spa hotels with access to hot springs will cost more (on average, from 250 USD (£200). The water temperature, by the way, is 46 degrees.
What are the prices for holidays
I can't say that Bath is an expensive city. Of course, with the current exchange rate of the ruble a trip to Britain is not cheap for many people. But compared to London, Bath is much more affordable. The town is small, so you can save money on transportation, you can stay in a hostel, which will cost 20-25 USD (£ 15-20), and eat – in a pub or cafe, where it will cost no more than 13 USD (£ 10).
| | |
| --- | --- |
| Meal (lunch/dinner) at a cheap restaurant | 874 rubles |
| Lunch/dinner for two, 3 course, middle class restaurant | 3496 rubles |
| McMeal at McDonald's or similar combo dinner | 350 rubles |
Main attractions. What to see
Bath is a very convenient city for tourists because all the attractions are within walking distance of each other. You can visit them in any order and you will not lose time. Just make a list beforehand of what you want to see and go on a long hike.
The Roman Baths – Bath became a spa resort after traces of Roman Baths were discovered in the 18th century, and it became a very popular holiday destination for the English aristocracy. Just imagine, Jane Austen lived there, Charles Dickens, William Thackeray, and Henry Fielding! The Thermae attracted the most famous English ladies and gentlemen. It's in the historic thermae that you can't bathe now, of course, but it's interesting to see! The ticket price depends on the season (more expensive in summer) and you can see the price on the website, but for an adult it will cost 20-21.5 USD (£15.50-17). Address: Stall St, Bath BA1 1LZ
Bath Abbey is literally just 50 metres from the Thermae. The Gothic cathedral certainly won't go unnoticed by the tourist inside, like all Anglican churches, it is very neat and understated. Entrance is free, but a donation is recommended. It is also possible to go upstairs and see the panorama of the city (only in good weather, of course). There is no elevator and there is a charge of 7.5 USD (£6). Address: Bath BA1 1LT
Pulteney Bridge – If you look closely, this 18th century bridge over the River Avon, on which Bath stands, reminds you of the Ponte di Rialto in Venice and the Ponte Vecchio in Florence.
Royal Crescent is a street of 30 houses built in the 18th century in the Georgian style, where at different times lived the most famous Englishmen. In the warm season on the glade in front of the buildings the British have a picnic, I advise you to join us You will have to walk to the Crescent, but again, not for long. But you will have a chance to explore all the little streets of the city.
Museums. What is worth visiting
For museum lovers in Bath will not be bored! Of course, they are all permeated with the spirit of the city – the atmosphere of the English aristocracy. Below I will tell you about some of the most interesting, in my opinion.
The Jane Austen Centre is worth a visit if you have read at least one of her books She lived for several years in Bath (not in the house where the museum is located, but in one of the neighboring houses), the actions of some of her novels take place in this city. The house is decorated in the traditional style and is toured by a guide, who, in quite plain English, introduces visitors to the details. Inside, you can take some of the outfits of the time for a souvenir photo There is a worthwhile souvenir store inside with some very cute keepsakes and a traditional tea room. Adult ticket costs 14 USD (£11), children 7 USD (£5.50), but if you want to save some money, you can buy an Early Bird Ticket online, it entitles you to visit before noon and costs 1.3 USD ( £1 )cheaper. It makes little difference if you are travelling alone or as a couple, but if you are in a large group then why not? Address: 40 Gay St, Bath BA1 2NT
Continue on to the English aristocracy at the Fashion Museum, where you'll find Victorian and Gregorian costumes. There are also regular exhibitions of more modern fashion. In my feminine opinion, it is worth the trip A full ticket costs 11.5 USD (£9) and a children's ticket costs 9 USD (£7). Address: Assembly Rooms, Bennett St, Bath BA1 2QH
The Holburne Museum is a visual arts museum. It has a collection of paintings, sculptures and furniture. The permanent collection is free and there is an additional cost for admission to exhibitions but prices vary and you can view a poster and list prices on the gallery's website. Address: Great Pulteney Street Bath BA2 4DB
The American Museum in Britain – I agree, it is very unexpected to see a US museum in small and quiet Bath. But the fact remains that it is there! The museum is located in an old building and talks about American culture. There are very interesting thematic exhibitions devoted, for example, to jazz or fashion photography. In addition, there are very beautiful gardens, where in the warm season there is a cafe. I really like to drink there traditional English tea. Admission costs 15.2 USD (£12) for an adult and about half that for a child, i.e. 8 (£6.5). Address: Claverton Manor, Claverton, Bath BA2 7BD
Parks
In addition to the small park near the Royal and the garden of the American Museum, there are the following places to stroll in Bath:
Parade Gardens – This garden is on the waterfront of the River Avon, just over the Paltney Bridge. Admission is free and the garden is not very large, but it's pretty. Settling in there in the summer with a cup of coffee or lemonade and sandwiches is incredibly pleasant. Address: Grand Parade, Bath BA2 4DF
The Botanical Gardens at Victoria Park – The park itself is big and very pretty, but the botanical gardens stand out. If you're in Bath in April and May it's a must-see! Blossoming magnolias and rhododendrons – a sight to behold! The park is right next door to the Royal Crescent. It's no wonder the aristocracy liked to walk in such a beautiful place Address: Weston Road, Bath, Avon, BA1 2XT
Alexandra Park is a little ways from the city center. If you've walked around all the boulevards and exhibitions and want to have a quiet walk in solitude after the Thermae, this is the place to go! It is also within walking distance and its main advantage is the best panorama of Bath! Address: Shakespeare Ave, Bath BA2 4RQ
Traveling Streets
In general, the whole center of Bath is just touristy streets, so when you walk around you can close the map and go wherever you like, feel free to go into every alley
On the map I have marked a few major ones that you shouldn't miss.
Union Street and Stall Street are two central pedestrian streets that flow into each other. There are restaurants and stores there It's nice to walk around too. One of my favorite things to do in the city.
Westgate Street and Cheap Street are the old streets that lead to Bath Abbey.
Royal Ave is the greenest street leading to Queen Victoria Park.
1 day's sightseeing
If you only have a day in Bath, don't worry, you can do it all
Just change your pace from a leisurely stroll to a quicker one and go!
8 a.m.: Leave the train station and take the A3039 to the Paltney bridge in the center of town. On the way you can have breakfast at one of the riverside cafes, or just take a coffee and drink it with a view of Pareid Gardens and the bridge itself;
9am – go to Bath Abbey and be sure to go up to see the panorama (weather permitting, of course. If it is cloudy or foggy, there is nothing to do there);
10 a.m. – walk 50 meters from the Abbey and go to the Roman Thermae for a tour;
11am – walk along the main streets: Westgate Street, Stall Street, York Street, Bath Street and Lower Borough Street;
12 noon – walk to Queen Square and go to the Jane Austen Museum;
1:30 PM – After the museum, it's lunchtime! If you walk to the Royal Crescent, you'll find a couple of great English pubs there. What an excuse to try some traditional English food (I think it is very, very wrongly criticized!);
14:30 – unfortunately we didn't have time to sleep in the afternoon with such a busy schedule, so we go to the Fashion Museum, which is very nearby;
15:30 – finally reach the Royal Crescent, walk there, and continue on Road Ave to the Queen Victoria Park and Botanical Gardens
5 p.m. – time for the traditional English tea party! Leave the park and walk back to the Abbey, then into any café you like. Go shopping or walk to Alexandra Park or take a stroll through the alleys of the city center.
What to see in the neighborhood.
As I said before, Bath is only 30 kilometers away from Bristol, so it's a short drive. I can't say that Bristol is on my personal top list, but it's certainly worth a day trip. Since you'll be very close by How to get there, I've already written about it in the transport section above;
Oxford isn't exactly next door to Bath, but definitely worth it! It's an old university town – you can spend a day or two there it's only an hour and a half by train, the ticket costs about 22,30 USD (£17,50).
Stratford-upon-Avon – I think a visit to Shakespeare's birthplace is interesting for everyone! And, all in all, it's a very nice medieval town. Although it's not that far (about 100km), the train takes 3 hours and costs from 64 USD (£50). So I would try looking at BlaBlaCar if I were you;
What is worth seeing in Bath?


Aleksandr
Bath is a UNESCO World Heritage Site and is listed as one of Britain's historic cities. Bath is home to some of the finest examples of European architecture, including the majestic Royal Crescent, Circus Square, where buildings are laid out in a semi-circle, and one of the most beautiful bridges in the world – the Pulteney Bridge.
Pulteney Bridge: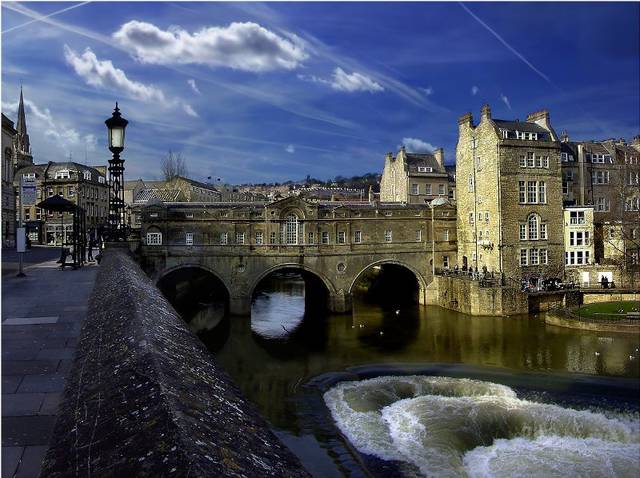 Bath is one of England's most beautiful bishop's towns, and is also the principal town in Somerset. It is located on the River Avon.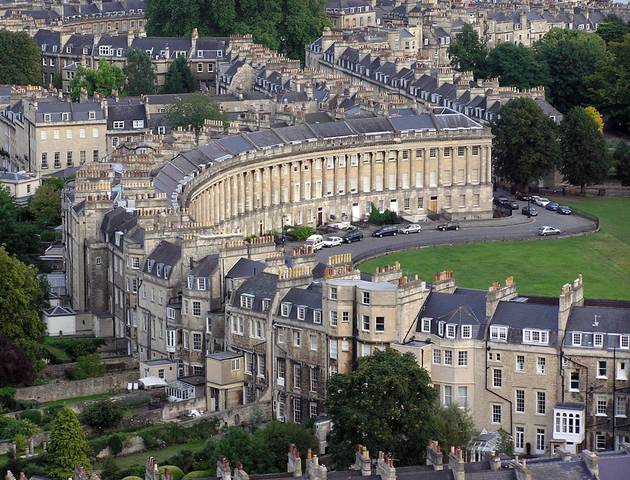 There are four healing springs in Bath, the water in them has an average temperature of 46 ° C, here you can treat diseases such as gout, paralysis and various rheumatic.
This popular balneological resort has been known since the ancient period for its therapeutic mineral springs. The spa had its peak in 1775 when the remains of Roman thermae were discovered and later museified. At that time, the capital's dandies, led by their "king" Richard Nash, were frequent visitors to the town.
Tourists can taste this medicinal water in the restaurant, which is located at the museum. The restaurant itself is situated at Stall St, BA1 1LZ, entrance 11.5 GBP. Open from 09:30 to 16:30 in November to February, 09:00 to 17:00 in March to June and September to October, and 09:00 to 21:00 in July and August.
Beyond the city's curiosities are Kingston Square and Queens Square (or "Queen Square"), the Guildhall with its Museum of Roman Antiquities, the Abbey Church, the spacious market hall, the clubhouse, the two stately homes and two theaters.
Victoria Park and Sydney Garden are also wonderful places for hiking in the city.
The eighteenth-century landscape garden, Pryor Park, is located in Bath in a splendid valley on Ralph Allen Drive, where you can enjoy a beautiful panorama of the city. The 113,000-square-foot garden is home to many curious curiosities, such as one of only four current Palladian bridges, a Gothic temple, a winding lake, and Mrs. Allen's grotto.
The park was built by local businessman Ralph Allen, and the design is by poet Alexander Pope and landscape gardener Capability Brown. This work of landscape art was influential in defining the style that became famous on the continent as "English Park." In the park you can stroll along forest paths, sit in stone gazebos and look out over Bath by climbing some hill.
There are no parking spaces, so it's best to take public transport or walk to the park.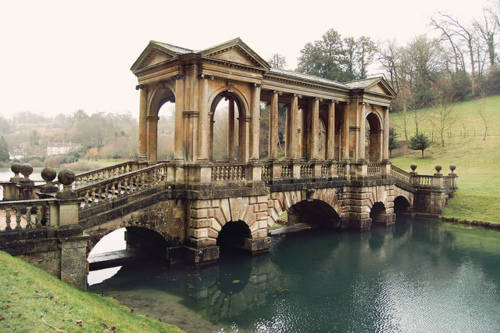 Bath – a city of vibrant and rich culture, here the tourist can find a lot of options for pastime, allowing to join the classic and new art.
You should visit Victoria Art Gallery, where there are a lot of works of famous painters, beginning with the fifteenth century to the present day, or stay for a classic musical staged by the capital's company at the Theatre Royal.
And if you want to experience a new, unconventional experience, visit a performance of the Unistov Studio Theatre, walk through an exhibition of paintings by contemporary artists, or sit in on a lecture at the Institute for Contemporary Interdisciplinary Art.
Among the many museums in the city worth a visit are the No. 1 Royal Crescent House Museum where you can learn more about the lives of aristocrats and the cream of society of the eighteenth century; the Assembly Rooms Costume Museum; the Holburne Museum of Art; Jane Austen Center; Sally Lunn's Museum dedicated to the local bun that was once brought to town by Sally Lan after he returned from Huguenot captivity; the Astronomy Museum; and the East Asian Art Museum.
It is a well-known fact that the Romans were fans of revelry and mad parties. It can be argued that the locals in Bath have maintained this passion for unbridled celebration centuries later. If you're in the mood for fun and relaxation, start the evening by attending a concert of your favorite artists or a comedy show at the Chapel Arts Centre or the renowned cultural and entertainment center, Komedia.
Jazz fans can unwind at the Green Park Brasserie and Bar, which hosts jazz performers four times a week. If you're a keen dancer you can dance the night away at the great local nightclub, OPA, Second Bridge or Circo, where you can party till dawn with excellent club music selections.
The city of Bath and its environs offer entertainment for children of all ages. The Egg offers shows for all ages from 1.5 to teenagers at the Theatre Royal.
If you're in town during Bath's Children's Literature Festival, your children can meet writers, poets, illustrators, storytellers and favourite characters. You can also take your children to the Longleat Safari Park.
There are three things you must do if you come to Bath:
The first is to visit one of the city streets where Charles Dickens, Henry Fielding, William Thackeray, Daniel Defoe, Jane Austen, Laurence Sterne and other famous masters of the pen once walked.
The second is to photograph all the buildings in the Royal Crescent at once. If you succeed, you can consider yourself an ace photographer.
The third is to study Northanger Abbey and Jane Austen's Persuasion and visit all the places in the city where the heroines of those works loved to visit.