Santorini Island (Greece) – review
The best place for a honeymoon, romance, beautiful sunsets, blue sky and blue-blue sea, lost Atlantis – this is all about Santorini! Lots and lots of photos!
Do you want to go on vacation to the most romantic place on Earth? Choose Oia Island. Santorini!
Beautiful sunset, peaceful setting, blue sky and dark blue sea around, snow-white tiny buildings, everything is like in a fairy tale! When you go out in the morning, you can't get used to it for a long, long time and you squint, everything is so blindingly blue and white around!
Waking up early, firstly, so as not to lose a minute of beauty, and secondly, you go to bed early, restaurants close at 23.00 and you just have to go "in the room," no party places in town )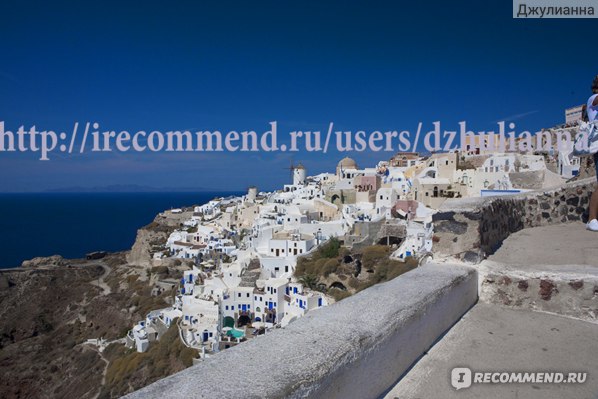 We started getting ready for our honeymoon even earlier than the wedding) The Greek island of Santorini has never been known for cheap prices, the time of the trip we chose is the beginning of October. The plus – since early October it is off-season in Santorini and hotel prices are reduced, minus – there are no direct charter flights and you can get to the island only by flying to Crete, spending the night there, then 4 hours on a high-speed ferry. There is an alternative – by plane to Athens and then an 8-hour ferry to Santorini. We chose the first option. The place of the stop is the town of Oia (Iya) Oia, the most beautiful place of the island of Santorini. There are almost no ready-made tours to this city, because they are not in demand, so we paid full price as for an individual tour, through a travel agency, so that there was no trouble with the visa.
Do not settle for Kamari, that is where almost all Russian travel agencies send. When I said that I need a tour to the town of Oya, the girl exclaimed in surprise: "But there's no beach there!"
Beaches on Santorini are nothing, if you're just interested in a beach holiday, then I advise you to choose another Greek island.
Tourists get to Oia town mainly on excursions from Crete for a day, or live in another part of the island, reaching Oia by cab. I don't remember such an amazing vacation as in this place of Santorini. Quiet, tranquility, peacefulness, no traffic (traffic inside the city by transport is forbidden, and not possible, the streets are very narrow).
These two photos are my favorite photos taken on the island, I think they best convey the peaceful atmosphere.
You can imagine how nice it is to have lunch every day in such a peaceful atmosphere.
And to have breakfast with a view of the caldera…
Food is very good, the most delicious grilled octopus, I ate on this island in the restaurant below, where you have a long, long way down the stairs from the top. I want to note that despite the lazy holiday in this town to get fat will not work, firstly, you need to prepare for the constant climbing and descending the stairs in the heat, and secondly, the prices for food very biting, even just a cup of coffee costs 5 euros, but what is the coffee, mmmm, even I do not like coffee it appreciated!
We stumbled upon a cute little restaurant with ducks and hedgehogs.)
The ducks and hedgehogs were adorable, but the food in the restaurant was not good at all (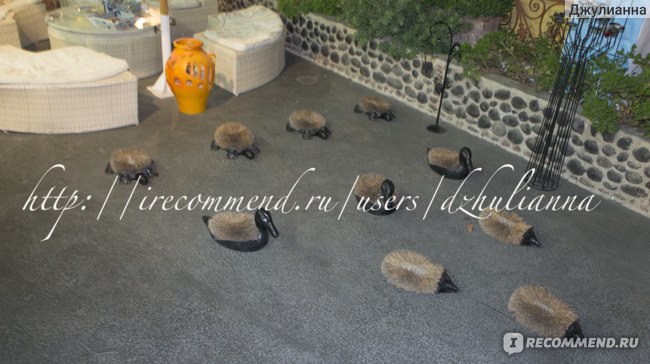 Party lovers have nothing to do in this town, no discos, noisy music, clubs, etc.
Every evening on the outskirts of the city tourists traditionally come to see the sunset. Hang on every fence )).
It is so beautiful that takes your breath away, no words or camera can not convey it!
Animals in Santorini – a separate topic, beware of getting in a narrow street in a herd of donkeys, they can trample! ))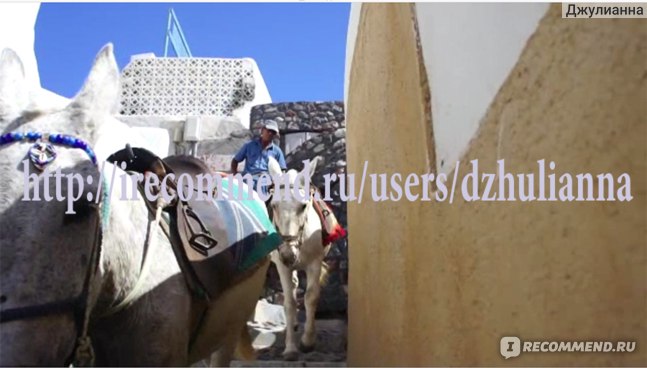 I must say that riding donkeys up and down the island is very popular with tourists arriving on day trips )).
By the end of the vacation I knew every dog in town )) My favorite local inhabitants ))
There are a lot of dogs of all types and sizes.)
You can even meet them on the roofs ))
Some of them were as big as boars.)
Locals are very friendly, dogs are not persecuted and give food, sometimes by the road are just bowls, which are periodically added to the food and any doggie, running past on important state affairs, can stop and have a snack.)
If you are going to take photos using your own strength (tripod + camera + photographer's tired eye), then I advise to make a plan of movement around the areas of the session, because it is a real pleasure to move around in a plastic wedding dress in the heat, so pack tissues! And take pictures in advance in the same places in light clothing. Ideally a blue and white color scheme!
One of the beautiful and unusual places – the door to the nook).
My advice to brides – do not leave the photo session on the last day! When I got a lot of sun and deigned to finally dress up in a wedding dress, this was the day of the haze, photos, of course, turned out beautiful, but not at all what it was on the previous days. The groom was soaking wet, he shamefully retreated and put on shorts, and the bride braved the hellish October heat in her wedding dress.
Deciding to save the family budget, booked a regular hotel room, wrote a letter to the manager of the hotel that we plan to spend the honeymoon and would not mind if we were in this regard increased the category of rooms )))) In peak season, of course, this option will not work. Up to the room honeymooners we, of course, the category did not increase, but at a price of usual we settled in a two-story room with a bedroom on the second floor and a kitchen on the first – get used to, say, a newlywed wife to stand at the stove ))))
The sea in October, is already cool, you can swim, but no fun, took a boat tour around the island. Why is the sea so incredibly blue? Never seen it anywhere else.
Without a doubt, rest on this paradise island will be one of the best in life!
I hope that we will definitely go back there to celebrate our next wedding anniversary!
I also invite you to take a trip to Troll's Tongue in my review )
More hotel and trip reviews
Trip to Paradis Island
A fashionable hotel in Bali that doesn't live up to its price
Cayo Largo: A Caribbean paradise
The Palm Royal Soma Bay reality exceeded my expectations about the Egyptian hotels
Honeymoon: white sand Santorini
By popular demand we open the column "Honeymoon", in which we will tell you about the popular, interesting and beautiful places for your first family trip, accompanied by photos and recommendations. Today the focus is on snow-white Santorini, Greece, and the Postscriptum photo duo will share Veronica and Maxim's story.
Photo source
It seems like a long time ago. And after so many other cities, countries and travels, the impression of Santorini has faded a bit. But when you come across photos with snow-white houses and blue windows, a wave of indescribable happiness immediately comes over you. This feeling cannot be described, it can only be compared to a pleasant memory from childhood, it is warm, cozy, light!
The same picture flashes in your memory: the dark and damp room of the hotel house, the closed windows, the wooden frames, opening which, as if you open a chest of gold, from which a dazzling light pours out. And when your eyes become accustomed to it, you begin to examine with rapture every precious piece of the landscape spread out before your eyes, trying not to miss anything, fearing that this is a dream that is about to end!
A bit of history
Santorini, or the island of Thira as we know it today, was formed between 1500 BC and 1645 BC. The island used to be round, and Santorini Volcano was the center of it. When the volcano erupted, part of the island went underwater, leaving on the surface only a "growing" crescent, the island of Tyre, and several smaller islands that complete the ring.
You can reach Santorini either by plane or by boat, a 4 to 8 hour trip by boat (fast or slow boat that can be rented in Athens).
The magic of the island.
We stayed in the tourist village of Oia, a magical place for lovers. The island itself, the rhythm of life, the time zone, the climate – absolutely everything inexplicably disposes to be in a state of euphoria, to be romantic, to be happy and calm! When we first saw this world filled with air and pure water colors, we fell in love, it seems, for life. The first amazing discovery is that you sleep wonderfully on the island, not that you have a comfortable bed and a proper regime – no!
No matter what time you go to bed – it is very easy to wake up before sunrise. Many people come to Santorini for the famous sunsets – they really are incredibly beautiful, especially since Oia is on the west side of the island. But we liked to watch the sunrise more- it is an unbelievable feeling of being a part of something global, when night changes into day, when the sun rises from behind the mountain and you stand there holding hands like fascinated people watching the spectacle… There are no words to describe your feelings, which come pouring out in a violent stream!
Inspiration
Oia looks like a white anthill from up high – the whole steep mountainside is studded with little houses of hotels and restaurants, standing as if on top of each other's heads. On a single main street walks crowds of tourists, trying to hide from the scorching midday sun, reflecting off the whitewashed walls or in search of souvenirs. Thanks to the island's ability to reflect light, the photos are incredibly airy and the colors are very clear and vibrant. The sun rises early and sets very quickly here… and not everyone sees it coming, so the best time for us to take a walk was in the afternoon.
Walks around the island can be both by car and on foot, but the features include another form of transport – walking on a donkey, which is better to do before the midday scorching sun and in the headwear. Be prepared for a specific smell, which is not as familiar to city dwellers as the smell of gasoline and car exhaust =) From Santorini there are boat trips to other islands, including Crete and Rhodes. And as various excursions on the island itself: the ruins of the Minoan city, a volcano, the beaches (black, white and red). The island's capital, Fira, is a beautiful snow-white town, which is also worth visiting on an unforgettable trip to Santorini!