10 places to visit in St. Louis in Senegal, Africa
St. Louis is a city in northwestern Senegal, located on the coast between a natural park and a sandy desert. Its size is modest compared to that of the capital Dakar , but nevertheless, St. Louis has several interesting places to visit.
1. Museum of Photography
1. Museum of Photography
One of the cultural attractions of St. Louis is the Museum of Photography , where African artists exhibit their photographs. This museum is always open to aspiring artists and photographers, it helps them start their way without fear. The Museum of Photography is located on the island of Sindona, near the bridge connecting it to the mainland, and can be reached on foot or by cab. The museum is open Tuesday through Sunday from 10:00 to 19:00. Admission is free.
2. Beach Hydrobase
2. Hydrobase beach.
This is a popular beach of Saint Louis and a must if you stay a few days in the city. Allow yourself a few hours in this oasis of tranquility completely isolated from the chaos of the city. The beach is on the east coast of the Santiaba peninsula and is about 10 minutes away by cab.
Langue de Barbarie
Langue de Barbarie
The Langue de Barbarie is a 40 km long sandbar located at the mouth of the Senegal River where a small lagoon is formed. It is located south of St. Louis and can be visited by boat through mangroves. You will discover Senegalese nature and encounter many pelicans and flamingos surrounded by beautiful scenery.
To reach the lagoon take a cab south to St. Louis and then take one of the boats offered by locals. You can visit the lagoon at any time for a ticket price of 15 Euros.
4. Gembel Sanctuary
4. The Gembel Nature Reserve
This is a small nature reserve of 720 hectares, located 10 kilometers south of St. Louis. You can visit the reserve by your car or by taking an off-road vehicle tour. Inside you will see turtles, derbies, impalas, monkeys, zebras, giraffes, buffalo, and many other African species. To get to the Gembel Nature Reserve take a cab or contact a travel agent who will take you from your accommodation to the site.
The opening time of the reserve is from Monday to Sunday from 9:00 to 18:00. The cost of the ticket is 30 euros.
5. National Bird Sanctuary Juge
5. National Bird Sanctuary Juge
It is a swampy and wet area north of St. Louis . It is home to a variety of bird species, including pelicans and flamingos . After the park became National Park, it was also called the Bird Sanctuary . It takes all day to visit, but it is worth it if you are a nature lover. You can get to the reserve by cab, or contact a travel agency, you will be taken from your accommodation to the park. The Bird Sanctuary is open from 8:00 to 18:00. The cost of the ticket is 30 euros.
6. Lompool Desert
6. Lompool Desert
The Lompoul Desert is a small sandy desert near the coast. It is quite far from St. Louis, but when you are in town you will see many suggestions for excursions to this beautiful attraction. The tour usually includes a camel ride and an overnight camp in the desert. You will not return to your accommodation until the next day. If you want to take this tour, find an agency that organizes such tours. The cost of the tour is from 80,00 Euros per person.
7. The Senegal River
7. The Senegal River
Saint-Louis is completely crossed by the Senegal River which, from the border with Mauritius, reaches the town, dividing it into two parts. Another interesting excursion that locals will offer you is a boat trip on the Senegal River. On the banks of the river you can admire the small African villages and expanses of dense vegetation. A boat tour usually costs about 15 euros.
8. Le Came
8. Le Came
Visiting African countries also means learning about fashion different from Western fashion. Le Came is the right place to experience Senegalese culture in terms of clothing. Here you will find an exhibition of clothes and fabrics in eccentric colors, each with its own description and explanation of the manufacturing process. Le Came is located in the central area of the city and can be reached on foot or by cab. Opening hours are Thursday, Friday and Saturday, from 10:30 to 13:30 and 15:00 to 17:30. Entrance is free.
9. Village of artisans
9. Arts and Crafts Village
African Artisans Village is the best opportunity for tourists to find a variety of souvenirs and gifts of excellent quality. Jewelry, clothing, wooden figurines, leather accessories and more, are made exclusively by hand from local raw materials. The only thing is that the prices for tourists are high, but you can bargain. The village is located to the north of the city, it takes just 5 minutes by cab to get there. Village of Artisans is open from 8:00 to 19:00. Admission is free .
10. Art Gallery
10. Art Gallery
This gallery is a branch of the Dakar Art Gallery with beautiful antiques. Inside you'll see furniture and paintings in bronze, wood and metal, hand carved and polished. You will be spellbound. The Art Gallery is located on the southwest side of Sindon Island near the Fiderb Bridge. Opening hours are from 8:00 to 18:00. Admission is free.
11. general tips
There are two ways to get to Saint-Louis: a domestic flight from Dakar to Saint-Louis airport or a bus (cab) from Dakar, which takes about 5 hours. Cabs are the best way to get around and are very easy to find. Lodging and restaurants in St. Louis are usually inexpensive. But if they are run by Europeans, the prices will be higher. As for safety, St. Louis is a very quiet city. The only thing you may not like is that you will often be stopped on the street to sell something.
10 places to visit in St. Louis in Senegal, Africa
After crossing the border into Senegal, everything changed, and somehow rapidly. Cars appeared on the roads, capital buildings in the settlements and stores with glass windows, from which we got a little tired :))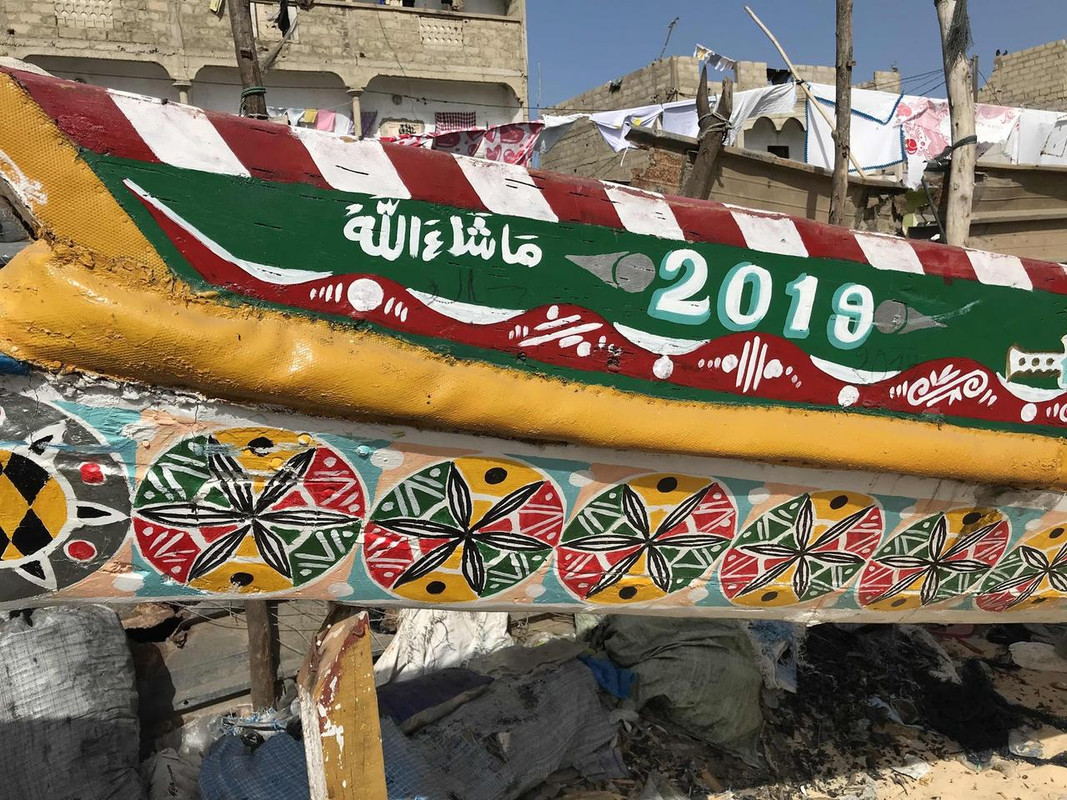 It's less than 100 km from the border to St. Louis, so we may even have time to see the city today.
It seemed to be a neighboring country, but already such a contrast. From the border, we had a good road with signs and markings. There was much less litter on the roadsides, the wind finally died down, the desert was replaced by greenery and we even saw a monkey once!
For some reason I immediately had the feeling that we finally made it to the real Africa!
St. Louis is the former capital of Senegal, the city consists of three parts: the Continent, the Island and the Berber. We got to the hotel quickly, strangely enough, but there wasn't even any traffic. Drivers turn on their turn signals and are quite polite on the road
Our hotel was on the island side. We parked our bikes in front of the entrance and covered them with covers.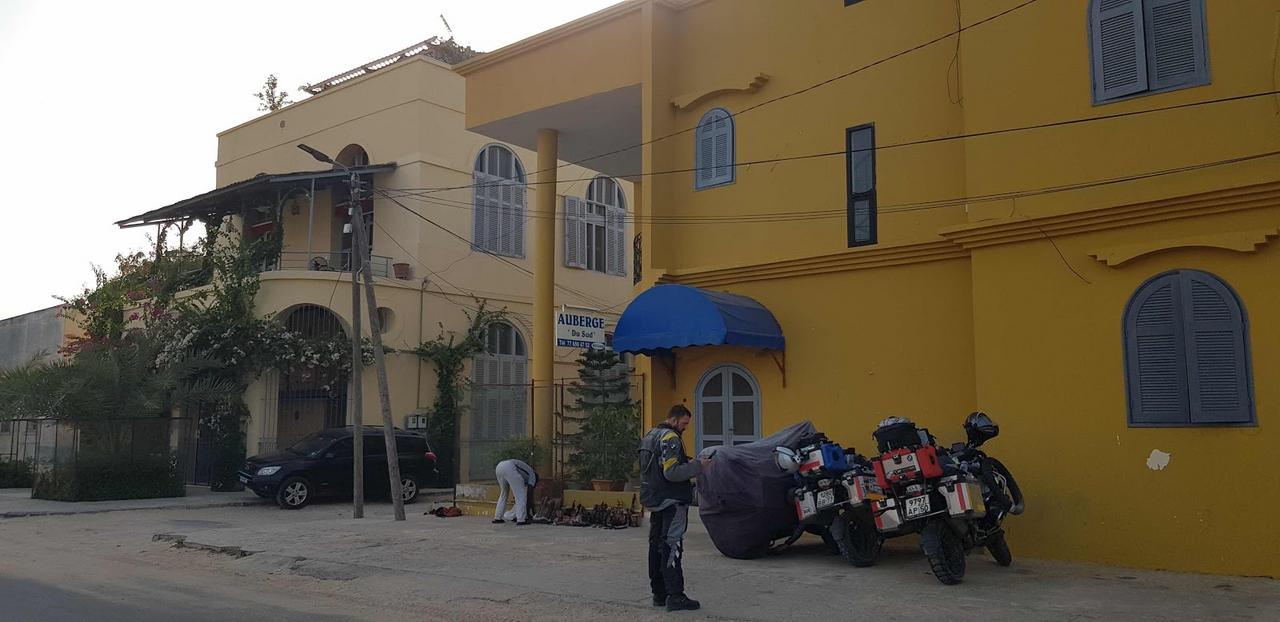 In the rooms, there were mosquito nets stretched over all the beds. It was an alarming sign that we had entered a malaria-ridden area… I can't say it frightened us much, but we had a feeling of discomfort.
It gets dark early in Africa, so we explored the city at dusk. We changed clothes and went in search of food and beer, which we missed a little, because in Western Sahara and Mauritania you can't buy it, at least not legally.
Saint-Louis has a lot of French colonial style houses and is a UNESCO World Heritage Site. It's a little surprising to me, though.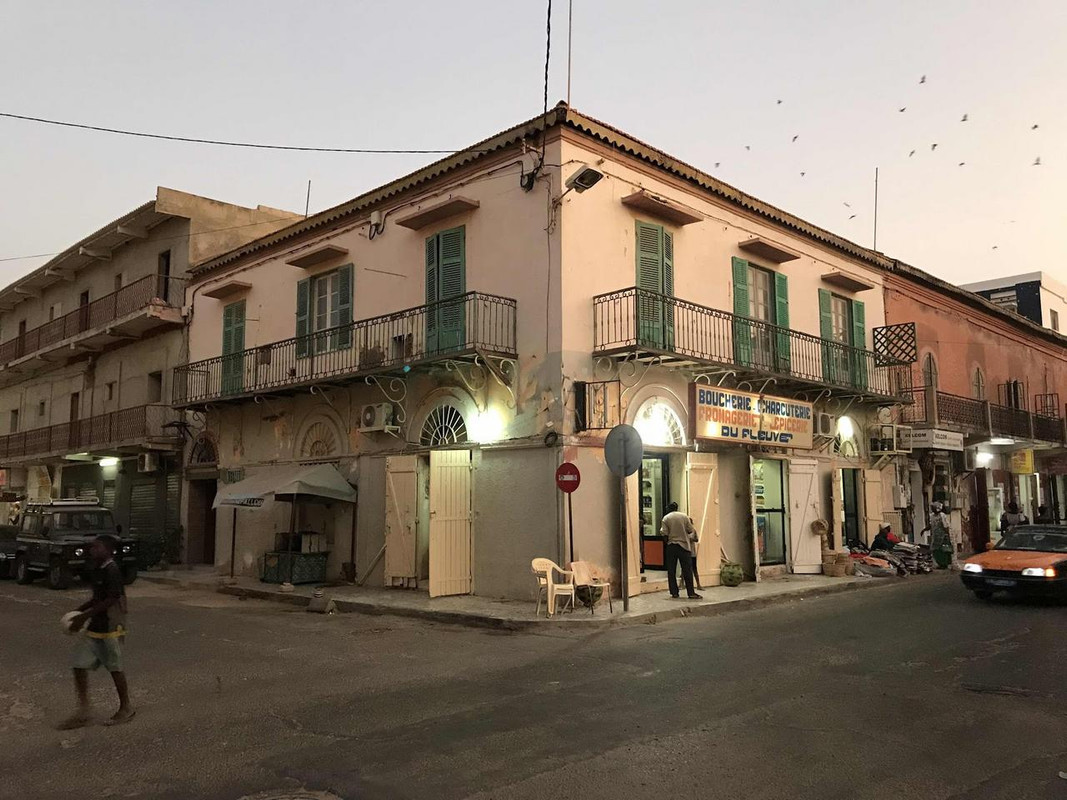 We found a restaurant that serves seafood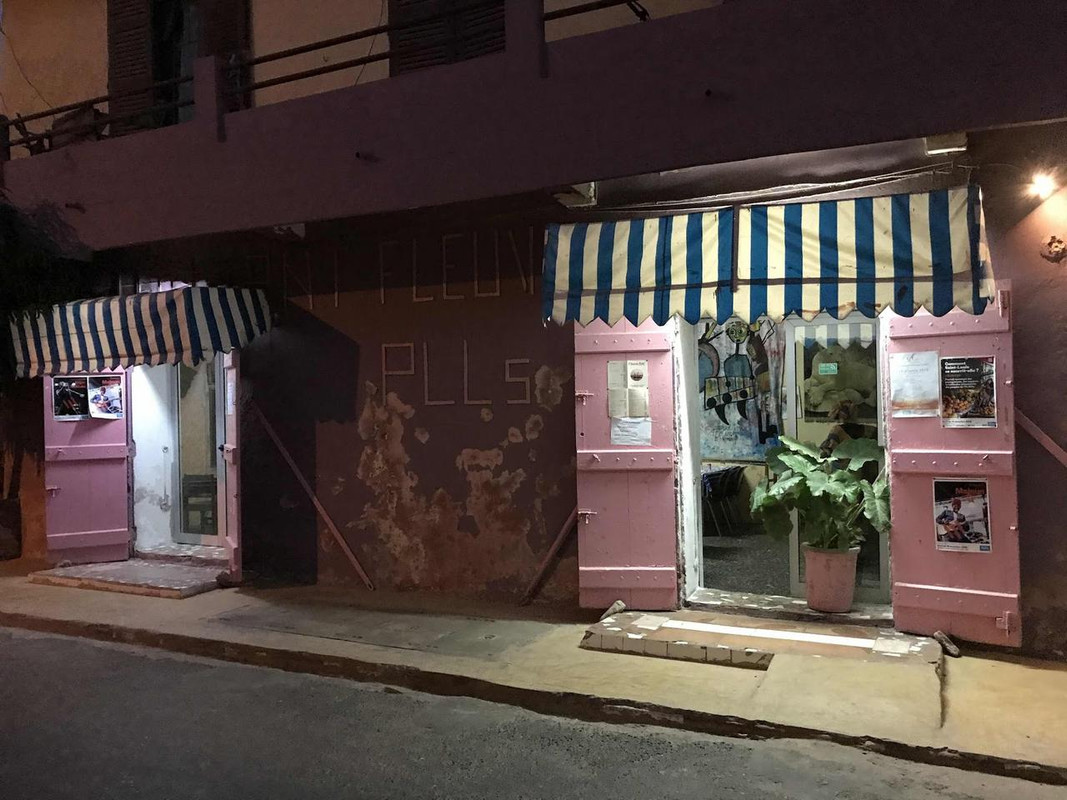 Now every night before going to bed we have anti-mosquito ritual :)) From a huge spray can around the perimeter of the two sides of the door to the room, all the windows, the ventilation grate and turn on two fumigators
The mileage we had today is miserable, so in the morning we decided to walk around the city.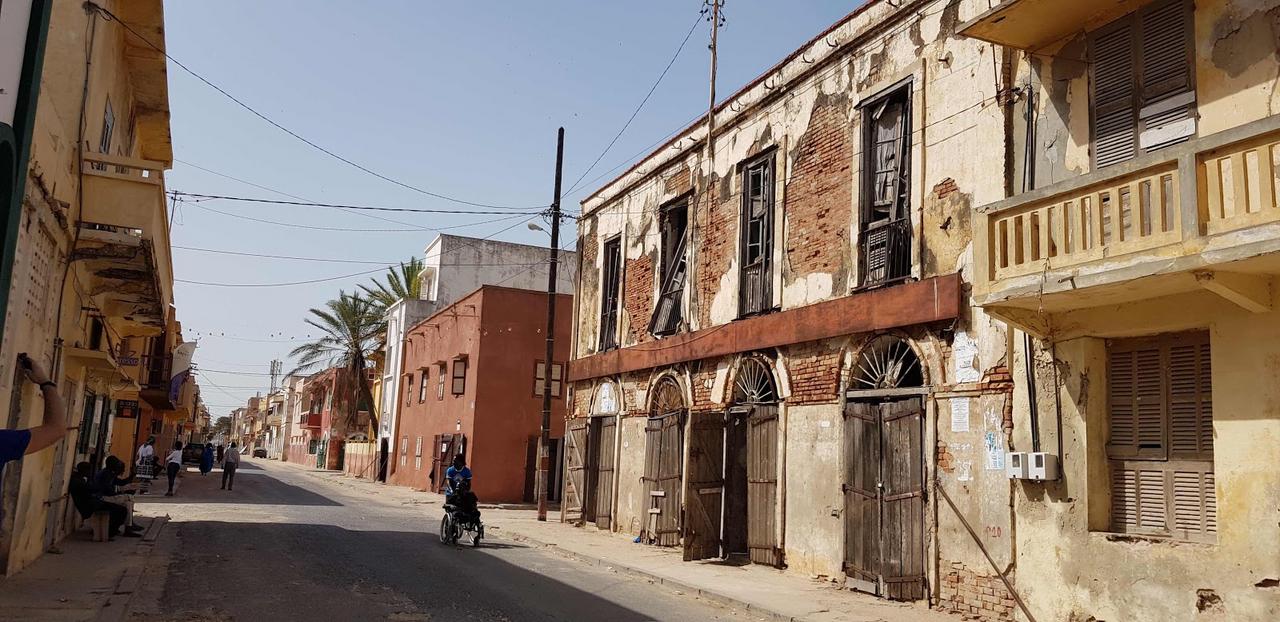 It's a shame that a lot of houses are in a semi-abandoned state.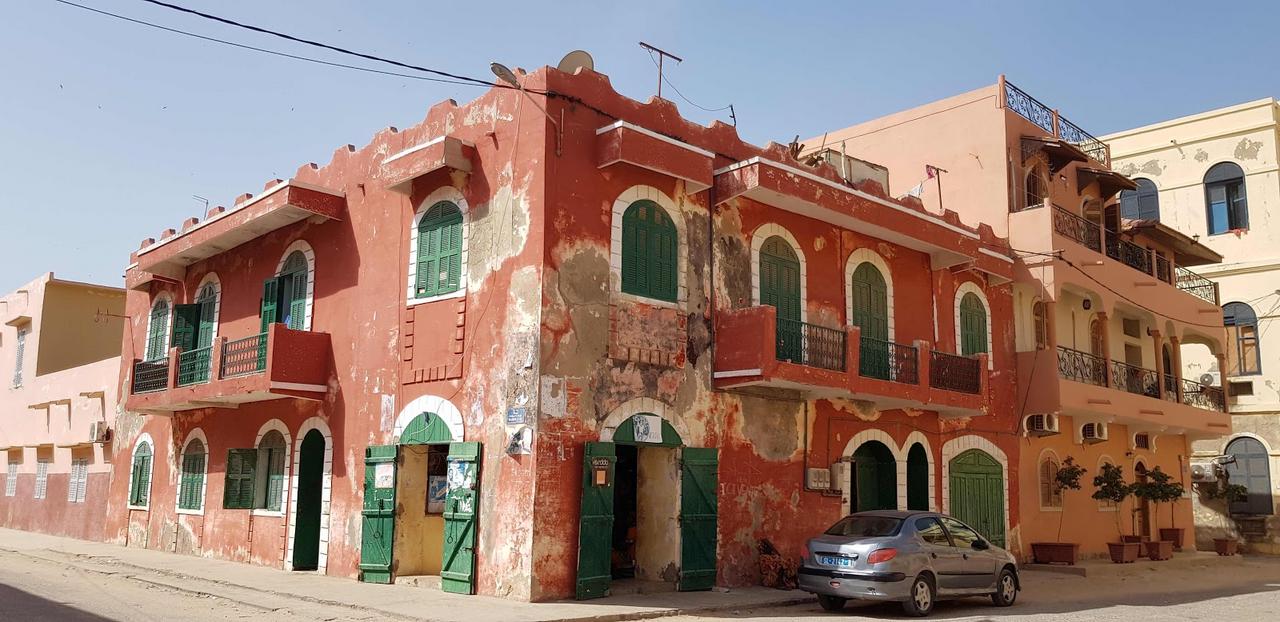 Otherwise it would have been a very beautiful town.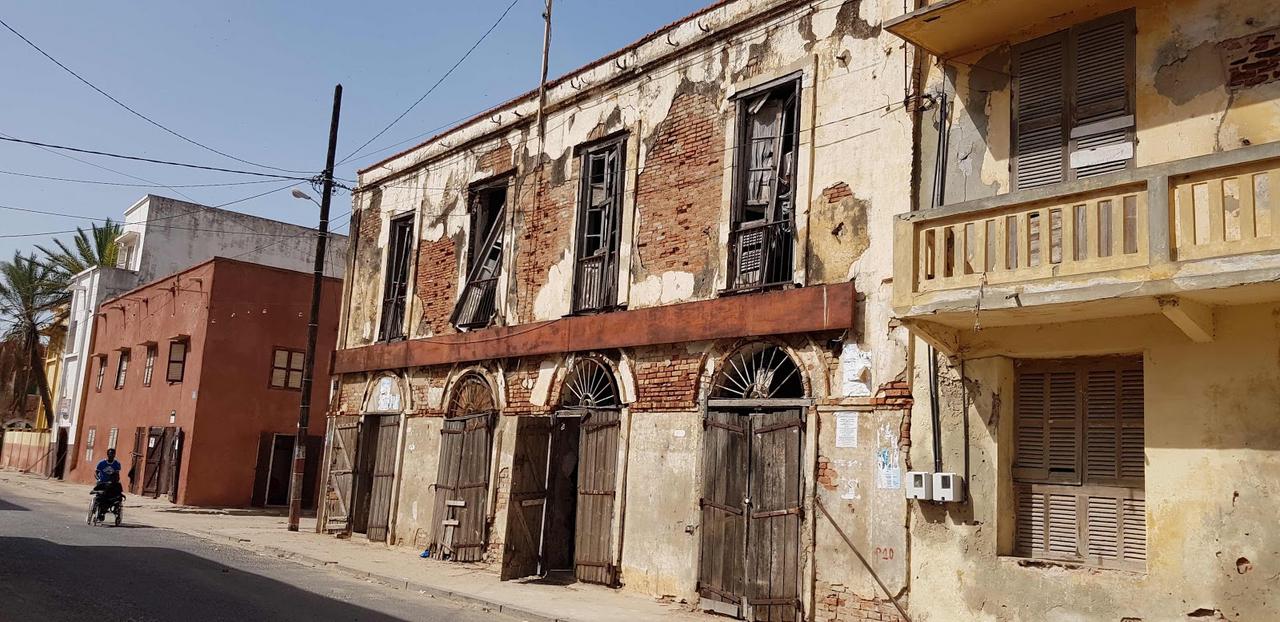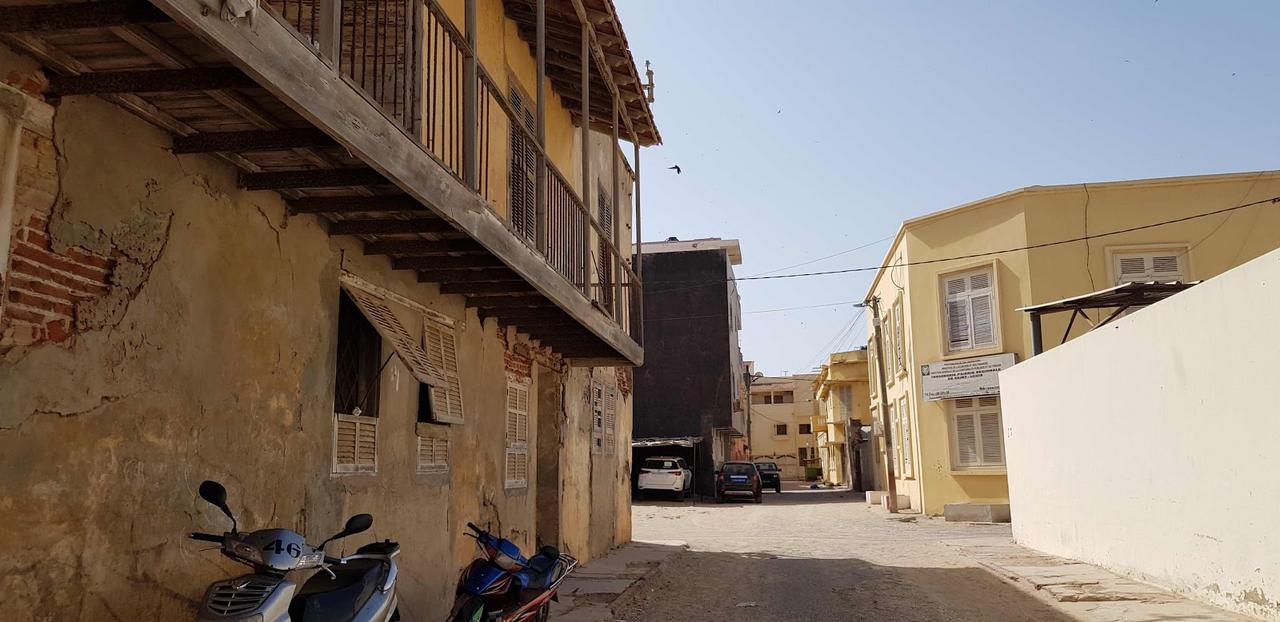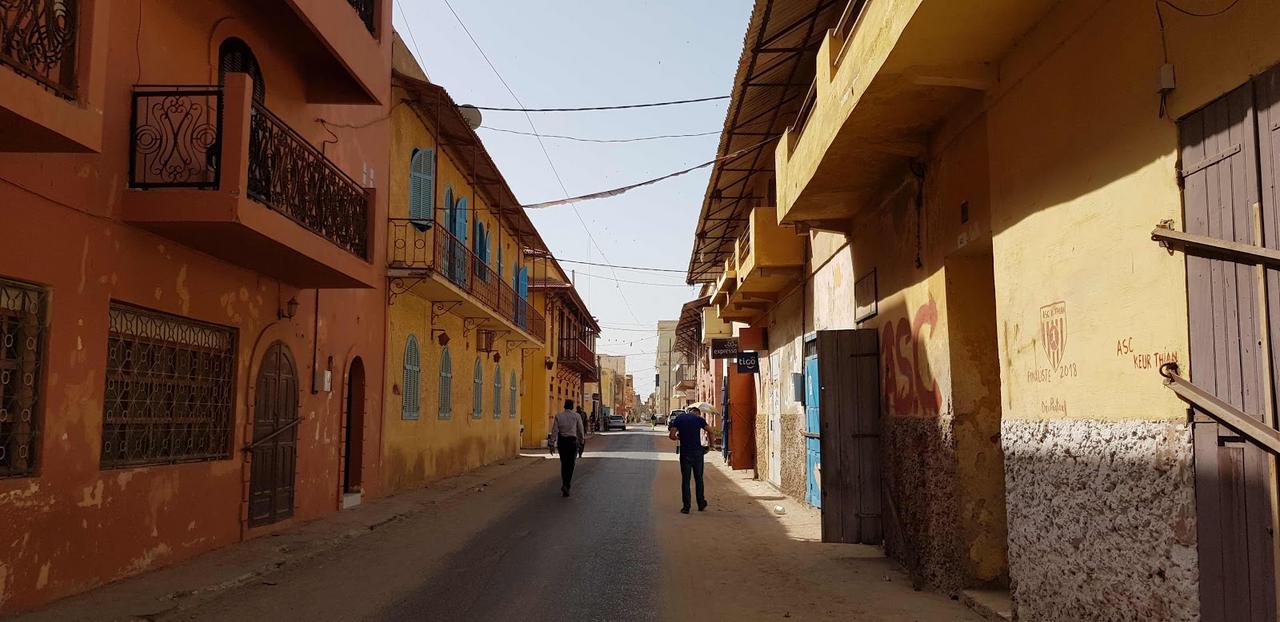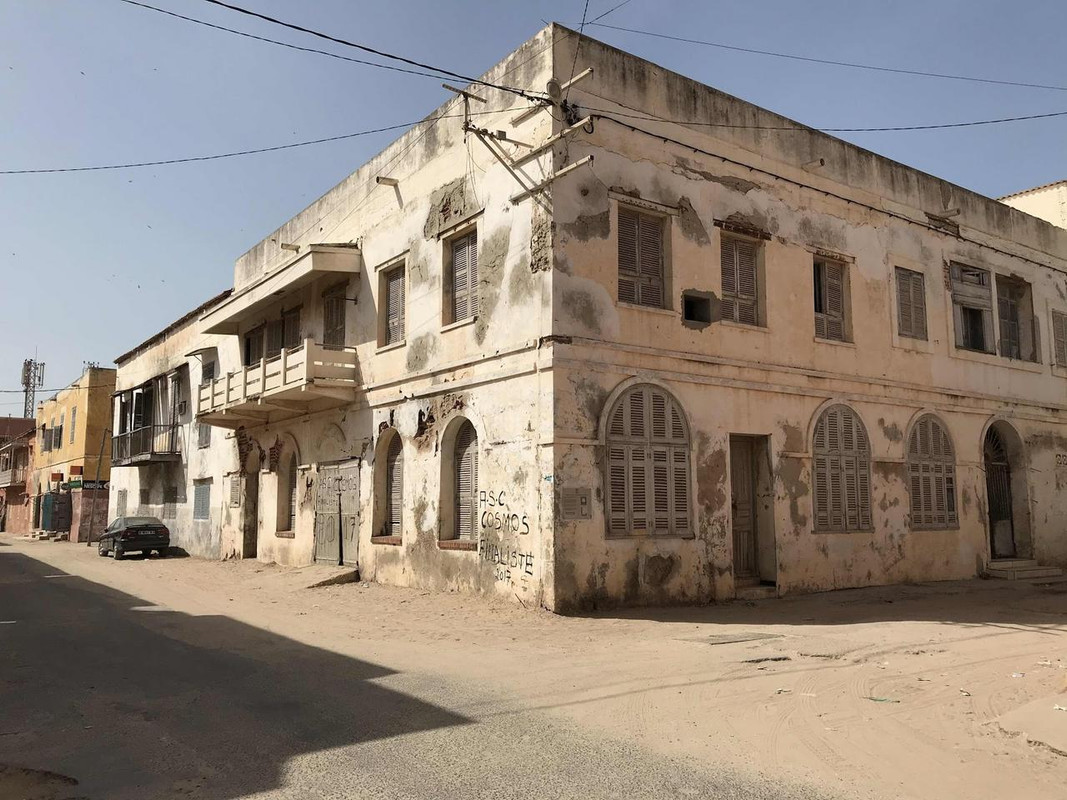 Sometimes you can meet "tired" locals.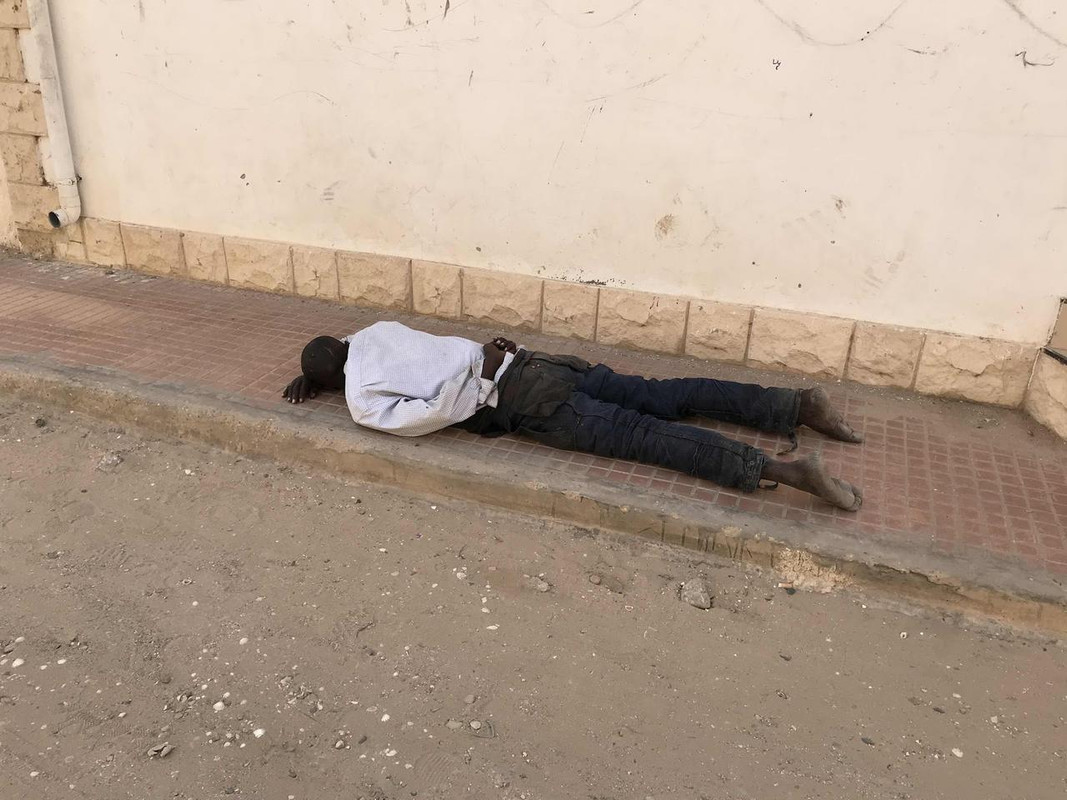 After wandering around the island where our hotel was, we went towards the coast to Berber, where mostly fishermen and poor city dwellers live
And they really drive. And I have not seen such cars on the country road, apparently the locals are not so fearless to leave the city on them :))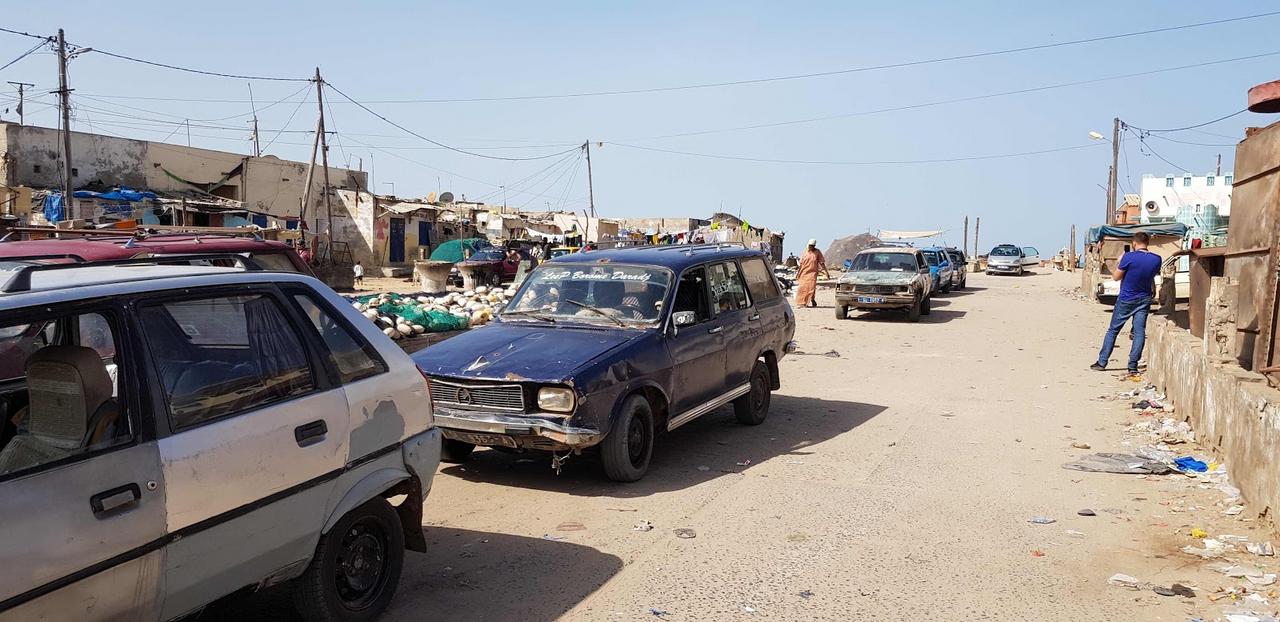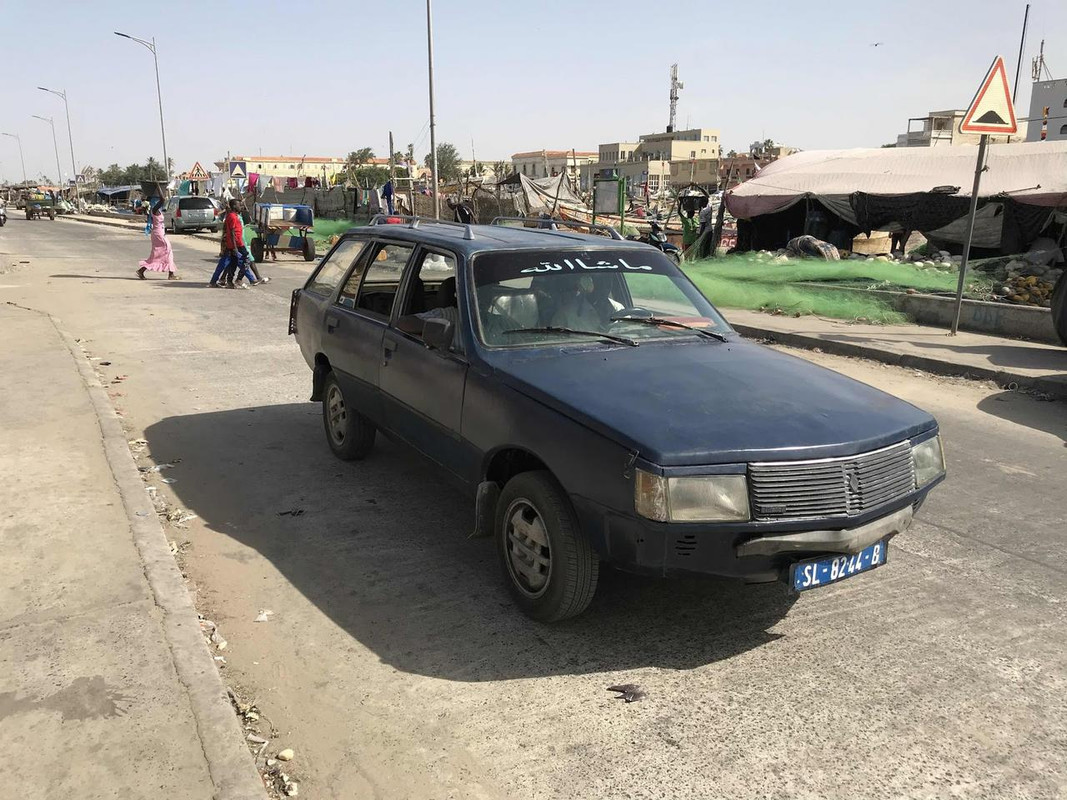 Interesting feeling when a white man walks in a place where he is a novelty. Almost everyone pointed the finger at us! Some laughed, some stared with amazement. Today we were in the role of a "white monkey" :))
In the city there were a lot of fishermen, apparently so put a stele in the form of a fishing boat.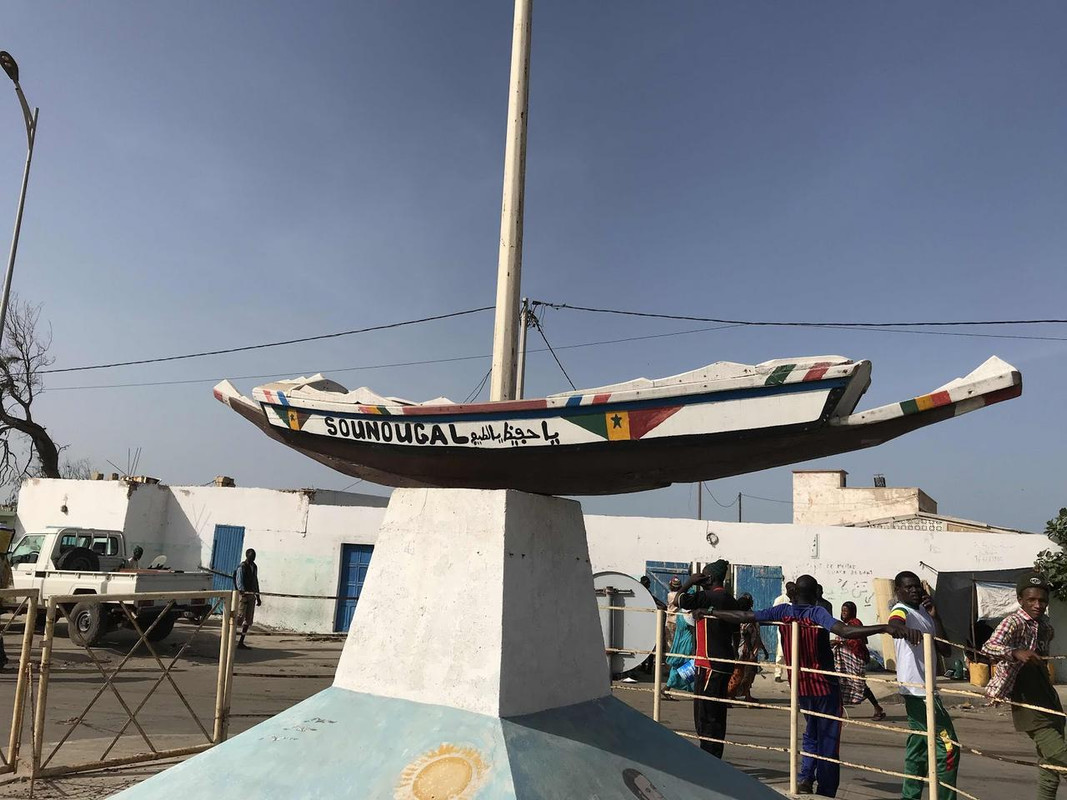 While we were wandering around the market, we met a local fisherman who decided to show us the town, as they say, from the inside.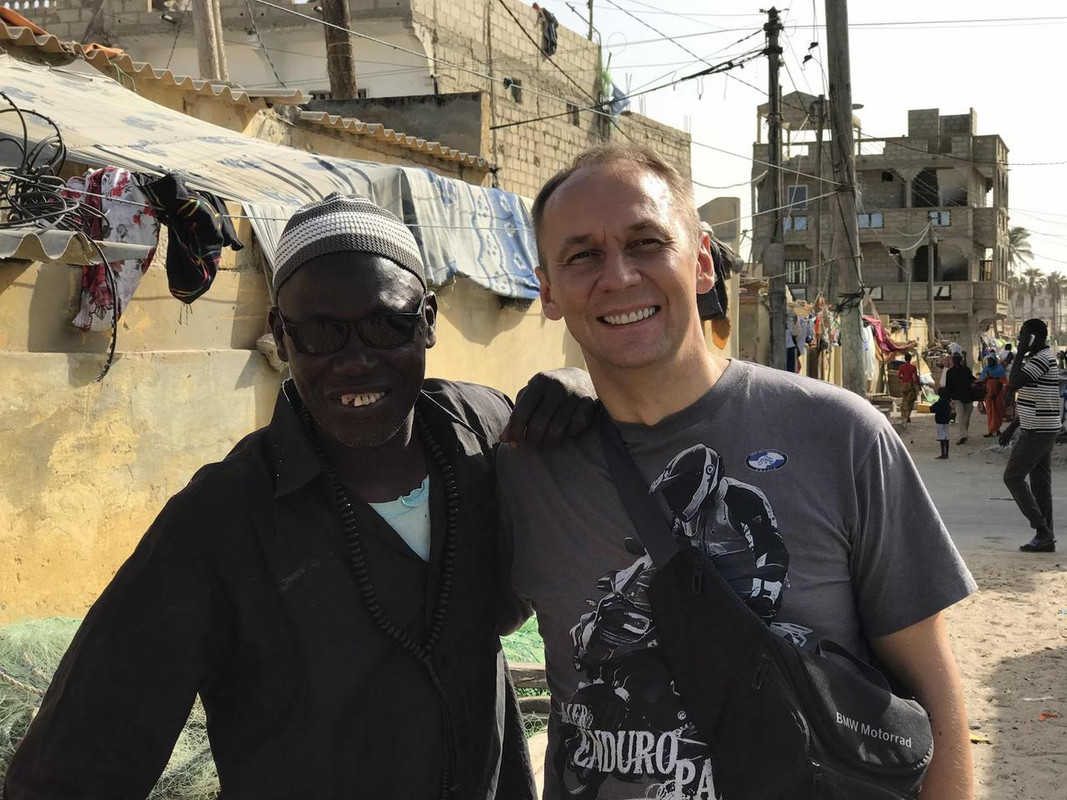 He told us that a strong storm blew away the nearby houses and many fishermen were left homeless.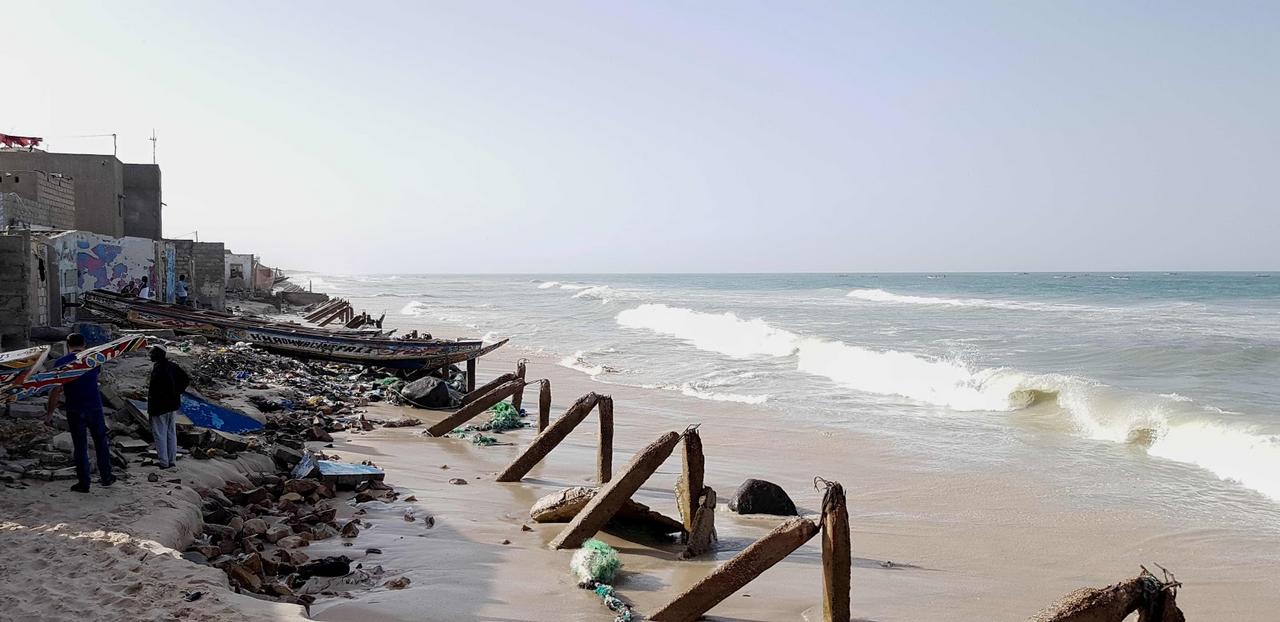 Right now the waves are washing over the ruins.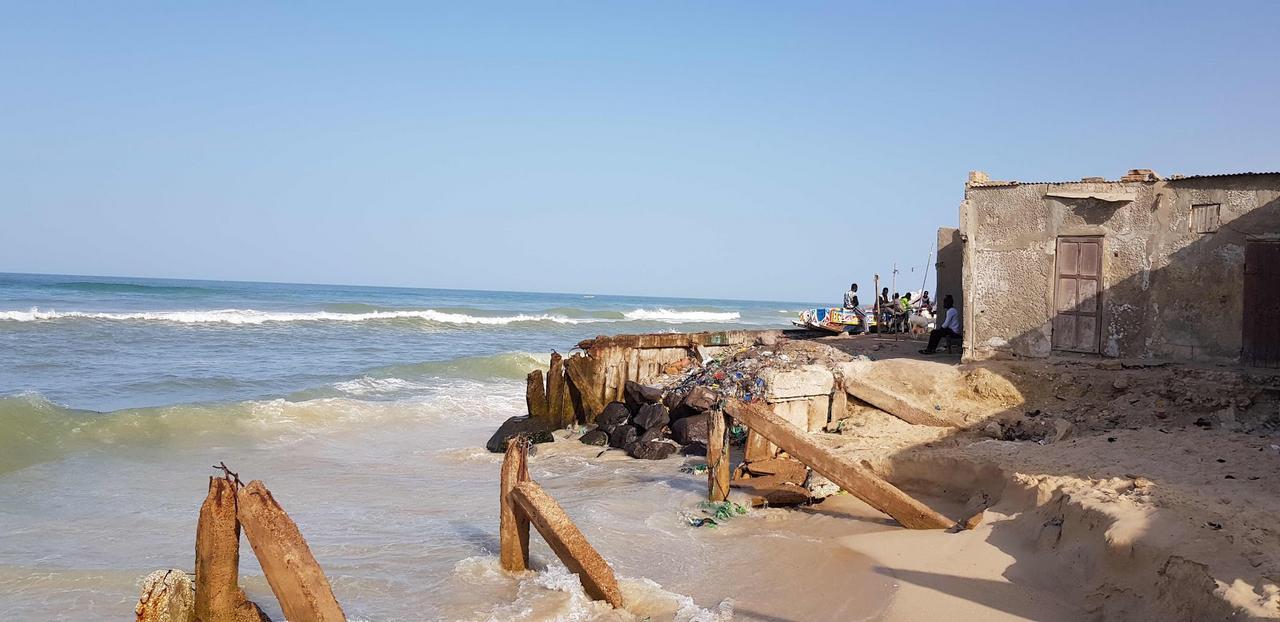 So many sheep, they're everywhere.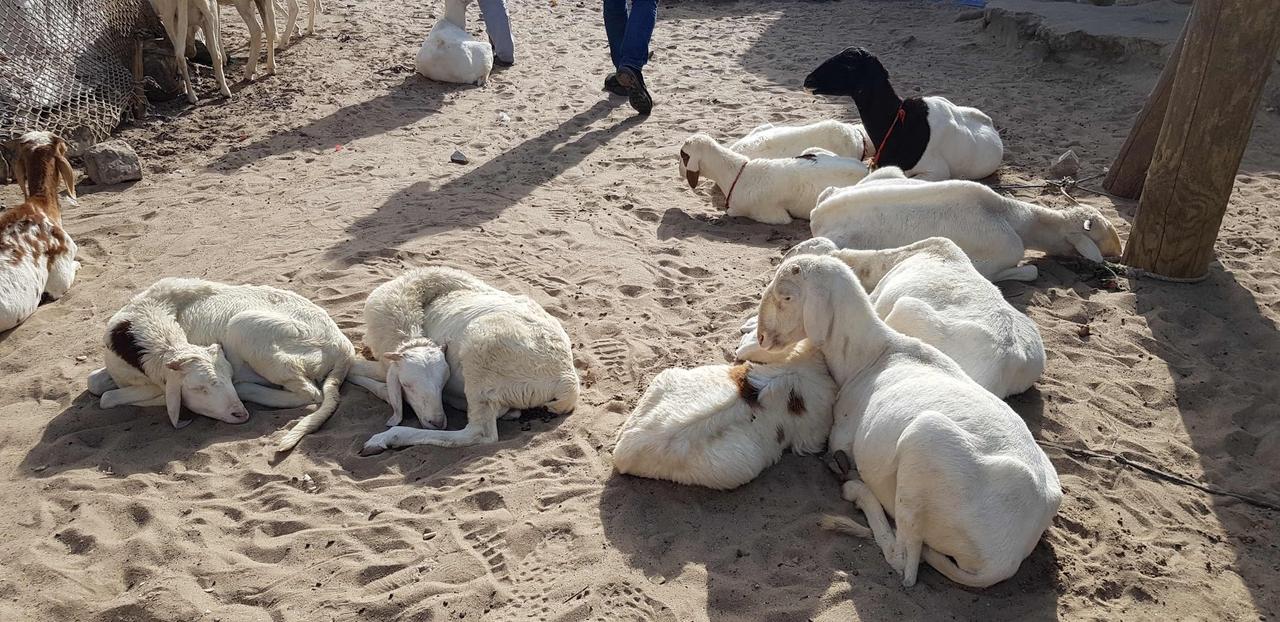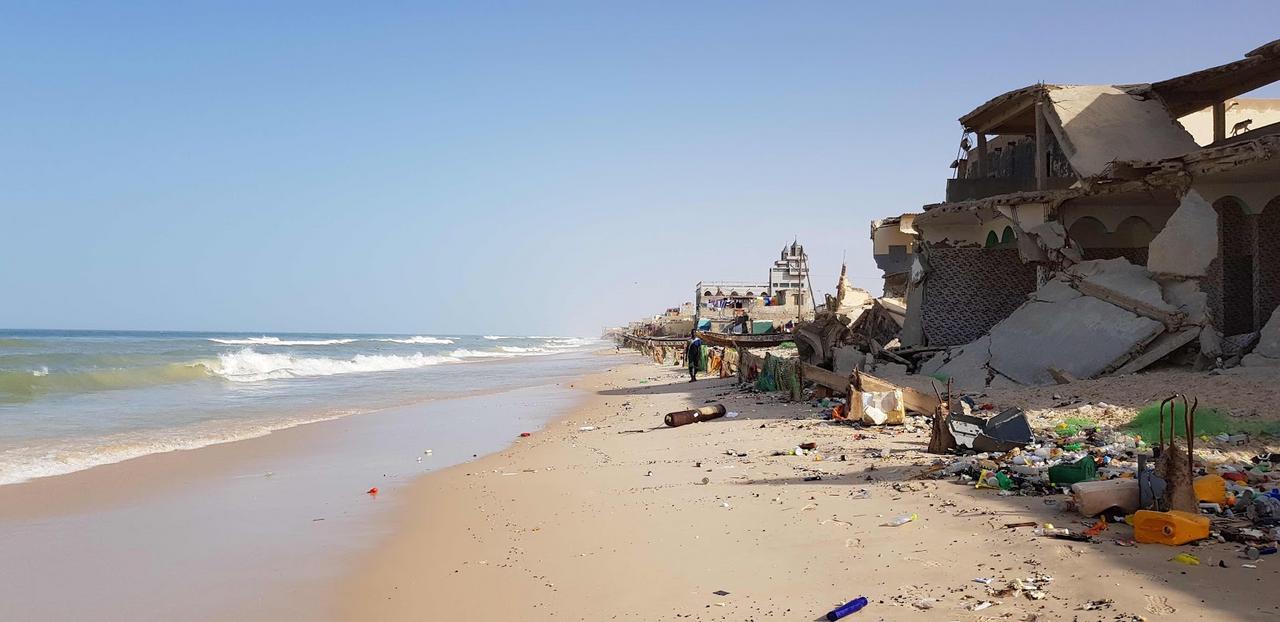 A fishing schooner pushing a wave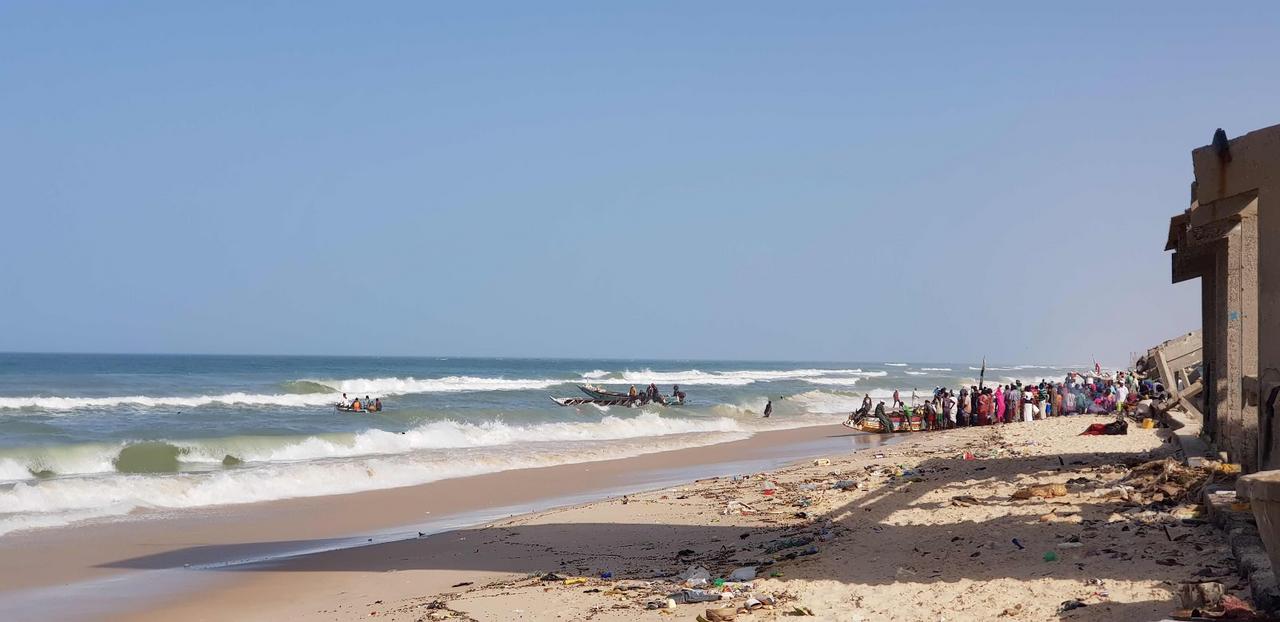 This is what the streets where Senegalese life looks like.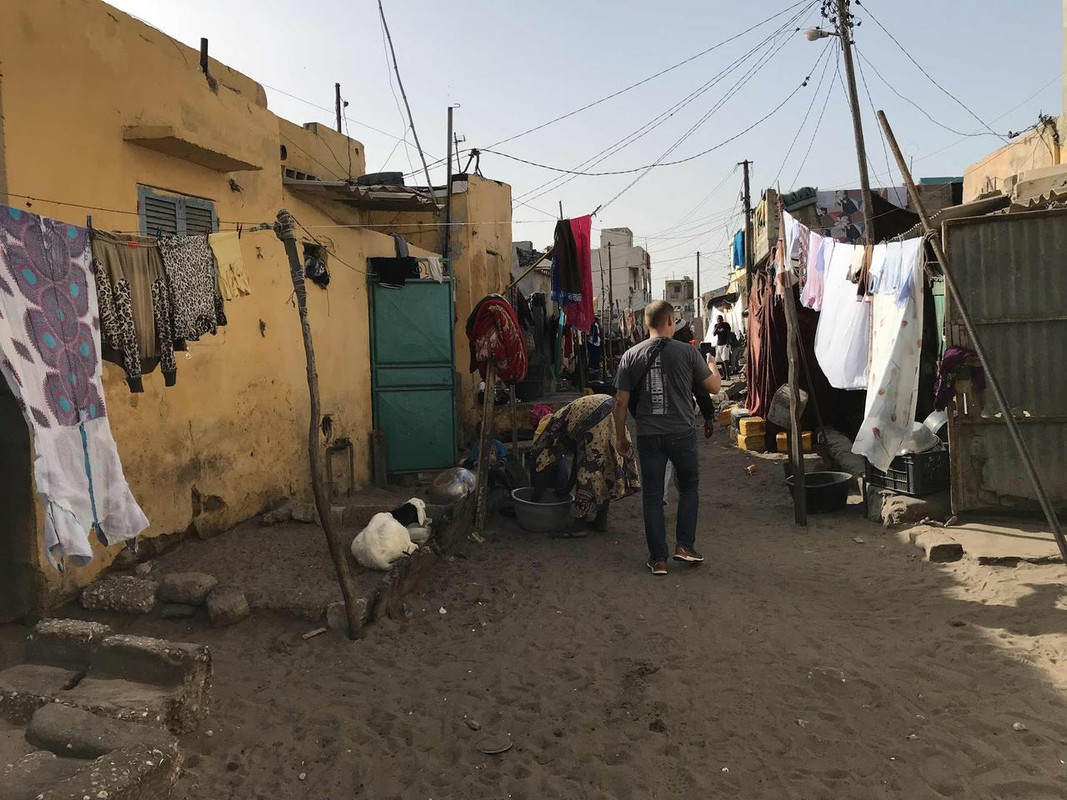 All the alleys are sandy.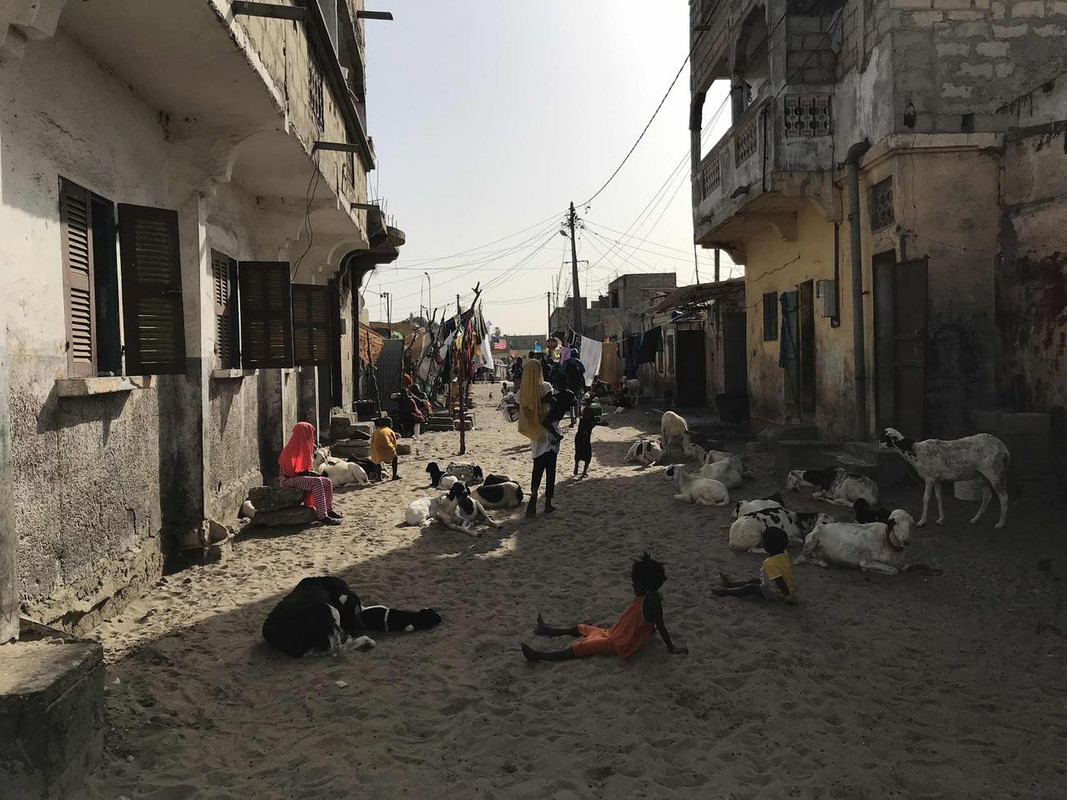 There's no running water and not everyone has electricity.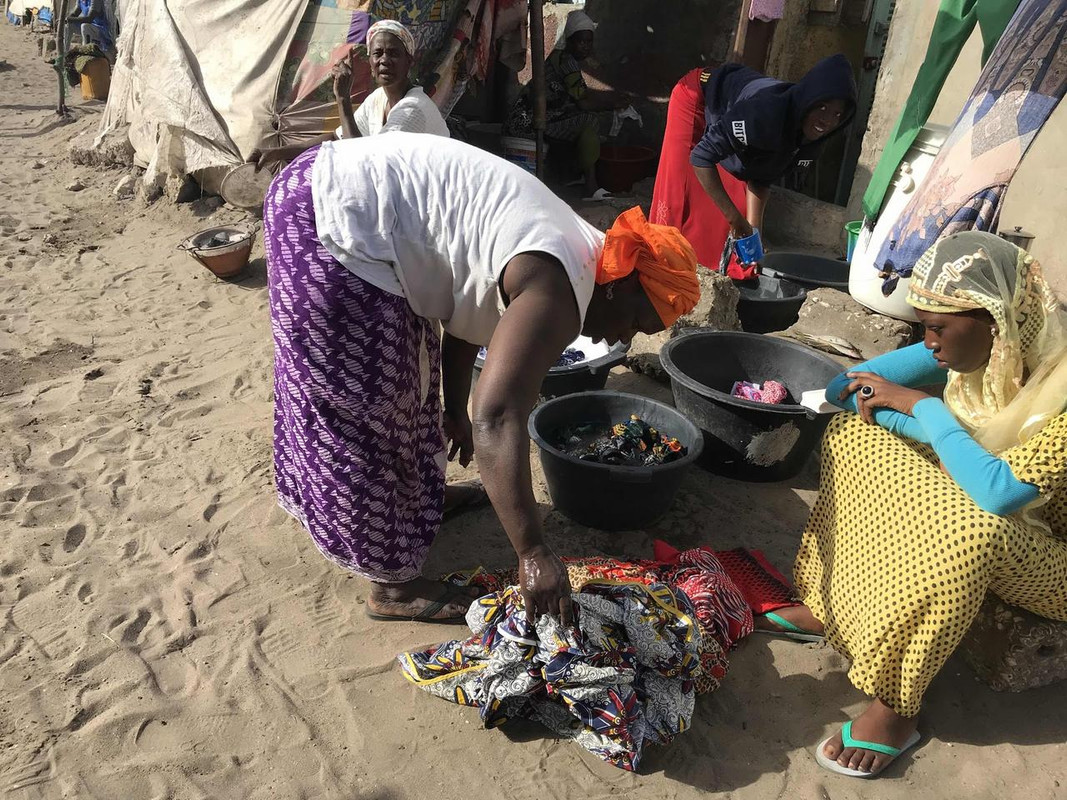 There are occasional stores selling charcoal. They cook food with it.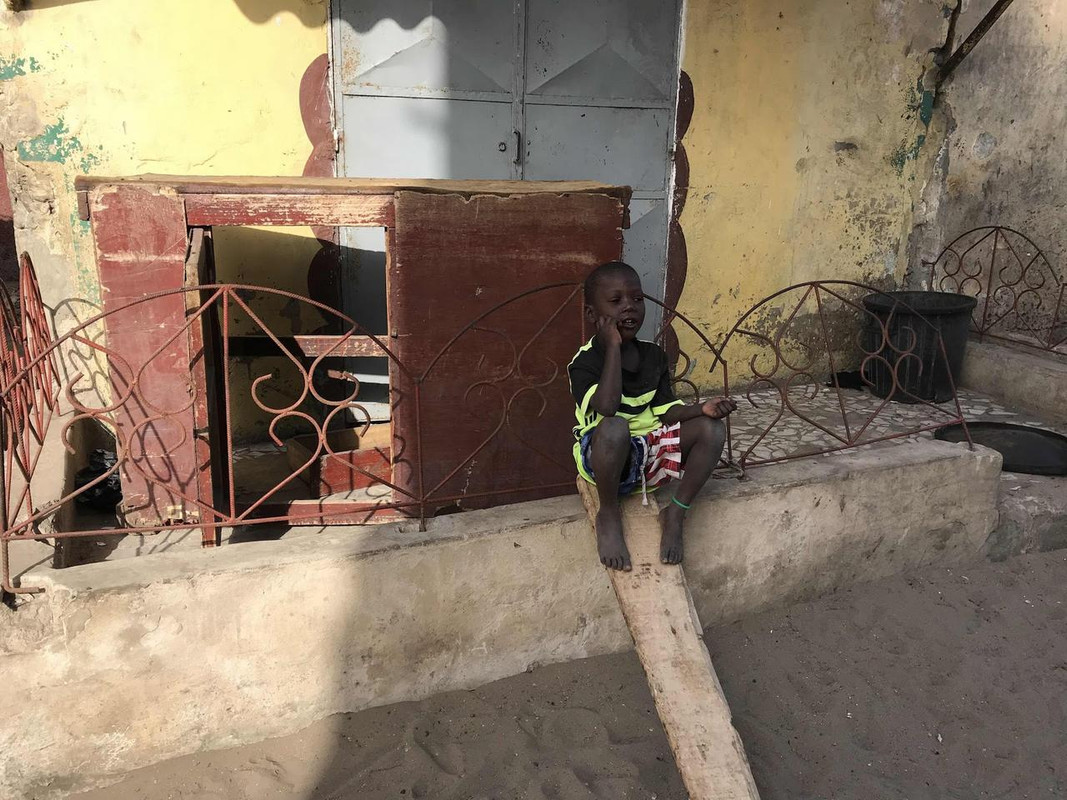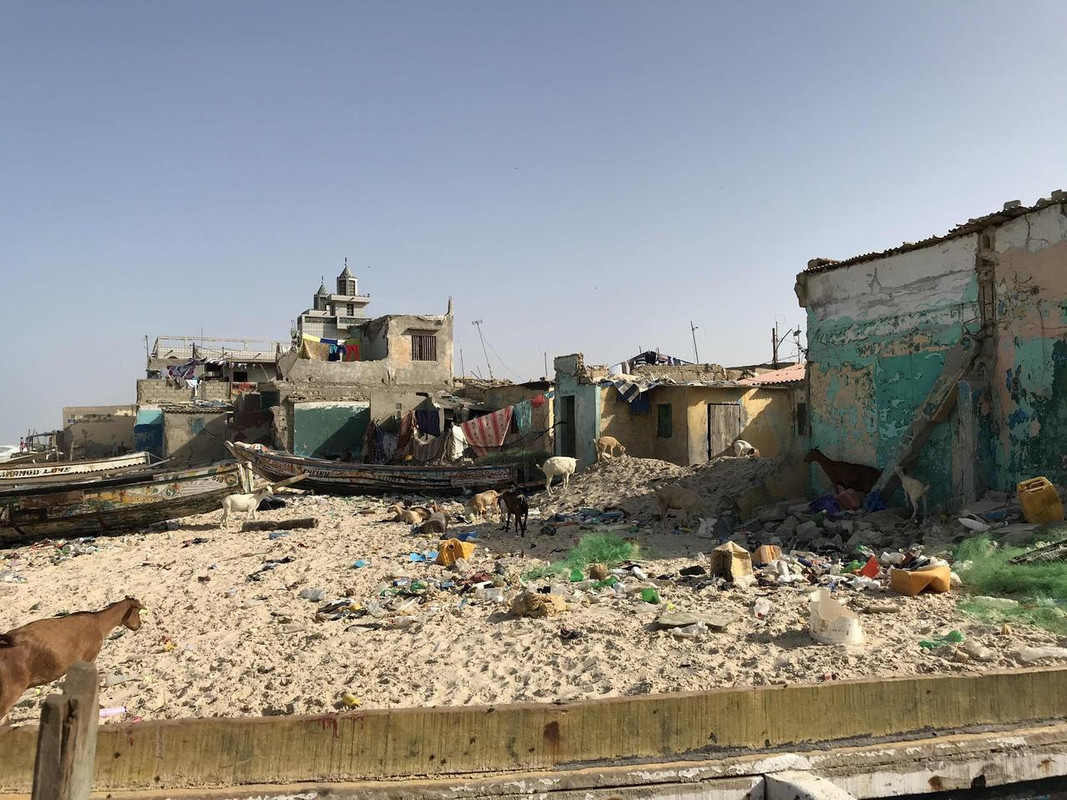 A sad picture. Children playing in the trash.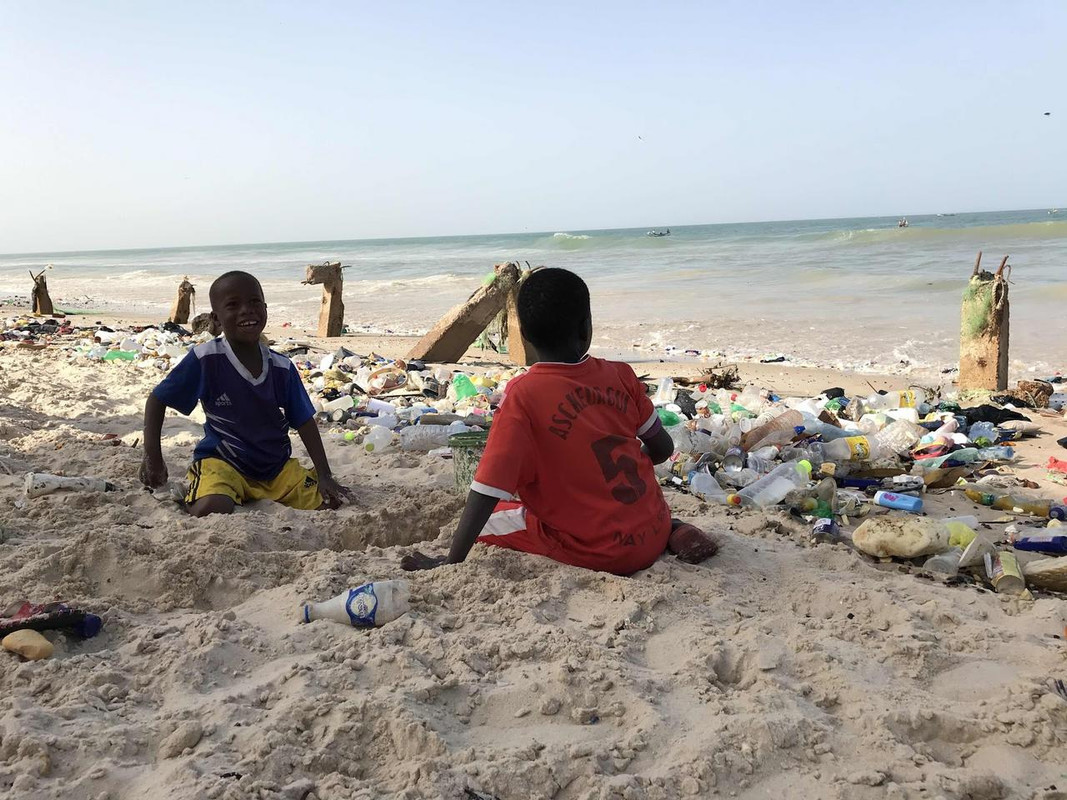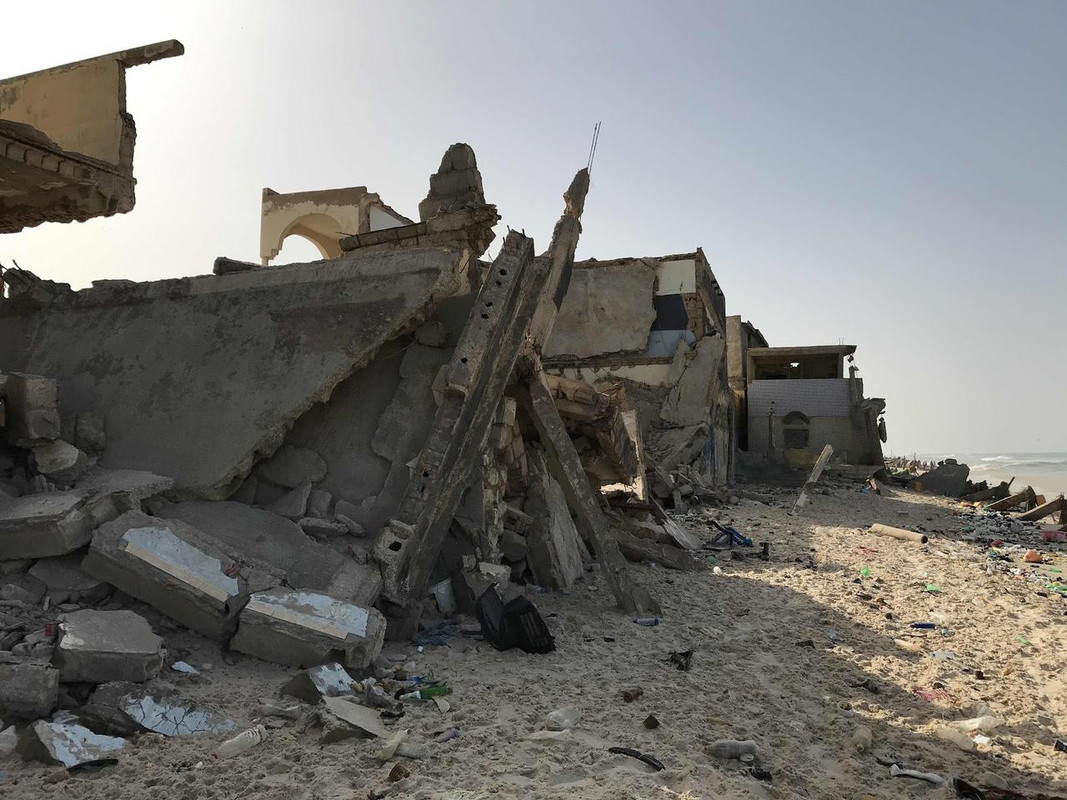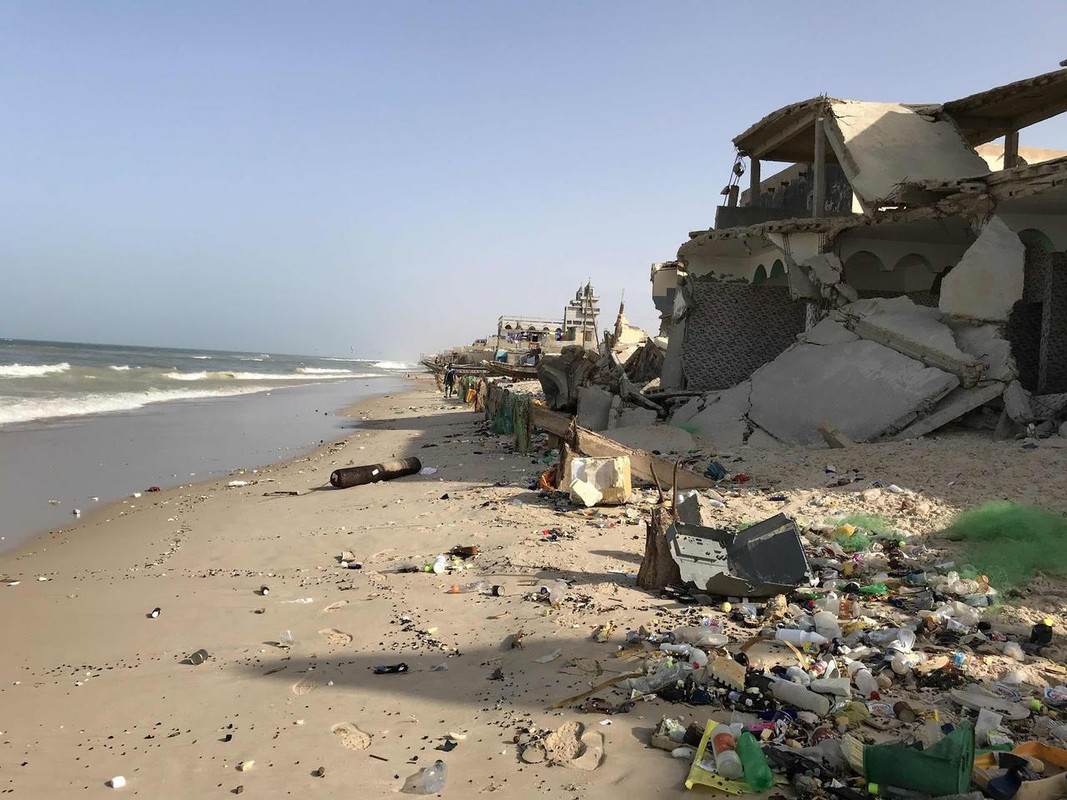 This is where fishermen go to get their catch.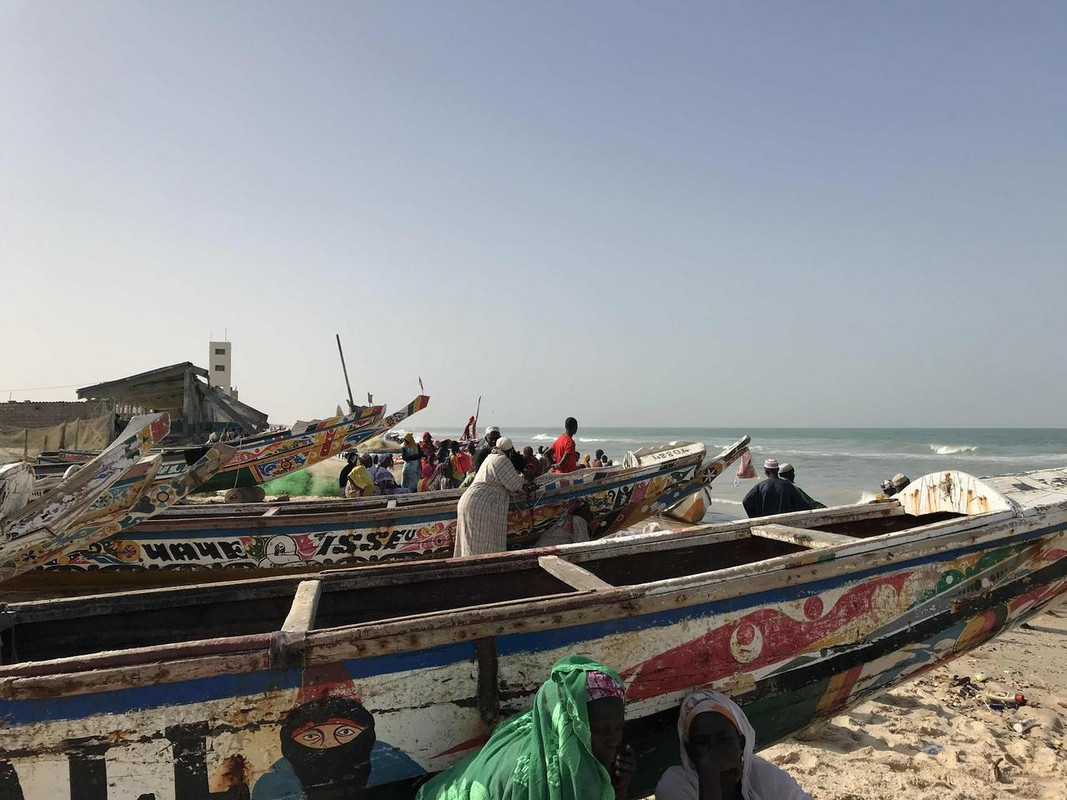 Fishermen's wives waiting for their prey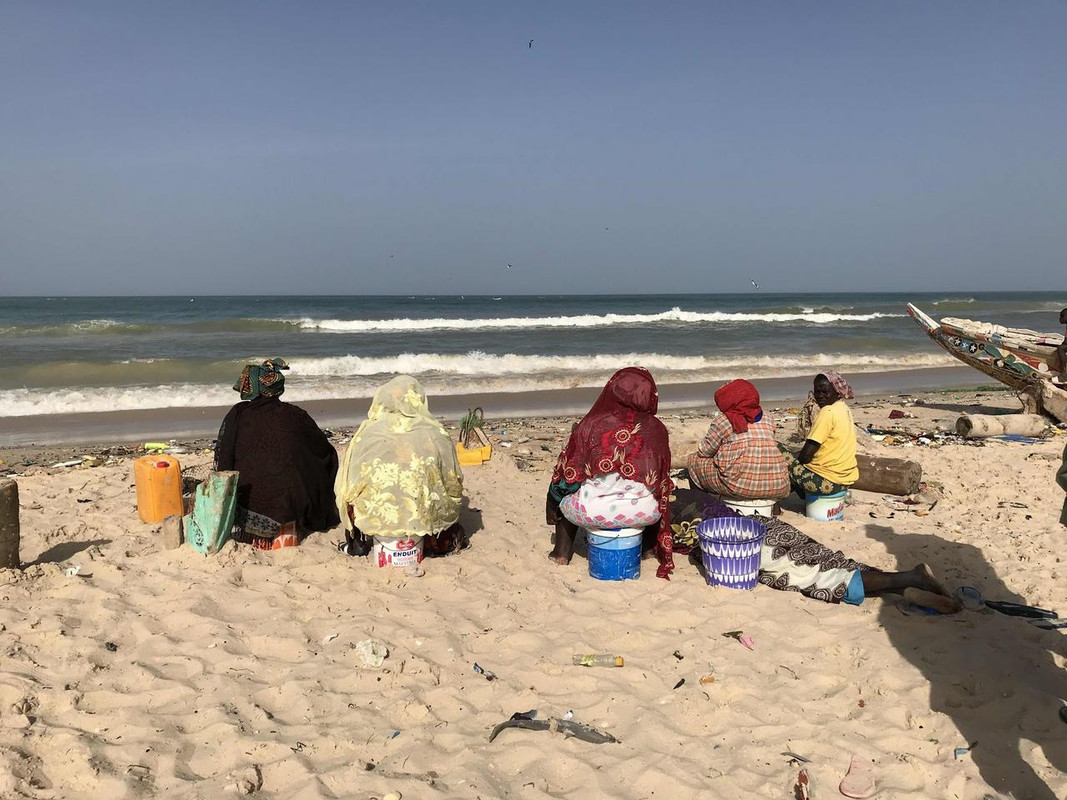 Wandering around the nooks and crannies, we came to a wholesale fish market. Not a sight for the faint-hearted, of course.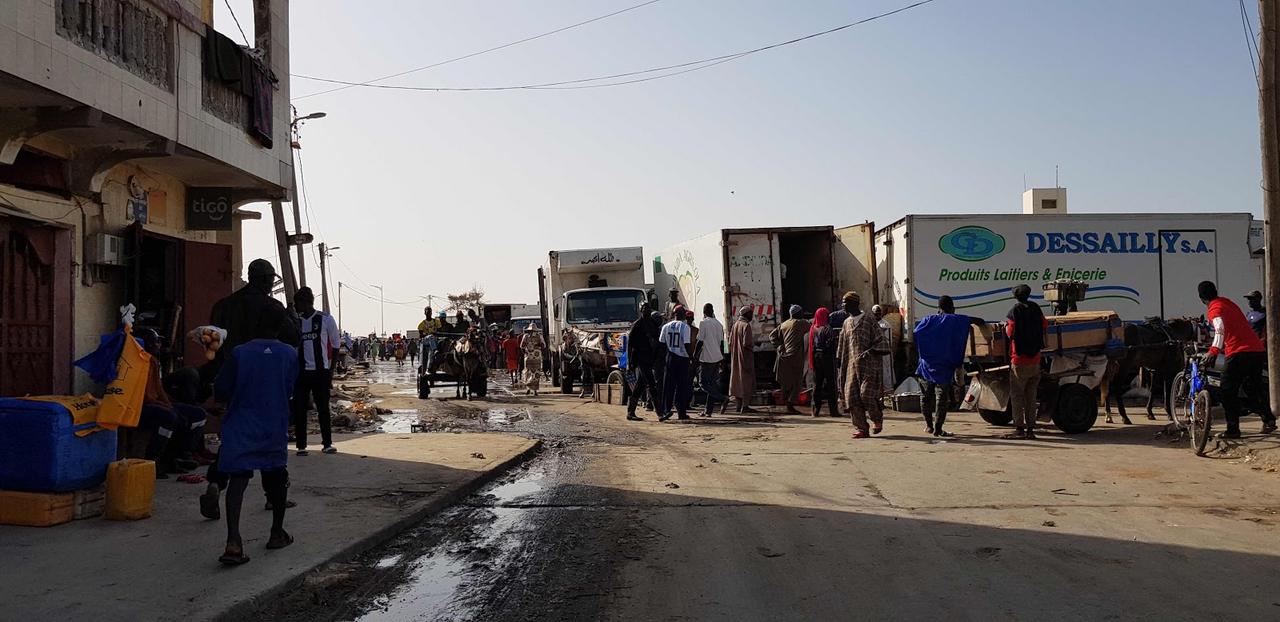 The fish are loaded with shovels into carts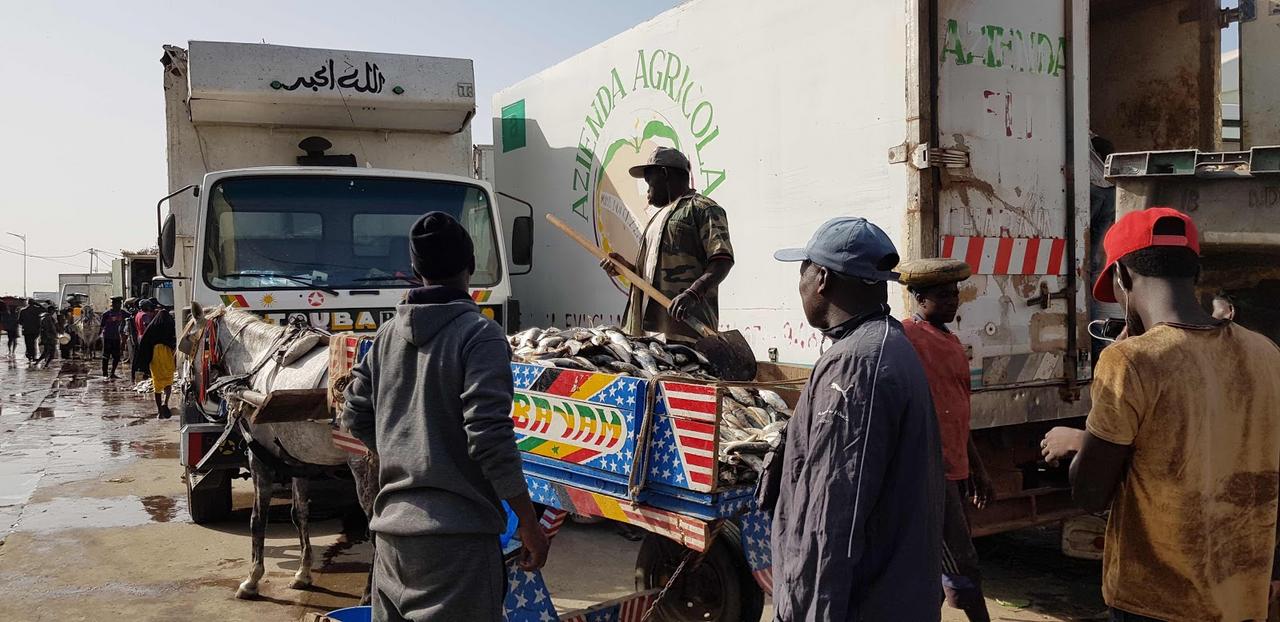 and taken to restaurants and stores.
The catch is sometimes lying on the ground.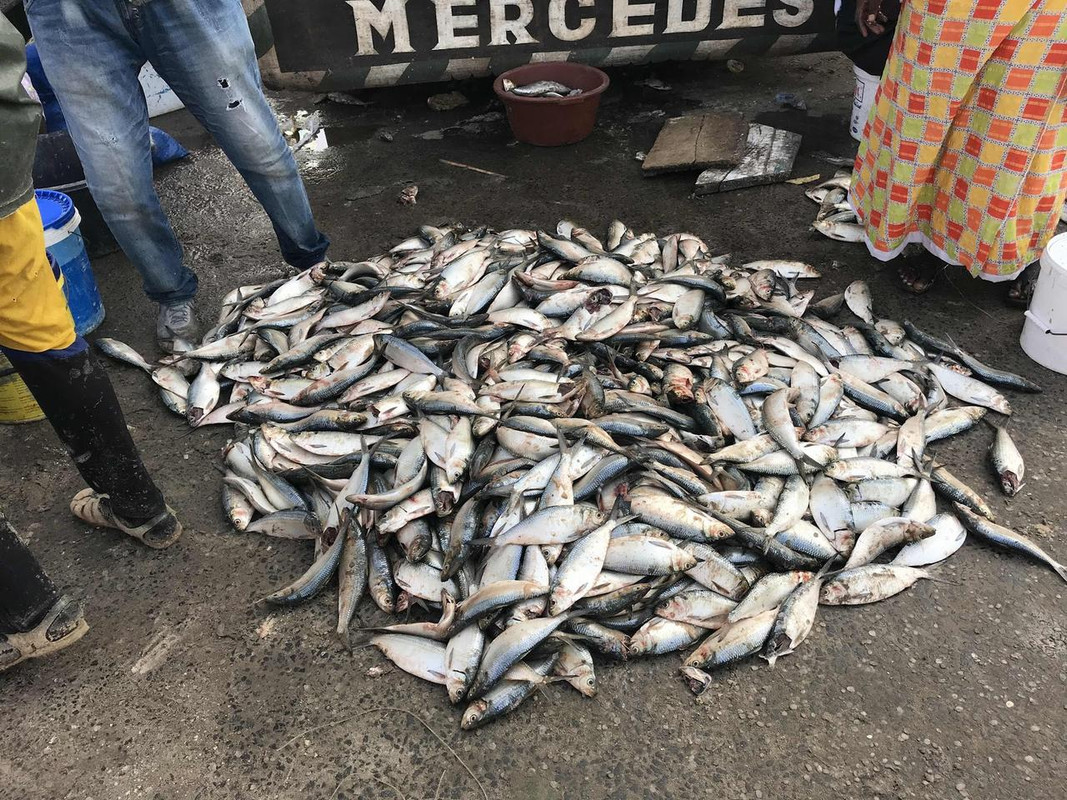 The porters are running all over the market.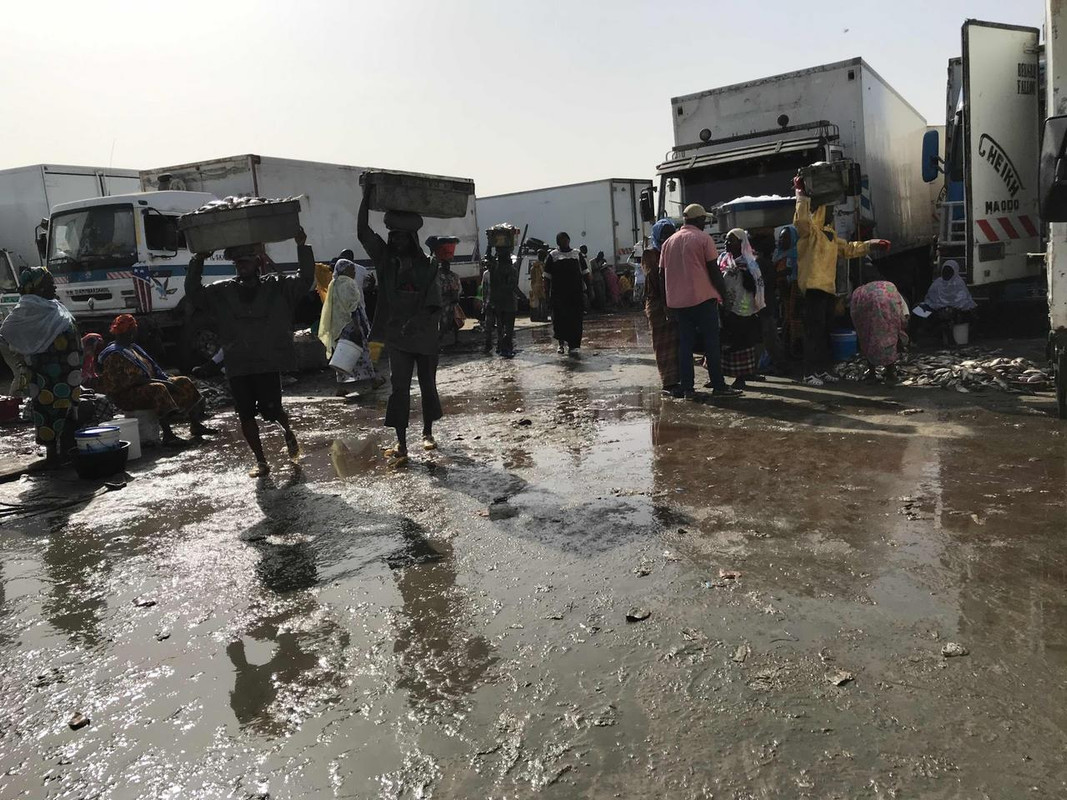 There's an ice factory nearby. It makes the storage time a little longer, because it's +37 outside.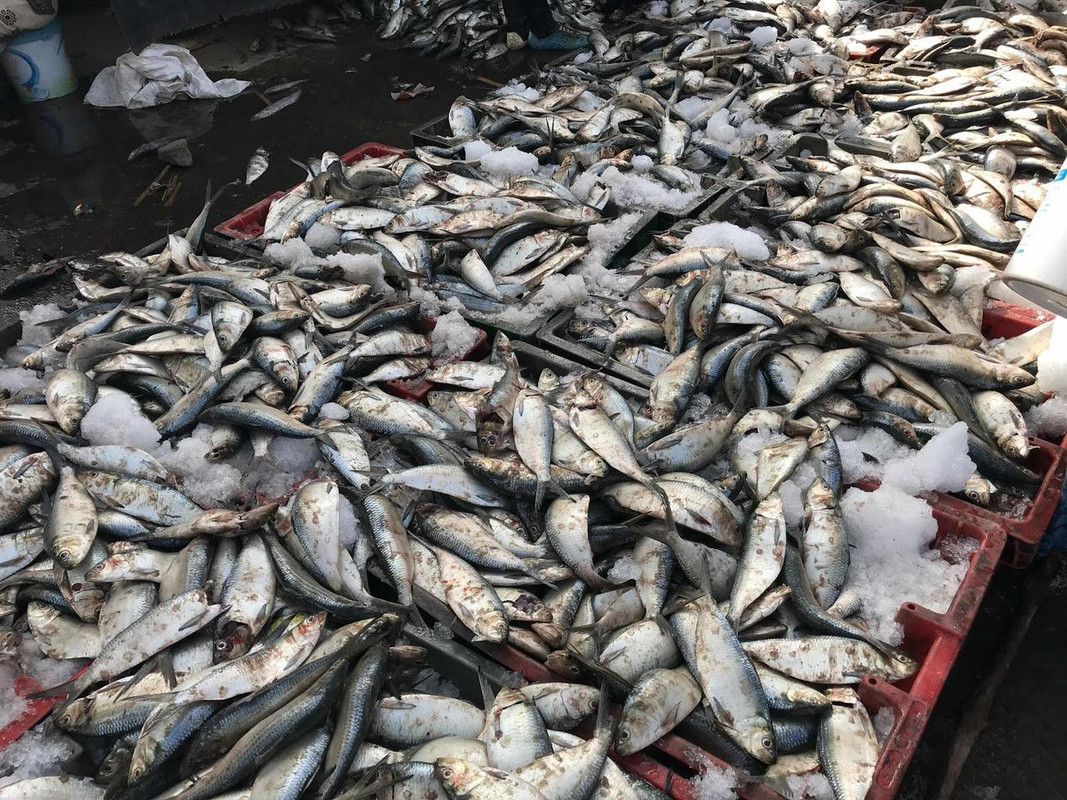 Fish of all sizes, but not everyone is allowed to take pictures.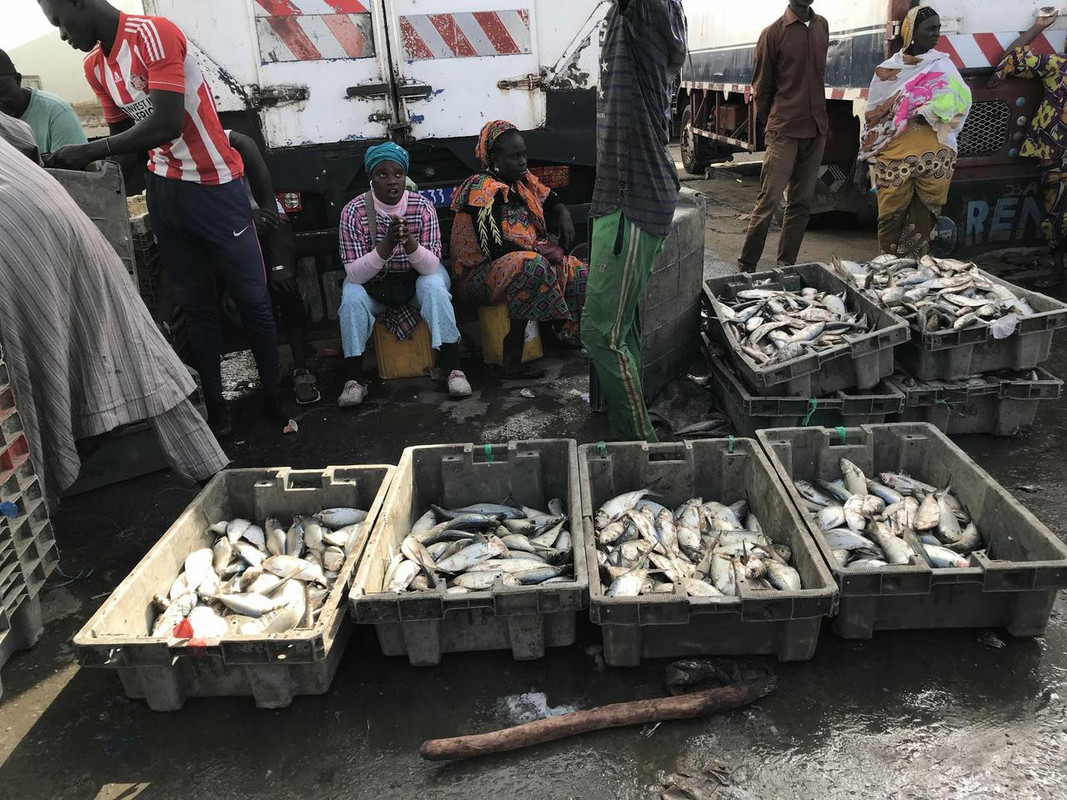 This is also where the trucks are loaded and from where the fish is transported all around the country.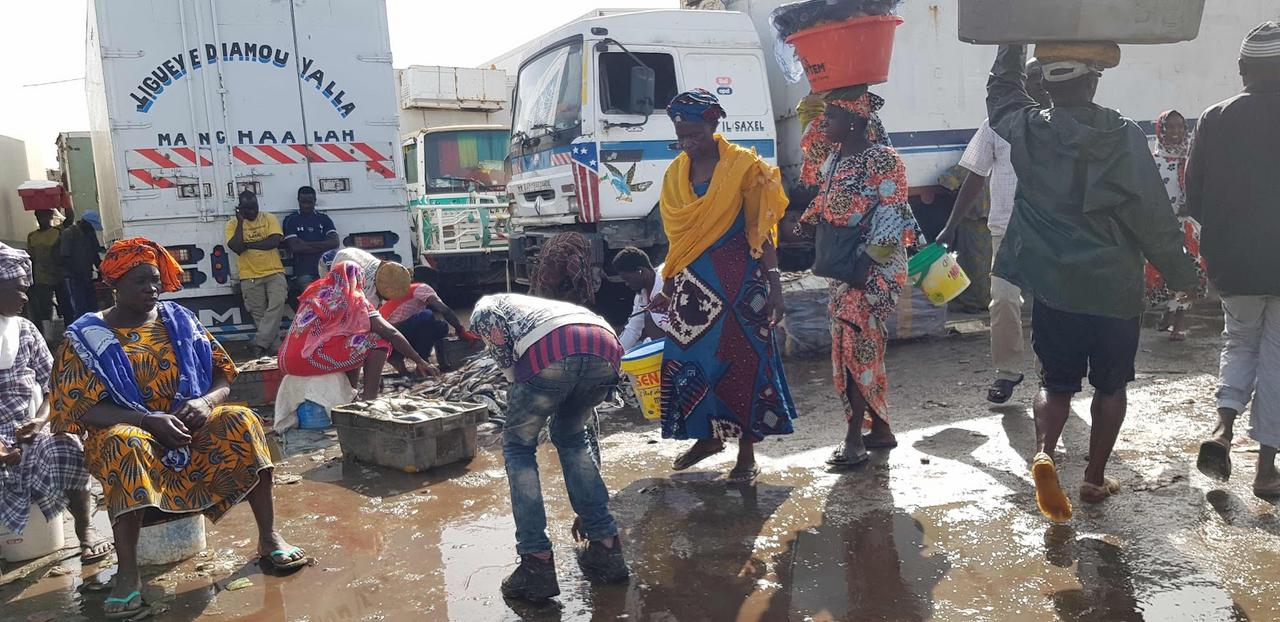 The embankment where the boats are stored.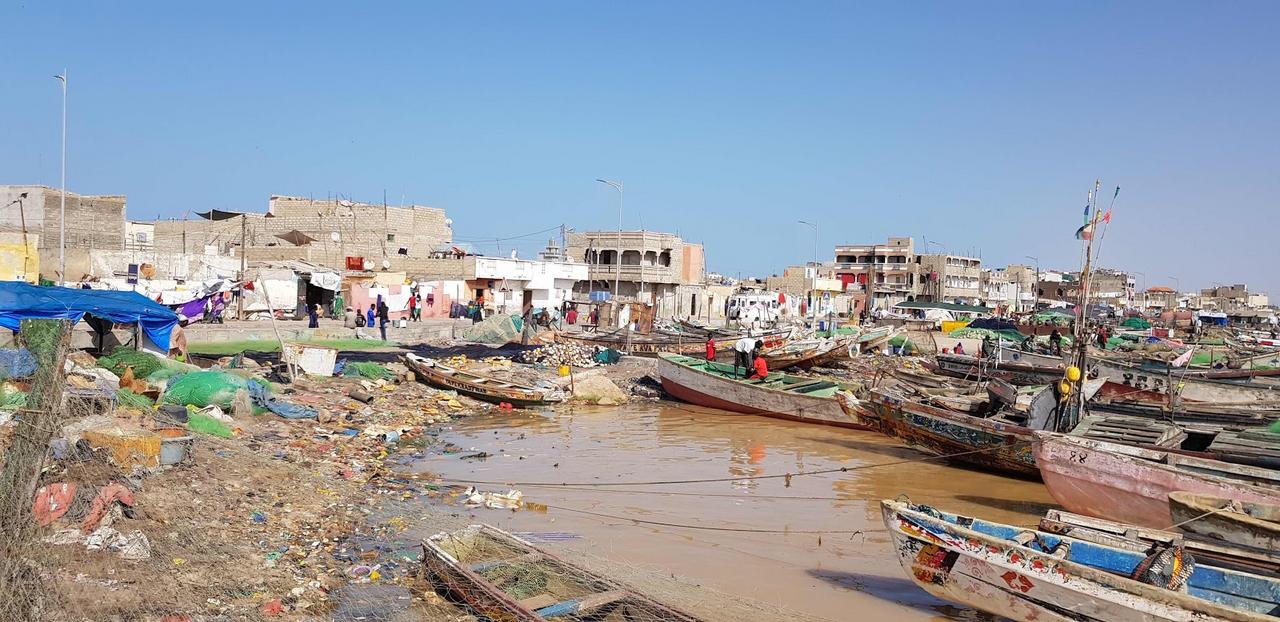 The number of boats is unbelievable.
Here you can have your motor repaired.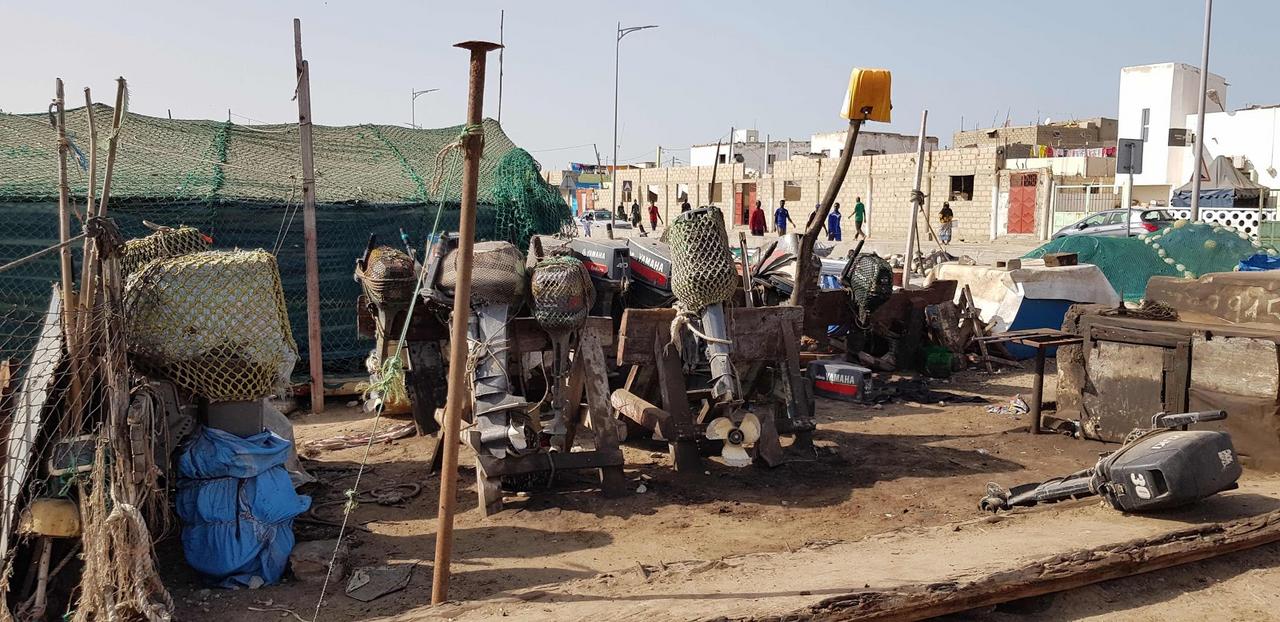 And this is the retail market, mostly women buy here.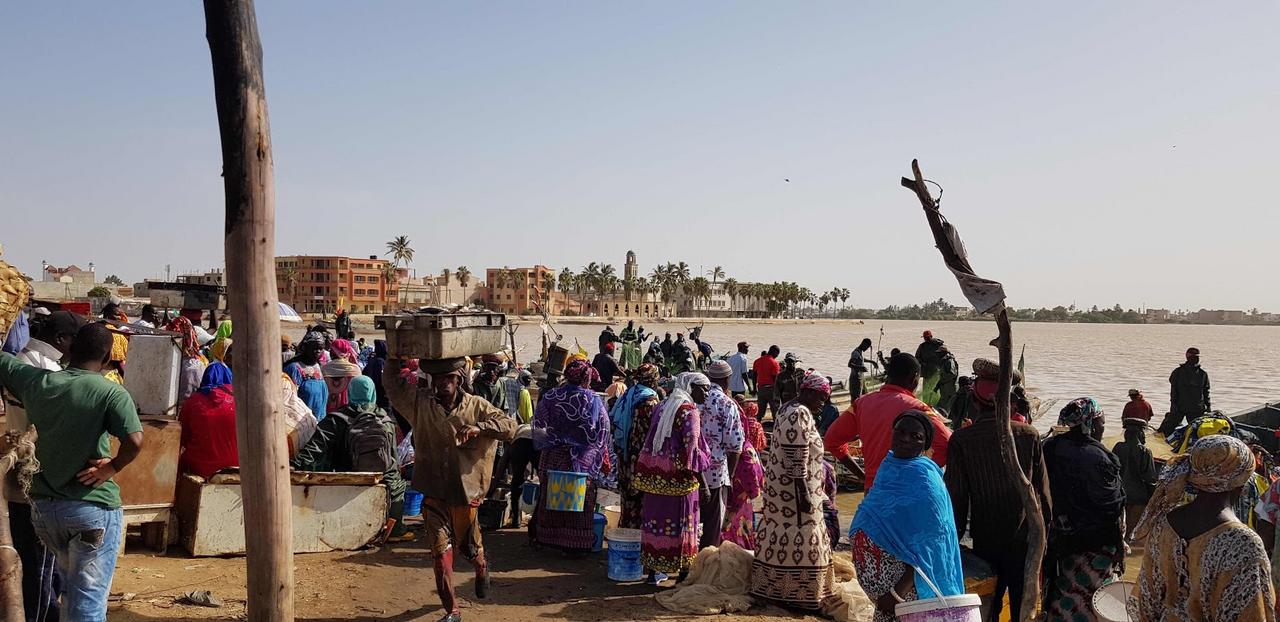 Too bad I couldn't take a picture of women carrying huge fish of 5-6 kilos on their heads without any bags and baskets…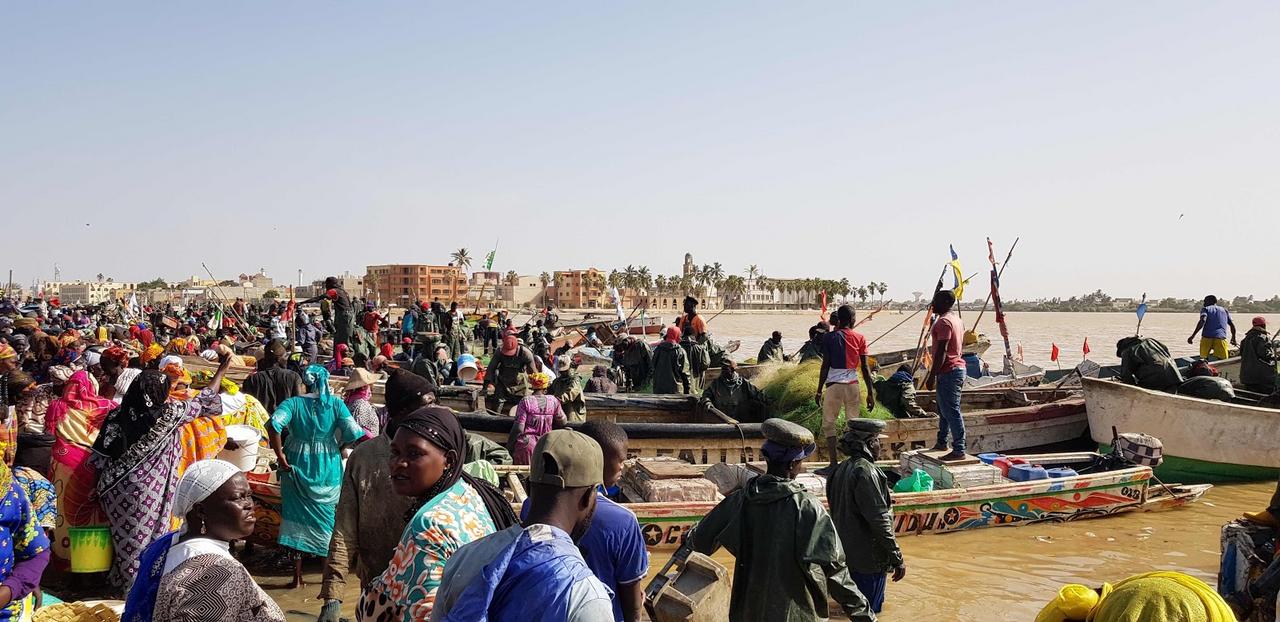 Carriers also carry the cargo on their heads and wear rubber covers.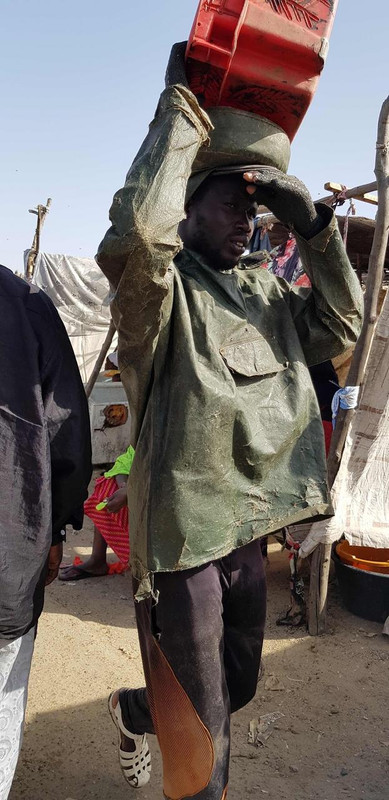 Here you can also taste the fresh catch.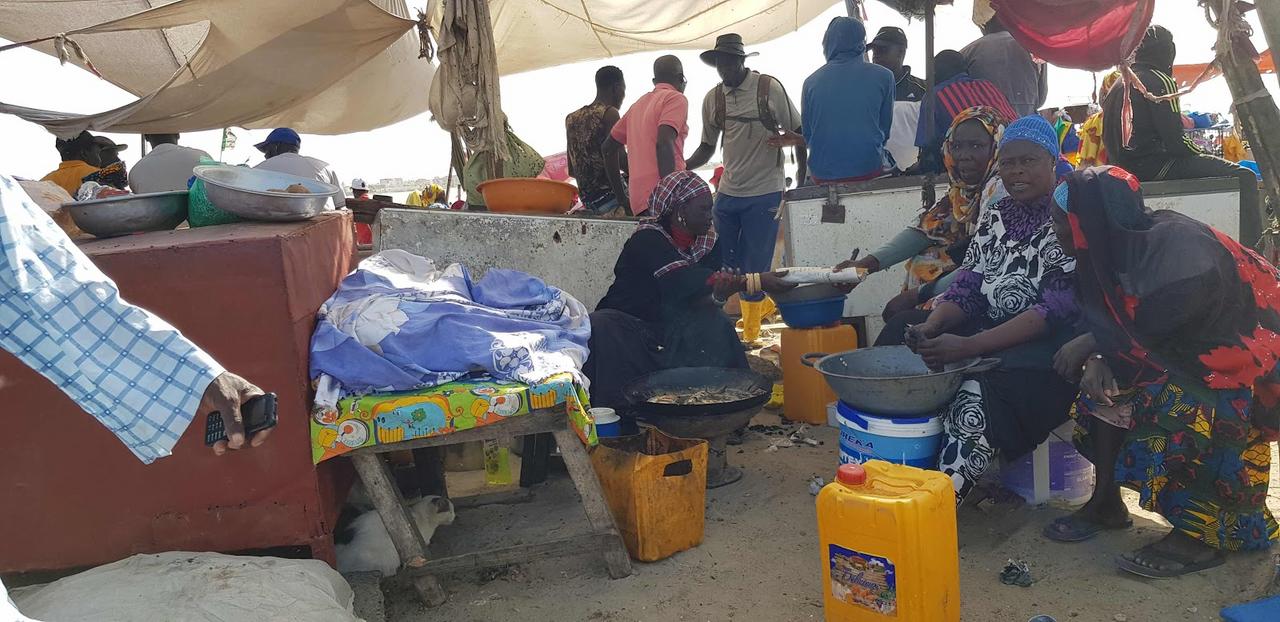 Most of the residents make their living by fishing.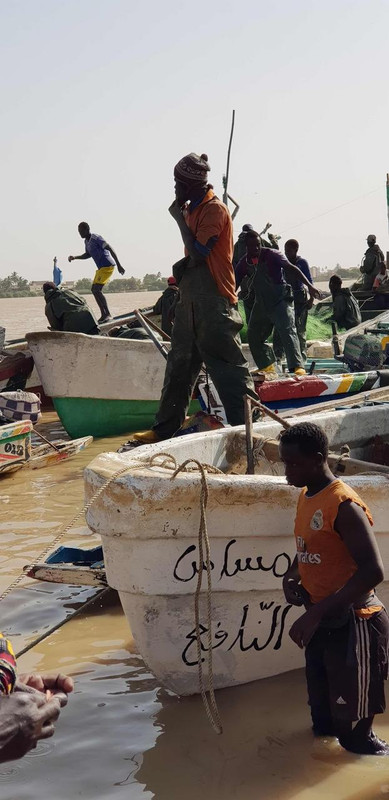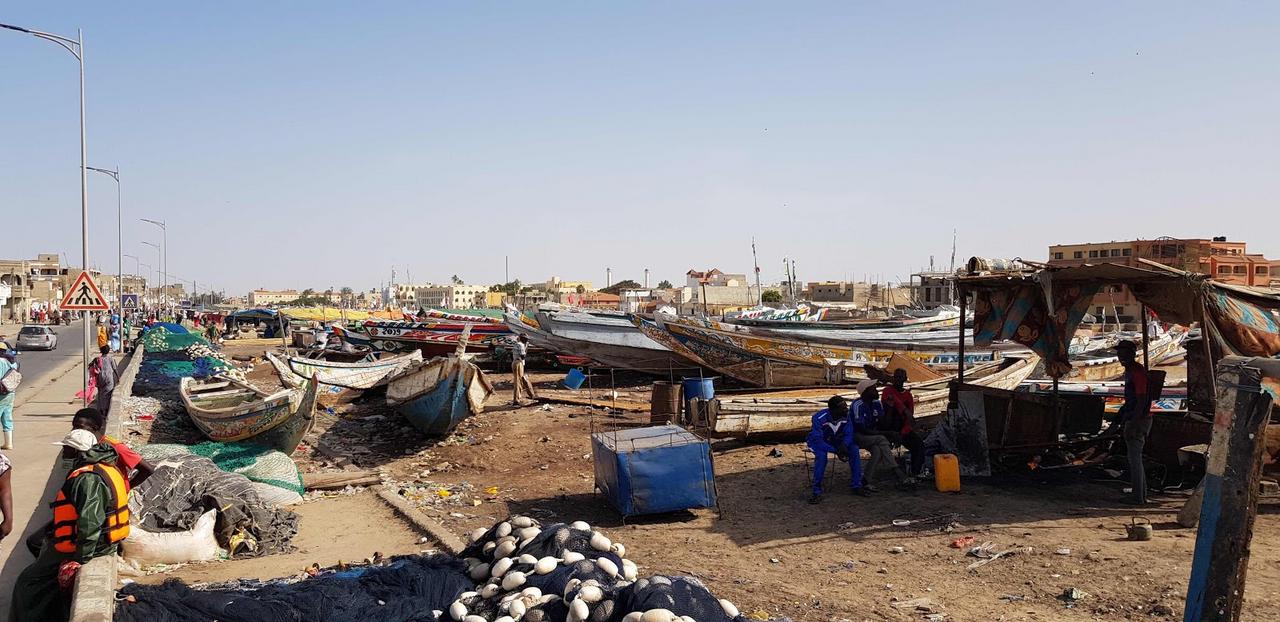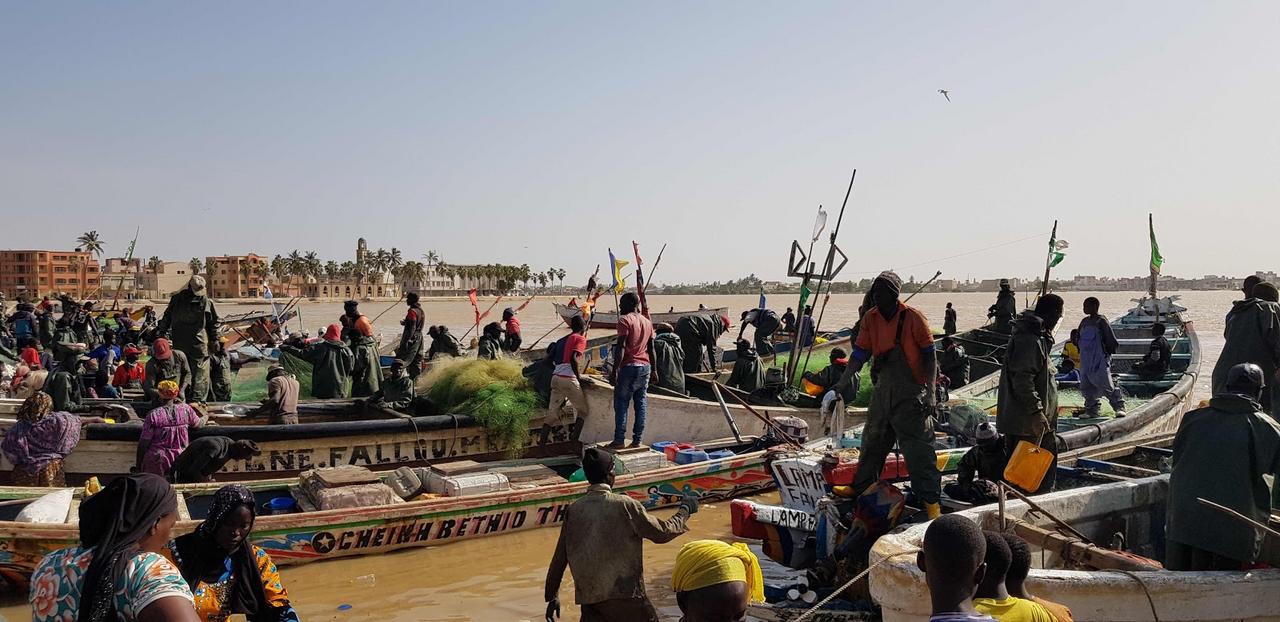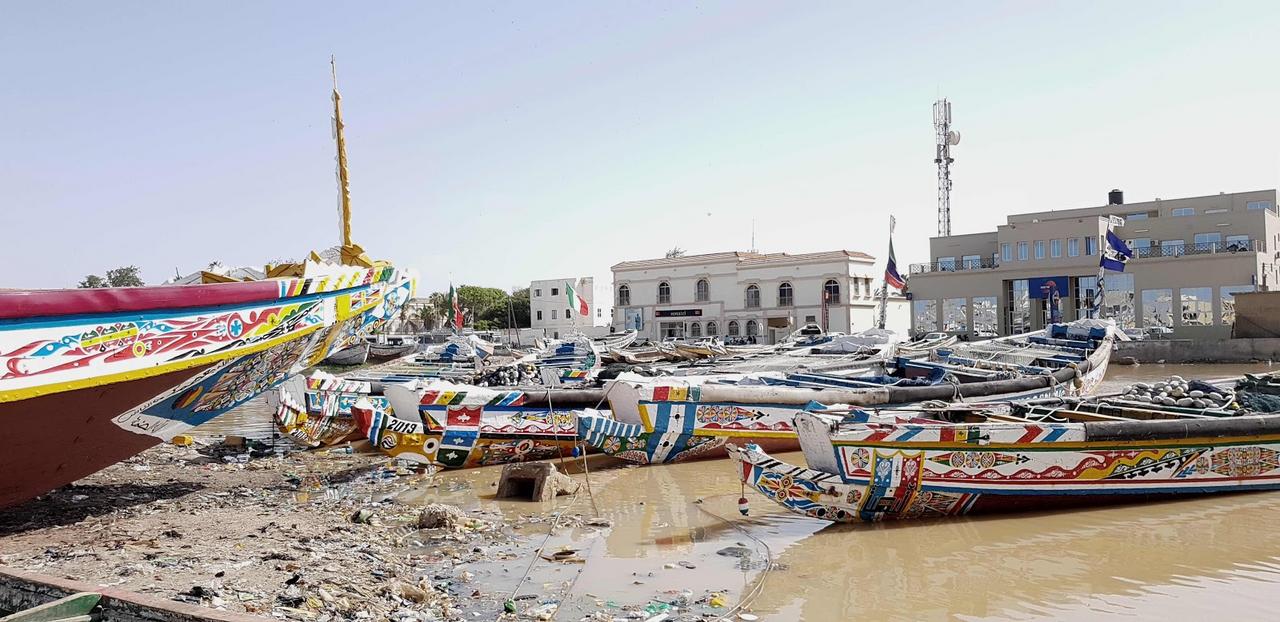 The boats are very beautiful and made entirely by hand, as they were hundreds of years ago.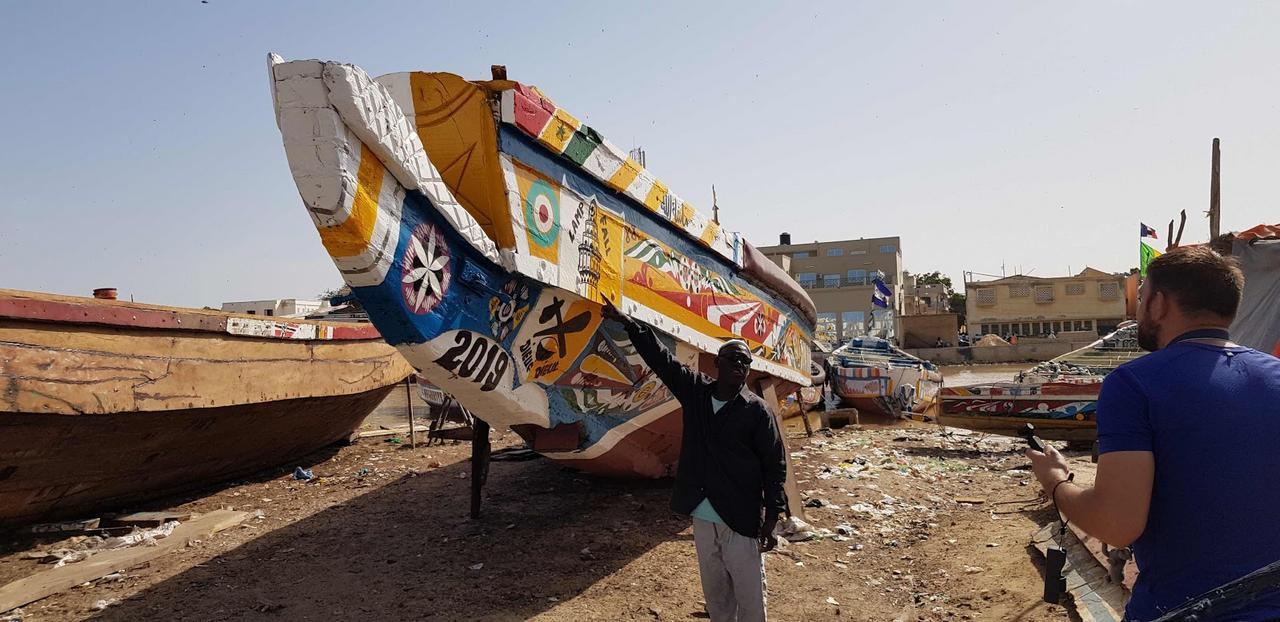 Occasional pelicans are seen.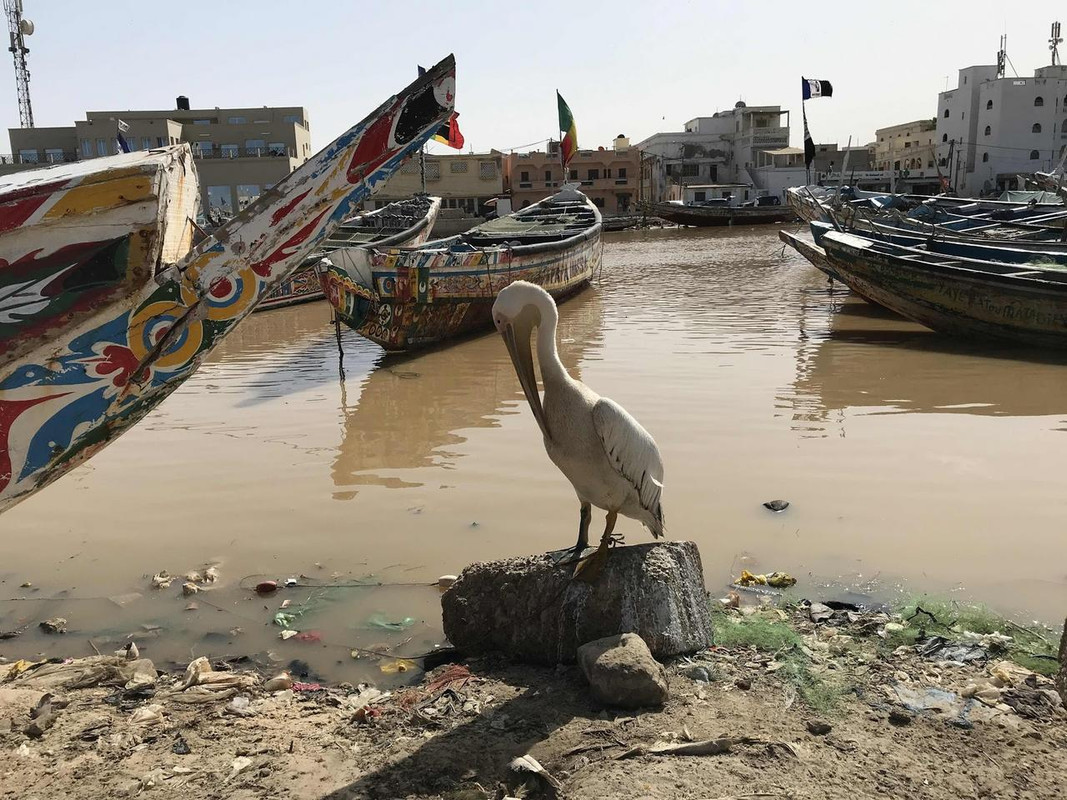 Protection from the scorching sun next to the store.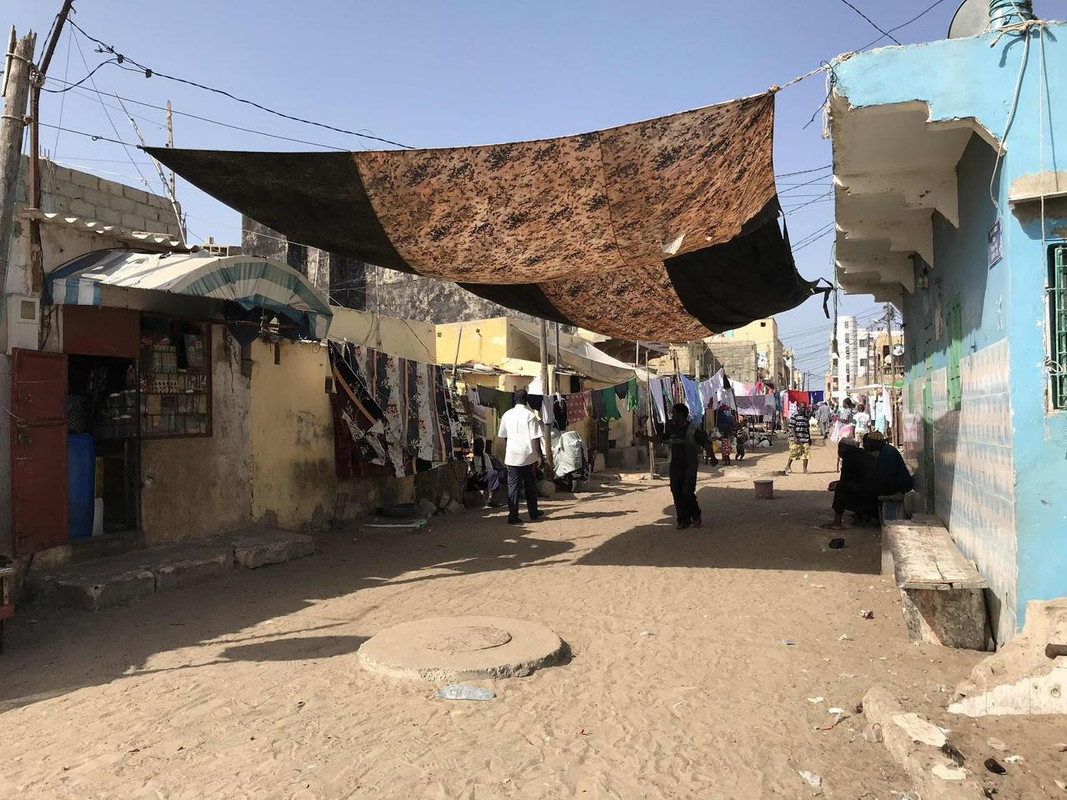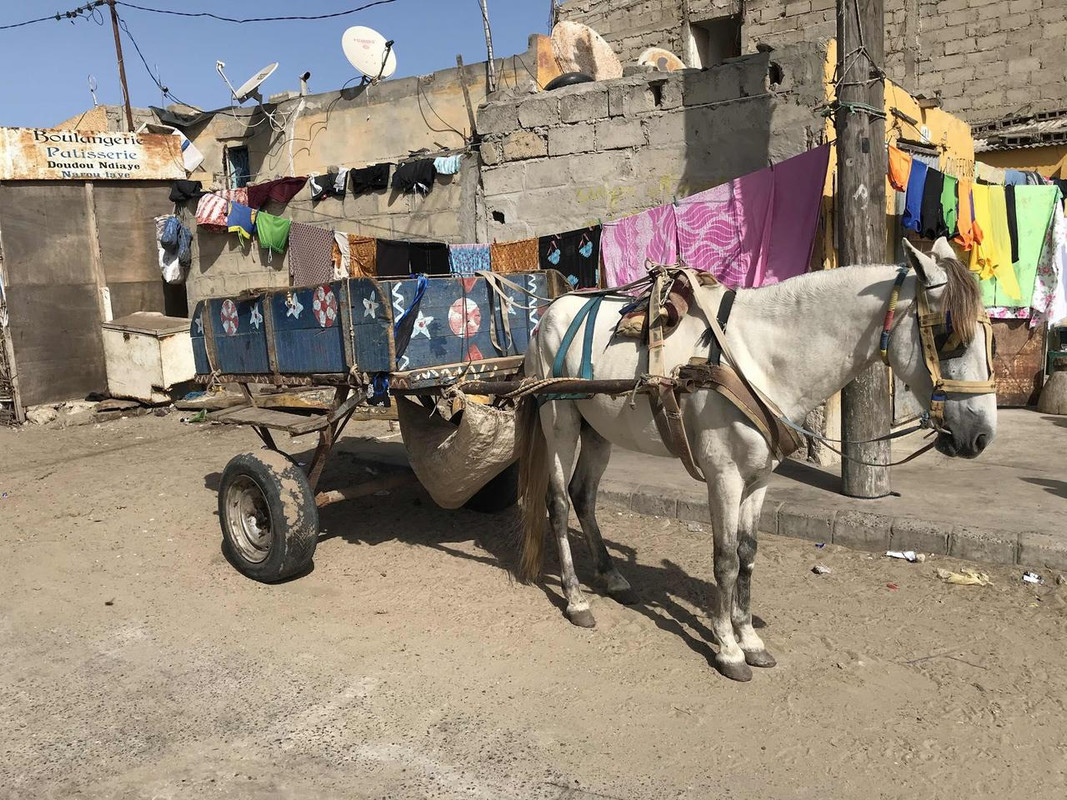 Kids mostly walk around barefoot.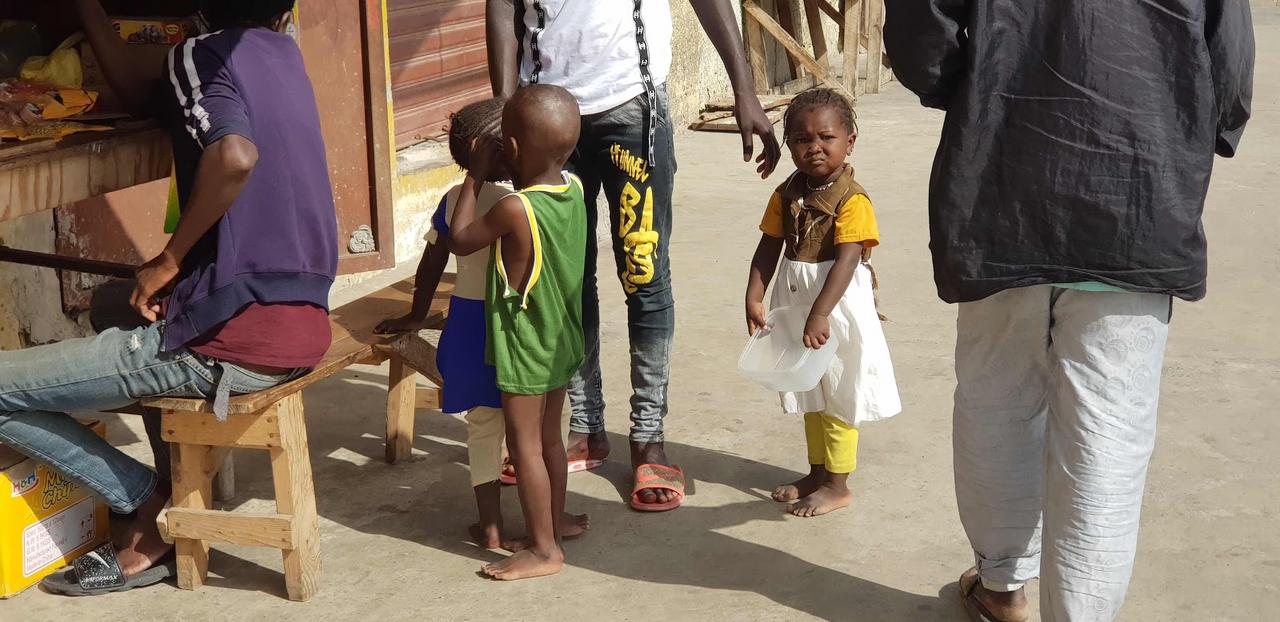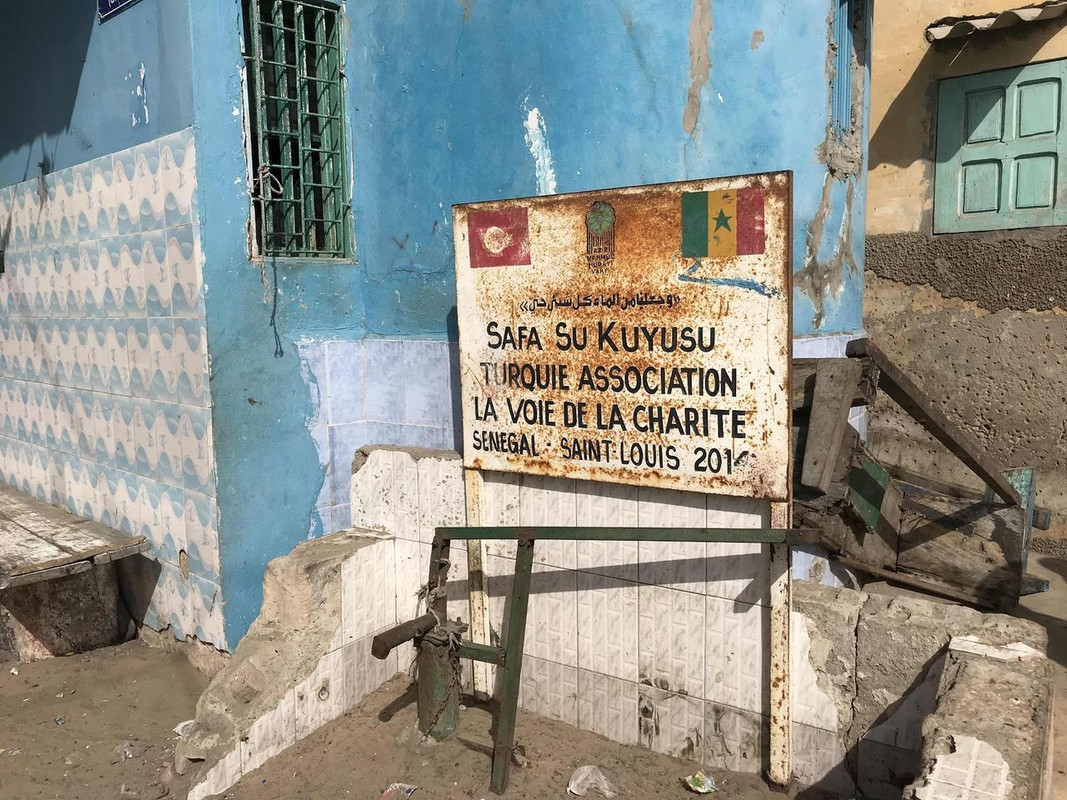 All the gas stations in town are behind bars.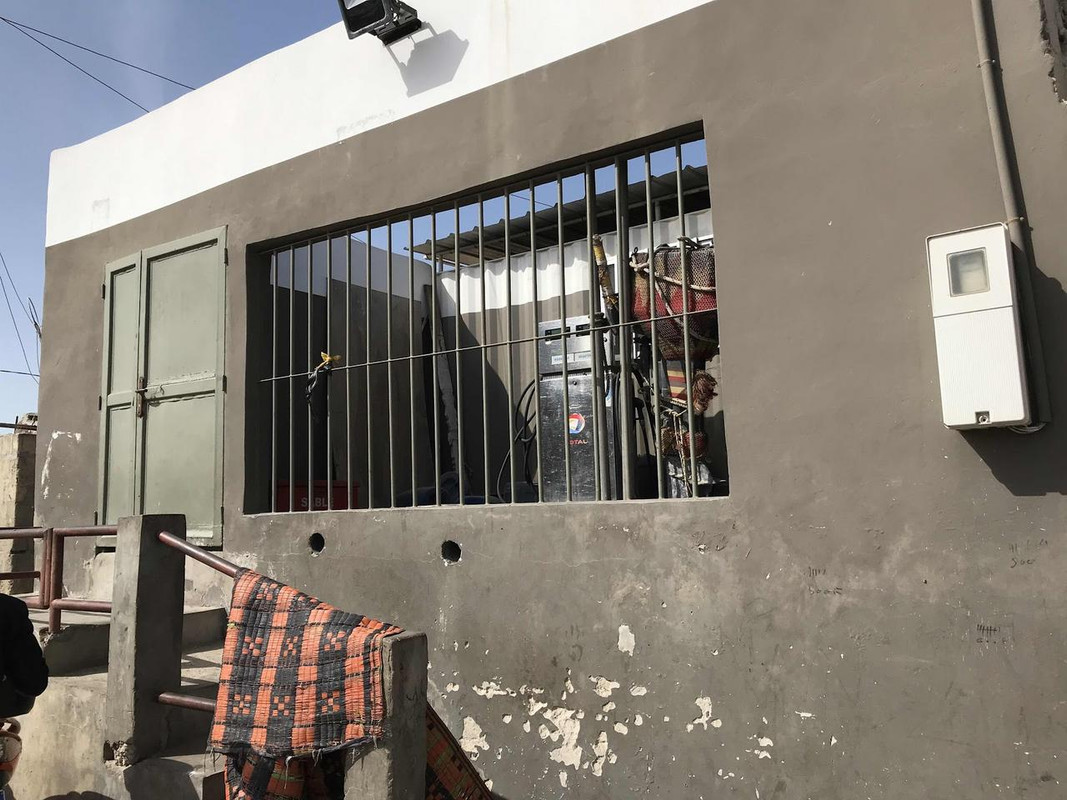 These boats take part in competitions and guide with a smile imitates the stroke of an oar :))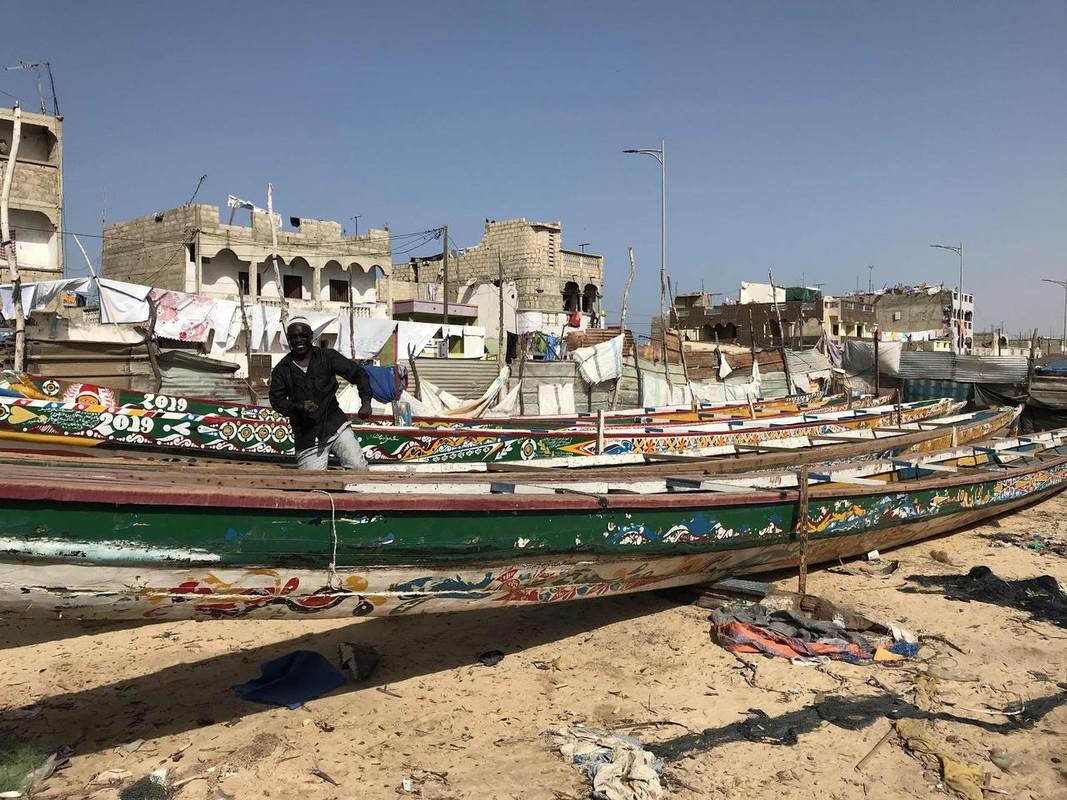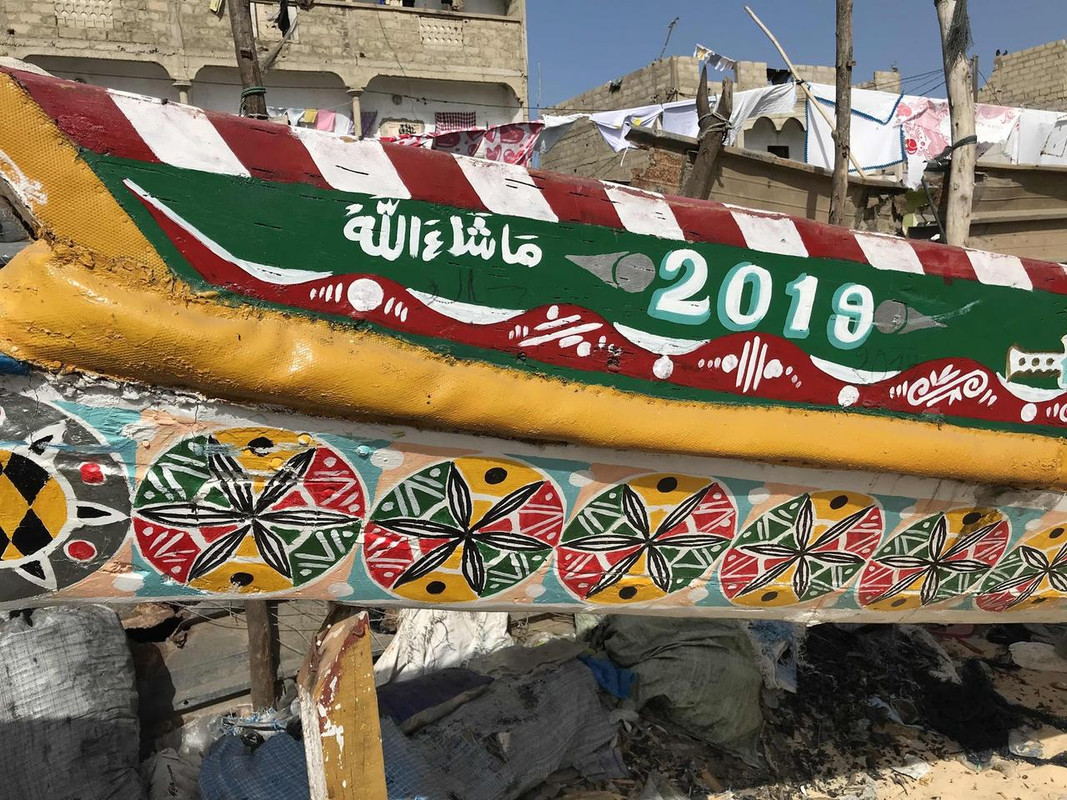 A store that sells motor oil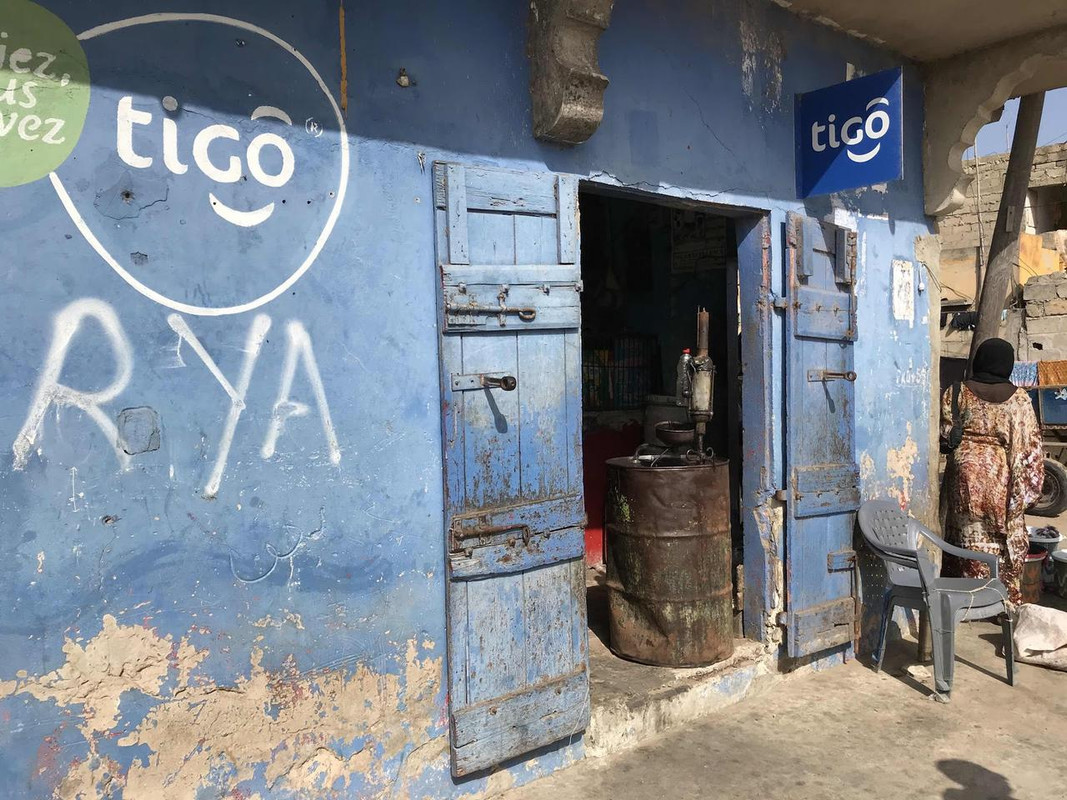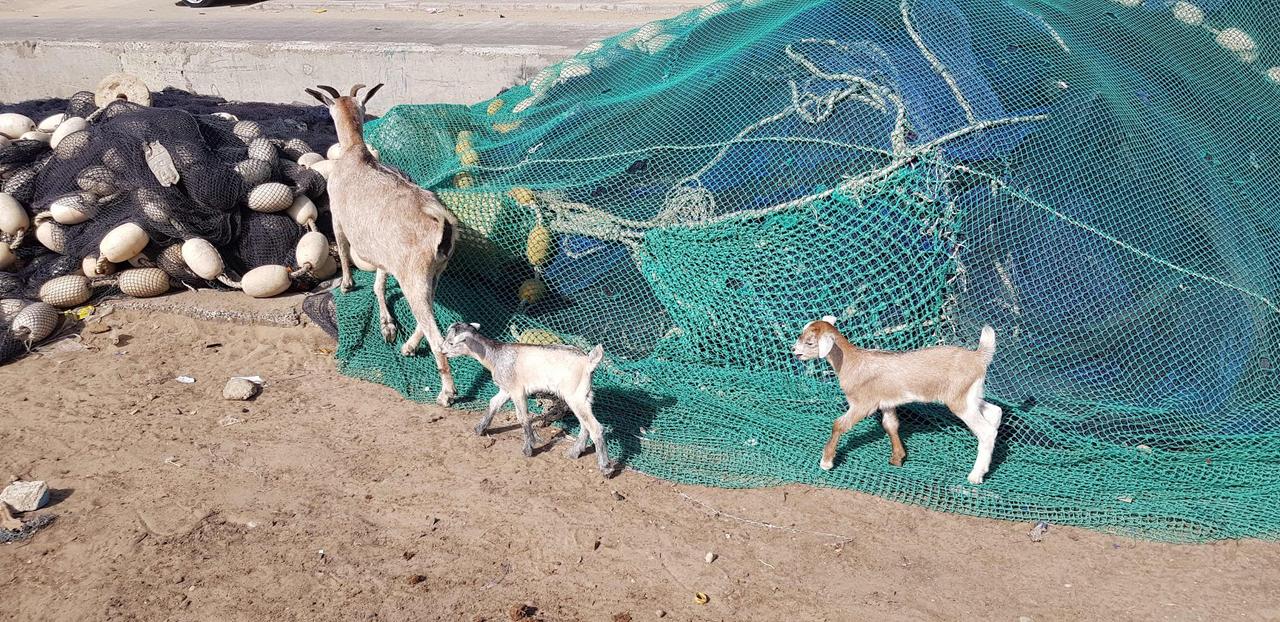 Boat repair shop
Kids are playing all over the place.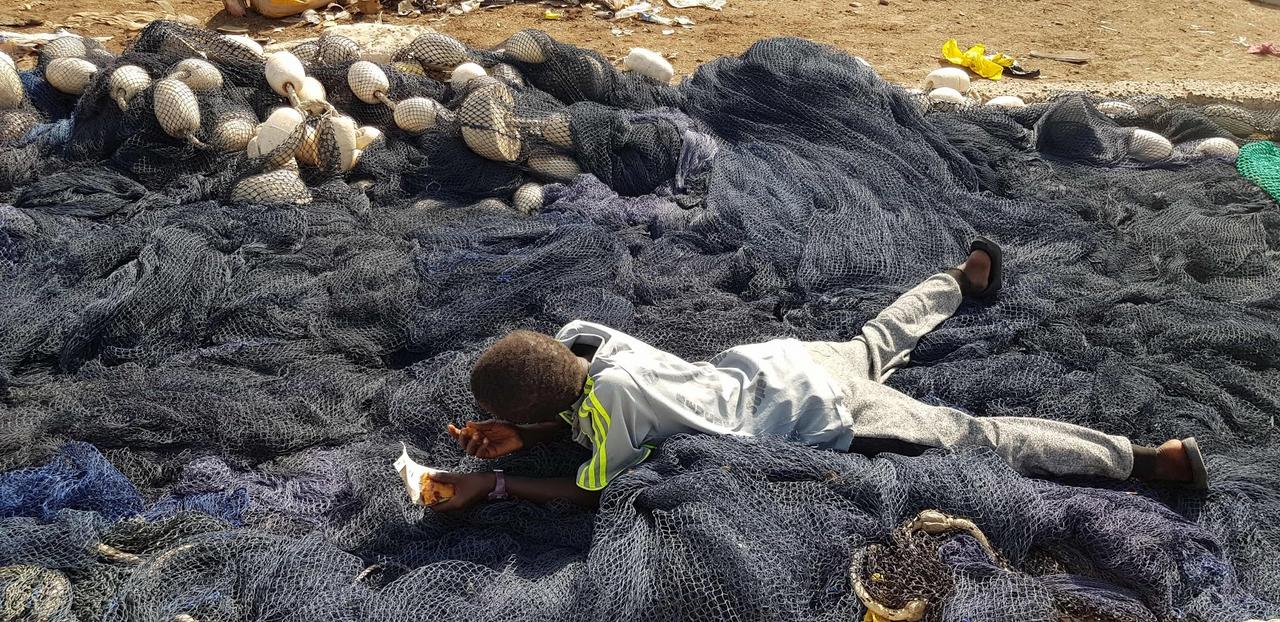 Trading at full speed.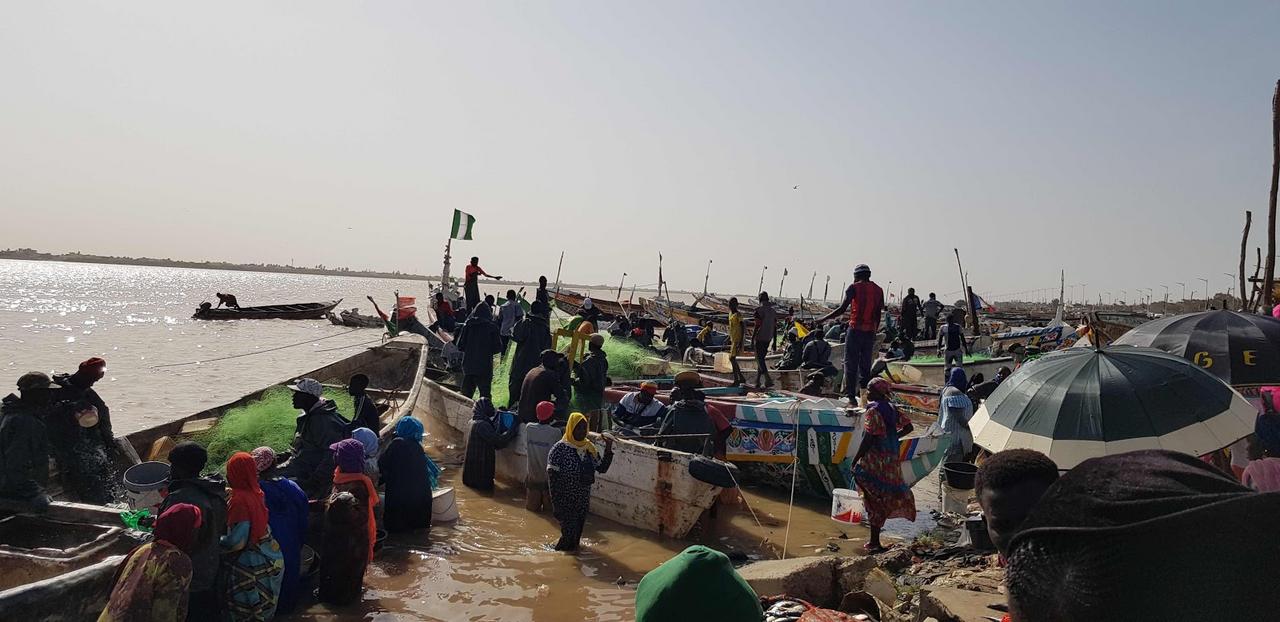 Fish factory where they salt fish…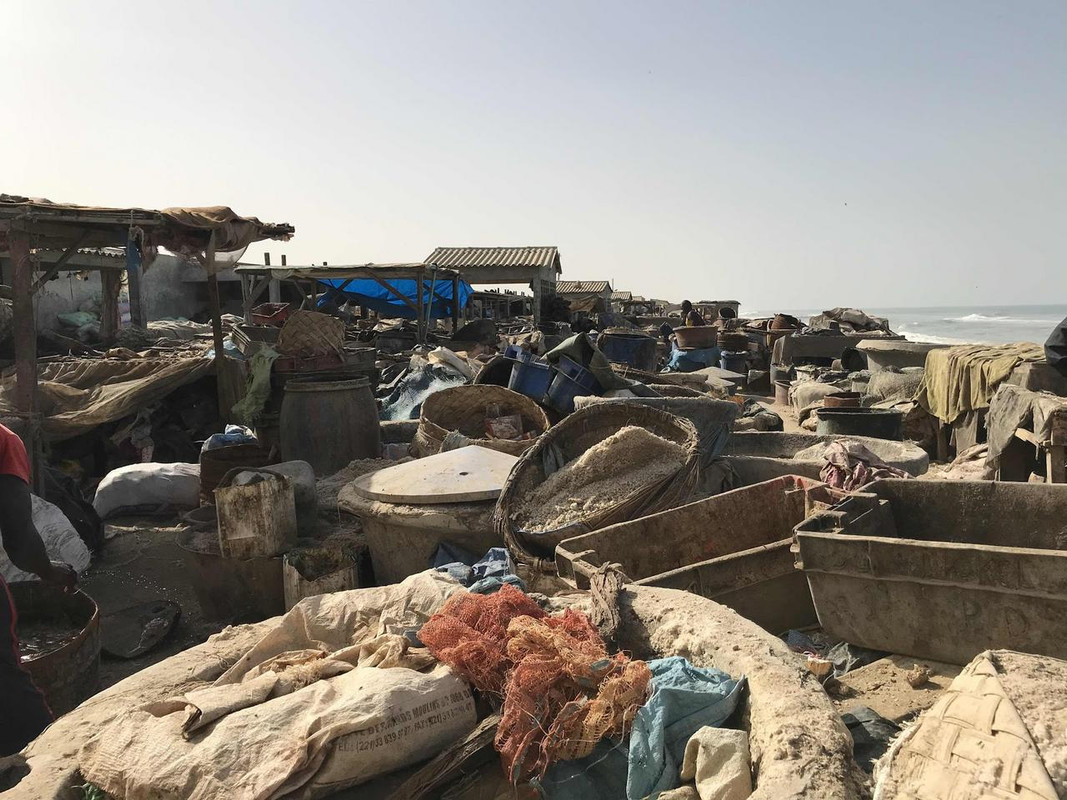 Who to bring the Senegalese "vobla" :)))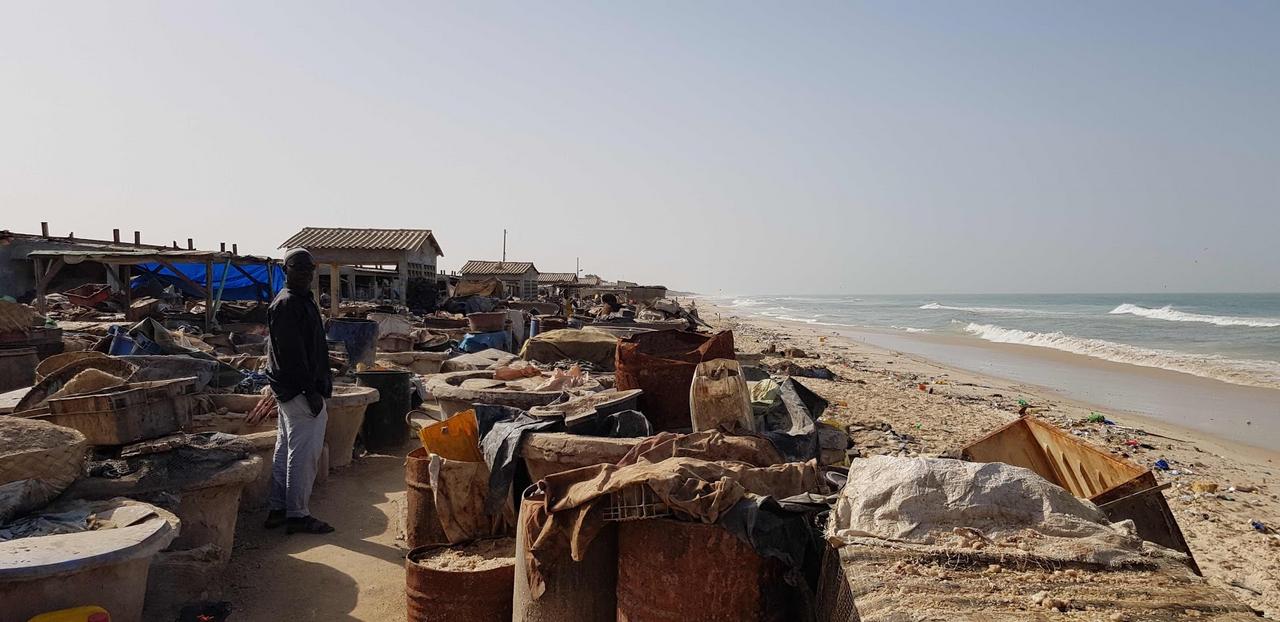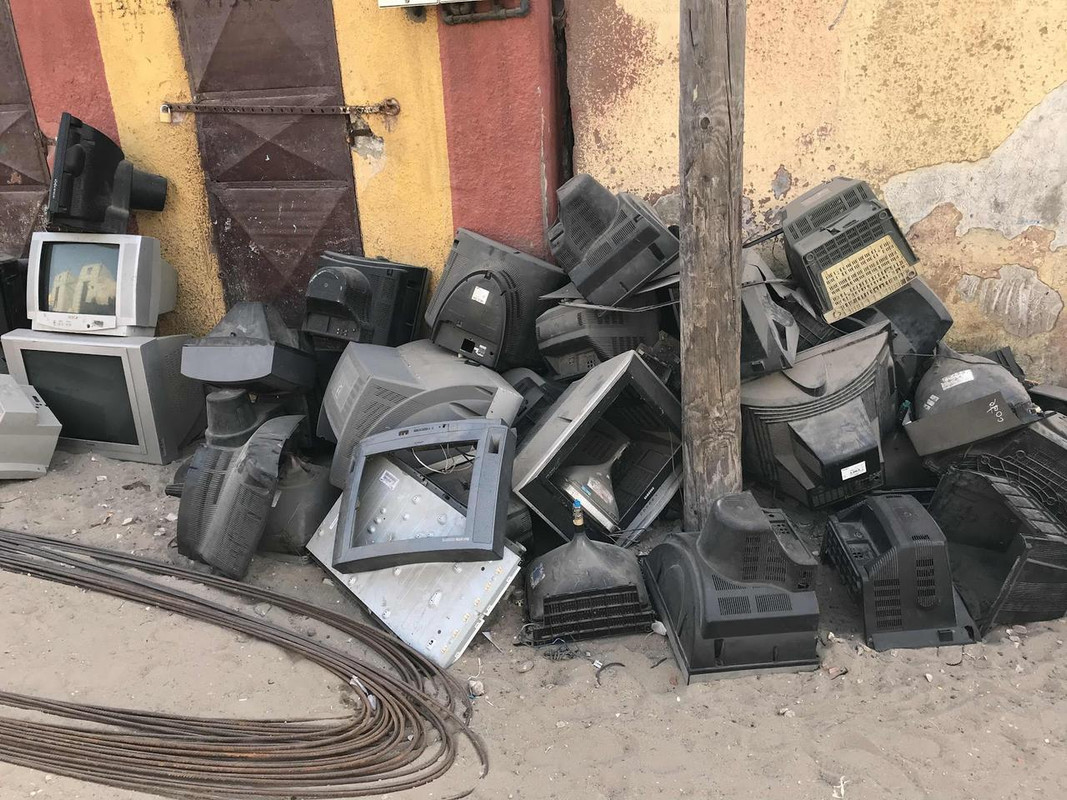 In the city you can meet pelicans. But you have to be very careful. I almost had a video camera.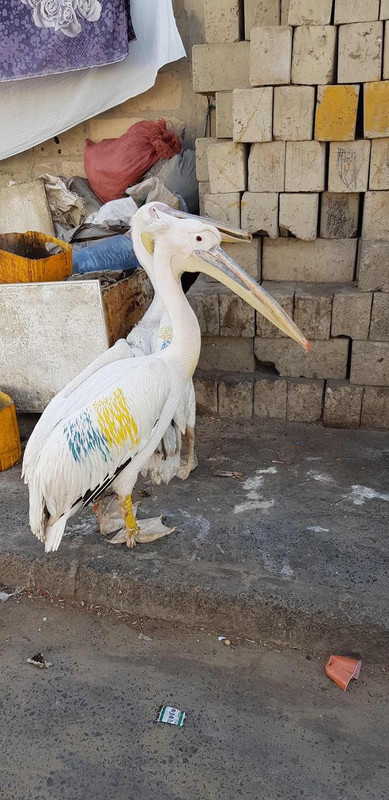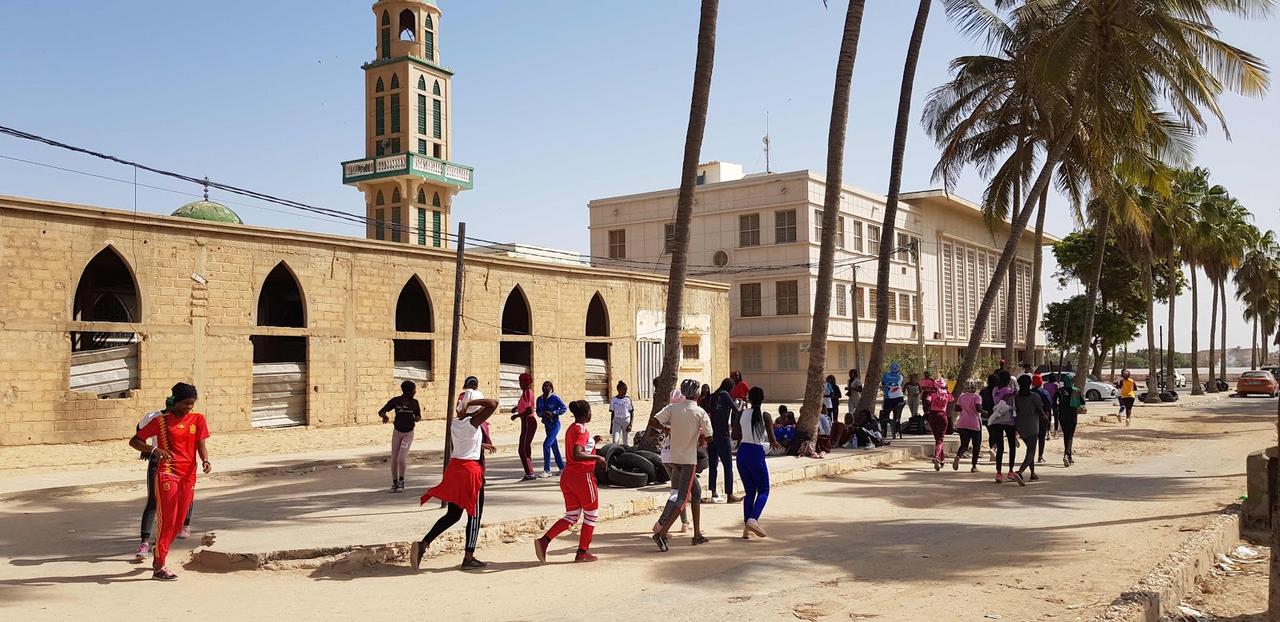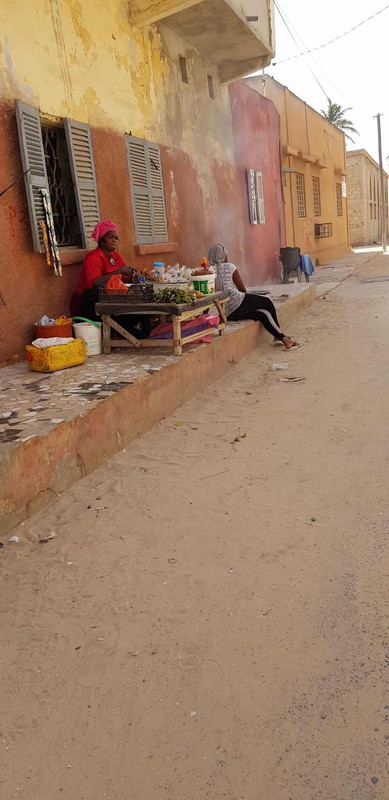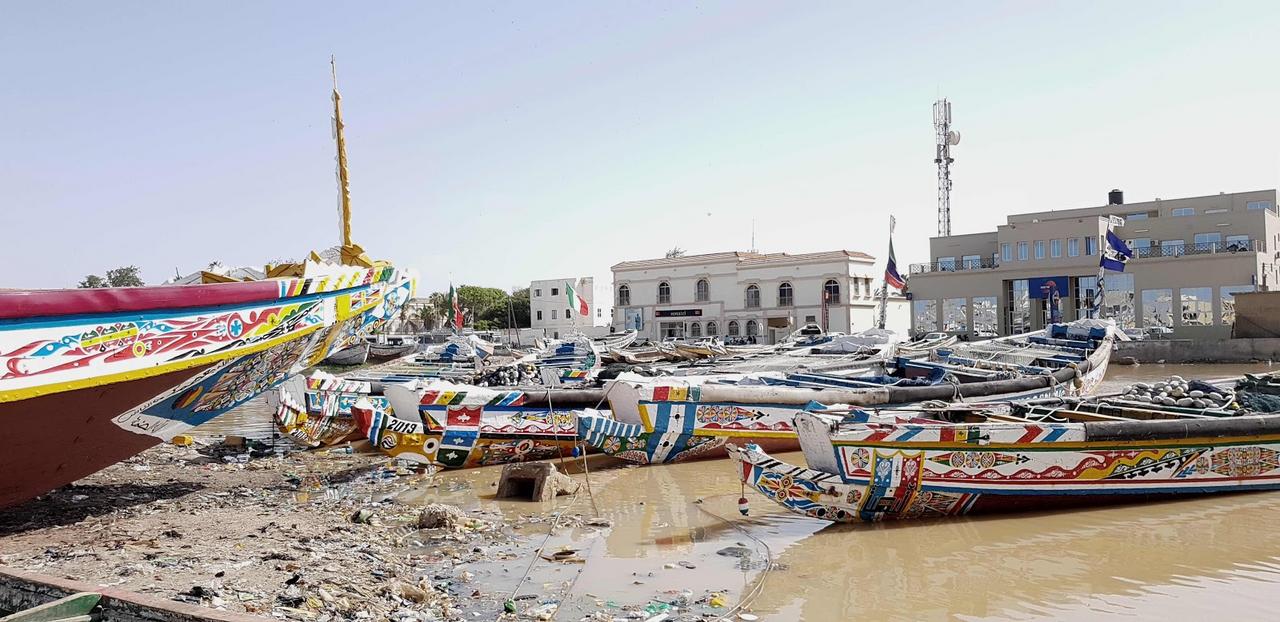 There are a lot of horse-drawn vehicles.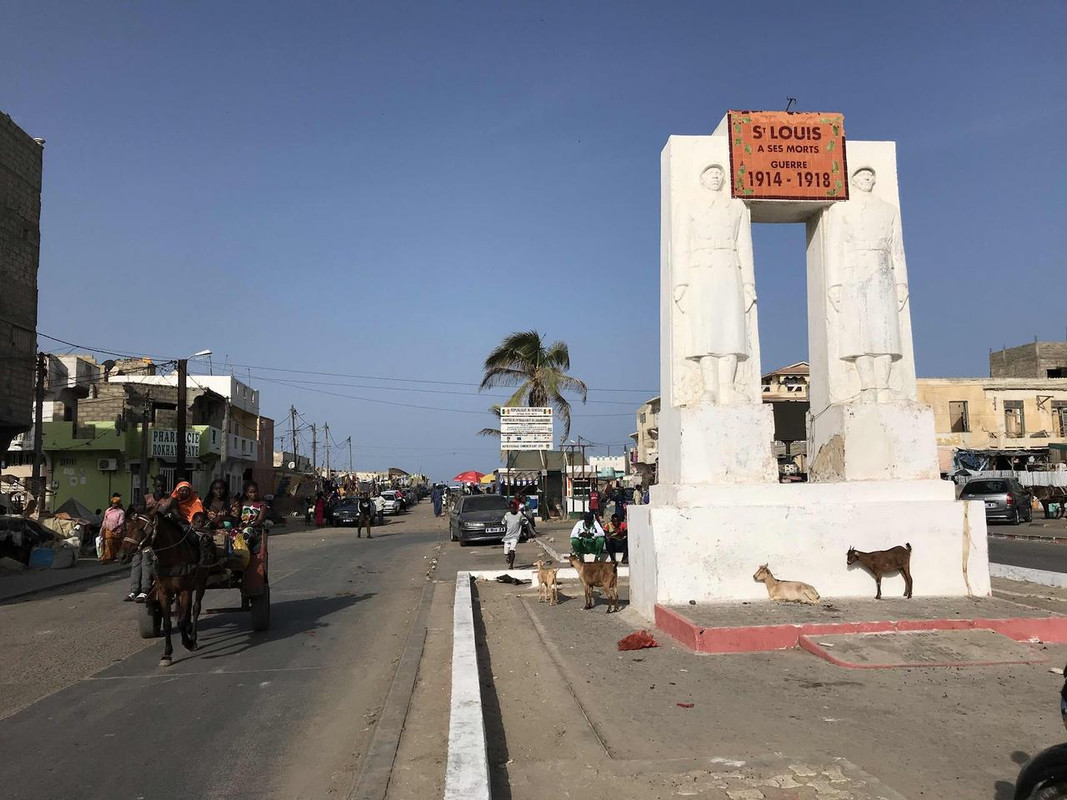 It is not clear what the containers for separate waste collection do here.
At the end of the tour, we were wondering how much our guide will ask for his services… But he just asked to buy us a bag of rice. It was not a pity to thank him, because we would have never gone to the fishing place.
We refuel and leave St. Louis. Impressions, of course, are mixed.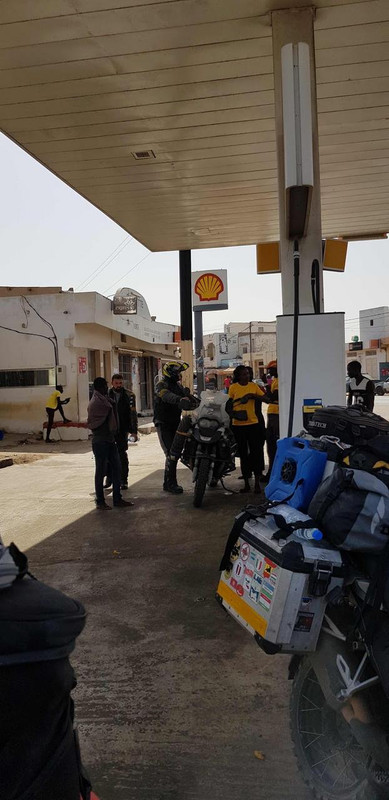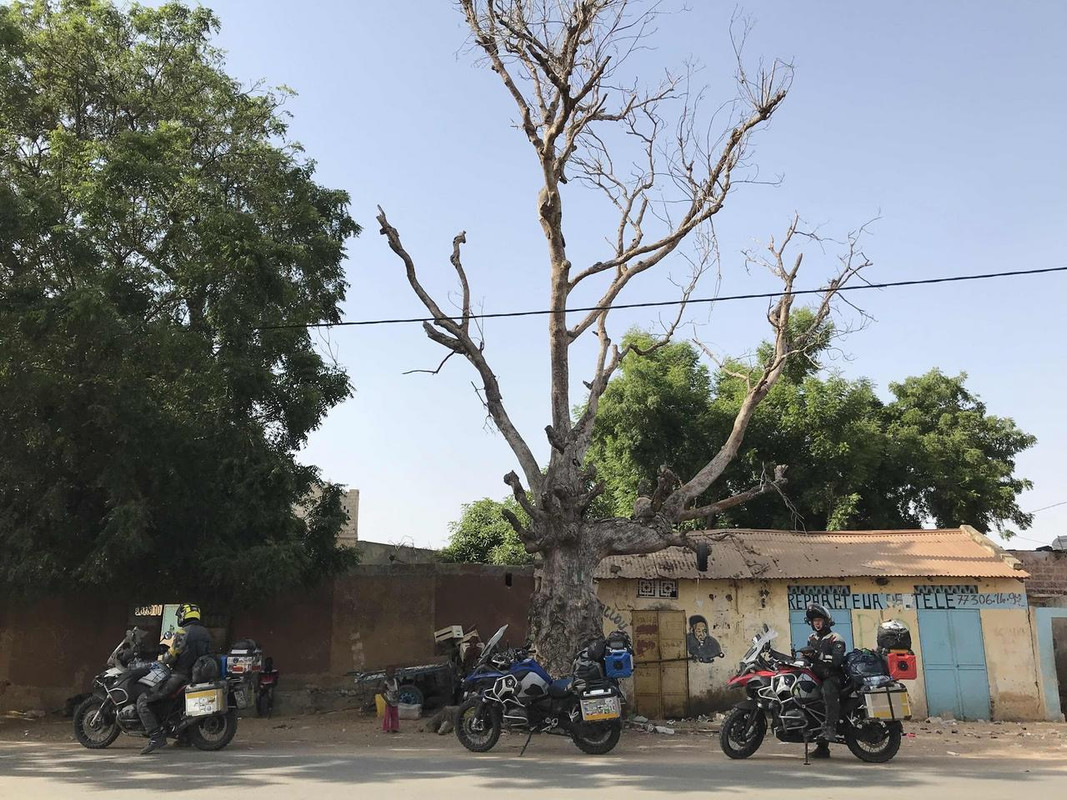 The railway crossing is blocked by a worker with a flag.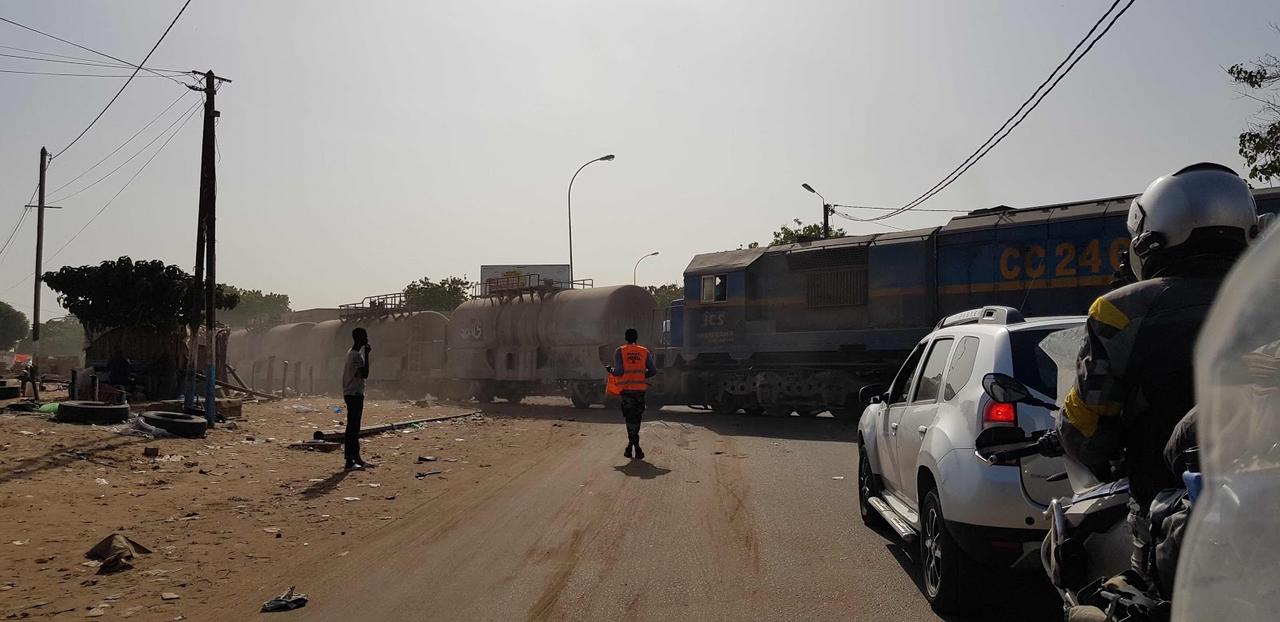 The next point of interest of Senegal is one of the most touted attractions of the country – pink lake. This is how we were supposed to see it. Photo from the Internet by those who visited it.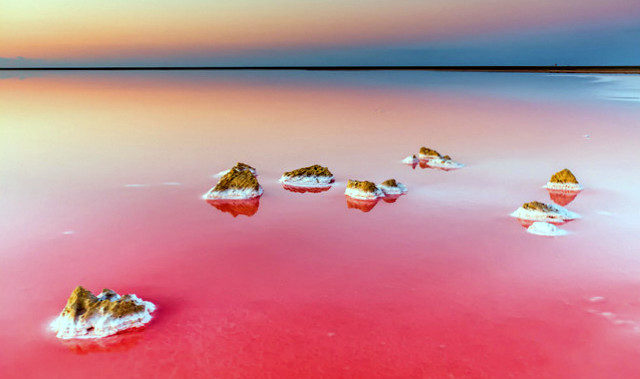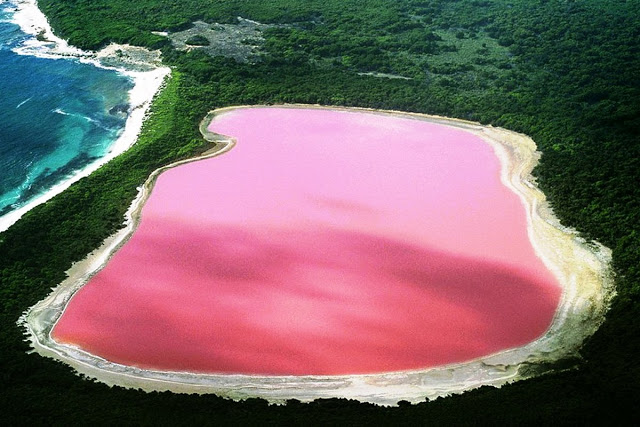 On the way to it we were a bit lost.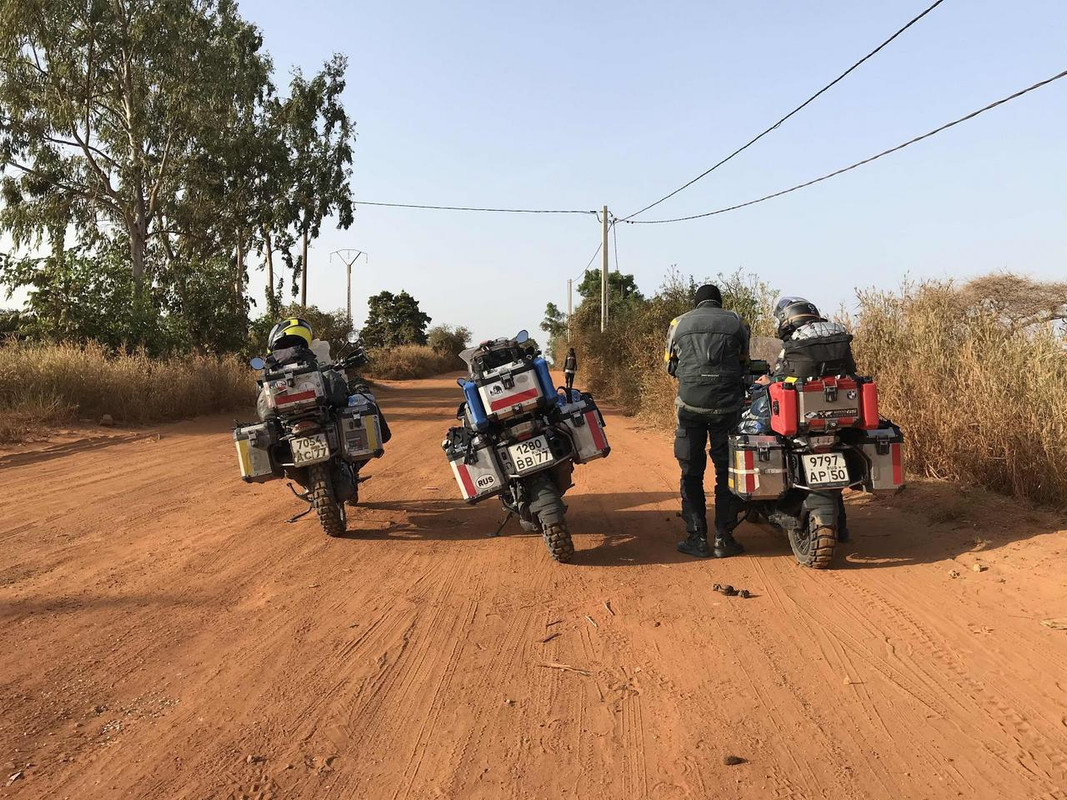 But when we arrived, we saw just the lake, which was covered by a haze and the color of the water had changed into the usual gray… Don't think that the photo with the pink water is a photoshop! No, we were just a little unlucky to see it for ourselves. The color actually varies from pink to blood red. This phenomenon is due to the presence in the water a huge number of specific bacteria that color the lake in such incredible colors. Also, salt is mined here! In fact, the level of salt in Retba exceeds that of the Dead Sea!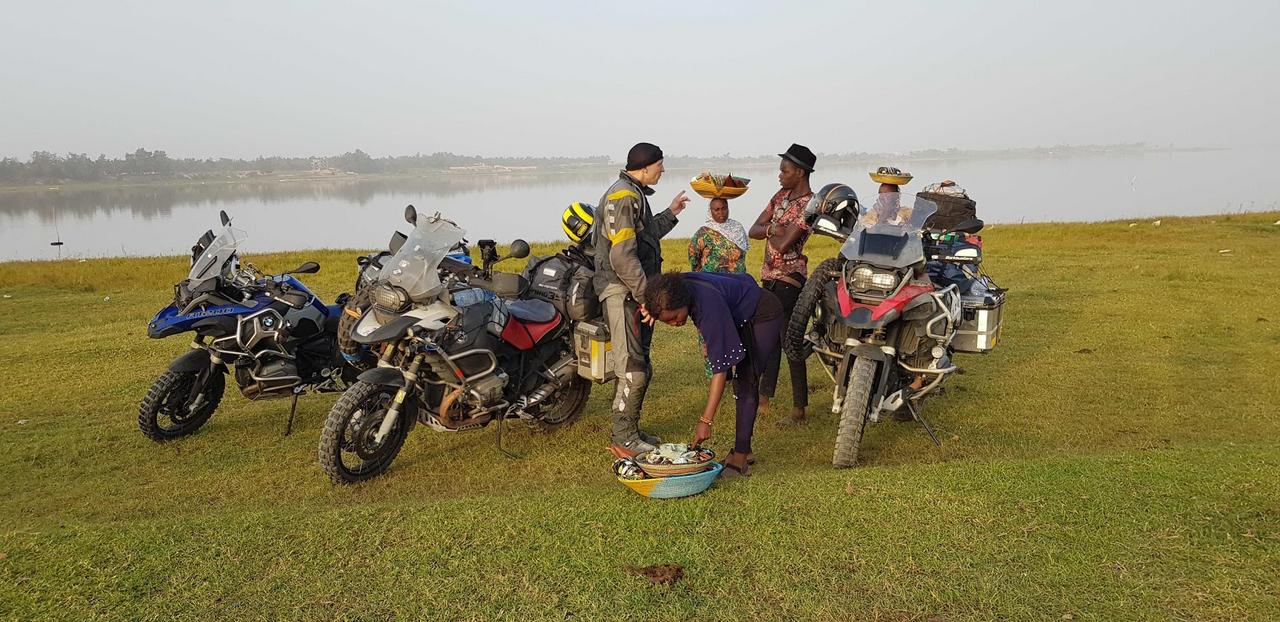 Dima was immediately attacked by local vendors. The motorcyclists approached.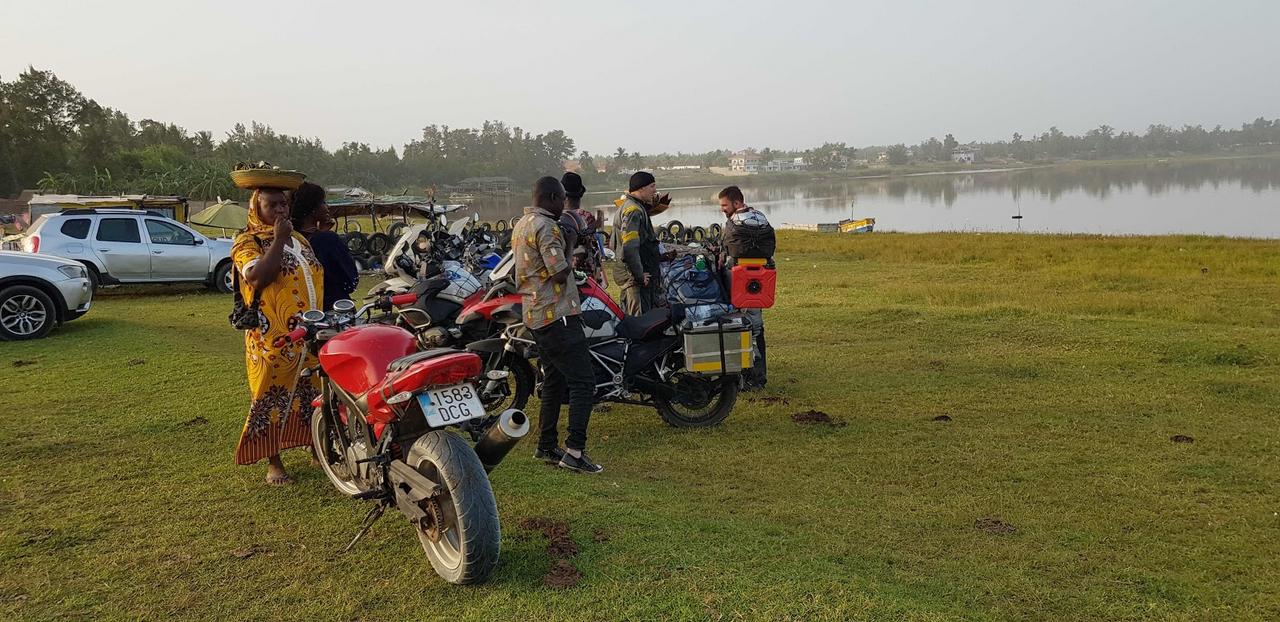 And the Paris-Dakar race finished here, back when it was still held on the African continent.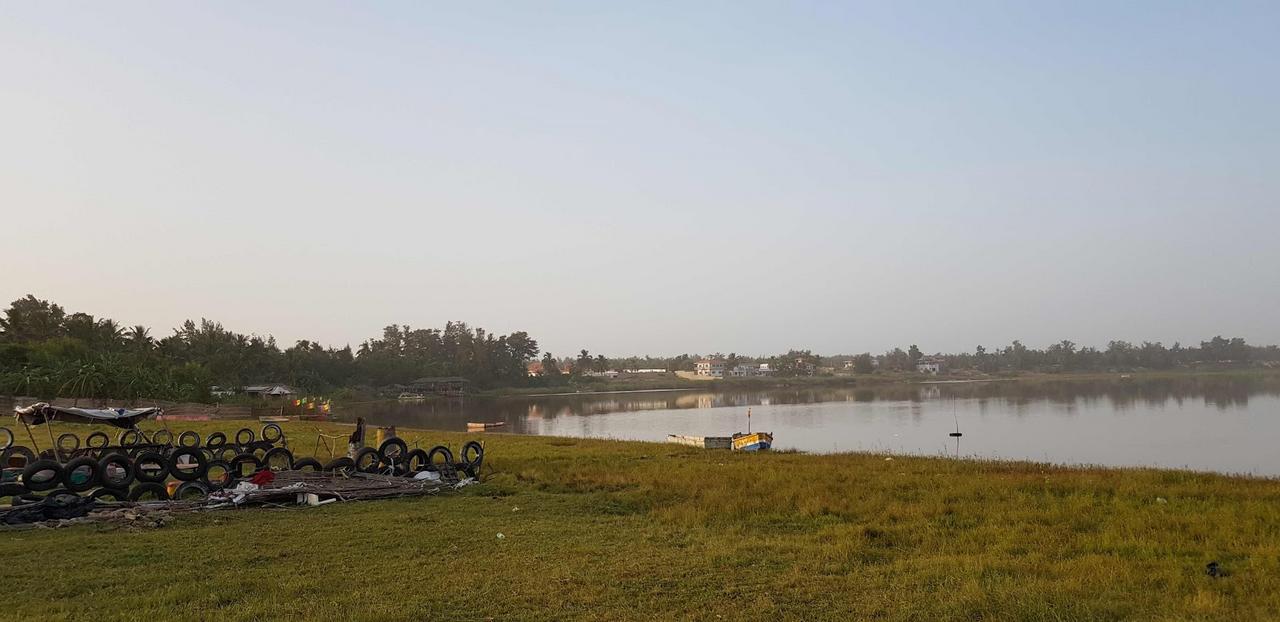 The local vendors are extremely intrusive. Then some guy came running in and started telling us about some kind of environmental fee, like we had stopped at the weed. We decided not to get into an argument, and just turned around and left…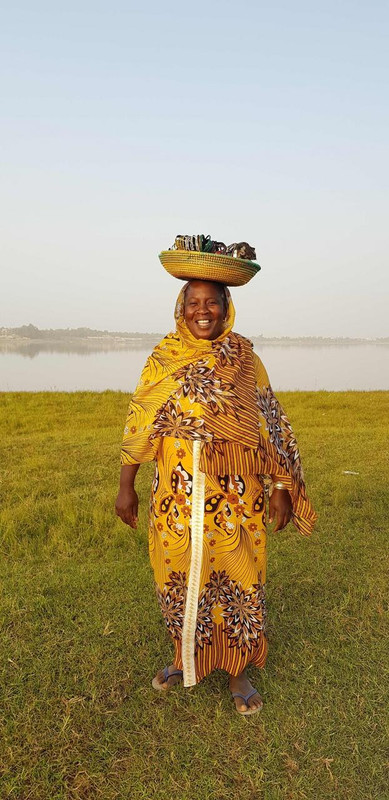 Ahead of us was the Dakar…
Comments ( 45 )
Yep…authentic and atmospheric. An ocean with a gentle, lively and melancholy line, beautiful waves. And the coastal area immediately bursts into stifling reality. The photos turned out to be pleasantly colorful. But it makes you want to go around this place with a radius of a couple of light years. Terror, in a word.
Very similar to the fishing village on the shores of Lake Victoria in Tanzania. We also visited the school there and left our last stash for donations. It looked like $500 was crazy money for them. The only civilization was the Coca-Cola plants…
That's where Adidas built their factories. And they made separate production lines. One factory makes only left-handed sneakers and the other only right-handed sneakers. So they don't steal.
St. Louis is a perfect example of what happens when white people leave and leave a well-maintained city to black people. It's a complete asshole. No one wants to get their ass up and clean up around here, fix up the houses. They live like in caves… Sanx for the text and pictures, impressive.
That's the impression I got after working in Nigeria, too. These black people love to lie, steal and are very lazy. That's why colonialism ended – the colonialists waited a very long time for improvements, but didn't wait, gave up and left. There has not been and will not be any progress. I could go on and on about those places…
The man who worked at the present time had nothing to do with colonization. And the fact that there are people who can do nothing by themselves, but with proper management do everything qualitatively and for their own benefit is a fact. I used to have a slightly different opinion about Africa too, but now that I've crossed it, I will say that where whites are in charge, there is no hunger, there is infrastructure and many more perks. Yes, the locals for the most part are not in leadership positions, but not because of so-called genocide, but simply because they can't cope. In comparison, South Africa and DR Congo. Two different planets, although there are more than enough resources there and there…
I look through all the pictures again. I noticed the shutters and doors – I got the impression that everything is still original, that is, they are several hundred years old!
I agree that with the whites came other evils and difficulties, but compared to the past, this is still a step forward by several steps!
Just like that, you left? Voluntarily?
And who, I beg your pardon, invited them (and you) there with their "order" and civilization? The many thousands of deaths, the plundered lands, the people taken out – that's all a good thing, of course. It's ridiculous.
The situation here is very complicated, ambiguous. But without governance, these countries are rolling back in time, to the colonists… Alas… After visiting Africa, I have changed my perspective and now look very differently
The trip and the article are great. With one minus – why the fuck do people stop using the letter Y? Some phrases lose their meaning.
You can safely finish driving, but the border Mauritania-Senegal crossing through the Roso. It's paved, unlike Debi.
Every photo evokes the pronunciation of "yourjumma." Even the obviously touching ones. Post-civilization in its purest form.
On the other hand, it's sad for us, but it seems to be normal for them. Here are the wives of fishermen sitting in the garbage, like there is time to clean up, but no.
The photos remind of Kazakhstan in the early 90s… Piles of garbage and devastation. I remember when I was a kid there was garbage flying around, cattle grazing in garbage dumps, goats and cows walking along the main streets). We used to call our city "Atyrau is the City of Flying Bags" Now everything is fine, the streets are clean, there are trash garbage cans all around, and the cattle do not come into the city. The communal services work is a fact and the people are more educated in terms of cleanliness, but I will tell you that this is not everywhere. If you go to the countryside, where people like to relax, you can see the same picture as on the coast of Africa. Here you can see straight away that our "culture" is not at its best… The funny thing is that people don't mind it)) sitting in trash, barbecuing kebabs, children playing with bottles and packages. There are of course squeamish and they go to a clean place and shit there.))) Such a picture I observed in my countryside and near the village of Chu. In Russia I did not see such a thing … In my opinion, there is plenty of trash but you just cannot see it, there is grass everywhere.
I'm proud that my friends and I made a habit of cleaning up after ourselves. We even feel comfortable taking garbage through Ustyurt 300 km by cross-country road))))
Unfortunately, in Russia there are places where there is a lot of trash, well, not as much as in Africa, of course. Especially where people relax in nature. Is it really difficult to take a couple of bags with them, given the fact that all come there in cars